The Right Bra to Wear With Every Type of Wedding Dress
Consider your wedding dress bra questions officially answered.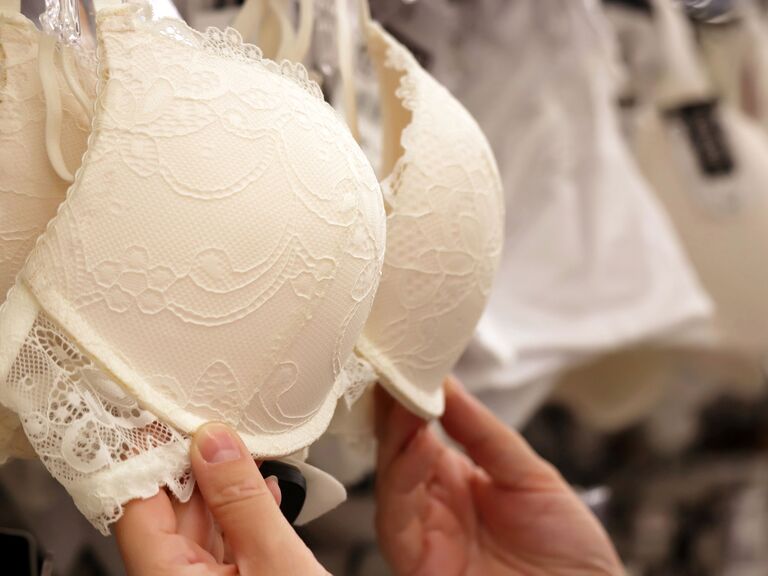 Oleg Elkov / Getty Images
We have included third party products to help you navigate and enjoy life's biggest moments. Purchases made through links on this page may earn us a commission.
Perfecting your wedding attire doesn't end with picking out your dream dress (or jumpsuit or two-piece, for that matter). Afterward comes shoes, jewelry, hair accessories and—perhaps the most important of all—a wedding dress bra. Having the right undergarments for your wedding attire is really important for a couple of reasons. For starters, a well-fitting bra will help you feel comfortable and supported on your big day. Secondly, underwear is the foundation of your wedding dress and the gown's overall look will be affected by what's underneath it. The right style and size of bra will enhance your dress, while an ill-fitted or incorrectly styled bra might have visible lines or exposed fabric.
Not sure where to start? We're answering the biggest bridal bra FAQs below and sharing our top suggestions you can shop online. We've found strapless bras, backless bras and everything in between.
Do You Need to Wear a Bra Under Your Wedding Dress?
"Bras are not necessary under a gown unless additional support is needed," says Beth Chapman, experienced bridal stylist and founder of Beth Chapman Styling and Consulting. She points to two things that might determine whether a wedding dress bra is required. First of all, the size of your bust is an important factor. Chapman recommends adding a supportive bra if you have a D cup or larger. Additionally, the silhouette of your gown plays a role. A dress with a lot of built-in structure, such as a ball gown with a corseted bodice, will usually offer enough support on its own. On the flipside, something with less structure (think: a slip dress) more than likely calls for a bra.
Of course, whether or not you decide to wear a bra is ultimately up to you. Your comfort should be the number one priority, so if you don't usually wear a bra and would rather skip it on your big day, that's fine too.
What Color Bra Should You Wear With Your Wedding Dress?
Tempted to reach for a white bra to match your wedding attire? You might want to think twice about that. "Generally gowns are lined and you would not see the white through it, but nude is always the safer option," says Chapman. She recommends going with a bra that matches your skin tone as opposed to your wedding dress. However, if you're finding it difficult to score the perfect bra in your skin tone, you can definitely go with something white or ivory instead. Just make sure to double-check in various types of lighting that it's not visible through your dress.
Can You Have a Bra Sewn Into Your Wedding Dress?
Buying separate bra cups for your wedding dress and having them sewn in by a tailor is an alternative option to consider. However, there are pros and cons to wedding dress bra inserts. As a pro, you won't have to worry about finding or wearing a separate undergarment—one less thing to worry about! But Chapman warns against sew-in bra cups. "Reason being, if the bra slides down, so will the gown," she says. "Instead, you can either place snaps or pieces of boning that can affix from the gown to the inside of the bra to ensure that the two move well together without the bra having to actually be sewn into the gown."
The Best Bras to Wear With Your Wedding Dress
When figuring out what bra to wear with your wedding dress, consider your gown's silhouette as well as any other stylistic details that might affect what kind of bra you choose. For example, a wedding dress with a keyhole design might require a low-back bra if the keyhole is on the back, or a plunge bra if there's a low neckline on the front of the dress. We've included more examples for the most popular dress styles below.
In this section:
The Best Backless Bras for Wedding Dresses
Whether you need a bra for a wedding dress with a sheer back or you're wearing a plunging open-back style, we've got you covered. One of these backless or low-back bra options will fit the bill.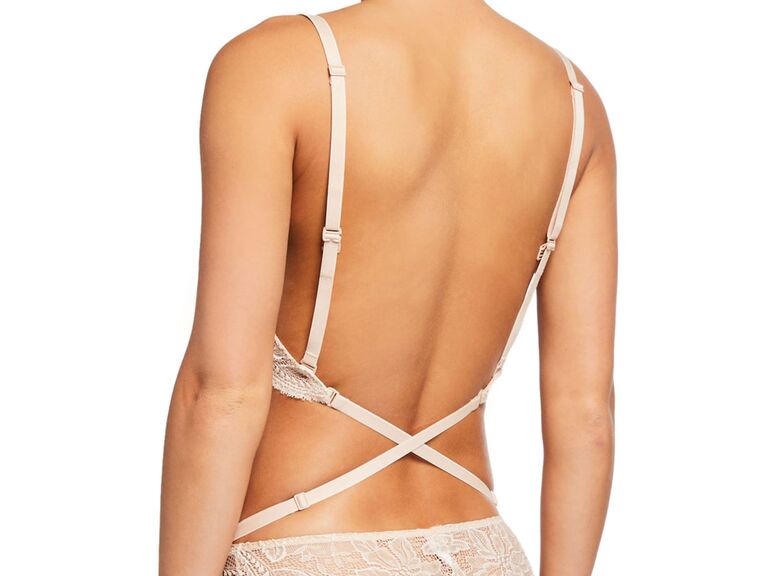 This versatile bra can be converted to suit different silhouettes, including a very low-back option for backless wedding dresses. It doesn't come in nude tones but is available in ivory and soft blush hues. Just make sure you try it on ahead of time to make sure that it's definitely not visible through your wedding dress.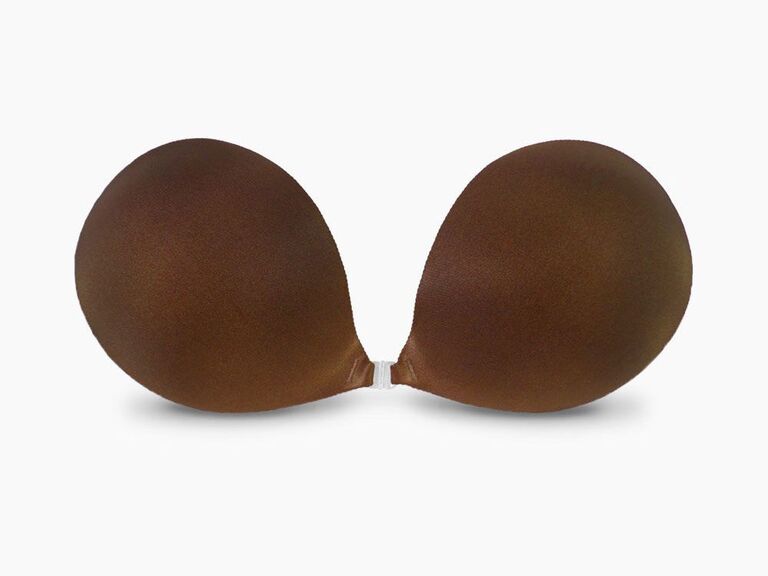 If you need a backless and strapless bra for your wedding dress, options are a little more limited. There are some good longline bra options that have a low back, but if you're looking for something truly backless, a stick-on bra is your best option. This seamless bra comes in seven different colorways, including three nude hues. It's also available in cup sizes A–E, which can be hard to find in an adhesive bra.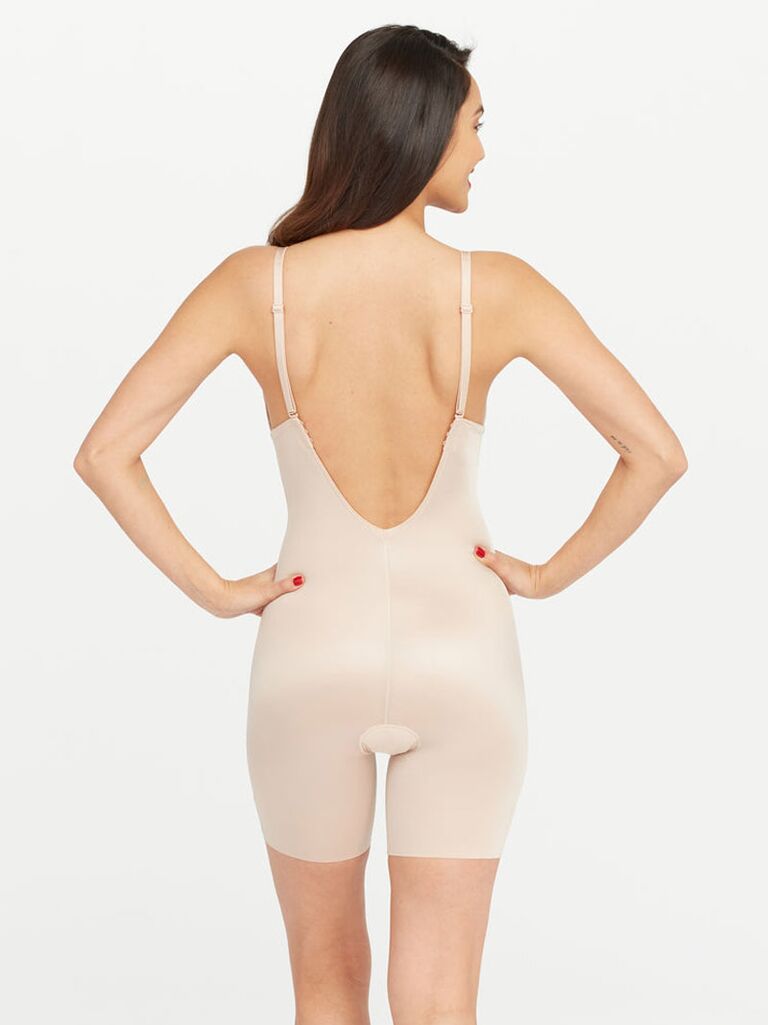 If you have a fuller bust, a bra with a converted low-back strap or stick-on bra may not be supportive enough. If that's the case, consider a more structured undergarment such as this low-back and plunge-front bodysuit. It's a particularly good choice for gowns that are low cut at the front and the back.
The Best Strapless Bras for Wedding Dresses
Anyone who's ever shopped for a strapless bra will tell you that finding one that stays up is a challenge. "The very last thing you need to be remembered for on your wedding day is hiking up your strapless bra at the altar, in photos or on the dance floor," says Heather Viskovic, director of merchandising for bras at Bare Necessities. Her expert advice? "Remember your band does all the work, so make sure your breast is fully encapsulated and you will be the shining star of the evening."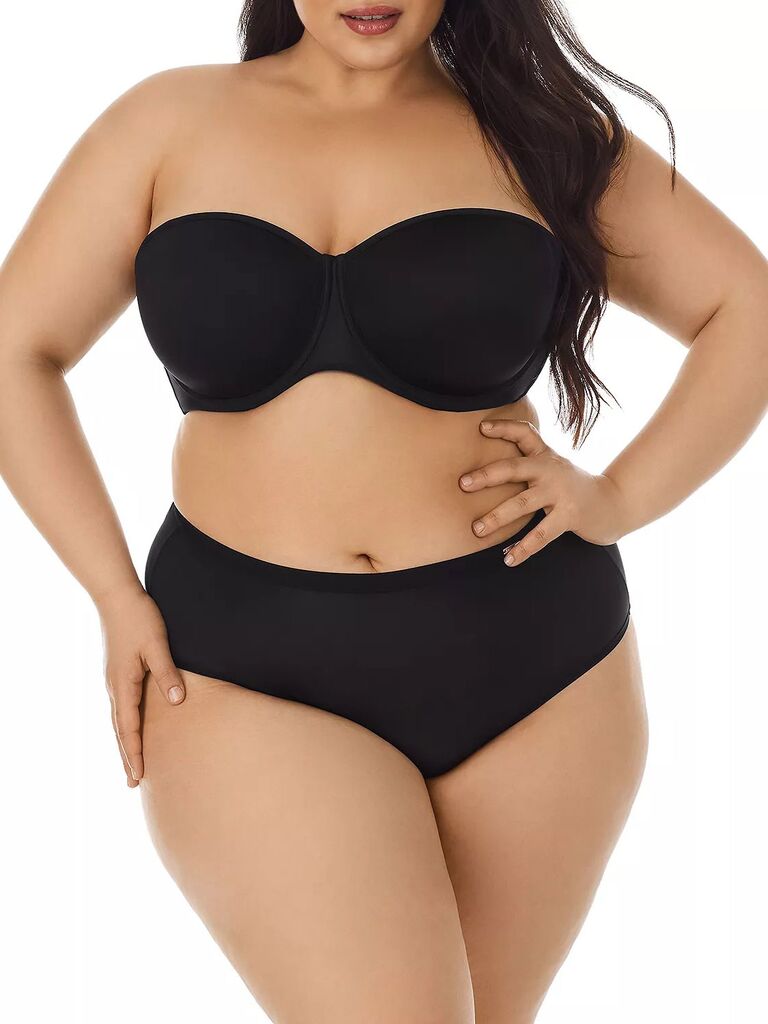 Losing the straps shouldn't mean that you lose the support. This strapless bra is designed for women with a fuller bust and comes in a wide range of inclusive sizes. The band is reinforced with an underwire to help hold up your bust and silicone gripper elastic makes sure everything stays firmly in the right place. It's available in a sandy nude hue or black.
When it comes to sexy lingerie, Rihanna's Savage X Fenty brand is our go-to. But did you know the site also has underwear staples? This strapless bra comes in black caviar, brown sugar nude or honey nude. It's made from breathable microfiber (because let's face it, no one wants sweaty boobs on their wedding day), has grippy silicone elastic to prevent slipping and has adjustable straps you can add or remove as you please.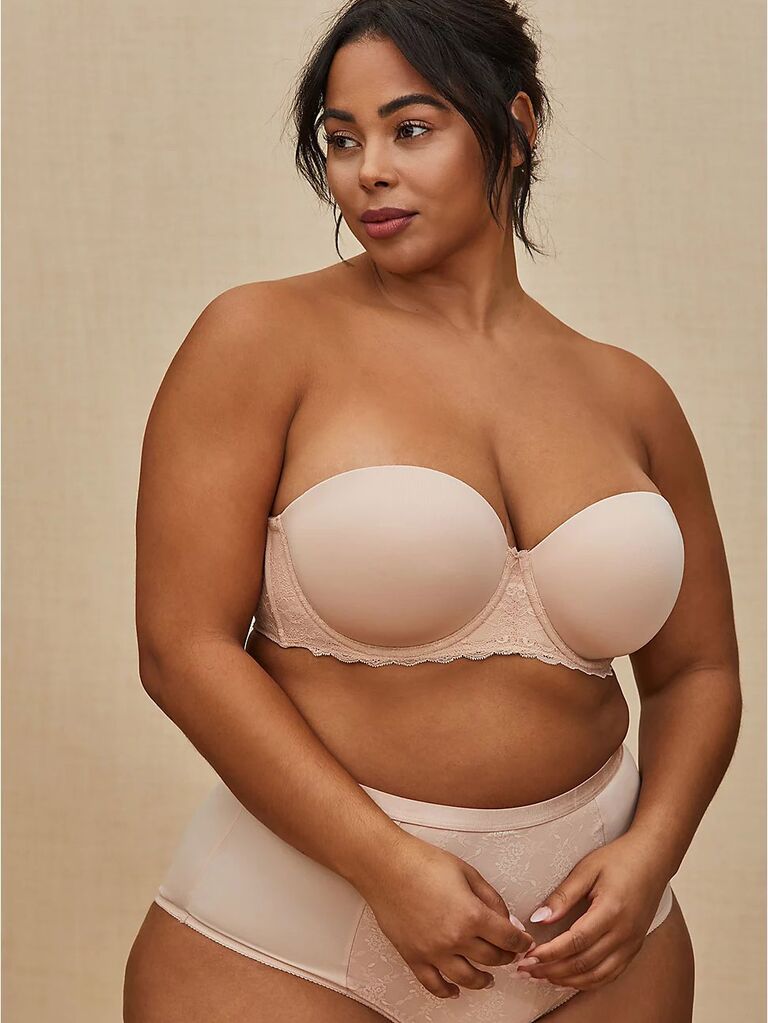 Torrid specializes in on-trend plus-size clothing, and the retailer has a great plus-size strapless bra for wearing with your wedding dress. This comfortable bra has a supportive underwire and structured band. It's available in F, G and H cups, but it only comes in one pale hue: rose dust.
The Best Push-Up Bras for Wedding Dresses
There's nothing wrong with wanting a little extra boost on your big day. If you're in the market for a push-up bra to wear under your wedding dress, consider one of these picks.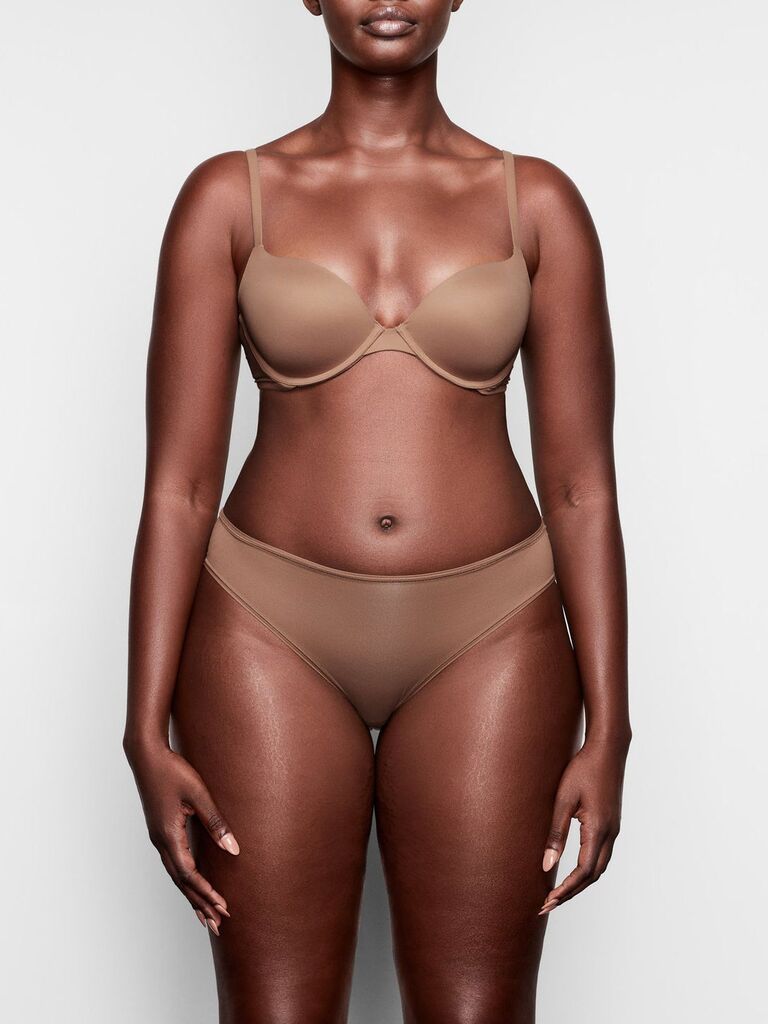 We love Skims for their inclusive range of sizes and nude tones, and this classic push-up bra is no different. If your wedding dress doesn't require a specially designed bra, your best bet at getting a comfortable fit and adequate support is by wearing a regular style. This comfy T-shirt bra has integrated padding that's designed to enhance cleavage and shape your bust.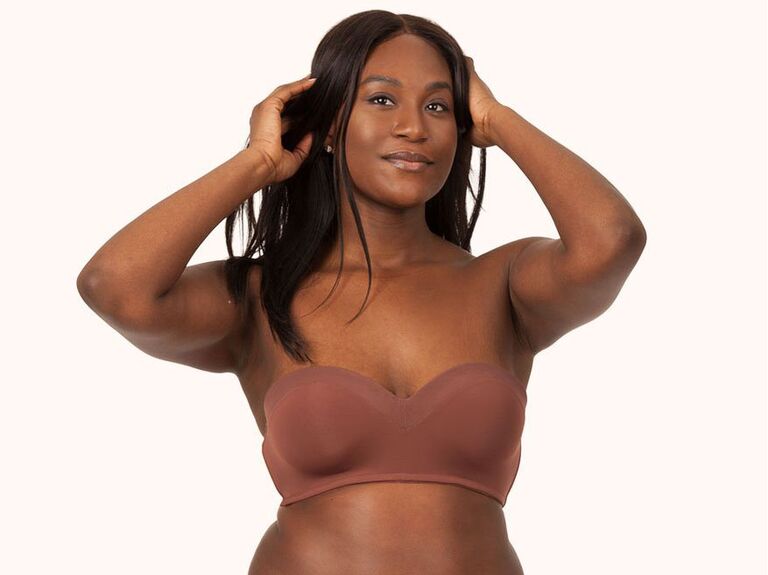 This buttery soft bra is wireless, strapless and still supportive enough to give your girls some extra lift. There's a no-slip strip at the top to stop it from shifting out of place, and you don't have to worry about a rogue underwire putting a damper on your day—that's what makes it one of the best strapless push-up bras for a wedding dress! Choose between the umber or toasted almond hue depending on your skin tone. One thing to note: Some reviewers say that it's less supportive for those with larger busts.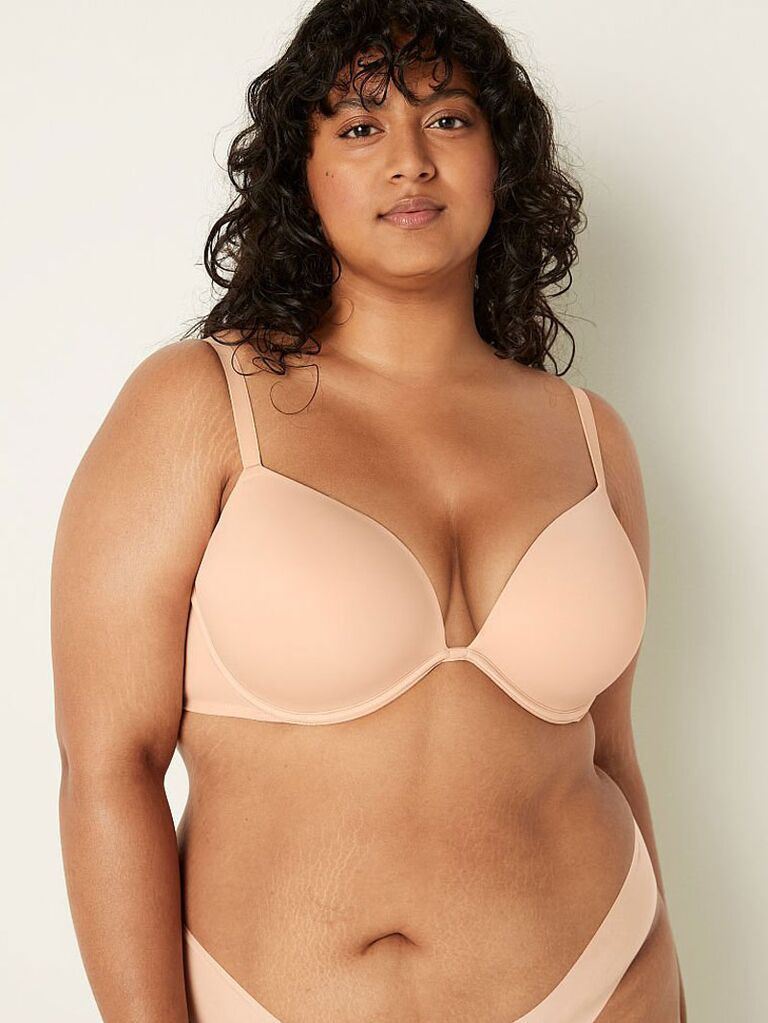 Here's another classic T-shirt bra that'll work for a wedding dress that doesn't require strapless or backless underwear. This affordable push-up bra will be a versatile addition to your wardrobe even after the wedding day, especially with its convertible straps.
The Best Longline Bras for Wedding Dresses
One piece of advice from Chapman on wearing longline undergarments such as corset bras: If you can see the outline of the edge of the bra through your skirt, wear shaping underwear (she recommends Spanx) and pull them up over where the bra ends. Here are our top three bustier and corset wedding dress bras.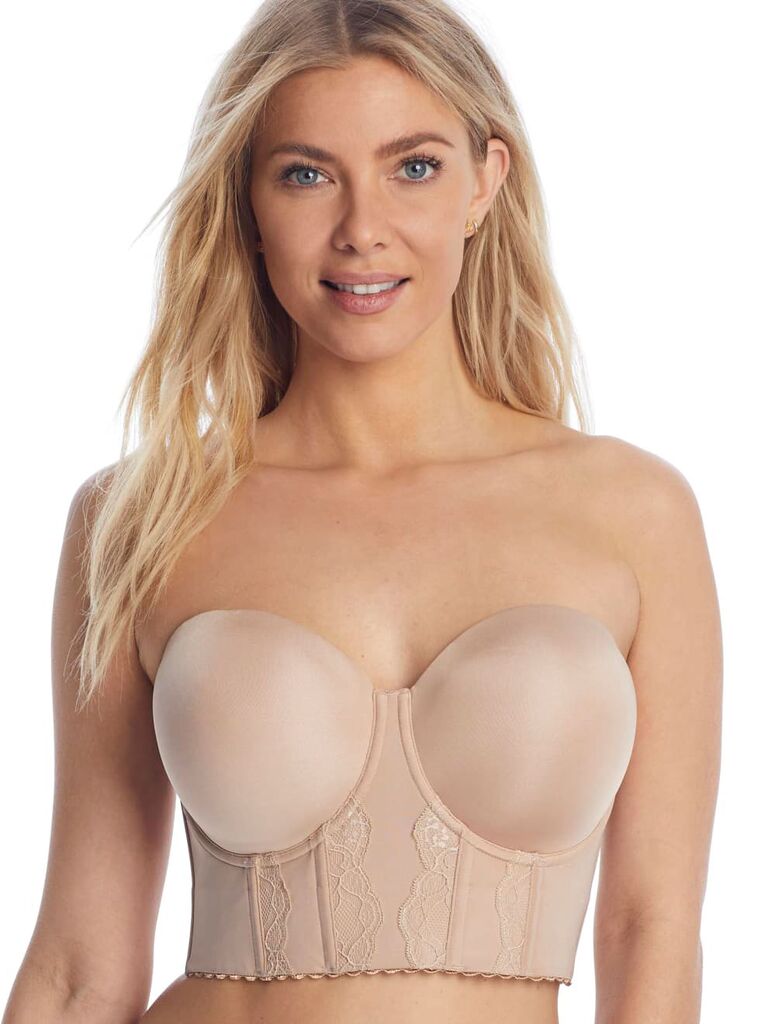 This strapless longline bra has a low back, making it suitable for lots of different wedding dress silhouettes. It's a great choice for anyone seeking a little extra structure in their undergarment. Sizes available include 32A–40F, 42B–46F and 48C–52F.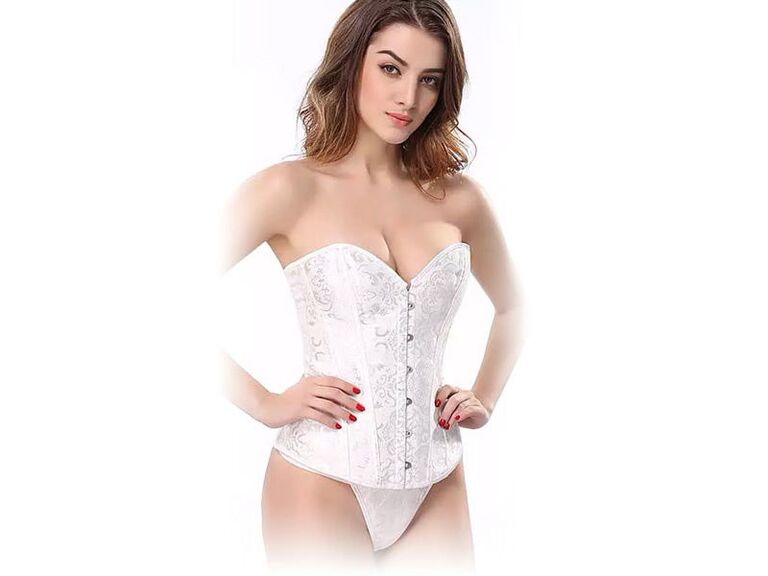 If you're looking for something that offers a lot of structure and support (but is still strapless), go with a corset that has a built-in bra. This gorgeous bridal corset is a favorite among to-be-weds who appreciate vintage and traditional styles. It will accentuate curves, help to create a seamless silhouette and make for gorgeous wedding night lingerie too.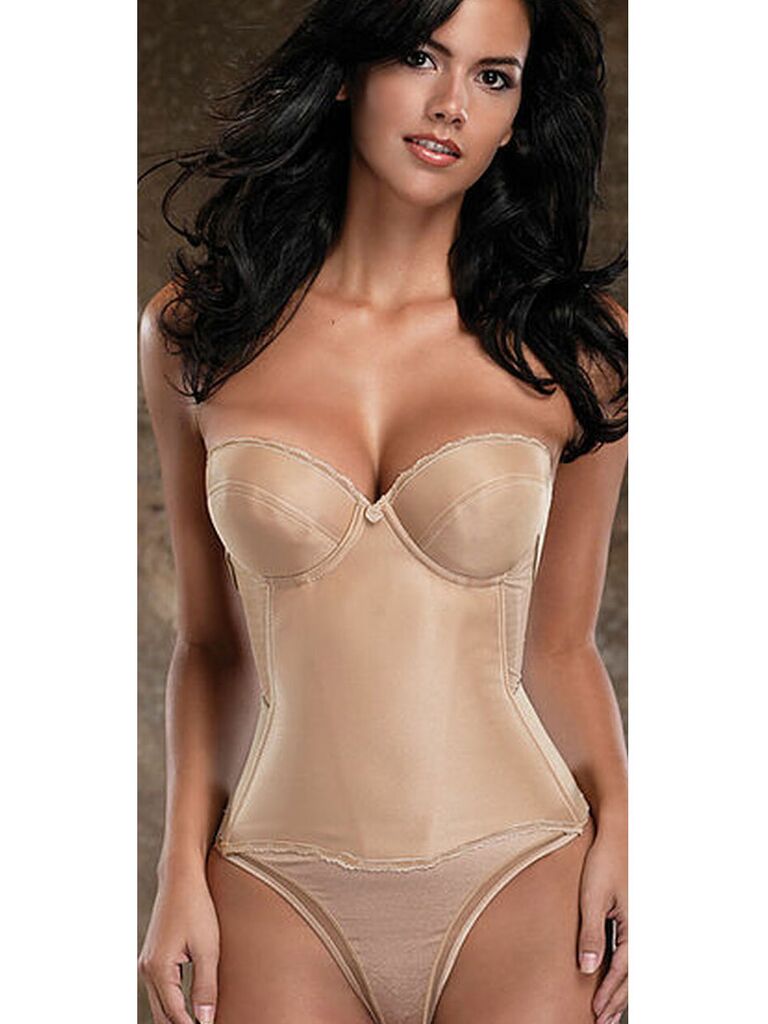 A bustier bra is an excellent choice for strapless wedding dresses, especially those with a sweetheart neckline. They're also an extra-supportive undergarment if your bust is on the larger side. This one is available in band sizes 32–44 and cup sizes B–H. It comes in black or a pale nude.
The Best Adhesive Bras for Wedding Dresses
"Sticky bras and tape options have come a long way," says Chapman. But there are a few things to keep in mind before buying just any adhesive bra. "The key is to research which ones would work best with your bust size and shape and the silhouette of your gown," she says.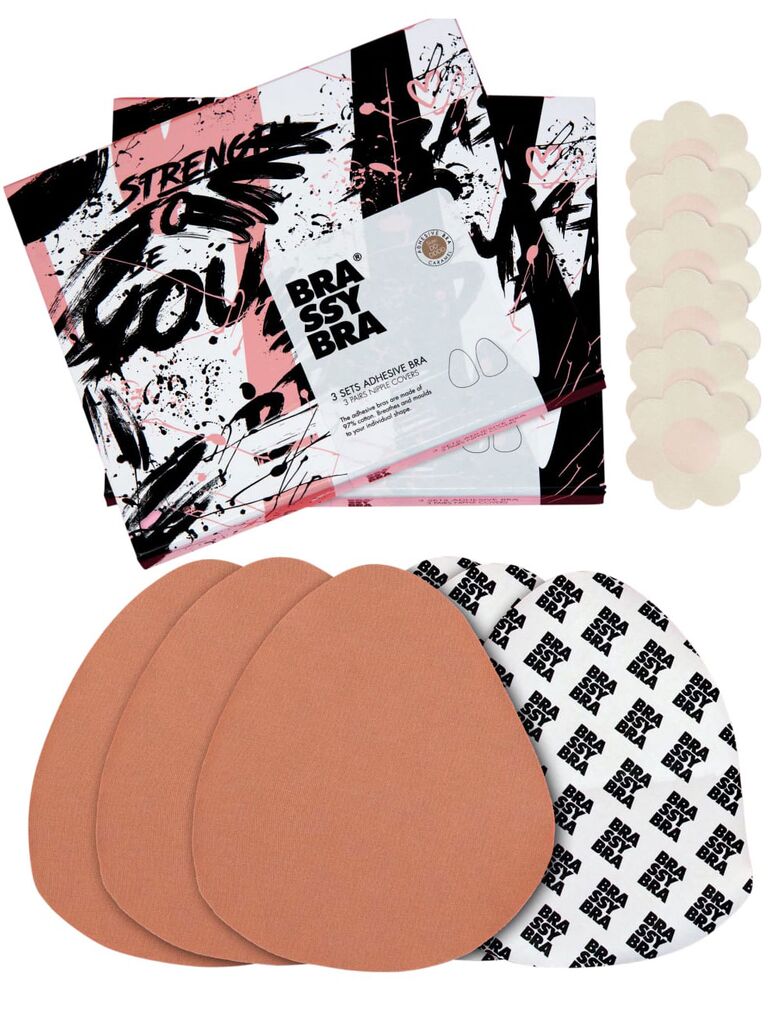 Boob tape has become a popular alternative to wearing a bra in recent years. It's not just for the red carpet anymore—you're perfectly entitled to tape your bust for your big day. BrassyBra breast tape comes in five different nude tones, has split tape for easy application and moves with you (so you don't have to worry about feeling restricted on the dance floor). The box includes three one-time-use sets, so you can test it out before your wedding day. Plus, there are nipple covers included if you want that little bit of extra coverage.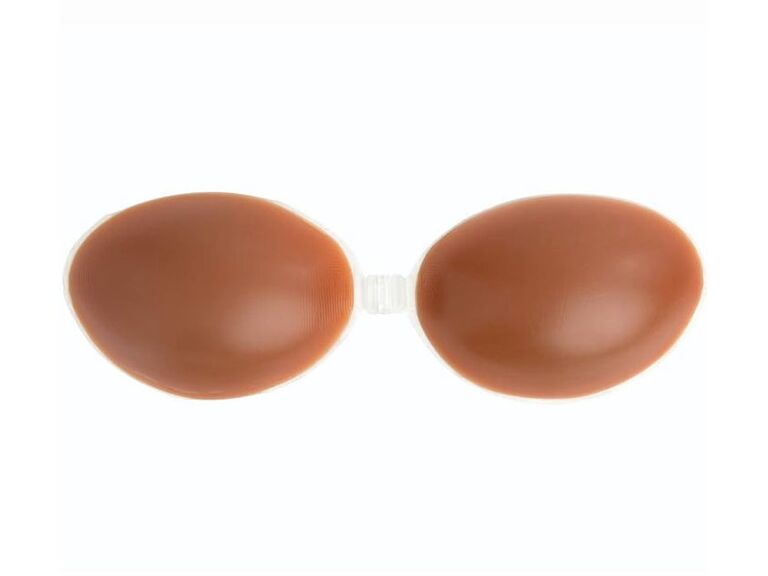 This silicone bra is one of the best stick-on bras for a wedding dress for a few reasons. First of all, it's really sticky (like, really sticky). Secondly, it comes in five different colorways (porcelain pink, ivory beige, black, mahogany and sand). And finally, it's available up to a cup size F. A few things to keep in mind if you decide to go with this option: Use the site's sizing chart, read the application instructions and try it on with your actual wedding dress.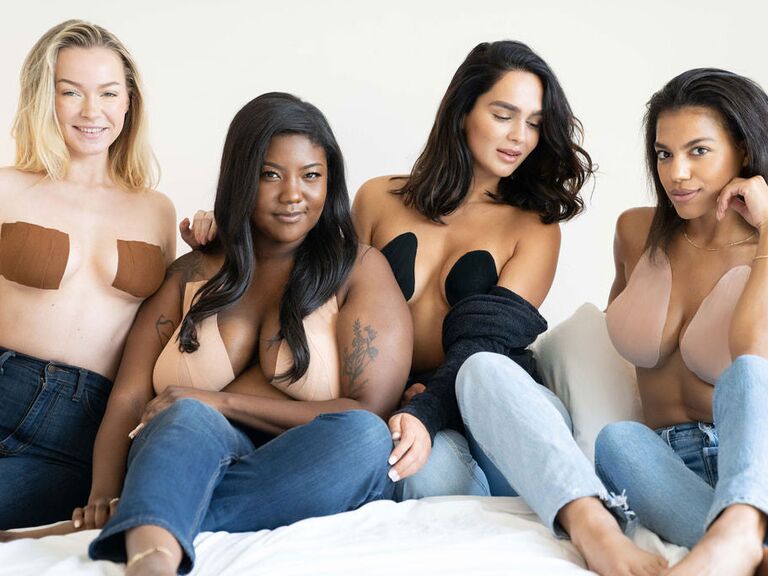 Here's another awesome (sticky!) solution to your wedding dress bra woes. If you're struggling to find undergarments that work with your gown, boob tape really is a great alternative. Good Lines has a strong adhesive that lifts and holds for up to eight hours. It's also sweatproof, waterproof and can be cut to fit the exact silhouette of your dress. The tape works for lots of different body types and skin tones.