Find the Best Gown Length for You
Don't know what length you want your bridal gown to be? Here's the long and short if it.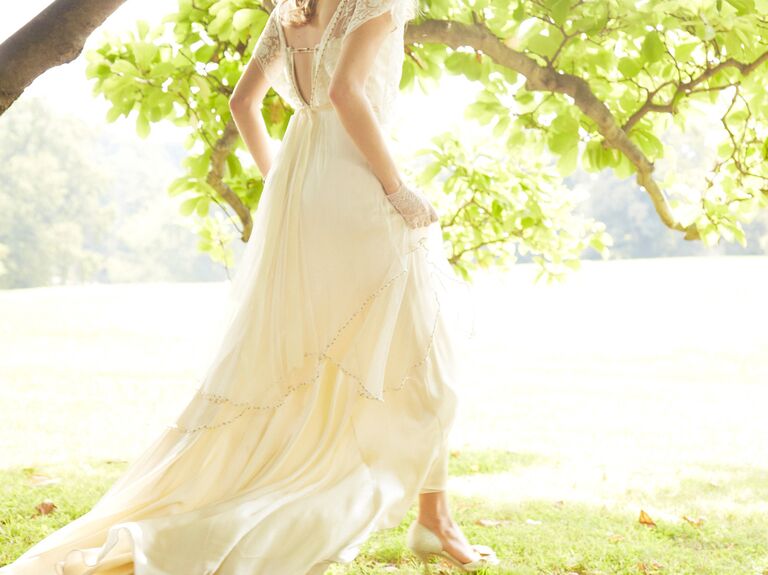 Thayer Gowdy
Choosing your gown length may seem like a no-brainer. But unless you know the difference between ballerina tea-length and a mini, you better read on.
Ankle-length: We'll start you off with an easy one. The ankle-length gown is hemmed -- you guessed it -- right at the ankles. A nice semi-formal option that can be either full or form fitting.
Ballerina: Again, like the name implies, the Ballerina features a full skirt (think tutu) that reaches just above the ankles. Very fun and flirty -- great for an outdoor wedding.
Floor-length: The hem on this gown just barely touches the floor on all sides. A wonderful formal look that works well on both straight and full styles.
Intermission: This hem falls anywhere between the knee and the ankle. Perfect for a semi-formal or more casual affair -- and we just love saying the name!
Hi-Lo: A variation of the Intermission, the Hi-Lo features an Intermission hem on the front, and a floor length (or longer) hem in the back. A popular look for bridesmaids (and again, love that name thing!).
Knee-length: Another great look for maids or a casual bride, this style of skirt ends just below the knee.
Miniskirt: For the super sassy bride -- a skirt that ends well above the knee.
Tea-length: A gown hemmed to end at the shin, it's conservative, but chic.