Should You Be Practicing Your Soft Smile Before Your Wedding?
The short answer from experts? No.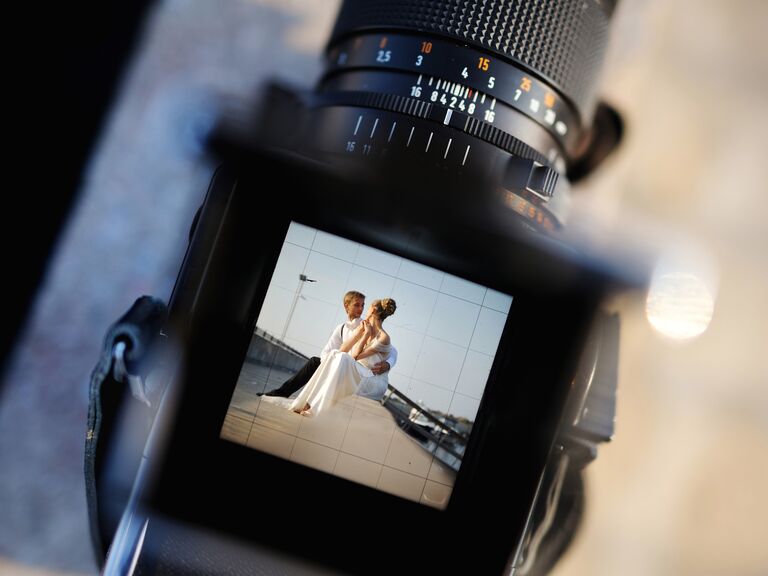 Shutterstock
Your wedding photos are meant to last a lifetime. In fact, these images serve as a visual testament of one of the best days you'll experience. With that, some couples may feel uneasy in front of the lens, some even catching a case of photo anxiety.
The "soft smile" trend on TikTok, for example, is one where social media users rehearse their smiles in a mirror to simulate how they will pose on their wedding day. Juxtaposing photo expectation with reality, the trend opens with subdued soft smile practice before cutting to a burst of unaltered, joyousness expressed on the face.
"There's a lot of pressure on branding yourself and trying to look like someone else," says psychologist Dr. Ann Kearney-Cooke. Therefore, is a social media-worthy "soft smile" something you should be striving toward? The answer is no. What's worth emphasizing is a different focus: being present, maintaining your health, and having fun. In order to do that, Dr. Kearney-Cooke believes that couples should "realize perfection doesn't exist."
So whether your face features a toothy grin, creased cheek dimples or a soft smile emerging from the subtle part in your lips, it's important that you feel your best on your wedding day. And while practicing in a mirror may garner views on TikTok, working on your inner smile is a healthier approach to photo prep. Below, read tips and expert advice on how to capture your best smile, starting from within.
What Exactly Is a Soft Smile?
Based on internet trends, a soft smile has been loosely defined as one in which your lips gently curl at the corners of your mouth, on occasion exposing a slight showing of teeth. Likely your cheeks will dimple and your pupils will start to dilate. In terms of aesthetics, a soft smile appears elegant, even "perfect," in photographs. This is because it is perceived as gentle without being overly expressive.
To many, a soft smile is elusive and mysterious, often requiring practice in front of a mirror, camera or an audience. But there is no universal standard for the perfect soft smile. Instead, professional wedding photographer Joshua Dwain believes there's only one type of grin you should be striving for in your photos: "A genuine one," he says.
How to Capture Your Best Smile
Applying Vaseline on your lips at bedtime, popping in aligners, and packing on the white strips will aid in the aesthetics of your smile (and there is merit in doing so). But a sole focus on "photo-ready" perfection is misguided. According to experts, your "best smile" is one that comes without practice or products. (Hint: It's all in your eyes.)
Include unrehearsed moments of joy in your wedding schedule.
You are best represented when you are at your peak of joyfulness. According to psychology professor Tomi-Ann Roberts, "[This smile] involves more than just those lower half face muscles around the mouth, but also some muscles that encircle the eyes."
"This sort of smile or expression comes on the face quickly and tends to leave just as quickly," adds Dr. Roberts. Hence, it is important that you work with your photographer and your shot list to ensure you're snapped in moments that you least expect. To do this, incorporate activities into your wedding day timeline that spark laughter, leaving both you and your guests in utter surprise. The key is spontaneity—and that's something you can't practice.
Be mindful when posing.
But what about the parts of your wedding that aren't candid or spontaneous? Patience and mindfulness are important when taking your posed wedding portraits. Standing around, moving locations, and dealing with harsh weather or lighting are just a few complications you may encounter—all things that aren't worth smiling about in the moment, but require expectation-setting and planning.
"Let go of the sense that your posed photos at your wedding have to look like you're happy in that exact moment," says Dr. Roberts. A posed "social smile" is fine too. While it may feel counterintuitive, focusing on your smile from within will naturally manifest on your face—the camera catching every quirk and emotion you feel throughout your wedding day. Relax and be present in the moment.
Trust your photographer.
Off that, release any tension and let the photographer take control—you'll thank yourself later when flipping through your wedding album. It helps to build a relationship with your photographer ahead of the wedding day, which is why engagement photos are encouraged by wedding pros. During these sessions, you can get a sense of your dynamic as a couple, how you pose, and react to direction. Trust that they will work in their signature techniques to make sure you feel–and therefore, look–your best behind the lens, whether you decide to practice your smile beforehand or not.
Dwain often enlists the help of the bridal party to tell jokes to the standing couple, a technique that helps crack a candid smile. And aside from comedy, he showers the couple with compliments to empower their energy and confidence. "Everyone has an idea of how they want to look in their photos, but generally the photographer also has their own voice," says Dwain, a Nikon Creator and professional. Letting said voice shine through eliminates the need for couples to smile-prep, giving you time to simply love and live in the moment.
Therefore, syncing with your partner and ditching the photo stress is the best technique to perfect your wedding smile—and that's something you can actually practice. After all, the best photos come when "you see the genuineness behind the "ugly smiles" or the "ugly cries," says Dwain. "Even if you don't like your smile, you know you were a hundred percent happy at that moment." So love your smile as much as you love your partner, knowing that your face will follow.