Bridesmaids: How Many Maids Are Too Many?
by The Knot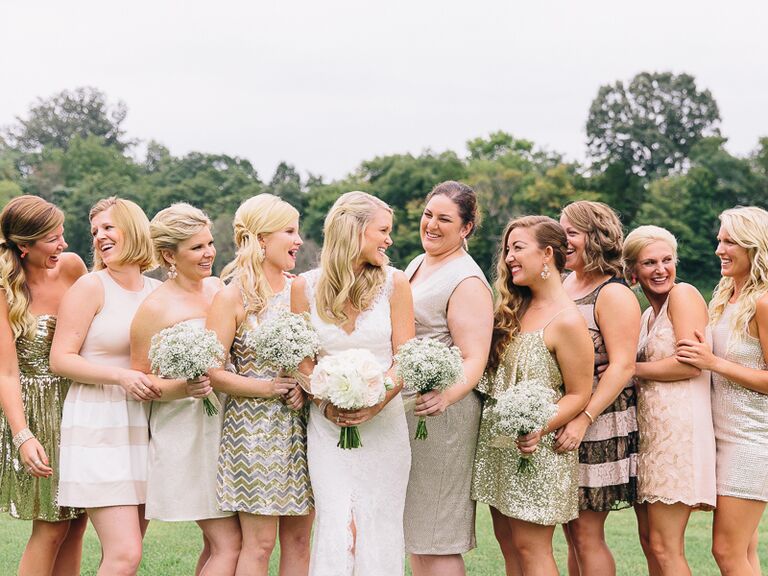 Bonnie Sen Creative Photography
Q:
I am fortunate to have many close girlfriends. However, a friend said she thought that it might be tacky to have more than 5 bridesmaids. I wouldn't want to leave anyone out, but I wouldn't want to have more bridesmaids than groomsmen. Is it appropriate to have as many as 8-10 bridesmaids?
A:
It's not necessarily tacky, but things can get out of hand if the wedding party is too big. For one thing, you'll want to be sure there aren't more people standing up at the altar than are sitting in the pews! It's true that you want your wedding party to be somewhat proportionate to the size of your guest list. Also take into consideration the size of your ceremony site -- will everyone fit up front? And last, consider the logistics -- finding a dress (or even a few styles) that ten women will like, making sure everyone gets fitted, and so on. Even the closest of friends sometimes find their relationships strained over this sort of thing. All that said, the truth is, the number of bridesmaids you have is solely up to you. If you have 10 dear friends and you want them all to stand up for you at the wedding, so be it. And it really doesn't matter if you have more women than men in the wedding party; symmetry is not required. Also consider this -- you can have your bridesmaids (and groomsmen too) walk in the procession and then simply sit in a row in the first pew. They don't have to stand up the entire time. (You and your groom will probably want to have your maid of honor and best man standing next to you however.) This way, everyone you want to honor gets honored, but it won't get too crowded.