Real Honeymoons: West Coast
Shelley and Ian packed up their car and their pup for an unforgettable drive down the coast of Oregon and California.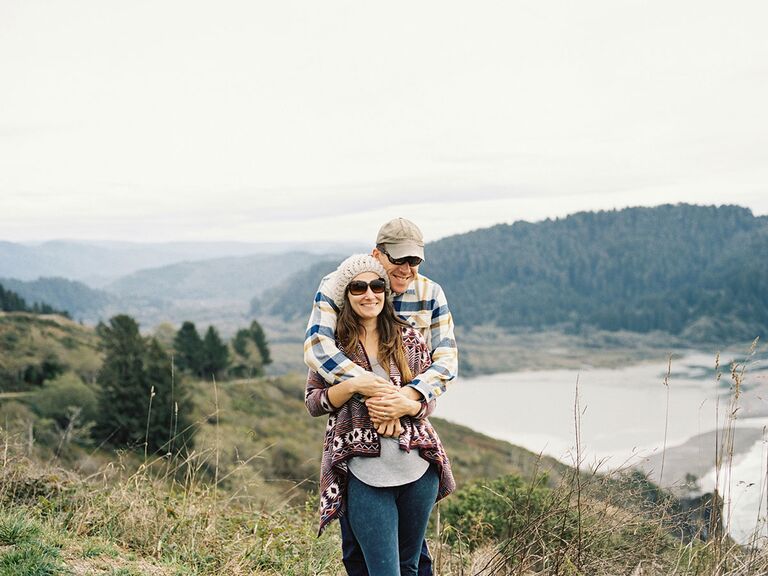 Budget: None
Time of Year: October–November
Length of Trip: 17 days
Travel Time: 11 days
Dog-friendly lodging was a must for Oregon-based couple Shelley and Ian, who brought along their dog, Emmylou, during their fall road trip. "Ian doesn't care much for plane travel, so we decided to drive down the California coast and stay in Airbnb listings along the way," Shelley says of their laid-back approach to their honeymoon. The pair kicked off the first leg of their trip in Brookings, Oregon, where they enjoyed what Shelley describes as the best meal of the trip at the city's Oxenfre Public House. "Looking back, we could've spent more time in Brookings," Shelley says. After two days in their home state, the couple drove nearly 400 miles south to San Francisco, with stops in Gasquet and Arcata, California, on the way. "We stayed at such an eclectic array of places, from an off-the-grid hut in the forest to a tree house overlooking the beach," Shelley says. "The prices ranged from $30 to $400 per night, but we enjoyed the selection and experiences of all of them." Additional trips included Big Sur and Santa Cruz, before a final venture to the coastal city of Half Moon Bay. "We hiked the beaches and walked through the redwoods," Shelley says. "Our honeymoon was ultimately about relaxing and spending time with each other, and our Emmylou."
Book It
See more images from their honeymoon below.