10 Cozy Winter Engagement Photo Outfit Ideas for Couples
Plus, all the expert tips to help you choose a seasonally appropriate outfit.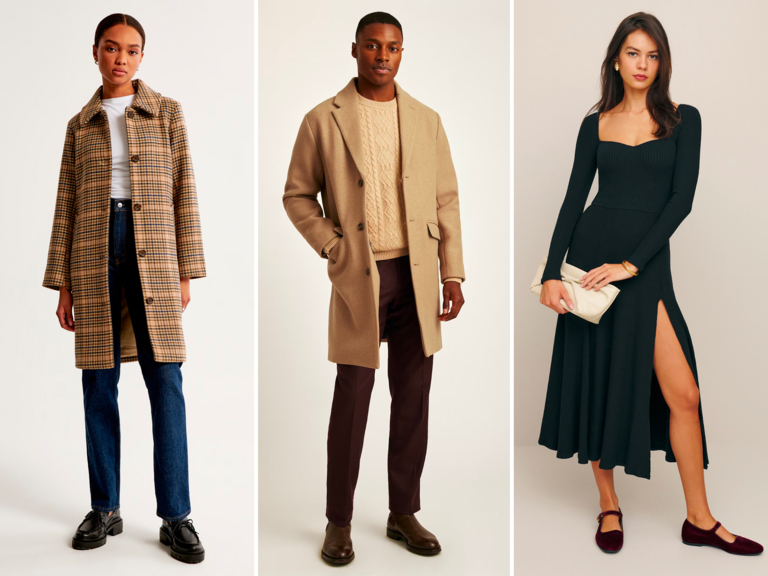 Photos, left to right: Abercrombie & Fitch, Bonobos, Reformation
We have included third party products to help you navigate and enjoy life's biggest moments. Purchases made through links on this page may earn us a commission.
Once you get engaged, there's a good chance your camera roll will be filled with proposal pictures, ring shots, and plenty of couple selfies. But even if you have photos from the actual bended-knee moment, nothing quite compares to having a professional engagement photoshoot. It's a convenient way to test potential hair and makeup styles, along with the wedding photo poses you want to recreate on the big day. "An engagement session can be helpful if you're very camera shy and want to literally check your poses before the wedding day," says photographer Lucy Cuneo.
If you've decided to have a professional session, the next step is to figure out what to wear to an engagement photoshoot. This can be particularly tricky in the winter months when you have to balance looking cute with keeping cozy. Thankfully, we're here to help. Below, we're breaking down exactly what to wear for your winter engagement session, including the best colors, fabrics, and silhouettes for the season. And if you're ready to start shopping, we've rounded up the top photo outfit ideas for couples and the best places to find standout styles.
In this article…
What to Wear for Winter Engagement Photos
Since winter weather can be a bit unpredictable, picking your outfit comes down to a science. "It's definitely possible to find winter engagement photo outfits that are stylish and appropriate for the season," says Ranu Coleman, Vice President, Brand Marketing at wedding fashion brand Azazie. "For women, my favorite casual outfit idea is a cozy sweater, jeans and your favorite heels. Men can opt for a button-down shirt, sweater and jeans or a nice sport coat."
Here are some more winter engagement photo outfit ideas for couples:
A simple silk dress with a faux fur coat or shawl
A wool or plaid suit with a crisp button-up and formal shoes
A belted chunky sweater dress with tall boots or tights and booties
A sweater, cardigan or quarter-zip paired with chinos or slacks
A chunky wool sweater, dark jeans, and your favorite heels or booties
A solid color Oxford shirt, dark jeans, and loafers
If you're taking photos in cooler temperatures, experts suggest layering up. In fact, your engagement photo session is a great chance to break out your favorite winter accessories like a cozy wrap or shawl, a faux fur coat, a wool blazer, or a warm scarf. Not only is this a simple way to winterize your look, it'll help you move through the photoshoot quickly. "I always advise clients to layer winter outfits," says Logan Stocker, key opinion leader for SuitSupply. "Wear a nice overcoat or a scarf that compliments your outfit, because this will allow you to shoot multiple looks and combinations."
Ultimately, what matters most is that your winter engagement photo attire makes you feel like your very best self. "Pick an outfit that makes you say 'wow' when you look at yourself in the mirror," Coleman advises. "If you don't feel confident in your outfit, it will show through your pictures. That's why I suggest buying a new outfit that's special for this day. Pick something that complements your skin tone and body, and look for something that adds a glam pop, whether through the texture, the color or a bold accessory."
Winter Engagement Photo Outfits You Can Shop or Copy
Ready to start shopping for your winter engagement photo outfits? Let us save you the hassle of scrolling through Pinterest for hours. These 10 styles are totally camera ready (and winter weather-approved).
If You Want a Trendy Vibe…
Your engagement photo session gives you and your partner a chance to show off your personal styles, so go ahead and splurge on those trendy new fits you've been eyeing (you don't need our permission). This season, we're all about styling timeless classics in fresh and modern ways. For instance, a simple black dress can make a serious statement when paired with bold, chunky gold jewelry. Likewise, a pair of plaid pants is all you need to take a casual cable knit sweater to the next level.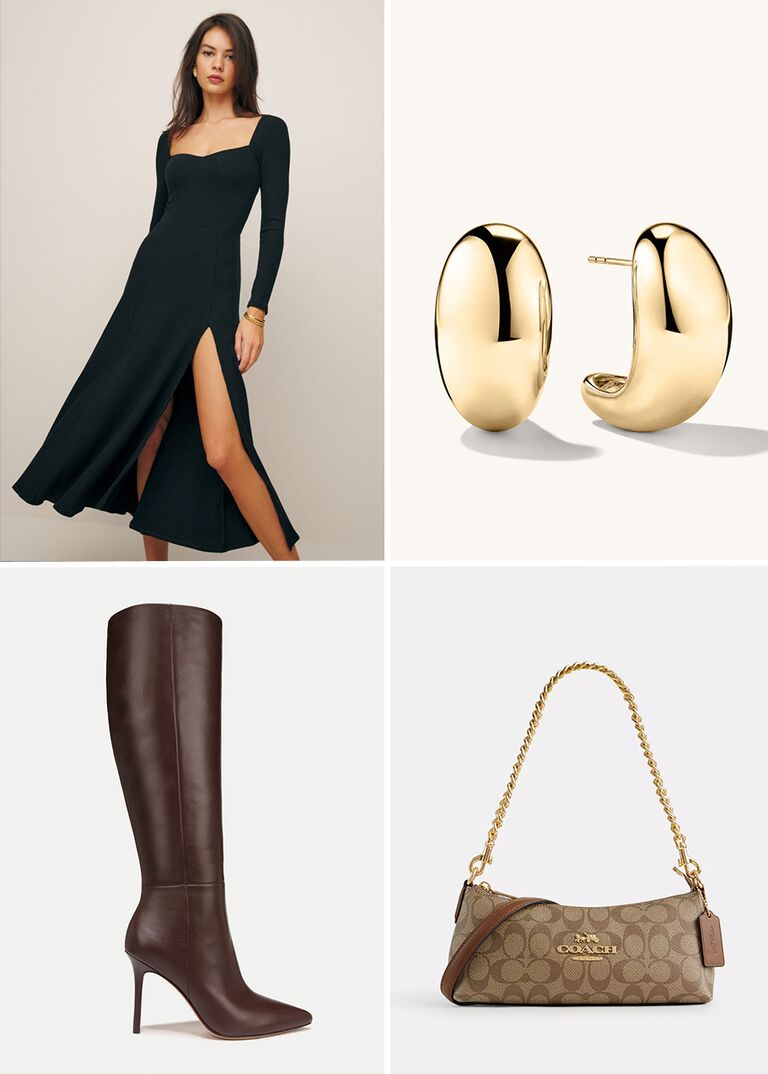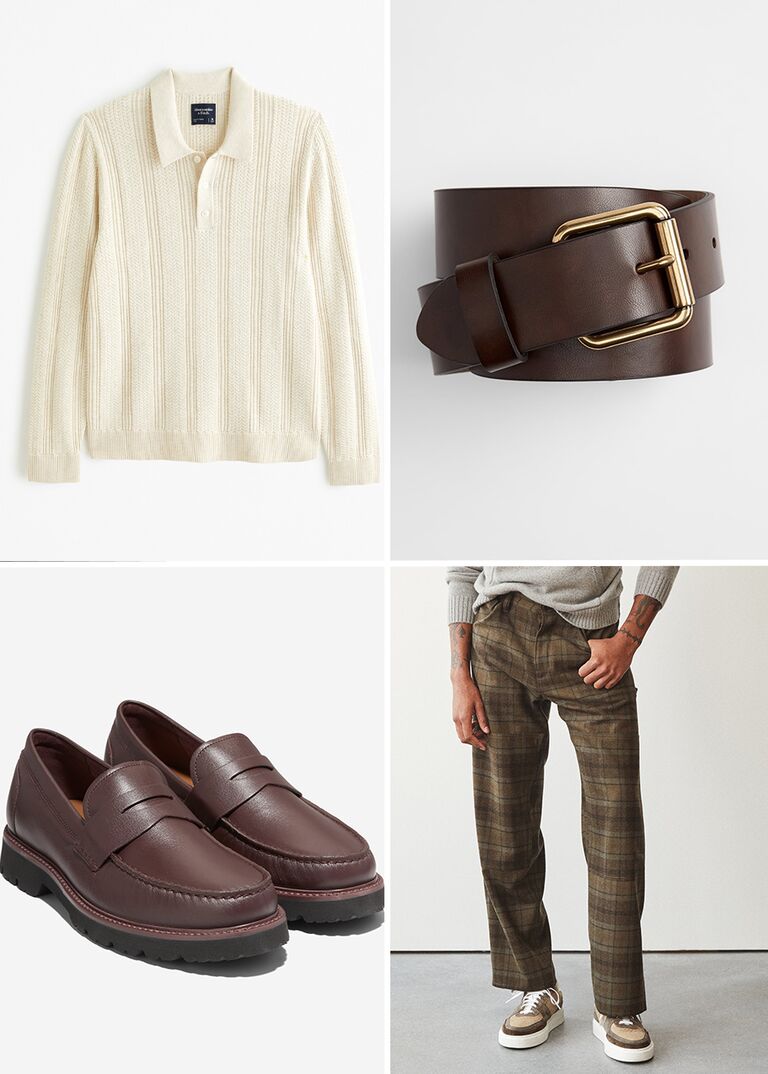 If You're Taking Photos Outdoors…
The key to dressing for an outdoor photoshoot in the winter: Layers. Not only will a long wool coat keep you cozy as you pose for photo ops, but it will also look really good. Plus, you can easily remove it to switch up your look between shots. Trust us: When it comes to your engagement photos, you'll appreciate the variety. For a timeless look, we recommend sticking to warm-tones and neutrals, like brown, black and beige.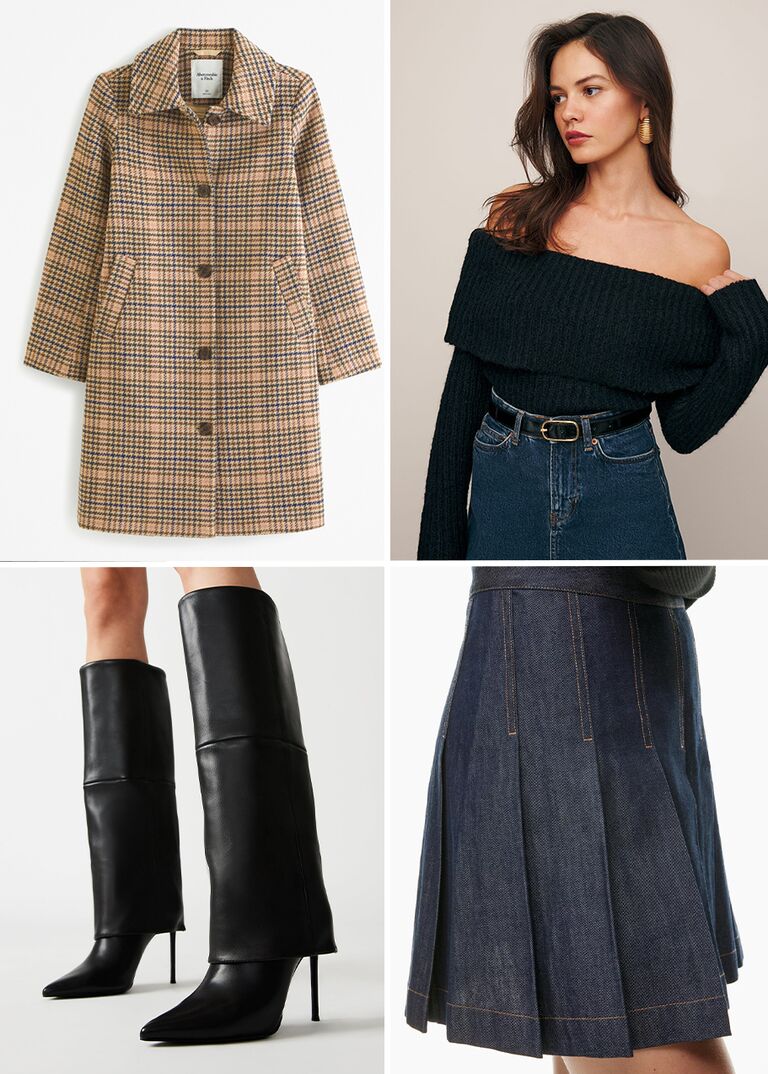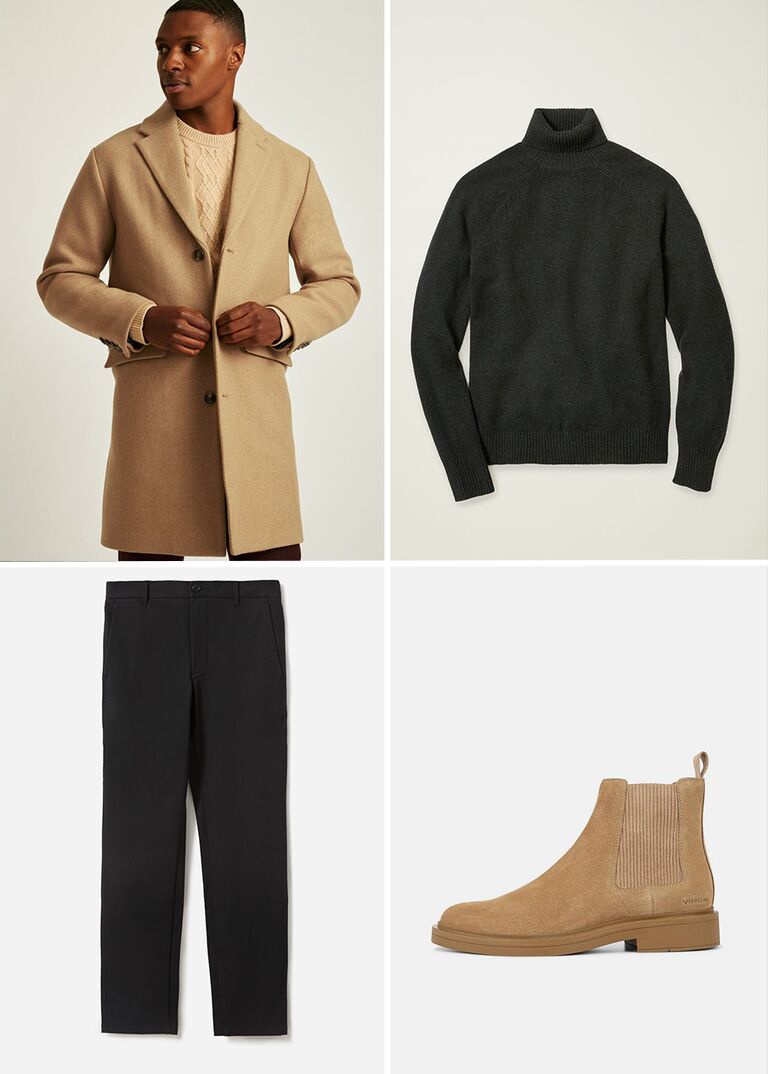 If You Want a Vintage Vibe…
Trends may come and go, but some styles never fade. Lucky for you, those same looks make the perfect option for your winter engagement photos. A veiled boater hat and lace gloves are an ideal way to add a vintage touch to your ensemble (re: The Parent Trap wedding scene). For suiting, you can't go wrong with a timeless beige set. Top off both your looks with a wool coat when capturing those outdoor shots.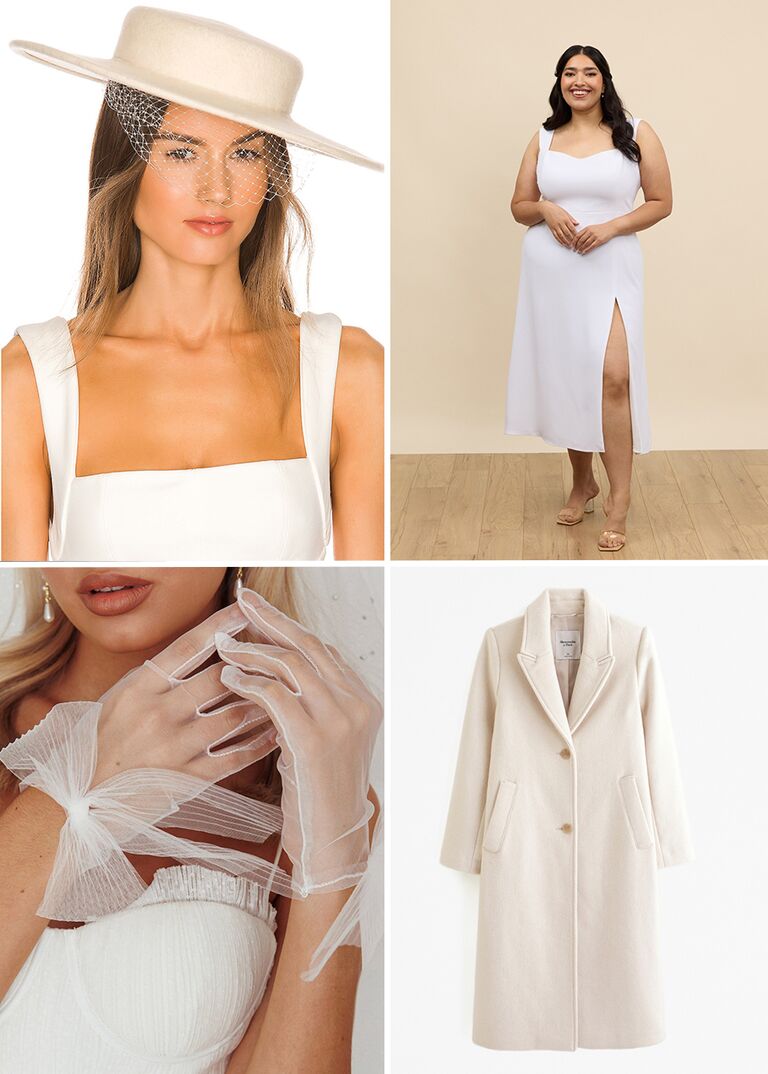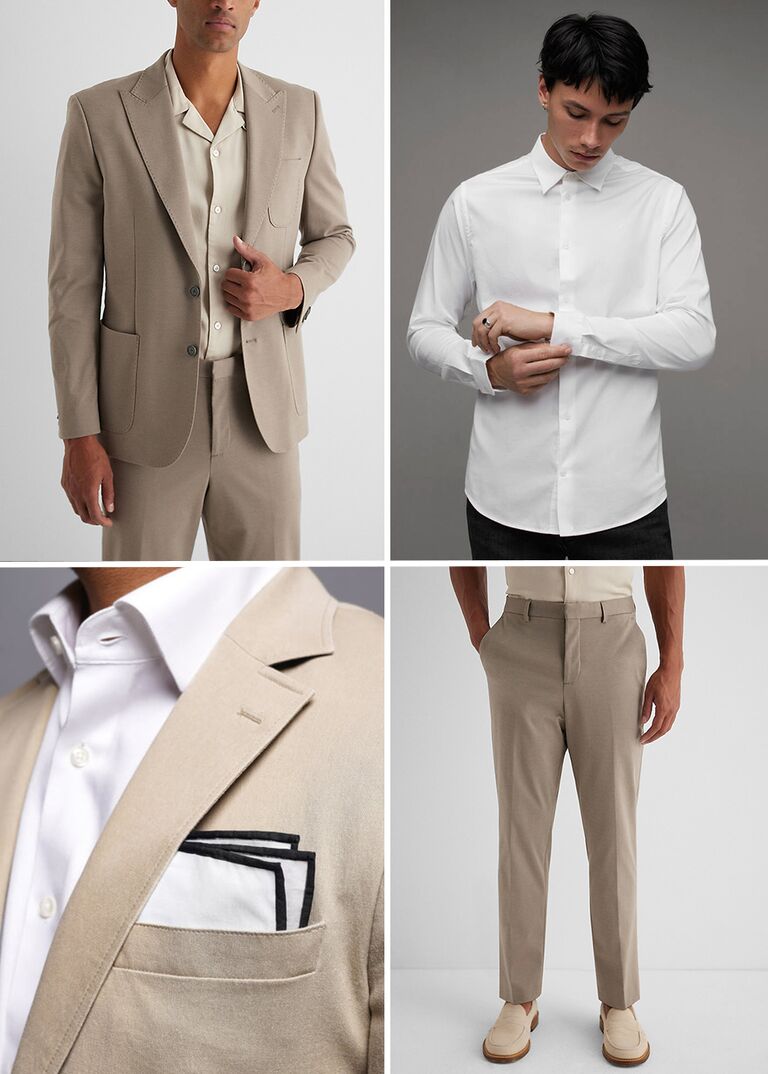 For a Casual Vibe…
Maybe you're hoping to capture a laid back vibe in your engagement photos– after all, your pics should be a reflection of who you are as a couple. Thankfully there are plenty of options for keeping things casual (and stylish). For the winter time, cozy knitwear and flannels are our go-to. You can make things a bit more festive by opting for bright pops of color. FYI: If you're looking to stay ahead of the trends, we're predicting cherry red will have a major moment in 2024.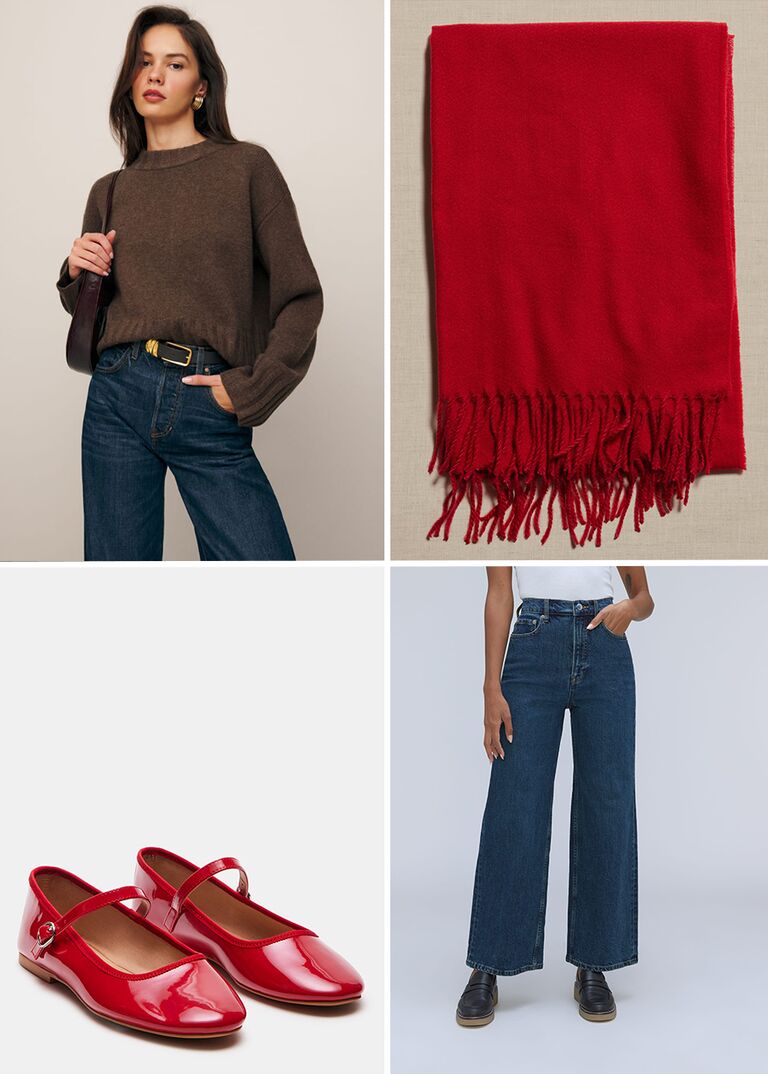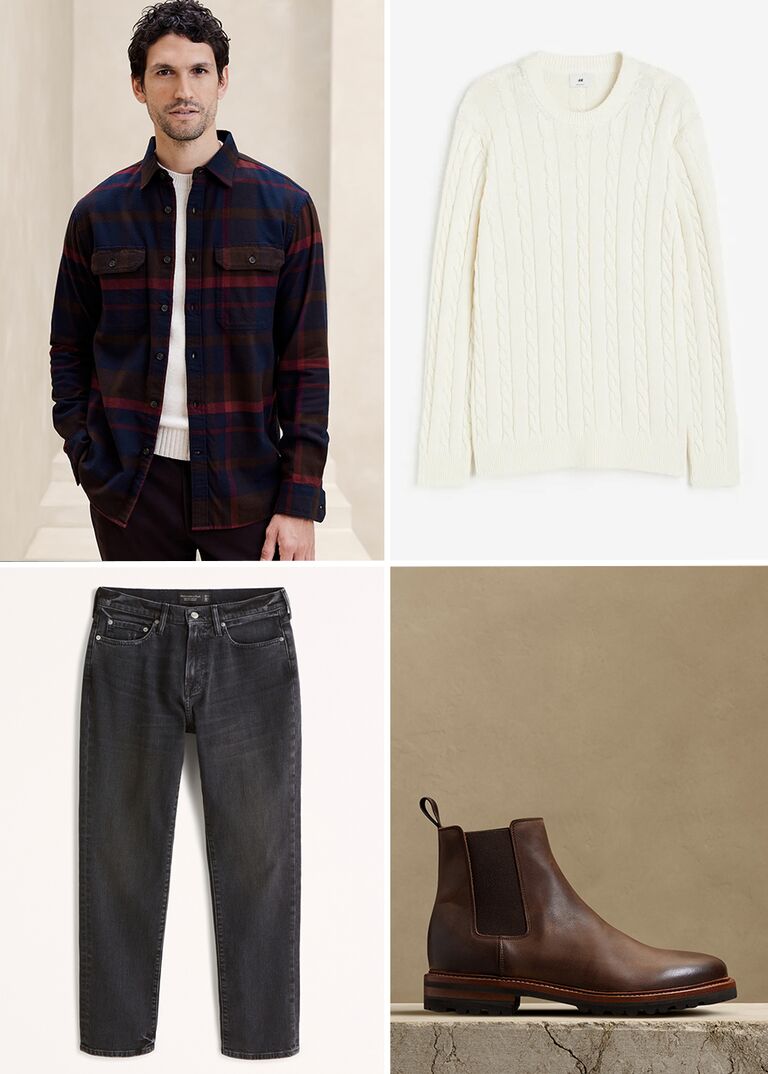 If You Want a Festive Vibe…
Pro tip: Your winter engagement photos can also double as holiday card photos. Why not lean into the season with a festive ensemble? Satin and velvet are obvious choices when it comes to fabric as they're both elegant and timeless. You also can't go wrong with jewel tones, like emerald, sapphire and ruby, when dressing for your winter engagement photoshoot (because after all, your love is as rare as a gem).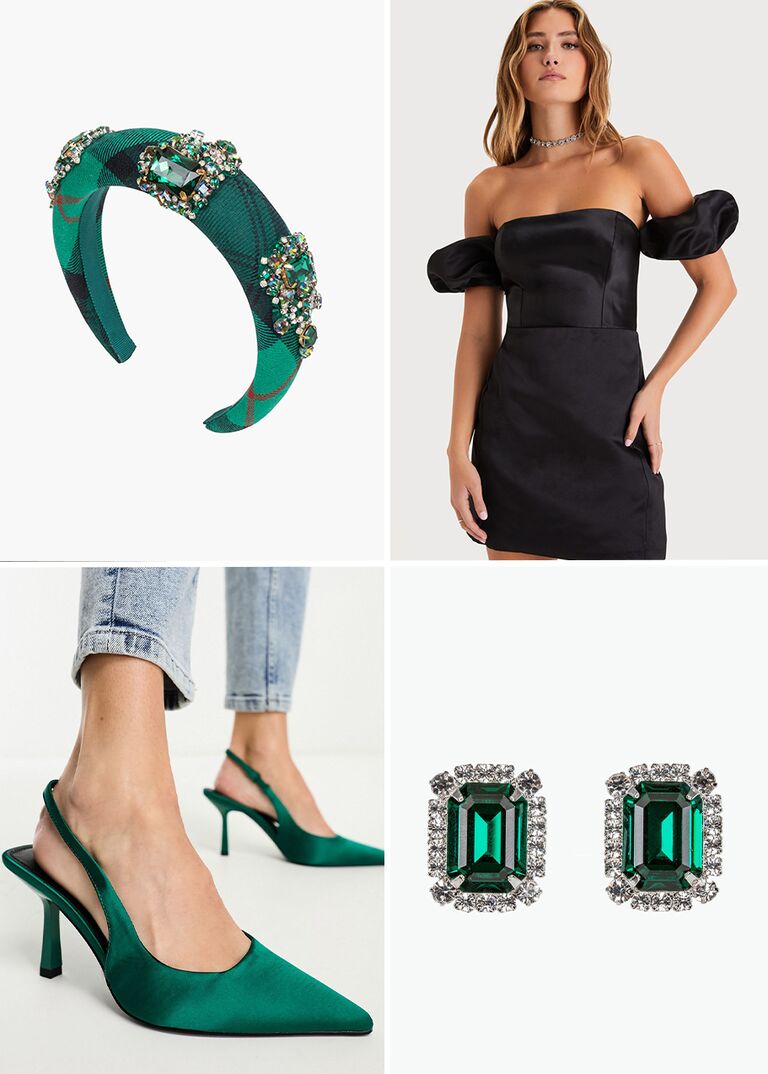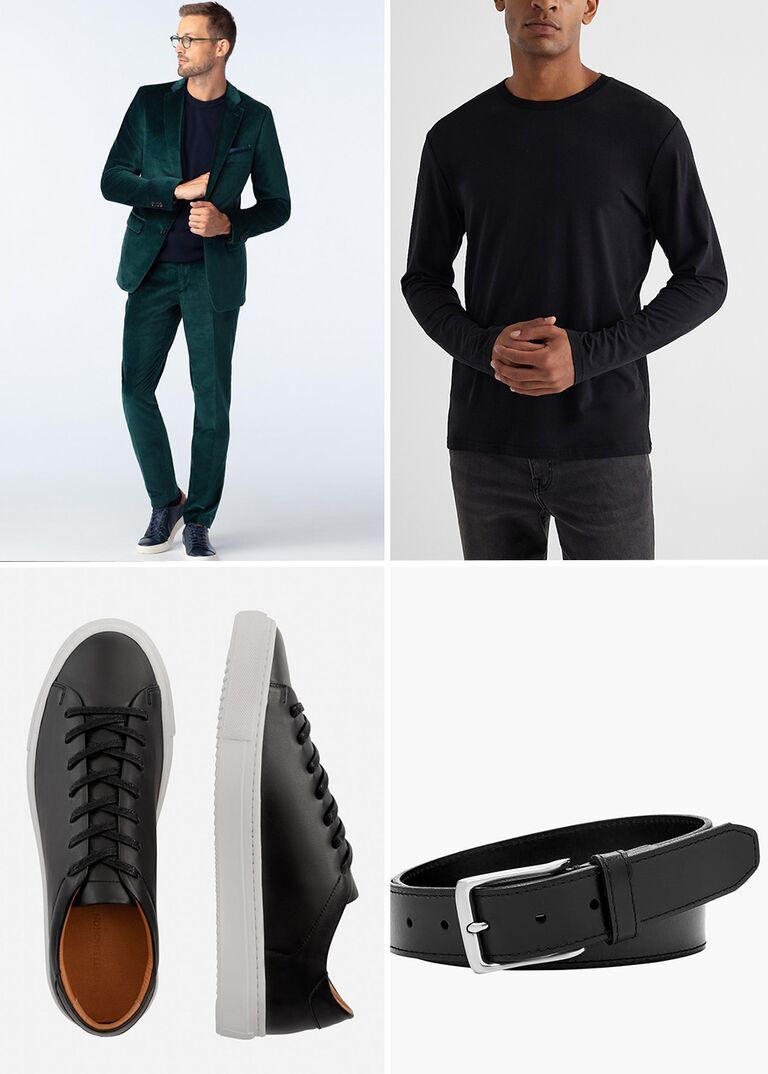 Where to Buy Winter Engagement Photo Outfits
If you still haven't found what you're looking for, don't fret. These retailers are some of the best places to buy winter engagement photo outfits that you can wear again. Look through their selection of trendy and size-inclusive styles for every winter photoshoot vibe.