24 Cute Engagement Photo Outfit Ideas for Spring 2023
Pose for pictures in something seasonal.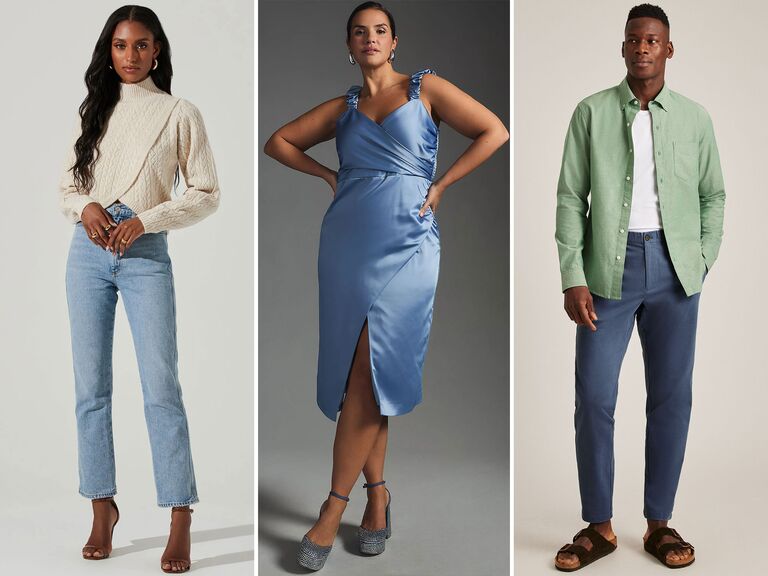 We have included third party products to help you navigate and enjoy life's biggest moments. Purchases made through links on this page may earn us a commission.
The engagement period is a special time you'll want to capture with photos. Sure, you might have impromptu proposal pictures, but there are many reasons why booking a formal engagement photo shoot is a worthwhile investment. "Sometimes a couple has never been professionally photographed and this is an opportunity to practice and get familiar with what it feels like being in front of the camera," says photographer Petronella Lugemwa of Petronella Photography. A professional engagement session can act as a test run for your wedding day portraits. Whether you're looking to test a photographer, beauty looks or potential wedding photo poses, you'll feel better leading up to the big day knowing you're prepared.
Lugemwa also notes that photos from a professional engagement session can be repurposed for the couple's wedding website, printed on save-the-dates or used at their engagement party. Not to mention, it's a moment to celebrate the couple's love with some gorgeous pictures. "For most couples, it's a wonderful opportunity to capture a really blissful time on their journey to 'I do,' so they have memories to look back on and remember this time in their lives," Lugemwa adds.
Below, we dive into everything you need to know about spring engagement photo outfits, including what to wear and how to prepare for your upcoming spring photo shoot. We've also picked some stylish attire options for you and your partner to shop now.
In this article:
What to Wear for Spring Engagement Photos
Spring is an appealing time of year for an outdoor engagement shoot. "Spring is wonderful because the weather has warmed up for couples who live in colder areas, the trees and flowers are in bloom and it means more lively and memorable photos, which are the perfect boost as you continue the wedding planning process," says photographer Terri Baskin of Terri Baskin Photography. But what should couples wear to their photo session?
How to Choose Your Outfit
When picking your spring engagement photo outfit, consider the weather and location of your shoot. Spring days can be chilly or warm, so it doesn't hurt to bring layers to your portrait session. And if you're posing for pictures outdoors, prepare for surprise wind and rain—just in case. The best engagement photo dresses for spring can ride out a seasonal breeze. (Bonus points if your shoes can handle a puddle or wet patch of grass!)
But most importantly, consider your personal style. Ultimately, the choice of what to wear to your spring engagement photo shoot is entirely up to you; so pick an outfit that makes you feel special, comfortable and like yourself. Are you and your partner a casual couple? You don't have to wear anything formal. On the flipside, you might love dressing up—in that case, get fancy with it! Or, you could bring two different outfits and change into one later for an entirely different look.
How to Accessorize Your Outfit
Speaking of your unique style, don't forget about accessories. They're a great way to add dimension and personality to your outfit. April Fluker, a senior product developer for the fashion brand Lulus, offers a few great examples. "A wide-brim fedora hat; a print satin scarf you can wear in your hair, on your wrist or [around your] neck; bright sandals or lace-up heels; hair accessories like a headband, bow or clips; and pretty drop earrings are all pieces you can take on and off easily and add a little something extra," she explains. We're also big fans of a fun tie or bow tie in a fresh, seasonal color.
Where to Buy Engagement Outfits for Spring
Wondering where to buy engagement outfits—or at least where to start? We've rounded up retailers that sell spring-worthy ensembles for men and women. Whether you want to go for a fancy or casual coordinated outfit for your upcoming photo shoot, you won't be disappointed with their stylish and seasonal options.
Nordstrom: Nordstrom carries a mix of formal and casual spring engagement outfits for men and women in standard, petite and plus sizes. Whether you're looking for a cute floral dress or a colorful button-down shirt with jeans, Nordstrom's got you covered with affordable and high-end options. Shop for: Anyone.
Banana Republic: Banana Republic is another one of our top places to buy spring engagement photo outfits for the season. We particularly love their cute slip dresses and silk tops, comfy polo shirts and stylish blazers. Banana Republic carries standard, petite and tall sizes so you can achieve your best fit. Shop for: Anyone.

Anthropologie/BHLDN: Anthropologie and its wedding shop, BHLDN, sell fashionable spring dresses, tops, jumpsuits, skirts, accessories and more, including white and neutral-colored picks that feel extra bridal. Plus, you can rewear many of their versatile styles after the photo shoot concludes. Shop for: Women.

ASOS: ASOS offers stylish and size-inclusive spring engagement photo outfits for both men and women. Search dressy options like a jumpsuit, dress, or suit, or casual ones like a flowy top, a long-sleeve shirt or sweater and denim jeans, depending on the vibe and location of your shoot. ASOS has it all in standard, plus, petite, tall and maternity sizes. Shop for: Anyone.
Spring Engagement Photo Outfits for Women
When it comes to womenswear, Baskin suggests wearing "dresses or skirts that flow, soft floral prints or patterns, cute accessories with color and nude shoes." Fluker recommends romantic design details (think: puff sleeves and bows) as well as two-piece sets. "They're perfect for engagement photos, as you can switch out the top or bottom to give you more outfit options," she explains. For even more outfit ideas, browse this list of shoppable picks.
Reformation Myah Dress in Milo
You'll feel like the star of the show in this dreamy floral engagement photo dress for spring. Between the romantic sweetheart neckline, cap sleeves and open back, what's not to love?
Wear it with: Floral earrings and neutral-colored heels.
Size range: 0-12
By Anthropologie Ruched Sweetheart Dress in Slate
How about a more formal pick, like this something blue midi dress? The elegant V-neckline and ruched shoulder straps will make your partner's heart flutter. This classy engagement photo outfit is one you'll definitely want to rewear, and it's available in standard, petite and plus sizes.
Wear it with: Trendy gold hoops and metallic heels.
Size range: XXS Petite-3X
ASTR The Label Ember Wrap Front Turtleneck Sweater in Cream
If there's still a bit of chill in the air, here's an excellent sweater option that doesn't sacrifice style. The soft cable-knit pattern, overlapped front and tulip hem are all on trend for spring. Plus, the light cream hue is so wedding worthy.
Wear it with: Light or dark denim jeans, flowy pants, bold earrings and black or nude heels.
Size range: XS-XL
FARM Rio Living Nature Maxi Dress in Burgundy
If you're loving the barbiecore and cottagecore aesthetics as much as we do, you're in luck. Wow family and friends with this statement-making dress that combines the popular internet styles. The silhouette is completed with a square neckline, smocked bodice and voluminous puff sleeves. We're obsessed.
Wear it with: Neutral-colored booties or sandals and minimal jewelry.
Size range: XS-XL
Needle & Thread Peaches Smocked Ankle Dress in Champagne
How whimsical is this ruffled ankle-length dress? We're swooning over the dotted tulle fabric and romantic tiered skirt on this dreamy Needle & Thread number. It also comes in a variety of pretty colorways, including champagne, black and three different shades of pink.
Wear it with: Nude or metallic shoes and a cute hair accessory.
Size range: 0-18
Banana Republic Serenade Silk Dolman Tunic in Cliff Beige
Sophisticated and sultry, this luxe silk tunic shirt is a foolproof pick for outdoor engagement photos. From the dolman sleeves and banded collar to the troca-shell buttons, you'll feel sophisticated and comfortable throughout the entirety of your shoot.
Wear it with: A sleek blazer or jacket, trousers, pearl-drop earrings and colorful mules.
Size range: Regular, Tall, Petite XXS-XXL
ELOQUII Pearl Chiffon Midi Dress in Bright White
This wedding white midi dress is decked out in faux pearl details for a dressy and cute photo engagement dress for women. Bonus: The bottom half of the skirt is transparent, allowing you to show off a dazzling pair of heels. It's giving us major pearlcore vibes.
Wear it with: Sparkly stilettos and delicate gold jewelry.
Size range: 14-28
JessaKae Margy Dress in Pearl
Trust us: Everyone will ask you where you got this whimsical engagement photo dress. The colorful botanical embroidery, flutter sleeves and ruffled details make it one to remember.
Wear it with: Statement earrings and strappy heels or heeled sandals.
Size range: XXS-6X
Lulus Out Tonight Two-Piece Jumpsuit in Sage Green
We just had to include this lovely two-piece jumpsuit for your spring engagement shoot. It has a shallow V-neck, lace-up back and flowy pant legs for a little drama. Plus, the sage green color is basically the color of spring.
Wear it with: A chain necklace and block-heel sandals.
Size range: XS-XL
Torrid Mini Poplin Tiered Ruffle Strap Dress in Floral Green
Taking your engagement photos in the garden? We have the most romantic green and pink floral dress for you. Crafted from a lightweight cotton blend, we're captivated by the square neckline, ruffled straps and allover botanical print that boasts sophistication.
Wear it with: Delicate gold jewelry, an embellished headband and dressy sandals or block heels.
Size range: M-6X
Boden Sweetheart Linen Midi Dress in Deep Sea
You'll feel beautiful and breezy in this simple linen midi dress. It's made from 100% linen, so it's perfect for a warmer shoot day. We're also loving the effortless sweetheart neck, puff sleeves and full midi skirt.
Wear it with: Dangly earrings and cute wedges or sandals.
Size range: Petite, Standard, Long 2-22
ELOQUII Satin Button Down Maxi Shirtdress in Mountain View
This fashionable plus-size maxi shirtdress is another stylish option for your spring engagement photos. We're digging the sultry green hue, built-in belt and polished sleeve cuffs.
Wear it with: Gold jewelry and spring booties.
Size range: 14-28
Hill House Home The Ellie Nap Dress in Bubblegum Gingham
When we think about spring, we can't help but think of gingham. Hill House Home's editor-approved nap dress takes pink gingham to a whole new level. The comfortable silhouette has ruffled shoulder straps, a smocked bodice and an ethereal tiered skirt. It's safe to say we're big fans.
Wear it with: Cute sandals, colorful mules and a trendy wicker or rattan bag.
Size range: XXS-2XL
Arula Cleo Top in Pink Brown
This adorable floral blouse is a casual spring top you'll reach for on the regular. It features a square neckline, puff sleeves and cute tie bows. Basically, it'll become your new favorite shirt for your spring photo shoot and beyond.
Wear it with: Flared denim pants, gold or silver jewelry and colorful mules.
Size range: 10-24
Spring Engagement Photo Outfits for Men
When it comes to men's spring engagement outfits, finding the right attire can feel like a daunting task. Our best advice? Shop for style and comfort—it'll help you achieve a look that's polished but relaxed. When in doubt, consider a classic combo. "Guys look nice in a button-down shirt,sport coat and slacks, or a navy blue or gray suit and brown shoes," Baskin says. Whether you're in the mood for something dressy or casual, we've gathered even more outfit ideas below. And remember, coordinating outfits with your partner is key!
Bonobos Stretch Oxford Shirt in Sage Green
This classic button-down is a no-brainer. The shirt is made with added stretch for maximum comfort, plus you can choose your preferred fit and length. We love the sage green color, but the other bright hues and pastel shades are just as spring-worthy.
Wear it with: Slacks and dress shoes, or denim and a nice pair of white or black sneakers.
Size range: XS-XXL
Rhone Commuter Pant in Navy
There's a good reason why Rhone's Commuter Pant is so popular: it's breathable, stylish and made with comfortable Flex-Knit fabric, making it a pant you'll want to wear all the time—at your engagement shoot, on the weekends and at work. It even has an extra pocket on the right side to hold your wallet, keys and other essentials, which will come in handy while you're taking pictures.
Wear it with: A plain or subtly patterned button-down shirt and dressy white sneakers.
Size range: 28-40
Johnny Bigg Hutton Coat in Black
We love a good coat—especially when it's as versatile as this one. The sophisticated black color is perfect for a formal spring engagement session (and will come especially useful if it's still a tad chilly outside).
Wear it with: A button-down or zip-up sweater, nice pants and dressy ankle boots.
Size range: XL-9XL
Polo Ralph Lauren Cotton Knit Half Zip Sweater in Camel Heather
A zip-up polo is a great blend of formal and casual. This long-sleeve half-zip sweater comes in a nice camel hue for spring engagement photos.
Wear it with: Dark-wash or black jeans and crisp leather sneakers.
Size range: XS-2XL
Everlane The No-Sweat Ribbed Cardigan in Pelican
For a stylish and weather-appropriate spring engagement photo outfit idea, try this ribbed cardigan in a pale green hue. The cool part? It's made with no-sweat recycled COOLMAX® EcoMade fabric, which wicks away moisture from your skin, making it a foolproof pick for an outdoor spring shoot.
Wear it with: A comfortable long-sleeve shirt, chinos or jeans and leather sneakers.
Size range: XS-XXL
Bonobos Original Stretch Washed Chino in The Khakis
You'll feel snazzy in this fitted chino pant; it's comfortable, unrestrictive and completely appropriate for your spring engagement photo shoot. The khaki color is a classic option for the spring, but there are plenty of other color options, too.
Wear it with: A dress shirt and neutral-colored loafers or boots.
Size range: 28-54
Banana Republic Luxury Touch Performance Shirt in Bicoastal Blue
You'll look so sophisticated in this luxury touch performance polo for your spring engagement photo outfit. The best part? It's created with anti-odor and moisture-wicking fabric, which will come in handy if you'll be outdoors for long periods of time. It doesn't get much better than that.
Wear it with: Dark-colored slacks or jeans, dressy sneakers or nice boots.
Size range: Regular, Tall XS-XXL
Harbor Bay Quarter-Zip Pullover Sweater in Nightshadow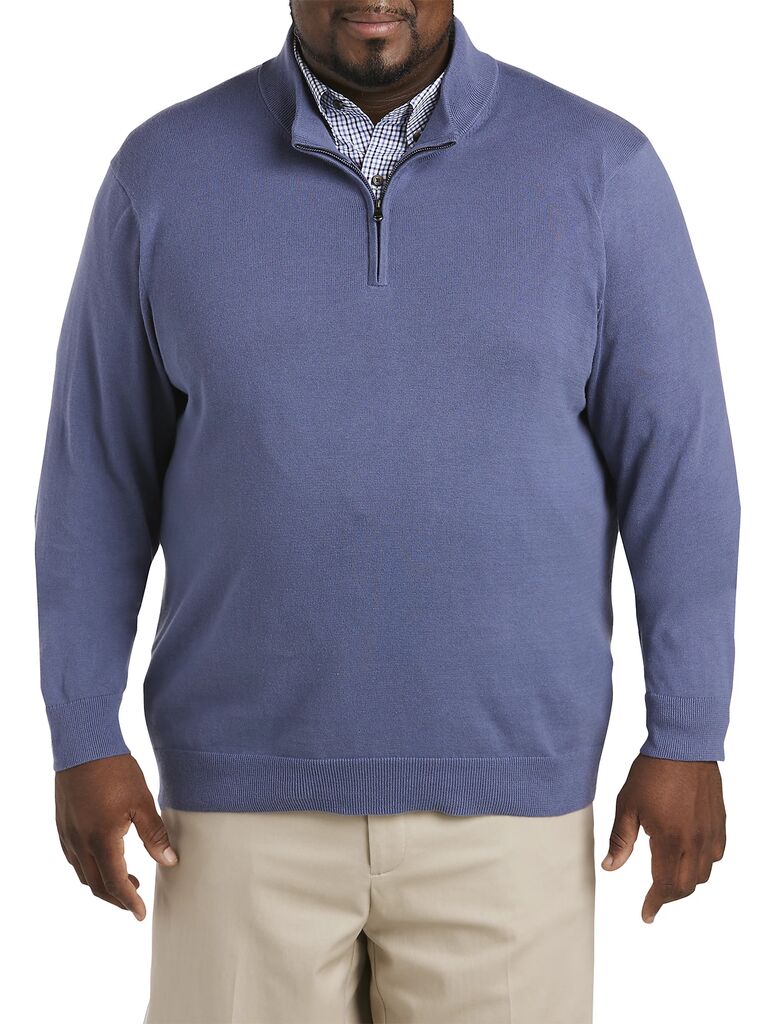 If the weather's still cold outside, you might prefer a sweater for your spring engagement photo shoot. What about this cozy pullover? The blue color is so unique, and you can make it dressy or casual depending on how you style it. The lightweight cotton fabric will keep you warm and comfortable all day long.
Wear it with: A printed button-down shirt, khakis and dark-colored oxfords.
Size range: 1XL-6XL
Brax Chuck Slim-Fit Jeans in Perma Black
What about a pair of good-quality jeans? This black slim-fit pair would look great with a button-down or light sweater in the springtime.
Wear it with: A simple belt, your favorite watch and dressy loafers—or go more casual with sneakers.
Size range: 30-42
Bonobos The Stretch Everyday Shirt in Night Aqua
We're back with another versatile option for your engagement photo shoot. You'll appreciate this button-down shirt's stretch cotton fabric, not to mention the front chest pocket and adjustable cuffs.
Wear it with: Neutral slacks and dress shoes or sneakers.
Size range: XS-XXL