Everything You Need to Know About Getting Married in Wisconsin
Look to The Knot for local details about getting married in Wisconsin, from choosing your wedding venue to getting your marriage license.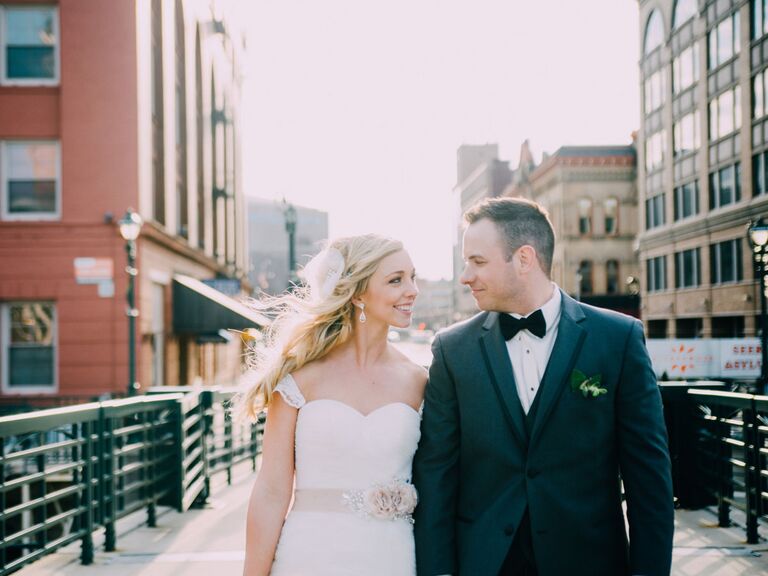 kbattlephotography
Ultimate Guide to Getting Married in Wisconsin
Located in the Great Lakes region of the US, Wisconsin offers picture-perfect settings for your wedding day. From bustling cities with all of the amenities to rustic barns and flowering gardens, America's Dairyland has something for everyone.
Whether you're a Badger by birth, marrying into a Wisconsin family or a transplant to the state, getting married here is full of opportunities. Wedding venues in Wisconsin include everything from rustic country barns and quaint beaches to luxe ballrooms. As you read through our comprehensive guide to getting married in Wisconsin, you'll also discover everything you need to know about unique wedding venues in Wisconsin and how to obtain a Wisconsin marriage license, plus fun ideas for getting married in the state's most popular cities. Follow along with your wedding checklist to make sure everything is done on time.
Top Wedding Trends in Wisconsin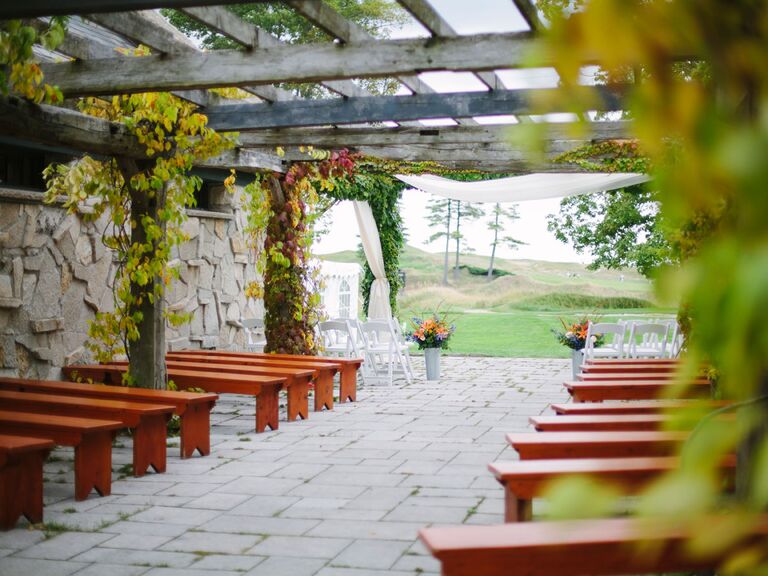 Styling your Wisconsin wedding can be tricky. You want to make sure that your decor matches your theme and that your flowers won't clash with your bridesmaids' dresses while still trying to figure out how to find great centerpieces that won't take up the whole table. Wedding trends can help you narrow down your likes and dislikes while providing you with ideas you may not have been able to come up with on your own. Instead of sticking to the broad seasonal trends, why not look at what local couples are doing in their own Wisconsin weddings?
In terms of decor, many Wisconsin couples are adding a touch of whimsy to their weddings by using mirrored table tops, handmade paper flowers and monochromatic color schemes, especially in contemporary, metropolitan venues. Hanging decorations, like pendulum lights and planters filled with colorful floral arrangements are also favorites. Vintage table settings and custom lounge spaces are another popular trend in Wisconsin weddings, and can help you pull off a memorable celebration with style.
Other Wisconsin wedding trends include:
Rustic barn weddings
Outdoor tented weddings
Intimate backyard weddings
Themed weddings (based on movies, television shows or books)
Wisconsin Marriage Rates and Wedding Costs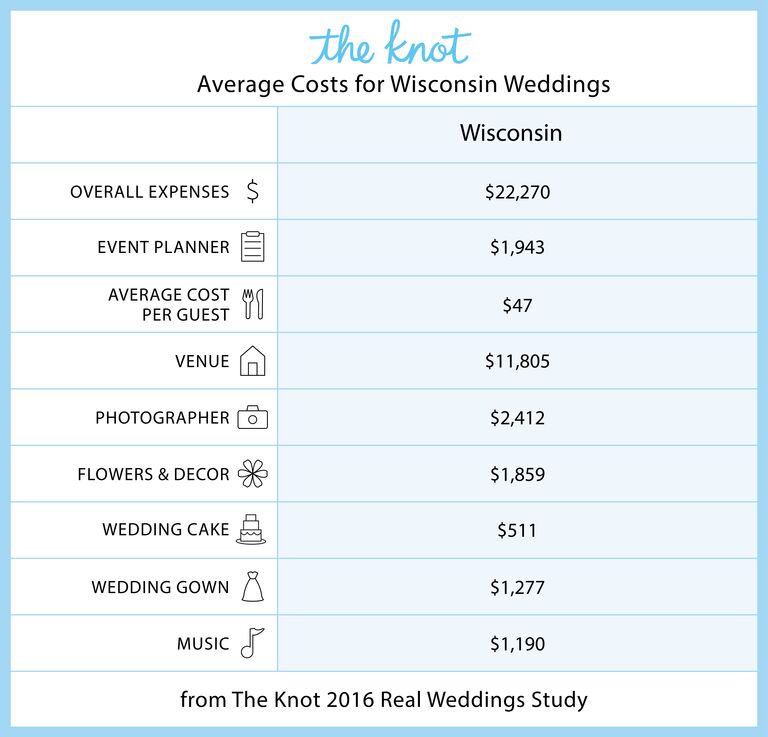 Planning a wedding can be a lot of fun, but affording it is another story entirely. No matter which type of wedding venue you choose or what type of theme fits your personalities, make sure you've created a budget and that you're sticking with it. The Knot Budgeter can help keep you on track! But before you take that important step, here's a little background info on how many couples are tying the knot in Wisconsin, plus what you can expect to pay for common wedding costs in Wisconsin, as reported by The Knot 2015 Real Weddings Study.

Wisconsin Marriage Stats
So how many couples are actually getting married in Wisconsin? Turns out that marriage rates in Wisconsin are below average with 5.7 per 1,000 people. And according to The Knot Real Weddings survey, the average age of the local brides was around 29 while the average age for grooms was around 30 years old. With engagements lasting around 15 months, couples spend an average of $26,452 (not including honeymoons) for their weddings. This is actually 19 percent below the national average.
Budget Breakdown: Average Costs for Wisconsin Weddings
Getting a sense of what you'll pay for your wedding day expenses will make it easier to budget and negotiate with vendors. Above you'll find average costs for some of the more common wedding categories.
Top Cities in Wisconsin to Marry
From Milwaukee to Green Bay and Oshkosh to Madison, there are a variety of wedding venues in Wisconsin that stretch across the state. However, the following two places stand out as the most popular wedding destinations:
Make It Legal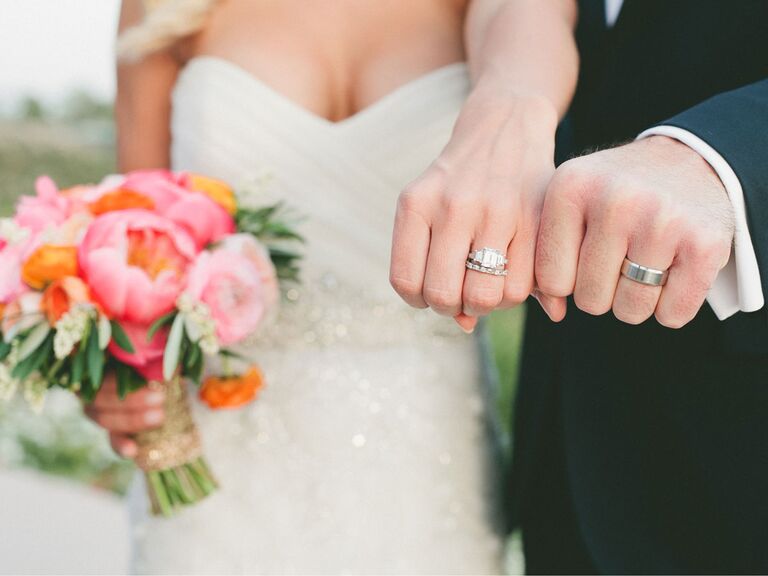 While we hope that planning your wedding feels like it's filled with fun events like cake tastings and finding the perfect DJ or band, there are some strings attached to tying the knot. Understanding the ins and outs of not only getting your Wisconsin marriage license, but also taking care of details like permits and changing your name(s), is equally important in the weeks and months leading up to saying "I do."
Getting a Wisconsin Marriage License: The Basics
In order to legally marry in Wisconsin, you and your partner have to be at least 18 years old. If one or both parties are 16 or 17, the consent of both parents or the consent of the legal guardian is required. There is a consent form available through the county clerk that must be filled out, signed and notarized.
There is no residency requirement but if you are a Wisconsin resident you are required to apply for the marriage license in the county where one of you live, and you must have resided in the county for at least 30 days prior to making the application. Once you have your license, you can use it in any county within the state. If you're not currently residing in Wisconsin you'll have to apply for the license in whichever county you plan to marry.
The fee for your Wisconsin marriage license varies by county. There is no blood test necessary but there is a five-day waiting period. You'll also need two adult witnesses present during your wedding ceremony in order for your marriage to be legal. Once obtained, the license is valid for 30 days.
To obtain a license, both you and your partner must be present and have valid photo identification, state-certified copies of birth certificates and Social Security numbers. The full name of both sets of parents (including mothers' maiden names) will have to be presented as will the date and location (city, village or town) of the wedding, the correct and full spelling of the officiant and the officiant's business address, phone number and email address. You'll also have to present proof of address.
Acceptable identification is:
Valid driver's license, state-issued ID card or military ID
Passport/Passport card
Permanent resident card
Foreign government-issued passport
If either of you was previously married, documentation will be required in the form of a certified copy of a death certificate, a copy of state-issued annulment papers or a copy of a divorce decree. A divorced person has to wait six months after the judgment of divorce to remarry.
Note: If one or both parties don't speak English, there will need to be a third-party translator on hand. One party can't translate for another party.
Permits and Other Important Legal Requirements for Wisconsin Wedding Venues
All Wisconsin wedding venues must have the proper permits and licenses to serve food and liquor for your reception. Traditional venues like hotels, country clubs and banquet halls usually have that covered, but if you're having your wedding in a barn, farmhouse, state park or similar public area, you might need to follow specific rules and guidelines. But don't let that deter you! The proper permits can be obtained for the wedding ceremony of your dreams.
Besides venue permits, you should also make sure that your wedding officiant has the proper paperwork to legally perform your ceremony. In Wisconsin, any clergyman with proper ordination from any religious denomination or religious society can perform a wedding ceremony. Any judge or family court commissioner can be an officiant too. A friend or relative can become an ordained minister and perform your wedding ceremony as long as they're at least 18 years old. No matter who performs the wedding, they must file your marriage license at the Register of Deeds office for your marriage to be legal.
How to Change Your Name in Wisconsin
If you decide to change your name after the wedding, the process in Wisconsin is pretty straightforward. Check out HitchSwitch professional name change service or follow The Knot's simple guide to changing your name.
If you prefer to do things on your own, you can start by getting your marriage license. Once you have your certified Wisconsin marriage license, your name change will be official. You'll then have to go to the Social Security Administration and notify them of the name change. Your marriage license will be your proof. Once you get your new Social Security card you'll have to change your name through the DMV using your new card and marriage license as proof of your name change. With both of those changes you'll then be able to change your name on things like utility bills, credit cards, bank accounts, mail and with the IRS.
It's All About Timing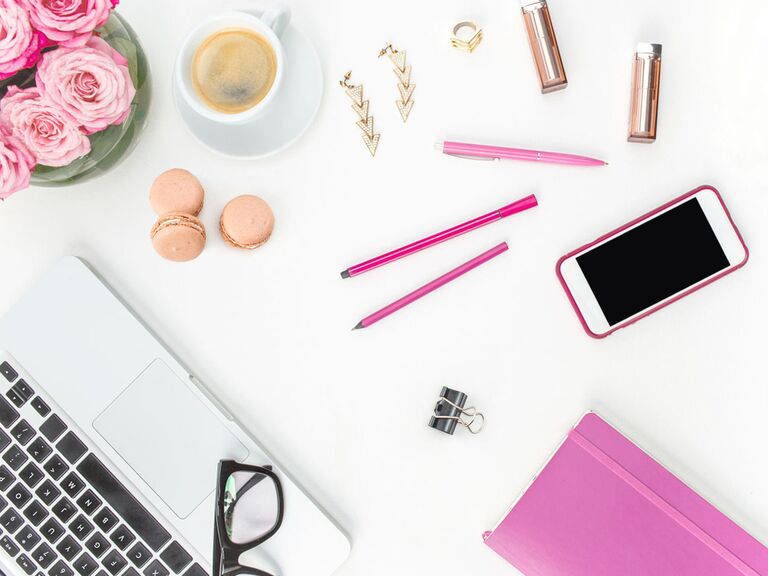 More couples are embracing the beauty of fall weddings, but in Wisconsin the summer months of June, July and August still top the list of most popular months to have a wedding. In 2015, for example, 46 percent of Wisconsin couples exchanged vows in the summer and 38 percent in the fall.
Having a winter wedding in Wisconsin is not for the faint of heart! Only 5 percent of couples opt for a winter wedding. So if you're not prepared for a lake-effect snow storm or below freezing temps, you may want to consider warmer months to celebrate your love. Summer weddings in Wisconsin, while often humid, remain popular because of their warm temperatures, which are easy to manage with lake breezes and air conditioning. Can't get comfortable with the heat? Then a spring or fall wedding may be best for you. With variable temperatures and beautiful spring flowers or fall foliage these two seasons provide compelling outdoor backdrops for your wedding celebration. And finding outdoor Wisconsin wedding venues during these times of year won't be difficult. In fact, many places offer covered areas or other options to move the ceremony or reception indoors to accommodate the variable weather of the spring and fall months.
Wisconsin Wedding Dates to Avoid
Depending on where you get married in Wisconsin, there are some important dates you may want to avoid in order to make sure that your wedding guests are comfortable and can easily find a place to stay. Ask your wedding planner or venue for tips about how to avoid major traffic times or local events that might make your wedding weekend more difficult for guests and more costly for you.
If you're on a tight budget, try to avoid common national holidays and busy weekends that tend to inflate the cost of everything! (We cover these dates for 2016-18 in our comprehensive guide). Additionally, here are some nationally-recognized festivals and events you may want to note for 2017:
St. Patrick's Day Parade, Milawukee (early March)
Country USA, Oshkosh (late June)
Milwaukee Summerfest (late June through early July)
Festa Italiana, Milwaukee (late July)
German Fest, Milwaukee (late July)
Wisconsin State Fair, West Allis (early August)
Irish Fest, Milwaukee (mid-August)
Mexican Fiesta, Milwaukee (late August)
Great Guest Experiences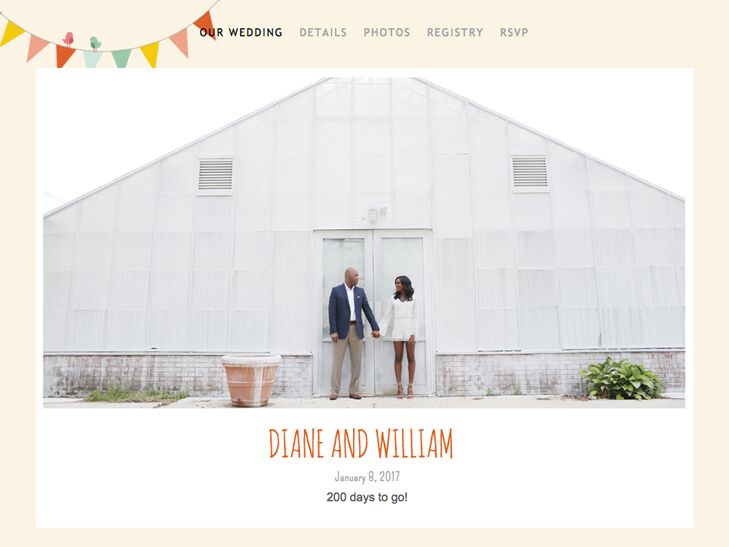 Helping your guests feel comfortable and welcome is one of the key ingredients to wedding success. With such a wide variety of unique wedding venues in Wisconsin—from rustic barns to lakeside beaches—there are so many places for a celebration that is a true reflection of your couple style while also making it fun for your friends and family. No matter where you choose to get married, giving your guests a great experience starts with you creating your very own wedding website. It's a great way to keep everyone connected and informed.
Finding Your Way: Wisconsin Travel Info
For out-of-state guests, Wisconsin has eight commercial airports that serve domestic and international flights, including General Mitchell International Airport. There is also Amtrak service in Milwaukee, Wisconsin for those who might not like to fly. There is also cross-country service on the Empire Builder route that serves multiple Wisconsin cities. For driving to or in Wisconsin, there are several state highways and seven interstates throughout the state. Greyhound Bus service is also offered throughout Wisconsin.
Once in town, you'll be able to take advantage of public transportation, car rental services, Uber and other car services and even ferry service. There are also multiple limo companies available for you to hire if you'd like to offer stylish transportation to and from your Wisconsin wedding venue.
Around Town: What to Do and See in Wisconsin
Wisconsin offers the best of both worlds: great outdoor adventures as well as cosmopolitan activities. The north and west regions of the state offer hiking trails and rolling hills while the south and east have lowlands where the state's dairy farms are located. The state's location on the Great Lakes also allows you and your guests a chance to fish, canoe, sail or spend time enjoying other watersports. The two largest cities, Madison and Milwaukee, have cultural attractions while the smaller towns have local activities that you and your guests might enjoy.
Some Wisconsin attractions are:
Harley-Davidson Museum (Milwaukee)
National Railroad Museum (Green Bay)
Olbrich Botanical Gardens (Madison)
Henry Vilas Zoo (Madison)
Frank Lloyd Wright's Taliesin East (Spring Green)
While you and your guests are in town for your Wisconsin wedding use your free time to check out the local attractions and enjoy the diverse activities the state has to offer.
Go Local: Food and Favors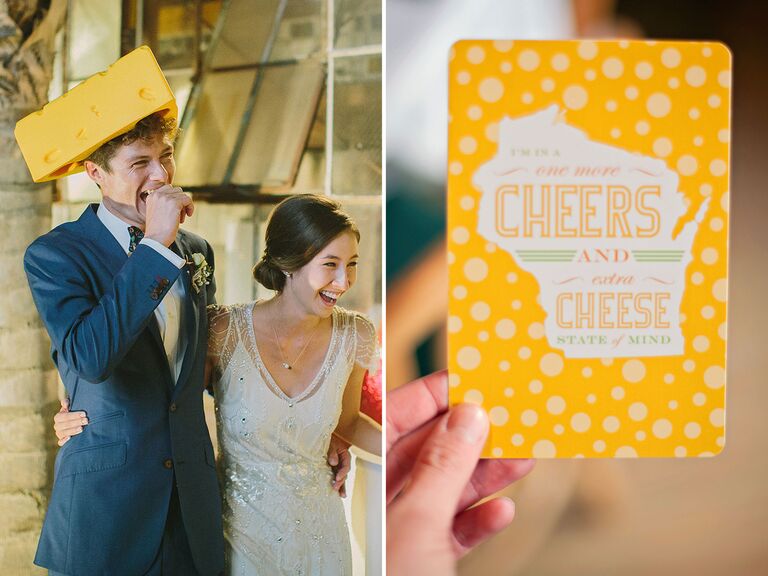 Wisconsin is known for its dairy products as well as its produce thanks to the many dairy farms and farmer's markets across the state. In terms of local cuisine, German immigrants who settled Milwaukee left a big impact on the food scene. Things like bratwurst, beer and sauerkraut continue to be popular mainstays in the local cuisine in and around Milwaukee. Frozen custard and cheese curds are also popular foods in America's Dairyland.
Talk to your caterer about incorporating locally sourced dairy and produce in your Wisconsin wedding menu in order to pay homage to the town that is hosting your event. You can also request a traditional German dish in order to incorporate local cuisine into your menu. Check out The Knot Shop for other personalized favors.
Wisconsin Flavors: Unique Regional Foods for Your Wedding

It's no surprise that dairy plays a large role in local fare. From custards and ice cream to cheese and fresh milk, you can't go wrong by using local dairy products in your Wisconsin wedding. Consider creating a specialty cheese platter for each table or have a passed tray of cheese during your cocktail hour. You can also serve fried cheese curds as an appetizer or late night snack.

For those with a sweet tooth, serve cream puffs for dessert. These treats are a staple in Wisconsin dessert trays and are widely sold across the state. The Danish pastry known as kringle is also popular in Wisconsin, especially near Racine. Madison is known for the fudge-bottom pie made famous by University of Wisconsin-Madison chef Carson Gulley.
You can also feature a good old-fashioned fish boil, made famous in Door County, to highlight local fish like perch and walleye. This is a great idea for more rustic weddings that might not call for such formal meals. To take your Wisconsin-centric meal one step further, pair your fish fry with crimson slaw, coleslaw that is made with Wisconsin cranberries.
Of course, you could just simply serve local craft beer from one of the many breweries in Wisconsin (New Glarus Brewing is a local favorite). There are also locally made liquors, like Pewaukee's RumChata, that are fun additions to signature cocktails and coffee bars.
Talk to your caterer or the chef at your Wisconsin wedding venue about more local dishes that you can consider adding to your menu.
Do Your Guests a Favor: Wisconsin-Inspired Take Home Treats
The wedding favor is a way to show your guests that you appreciate them sharing in your Wisconsin wedding as well as a way to give them something to take away from the day and add to their memories. In the past, favors have been trinkets like keychains or magnets with the couple's initials and wedding date featured on it. That's nice, but you can give them something specific that will remind them of the great state that played host for your wedding.
Wisconsin-inspired wedding favors can be a keepsake like postcards featuring Wisconsin sites like the Cana Island Lighthouse or a Green Bay Packers koozie. It can also be an edible favor such as gourmet cranberry trail mix, locally crafted artisan cheese or individual cherry pies from Door County.
Wisconsin City Guides
While Wisconsin has plenty of cities that can host your ideal wedding, Milwaukee and Madison are the two most popular towns for Wisconsin weddings. Each one has plenty of Wisconsin wedding venues and vendors to help you put together the wedding you've been picturing. To try to streamline the planning process, use our vendor marketplace to easily search for Wisconsin wedding venues and other vendors in the city of your choice. If you're not sure what city you'd like to marry in, here is some information on Milwaukee and Madison.
Milwaukee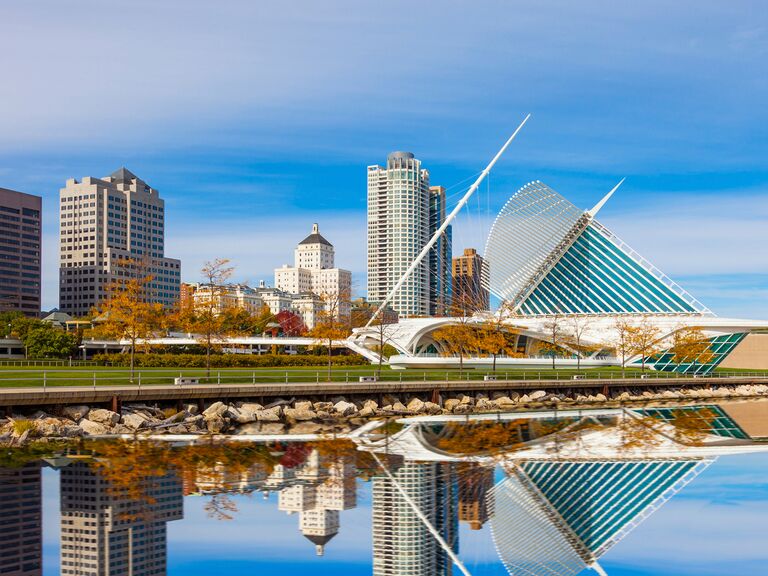 This is the biggest city in Wisconsin so it's no surprise that there are plenty of Milwaukee wedding vendors to choose from. From traditional banquet halls to galleries, you're sure to find a venue that matches your personal style while accommodating for the size of your guest list and budget. To help you find the best Milwaukee wedding vendors for your Wisconsin wedding, here is a list of some local businesses:
Madison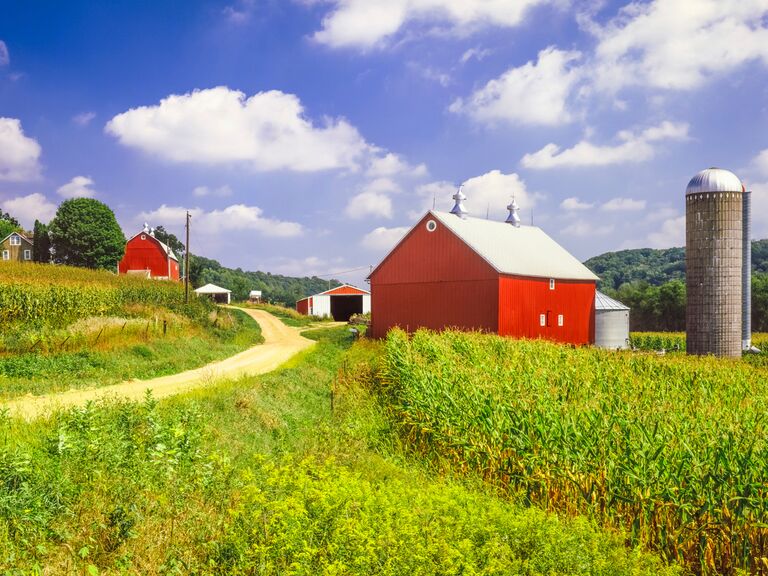 The capital of Wisconsin, Madison is a cosmopolitan city as well as a college town (Go Badgers!). There are numerous Madison wedding vendors available for you to compare and contrast as you plan your Wisconsin wedding. Here is a list of some of the available Madison wedding vendors to help you plan your day.
Check out more Wisconsin wedding inspiration here.
Don't forget to download The Knot Wedding Planner app—it's a must-have for on-the-go planning.
Download for iOS: Wedding Planner App by The Knot

Download for Android: The Knot Wedding Planner