Everything You Need to Know About Getting Married in Alabama
Look to The Knot for local details about getting married in Alabama, from choosing your wedding venue to getting your marriage license.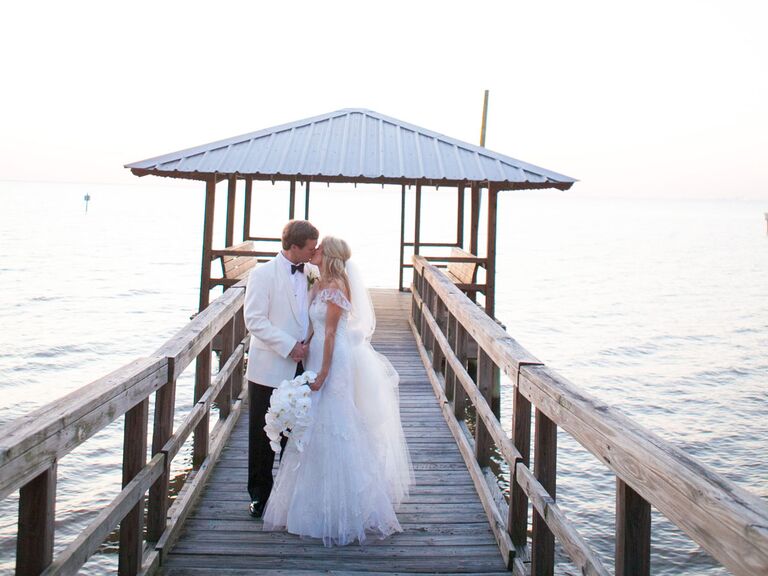 Kim Box Photography
Ultimate Guide to Getting Married in Alabama
Located along the coast of the Gulf of Mexico, Alabama is a much overlooked gem in the South. Known for its heat and humidity, Alabamians like to spend their time relaxing by the water—whether it's at one of the state's beautiful beaches or calm, serene lakes. "Sweet Home Alabama" is printed right on the license plates, which perfectly sums up the extraordinary charm the state has to offer. Wedding venues in Alabama are just as beautiful and diverse as the rest of the state.
With so many options to choose from, you're sure to find the perfect place to get married in Alabama. Though just a small section at the southern part of the state borders the Gulf of Mexico, it still has some of the most beautiful beaches in the country. The state has a long history, and agriculture is one of its top industries. As such, there are several old buildings perfect for rustic barn weddings in Alabama. In this guide, you'll learn everything you need to know about getting married in the gorgeous state of Alabama, from the basics of preparing for the wedding day to inspiration for making it a dream come true. And don't forget to follow along with your wedding checklist to make sure everything is done on time.
Top Wedding Trends in Alabama
As part of the deep South, Alabama turns its weddings into huge affairs. Southern weddings are typically elegant and laid back at the same time—Southern hospitality at its finest. You get to enjoy all of the Southern trends and traditions when you have a wedding in Alabama.

When it comes to weddings in the South, being extravagant is the name of the game. According to The Knot 2015 Real Wedding Survey, 76 percent of couples opt for a formal or semiformal wedding. That's probably because churches are the most popular wedding venues in Alabama. The same study shows that 38 percent of weddings in Alabama take place in a religious institution. Women dream of dressing in their finest attire and walking down the aisle to the altar. However, outdoor wedding venues in Alabama tend to be just as popular as indoor weddings.

In addition to sticking with a traditional church wedding, brides in Alabama often follow the Southern tradition of having large wedding parties. Rather than just having a few close friends standing next to them on their wedding day, they opt for a large party that includes sorority sisters, cousins and best friends alike.

Another popular tradition is serving up two cakes at the reception. The bride's cake is elegant with all of its classic wedding touches, while the groom's cake is typically much smaller but still just as delicious—and could be in a fun shape like a sports logo. And we say, the more cake, the merrier.
Alabama Marriage Rates and Wedding Costs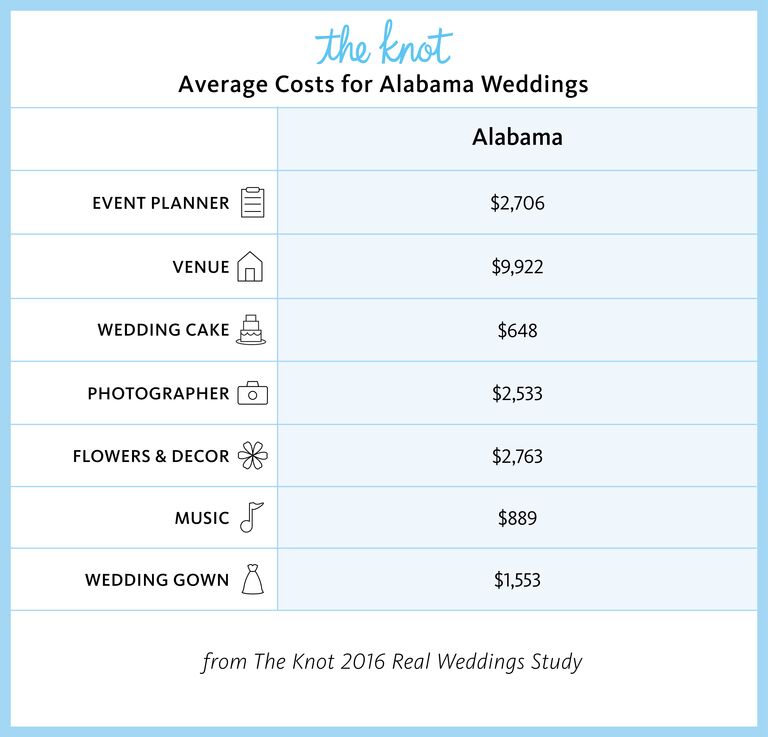 Tradition is big thing in Alabama. In more than 50 percent of Alabama weddings, the bride's family foots the bill. By learning the costs associated with weddings,ouples can plan their wedding without breaking the bank. The venue tends to be the most expensive element in the total cost of the wedding. Beach weddings in Alabama are typically more expensive than a small church wedding. Choosing the perfect location can help bring down the costs. But you shouldn't have to give up your dream venue to make it fit within your budget. If you're not sure where to begin, The Knot Budgeter can help you plan a wedding that fits within your budget.
Alabama Marriage Statistics
Couples in Alabama are getting married younger and at a higher rate than the national average. About 7.8 out of 1,000 people are getting married in Alabama as opposed to the US average of 6.9 out of 1,000. The average age of brides is 27.3 years old versus the national average of 29.2 years old. Likewise, grooms in Alabama are getting married at 29 years old, which is nearly two years younger than the national average of 30.9 years old, according to The Knot 2015 Real Wedding Survey.
Overall Alabama Wedding Costs
Despite the fact that the Southern belles of Alabama love to throw large and lavish weddings, the average cost is still well below the national average. Couples in Alabama spend approximately $18,547 on their weddings. As stated in The Knot 2015 Real Wedding Survey, only about 10 percent of couples spend more than $30,000 for their wedding in Alabama. This means that couples get their beautiful traditional Southern weddings at a much lower cost than in other parts of the country.
Alabama Wedding Cost Breakdown
Looking at the total cost of a wedding can be overwhelming. Seeing a breakdown can help you create a budget and plan your dream wedding without breaking the bank. The average costs of wedding vendors in Alabama are listed in the table below.
Top Cities in Alabama to Tie the Knot
Gulf Shore weddings are absolutely stunning, and barn weddings in Alabama's rural towns are rustic and charming. There are a variety of wedding venues across the state to satisfy all types of brides and couples, but the following two cities are the most popular places to tie the knot in the great state of Alabama:
Make It Legal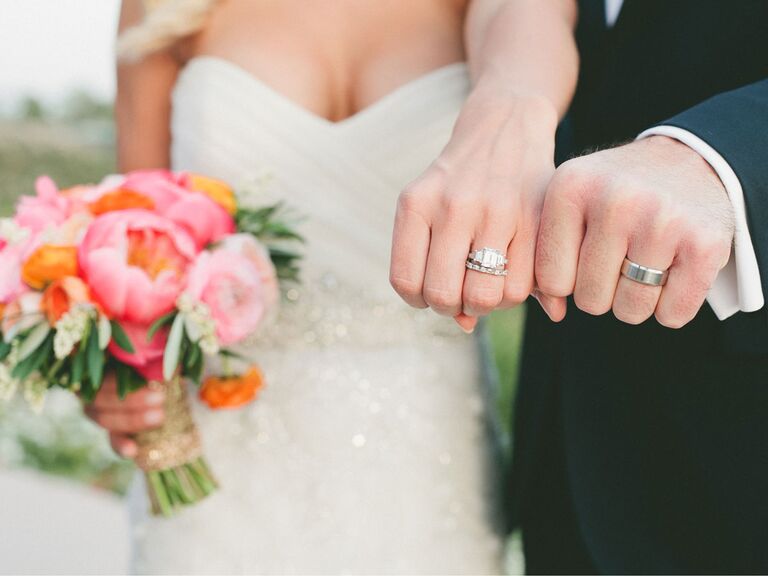 While you might be more focused on the fun parts of planning a wedding, like choosing your first-dance song and tasting wedding cake, these aren't the only things you need to get done. There's a lot of paperwork involved in getting married and hosting a wedding. You need to make sure that during the planning process, you apply for a marriage license, obtain the necessary permits for your wedding location, and get the ball rolling on changing your name. You should have all of these squared away in the weeks and months leading up to your wedding day.
Getting a Marriage License in Alabama
Marriage licenses in the state of Alabama are issued at the state level. You can apply for a license in any county regardless of where you reside or the location of your wedding. In order to obtain a license, you need:
Both parties present to apply in person
Valid form of identification
Social Security card
There's also a fee between $40 and $80, depending on the county, preferably in cash
Once you submit the application and all necessary documents, the couple will receive a marriage license from a probate judge. Blood tests are not required when applying for a marriage license. Additionally, there's no waiting period to obtain a marriage license unless one of the parties has been divorced for less than 60 days. The license is valid for one month and must be used within 30 days of the date it was issued.
Necessary Permits and Documents for Getting Married in Alabama
Wedding chapels in Alabama as well as other venues tend to have their own requirements and documentation. When hosting a wedding in a private venue, it's important to check with the location to ensure all paperwork is filled out and submitted well in advance.
Public locations often require an event permit. Gulf State Park has beautiful white sand beaches, an amphitheater, pavilion and other buildings that help create the perfect backdrop for a wedding. Because they're public spaces, you'll need to obtain a permit at least a week in advance. Several resorts and condos line the beaches and may have their own permitting rules. It's important to check with the venue for specific requirements.
Changing Your Name in Alabama
Just because you're married doesn't mean that your name automatically changes. In fact, you don't have to change your name at all when you get married, if you don't want to. But if you do, you have to do all of the legwork and submit all of the necessary documents to make it happen. You can get started by changing your name on your driver's license. To do this, you'll need:
Your current driver's license
Valid name change documents, such as your marriage certificate
In addition to your driver's license, you need to change your name on your Social Security Card. Since the DMV will require proof that you have already changed your name with the Social Security Administration, you should head there first. It won't be fun to wait in line, but it will be worth it in the end.
You can certainly handle it all on your own, or you can take the hassle out of the process by using HitchSwitch to claim your new name. The professional name changing service does all the tedious work for you.
It's All About Timing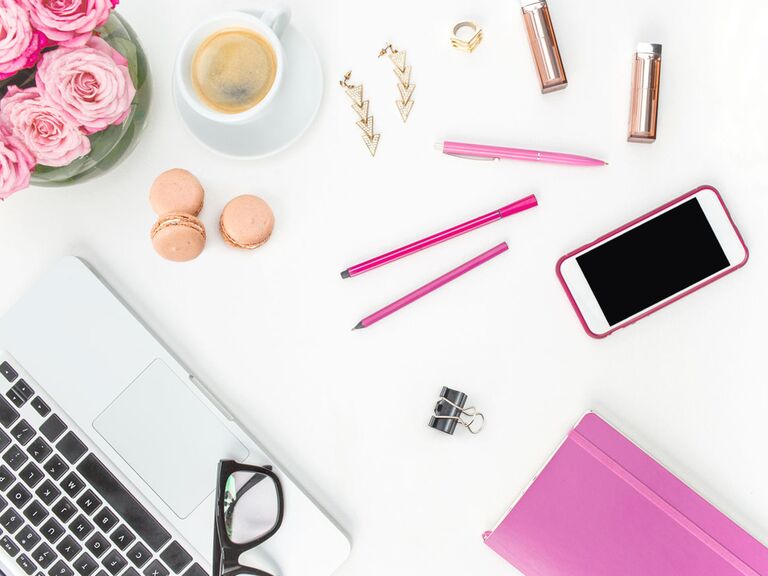 Southern states are known for their heat and humidity, especially in the summer months. But that doesn't stop couples from opting to exchange vows in the spring, summer and fall at much higher rates than in the winter. Spring is the most popular season to get married in Alabama with 33 percent of couples tying the knot between the months of March and May. This is a much higher rate than the national average of 21 percent for spring weddings. The next most popular season is fall, with 31 percent of couples holding their weddings from September to November.
The Four Seasons in Alabama
Winters in Alabama are generally mild. Snow is rare, with less than an inch of snowfall on average each year. Additionally, temperatures seldom reach below freezing. In fact, the average winter temperature is a comfortable 49 degrees Fahrenheit. Spring is perhaps the most pleasant season, which is why so many couples opt for weddings this time of year. Temperatures usually reach highs in the 70s and 80s, ideal for outdoor wedding venues in Alabama.
Summers in Alabama tend to be some of the harshest in the entire country. It is not uncommon for temperatures to stay in the 90s and often exceed 100 degrees. Additionally, July is one of the rainiest months of the entire year, further increasing the humidity. Remember: All of that can wreak havoc on perfectly styled hair and makeup. These steamy temperatures extend into the fall and generally don't start cooling down again until October. However, it does not rain as much in the fall months, meaning brides won't have to worry about a sprinkle ruining their beautiful outdoor wedding.
Dates to Avoid Getting Married in Alabama
College football is kind of a big deal in Alabama. Actually, it is more than a big deal—it's a way of life for many Alabamians. You either side with Auburn University or the University of Alabama. Many people wouldn't miss a game for anything—whether tailgating at the stadium or watching it at home. As such, there are a lot of Saturdays during the college football season from August to December that couples should avoid getting married.
Because of the passion that each team's fans have for the sport, it's no surprise that the rivalry between the two schools is the most heated of any other in the country. The two teams face off every year in a showdown known as the Iron Bowl. This head-to-head game takes place every year on Thanksgiving weekend. Couples getting married in Alabama would be wise to avoid taking any of the spotlight away from this event. That is unless the couple and their families and friends don't follow college football, which is rare in Alabama. And check out this list of other dates to avoid to save yourself some headaches.
Great Guest Experiences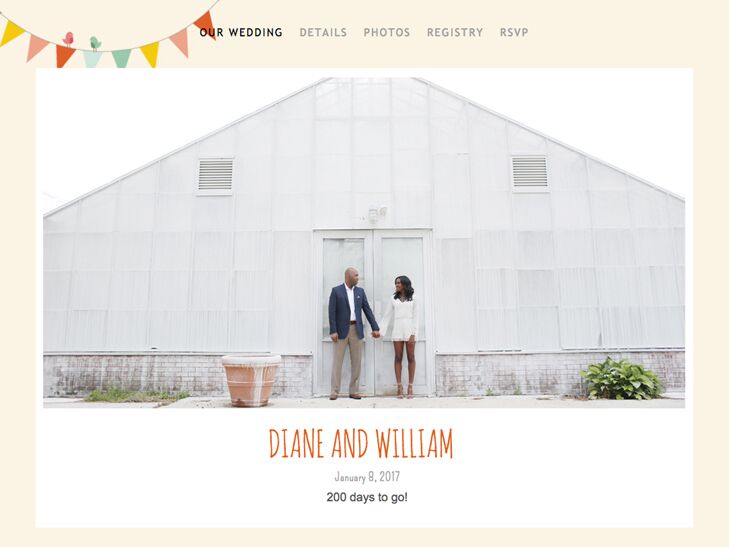 Unlike some other parts of the country where weddings only last a few hours, weddings in the South tend to be weekend-long affairs. From white sand beaches to rustic barns and cozy church settings, Alabama has many gorgeous venues to choose from. Additionally, there are many beautiful sights and attractions to see throughout the state. Get the word out about your wedding celebration, keep up with your guests and make sure everyone's in the loop about your wedding events by creating your own wedding website at The Knot.
Around Town: What to Do and See in Alabama
Guests traveling from out of town might not know about all of the wonderful things that Alabama has to offer. There are several attractions to check out no matter if they're interested in history, art, sports or the great outdoors.
Some of Alabama's top tourist attractions include:
Birmingham Civil Rights Institute
USS Alabama Battleship Memorial Park
Bryant-Denny Stadium for an Alabama football game
Gulf Coast Beaches
Noccalula Falls
Birmingham Museum of Art
Cheaha Mountain
Mobile Mardi Gras
Finding Your Way: Travel Info for Alabama
Finding your way to destinations and getting around Alabama is not that difficult. Birmingham-Shuttlesworth International Airport is centrally located in Birmingham. All of the major interstates travel through Birmingham, making it easy to access from virtually anywhere in the state. The best way to get around Alabama is by car. Many rural areas lack public transportation, so renting a car makes it easier to navigate the roads and see all of the sites.
In major cities like Birmingham, you'll find several public transportation options. The local transit authority has a fleet of buses and even some vintage style trolleys to help you get around town and explore the city.
Go Local: Food and Favors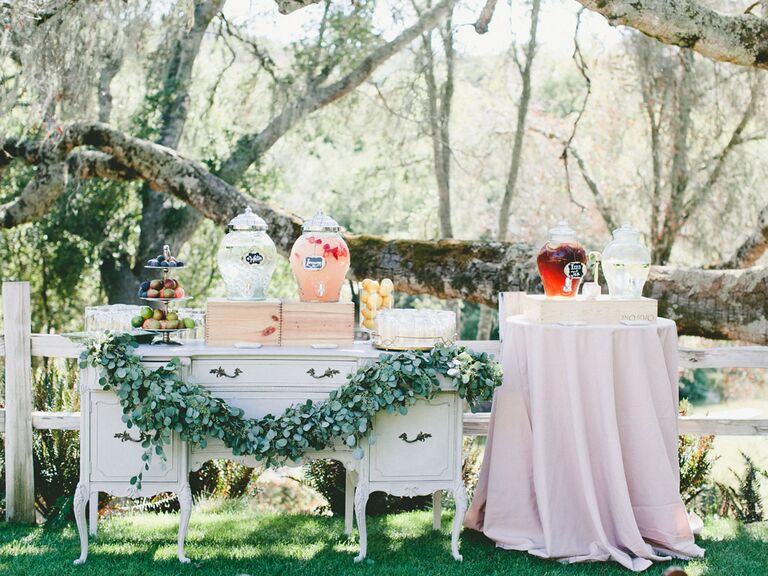 The great state of Alabama has a lot of unique cultures to explore. If you're new to Alabama or are bringing in out-of-state relatives, you'll want to incorporate these local treats into your wedding. Putting a Southern spin on your nuptials will make it an event your guests won't soon forget.Check out The Knot Shop for other personalized favors.
Local and Regional Alabama Cuisine
Alabama is known for its delectable foods that nourish the body inside and out. Shrimp and grits, fried catfish and hushpuppies, fried chicken and greens are all signature dishes unique to the South. Saw's Soul Kitchen is a hole-in-the-wall restaurant that is one of the top spots in Birmingham, and Hot and Hot Fish Club is another favorite, serving up Alabama's finest seafood cuisine. And pulled pork barbecue is a regional dish you can't leave Alabama without sampling. It's perfect for any occasion whether it's a casual backyard cookout or a formal wedding reception. Don't forget to wash it all down with an ice cold glass of sweet tea and a slice of pecan pie.
Do Your Guests a Favor:
Put a touch of Alabama flavor in each of your guest's welcome bags so they can take home a little piece of the state to remember. Consider one of these unique favors to present to your friends and families and show your Alabama pride.
Once they experience the barbecue, they'll never forget it. Consider a small bottle of barbecue sauce, like the mayonnaise-based Alabama Salvation Sauce from Firebud Brands.
Show your love for Crimson Tide in a subtle way with these cute gift bags from Etsy, featuring the state of Alabama and the team's colors:
Sip wine at your reception with these beautifully etched stemless wine glasses from Alabama Goods. They're also made locally.
Alabama is third in the nation for producing peanuts, so bags of boiled peanuts or small jars of peanut butter make tasty treats with a bit of local flavor.
Alabama City Guides
There are numerous wedding venues across the state—but some of the best wedding venues in Alabama are in Birmingham and Montgomery, whether you choose to wed indoors in the cool air-conditioning or outdoors in the beautiful sunshine. Once you've selected your location, connect with local vendors through The Knot wedding vendor marketplace.
Birmingham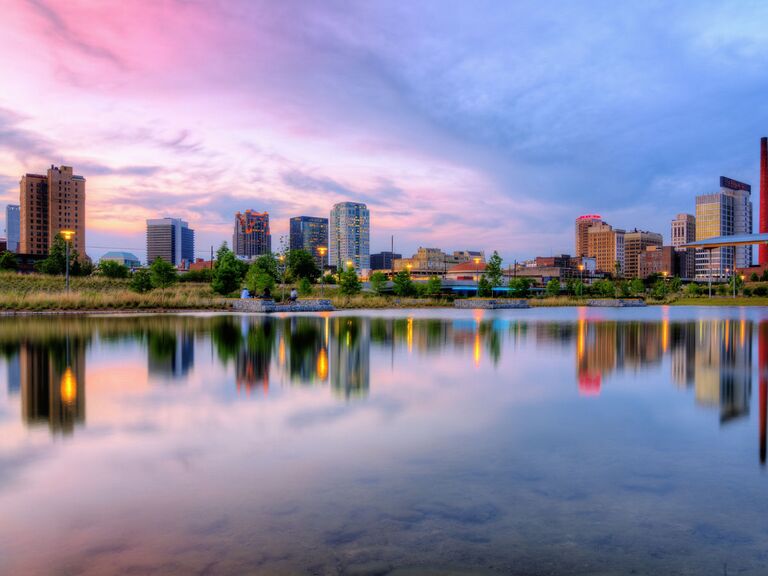 Located right in the center of the state is the city of Birmingham. The city grew quickly because of its strong iron and steel industry. While manufacturing is still a big part of the area, the city has grown considerably in the last several decades to become one of the most important business centers in the entire southeastern United States. It is also the arts and entertainment capital of the state with the largest municipal museum in the region, the Birmingham Museum of Art. It's also home to the Alabama Jazz Hall of Fame.
As the largest city in Alabama, Birmingham has a lot of options in terms of vendors and venues for weddings that you'll find in the more remote rural areas of the state. Wedding venues in Birmingham have a combination of Southern history and country style. The city has several beautiful outdoor spaces, including the Birmingham Botanical Gardens, which has 67 acres of plants, gardens and greenhouses. It's the largest living museum in the state and is the perfect outdoor wedding venue in Alabama for snapping photos.
For local Birmingham wedding vendors, check out:
Montgomery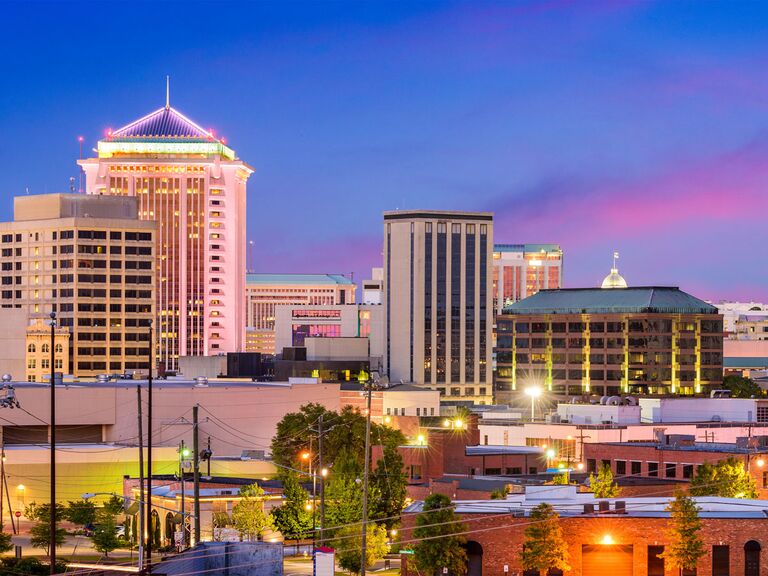 Montgomery, the capital city, follows Birmingham as the second-largest city in Alabama. It's situated right along the banks of the Alabama River, offering stunning views of the state's landscapes. The city has a long history and played a prominent role in the Civil Rights Movement. It was even named the Best Historic City by USA Today in 2014.
Montgomery is a town that shows you that weddings in Alabama are as diverse as the couples that marry there. The Montgomery Zoo is among the best locations, with barrier-free enclosures that create a stunning backdrop for your wedding photos. If a couple is looking to include a touch of class and Southern history, they can say "I do" at one of the many historic homes, such as Hillcrest Manor. These indoor wedding venues show off the rich culture that Alabama has to offer.
For local Montgomery wedding venues, check out:
Check out more Alabama wedding inspiration here.
Don't forget to download The Knot Wedding Planner app—it's a must-have for on-the-go planning.
Download for iOS: Wedding Planner App by The Knot

Download for Android: The Knot Wedding Planner