Everything You Need to Know About Getting Married in Alaska
Look to The Knot for local details about getting married in Alaska, from choosing your wedding venue to getting your marriage license.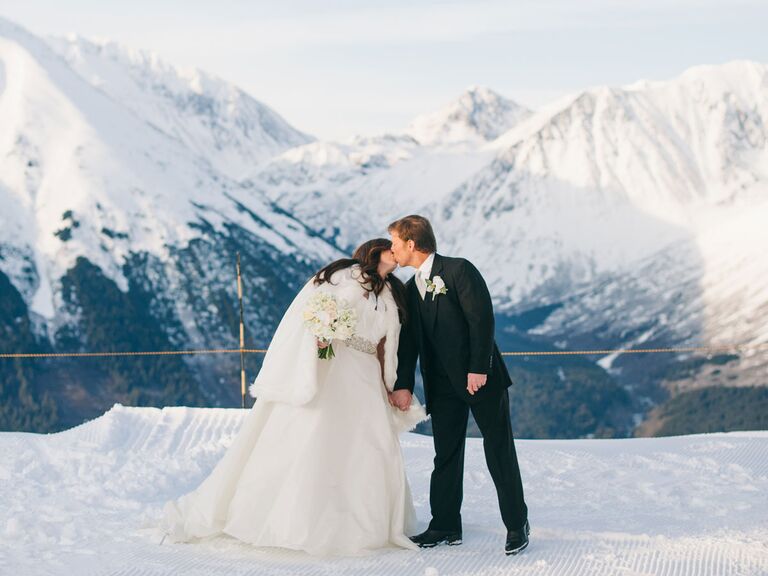 Erica Rose Photography

The Ultimate Guide to Getting Married in Alaska
Nicknamed "The Last Frontier," Alaska is one of the few places left in the United States where people can truly lose (or find) themselves in the wilderness. The state is home to 17 of the 20 highest peaks in the country, including Denali, 3,000 rivers and more than three million lakes. The luscious natural views create a gorgeous backdrop for weddings in Alaska.

No matter if you have lived in Alaska your entire life or have just recently fallen in love with the state, there is a little something for everyone here. Wedding venues in Alaska range from indoor lodges with beautiful fireplaces and rustic décor to outdoor spaces with stunning mountain views. No matter if you want to host a formal affair or just want to say your "I dos" in a laid-back setting, you can make your wedding day special in Alaska. In this guide, you'll learn everything you need to know to about getting married in Alaska, including finding a venue, budgeting for your wedding and throwing a celebration that is as unique and exciting as you and your partner.
Top Wedding Trends in Alaska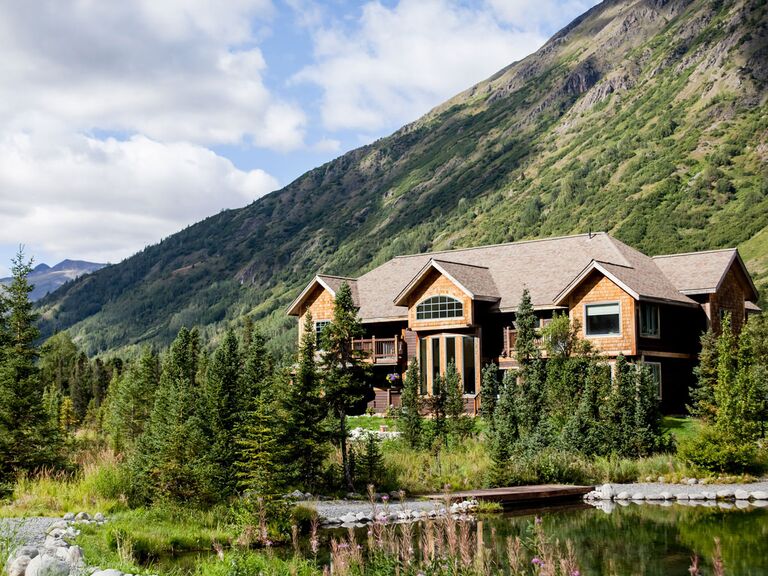 Alaska has long been known as a haven for those who are free spirits or have unusual tastes. This can be seen in the styles and trends of weddings in Alaska.
Because of the large number of indigenous people, there are several ancient traditions that have lasted for generations. One tradition that many brides love is arriving by kayak or boat surrounded by ocean life rather than marching down the aisle to a traditional song. Additionally, the wedding might take place in a community hut with a large cedar fire pit in the center.
According to The Knot 2015 Real Weddings Study, 69 percent of couples opt for an outdoor wedding venue. This should come as no surprise because of the state's beautiful scenery. In addition to local residents getting married here, couples from all over choose to have a destination wedding in Alaska because the scenery is unlike any other in the world. In the spirit of being unique, couples also choose non-traditional wedding venues. According to our study, 38 percent of couples opted for a wedding venue outside the more popular choices of a church, hotel, resort or banquet hall.
Many couples choose to have an Alaskan cruise wedding—it's like combining a wedding ceremony with an Alaska honeymoon. This popular trend allows couples to travel with their family and friends as well as keep their ceremonies small.
Marriage Rates and Wedding Costs in Alaska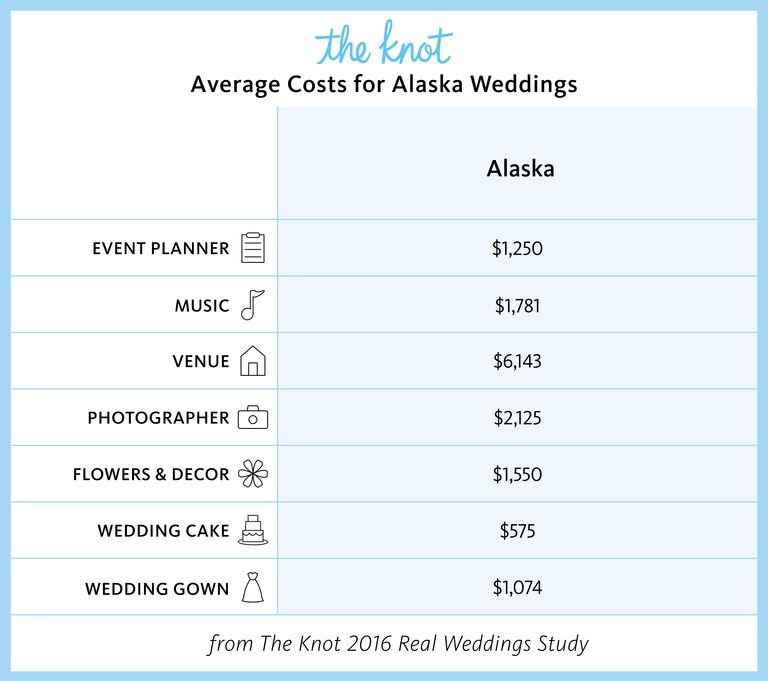 If an Alaska destination wedding is what you desire, then you can make it happen. Review the cost breakdown for weddings in Alaska below and you'll see that your Alaska destination wedding is well within reach. No matter which type of wedding venue or theme you choose, remember to create a budget and then stick with it. The Knot Budgeter can help keep you on track!
Alaska Marriage Statistics
Love is in the air in Alaska. The marriage rate in the state is higher than the national average at 7.5 per 1,000 people versus 6.8 per 1,000 people nationally. Spending per guest at a wedding in Alaska is right on par with the national average at $234 per head, according to The Knot 2015 Real Weddings Study. Overall, the total cost of a wedding is much less, however. The overall budget for weddings in Alaska is $17,361, which is nearly half as much as the $32,641 spent on average by couples nationwide. The lower cost likely has to do with the smaller wedding size, which averages about 95 guests.
Wedding Budget Breakdown Per Category
Getting a sense of what you'll pay for your wedding day expenses will make it easier to budget and negotiate with vendors. From Alaska wedding photographers to DJs, this list will help you get a feel for the average costs associated with an Alaska wedding.
Top Cities in Alaska to Tie the Knot
From the small villages to the large cities, there are several locations to choose from for getting married in Alaska. These are the two largest cities in the state as well as the most popular cities for tying the knot:
Make It Legal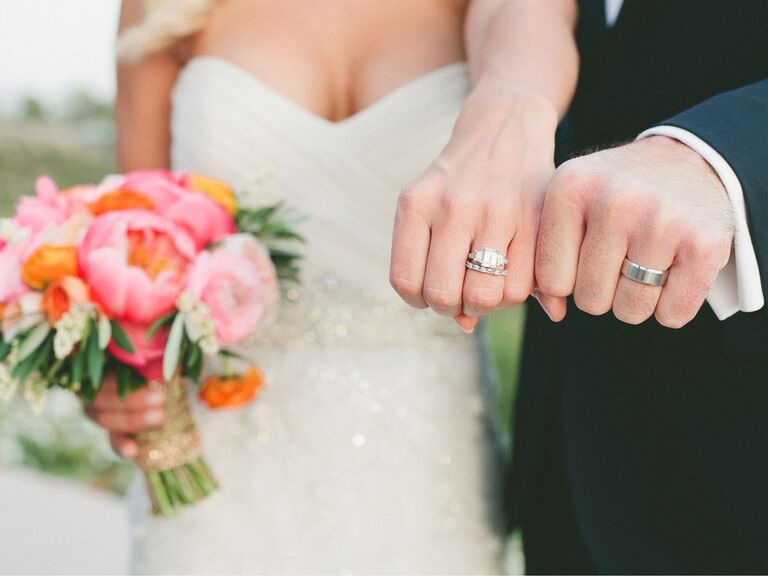 Not so fast! Before rushing off to the altar to tie the knot, you have to be sure that you take all of the steps necessary to make the marriage legal. There are several steps and some paperwork involved—it's definitely not as much fun as picking out a wedding dress or tasting cake flavors, but it must be on your wedding checklist. From getting your marriage license to changing your name(s), there are several Ts to cross and Is to dot to make sure everything is legal.
Getting an Alaska Marriage License
In order to obtain an Alaska marriage license, you'll need to submit an application to the Bureau of Vital Statistics. There is a three-day waiting period after submitting the application before you will be issued a license. You must pick up the license within one year of the application date before it expires or you must reapply. In order to pick up the license, couples need:
Both parties to be present
Government-issued photo IDs for both parties
To sign the license in the presence of a licensing officer
A $60 application fee
Once you pick up your Alaska marriage license, you must use it within three months. After this time, the license expires and you'll need to begin the process all over again.
Other Documents You Need for Getting Married in Alaska
Many of the outdoor spaces used for weddings in Alaska are on public land or in a state park. Whenever you opt for one of these places, you'll need to obtain a special use permit from the Alaska Department of Natural Resources. Denali National Park and Preserve and Chugach State Park near Anchorage and Chilkat State Park near Juneau are popular wedding venues in Alaska that are in public spaces. Private venues often have their own rules and regulations. You should check with the venue to see what permits and paperwork are required before the wedding day.
How to Change Your Name in Alaska
Your name does not automatically get changed after you get married. You'll have to take a few steps to legally change your name and to make sure that your new name is reflected on important documents.
To change your name, follow these few simple steps:
Obtain a marriage license with your new name
Change your Social Security card
Change your driver's license
Change your bank accounts
Inform everyone else of your new name
If you want to skip the lines at the Social Security Administration and the DMV, then let us help. Use the professional name changing service HitchSwitch to get it all done in two easy steps so you can claim your new name in just a few minutes.
It's All About Timing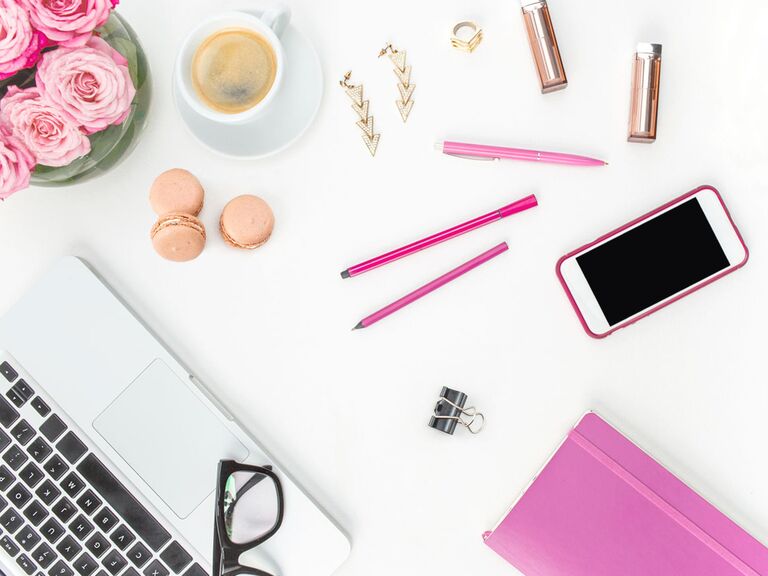 In many places, spring is the most popular season for weddings. The weather is warm, the sun is shining and flowers are starting to bloom. However, because of Alaska's location, the weather is still fairly cold and icy during spring. That's why an overwhelmingly large number of couples opt to get married in the summer months. According to The Knot 2015 Real Weddings Study, 72 percent of couples get married between the months of June and August. The remaining 28 percent are divided up fairly evenly between the other nine months of the year. Understanding the seasons and events in Alaska will help you see why summer is the season of love in this state.
The Four Seasons in Alaska
Weather in Alaska is both extreme and unpredictable. The state is not covered in snow all year long. It actually has several months of sunshine and green.
Winter starts in November and lasts through March. If you are looking for a winter wonderland for your wedding, you'll find all of the snow you need to make it a white wedding. With all of the snowfall, though, it can be hard to get around on the icy streets.
May is the driest month out of the entire year, greatly reducing the chances of seeing rain on your wedding day if you opt for a spring date.
Summer is by far the most beautiful time of year for getting married in Alaska. Days are long and there is a lot of sunshine. On the summer solstice, the day is 19 hours long in Anchorage and 22 hours long in Fairbanks. This ensures plenty of light for capturing beautiful photos on your wedding day. Day temperatures are nice and comfortable, typically falling between 60 degrees and 80 degrees.
Fall is the dreariest season in Alaska. Because of the state's location on the globe, fall sees the least amount of sunlight. Darkness falls early in the afternoon and the sun rises late in the morning. Additionally, Alaska sees a lot of rain in fall. The temperatures start to drop as the region heads into winter. Only about 8 percent of couples opt to have a wedding during the fall season, according to The Knot 2015 Real Weddings Study.
Dates to Avoid Getting Married in Alaska
Summer is not only the best time to have a wedding in Alaska, but it is also the best time of year to visit. From May through August, there are all sorts of festivals, events and races taking place. Alaska is the largest state in the United States, so the events might not affect your wedding. The largest festival by far is the Alaska State Fair that takes place about an hour north of Anchorage from late August to early September.
If you're on a tight budget, try to avoid common national holidays and busy weekends that tend to inflate the cost of everything! (We cover these dates for 2016-18 in our comprehensive guide). Other big events in Alaska for 2017 to consider are:
Fur Rondy, Anchorage (late February - early March)
Alyeska Slush Cup, Girdwood (late April)
Girdwood Forest Fair (early July)
Fairbanks Summer Arts Festival (late July)
Anchorage RunFest, Anchorage (late August)
Anchorage International Film Festival (early December)
Great Guest Experiences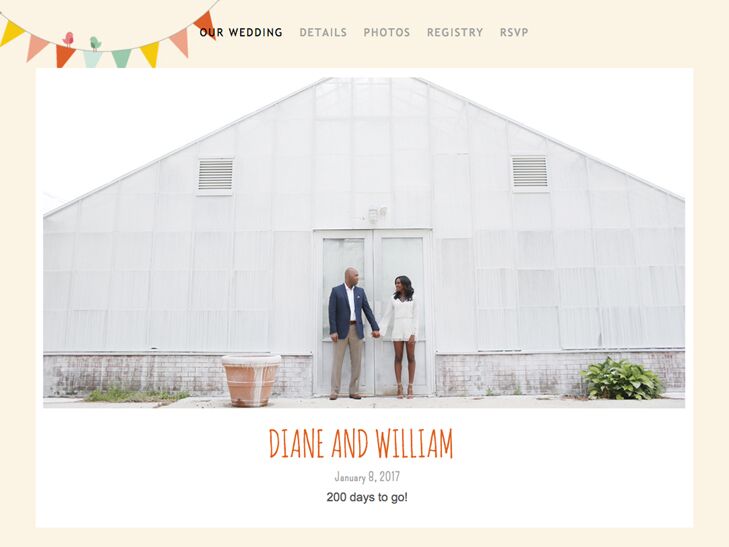 Planning a destination wedding in Alaska is a lot of work, especially when you have to do all of the planning from far away. You want your guests to enjoy their time in Alaska and feel comfortable at your celebration. Keep up with your guest list and all of the activities at your wedding by creating your own wedding website. You can keep everyone up to date about everything that is going on during your wedding weekend.
Around Town: What to Do and See in Alaska
Alaska is huge—it would be impossible to see all that there is to see in the state on a single trip. In addition to the events mentioned previously, these are some of the top tourist attractions in Alaska:
Denali National Park
Tracy Arm Fjord
University of Alaska Museum of the North, Fairbanks
Northern Lights (September to mid-April)
Iditarod National Historic Trail
Mendenhall Glacier
Arctic Circle Tours
Finding Your Way: Alaska Travel Info
While driving to Alaska is not out of the question, it's not the best way to get there. Flying to Alaska remains the best way to travel to and within the state. The largest airport, Ted Stevens Anchorage International Airport, gets a lot of traffic from all over the world. Fairbanks and Juneau also have large international airports.
Traveling around Alaska is very tricky when visiting the more remote and rural areas. Depending on the time of year and the distance, driving is not always an option. Carriers with small passenger planes carry passengers to these remote areas. However, the large urban areas of Alaska offer public transportation services so that your wedding guests can get around town with ease.
Go Local: Food and Favors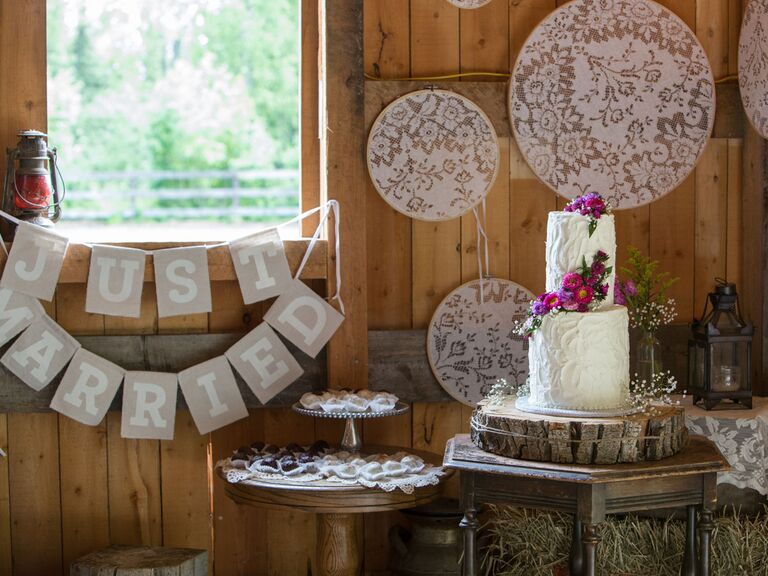 If you are having a wedding in Alaska, then you should be sure to take advantage of all of the unique foods and favors that the area has to offer. Incorporating local favorites will make your wedding one that your guests won't soon forget.
Local and Regional Alaska Cuisine
The food available in Alaska is as diverse as the people living there. Each rural village has its own traditional dishes, often based around the food available in the region. Coldwater seafood is the most common, specifically Alaskan salmon and halibut—both are excellent choices for your wedding. Sourdough bread is another favorite. Jen's Restaurant in Anchorage is a local spot that gives diners a taste of the Alaskan coast.
Those looking for something a little different can go for foods made from the state's big game. Caribou or reindeer is a menu option that you're surely not going to find anywhere else in the United States. In particular, a reindeer hot dog is exclusive to the region. People from all over the country flock to M.A.'s Gourmet Hot Dogs in Anchorage for one of these rare treats.
Do Your Guests a Favor: Alaskan Wedding Favors
Your guests have traveled from near and far to attend your Alaska destination wedding, so you can welcome them and create lasting memories by giving them a few treats. You can opt for a sweet treat from a local bakery or sweet shop or give them a keepsake to remember the occasion. Check out The Knot Shop for personalized wedding favors, and here are a few local ideas you can consider:
Truffles and sweet chocolates from The Flying Dutchman Pastry Shop. This local favorite has been making treats for weddings for more than 25 years.
Handcrafted snacks and treats from Alaska Wild Berry Products. Choose from savory snacks like smoked salmon or signature jams and jellies.
A personalized drink koozie for guests to keep their drinks cold and their hands warm.
Rustic hand-carved wooden crafts
Alaska City Guides
Whether you are from Alaska or you are flying in for the ultimate Alaska destination wedding, there are so many beautiful venues to choose from. No matter if you want to host your wedding indoors or out, you'll find the perfect place to tie the knot and express your personality. These two cities are the top locations for getting married in Alaska. Once you've chosen the perfect spot, find everything you need for your wedding by connecting with pros in our vendor marketplace.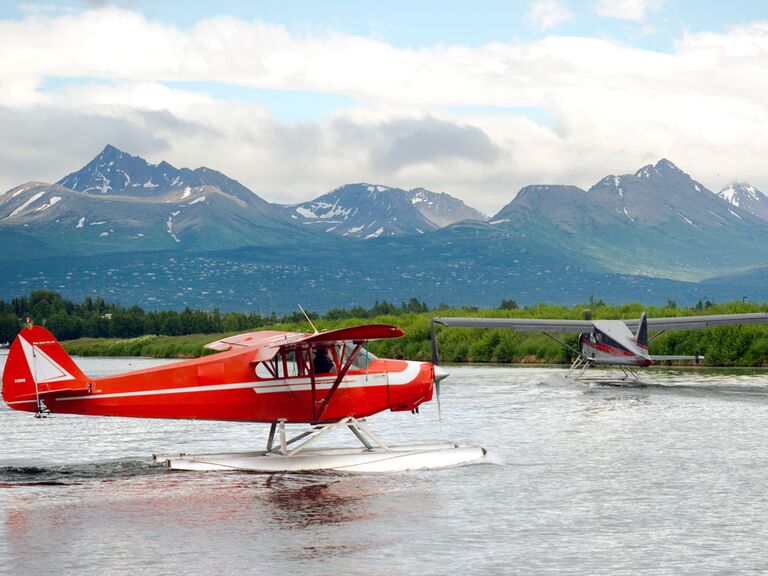 Anchorage is the most populated city in the state of Alaska. In fact, about 40 percent of the state's entire population lives in this city. Its large population might be part of the reason that it's the most popular city in Alaska to get married in. It's situated in the south-central part of the state along the Cook Inlet, making for great seaside views.
Because it's home to the largest airport in the state, family and friends will have no trouble flying in. Additionally, there is no shortage of events and entertainment while they visit. Anchorage wedding venues include indoor lodges, museums, hotels and resorts, state parks and beaches.
For local Anchorage vendors, check out: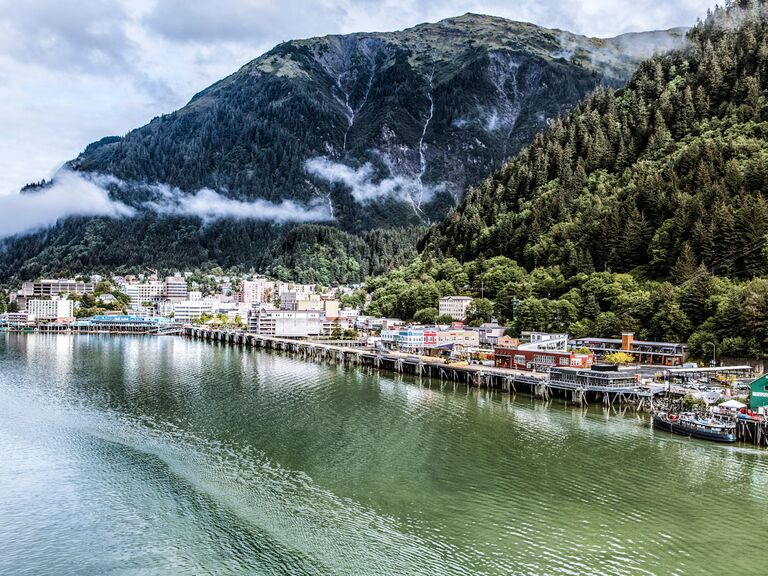 Juneau, the capital, is the second most populated city in Alaska. It's located in the panhandle of the state along the Gastineau Channel. It has both an airport and a cruise ship port. The port makes it easy to take off on your Alaska honeymoon.
There's a lot of rugged terrain surrounding the city and there are no roads connecting it to other cities in Alaska. This makes it hard to travel to other places in Alaska by car but gives you the opportunity to travel by boat or plane in a way that you might not normally travel.
Juneau is big into the arts. It's home to the largest professional theater and hosts music festivals and Alaskan heritage festivals. Choose from a number of unique wedding venues in Juneau, including getting married on top of the nearby Mendenhall Glacier or taking in the beautiful green forest surrounding one of the many lakes in the city.
For local Juneau vendors, check out:
Check out more Alaska wedding inspiration here.

Don't forget to download The Knot Wedding Planner app—it's a must-have for on-the-go planning.
Download for iOS: Wedding Planner App by The Knot
Download for Android: The Knot Wedding Planner