The Tradition of Giving Out Jordan Almonds at Weddings
Candy? Think again. These sweet treats are packed with big day cultural symbolism and meaning.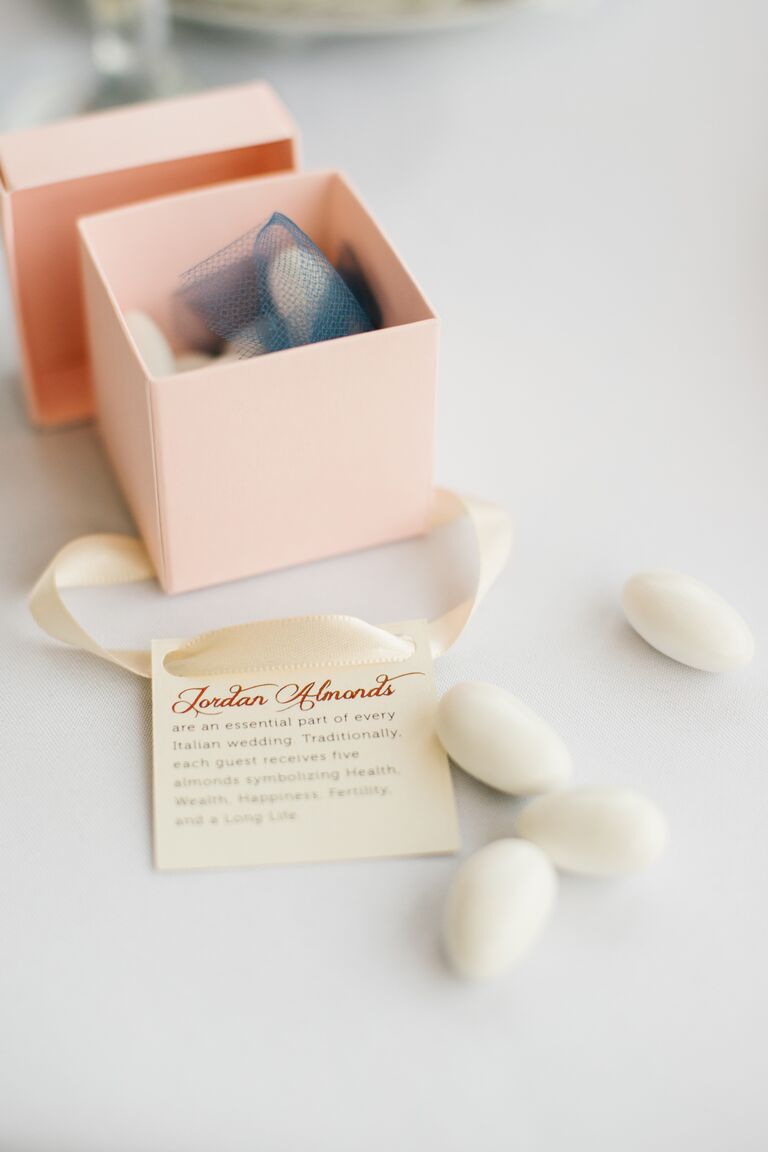 Riverland Studios
We have included third party products to help you navigate and enjoy life's biggest moments. Purchases made through links on this page may earn us a commission.
The Tradition of Giving Out Jordan Almonds at Weddings
If you've ever been to a wedding, you may have seen Jordan Almonds on display. What exactly are these little candies? In short, Jordan Almonds are sugar almond candies, commonly given out as party favors at weddings. First mention of these candies date back to 1350 in literary references. More testimonies of them show up later in the late Middle Ages and Renaissance Age, as ancient Romans used the almond candies to celebrate a variety of occasions, from weddings to births. Because the candies come in all sorts of colors, in some traditions, their color may represent a certain meaning. For example, you will often see white ones at weddings, green candies to represent an engagement, and even red ones to celebrate graduations.
These fancy, sugar coated candies are rich in flavor and in cultural meaning, particularly at Italian and Greek weddings. Fresh almonds have a bittersweet taste, which represents life; the sugarcoating is added with the hope that the newlyweds' life will be more sweet than bitter. Even the shape of the candy has meaning. Some believe the egg shape is an aphrodisiac, while others believe it's a sign of fertility.
Many couples give out Jordan Almonds at their wedding all around the world to celebrate the candy's symbolism, but you will find different cultures often practice variations of these traditions as they relate to the candy.
Jordan Almonds and Greek Weddings
In traditional Greek weddings, sugar coated almonds are called koufeta.
They are placed in little bags in odd numbers and are served on a silver tray. Because odd numbers are indivisible, this symbolizes that the newlyweds will share everything and remain undivided. Tradition holds that if an unmarried woman puts the almonds under her pillow, she'll dream of her future husband.
Jordan Almonds and Italian Weddings
At traditional Italian weddings, five almonds signify five wishes for the couple: health, wealth, happiness, fertility, and longevity. These almonds decorate each place setting as favors, tucked into pretty boxes or tulle bags called bomboniere that are often personalized with the couple's names and wedding date. Guests can take these Jordan Almond wedding favors home as a tasty treat and reminder of the special occasion.
Ways to Package Jordan Almonds
There are several ways to create Jordan Almond wedding favors. One way is to wrap a cluster of almonds in tulle and tie it with a ribbon, Italian-style. Or, pack a few almonds in boxes -- made of anything, from sugar to straw, paper, metal, or plastic. Toss a few into decorative bags or pour a handful into champagne glasses or glass bowls on the tables. No matter how you package, attach a little card with a note explaining the almonds' meaning (so guests know they're not just an intermezzo between the salad and the entree). How to? Consider using the Jordan Almond poem: "Five sugared almonds for each guest to eat, To remind us that life is both bitter and sweet. Health, wealth, happiness, children and a long life!"
When it comes to planning your wedding, Jordan Almond candies make for a sweet addition, both figuratively and literally. Whether you are following a tradition that has been practiced in your family for generations or this is the first time you are hearing about it, consider incorporating the symbolic candy into your special day.