The History Behind the Jordan Almonds Wedding Tradition
These small sweets hold a lot of meaning.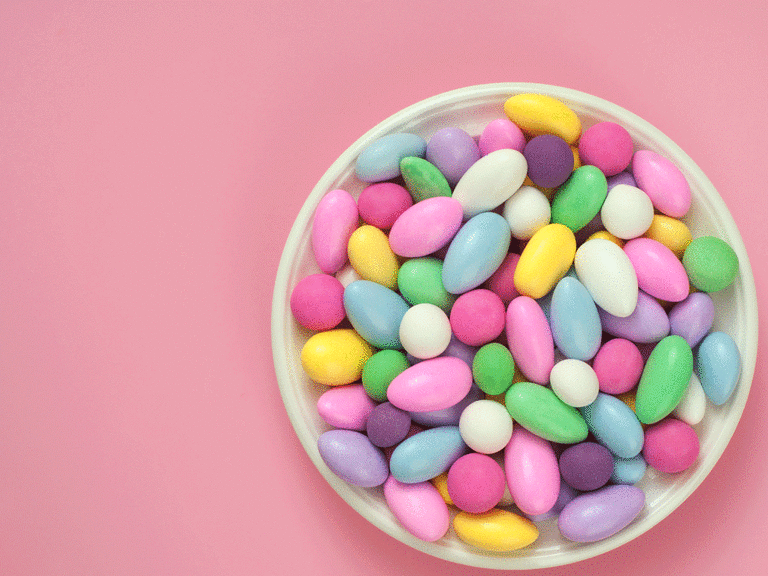 Photo: Candace Hartley | Shutterstock.com
You have most likely seen or heard of Jordan almonds at weddings or while planning your own. But many people don't know why Jordan almond wedding candies make for a sweet addition, both literally and figuratively. This dessert-based wedding tradition comes from Italian and Greek cultures and is full of heartfelt meaning. So if you're curious about what Jordan almonds are, their history and how you can include them in your wedding, we have everything you need to know about the Jordan almonds wedding tradition below.
What Are Jordan Almonds?
Jordan almonds, also known as sugared almonds, dragées or confetti are sugar-coated almond candies. Jordan almonds come in numerous colors, shapes and flavors. People include these sweet treats in their weddings to represent various meanings from the Italian and Greek cultures.
The History of Jordan Almonds
If you've ever been to a wedding, you may have seen Jordan almond wedding favors on display but didn't know their origins. There's some debate on how this tiny candy got its name. Some historians believe the candy's name is a distorted version of the French word "jardin," which means garden. Others claim Jordan almonds got their name because they resembled a type of almond that grows near the Jordan River. Many literary documents trace the candy's origin to 1350. More Jordan almond testimonies show up later in the late Middle Ages and Renaissance Age, as ancient Romans used the almond candies to celebrate many occasions, like weddings and births. Several candy experts say honey was used during ancient times to encase the almond shell since sugarcane and white sugar weren't well-known developments at the time.
Because this candy comes in all sorts of colors, in some traditions, their color represents different meanings. For example, you will often see white Jordan almonds at weddings, green candies at engagement parties and red candies to celebrate graduations. These sugar-coated candies are rich in flavor and cultural meaning, particularly at Italian and Greek weddings. Fresh almonds have a bittersweet taste, which is supposed to represent life; the sugarcoating adds the hope that the newlyweds' life will be more sweet than bitter. Even the shape of the candy has meaning. Some believe the egg shape is an aphrodisiac, while others say the egg shape is a sign of fertility.
Many couples around the world give out this traditional wedding candy at their weddings to embrace the candy's symbolism, but you'll find different cultures often practice variations of these traditions.
Find your kind of venue
From barns to ballrooms, discover reception venues that feel like you.
Bomboniere: The Jordan Almonds Italian Wedding Tradition
At traditional Italian weddings, five almonds signify five wishes for the couple: health, wealth, happiness, fertility and longevity. These almonds decorate each place setting tucked into pretty boxes or tulle bags called bombonieres, a fragrant party favor given at special occasions, that are often personalized with the couple's names and wedding date. Guests can take these Jordan almond wedding favors home as a tasty treat and reminder of the special occasion.
Koufeta: The Jordan Almonds Greek Wedding Tradition
In traditional Greek weddings, Jordan almonds are called Koufeta. They're placed in little bags in odd numbers and served on a silver tray. The odd numbered almonds symbolize that the newlyweds will share everything and remain undivided. Another Greek Jordan almonds wedding tradition is if an unmarried woman puts the almonds under her pillow, she'll dream of her future husband.
How to Include Jordan Almonds In Your Wedding
If you don't know where to start incorporating the Jordan almonds wedding tradition into your big day, we gathered a couple of ideas to help inspire you. These candies act as a way to satisfy your and your guests' sweet tooth while carrying special meaning.
The Knot Expert Tip: Almonds are already hard nuts and being encased in a hard candy shell can make them even tougher to bite into. This means Jordan almonds can be dangerous to wedding guests with fragile teeth since the candy's hard exterior can cause cracks or chips to their teeth. To help avoid any dental emergencies, add a small note to each Jordan almond wedding favor warning guests to be cautious while enjoying these goodies.
Use them as table decorations.
As your wedding guests enter the reception, greet them with a sugary snack. Place the Jordan almonds on each table Italian-style by having clusters of almonds wrapped in tulle and tied with a ribbon. Pour a handful into champagne glasses or glass bowls on the reception tables. Just don't forget to attach a small card with a note explaining the almonds' meaning, this way your guests don't confuse the almonds as a palate cleanser between the salad and the entree. Consider using the Jordan almond poem, which you can edit to fit your and your partner's wedding: "Five sugared almonds for each guest to eat/To remind us that life is both bitter and sweet. Five wishes for the new husband and wife/Health, wealth, happiness, children and a long life!"
Make them your wedding cake flavor.
If you would rather have this traditional wedding candy integrated into your wedding in an unconventional way, ask your wedding cake baker if they can make a Jordan almonds-flavored cake. You can even ask your baker to decorate the outside of your cake with Jordan almonds. Make sure the Jordan almond colors you include have the meaning you want to convey, then try to have them match your wedding color theme.
Put them on your dessert table.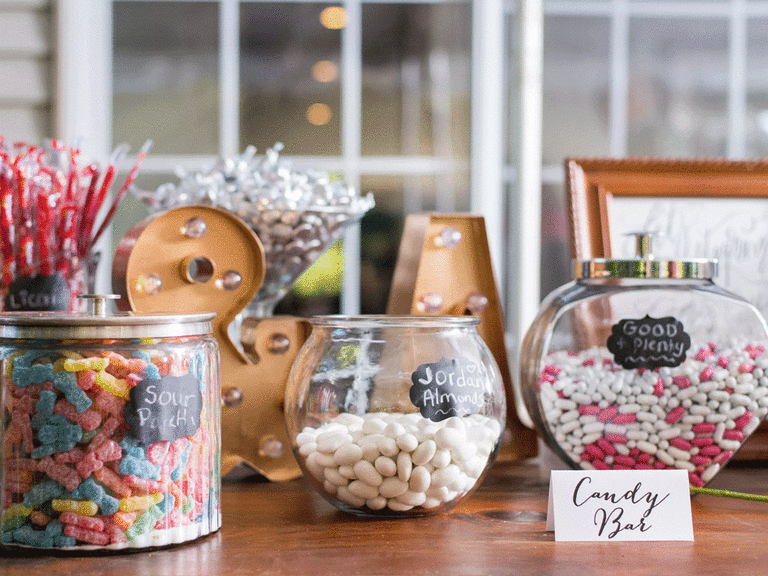 Even though Jordan almond wedding treats have a lot of cultural significance, that doesn't mean they aren't just candy at their foundation. Add a glass jar, or any container of your choosing, of Jordan almonds to your dessert table or candy bar. You can stick to the traditional white Jordan almonds or have fun choosing different colors to personalize your candy and dessert area.
Give them as wedding favors.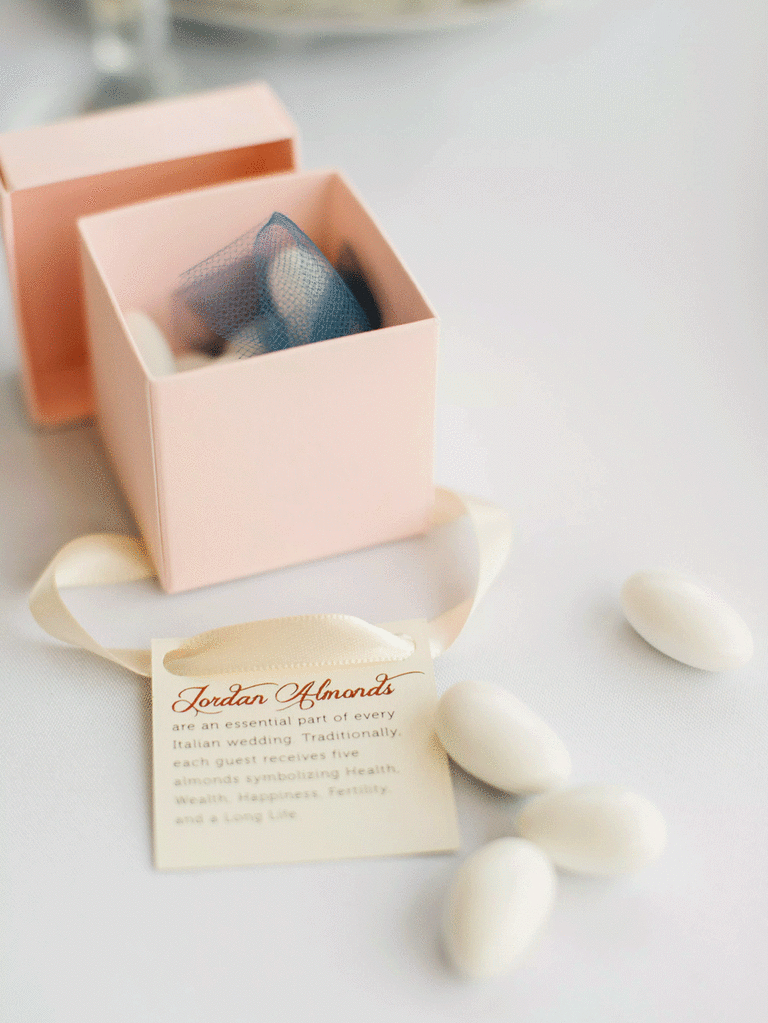 Jordan almond wedding favors are the most common way couples involve these tasty candies. Pack a few almonds in boxes made of anything, from sugar to straw, paper, metal or plastic. You can also toss a few into decorative bags. Package them whichever way you like and try to display them in a way that matches your wedding theme. Just like you would for the table decorations, add a short note about the Jordan almonds' meaning for your guests.