Questions to Ask a Wedding Cake Baker, According to The Knot Ones to Watch
These questions will ensure your wedding ends on a sweet note.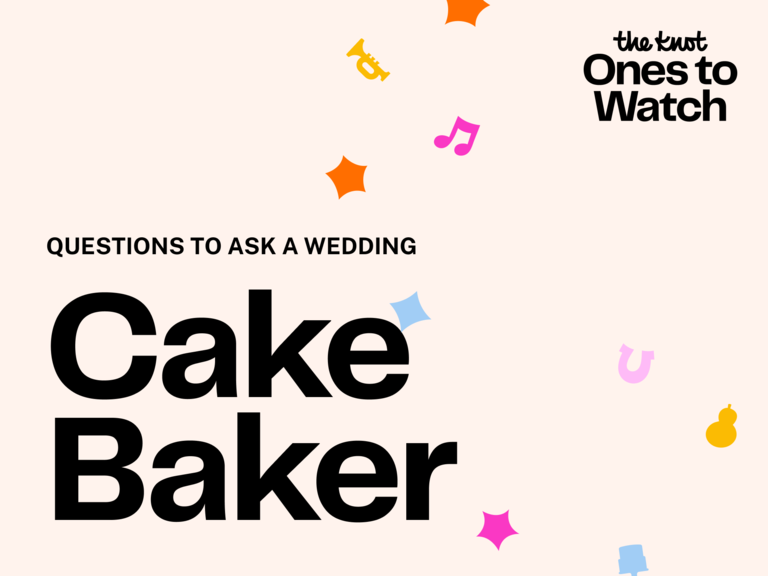 Tasting wedding cake is one of the most fun parts of wedding planning, but before you get there, we have some questions to ask cake bakers that you need to be aware of. How much does a wedding cake cost? How much cake should you order for the wedding? How can you freeze (and should you freeze) your top tier? We're diving into all of this, and more, so you're in the know about any and every wedding cake question.
In this story:
Meet Our Ones to Watch Experts
We spoke with The Knot Ones to Watch 2023 honorees (and notable wedding cake bakers!) Christina Kim Mathis of Blue Box Bakery and Jenny Vu-Tran of IntriCakes to get their expert advice on baker interview questions to pose to your prospective wedding cake maker.
Christina Kim Mathis of Blue Box Bakery: Christina Kim Mathis is a Washington-based expert cake baker who owns Blue Box Bakery, a company she founded in 2016.
Jenny Vu-Tran of IntriCakes: Jenny Vu-Tran is a wedding cake expert based in California. The pro owns IntriCakes, a wedding bakery founded in 2015.
Vu-Tran stresses the importance of research and vetting to find the right bakery. "It's essential to do your research on local wedding cake bakeries in your area and to take your time in choosing the right vendor for your special day. Don't simply stop at the first vendor you come across, but look through multiple vendor portfolios to ensure their style and taste aligns with yours." Keep the below wedding baker questions in mind as you start the sweet process of deciding on an amazing wedding cake.
Wedding Cake Baker Questions About Business and Experience
Before getting into the nuts and bolts, or rather icing and sugar flowers, of your wedding cake, you want to get to know the baker. Understanding how they work, what experience they have, and their general aesthetic will guide you as you decide who to book as a professional wedding cake baker. Here are the wedding baker questions about business and experience to keep in mind.
1. How did you get your start as a wedding cake baker?
Go back to the beginning with the pro. Ask them about how they got started in this profession and what draws them to working in the realm of confectionary goods.
2. Where do you find inspiration?
Wedding bakers are artists whose medium is cake. As with all artistic professions, it's beneficial to understand how their mind works and where they look for inspiration and innovative ideas. For example, Vu-Tran shares that she is "constantly inspired by the world around me. I find inspiration in everything from art and architecture to fashion and nature, and I love to incorporate these elements into my designs." You want a baker to doesn't look at competitors' cakes for inspiration, but rather finds ideas in the most unlikely of places—that's the recipe for a unique, cutting-edge cake.
3. Can I see your portfolio of past work?
Take some time to peruse photos of past confections the cake baker has created. If certain examples pique your interest, ask them about how they worked with that couple to create their cake. Getting a sense of how they've personalized cakes in the past will help you know what to expect with your own process.
4. Are you licensed by the state? Do you have insurance?
It may seem like a silly question, but it's worth verifying that your baker is licensed by the state health department. Additionally, while talking to a prospective cake baker about legal matters, you can also inquire about insurance and whether they have a policy that covers anything that might go awry.
Wedding Cake Baker Questions About Logistics
In the fun of thinking about cake flavor and design, it's important that you don't overlook all the nuts and bolts. These questions about logistics may not be exciting, but they're certainly necessary.
5. How many wedding cakes do you make per week? Per day?
Mathis emphasizes the importance of posing this question. "Most of the horror stories I hear are from people who either received the wrong cake, or it go delivered on the wrong day, etc. If your cake designer is taking on multiple events on any given day/weekend, the chances are, they are delegating tasks to their staff. Which isn't always bad thing, but can increase the chances of mistakes."
6. How soon do we need to finalize our wedding cake order?
Given that your baker may take on multiple bookings, it's important to know how soon you need to sign on the dotted line so you don't lose your spot. Vu-Tran shares that "once you've found the perfect vendor, it's important to book a tasting and put down a deposit to reserve your date. Many wedding cake companies take a limited amount of orders per week, and without a deposit, your desired date may get booked by someone else. So take the time to find the perfect bakery, and you'll have a beautiful and delicious cake that perfectly complements your special day."
7. What is your delivery process?
Mathis explains that, "when a baker has multiple deliveries to make, they may not stick around to make sure that everything has been checked over, and in perfect condition prior to leaving. They also may deliver the cake well in advance of the reception time, so the cake may not be set-up in its final place. There are so many logistics involved to cake delivery, especially in the summer, and with a product that can melt in the heat, you want to eliminate any variables that can cause potential issues."
It's most ideal to have the wedding cake delivered to the reception. Some bakers will charge a delivery fee, so ask them from the start and factor it into your cake budget. It's also worth it to ask if they've delivered to your venue before. If they have, you know they'll be able to find their way into your reception space with ease (think: service entrances, freight elevators, kitchen access for last-minute touch-ups).
8. How far in advance will my wedding cake be prepared?
Many bakers have multiple clients, so don't be surprised if the baker makes your cake three to four days prior to your wedding day. Of course the closer to your wedding date, the better, but a few days in advance shouldn't impact the taste or look, and may be necessary if you want a complicated design that takes more than a day to execute.
9. Who will make my wedding cake?
Some bakeries house a baker and a designer; at others, one person creates the entire cake from batter to sugar flowers. Find out how many people work with the baker and who exactly will be making your cake. The number of people involved should have no bearing on the quality of your cake, but you'll want to talk design with the right person.
10. How much cake should we order for our wedding?
It's important to have a discussion with your wedding cake baker about how much cake to order for a wedding. They'll know the intricacies of your situation and be able advise you accordingly. If you're having other desserts, such as pie or cupcakes, they will be able to help you know how many of each dessert to order for the wedding.
11. How long does a wedding cake last? Should we freeze the top of our wedding cake?
Many times there will be leftover cake that your wedding planner may be able to have boxed up so you can enjoy it in your hotel room later on that night. Additionally, some couples like to follow the tradition of freezing the top tier of the cake to have on their anniversary. These are all topics your baker can advise you on.
Wondering how to preserve the top of a wedding cake? Your cake baker will be able to tell you how to freeze your wedding cake. However, they might also tell you that you shouldn't save it, but rather enjoy an anniversary tier. Some bakeries will offer a service where you can purchase an anniversary tier that will be made fresh when your first anniversary rolls around so you can enjoy your wedding cake without any freezer burn.
12. How will you transport the wedding cake? Do you handle wedding cake setup?
Did you know that some cake bakers will fly with wedding cakes in "cake safes" to destination weddings? Even if your wedding venue is only a short drive away, it's important to talk about how your cake will get from point A to point B. Will the cake travel partially assembled or fully decorated? Will the bakery handle last-minute touchups at the venue? Discuss all of this ahead of time so there are no hiccups on the big day.
13. Do you provide cake stands?
Most bakers have a variety of cake stands you can rent for day-of use. Ask to see pictures to determine what will match best with your cake and decor.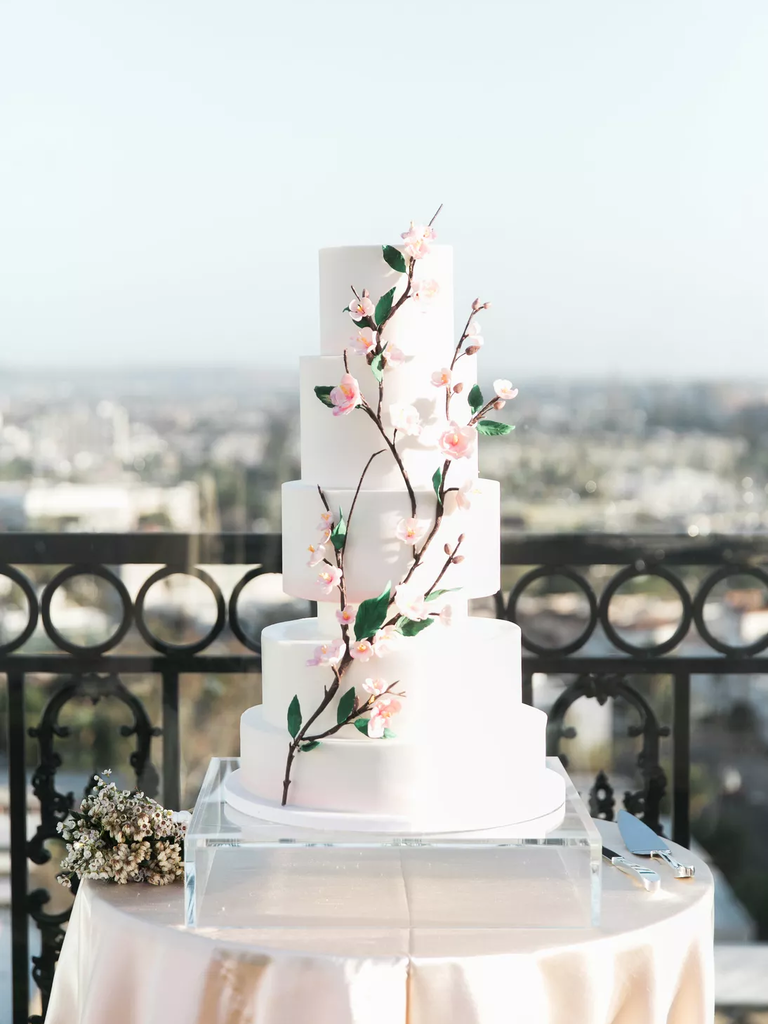 Wedding Cake Baker Questions About Budget
It takes expert skill to bring to life the beautiful designs and tasty flavors you have in mind for your dream wedding cake. That's why it's critical that you discuss wedding cake budget early on to understand how much your tiered treat will cost.
14. Do you have a wedding cake tasting package?
A cake tasting is a must, but bakeries handle the prewedding task differently. Some bakeries may have in-person tastings while others prepare a package for you to taste at home. Similarly, some pros may include the tasting fee in the overall cost while others charge a separate fee. To avoid any surprises, ask early on how this part of the process works.
15. Can you tell us about your starting wedding cake prices?
The final price of your wedding cake will depend on a number of factors, such as how many people it needs to serve and the complexity of the design. But you can ask about what prices the bakery's cakes generally start at to get an initial ballpark estimate.
16. How are your wedding cakes priced?
It's common for wedding cakes to be priced by the slice. And the price will increase depending on the complexity of flavors and fillings you're after (and how detailed the design is). This goes for custom-designed cakes as well. Beyond just asking for general ballpark numbers, it can be helpful to understand the pricing structure a bakery employs.
17. Does the wedding cake price include the top tier?
Depending on the baker, the top tier may or may not be included in the overall price. Find out the cake baker's policy, and whether having a top tier will increase the price.
18. Do you tip a cake baker for a custom cake?
It's customary to tip many wedding vendors, especially delivery staff. If you don't feel comfortable having this conversation directly with your cake baker, you can always ask your wedding planner to inquire on your behalf.
19. What is a cake cutting fee?
Some venues charge a cake cutting fee for serving a cake that's brought in from an outside bakery. While you need to confer with your venue on the particulars, the cake baker can offer their two-cents on what's typical to expect.
Wedding Cake Baker Questions About Flavor and Design
Now for the fun stuff—how the cake will looks and taste. Keep these questions in mind when working with your wedding cake baker.
20. What is your design process like?
Mathis encourages to-be-weds to ask about the ins and outs of the wedding cake design process. "Do you have a lookbook, or are your custom-creating designs? Will you make an exact replica of this cake? This is very important to me, which not all cake designers may agree with, but I do not have a lookbook, and I will not make an exact replica of another cake. When creating your unique and personalized wedding, wouldn't you want a unique and personalized cake? For me, during the design process, I actually prefer not to see any cake inspiration pictures, but instead like to see 10-12 images that would show me their wedding style, linens, hobbies, their attire, and invitation suite, which helps give me an overall vision of them as a couple, and design something unique to their individual styles."
21. Are there any innovative techniques you think would work well with your cake vision?
As you're sharing your vision for the wedding, your cake baker may have ideas percolating that you hadn't even considered. Take a moment to ask them if they have any unique ideas or techniques that could be considered for your cake. For example, Vu-Tran is always looking for ways to innovate with her cakes. "From incorporating 3D printing and projection mapping to experimenting with exotic flavors and textures, we are always looking for ways to challenge ourselves and disrupt the status quo in the wedding cake industry. We want our clients to have a cake that is not only beautiful and delicious but also reflects their individuality and tells their story."
22. What are my filling choices?
Whether you're looking for a fruity filling, like strawberry or orange, or a heavier one, like mocha or chocolate, the type of ingredients used will make all the difference in taste. Less common options, like passion fruit, may cost you, so ask if sourcing uncommon ingredients will run up the bill. Some common filling ingredients: fresh fruits or purees, mousses and buttercream.
23. Do you work with fondant or buttercream?
Some bakers specialize in fondant, while others prefer buttercream. And some do both. If you have your heart set on one type of frosting, confirm your baker can work with it.
24. Can you make sugar flowers? If I choose fresh blooms, will you work with my florist?
Most bakers can create sugar flowers for your cake; others may be able to make custom motifs or sculptural elements. Ask to see pictures of past work to get a feel for what they specialize in. If you decide to garnish with fresh flowers, ask if your baker will partner with your florist (most will).
25. Do you have advice for setting up our wedding cake table?
Talk to your cake baker about how the wedding cake will fit into the overall look and feel of your reception. They may have advice on what linen to select for the cake table and other decorations that would complement the vignette nicely.