Wedding Dessert Table Ideas That Are Totally Sweet
These sweet buffets will have guests coming back for more all night long.
The wedding vows are done, dinner is over—guests will be itching for dessert next to keep them energized on the dance floor. Cake is, of course, a great option, but we're also partial to decadent dessert bars. Brownies, cookies, mini cheesecakes—we're getting hungry just thinking about the options. Take a peek at some of our favorite wedding dessert spread ideas below to get inspired.
In this story:
Wedding Dessert Buffet Table Frequently Asked Questions
Wondering what a dessert table is and how to effectively serve one at your wedding? Here are some commonly asked questions about dessert bars.
What is a wedding dessert buffet, bar or table?
No matter what you call it—a dessert buffet, dessert bar, dessert table or dessert spread—they're all essentially the same thing: an array of desserts, beyond a wedding cake, at a wedding reception. While wedding cakes are still a common wedding dessert option, many couples choose to supplement their wedding cake with a collection of other desserts for guests to enjoy. While others may choose to do away with a cake altogether and only have a dessert buffet if they're not a fan of cake. The desserts served at a dessert table can be pretty much anything. Just like you have flexibility with food buffets for dinner, the sky's the limit with dessert offerings as well.
Is a wedding dessert buffet different from a cake table?
It can be, but it doesn't have to be. Traditionally, couples would serve one wedding cake that was the piece de la resistance of the evening's menu and it would often be displayed on a small table by itself. If you're having both a cake and assorted desserts then you can combine the displays at one longer table (a small cake-only table might not be the best bet for a dessert buffet as it could quickly feel cluttered).
Any tips for how to set up a dessert table for a wedding?
If you're having a Pittsburgh cookie table then friends and family may pitch in to create the dessert display. However, most commonly, you'll work with your caterer to decide on an assortment of desserts that they'll provide and put out for guests to eat. Since you don't want the dessert sitting out all night until it's time to eat them, it's best to coordinate with your wedding planner and caterer on when the dessert table should be set. If the table is going to be out all evening but empty until dessert time, think about if there's a way you could repurpose the table so it doesn't look like an afterthought.
Do you need to have a wedding dessert table sign?
A menu can be helpful if you're having a lot of different types of dessert. Having signage helps guests know what's what so they can dig into the flavors that sound most appetizing to them.
How can you tackle wedding dessert table ideas on a budget?
I'd your budget's tight, you can consider scaling back on how many dessert varieties you serve. Your caterer will also be able to advise you on quantities to order so you aren't paying for extra food that won't be consumed. If you're looking to fully go the DIY route then you can also talk to close loved ones about making the dessert potluck-style where a few different people supply cookies and other desserts.
How will weather affect an outdoor wedding dessert table?
Most desserts won't do well sitting out all evening. If you have treats that are temperature-sensitive, plan to lay out the desserts later in the evening, instead of having the buffet already set up when attendees arrive.
Wedding Dessert Table Ideas
Got a sweet tooth? We've gathered some of our favorite wedding dessert table and buffet ideas to inspire you and make your mouth water. Peruse the spreads below as you're planning your menu—there are sure to be a few that pique your interest.
1. Rustic Tiered Dessert Display With Mini Tartlets
If you're having a large table for your dessert bar, consider placing treats at different heights so it's easy for guests to see what's being offered and snag the dessert of their choice.
2. Romantic Macaron and Cake Buffet by Fireplace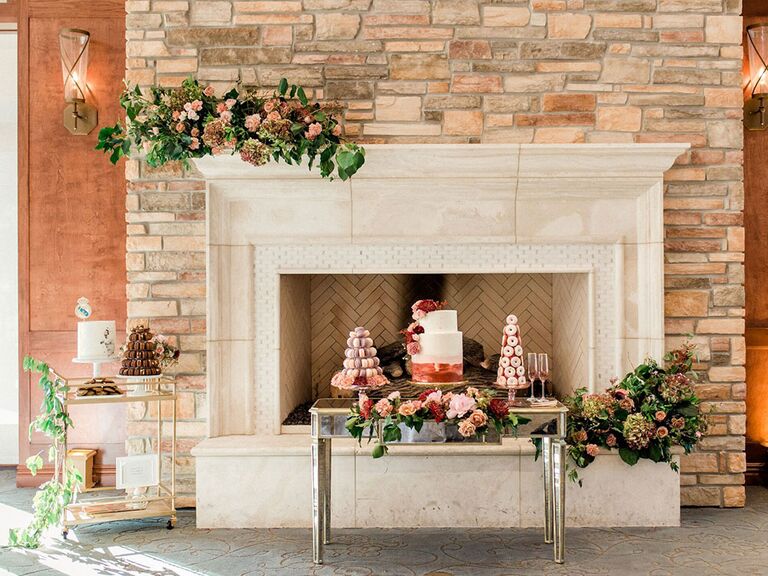 This venue's fireplace was an eye-catching architectural moment, and since the fire wasn't going to be lit during the wedding, the couple opted to have the marble fireplace anchor their dessert buffet which included tasty macarons.
3. Assorted Cupcake Spread
Cupcakes work really well for a dessert table, and they're a nice option if you want guests to be able to enjoy a variety of flavors.
4. Dessert Buffet Table With Chalkboard Sign
A calligraphed chalkboard sign let wedding guests know what their buffet options were.
5. Assorted Pie Dessert Spread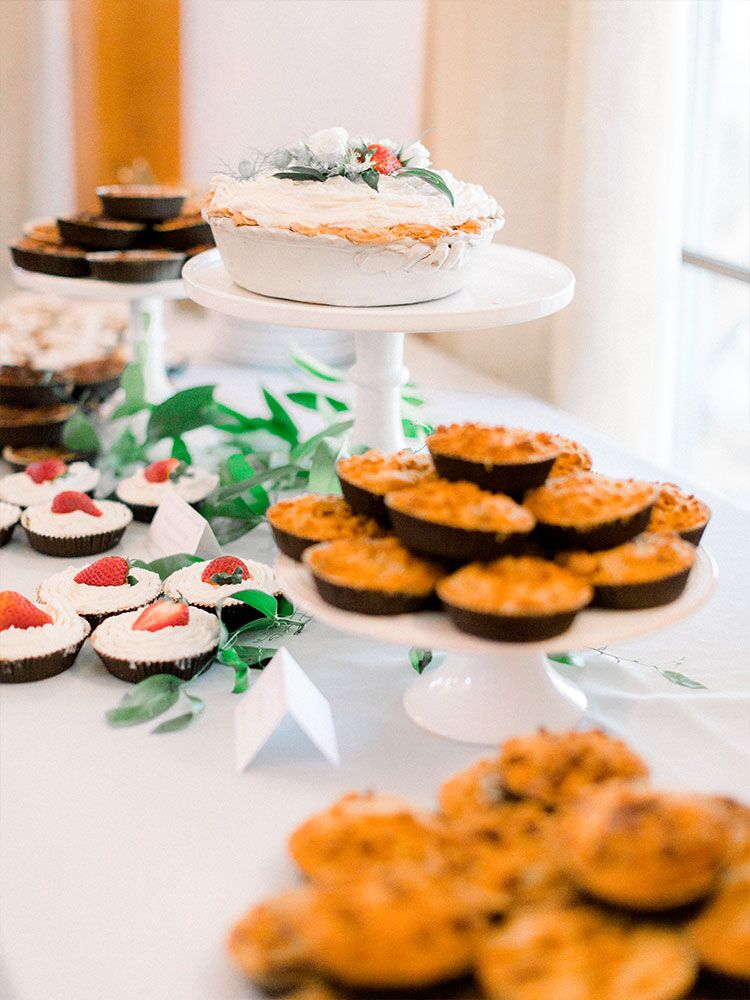 An array of pies, from mini pies to full-size ones, were laid out at this rustic barn wedding for guests to enjoy.
6. Ice Cream Float Bar
Ice cream floats are a great option if you want your dessert buffet to be interactive and customizable. Offer an assortment of toppings for guests to choose from—they'll be coming back for more scoops all evening long.
7. Romantic Pink Dessert Bar
Even if you're serving varied flavors of desserts, you can make the entire spread feel cohesive by unifying it through color. This couple coordinated their buffet to be anchored by their main wedding color: pink. Pastel pink icing, pink wrapping and pink garnishes brought the table together harmoniously.
8. Dessert Display on Silver Shelf
Your dessert table doesn't have to be an actual table—this couple selected a fun metallic shelf to house their sweets for the big day.
9. Dessert Bar With Chocolate and Red Velvet Treats
This spread was anchored by complementary flavors—many of the sweets at this dessert bar were either chocolate or red velvet.
10. Assorted Doughnut Buffet
Doughnuts are an especially fun option for a brunch wedding. Instead of just offering one type of doughnut, this couple served a spread of fan-favorite flavors.
11. Dessert Table With Marshmallows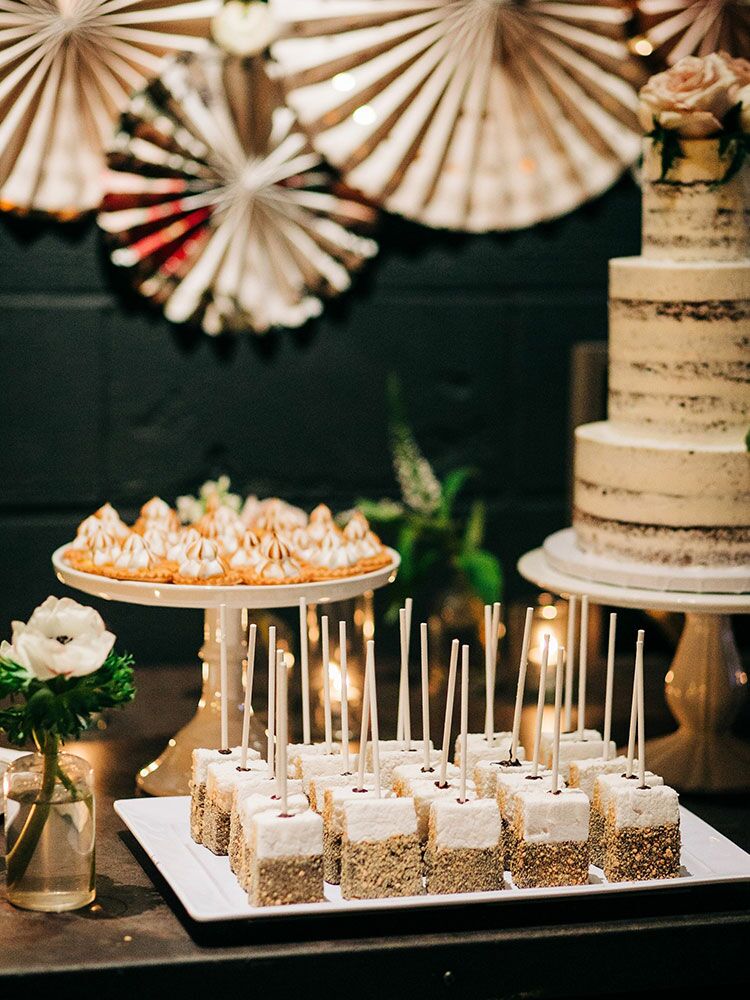 As a fun alternative to cake pops s'mores-inspired pops made of marshmallows coated in chocolate and graham cracker crumbs brought a cozy feel to this spread.
12. Rustic Dessert Table With Wood Platters
https://www.pinterest.com/pin/216595063320232961/
The serving dishes you select for your dessert buffet will play a critical role in conveying an overall aesthetic or wedding theme. For this rustic wedding display, the couple placed the wedding cake and assorted pastries on wood platters and log slices.
13. Shortcake Dessert Wall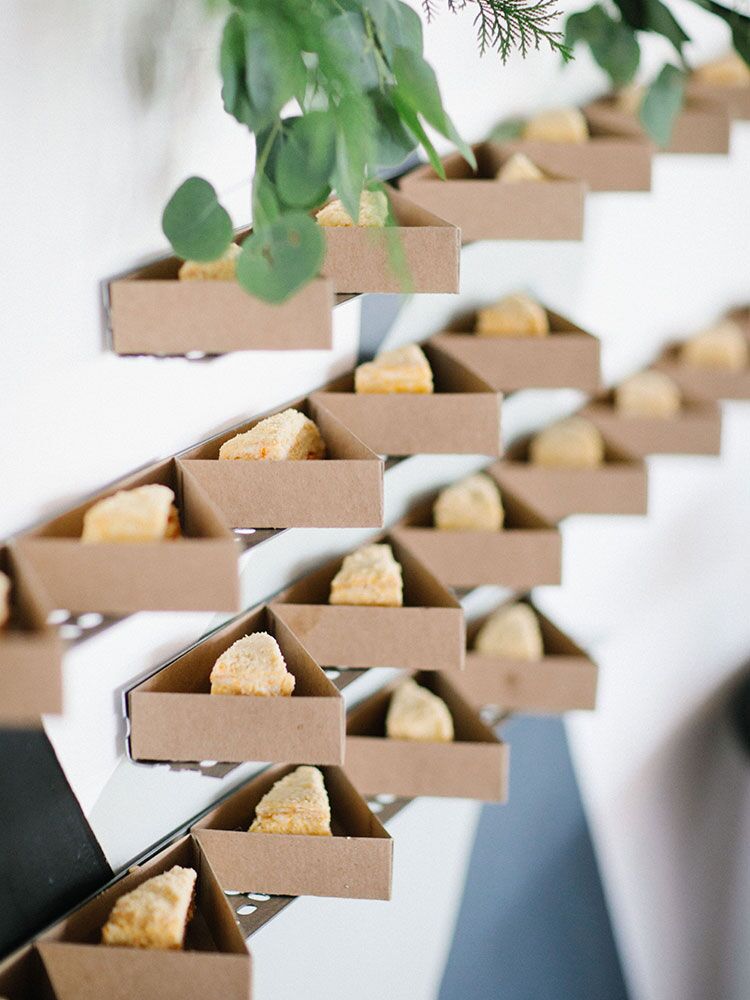 While not quite a table, dessert walls have become especially trendy over the years. They're fun because they can be a wedding decor moment. Plus, they're practical since the vertical setup makes it easy for guests to walk up and pick a treat.
14. Mini Pie Buffet in Vintage Cabinet
Cabinets are a fun option for dessert buffets since you can group desserts together in the different cubbies based on flavor. An assortment of mini apple and pecan pies were enjoyed by guests at this outdoor wedding reception.
15. Modern Dessert Bar With Macarons and Cupcakes
Macarons are a fun option if you're planning a modern wedding day because they can easily be made in a variety of eclectic and contemporary colors, like blue. To add to the modern feel introduced by the color palette used in this dessert spread, the couple chose to place all the sweets on a mirrored table.
16. Boho Dessert Spread in Shades of Caramel and Brown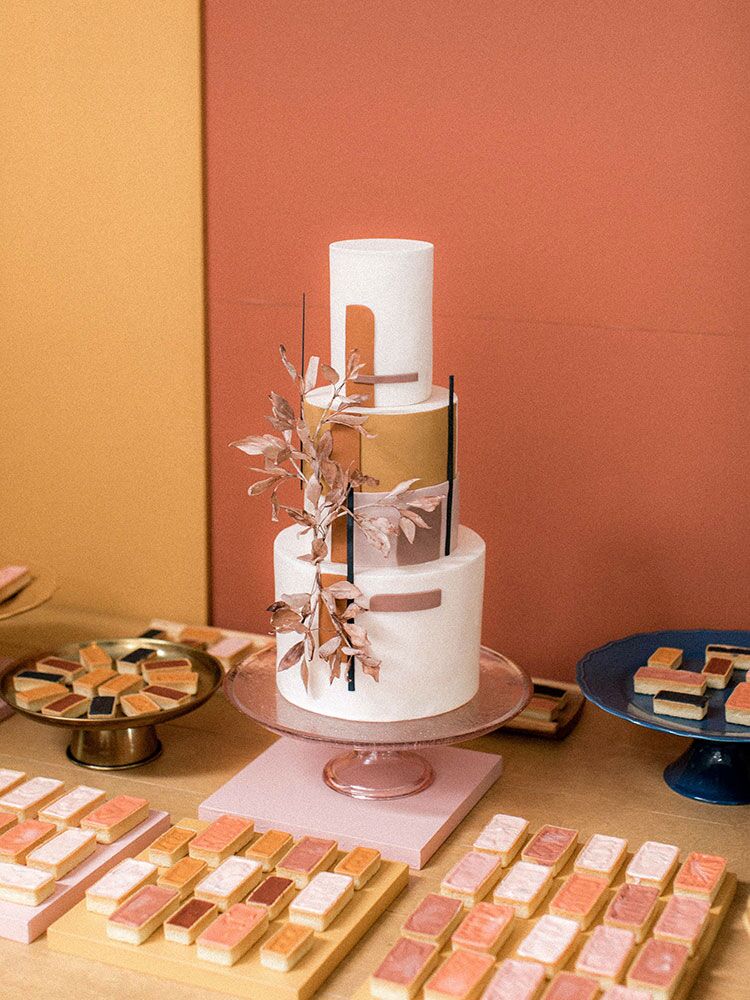 Coordinating icing ensured that all the desserts in this display felt cohesive and unified.
17. Rustic Pie Dessert Table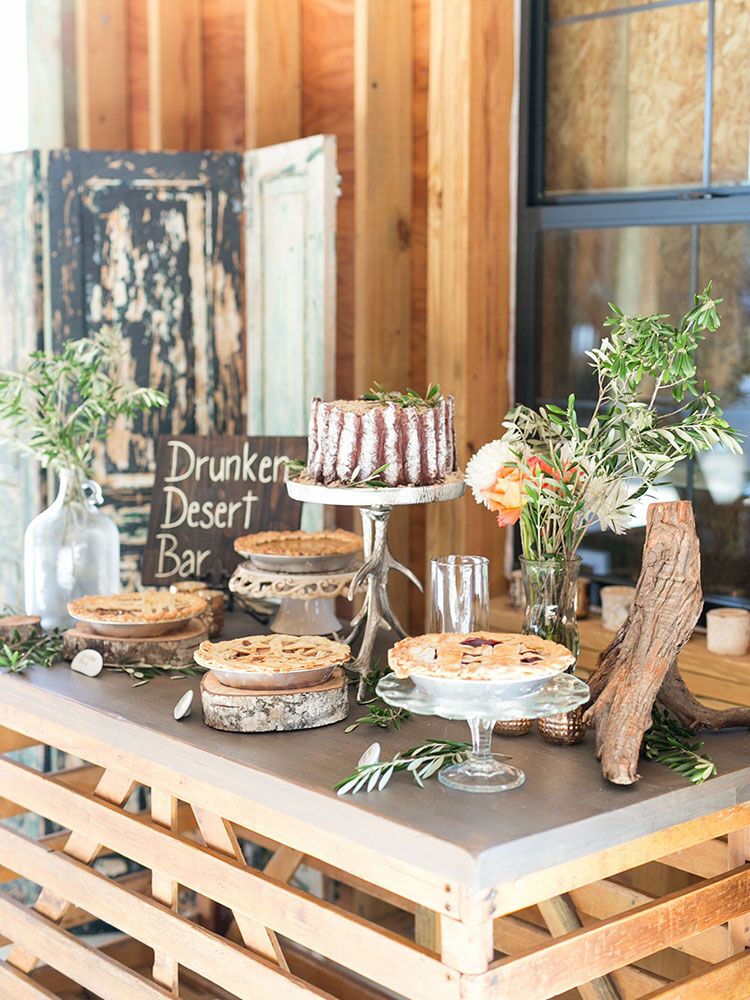 Many couples prefer pie over cake. However, since pies aren't layered like tiered cakes, one generally isn't enough for an entire wedding. Instead you can plan to serve a collection of pies at a dessert table for your reception.
18. DIY S'mores Bar
Looking for an interactive make-your-own dessert bar? This couple laid out all the fixings for s'mores so guests could roast a marshmallow and then assemble their own treat. This is an especially fun option if you're having a fall wedding or winter wedding where guests would welcome a late-night bonfire as temperatures drop.
19. Picture Frames Hanging Above Dessert Bar
Instead of just having a functional dessert spread, this couple turned the table into a decor focal point by hanging gold picture frames above the buffet.
20. Dessert Table With Fruit Tarts
If you're looking for a lighter option to add to your decadent dessert buffet, consider parfaits or tarts made with fresh berries.
21. Gelato Cart at Lakeside Wedding
This couple's dessert buffet was on wheels. They hired a fun gelato cart to make the dessert station more engaging for guests at the summer wedding.
22. Blueberry Panna Cotta at Dessert Bar
Containers of decadent panna cotta beckoned guests to the dessert bar at this elegant wedding.
23. Dessert Table With Assorted Bundt Cakes
A fun array of iced bundt cakes on cake stands were on offer at this wedding's dessert table.
24. Decadent Doughnut Table
The great thing about a dessert bar is that you can have fun with how you to choose to display your treats and make it interactive. Doughnuts were served up every which way at this table—from a stack of rings to a tower of filled doughnuts on a plate.
25. Macaron Table at Chinese Tea Ceremony
A dessert table can be served at any wedding event, not just your wedding reception. This couple included a macaron table at their prewedding traditional Chinese tea ceremony.
26. Eclectic Cotton Candy Station
Guests enjoyed spun sugar at this wedding. In addition to being tasty, the sweet treat of choice was also an entertainment element for guests to enjoy watching the cotton candy be made.
27. Dessert Bar With Doughnut Bites
If you're serving lots of small bite-sized desserts at your buffet, keep convenience and ease in mind when it comes to packaging and serving your treats. This couple placed doughnut holes in paper cones at their dessert table.
28. Mini Naked Cakes With Confetti Sprinkles
Instead of one large multi-tier traditional wedding cake, this couple created a fun dessert buffet with lots of mini desserts.
29. Music-Inspired Backdrop For Dessert Display
In keeping with the musical theme for their wedding, this couple commissioned a backdrop with music lyrics for their wedding dessert bar.
30. Boho Dessert Bar With Air Plants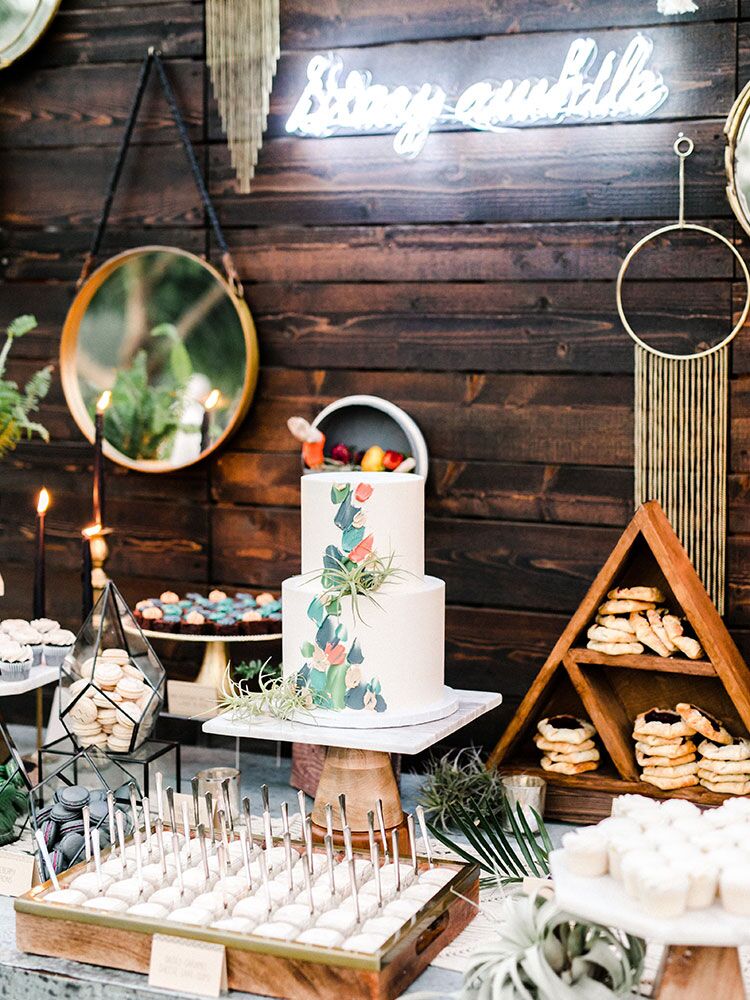 Macrame details and air plants brought a distinctively bohemian vibe to this confection spread for one couple's special day.
31. Trio of Tables for Dessert Display
The more, the merrier. Instead of just one dessert table, this couple had a collection of three small sweets tables.