See Alyssa Campanella and Torrance Coombs's Regal Wedding Photos
Alyssa Campanella, a former beauty queen, and Torrance Coombs, who plays a prince on Reign, had the prettiest regal wedding ever.
by Ivy Jacobson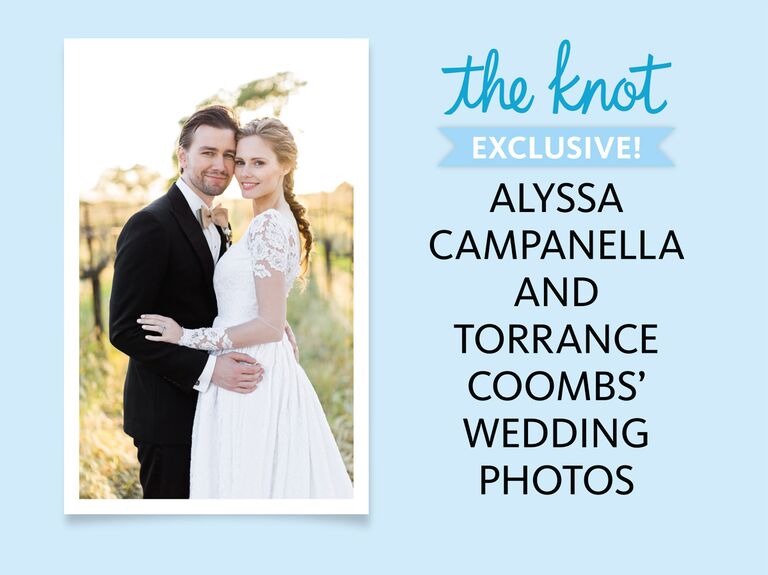 Here Coombs the bride! Former Miss USA and model Alyssa Campanella Coombs wed Reign star Torrance Coombs in a positively royal-inspired ceremony on April 2 at Sunstone Vineyards & Winery in Santa Ynez, California.
"The day could not have gone any more perfect," Campanella Coombs tells The Knot exclusively. "Our wedding was exactly how I envisioned it. Actually, it was even better! It touched our hearts that some guests traveled so far to be there for us. We're so grateful to have such wonderful, caring friends."
The bride looked radiant during the ceremony in a dramatic, custom-made Lauren Elaine wedding dress, made of French Alençon lace and pearl-hued silk dupioni, featuring a 12-foot cathedral train, square neckline and hundreds of delicate hand-appliqued lace flowers on illusion sleeves and an open illusion back. The stunning gown was inspired by Elizabethan royalty, and Grace Kelly's and Kate Middleton's wedding dresses. Campanella Coombs paired her majestic bridal look with a gorgeous, undone braid and a long veil.
Coombs's breath was taken away not only by his new wife, but by the celebration too.
"The outcome blew me away," he says. "I couldn't imagine a more beautiful night full of more of my favorite people. Everything went so well that the tiny hiccups didn't even bother me."
Wedding planners at Cake & Punch Productions loved working with the couple during their planning process to make their royal wedding day vision come true.
"The inspiration for the wedding was a royal, romantic, elegant and private affair with ivory, greens and golds to enhance the already stunning venue," say Christina Schneider and Erica Hartman. "We love trying new things and encouraging our couples to be true to themselves, so their wedding is a reflection of their love story. Alyssa and Torrance have been a dream couple to work with and we couldn't be happier for them!"
And maybe the hardest part of the day?
"It was a struggle not being able to kiss Torrance until the end of the ceremony," Campanella Coombs says. "Throughout the ceremony, I just wanted to lean over and kiss him and I kept saying to myself, 'No, not yet!' Our wedding was most definitely a romantic fairy tale fit for a king and his queen."
See photos from Campanella and Coombs's regal wedding here:
"Alyssa and Torrance's wedding was a fairy tale come to life," Lauren Elaine tells The Knot. "I loved every moment of working with Alyssa to design the perfect gown for her storybook wedding, and watching their 'happily ever after' unfold last night was truly magical."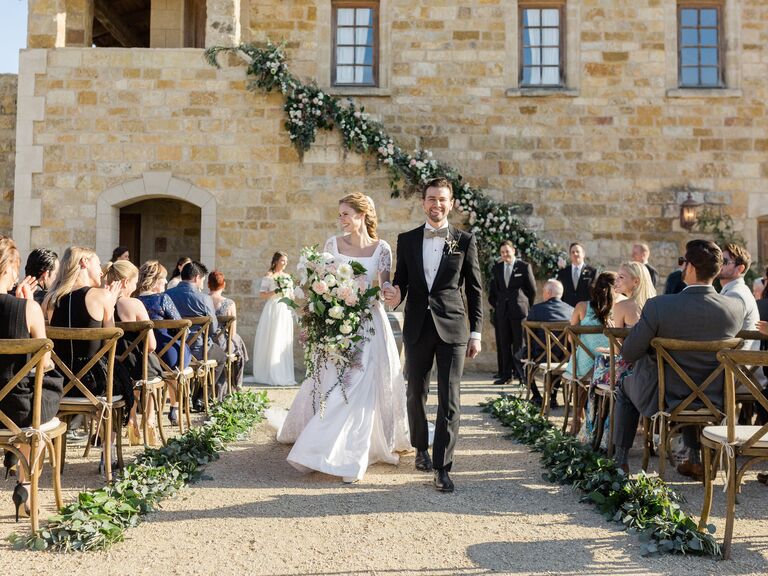 "For the ceremony, we wanted a natural backdrop that complemented the villa, so the wild florals cascading down the stairs by Anna Le Pley Taylor became their nontraditional, yet stunning, ceremonial arch," Schneider and Hartman say.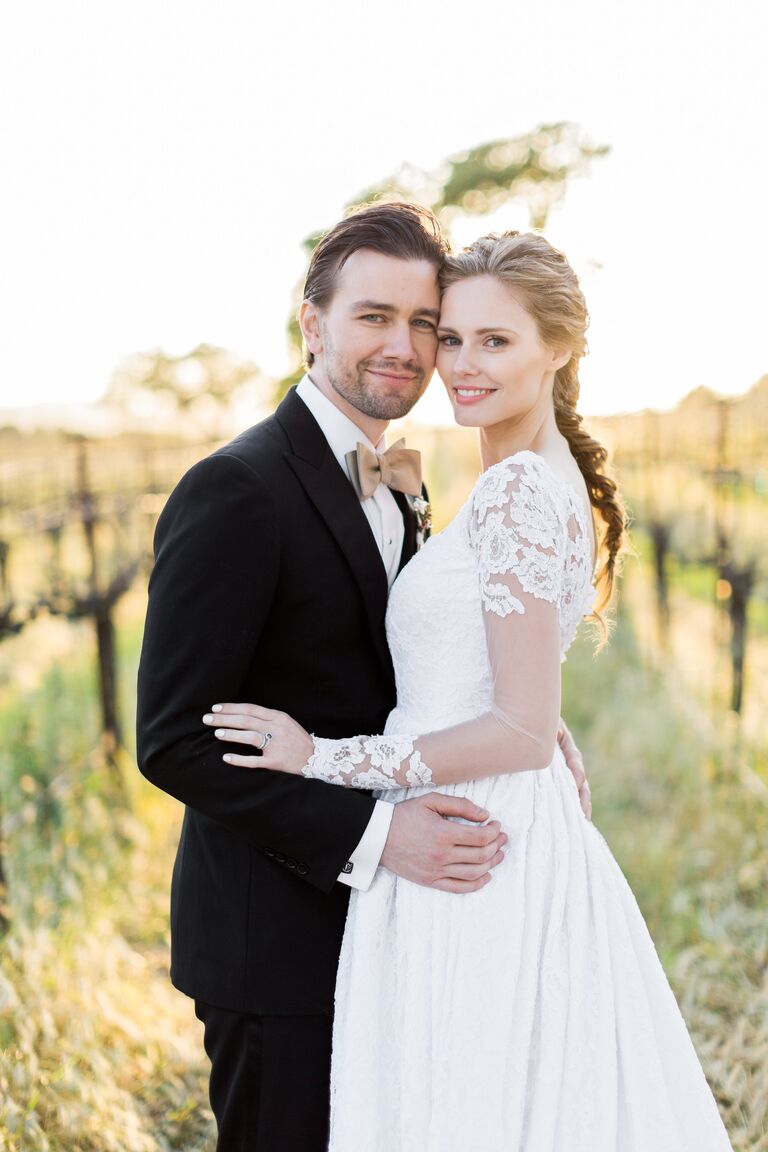 "I cried as Alyssa was walking down the aisle, but as soon as she was up there with me, the tears stopped and I was like 'Oh yeah, we've got this,' " Coombs says.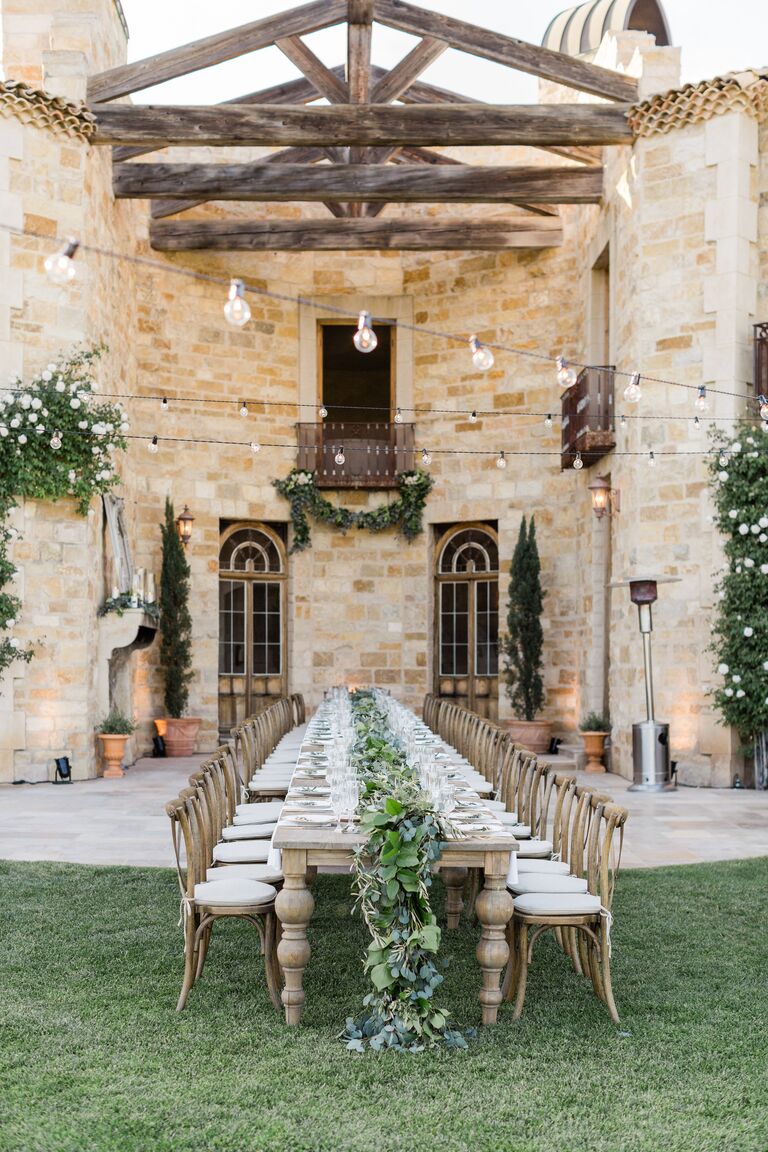 "Every detail from the wedding had touches of Alyssa and Torrance in mind, and we had an amazing team of vendors to make this wedding come to life—from the beautiful calligraphy signage by Linen & Leaf and the foodie spread by Omni Catering to, of course, Alyssa's hair and makeup by The Blushed Company and custom gown by Lauren Elaine," say Schneider and Hartman. "And it was all captured on film by The Why We Love, adding another romantic and timeless element that will live on forever."
Campanella and Coombs chose a delicious buttercream-frosted naked cake from Frost It Cakery adorned with white and blush blooms and delicate greenery.
Wedding Vendors
Wedding Planning: Cake and Punch Productions
Venue: The Sunstone Villa
Photographer/Videographer: The Why We Love
Florist: Anna Le Pley Taylor
Catering: Omni Catering
Cake/Dessert Table: Frost It Cakery
Hair/Makeup: The Blushed Company
Paper Work/Calligraphy: Linen & Leaf
DJ/Photo Booth: Epic Entertainment
Tabletop: Otis + Pearl
Furniture: Archive Rentals
Bridal Crown: Eden Luxe Bridal
Wedding dress/Bridesmaid dresses: Lauren Elaine
Shuttle: Who's Your Trolley?
Rehearsal Dinner Place Cards: 43 Layers
Bridesmaid Boxes: a Soiree Shop
Bridesmaid Coffee Mugs: Just A Pretty Typeface
Bride/Bridesmaid Hangers: Bells & Kisses
Officiant: Marriage With Meaning
Wedding Rings: INTA Gems & Diamonds
Lighting/Chairs: Santa Ynez Valley Elite Events