When's the Right Time to Have a Bachelorette Party?
Inquiring minds want to know.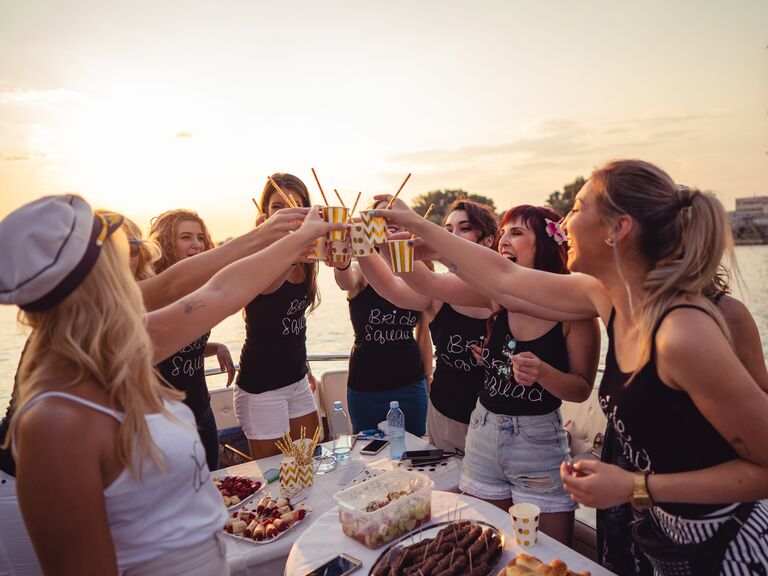 Photo: Johnce | Getty Images
While the wedding day may be the main event, there are many warmups during the planning season. The engagement celebration, the shower—and, of course, the bachelorette party. As you map out your timeline of events, you may wonder when to have the bachelorette party. Considering most friend groups decide to make a vacation from this tradition, it's important to pick the right season and timing. Here, our guide from experts on pinpointing the ideal weekend.
In this article:
When Do You Have a Bachelorette Party?
Traditionally, the maid of honor (and other close loved ones) plans the bachelorette party. But hey, the bride may want to offer some input on the timing. Always check with her first—or if you're the one in the spotlight, express when you'd like to have your last single celebration. Here other timing considerations to make before sending out the (bach party) save-the-date:
There is no perfect timing.
Generally speaking, there's no perfect time to have the bachelorette party, While Sarah Chianese, owner, planner and executive chef at Mangia and Enjoy!, recommends two to six months before the wedding date, it turns out that 75% of bachelorette parties occur within a month of the wedding, according to The Knot's Bach Study.
However, there are certain benefits to the two to six month sweet spot. Per Chianese: "Anything closer to the date may be too much planning that would interfere with gearing up for the wedding weekend, and anything before six months in advance may feel too far removed, thereby losing momentum," she explains.
Consider it the halfway point.
Another way to think of the bachelorette party timing is to think of it as the halfway point toward your big day. It shouldn't be too close to the announcement of your engagement, as it would most likely be too soon for guests to make arrangements to be present, explains Gaby Guicciardi, the CEO of Destination Brides.
"On the other hand, it shouldn't be too close to the big day as it could cause those same issues for your wedding guests arranging time off," she says. "Overall, you want this experience to be just as special as the wedding itself as you celebrate with loved ones for your commitment to your partner."
Focus on the preferred season.
Rather than figuring out the best date on the calendar, it's more important to focus on the season that works best for the desired location, suggests Laura Maddox, a partner at Magnolia Celebrates. "So, if you want to go skiing, obviously don't plan to go in August unless you plan to go to the Southern Hemisphere," she says. "Likewise, if you plan on going to Vegas, I would not plan a trip during the height of summer heat."
Then think of the theme.
Developing a theme is a fun way to decide when and where to have the bachelorette party. This is a more common occurrence since many brides want a personalized experience that honors the journey to marriage. For example, if you select Fort Lauderdale as the bachelorette party spot, you can time it around different events, like Tortuga Music Festival, Food & Wine Festival and Audacy Beach Festival, suggests Arlene Espino, the senior social catering sales executive at The W Fort Lauderdale.
If your friend is a country music fan, Nashville is a fun choice. If she's more into vineyards and sipping on wine, consider Sonoma or Napa.
Consider the guest list.
When selecting the bachelorette party's weekend, it can be beneficial to think of who you will invite—and try your best to line up calendars. "If any attendees are either in school or have school-age children, it's best not to try to plan a bachelorette weekend in months when school is either starting or ending so as not to risk lower participation due to school schedules," Chianese says.
And if a big portion of the guest list will need to board flights to attend the bachelorette party, it's better to give as much time as possible to keep prices low.
Start planning early.
On that note, begin planning well in advance to allow everyone to coordinate their schedules. The earlier you start, the more likely you'll find a date that works for most of the group, says Amy Smith, the owner of the Saratoga Arms Hotel. In fact, according to The Knot's Bach Study, bach party planners start planning about 5 months before the wedding, on average.
To get started, she recommends using digital tools and platforms to streamline the decision-making process. "Create a shared online calendar or use scheduling apps that allow everyone to input their availability and preferences," she says. "Once the date and location is confirmed, utilize a trip planning app like TripIt or Wanderlog to keep all of the info in one place."
Don't forget the bridal shower!
If there's already a shower in the works, be sure to check in with the hosts of that event to make sure there's no conflict. Bridal showers tend to occur closer to the wedding than bachelorette parties. You also may want to coordinate with the shower planners and have the bach party the same weekend if you're celebrating in the same location or can leave for your bach party destination right from the shower. Otherwise, be sure to space these events out by at least a few weeks to avoid overdoing the celebrations.
Do You Have Your Bachelorette Party At the Same Time as Your Partner's?
Traditionally, Guicciardi says bachelor and bachelorette parties are held separately with the bridesmaids, groomsmen and other close friends and family. "If the couple decides to go this traditional route, then they should try and plan it on the same day or a few days, depending on the activities and other details surrounding the two parties," she continues. "Overall, the soon-to-be-married couple can have their own experiences at the same time and could make it more special for them."
Recently, many modern couples have decided to take a couple's bach party approach, combining partners and friends for one festive party. "Often, it becomes an entire getaway weekend where the couple secures a large amenity-filled vacation rental," Chianese says. "All friends and invited family members fill the weekend with fun activities, wine tours, private chef dinners, games and the like. It's a fabulous opportunity for a carefree, joyful and relaxing weekend before the wedding."
Best Time of Year to Have a Bachelorette Party
According to The Knot's Bach Study, summer is the most popular time of year for bachelorette parties, with 47% of parties occurring in June, July and August. This definitely tracks, with summer being a more flexible time of year for vacationing, and ideal for those wanting to base activities involving a pool, outdoor grilling, the beach and water sports or water parks. "There is an inherent feeling of relaxation and fun in the sun, and it is always reminiscent of youthful vacation time," Chianese says.
Spring and fall are equally popular seasons for bachelorette parties, with 22% and 20% of bach parties occurring during those times of year, respectively. Winter is the least popular season for bach parties, according to our study, though there are some benefits to hosting a cold-weather event: "There are fantastic photo opportunities of everyone bundled up and enjoying outdoor adventures and snowman building together or cozied up in flannel PJs enjoying hearty brunches together," Chianese says. And if you live in an area with cold winters, your crew may be eager to take a trip to a warm-weather destination in the wintertime.
How to Coordinate Bachelorette Party Timing With the Wedding Party
Whether it's the maid of honor or a few friends tasked with planning the bachelorette party, this job best suits someone with logistical skills. Chianese says to begin by making a chart with categories, including the guest list, potential locations, available dates, prices, amenities, services, nearby activities and notes.
Once you've gathered availability and preferred locations from everyone, give vacation options and let the bride make the final decision. "Once you research the data, find the most common denominator in terms of dates, then look at the potential venues and benefits of each compared to the price, take a final poll amongst the attendees to make sure schedules haven't changed, and lock in your happy event," she says.