19 Memorable Bridal Shower Food Ideas That'll Wow Your Guests
From cheese boards to croquembouche, these are the most creative snacks for your soirée.
Food is, unsurprisingly, one of the most important elements of a great party. So, if you're tasked with hosting a bridal shower for your best friend or a close family member, creating the menu is a critical task on your planning to-do list. While bridal shower games will keep guests busy as they mingle with each other, food is just as important as the activities on the agenda. In fact, of all the best bridal shower ideas out there, having a delicious menu is one that should never be overlooked.
Traditionally, bridal shower food etiquette doesn't require a formal, sit-down meal. Not only would this be a lofty expense for the host, it's not always necessary given the style of the event. Since wedding showers often occur in the late morning or early afternoon, spreads of appetizers, hors d'oeuvres and finger foods would suffice. But, as the host, what you serve is up to your discretion, along with the time and style of your event. While you can keep it casual with crudités and cupcakes, you can also push the envelope with build-your-own bars, interactive food stations or custom cocktails that match your bridal shower theme. The sky's the limit when it comes to bridal shower food ideas—we just recommend checking with the couple to ensure their preferences are included on the menu.
To help you plan a meal that'll render your guests speechless, we've tapped industry experts to share the most crowd-pleasing bridal shower food ideas of all time. Below, you'll find plenty of inspiring snack spreads and meal pairings that'll make your event one to remember. Browse these creative bridal shower food ideas below to gather inspo for your soirée, then work with a professional caterer, pastry chef or food truck service to make your food dreams a reality.
Charcuterie Spread
Open your Instagram feed on any given weekend and you'll likely see one or two of your friends indulging in a lavish cheese board. Charcuterie spreads are having a moment, and we love the idea of treating your guests to an Instagram-worthy arrangement of various meats, cheeses, veggies and creative garnishes. Not only is a cheese board perfect for grazing, it'll give guests plenty of photo opportunities. (And luckily for you, you can DIY it if you're feeling creative—we explain how to make a charcuterie spread for wedding events here.)
Breakfast Bar
Who says breakfast has to be saved for one time of day? Whether you're planning an elegant brunch-themed celebration or the couple has a penchant for breakfast food, you can't go wrong with delectable snacks like pancakes, waffles, scones, fruit and pastries. And, of course, your breakfast menu won't be complete without fun brunch cocktails like mimosas, Bloody Mary's, bellinis and boozy iced coffee.
Croquembouche Tower
Give your dessert table an elegant makeover with a tower of treats rather than a horizontal spread. "Statement desserts like croquembouche-style treats always offer a 'surprise and delight' experience, as well as a beautiful way to give a dessert table height," explains Erin Emmett, Founder and Pastry Chef of Pistachio Culinary Studio. And, while Emmett notes that croquembouche towers typically include pastry puffs, you can opt for alternative sweets to upgrade the wow factor. "Other, less-traditional dessert tower menus include mini doughnuts or donut holes, macarons, champagne or other boozy truffles, or even chocolate-covered strawberries," she explains. "The great thing about macarons and doughnuts is that they can be customized to match the color palette and general theme of the shower."
Alcohol-Infused Cake
There's regular bridal shower cake, and then there's alcohol-infused cake. A hint of liquor will take this party to new heights that'll wow your friends and family. "A touch of alcohol enhances the natural flavor of the cake and heightens the fun while making for a wonderful conversation piece during the event," says a representative for Lady M, a boutique luxury confection brand.
High-Tea Party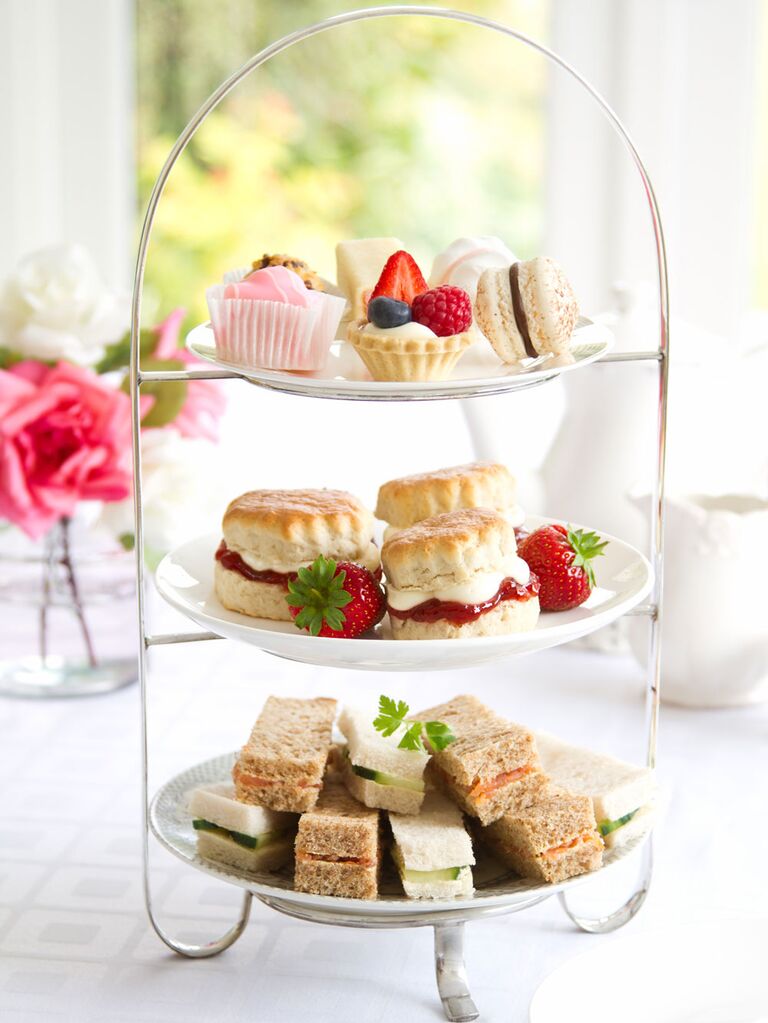 Your bridal shower theme can offer plenty of inspiration for the food you serve. If you're throwing a garden-inspired or Bridgerton-themed shower, for example, a tea party menu is a must. "The overall nature of Bridgerton is hyper-romantic, and people want to capture that elegance and refinement," says Shaun Roberts, Vice President of Sales at NYC-based catering company Great Performances. "This menu would include delicate bites like tea sandwiches, miniature scones and cakes with bright, whimsical colors."
Innovative Flatbreads
Skip the traditional pizza party in favor of personalized flatbreads for guests to enjoy. While you can stick with the basics, like mozzarella and balsamic Caprese flatbreads, consider experimenting with unique pairings too, like goat cheese and peaches or aged cheddar, pancetta and apple slices.
Soft Pretzels
It's a known fact that soft pretzels are universally loved. For shower hosts that are looking to serve a variety of snacks and easy-to-eat party food, you can't go wrong with soft pretzels. Dipping sauces like queso and grainy mustard will keep your guests happy—but to take it up a notch, try hanging your snacks from an interactive display to create a spectacle.
Dessert and Wine Pairings
If the groom- or bride-to-be is an oenophile, stimulate their senses by arranging dessert and wine pairings based on their favorite blends. "Create a tasting station where each dessert is paired with a sample of one of their favorite wines," Emmett suggests. "You might pair something sparkling with a strawberry basil macaron; Riesling with a peach and almond tartlet; Pinot with a dark chocolate truffle; or Bourbon with a bite-sized bread pudding." To give this bridal shower food idea a localized spin, source the wines and spirits from a local vineyard or distillery, and tap a nearby dessert shop for the bite-sized treats.
Fresh Ceviche
An outdoor celebration—especially in the midst of summer—should include fresh food inspired by the best ingredients of the season. "Now that many people are entertaining outdoors, the focus is on daytime gathering which makes the fare lighter and brighter," Roberts explains. "Opt for simple and recognizable foods, but extremely well-sourced and curated ingredients—snapper ceviche comes to mind."
Mobile Bar
While not technically food, beverages are another element of the menu to take into consideration. Though alcohol isn't necessary for a bridal shower, it is a nice offering for guests. And, while you can go the traditional route with champagne, wine or spritzers, an interactive experience would serve as yet another exciting activity. Enter, a mobile bar. Some companies have converted bars that travel for different events, creating a unique, Instagram-worthy installment. "A converted mobile bar's vintage design or aesthetic creates next-level details that will make your bridal shower memorable," says Weston Holm, co-founder of Blue Clover Distillery. "You can impress guests with an unparalleled beverage experience by creating your own custom cocktails, like a brunch spritz, a menu that's centered around farm-to-table beverages, bubbles and wine or beer."
Seasonal Skewers
In lieu of a multi-course dinner, options like skewers will allow guests to take their food on the go as they play games and chat with others. (Pro tip: It's also easy to hold a skewer in one hand and a drink in the other.) Lean into traditional pairings, like fresh fruit skewers, Hawaiian kebabs or a Mediterranean medley. This simple bridal shower food idea is easy to supply and easy to eat, making it a great choice for no-fuss events.
Classic Pies
It's common to have a bridal shower cake at your event, but you aren't limited to just one kind of sweet treat. "I like to encourage my clients to think outside the cake and cupcakes box, because there are plenty of other ways to create a beautiful spread," Emmett suggests. "For a rustic shower, consider having one large, beautiful pie decorated with florals and foliage from the centerpieces surrounded by a bunch of mini pies for guests to grab."
When in doubt, you can never go wrong with individual dessert servings that allow guests to customize their plate. "I'm always a fan of continuing the bite-sized food movement," Emmett adds. "Most modern guests don't want to sit down and have a three-course meal from the local country club. They want to be moving around, catching up and munching as they go."
Finger Sandwiches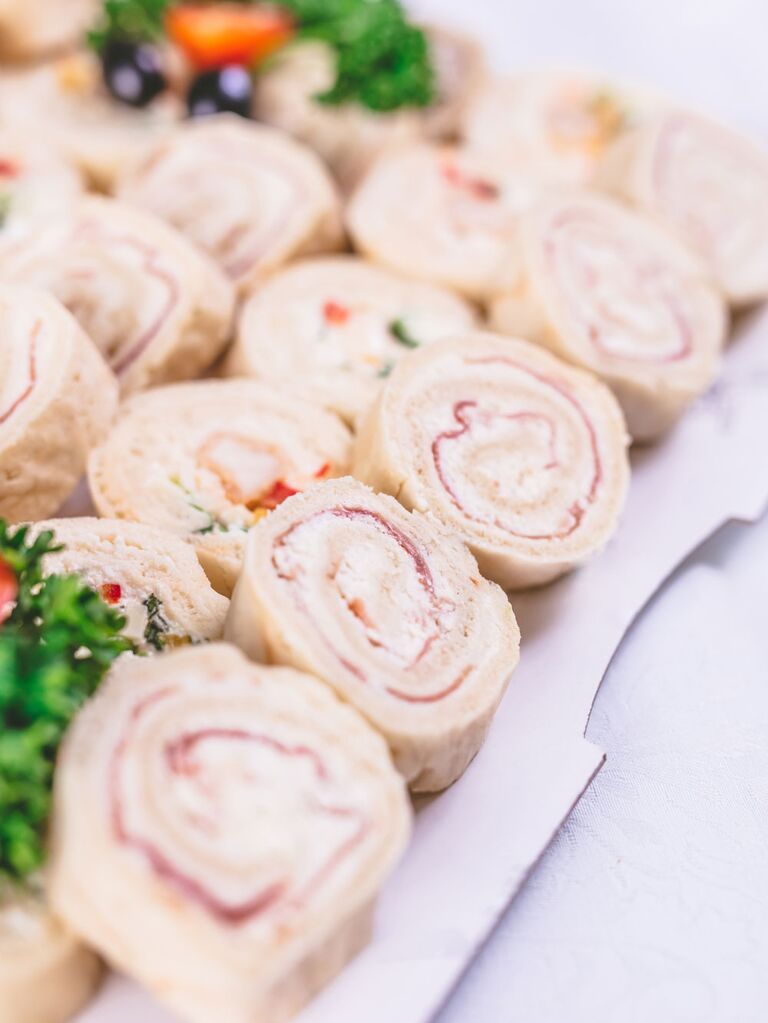 For something a little more filling, finger sandwiches are a no-fail option for a bridal shower. Layers of cream cheese and cucumbers would make for a nice, delicate snack, though you could opt for heartier pinwheels with ham or turkey and cheese to give your crew plenty of options to keep them satisfied throughout the event.
Fast Food Catering
Your bridal shower food doesn't have to be traditional. If the couple has a favorite fast food restaurant, hire them to cater a spread for the prewedding celebration. Not only is this easier for you, utilizing their favorite restaurant will make the event feel that much more personalized.
Cheesecake Spread
Why settle for one dessert when you can have multiple? "For a more nostalgic dessert table, try a single, large cheesecake decorated with seasonal fruit and floral details," Emmett suggests.
Not only will this rich treat delight your guests, you can also use the color and decorations to match your overall party theme. "I love when desserts look coordinated with the rest of the overall decor," Emmett adds. "It gives the shower the carefully 'curated' look that you see in styled shoots without the in-house design team."
Mac and Cheese Bar
We're all about comfort food, and there's no denying that a mac and cheese bar will be the talk of the party. With a cheesy base, allow guests to customize their snack with breadcrumbs, chives, hot sauce, veggies, bacon and even more cheese. Thanks to a memorable food station like this, everyone will rave about your unforgettable party ideas.
Açai Bowls
For a tropical spin on traditional ice cream cones, treat your VIPs to fresh açai or smoothie bowls. With toppings like seasonal fruit, granola, shaved coconut and cacao nibs, guests will feel like they've been transported to a Hawaiian resort.
Interactive Seafood Station
When hosting an outdoor event—especially near the coast—you can't go wrong with fresh seafood. "Consider an interactive seafood station paired with lots of local, seasonal offers such as a grilled corn and cotija salad or tomato, peppers and chiles salad," says Roberts. "Or, everyone loves a fresh-made lobster roll with a buttered and toasted bun and housemade fingerling potato chips."
You might also consider doing a raw bar or a sushi bar if the to-be-weds have a cultured palette. If you are planning on adding a few adventurous food options to your menu, though, be sure to add a few universally loved meals or snacks as well so all guests feel taken care of.
Ice Cream Bar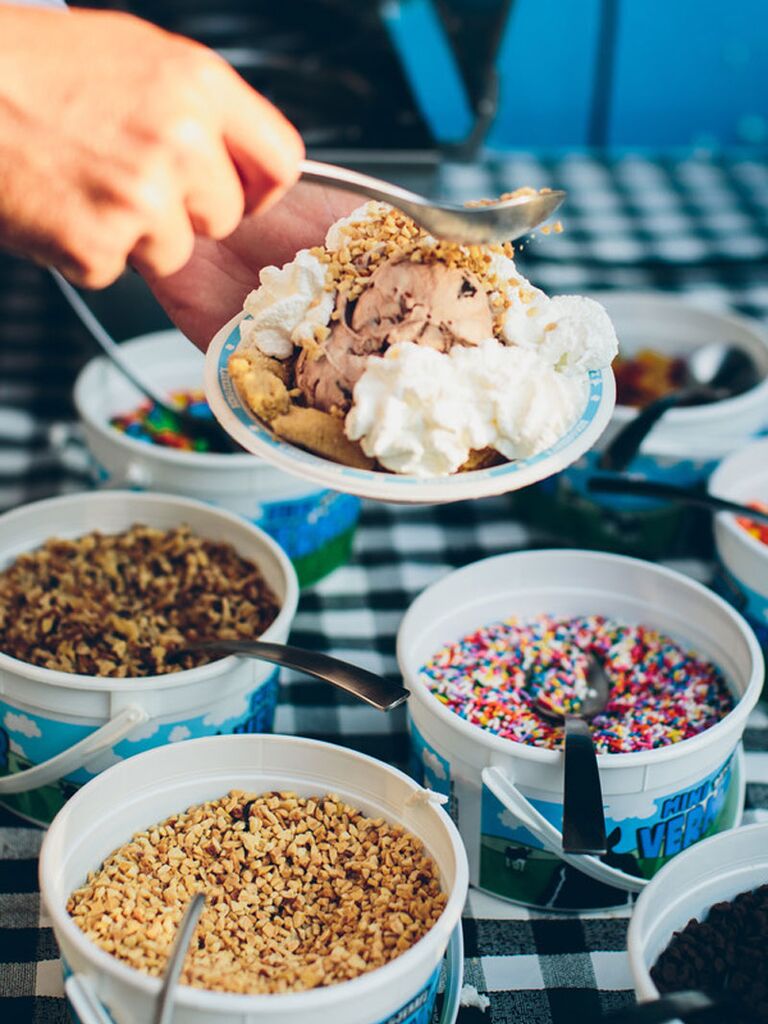 Let's face it: We all scream for ice cream, and a build-your-own sundae bar would be the cherry on top of a fabulous bridal shower. Source your ice cream options from a local parlor or creamery, and supply a variety of fun toppings like sprinkles, cookie or brownie crumbles, flavored sauces and whipped cream to bring this simple bridal shower food idea to life.