Plan the Perfect Honeymoon for Two in Big Sur, California
Get ready to be wowed by California's natural beauty.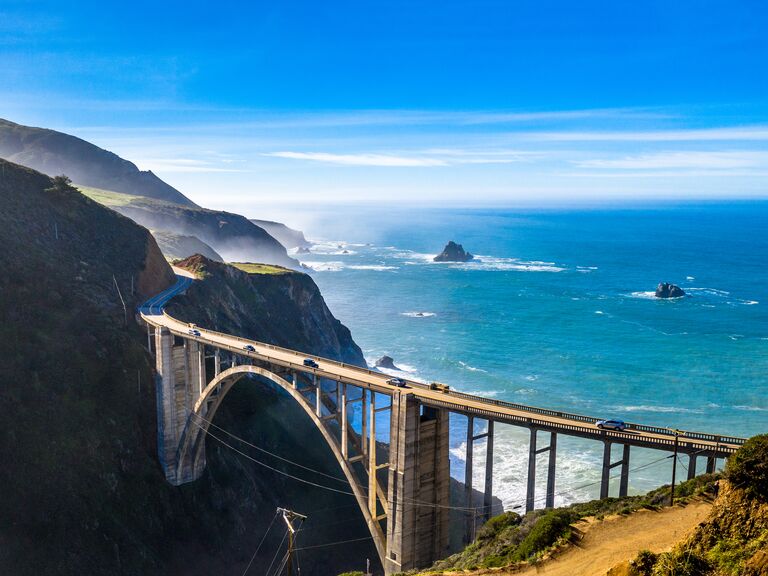 Nuria Kreuser / Shutterstock
You've probably seen images of Big Sur, whether you know it or not. Highway 1—the stunning coastal drive that runs through the entire length of Big Sur—is a frequent filming location for Hollywood, and has been since the days of Alfred Hitchcock and Elizabeth Taylor.
A Big Sur honeymoon is perfect for couples looking to celebrate their nuptials in a region known for its coastal bluffs and vistas, hidden beaches and lush, old-growth redwood trees. It's hard not to feel the romance as you sit on a hidden, tree-covered outcropping, watching the waves crash dramatically below you.
Oh, and there's also really great wine, impossibly charming hotels and some of the most beautiful restaurants you'll ever encounter.
Here's everything you need to know to start planning your Big Sur honeymoon, whether you want to stay in one town or make it a fantastic road trip.
Is Big Sur Good for a Honeymoon?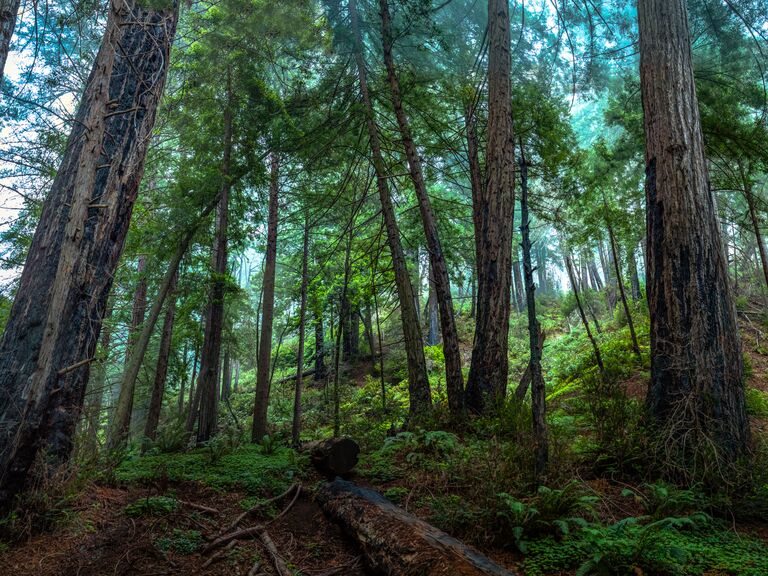 It's hard to find a downside to Big Sur as a honeymoon destination. It's domestic, so no need for a passport or language skills. It has everything from five-star luxury hotels to small mom-and-pop cabin rentals, and activities can vary from private helicopter tours and gallery visits to remote hikes through fern-covered coastal parks.
Food options run the gamut from multi-course tasting dinners to local farm stands, and with lodging options both in Big Sur and in nearby towns like Monterey and Carmel, it's easy to take a coastal road trip throughout the area.
Pros of a Big Sur Honeymoon
Big Sur is one of the most beautiful places in the US (really: go ahead and do a search for "most beautiful places in the US"). The Big Sur Coast Highway (part of Highway 1) winds for around 90 miles past beachy coves and redwood trees, into low-lying forests where rays of sunlight peek through the foliage, and over coastal bluffs where you may even spot a California condor swooping along the cliffs. When the sun sets, newlyweds can retire to one of the dozens of area bed-and-breakfasts, inns or modern retreats perched on the coastline. It's a destination made for romance—and made for honeymoons.
Cons of a Big Sur Honeymoon
Big Sur doesn't have a major airport nearby, which can be a downside if you're tight on time or don't want to deal with a rental car—you'll need one to honeymoon here. However, the drive along Highway 1 is arguably the best road trip in the US, and is packed with many must-see vistas and photo opportunities. For a super-romantic adventure, rent a vintage convertible so you can take in unobstructed ocean views as you explore the Pacific paradise.
The Best Times of Year to Go on a Honeymoon in Big Sur for Good Weather
If you have flexibility in scheduling your Big Sur honeymoon, shoot for the fall, between September and November. The summer crowds are gone, which creates less traffic and more space to yourself on trails and beaches. It's still relatively warm, and it's harvest season at the nearby vineyards in Monterey County.
Winter is affordable but rainy, and mudslides that can temporarily close roads are possible (though uncommon). Spring is lovely for chasing wildflowers and soaking up the sun, but come summer, Big Sur is very busy with tourists, especially on the weekends. Like nearby San Francisco, Big Sur is also a bit susceptible to ocean fog in the summer.
Things to Do During a Big Sur Honeymoon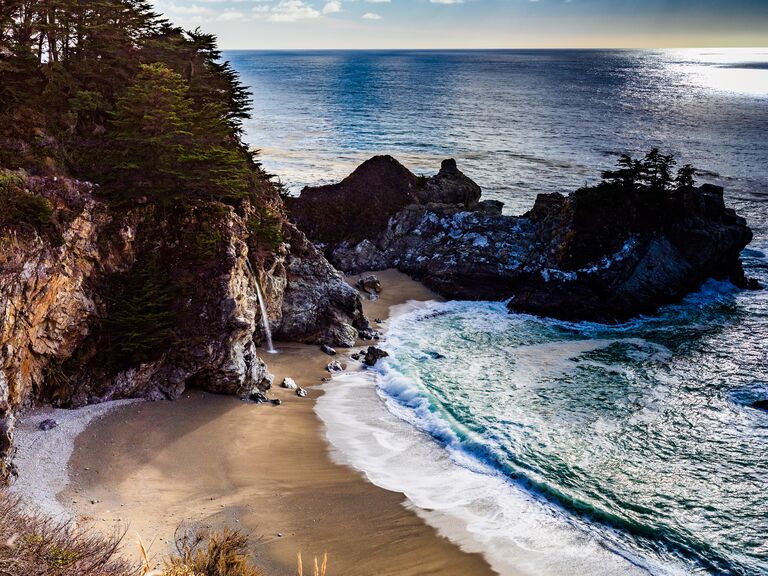 Plan a Coastal or Redwood Hike
Big Sur covers roughly 90 miles between Carmel-by-the-Sea and San Simeon. Along the way, there are endless trailheads and places to stretch your legs. Hike on the coastal side, and you'll see ocean bluffs, secret waterfalls and maybe even a whale or two if you're there during migration season (December through April).
For a relatively flat coastal hike, head to Point Lobos State Natural Reserve on the north end of Big Sur. You can hike for as long as you'd like along the coast, and there are private coves on the trail, many of which are under the shadow of cypress trees.

Further down the coast is Julia Pfeiffer Burns State Park, on the inland side of the road. McWay Falls is one of the most photographed sites along Highway 1, and the park has several trails ranging in length from half a mile to 5 miles. The Ewoldsen Trail has breathtaking views as it climbs through a redwood forest to eventually gaze out on the ocean.
Drive Along the Big Sur Coast Highway
The Big Sur Coast Highway is a historic two-lane road that hugs the shore, alternating between being high on a cliff and putting drivers closer to sea level. It dips down through redwood groves and crosses the world-famous Bixby Bridge (be sure to stop on the ocean side north of the bridge for the best photos).
Along the drive, you'll pass all of the most well-known sights in Big Sur, as it's the only road through the area. That includes the Lone Cypress Tree, Garrapata State Park, the trailhead for Pfeiffer Falls (not to be confused with McWay Falls), and several cute general stores and outdoor shops where you can grab a glass of wine or a farm-to-table lunch.
While you could technically do the drive in about two hours, it's best to budget a whole day so you have plenty of time to stop and take photos, enjoy a picnic or look for sea otters from the Sea Otter Refuge View Point.
Check out the Art Galleries
Big Sur may be known for its outdoor beauty, but the area is also the birthplace of Northern California's creative, beatnik culture. Famous writers like Jack Kerouac and John Steinbeck lived in the area, and Carmel-by-the-Sea was founded as a creative oasis for poets, writers and artists to live together.
Many of the hotels in Big Sur have private galleries with unique local art, and one of the best ways to see it all is on tour with Big Sur Guides. The company offers tours of galleries and artists' studios near Big Sur. There's no obligation to buy anything, of course, but you will have the chance to chat with some of the resident artists.
If art isn't your thing, Big Sur Guides also offers helicopter tours, tours that follow the footsteps of Jack Kerouac, or even classes in foraging for edible and medicinal mushrooms. Most tours include a private riverside picnic, and guides can arrange custom tours if you want to surprise your beloved with something totally unexpected.
Have Lunch at Nepenthe
Nepenthe is one of the most historic and famous restaurants in Big Sur. Built in 1947, the restaurant was memorialized in novels like Big Sur by Jack Kerouac, in which he described it as a, "beautiful clifftop restaurant with a vast outdoor patio." And that's exactly what you'll get when you visit. It was a favorite of creative types like Henry Miller, Orson Welles and Hunter S. Thompson, and the setting for one of the most famous scenes in 1963's The Sandpiper starring Elizabeth Taylor.
Today, it attracts a mix of locals and visitors alike and is well-known for its lengthy wine list, which usually features several hundred bottles of various local and international wines. It's on the pricier side, but it's a true Big Sur institution—and the views alone make the prices worthwhile. It's a fabulous spot for a romantic, indulgent lunch.
The Best Hotels and Resorts in Big Sur for a Honeymoon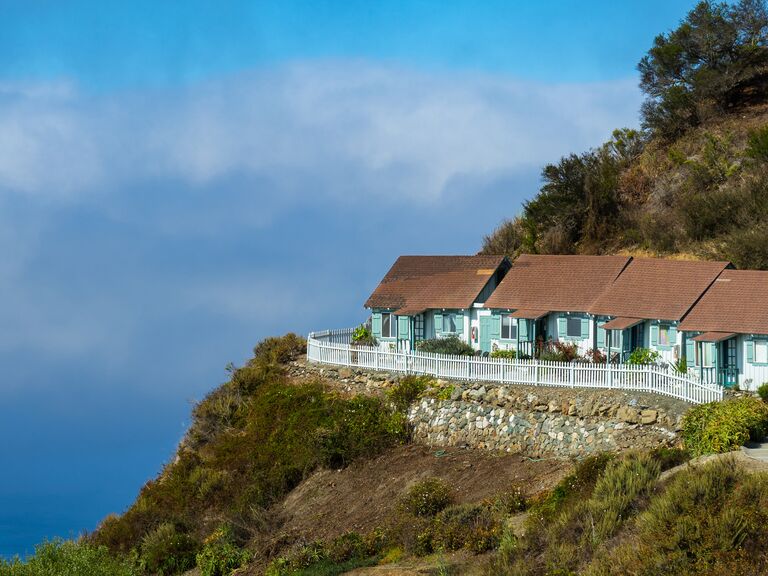 No hotel is more synonymous with luxury in Big Sur than the Post Ranch Inn, a modern-meets-midcentury architectural marvel perched on a cliff just a few miles from picture-perfect Pfeiffer Beach. The five-star hotel is the epitome of a romantic seaside retreat, with infinity jacuzzis overlooking the Pacific Ocean, a full-service spa and the award-winning Sierra Mar restaurant. Floor-to-ceiling windows ensure every view is a perfect one, and the seafood-heavy menu could rival any Michelin-starred restaurant in Napa or San Francisco.
The adults-only Alila Ventana Big Sur is a purpose-driven luxury hotel designed to connect guests to Big Sur's natural surroundings. Similar to the concept of Zen, the hotel aims to bring wood, water and air inside, with rooms that feature airy ceilings, huge soaking tubs and suites with unobstructed ocean views. The boutique hotel also offers posh glamping tents for more outdoor-oriented guests. Spa Alila has Japanese-style onsen baths and private massage areas for couples in the shade of 100-foot-tall redwood trees. Honeymooners can take advantage of everything from falconry classes and photography workshops to sommelier-guided wine tastings with favorites from nearby Monterey and Carmel.
If you want your Big Sur honeymoon to be quaint, cute and charming, book a room at the Big Sur River Inn, tucked under redwood trees along the Big Sur River. The entire property has a nostalgic feel, from the cabin-inspired rooms to the on-site general store. Make time for at least one leisurely lunch on the hotel's massive outdoor deck overlooking the river. If you want to experience the Big Sur of yesteryear—with a few modern updates, of course—the Big Sur River Inn is a great choice. It's the oldest hotel in Big Sur, and a perfect place to relax with your sweetie for a few days.
What to Pack for a Big Sur Honeymoon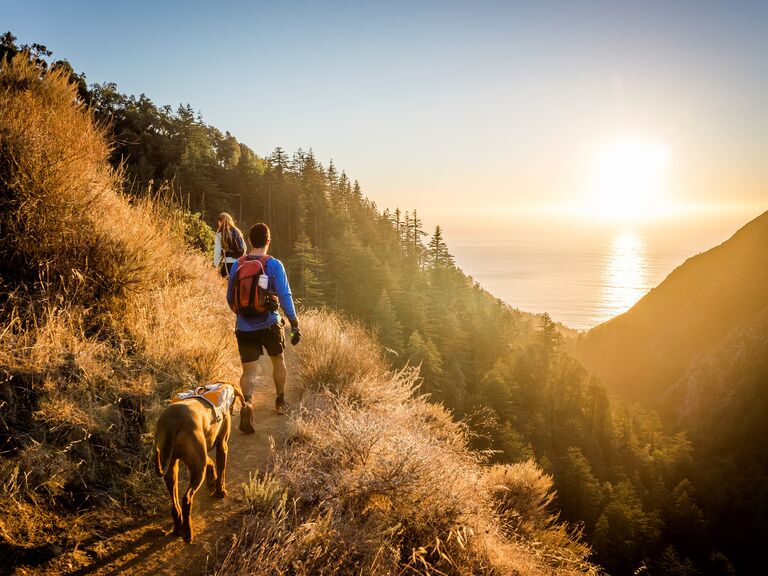 Big Sur is California coastal, but that doesn't necessarily mean it's warm. It can be a bit breezier and chillier in the shade of thick forests, and coastal breezes mean you'll want a light jacket, even in the warm months. Bring a rain jacket if you visit during the winter, and pack waterproof hiking shoes if you're planning on hiking.
Big Sur isn't formal, but it is somewhat elegant—you'll see people in sundresses and khakis at dinner. But during the day, it's all about hiking, beaching and sightseeing, so wear whatever you're comfortable in. Sandals, outdoor gear, baseball caps and moisture-wicking fabrics are the way to go.