Plan a Scenic and Stylish San Francisco Honeymoon
Soak up culture in California's picturesque City by the Bay.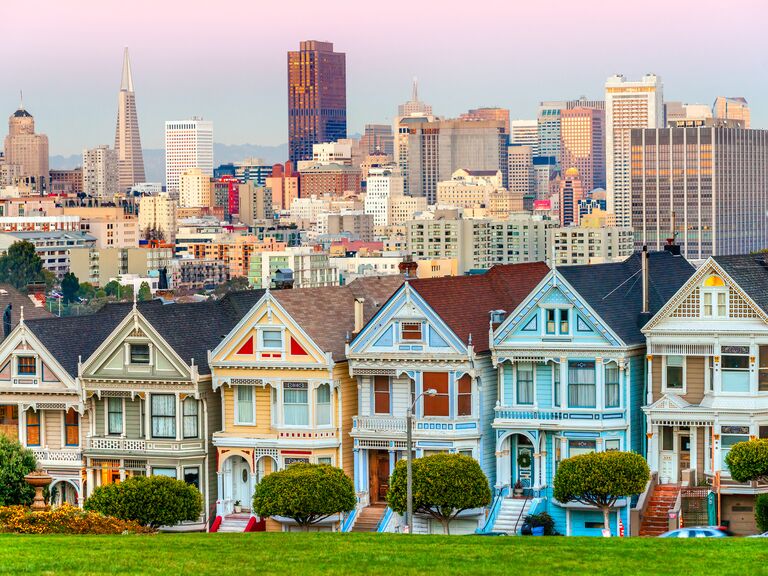 Luciano Mortula / Shutterstock
We have included third party products to help you navigate and enjoy life's biggest moments. Purchases made through links on this page may earn us a commission.
Situated on a peninsula between the Pacific Ocean and the San Francisco Bay, this hilly city in Northern California couldn't be more photogenic. With its charming Victorian houses, cable cars and iconic Golden Gate Bridge, a San Francisco honeymoon blends vibrant, award-winning dining and culture with stunning views.
Keep reading for everything you need to know to plan the perfect romantic honeymoon to San Francisco.
Is San Francisco Good for a Honeymoon?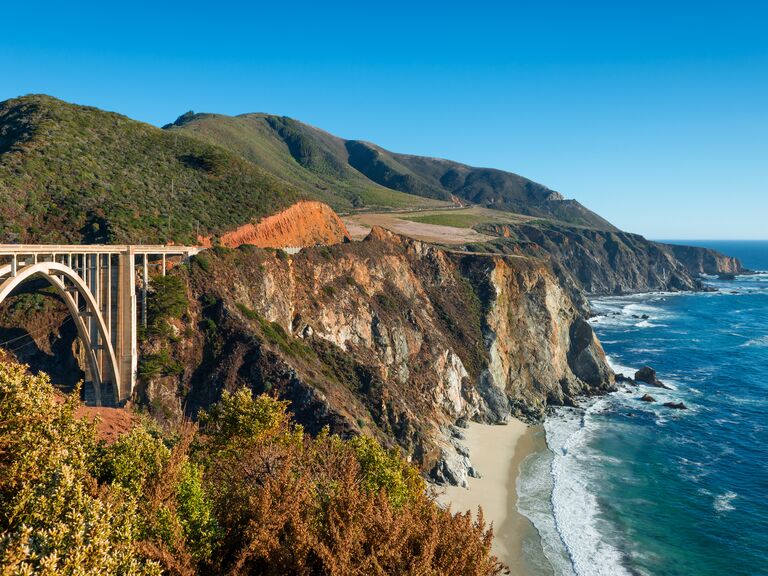 San Francisco is an ideal destination for cosmopolitan newlyweds who relish art, shopping, fine dining, city life and spectacular scenery. For a balance of nature and culture, couples can hike and explore national parks, plus visit cutting-edge restaurants, boutiques and museums. After several days in the metropolis, they can head north for relaxation and indulgence in wine country or south to luxuriate in Carmel or Big Sur.
Pros of a San Francisco Honeymoon
Arguably one of the most beautiful cities in the US, San Francisco is a great backdrop for a romantic vacation. With so much to offer in the way of culture and nature, it provides endless sightseeing opportunities and activities. Plus, a San Francisco honeymoon allows couples to indulge and explore without the hassle of traveling internationally, say Kara Bebell and Harlan deBell, co-owners of The Travel Siblings. Convenient to access, the city is well-connected to major hubs nationwide, with nonstop flights easy to find.
Cons of a San Francisco Honeymoon
Since San Francisco is one of the most expensive cities in the US, honeymooning there can be pricey, say Bebell and deBell. "The most central and luxurious hotels are worth the splurge, but the nightly rates can run high in peak tourist seasons," they say.
Famous for its hills—like the oft-photographed Lombard Street—'Frisco is also not ideal for couples who don't like walking, say Bebell and deBell. While you can rent a car, remember to factor in overnight parking fees, gas and the hassle of driving.
Plus, if you're looking for warm weather, San Francisco is not your dream destination. Unlike Los Angeles, the city is cool, even in the summer. From June through September, expect an average high temperature in the low 70s and an average low temperature in the high 50s.
The Best Times of Year to Go on a San Francisco Honeymoon
The City by the Bay is a year-round destination. Summer offers the most ideal weather, but also crowds and higher prices. For a fun dose of local culture, try to schedule your trip around The Chinatown Autumn Moon Festival in September or the Pride Parade in June.
Places to Visit in San Francisco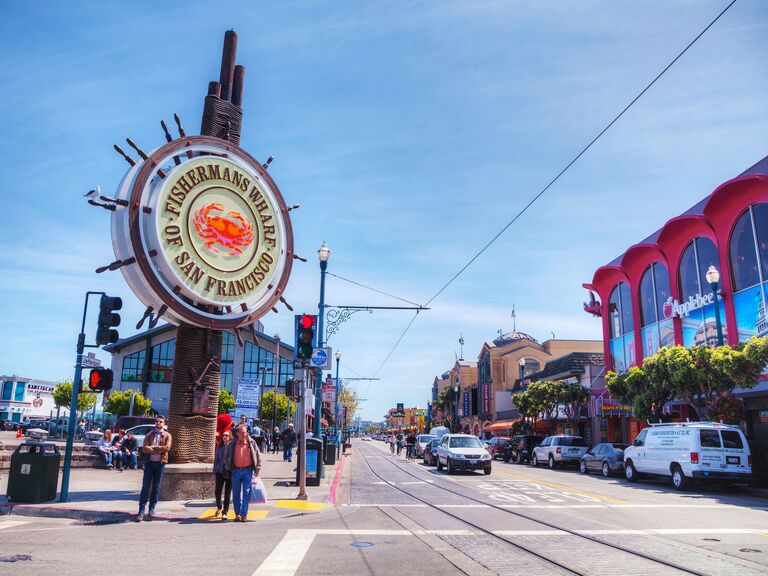 Golden Gate Park
Plan on spending two or even three days exploring this more than 1,000-acre urban park. See art at the de Young Museum and plants at the San Francisco Botanical Garden and Conservatory of Flowers. Fans of Shakespeare should explore the Garden of Shakespeare's Flowers, with its colorful blossoms, paths and plaques with quotes by the famed poet.
For a Zen experience, newlyweds should stroll through the Japanese Tea Garden, which features manicured trees, koi fish, pagodas and fountains. While there, stop by the cafe for matcha tea and red-bean buns. For even more romance, you can rent a rowboat, pedal boat or motorboat at the historic boathouse at Stow Lake.
Yerba Buena Gardens
This cultural hub in the SOMA district includes museums (like SFMOMA), restaurants, public art and gardens. From May through October, the site hosts free theater, dance and music performances. For a serene lunch or snack, visit Samovar Tea Lounge for international tea services spanning Japan, China, Russia and Morocco.
Fisherman's Wharf
Head to the city's historic waterfront on Pier 39 to watch sea lions lounging and swimming. In the winter, the population swells to 900 (it's much smaller in the summer). Also, consider taking a bay cruise, renting bikes or touring Alcatraz Island (buy your tickets a few weeks in advance). Afterward, sample the city's famed Dungeness crab, bay shrimp and sourdough bread at one of the many dining spots.
Ferry Building Marketplace
Located about a 30-minute walk from Fisherman's Wharf along the city's Embarcadero, the Ferry Building Marketplace is a foodie's dream destination. The Ferry Building, with its landmark clocktower, hosts a wealth of artisanal food vendors, plus farmers markets. Don't miss Hog Island Oyster Company, Humphry Slocombe (for ice cream flavors like Drunken Stone Fruit and Secret Breakfast) and The Slanted Door (for Vietnamese cuisine).
Chinatown
This bustling neighborhood around Grant Avenue and Stockton Street is the largest Chinatown outside of Asia, plus it's the oldest in North America. Feel transported as you walk by dim sum parlors, temples and herbal shops, and have dinner at hip and stylish China Live with its bar, market and multiple restaurants.
Golden Gate Bridge
Head to the iconic bridge in the early morning for a great photo op. If you plan to embark on the 30-minute walk across the bridge, keep in mind that the East Sidewalk is only open from 5 a.m. to 6:30–9 p.m., depending on the time of year.
Things to Do During a San Francisco Honeymoon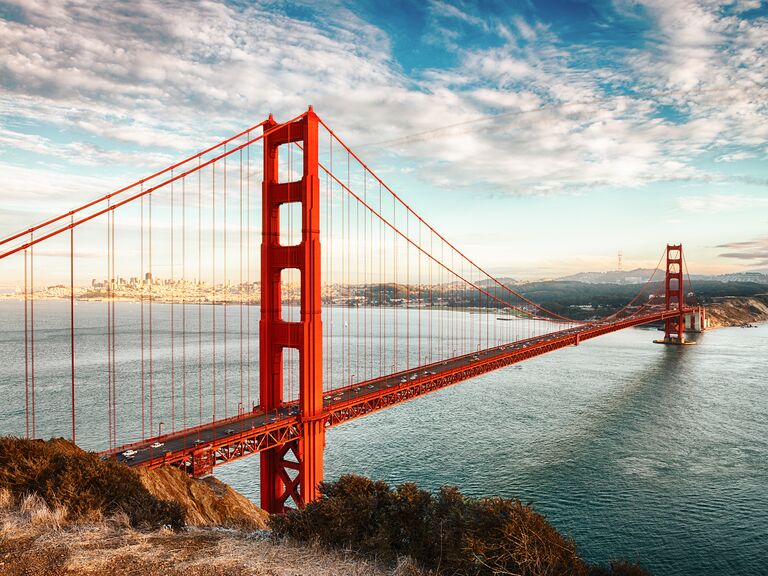 Go on a Seaplane Tour
The best way to view the Golden Gate Bridge is from the air, say Bebell and deBell. Choose from seaplane tours, including SF City Sites, Sunset Champagne and Golden Gate.
Get Tropical Cocktails
At The Fairmont Tonga Room and Hurricane Bar, order an umbrella drink and take in the over-the-top tiki bar decor, including floating tiki huts and retro rock formations.
Hike
The Golden Gate National Recreation Area spans San Francisco and Marin County, which is north of the city. Of the many routes to take, the Lands End Trail in the northwestern corner of the city is one of the most dramatic. It offers views of the majestic bridge, rocky cliffs, cypress and eucalyptus trees, and the Pacific Ocean. Nearby, visit the concrete ruins of the once-grand Sutro Baths. Afterward, dine at the historic oceanfront Cliff House.
Just north of the city in Marin County, couples can take the Ocean View Trail, which winds its way through the Muir Woods National Monument. On the mile-long trail, lovers will be wowed by the majestic redwood trees, many of which are several hundred years old.
Eat
San Francisco is renowned for its restaurant scene. The city proper is home to more than 20 Michelin-starred restaurants, including three with three stars (Benu, Quince and Atelier Crenn). In addition to these award-winning, mostly pricier spots, don't miss out on similarly acclaimed but more casual places like Cafe Zuni (try the famous Caesar salad, chicken with warm bread salad, and espresso granita with whipped cream), La Taqueria (tacos) and Yank Sing (dim sum).
Shop
Visit the bustling Union Square neighborhood for department stores and high-end boutiques. For more one-of-a-kind shopping, explore Hayes Valley, Fillmore Street in Pacific Heights, Haight-Ashbury and The Mission.
Relax in Wine Country
Drive 90 minutes north of the city through scenic Marin County to wine country. Stay at a luxe resort in Napa or Sonoma County, such as Sonoma Mission Inn or Bardessono. Spend your days visiting wineries and your nights eating at top-notch restaurants like The French Laundry and The Restaurant at Meadowood.
Best Hotels in San Francisco for a Honeymoon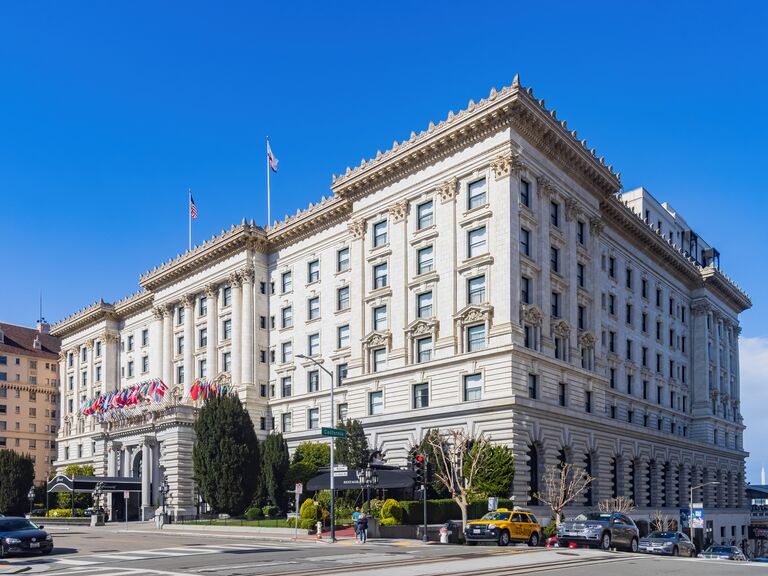 Located atop Nob Hill, this iconic hotel boasts more than 600 guest rooms and a variety of bars and restaurants. For the ultimate splurge, honeymooners should book a balcony suite for the best views.
These one-, two- and three-bedroom suites are contemporary in design and offer city and bay views. Like apartments, they're equipped with kitchens, as well as washers and dryers.
Check in to this luxurious San Francisco hotel located just a stone's throw away from Chinatown. If you upgrade to a club-level room, the concierge can arrange local food experiences, from an evening caviar cart to a Napa Valley wine tasting.
Situated right under the Golden Gate Bridge in Sausalito, this fort-turned-luxury-hotel is within easy access to the city, as well as Muir Woods National Park. Rooms include free Wi-Fi, and most offer gas-burning fireplaces.
Located near Golden Gate Park, this historic US Army housing site was renovated into a boutique hotel that includes 17 suites with fireplaces.
What to Pack for a San Francisco Honeymoon
Leave your high heels at home, Bebell and deBell recommend. With steep streets and hills, honeymooners need comfortable and sturdy footwear to pound the pavement. As far as fashion goes, the siblings suggest a relaxed chic look, with jeans, quality T-shirts, leather accents and stylish sneakers. Don't forget to bring a jacket for weather that's likely cooler and windier than you'd expect. If vacationing in November through March, pack a raincoat and umbrella.