How Biophilic Design Will Transform Your Newlywed Nest
This nature-inspired style can promote positive mental health in your home.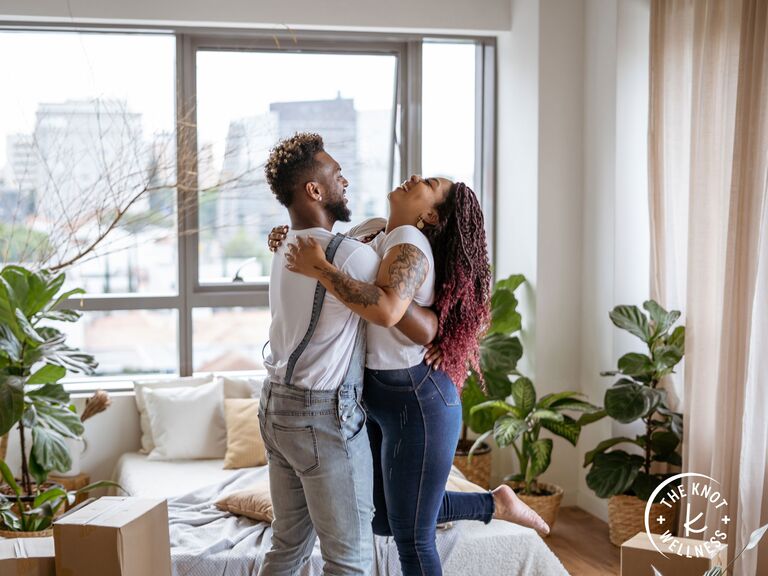 Drs Producoes / Getty Images
We have included third party products to help you navigate and enjoy life's biggest moments. Purchases made through links on this page may earn us a commission.
Whether you want to get more in touch with nature, add a breath of fresh air to your decor or create a more relaxing home environment, biophilic design is for you. This nature-inspired style has soared in popularity over the last few years, and it's not going away anytime soon. So, why are we all-of-a-sudden obsessed with biophilic home design? For starters, it's a versatile aesthetic that complements other styles incredibly well. You don't have to grow a full-blown jungle inside your home to incorporate the calming vibes of nature. Starting small with a house plant or two will set you well on your way.
Biophilic design elements aren't just versatile and easy to incorporate; they also positively affect your day-to-day life. In a review published in a special issue of MDPI's Buildings journal, it was concluded that spaces created with natural materials such as plants, wood and water can promote human well-being. So, bringing a touch of the natural world into your adobe could transform your life as newlyweds for the better. Keep reading to find out more about this unique aesthetic, how it can benefit your mental health and our favorite biophilic design ideas.
In this article:
What Is Biophilic Design?
By definition, biophilia is the innate human desire to feel a connection with nature. When it comes to biophilic design, that connection is fostered through a carefully created environment featuring natural or nature-inspired elements. Owner and interior designer at Stone House Collective, Anna Franklin, puts it simply: "Biophilic design is all about bringing the outdoors in."
The Benefits of Biophilic Design for Your Mental Health
The idea that nature positively impacts mental health certainly isn't new. In a 2017 study published in BioScience, it was demonstrated that neighborhoods featuring certain natural elements were associated with better mental health and lower rates of depression, anxiety and stress. Spending time outdoors is an important self-care tool for many. In fact, our internal data shows that one-third of females in relationships prioritize self-love by spending time outdoors.
But the outdoors don't have to actually be, y'know, outdoors, for you and your partner to reap the benefits. As we said, biophilic design works to bridge the gap between our homes and the natural world. "This connection contributes to benefitting human health, reducing stress, promoting clarity, and enhancing creativity and productivity," says Elizabeth Rees, founder of Chasing Paper, a company specializing in design-centric wall coverings, flooring and art prints.
Nature-inspired decor can help create the perfect environment in every room of your home. Finding it hard to concentrate at work? Add house plants to your home office for a productivity boost. Unable to switch off in your sitting room? Consider an earthy color palette that'll keep you grounded and relaxed.
How to Incorporate Biophilic Design in Your Home
Not sure where to begin with your very own biophilic design concept? "The simplest way to start is by incorporating plants into your home," says Franklin. According to the designer, biophilic interior design often includes colors found in nature (think: blues and greens), visuals such as flowers and materials like wood, stone, marble and wool. "You can also incorporate artwork, such as landscape paintings, to bring images of nature into your home," she says.
But it's not all about pieces of decor and paint cans. Rees suggests playing around with less tangible elements too. "Utilize natural light and bring in a fresh air flow from outside to refresh and energize a space," she advises. Don't have the budget for a skylight or window remodel? No problem. "You can also layer in lighting through table lamps, floor lamps and overhead lighting," says Franklin. "This will help you have more control of the light in your space and can help mimic natural lighting."
For the finishing touches, Franklin recommends accenting foundational pieces of furniture with decor like a jute rug or woven planters. Rees suggests soft linens in natural hues of green or beige for your bedroom, tabletop and beyond.
The Best Biophilic Design Ideas You Can Shop Now
Adding a touch of the outdoors to the inside of your home is easier than you might think. A few simple furniture swaps and accent pieces will go a long way. And it's not all in the decor either—there's no reason your tableware or storage solutions can't play a part too. As long as you stick with nature-inspired materials and patterns, you can't go wrong.
Biophilic Design Products for Your Bedroom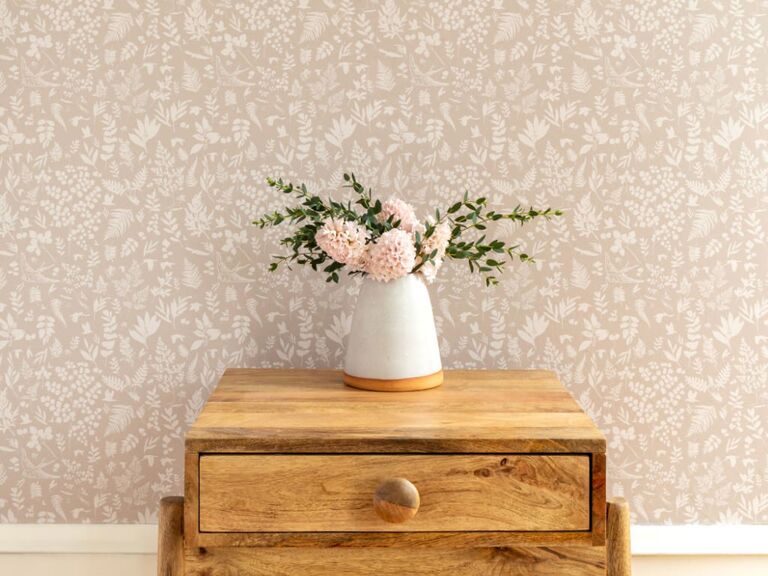 Wallpaper has had a major makeover in recent years, and Chasing Paper's designs are proof of just that. This muted fern print comes in two subtle shades: blush and powder. Either one will give your bedroom a soft, natural feel. If you've got a minimalist vibe going on, stick with an accent wall. Otherwise, apply this peel-and-stick wallpaper to all four walls.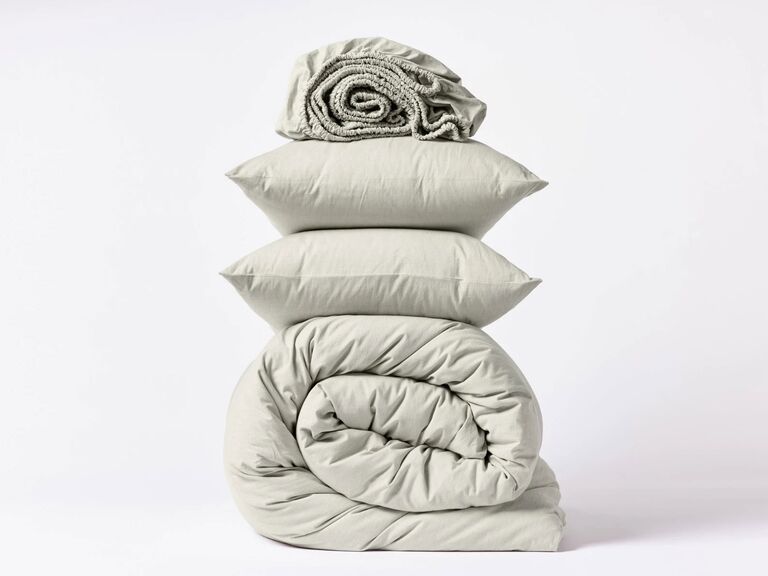 The bed linens you choose make a much bigger difference to the overall look and feel of your room than you might think. For a biophilic design concept, stick with organic materials in earthy hues. Coyuchi's crinkled percale sheets bring natural texture to the space (with a side of luxury).
Another easy swap that'll instantly alter the aesthetic of your bedroom? The curtains. The bold red florals on these deep teal drapes stand out beautifully and evoke images of a tropical paradise. They'll serve as a focal point and draw your eyes toward the window where you can soak up more of the great otudoors.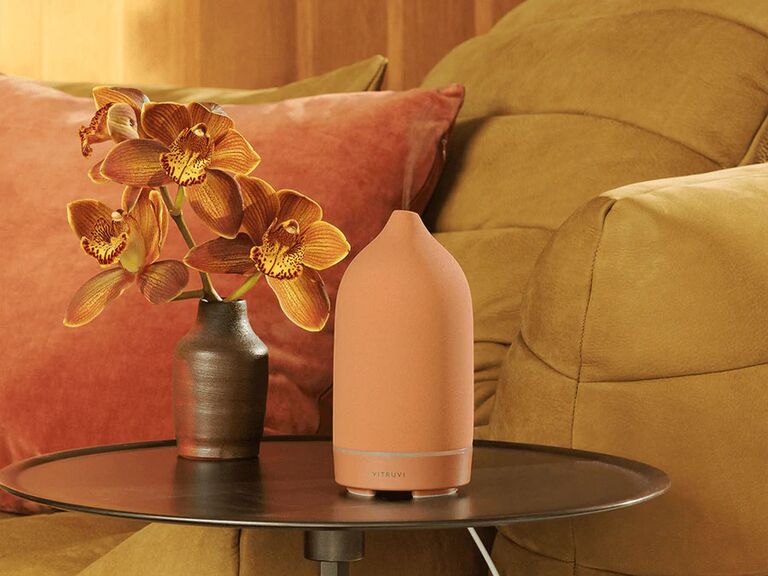 Colors, prints and textures aren't the only elements to consider when creating a space that's more in tune with the natural world. This terracotta stone diffuser will diffuse natural essential oils like eucalyptus and lavender. Plus, it'll look the part on your nightstand.
Biophilic Design Products for Your Bathroom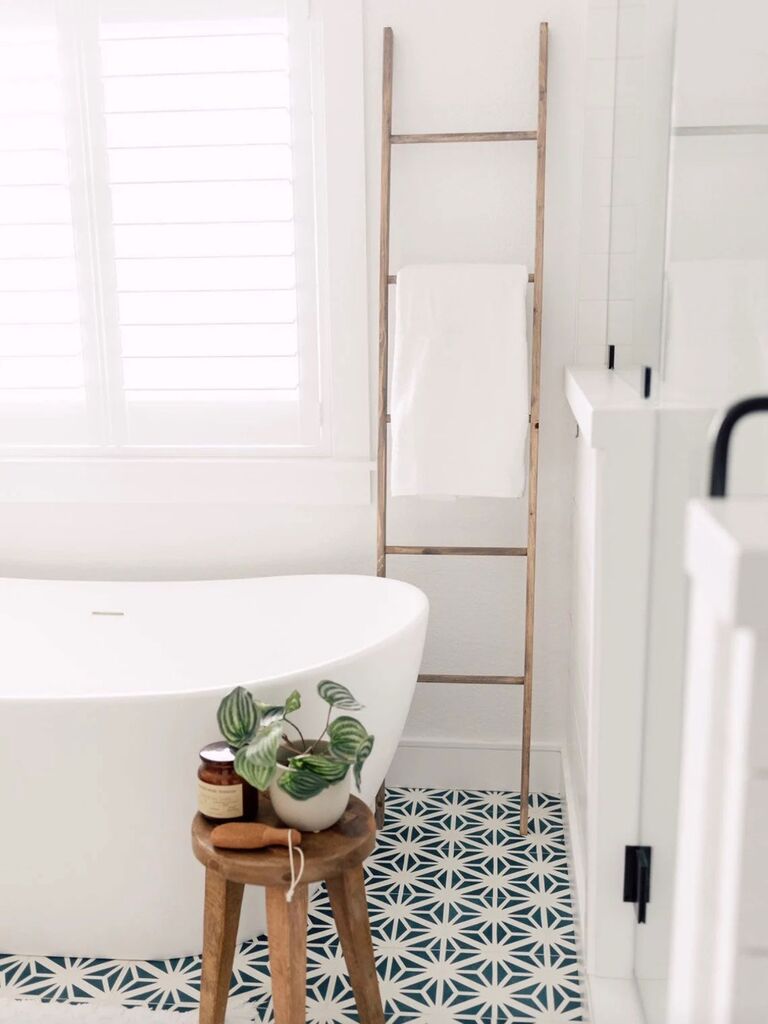 This handy wooden ladder turns your bath towels into a functional piece of decor. Plus, they'll be in easy reach whenever you need one. There are lots of different finishes to choose from, reinforcing the fact that it's so easy to incorporate a natural vibe into your home's current aesthetic.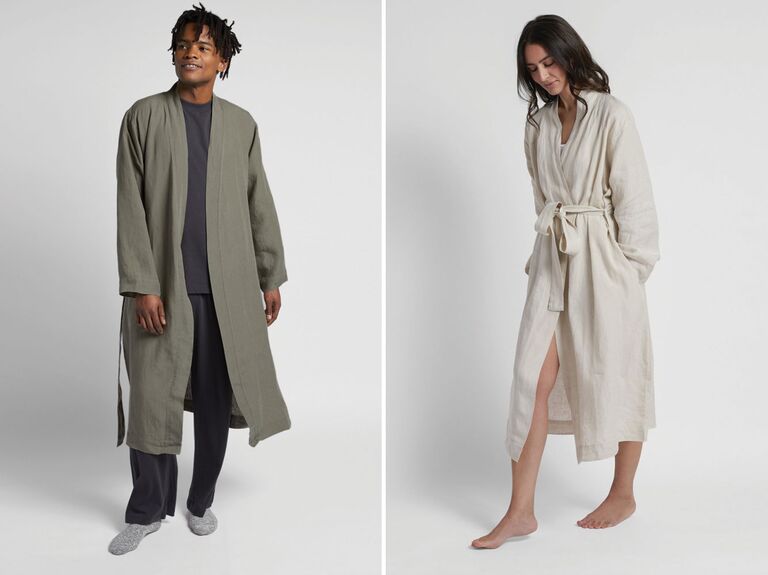 Remember when we said that functional items can double as biophilic decor too? Add a hook to the inside of your bathroom door for hanging bathrobes on. To nail the natural aesthetic, stick with natural materials (these linen robes are made with 100% European flax) and earth tones like green, blue and beige. They'll add color and texture to your bathroom.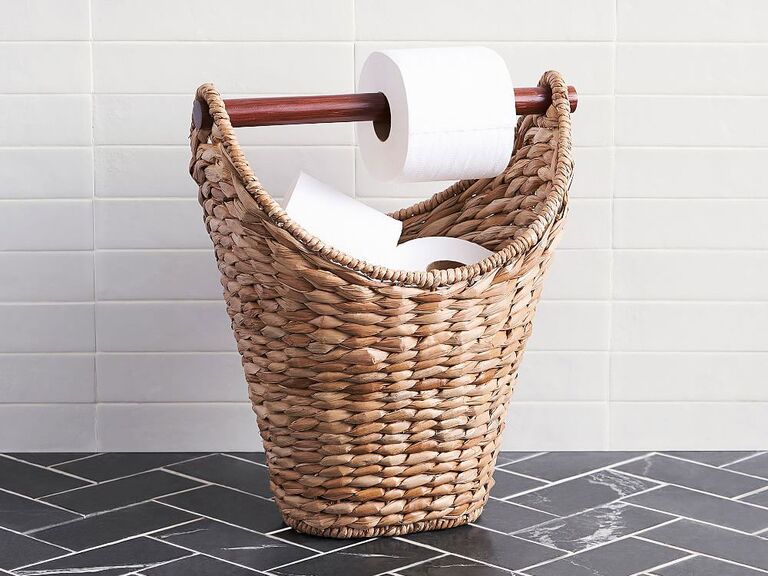 Here's another functional item that'll bring a breath of fresh air to your bathroom. Rattan is extremely popular when it comes to home storage, outdoor furniture and beyond. This stylish toilet paper holder is woven from the natural material (and it'll save you from stacking your rolls on top of the tank).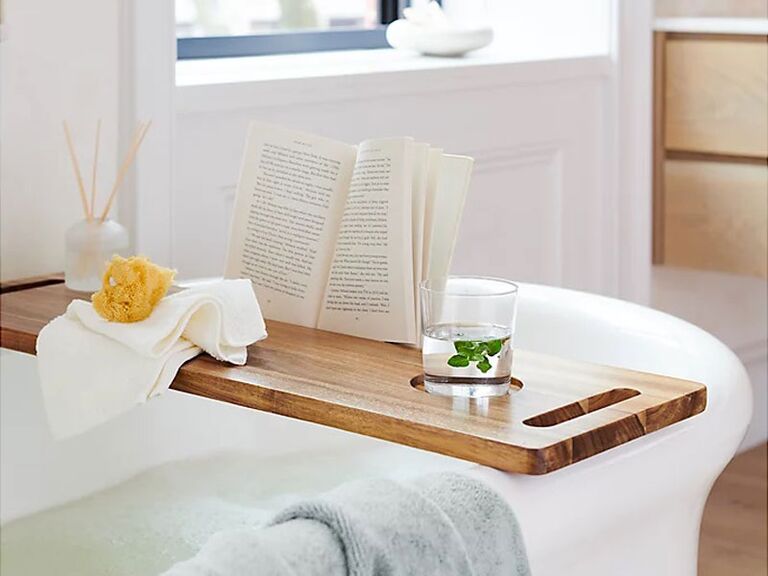 Don't let your bath just sit there; dress it up in accessories that'll help reinforce the outdoorsy vibe. This acacia wood bath caddy can be left out when not in use, stacked with a nature-scented diffuser for a little extra dose of the biophilic aesthetic.
Biophilic Design Products for Your Kitchen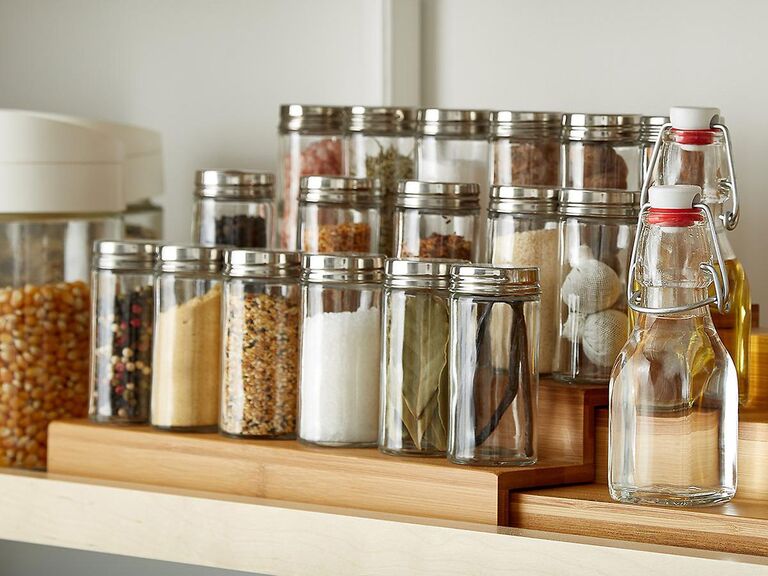 Little touches are all your kitchen needs to embrace biophilic interior design. This wooden spice rack brings natural materials into the mix and offers a functional solution for spice storage. The tiered design makes it easy to see what you've got and the shelf expands when you run out of space—genius.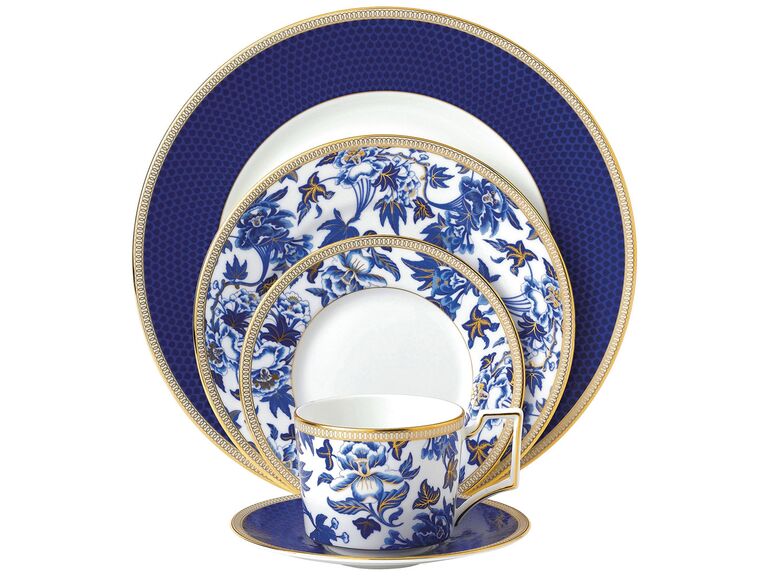 Being intentional about what you stock your cupboards with can save you money (and precious counter space!) on decor. Fine china is a bit of a splurge, but it'll look absolutely stunning on your dining table and in the display cabinet. Choose china with a floral pattern to lean into the nature vibe.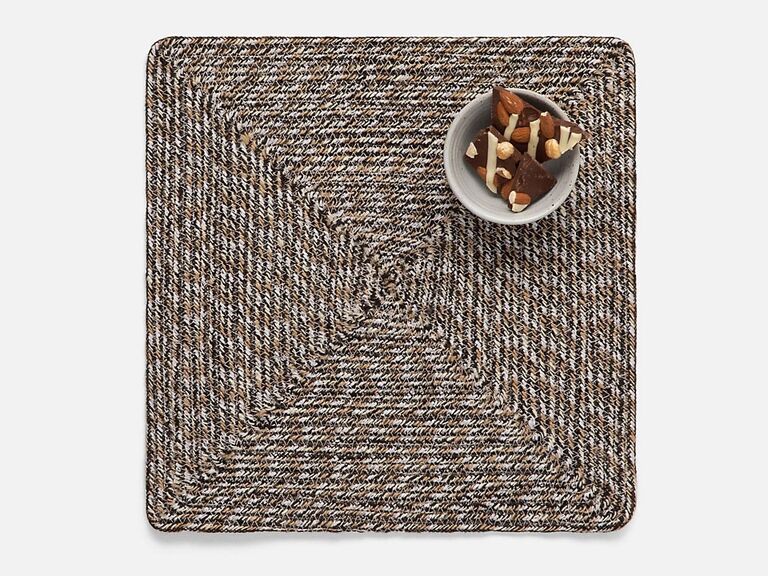 Placemats are an affordable addition to your table spread that can make a big difference. These jute mats add a fun visual to your place settings thanks to the swirling patterns and natural texture.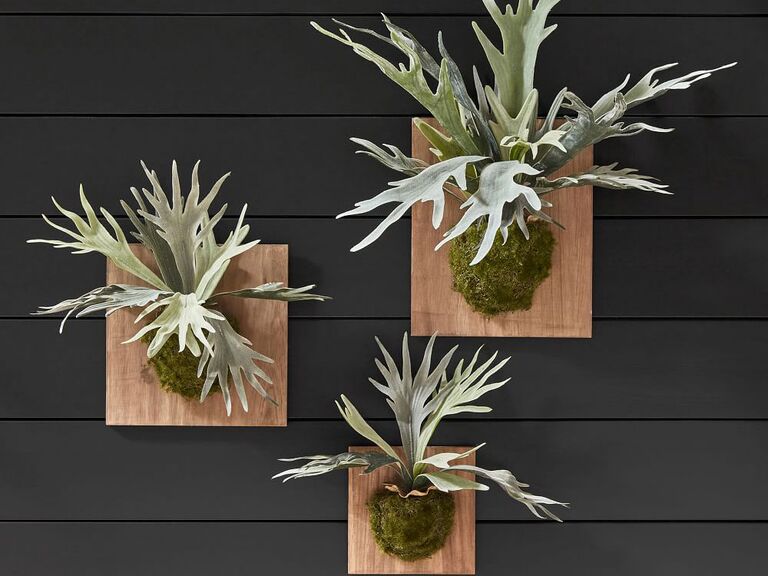 If you don't have a ton of space on your countertops or in your kitchen cabinets, make use of the space you do have instead. Your walls are precious real estate when it comes to interior design. This cool wall art consists of faux plants (meaning zero maintenance on your end) on a natural wood background. They'll be a unique feature in your kitchen that visitors are bound to notice. Plus, each one is made from a mix of natural and recycled materials, so you can feel extra good about this purchase.
Biophilic Design Products for Your Living Room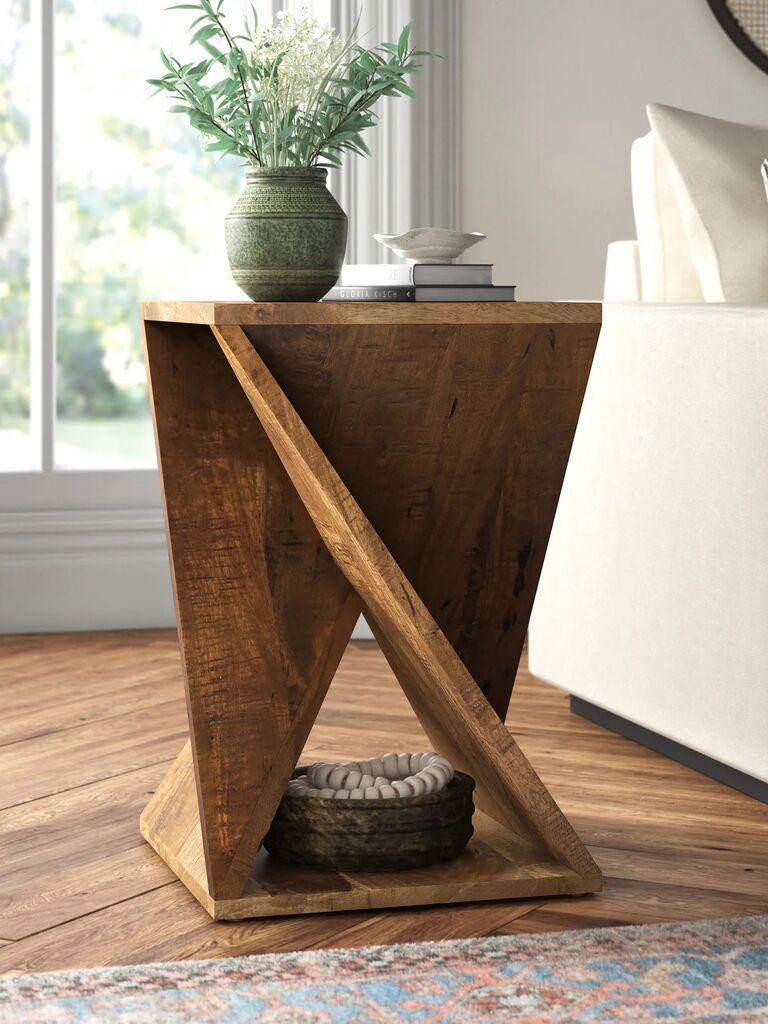 This statement-making end table is the perfect home for a lamp or vase (and, of course, your cup of coffee). It comes in three wooden finishes. The amber finish feels rustic, the natural finish gives a beachy vibe and the espresso finish would fit with a vintage aesthetic.
You probably didn't think "bicycle" when we mentioned outdoor-inspired decor, but this unusual design idea is right on theme. This cool wooden shelf allows you to display (and very efficiently store, might we add) your bike as a piece of decor in your living room. It'll bring up all your favorite memories of bike rides at the park.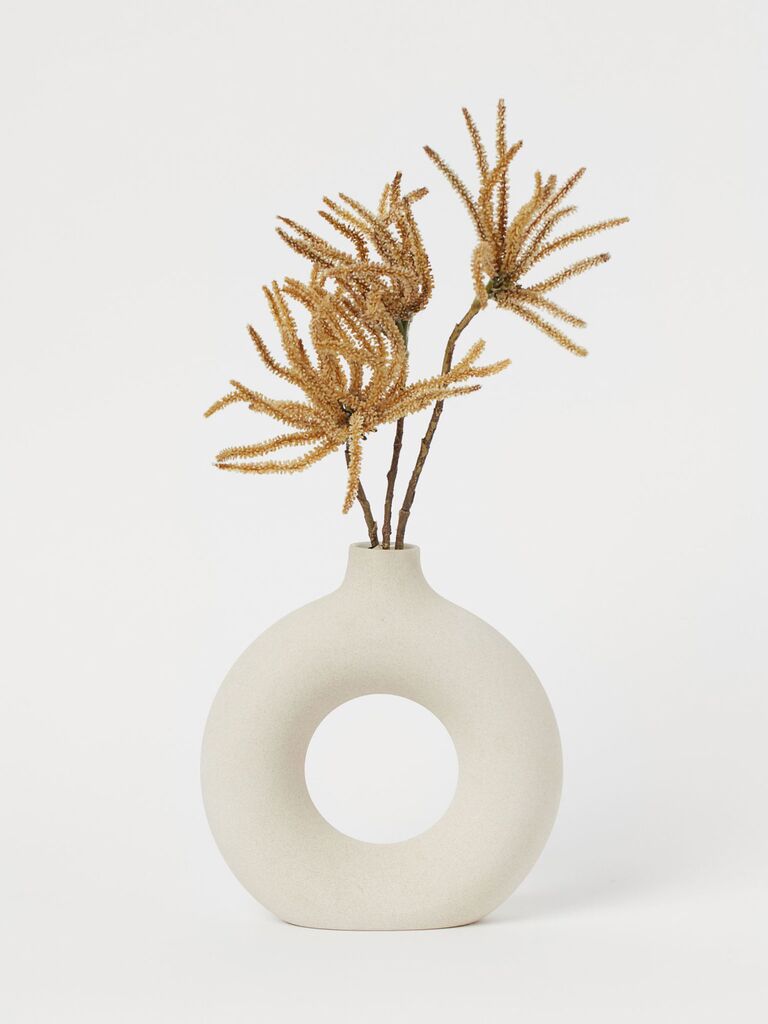 Vases and planters are a must for anyone looking to add a little more greenery to their abode. This contemporary planter is effortlessly chic and comes in a neutral beige hue that'll blend right in with other earthy tones. Add dried flowers in similar neutral colors or go bold with a rainbow of colorful dried blooms.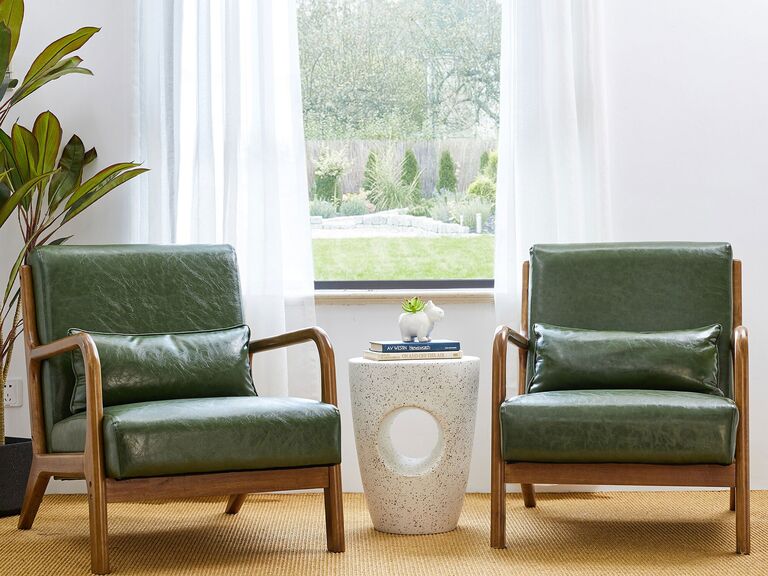 If you're a fan of the mid-century modern aesthetic, you'll love these comfy armchairs. The olive green color and wood frame are bang on the biophilic design theme, while the curved arms and flared legs are perfect markers of mid-century modern style.
Biophilic Design Products for Your Home Office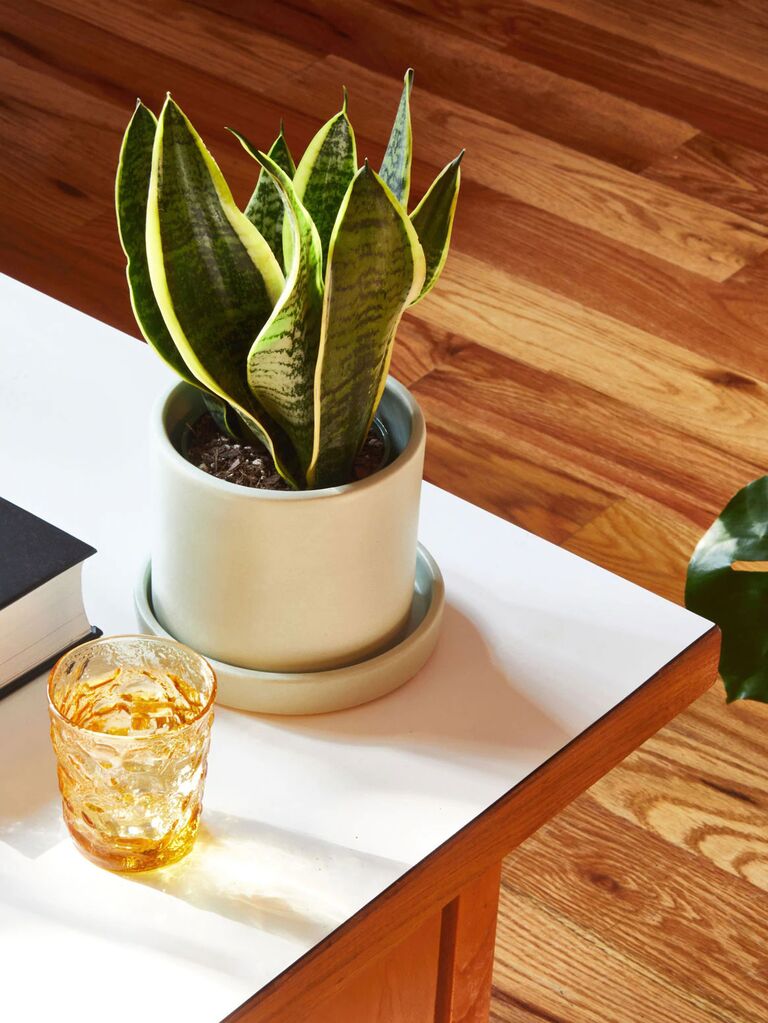 Plants have been shown to increase productivity and creativity in office spaces, so it's essential to have at least one in your work space. Snake plants show off vibrant shades of green and they're low maintenance. The Sill offers three different sizes, so you can choose a smaller snake plant for your desk or opt for a larger one to stand on the floor.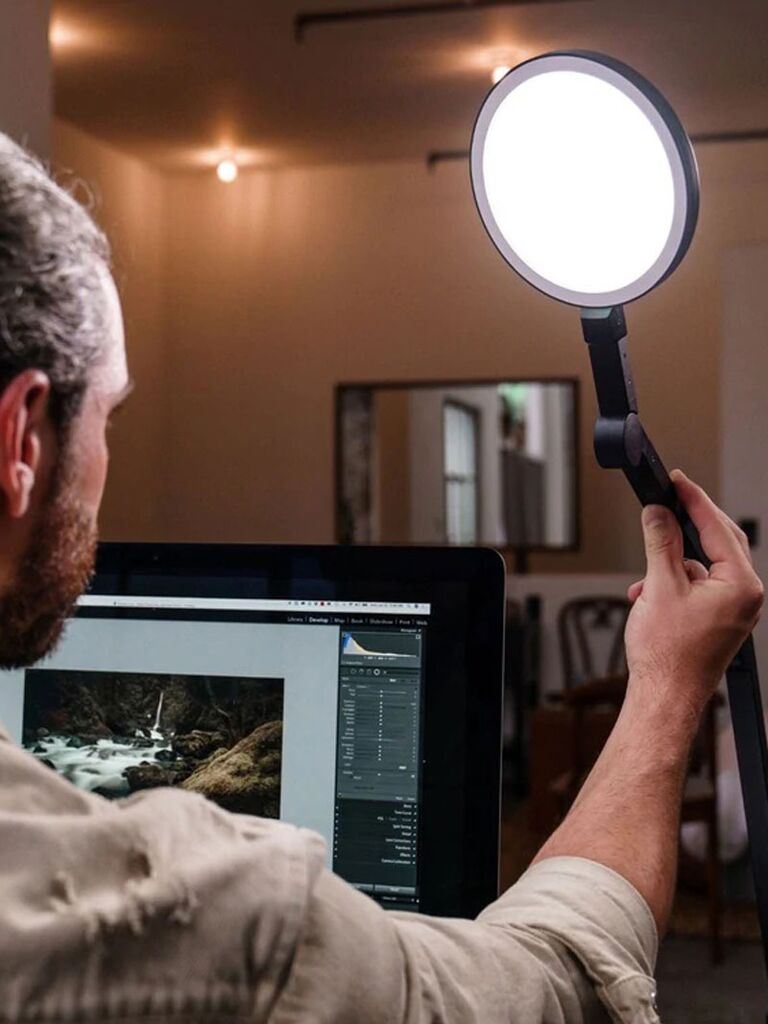 The Edge Light was designed to clamp onto the side of your desk. It features five different pivot points to achieve the perfect angle and it's designed to produce a soft light that's easy on the eyes. Color temperature and brightness controls allow you to set just the right tone in your home office and mimic natural light.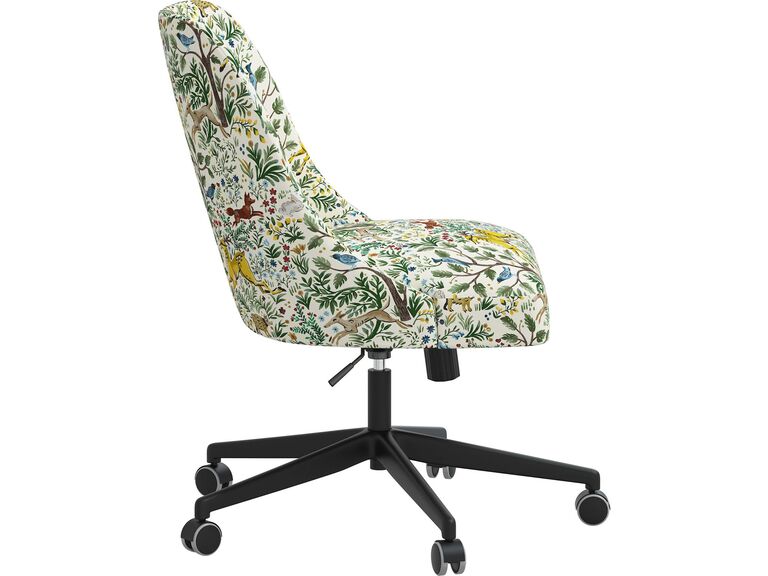 Okay, but have you ever seen such a gorgeous desk chair? This woodland-print piece of furniture will make a statement in your home office with minimal effort on your end. Functional pieces of furniture that reflect biophilic design elements are the key to creating a streamlined, nature-inspired home.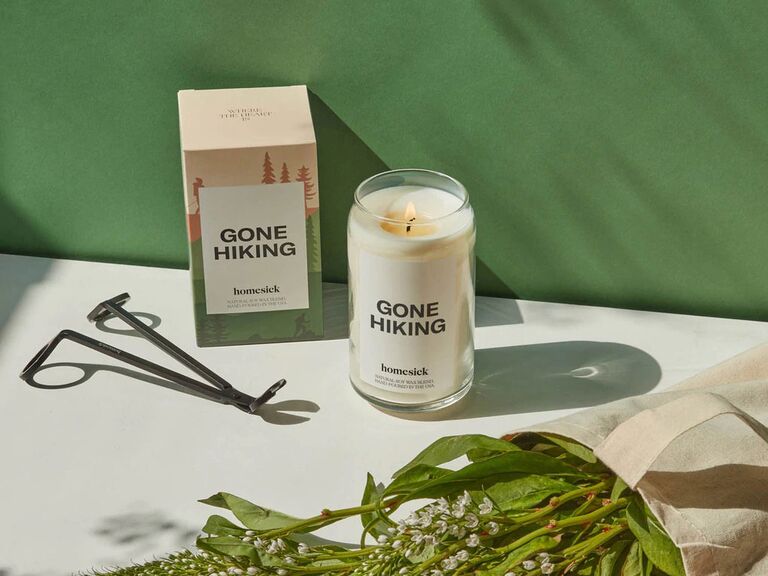 Is any WFH (read: work from home) setup complete without a delightfully scented candle? Your body might be stuck at a desk, but you can send your mind to a peaceful pine forest trail with this "Gone Hiking" candle.
Where to Register for Biophilic Design Products for Your Wedding
Starting a wedding registry? The thought of planning a wedding and redesigning your home all at once might sound a little intimidating, but hear us out. Now is actually the perfect time to begin your biophilic design journey because you can take advantage of your wedding registry to curate the best items for your space. Plus, you don't actually have to start your re-design until after the "I do's."
Rees suggests registering for foundational tableware like handmade ceramics and floral fine china, useful tabletop items in natural materials (think: a large wooden serving bowl), lighting fixtures, and decorative pieces that naturally tie in with the biophilic aesthetic, such as vases. Not sure where to find the right picks for your space? The Knot Registry Store has a wide selection of items for every corner of your home. You'll find everything from floral dinnerware to faux greenery. It's also possible to add items from any other online store to your registry on The Knot, so you can shop beyond our expert-curated selection.
If you're planning a complete overhaul of your home, look to registry websites like Pottery Barn for furniture that reflects the biophilic design aesthetic. Or if you're after unique, handmade pieces to stock your shelves or decorate walls and tabletops, check out Heath Ceramics, Etsy or The Dowry.