20 Father's Day Gifts for Your Boyfriend to Praise His Parenting
Celebrate your main man and parenting partner.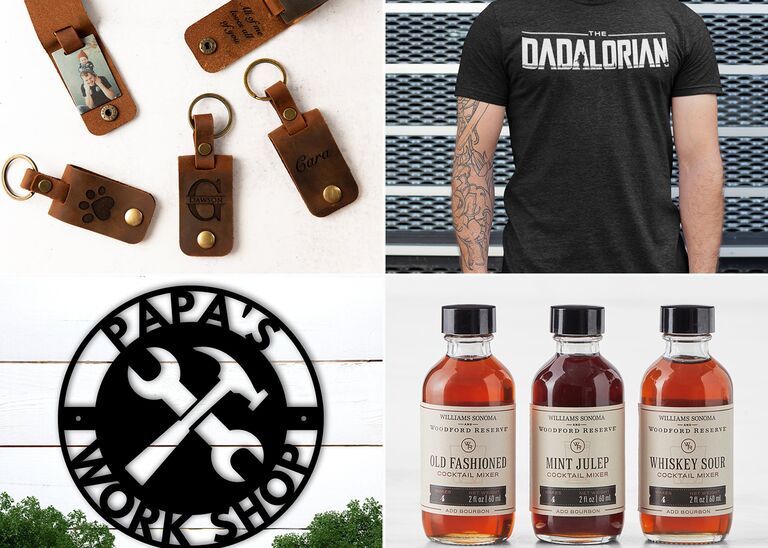 We have included third party products to help you navigate and enjoy life's biggest moments. Purchases made through links on this page may earn us a commission.
If your boyfriend is also a dad, then you've got a special day coming up! That's right, the day to celebrate dads is just around the corner, so it's time to start shopping for a Father's Day gift for your boyfriend. Whether you choose to go big or simply give a token of recognition of his dad status, we've rounded up some of the best Father's Day gifts for a boyfriend here. Be sure to browse our list before you hit the stores this year to get some inspiration on general gift ideas for your special man as well as find great presents you can shop right now.
1. Portable Mini Bar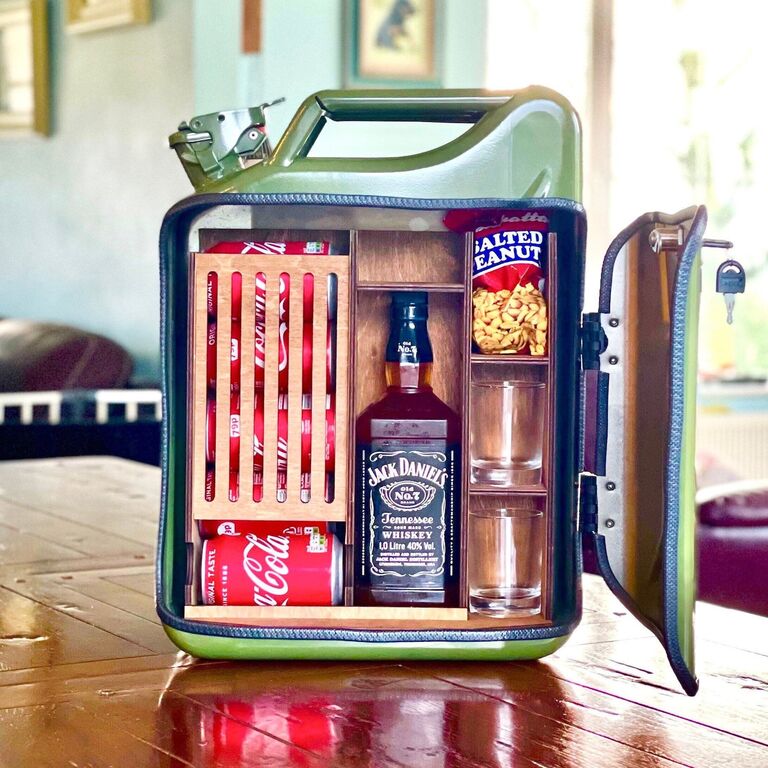 There's more than one way to impress this Father's Day! If you're on the hunt for the best Father's Day gift for a boyfriend who enjoys the occasional whiskey and Coke, you can't beat this super cool portable whiskey bar. This refurbished jerry can bar has a premium wood interior that has room for four soda cans, a small bottle of his favorite liquor, two small glasses and even his favorite snack.
2. "Star Wars" T-Shirt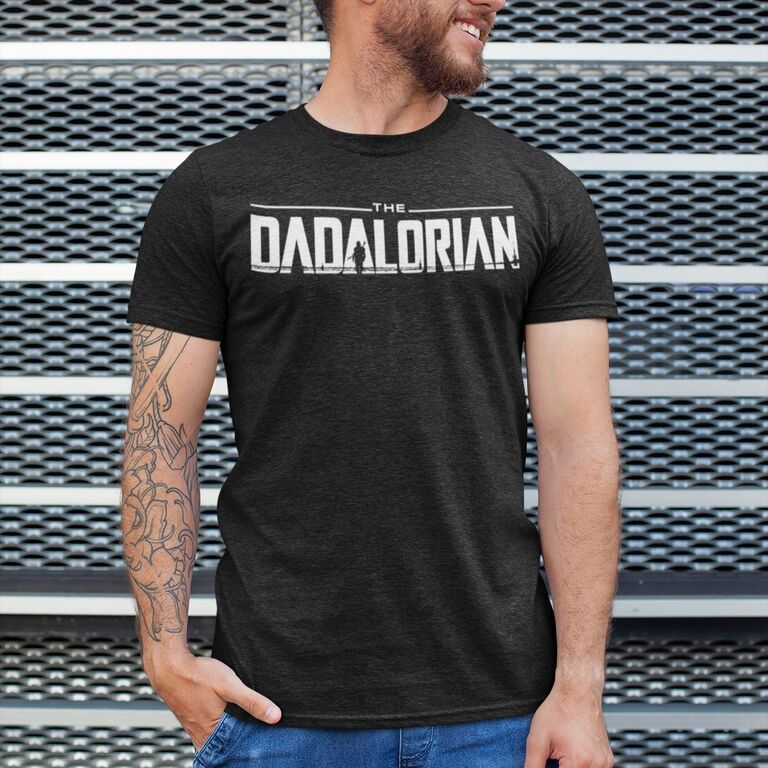 Does your favorite guy love a funny T-shirt? If so, and he happens to be a "Star Wars" fan (because who's not?), then he's sure to love this "Dadalorian" tee. It's a simple and fun way to honor his dad status and his favorite movie series.
3. Trucker Cap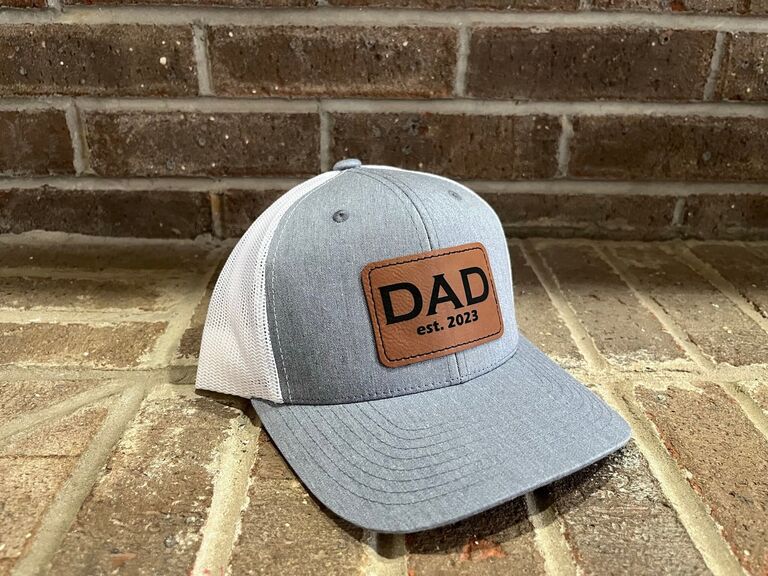 Especially if he's a hat collector like many men are, your boyfriend will likely appreciate this simple, but handsome hat. It's one of our favorite Father's Day gift ideas for a boyfriend if you're not looking to go over the top on a gift. Choose from a variety of colors and two options for the leather tag.
4. Cornhole Set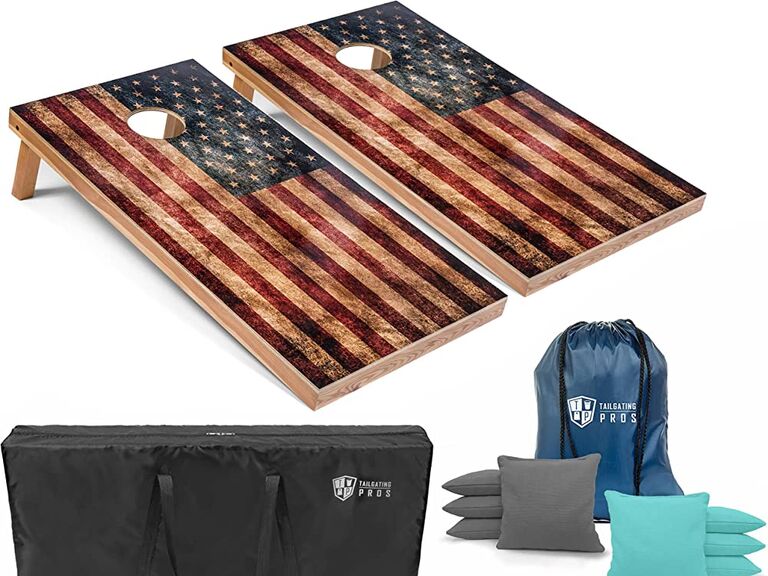 Cornhole is a great American pastime, which is why we love this stunning set as a Father's Day present for your boyfriend. This hand-painted set features a beautiful wood finish with an American flag on each board. He'll also receive a carrying case and a bag with six coordinating bean bags.
5. Jerky Gift Box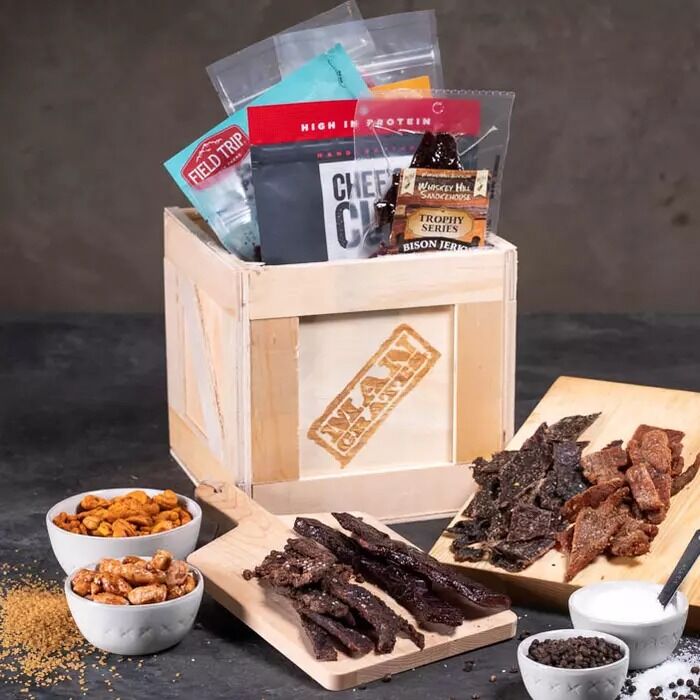 What's a better Father's Day gift for your BF than a box full of jerky? We love Man Crates for their clever, delicious gifts that are a hit every time and this wooden crate is no exception. Not only does it come jam-packed with different types and flavors of jerky, it even includes a crowbar for prying it open. Doesn't get much better than that.
6. Leather Valet
We love this sweet, simple leather tray for storing small items after he's been away at work. It's the perfect place for him to stash his sunglasses, keys, wallet and coins so he can head off to play with his kiddos straight away. And the super-sweet saying is sure to touch his heart.
7. Chemex Coffee Maker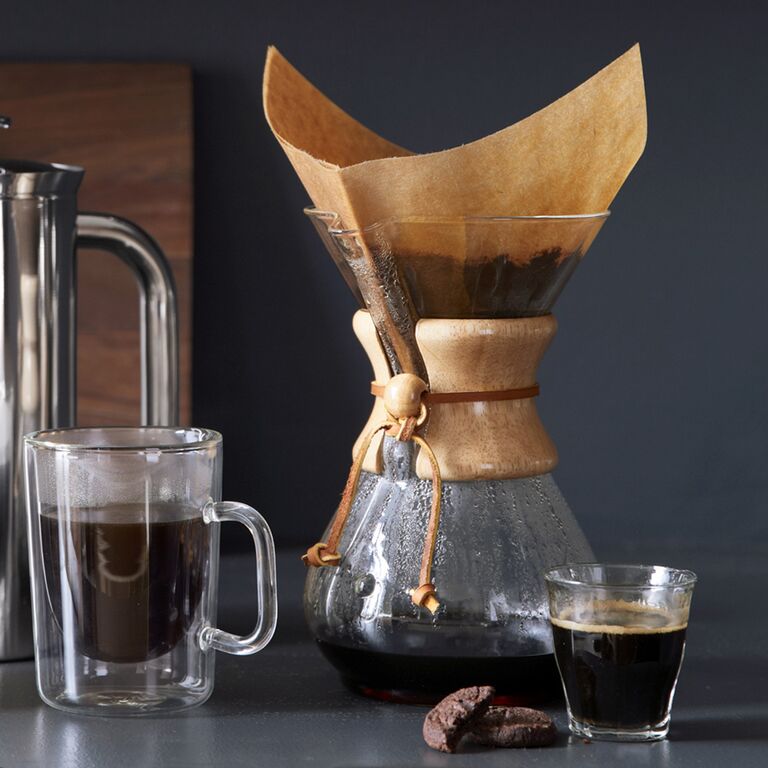 Elevate your boyfriend's daily coffee experience when you gift him this Chemex pour-over coffee carafe this Father's Day. This vessel makes clean, sediment-free coffee every time, using the brand's unbleached filter squares and is available in sizes from three-cup to 10-cup.
8. Man in the Arena Wall Hanging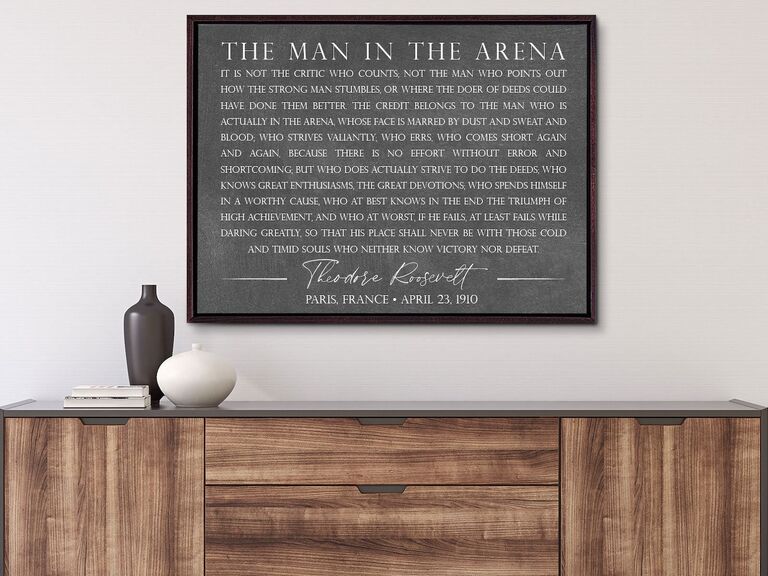 An excerpt from the famous speech Roosevelt gave in Paris in 1910, this powerful quote speaks to hard work and devotion—something your boyfriend probably strives to teach his kids every day. That's why this beautiful wall hanging tops our list of the best Father's Day gifts for your boyfriend, especially if he's a history buff. Choose from a variety of print sizes and framing options. It would also make a nice gift for your boyfriend's dad, if you have a close relationship with him.
9. Hot Sauce Pack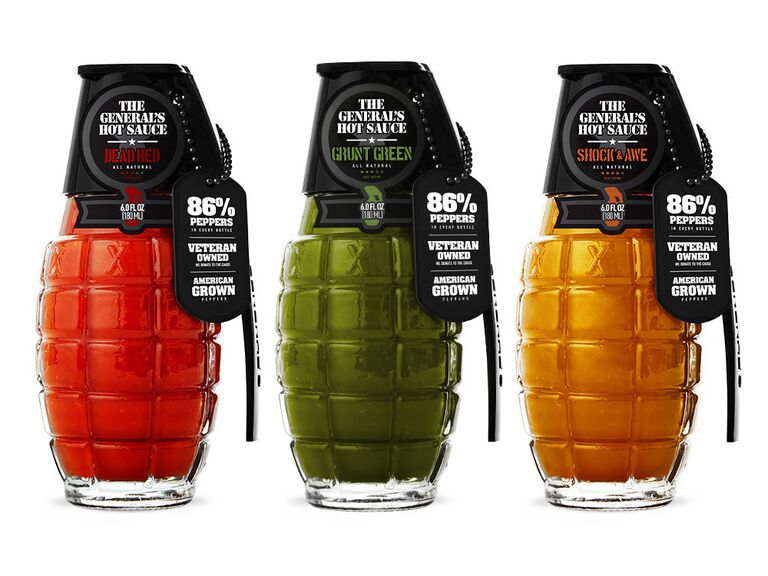 Wondering what to get a boyfriend for Father's Day? How about this cool three-pack of hot sauces? Each is packaged in a real glass grenade for an extra unique touch (and a hint at their explosive heat). These hot sauces come from a veteran-owned company, too, and are made from peppers grown in the US.
10. Personalized Metal Sign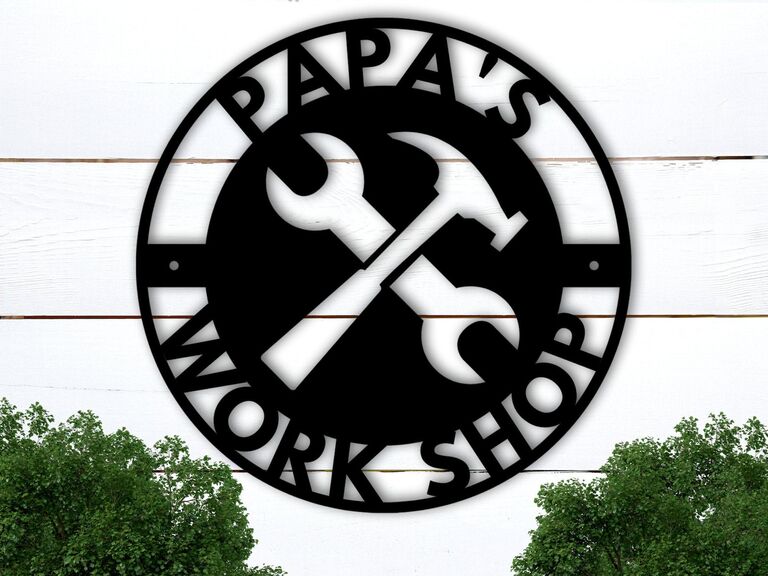 Whether it's heralding his workshop, his workout space or his home, this metal sign is sure to touch his heart. It's handmade and completely customizable, so it can say exactly what you'd like it to. Choose from a variety of metal colors and sizes.
11. Air Fryer
What better way to level up your guy's snacking game this Father's Day than with an air fryer? From wings to fries, this nimble appliance can handle it all. He'll be able to quickly whip up his favorite game-day snacks without fussing with frying oil. Your game-day crew will thank you both.
12. Personalized Key Chain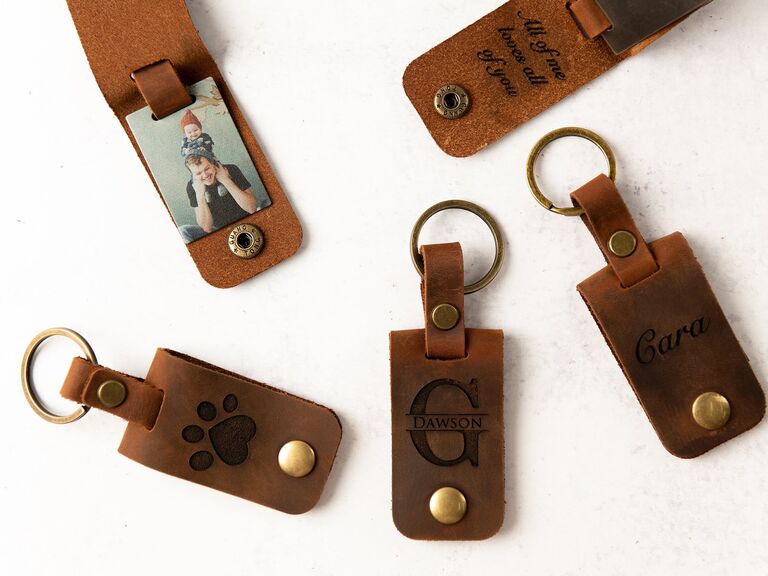 Looking for a meaningful Father's Day gift for your boyfriend? We think this leather keychain could be just the thing for you. It's personalizable on both the outside and the inner flap, and even includes a photo of your choice.
13. Interactive Art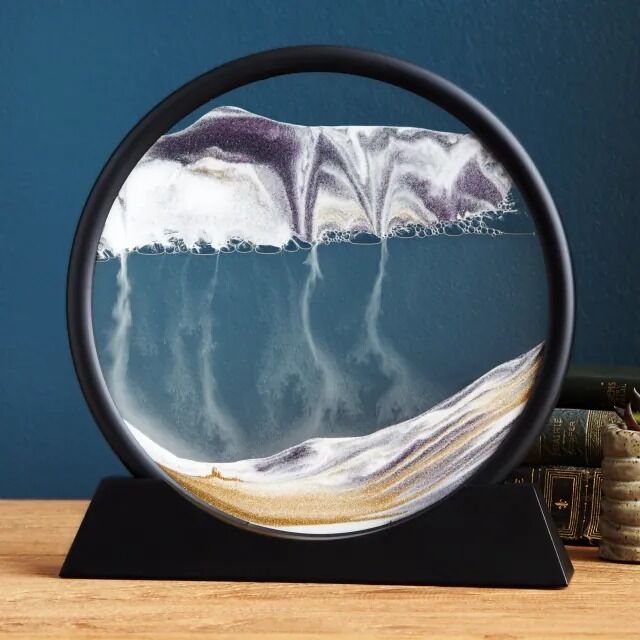 If your boyfriend's a dad, there's a good chance he's often burning the candle at both ends. Give him a moment of zen at his work desk with this enchanting sand art, one of the best Father's Day gifts for a boyfriend. The glass sculpture is filled with kinetic sand that moves to create otherworldly landscapes and rests on a beechwood base. It would be a mesmerizing addition to his work space.
14. Personalized Cutting Board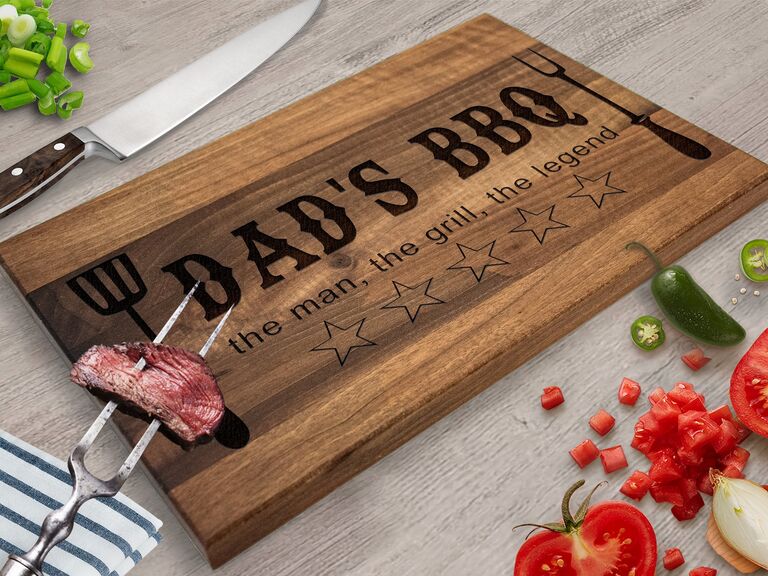 A cutting board is always a great gift item. Snag this "Dad's BBQ" board to show him how much you honor his dad status. Choose from seven different clever dad sayings as well as a variety of different board shapes and wood types for a customized Father's Day gift for your boyfriend.
15. Limoncello-Making Kit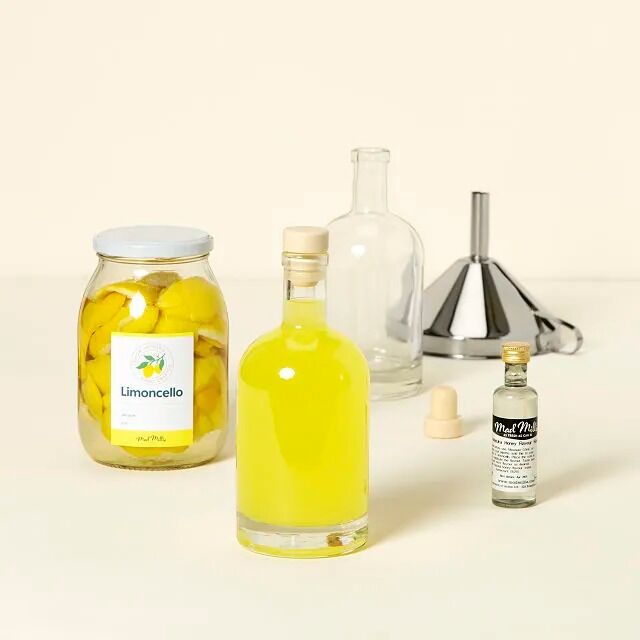 Limoncello is the perfect summer beverage: it's slightly sweet, slightly tart and oh-so-delicious. Now, your boyfriend can experiment with making his own blend right at home. He's sure to love this, so if you're wondering: "Should I get my boyfriend a Father's Day gift?" We say definitely!
16. Three-Piece Cocktail Mixer Set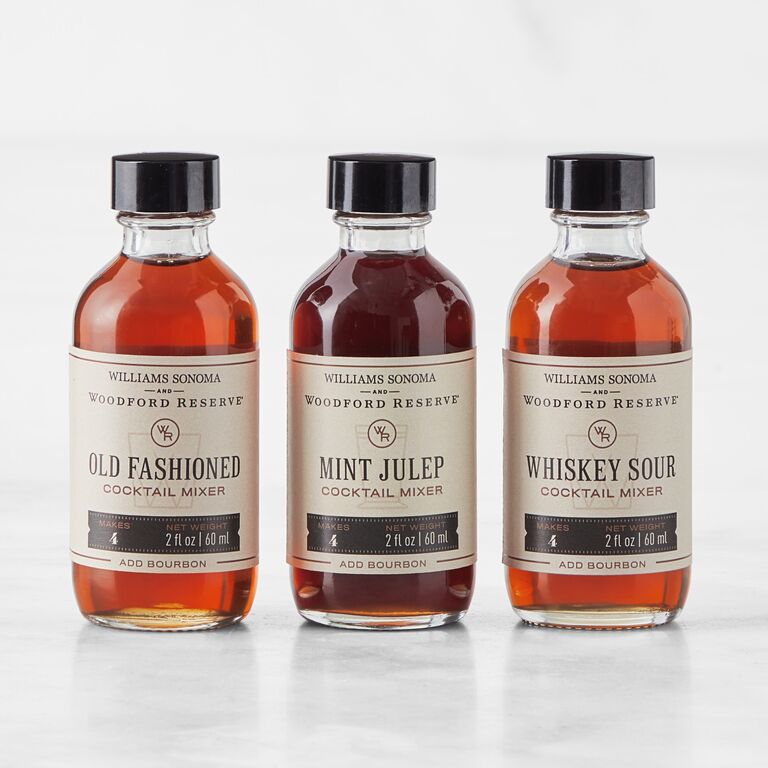 This three-piece mixer set makes a great Father's Day present for your boyfriend, especially if he's a fan of cocktails. He'll receive three different flavor mixers: Old-Fashioned, Whiskey Sour and Mint Julep, with two ounces of each flavor.
17. Dad and Me Activity Bucket List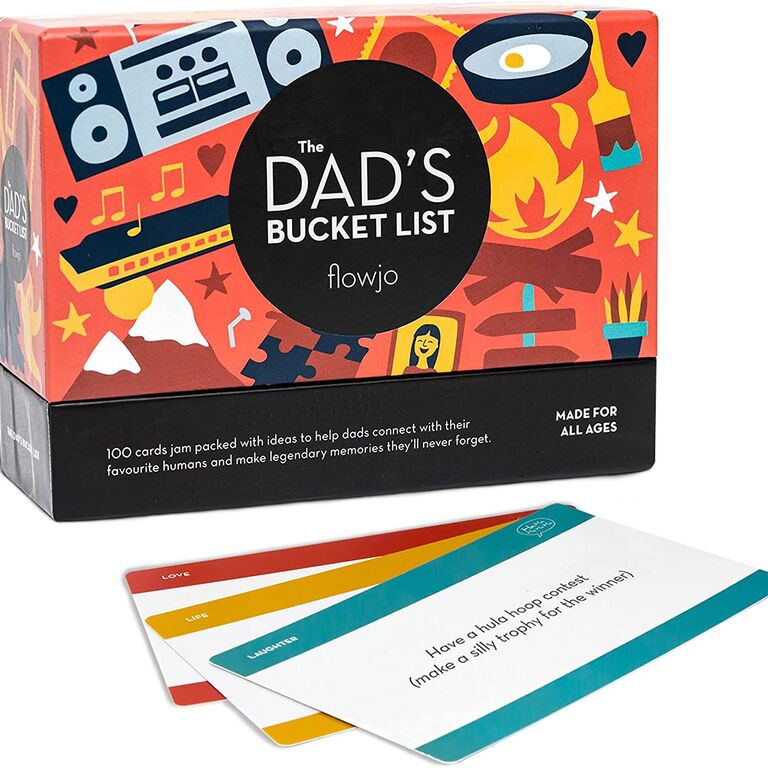 Encourage your boyfriend to get out there and enjoy fun activities with his kiddos (and you, of course) when you gift him this activity bucket list game for Father's Day. He'll find lots of cards with innovative things for him to experience with his little ones. It's sure to become a family favorite present!
18. Popcorn Gift Set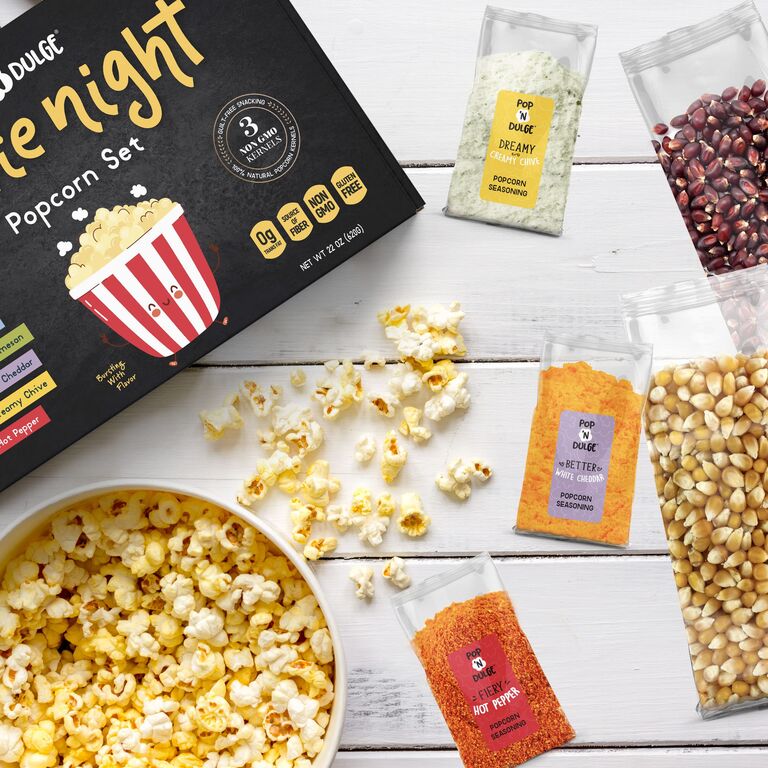 If you're wondering what to get your boyfriend for Father's Day, why not jump start your next family movie night with this great popcorn gift set? This set comes with three different varieties of non-GMO kernels and five premium flavorings, so he can mix and match to suit his snacking style.
19. Stainless Steel Skewers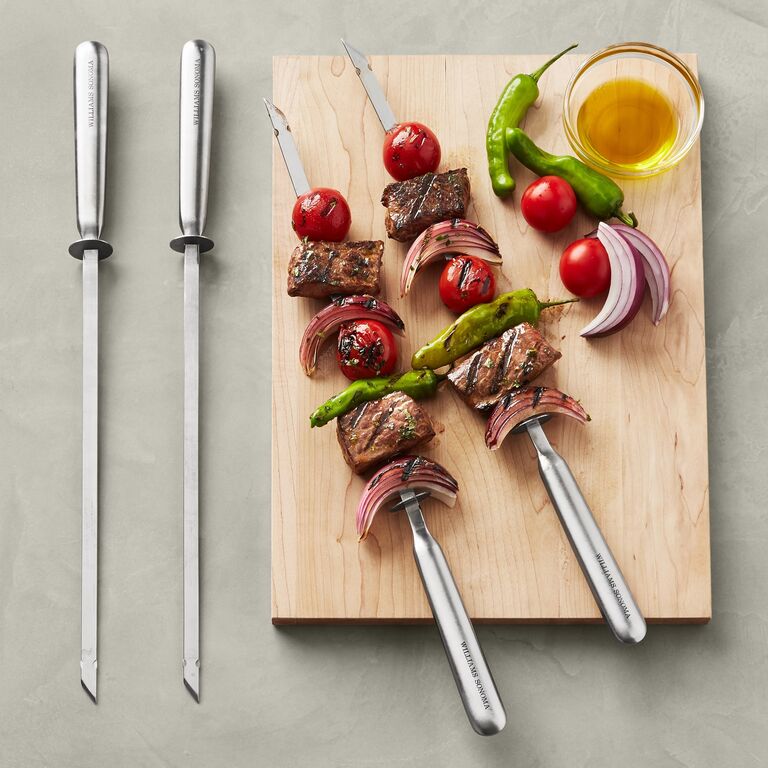 If your boyfriend loves to cook on the grill, this set of four high-quality, stainless steel skewers is sure to make him happy this Father's Day. The rust-resistant stainless steel finish allows these skewers to withstand high temps and the unique square shape prevents food from spinning all over while he's trying to cook it evenly.
20. Backyard Sports Set
Your main man is sure to appreciate this backyard game set, one of the best Father's Day gifts for your boyfriend this year. It's an all-in-one set that will allow you to play badminton, volleyball and several other popular backyard games together. He'll get to spend time making memories with his kid(s) and, really, who could ask for more than that on Father's Day?