6 Bridal Shower Gift-Giving Tips
Even if you're a shopping pro, it's never a bad idea to sharpen your gift-giving skills. Here are six smart tips when choosing something for the bride-to-be.
by The Knot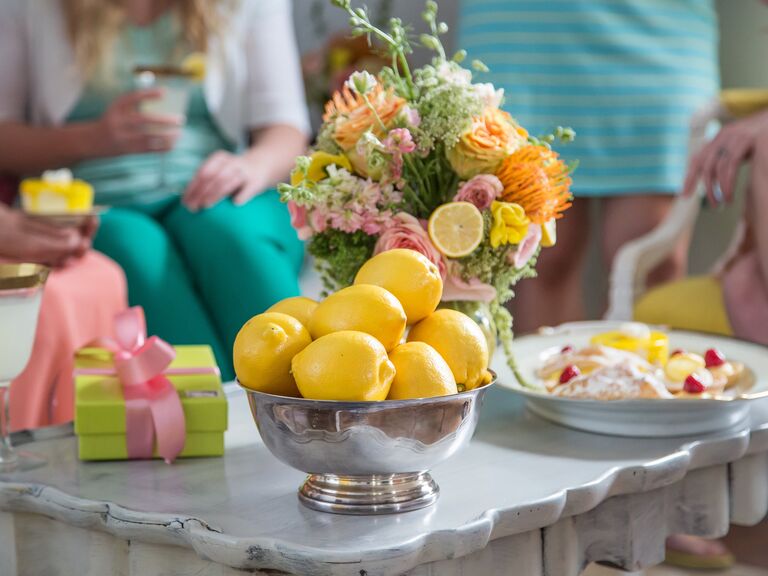 What's the main event at a bridal shower? Opening the gifts, of course, so you'll want yours to be memorable. Consider these six factors when choosing your bridal shower gifts.
1. What to Spend
Give what you can afford—no matter what the occasion. In shower land, $25 to $75 is an acceptable price range, but you could get away with giving the bride-to-be a homemade gift (a crocheted afghan or a photo album) or a family heirloom. Your cash situation and your relationship with the bride will help you decide whether to give a couple of coffee mugs or a cutting-edge coffeemaker
2. Etiquette
Must you give a bridal shower gift and a wedding gift? Yes, all guests should bring gifts to the shower (send a gift for the wedding): You're sure to please with an item from the couple's registry. Also, the maid of honor (or another willing bridesmaid) should take notes during gift time, so the bride can remember who gave what. Finally, all bridal shower attendees should be properly thanked with a note.
3. Shopping Strategies
The bridal shower invitations should clue you in to the kind of gifts requested. For a couple shower, stick with coed registry items like barware, espresso makers, and such; a bridal tea is a chance to get ultra-girly with lingerie or fashion accessories; and a theme shower should steer you to specific gift categories. Gift registries are the easy way out, but don't hesitate to go against the grain. Try relating your shower gift to your wedding gift: hand-painted chopsticks with rice bowls can precede a wok, while napkin rings promise a set of luxurious linen napkins. Or why not make it a group effort? Chip in for a pair of ballet tickets, a jaunt to a spa, or some snorkeling gear. If you're unfamiliar with the guest of honor's tastes, ask the host for some pointers.
4. Faux Pas Alert
When among friends, you can't go wrong—right? Think again. You'll find a bevy of sexy lingerie at most bridal showers, which can provide a good chuckle. But don't confuse the bridal shower with the bachelorette party! We heard of a shower guest gifting the bride with a vibrator "for when the marriage wasn't so exciting." Major party foul. Of course, bridal showers don't have to be good, clean fun (in fact, the chitchat can get quite naughty). Just the same, save the really raunchy stuff for your ladies' night out. A good litmus test? Think of the bride's mom!
5. Traditions and Superstitions
What's a pre-wedding celebration without superstitious lore and random traditions? For instance, it's considered good luck if the first gift the bride opens is the first gift she uses. And the guest whose gift is opened third? She's next in line to get pregnant! Here are two gift-opening traditions we like: The maid of honor gathers all the ribbons torn from the gifts to create a mock ribbon "bouquet," which the bride totes down the aisle at the wedding rehearsal. After the rehearsal, she tosses it—can you guess what's in the cards for the lucky catcher? Alternatively, some brides save the ribbon scraps to create a keepsake pillow.
6. Packaging
We know you're not about to hand over your gift in a brown paper bag. But when you wrap your token of friendship and well-wishing, keep in mind how nice it feels to receive a gorgeously wrapped package. Allow sufficient time to wait in that gift-wrap line—or do it yourself with loving care. Know the bride's favorite colors? Dress up your gift accordingly, using fine ribbon and faux flowers as accents. And include a "To/From" card with your last name on it, just in case. This will make it easier for the maid of honor to track all of the bridal shower gifts—you don't want someone else to get credit for your good taste.
Know a bride-to-be who can't settle on a style? Forward our fun Style Quiz to help her find her wedding vision and the pros who can bring it to life.