What's the Difference Between a Bridal Shower Gift and a Wedding Gift?
And do you have to give one of each, or will one suffice?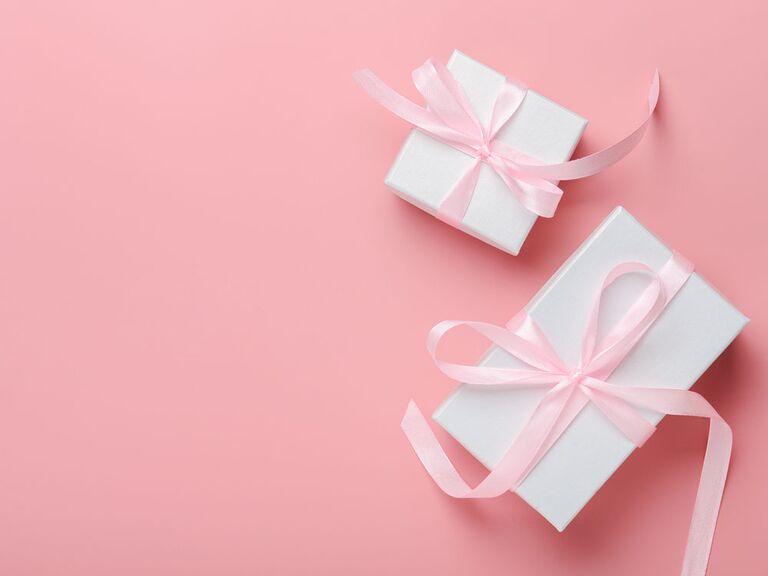 Alice Tsygankova/Shutterstock.com
As a wedding guest, finding the perfect gift for the to-be-weds isn't always easy. Different couples have various needs and preferences, and narrowing down the best present within your budget can feel daunting at first. And, if you're invited to multiple wedding events, you might be confused about the rules of gift-giving at the engagement party, bachelorette party, wedding shower, and the big day itself. One of the most common guest questions, though, revolves around gifting for both the bridal shower and the wedding. Do you really need a gift for both? Or will one great gift suffice for all the wedding events you'll attend? We're here to help. Below, we break down everything you need to know about bridal shower gift and wedding gift etiquette as well as whether or not you need to buy one of each for the happy couple.
Bridal Shower Gift vs. Wedding Gift: What's the Difference?
You're probably familiar with a wedding registry—the tool couples use to aggregate gift requests in one spot. The couple's registry is the best place to start looking for a wedding gift because it makes it easy to find something in your price range, and it also helps you confidently shop for an item you know will be well-loved. (If you shop off-registry, you run the risk of getting a duplicate item or something they don't need or have space for.) But is there a difference between a wedding gift and a bridal shower gift? Generally speaking, the answer is no.
If you've also been invited to a wedding shower, there's a good chance the couple already has a registry started. If that's the case, you can purchase any item from their registry for both the bridal shower and the wedding day. If the couple doesn't have a registry set up, you can talk to the shower host, the couple's family or wedding party members (like the maid of honor or best man) to get an idea of what they want and need. Or, if you're shopping without a list, you can always use our roundups of bridal shower gift ideas and wedding gift ideas for presents that'll wow any couple. But, rest assured—There's no major difference between bridal shower gifts and wedding day gifts, unless explicitly noted on either invitation. Use your best judgment to buy wedding presents you think the to-be-weds will love.
Do You Have to Give a Gift for the Bridal Shower and the Wedding?
So, do you have to give a gift for the bridal shower and the wedding? The choice is ultimately up to you. Traditional etiquette indicates that giving a wedding gift is highly encouraged, though it's not mandatory. It's for this reason that you'll rarely find registry information on formal wedding invitations—while gifts are recommended, they're not excplicityly required on the wedding day. The only wedding-related event where gifts are required is at the bridal shower, unless it's specifically noted as a giftless event.
The couple's registry information will likely be included on the bridal shower invitation, which is a clear indication that gifts are requested for the event. This particular wedding event is centered around gift-giving, so it is necessary to bring a present. While each event is different, some hosts invite the couple to open their presents in front of their guests. Being the only person on the guest list to forgo a gift might make you feel awkward, so it's best to err on the side of caution and come with a gift. And, when it comes to bridal shower gift etiquette, you can always check with the host beforehand to ask if gifts are required.
If you do buy a wedding shower gift, you might wonder if you have to bring one on the wedding day too. This choice is up to you and your budget. While getting two gifts isn't necessary, it is a nice gesture to bring something on the actual wedding day, or to ship an item to the address listed on their registry.
However, if you're a member of the wedding party and you've already spent a lot of money on additional wedding expenses, or it's just not in your budget to buy multiple gifts, you aren't obligated to overstretch your spending. You can always put your money toward one great gift at the bridal shower, or you can split your budget among smaller (but still meaningful) gifts at both events. And, when it comes to great wedding and shower gift ideas, you can always donate what you can afford to a cash fund, a honeymoon fund, or you can buy the couple a gift card to their favorite restaurant for postwedding date nights, or to a local home decor store to decorate their newlywed nest.
To be the best wedding guest ever, spend what you can realistically afford on the bridal shower gift and wedding gift. No matter what you're able to give, couples will be touched by your generosity. After all, your presence at their special wedding events is the most priceless thing you could offer them.