What to Write in a Bridal Shower Card for the Betrothed Babes in Your Life
Offer some sweet words with that new bakeware you're gifting.
Photo: Traci Beattie / Getty Images,Design: Tiana Crispino
*Mariah Carey Voice* It's TIIIIIME to celebrate the special soon-to-be spouse in your life. A bridal shower or wedding shower is the perfect chance to offer your well-wishes (and perhaps a little bridal shower gift) both in person and on paper. If you're wondering what to write in a bridal shower card, the answer is something sincere, sweet, supportive and celebratory that shows your excitement for their approaching nuptials. Easier said than done, right? No worries, we've got bridal shower card messages abound (over 60) that you can snag no matter whom you're celebrating. Whether you're writing to your daughter, sister, friend or work colleague, consider this your go-to guide. Scroll down to check out our favorite bridal shower wishes.
In this article:
Short Bridal & Wedding Shower Wishes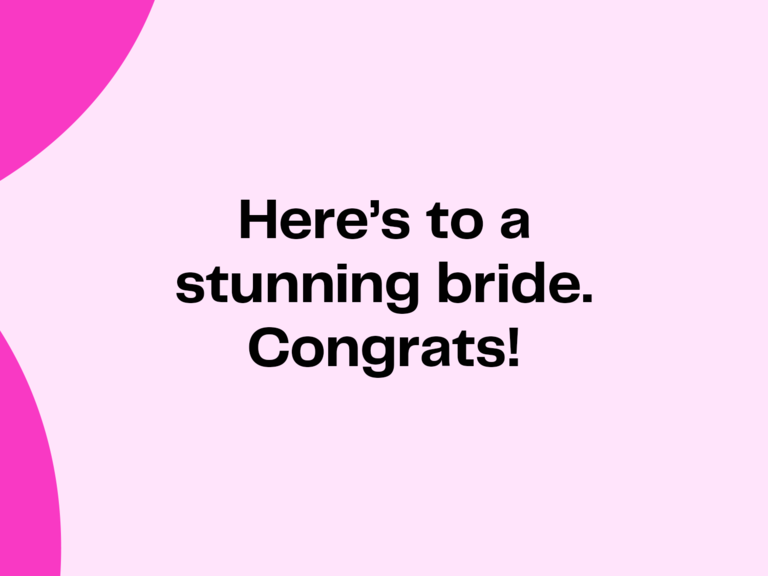 Just because your wedding shower card message isn't a full on letter doesn't mean it's any less kind. And sometimes, writing a lengthy missive just isn't the vibe if you're not super close to the card's recipient. Check out these short bridal shower wishes to cap off your card.
So excited to shower you with love today!
Happy shower day—I'm so happy to celebrate your happily ever after.
Enjoy being "showered" with love today.
Here's to a stunning bride. Congrats!
A special day for a special spouse-to-be. Happy shower!
Funny Bridal & Wedding Shower Wishes
The only thing that flows more freely than the mimosas at a wedding shower are the giggles. If you and the to-be-wed love a good laugh together, then check out these funny things to write in a bridal shower card. One rule: Don't make jokes about the marriage ending or anything along those lines—you'll get booed off the proverbial stand-up stage.
May your marriage be as steady and spicy as our Tuesday-morning The Bachelor recaps.
Nothing says love like a panini press. Happy shower day!
I can't "veil" my excitement for your big day! (Excuse the pun, I'll leave now.)
She's in her wife era, people!! You're glowing.
Happy wedding shower! Please take this four-slice toaster as a symbol of your undying love for each other.
Religious Bridal & Wedding Shower Blessings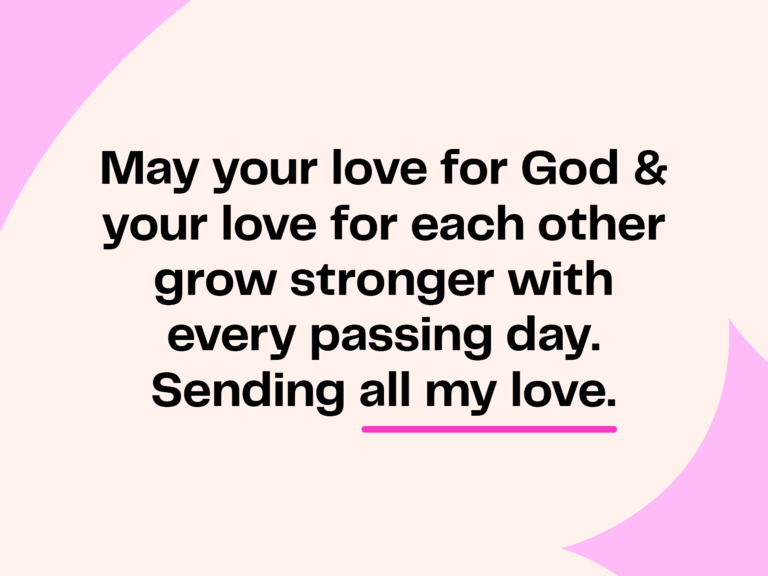 It's a blessing to celebrate this wonderful couple, so if faith is a cornerstone of the couple's life together, feel free to incorporate some religious bridal shower sentiments into your note. Though if you're unsure of the couple's religious affiliations, it's best to avoid this type of wording altogether.
May God bless your marriage with love and joy. Congratulations!
With God in your heart, your marriage will overflow with joy, love and prosperity. Wishing you a beautiful wedding day and marriage.
May your love for God and your love for each other grow stronger with every passing day. Sending all my love.
"Therefore what God has joined together, let not man separate." (Matthew 19:6) Congratulations on starting your journey!
Mazel Tov! May you find joy and happiness in marriage and in life.
Cute Bridal & Wedding Shower Quotes
Sometimes someone else just says it better. Check out these bridal shower quotes from iconic TV shows, movies and pop culture moments to top off your note.
"When you realize you want to spend the rest of your life with somebody, you want the rest of your life to start as soon as possible." – Harry, "When Harry Met Sally"
"You can hear it in the silence/You can feel it on the way home/You can see it with the lights out/You are in love, true love" — Taylor Swift, "You Are in Love"
"This is true love. You think this happens every day?"– Westley, "The Princess Bride"
"You're more beautiful than Cinderella. You smell like pine needles and you have a face like sunshine." — Becca, "Bridesmaids"
"She's your lobster. It's a known fact that lobsters fall in love and mate for life." – Phoebe, "Friends"
Bridal & Wedding Shower Wishes for a Friend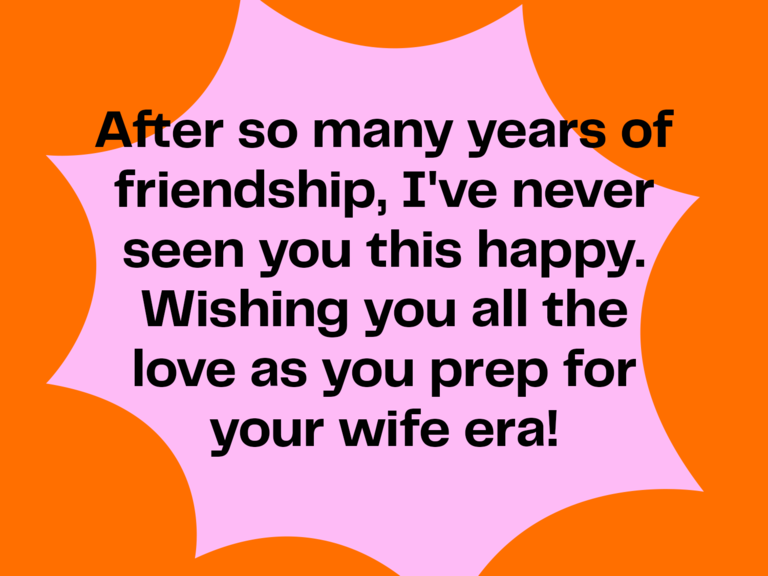 Your bestie is getting married!! Oh how far you've come from those nights spent swiping through Tinder for each other. Your shower card wording can skew fun and funny or sweet and sentimental. Above all, let your bridal shower message to your friend show how happy you are about their love and how excited you are for the big day.
Congratulations! You are proof that soulmates and true love exist. May you grow together and always find new ways to love and support each other. All my best!
After so many years of friendship, I've never seen you this happy. Wishing you all the love as you prep for your [wife/spouse/husband] era!
Congratulations to my dear friend. You are one of my favorite people in the world and it brings me such joy to see you happy.
It's almost here! I'm thrilled for you and wish you nothing but happiness. I'm here for you if you need anything—leading up to the big day or after.
I've been waiting to shower you with love and confetti for so long and the day is finally here! Though, now you'll have to hear how excited I am for your big day, every day. Love you!
Bridal & Wedding Shower Wishes for a Coworker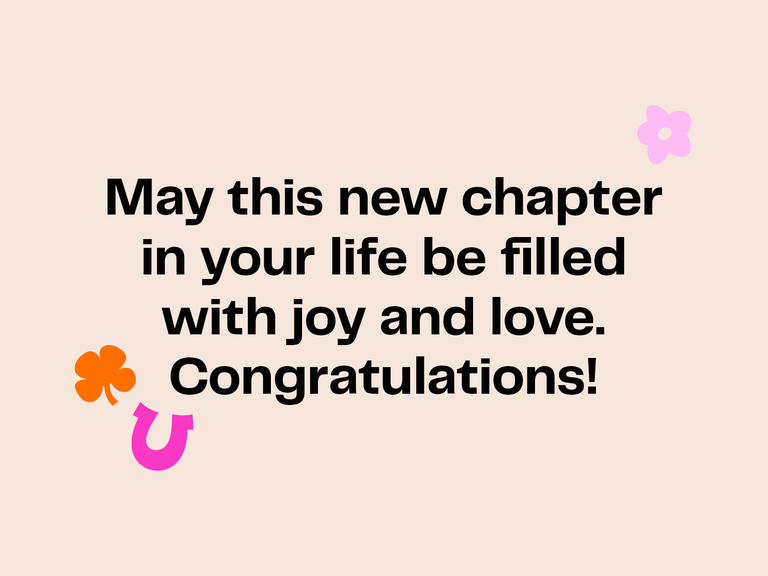 Typically when a coworker is the one to be wed, you probs want to keep your wedding shower wishes short and sweet. But, if they're your work wife/spouse, feel free to put a little more emotion in the note as you see fit. You can also use your bridal shower wishes to your coworker to give thanks for being involved.
May this new chapter in your life be filled with joy and love. Congratulations!
Congratulations on your wedding! Wishing you all the happiness in the world.
Thank you for letting me be a part of your special day. I can't wait to celebrate with you!
Wishing you lots of love and happiness for your wedding day!
Anytime you want to gush about wedding stuff, my desk is always open. Congrats on your happily ever after!
Bridal Shower Wishes for Your Daughter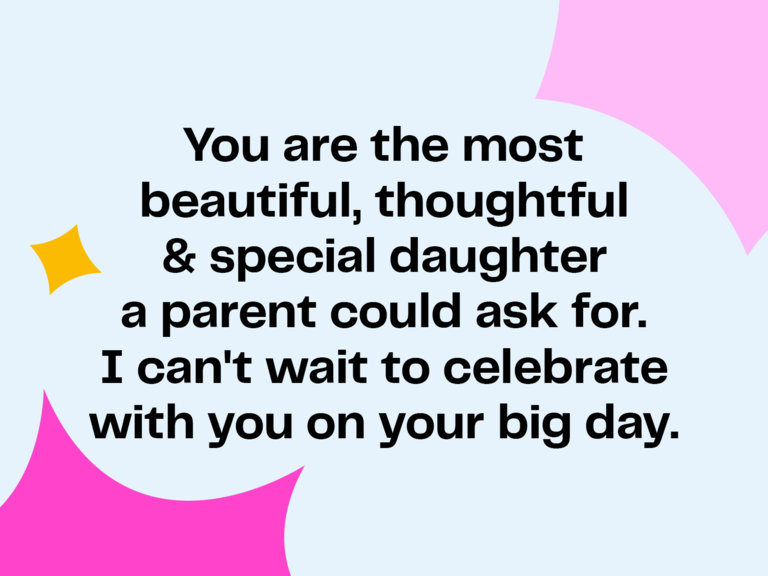 Your baby girl is getting hitched! Your well-wishes for her bridal shower are a great opportunity to share your joy and excitement for her and her almost-spouse. Feel free to recount happy memories, offer congratulations and give marriage advice. Don't put too much pressure on your bridal shower card message—just speak from the heart and let your happiness show.
You are the most beautiful, thoughtful and special daughter a parent could ask for. I can't wait to celebrate with you on your big day.
All a parent wants is for their daughter to be happy, safe and loved. With [her partner's name], I know there's no need to worry. Sending you all the love in the world.
Marriage is full of ups and downs. Continue to celebrate and cherish the ups, and support and care for each other through the downs. We'll be here for you no matter what!
Congratulations on finding a wonderful person to share your life with. It brings me comfort to know that you two have everything you need, because you have each other. I'll always be here for you no matter what. All my love.
I feel so grateful to have such a strong, beautiful and caring daughter, and even more lucky that you found a partner who deserves all you have to offer. I'm so thrilled to see you get married and build your life together.
Bridal Shower Wishes for a Future Daughter-in-Law
If your kiddo is getting married, your bridal shower wishes to your new daughter-in-law can be a touching way to show your support and welcome her into the family. It's also an appropriate place to share wedding shower sentiments and advice about marriage or love.
I knew from the moment I met you that my [son/daughter/child] had chosen a very special woman. We are so excited to welcome you to our family.
Kiss every day, laugh often and never stop being friends. You two were made for each other. Congratulations on your wedding!
Thank you for opening your heart to my [son/daughter/child] and becoming a part of our family. We love you and can't wait to see you make it official!
I can't wait to be there for you on your wedding day! You are such a special woman—my [son/daughter/child] is lucky to have found you. Congratulations!
They say you can't change a person, but I've never seen [your child's name] as happy as you make [him/her/them]. Here's to many years of happiness for you both.
Bridal Shower Wishes for Your Sister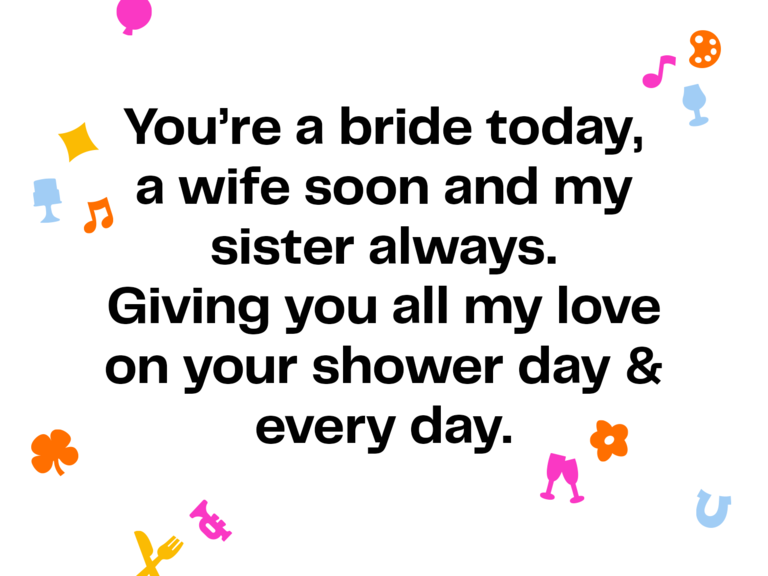 The relationship between two siblings can be incredibly strong. If you and your sister share a special bond, feel free to pepper your bridal shower congratulations with personality, humor and some happy-tear-inducing memories. If you aren't the warm and fuzzy type, rest assured that a simple bridal shower message filled with a few kind well-wishes will do.
From the moment you told me you were engaged, I've been overjoyed. [Partner's name] is your perfect match and I know you two will be so happy together! Congratulations!
You're a bride today, a wife soon and my sister always. Giving you all my love on your shower day and every day.
I'm so happy for you! Relax, have fun and enjoy getting showered with all the love today. I'll be here if you need anything—there's nothing I wouldn't do for you!
You are absolutely glowing, sis. I am so happy you've found someone who loves you just as much as I do (and that's a whole lot). Happy shower day!
You're a bride! My baby sister is truly all grown up. Let me know if you need a big hug, strong cocktail or someone to squeal in excitement with as the day approaches. Love you so much.
Bridal Shower Wishes for a Future Sister-in-Law
If you're lucky enough to have a soon-to-be sis that you adore, don't hesitate to share your excitement and show her some love on her shower day. If you don't know her super well (yet), you can definitely leave out any heavy sentimentality. Just be thoughtful, sweet and sincere and you're golden.
I can't believe the big day is almost here! I could not be happier for you. Wishing you all the best.
I couldn't have asked for a sweeter soon-to-be sister-in-law. Hope you feel showered with so much love today!
I'm so excited to celebrate you today before we officially become family. My [brother/sister/sibling] is beyond lucky to have you. Congratulations, beautiful bride!
I'm so happy that you found my [brother/sister/sibling! I couldn't imagine a funnier, sweeter, more devoted partner for them to walk through life with. Congratulations!
Can I just say how excited I am to gain a sister soon—let alone such a lovely one? I hope you feel so, so celebrated today!
Bridal Shower Wishes for Your Niece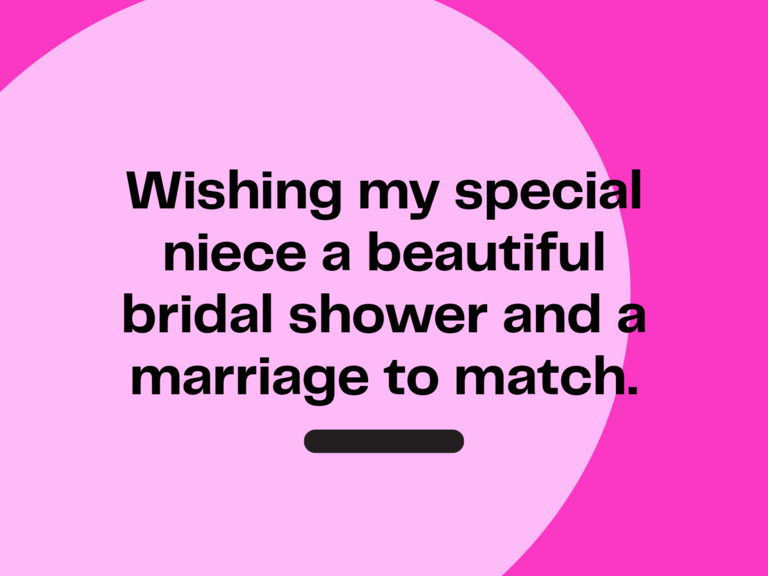 Maybe your sibling's daughter feels like your own. In that case, what a special time for you, too! Let your niece know how proud you are of her and how thrilled you are to see her enter this next chapter with grace. *Grabs tissue box.*
Niece, I love you like you're my own daughter, so it's safe to say I'll be shedding some happy tears as we celebrate you as a bride today. Congratulations!
To a special niece on her shower day, you walk through the world with such kindness and joy and [ her partner's name] is so incredibly lucky to have you. I'm so excited to celebrate you today.
What a joyous day to celebrate you, niece. You have all my love as you begin your life as a married woman.
Wishing you a beautiful bridal shower and bright future ahead with your new [husband/wife/spouse], niece.
Wishing my special niece a beautiful bridal shower and marriage to match.
Bridal Shower Wishes for Your Granddaughter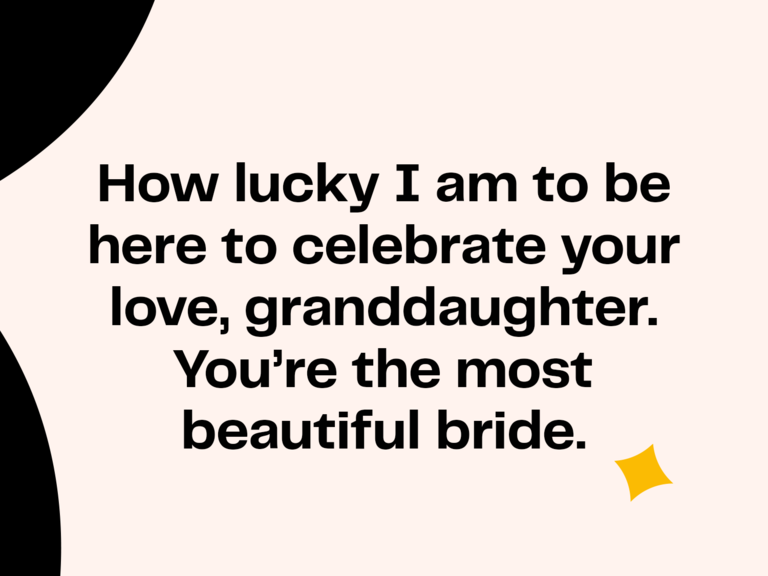 It feels like only yesterday that your own child walked down the aisle, now it's your granddaughter's turn. It's a beautiful thing to have the chance to celebrate her before she officially becomes a wife, so let her know how grateful you are to share in her joy.
You'll be such a beautiful bride! It's been a blessing to call you my granddaughter and I'm so happy to share in your joy today and every day.
How lucky I am to be here to celebrate your love, granddaughter. You're the most beautiful bride.
Your wedding day is almost here! I can't wait to see you walk down the aisle on the happiest day of your life. I love you more than anything.
Congratulations to my beautiful granddaughter. I could not be happier for or more proud of you. Wishing you a blissful wedding day and life as a wife.
Granddaughter, I am so happy I get to share in this special time with you. Wishing you so much joy today at your bridal shower and every day after.
Bridal & Wedding Shower Card FAQ
Now that you've been showered with our favorite messages to write in a bridal or wedding shower card, it's time to answer some other queries that might be on your mind. From the send to the sign off, keep reading for the details.
What should you say in a couples shower card?
Couples shower messages are pretty similar to what you'd mention in a bridal shower card, like how excited you are to connect and celebrate ahead of the big day. The biggest difference is it would be addressed to both members of the couple and not just the bride (or whichever member of the couple is being showered). That said, stay away from any references that would be only relevant to one member of the duo and keep it focused on them as a pair. Nearly any of the bridal shower sayings above can be easily adapted with a few tweaks.
How do you sign a bridal or wedding shower card?
You should sign a bridal or wedding shower card with a closing phrase of love and congratulations, using the name(s) of whoever was invited to the shower. For example, if you, your partner and your children were all invited to the couple's wedding but only you and your partner were asked to partake in the wedding shower, there's no need to add the names of your kiddos to the shower card. As for sign off options, you'll find one you love in the list below:
With love,
With joy,
Best wishes,
All my love,
Congratulations!
Cheers!
Warmly,
XOXO
What do you write on the shower card envelope?
If you're delivering the card in person, simply write the name(s) of the shower honoree(s) on the outside of the envelope—no need to address it to both if only one member of the couple is being celebrated with a shower. If you're sending your correspondence by mail, keep the same naming parameters in place while adding the necessary mailing information.