26 Affordable Bridal Shower Invitations for Every Celebration Style
Get your guests excited without breaking your budget.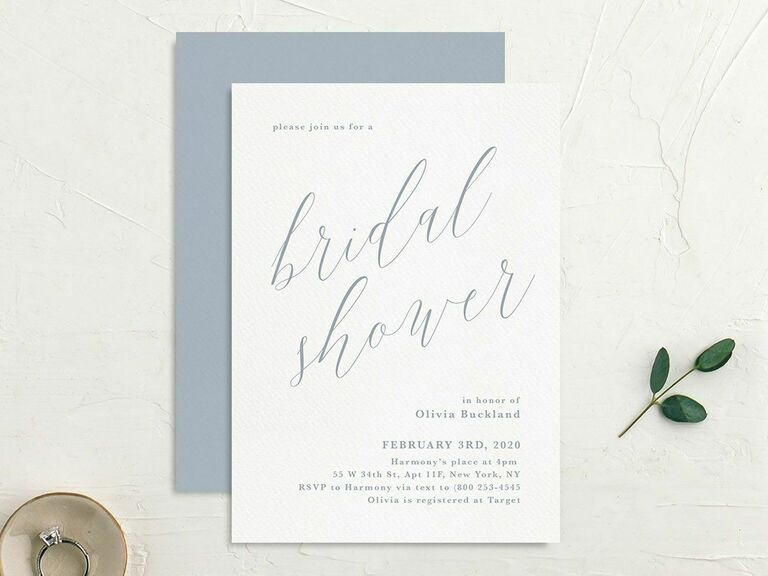 We have included third party products to help you navigate and enjoy life's biggest moments. Purchases made through links on this page may earn us a commission.
For many soonlyweds, a wedding shower is a can't-miss part of the whole "getting married" thing. It's a fun opportunity to mix and mingle, eat some delicious food and celebrate love with a creative party theme. But just like wedding costs, wedding shower costs don't take long to add up. If you're looking for cheap bridal shower invitations that don't sacrifice style or quality, we've got you covered.
Invitations are a great way to set the tone of your event—everything from the wording to the color palette can show off your party's personality right from the start. Lucky for you, we've found beautiful and inexpensive options for any wedding shower theme and aesthetic—whether you're hosting a rustic outdoor picnic or a tropical bridal shower brunch. Below, shop some of the most affordable bridal shower invitations that definitely don't look cheap (including a bunch from our very own stationery store, The Knot Invitations!).
1. Floral Arch Bridal Shower Invitations
At The Knot, we pride ourselves on our customizable collection of beautiful, budget-friendly shower invites. This unique design has a lush floral illustration that's sure to stand out in the mail pile. Display your party's details on the front of the card in a stylish sans serif font. Then, add the couple's initials to the back for a sweet, personalized touch. This stationery comes in four recommended color themes: pink, green, purple or black.
2. Painted Sunflower Bridal Shower Invitations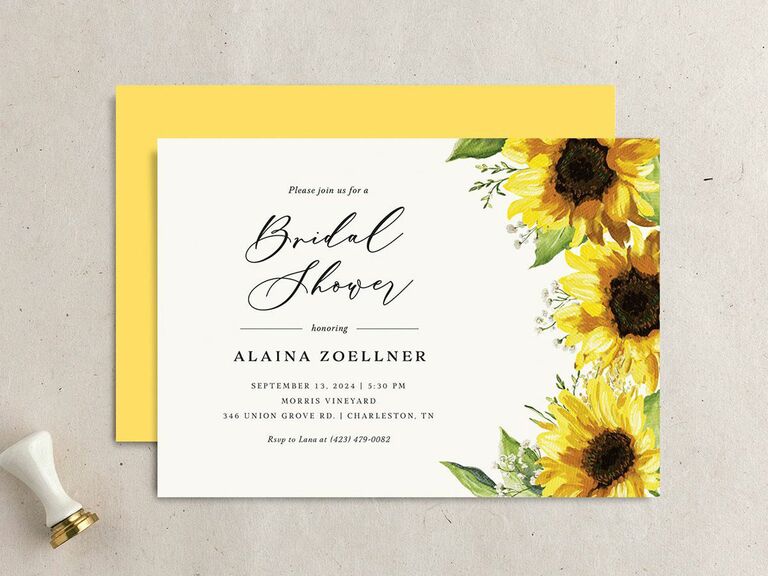 These bridal shower invitations are a charming option for a rustic summertime bash. The painted sunflowers pair gorgeously with the fancy script and serif fonts. First, choose your paper type (all The Knot shower invitations come in three paper choices, Standard, Pearlescent and Recycled), then personalize the details for your event. Yes, it's really that easy.
3. Lemon Tree Wedding Shower Invitations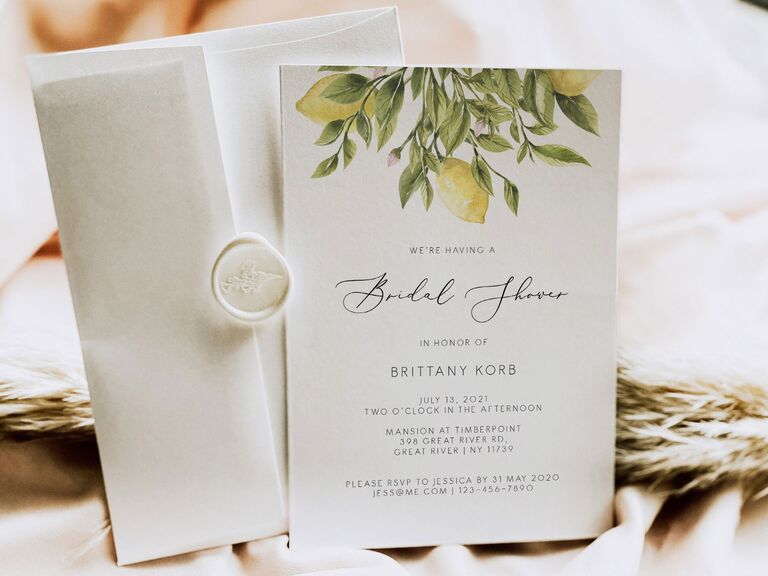 One way to save money on bridal shower invitations is to edit a template and print them yourself. This downloadable invite is a refreshing option for a lemon-themed wedding shower. Once you purchase the template, you can customize the wording, font color and other design elements. (Bonus: This Etsy seller—and many others on our list—provide a demo link in the product description, so you can try the template before you buy it.)
4. Ornate Vintage Bridal Shower Invites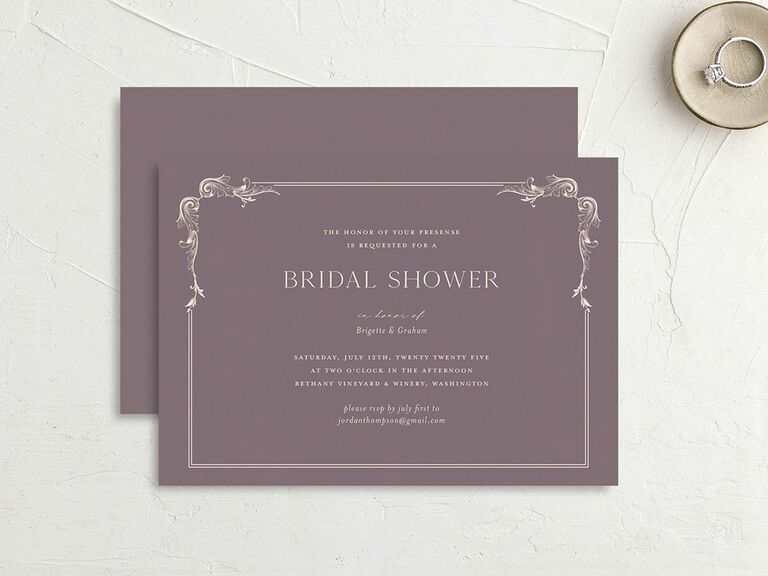 You can find affordable invitations for almost any type of shower, including a vintage-themed party. These sophisticated invites boast a classic serif font that's beautifully framed by an ornate border. And the color options are simply elegant.
5. Tropical Pink Bridal Shower Invites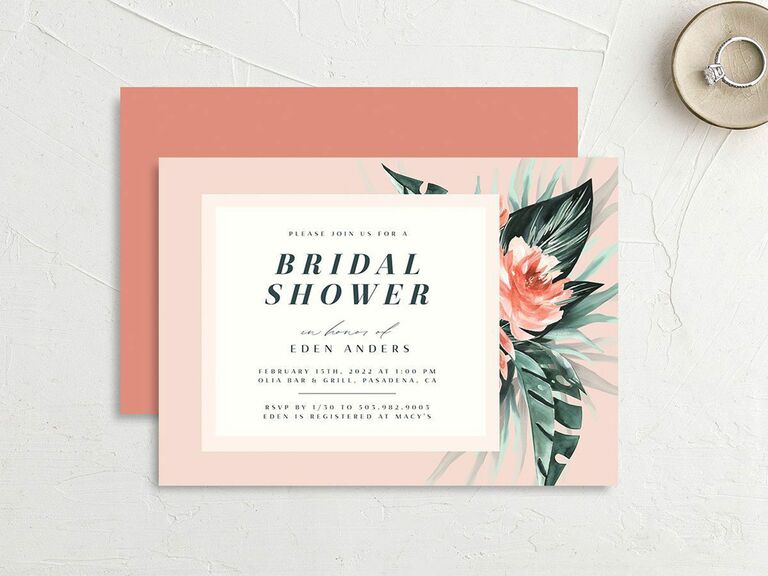 Love a tropical motif? We adore everything about these affordable wedding shower invitations, from the floral graphics and cool typography to the vibrant pink and teal tones. Plus, they're the perfect way to invite your guests to a beach-themed shower.
6. Simple Wildflower Wedding Shower Invites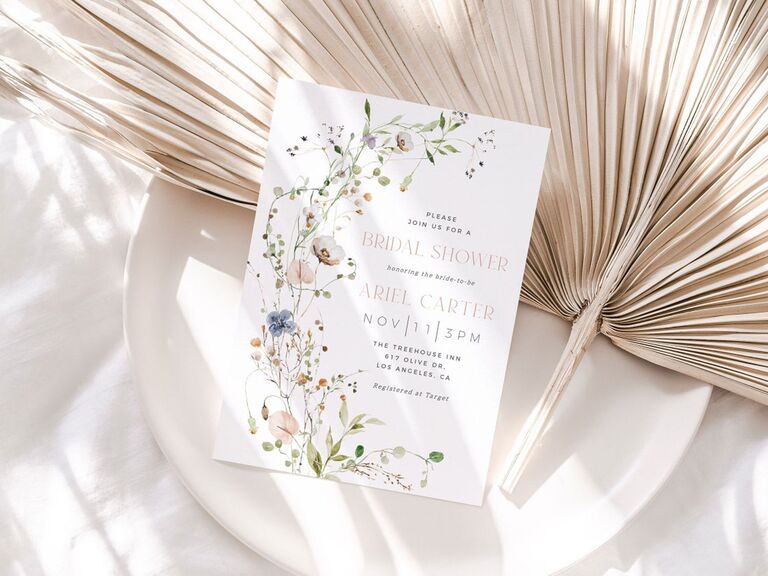 Here's a lovely minimalist invitation your guests will gladly display on their desks. The subtle design features a spray of rustic wildflowers against a white background. Plus, the editable template allows you to change the text, fonts and colors of your choosing. What's not to like?
7. Rustic Arch Bridal Shower Invitations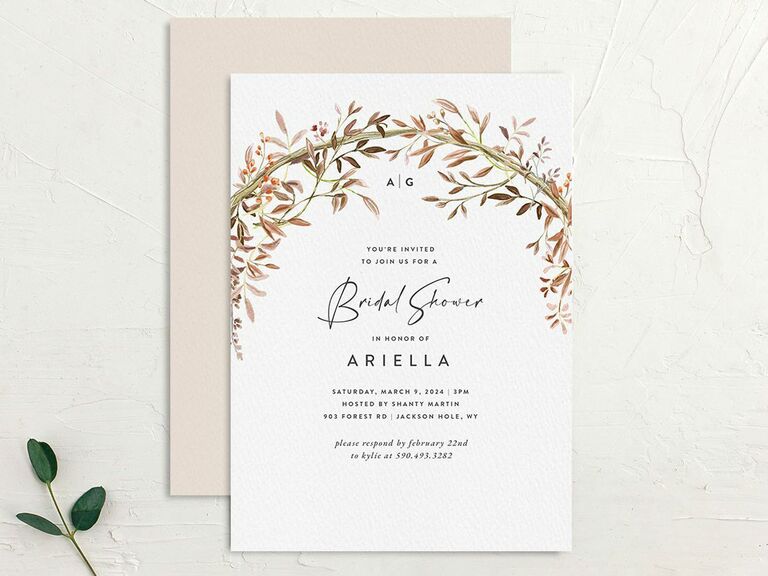 If you're shopping for rustic bridal shower invites, this is one of our favorite designs. How adorable is that leafy arch with the couple's initials nestled underneath? The brown color is our ideal shade for a rustic look. Better yet, each invite starts at under $2.
8. Artistic Floral Bridal Shower Invites
Make sure your guests are ready for brunch and bubbles with these simple bridal shower invitations featuring an artsy floral illustration. We love the combination of modern typography and romantic script on these classic invites.
9. Boho Lace Bridal Shower Invitations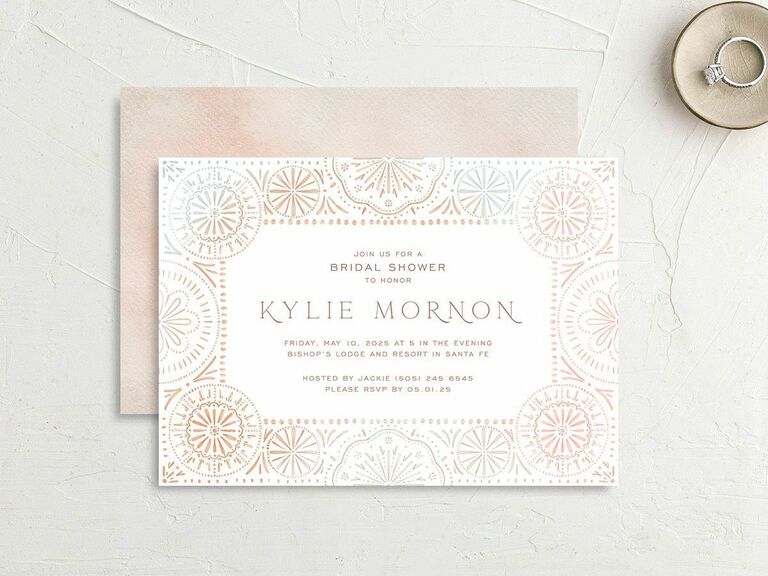 The boho bride-to-be will adore the unique lace-inspired border on these inexpensive bridal shower invites. The gathering's details are displayed beautifully within the avant-garde frame, while the back of the card surprises invitees with a coordinating watercolor design.
10. "Fall in Love" Wedding Shower Invites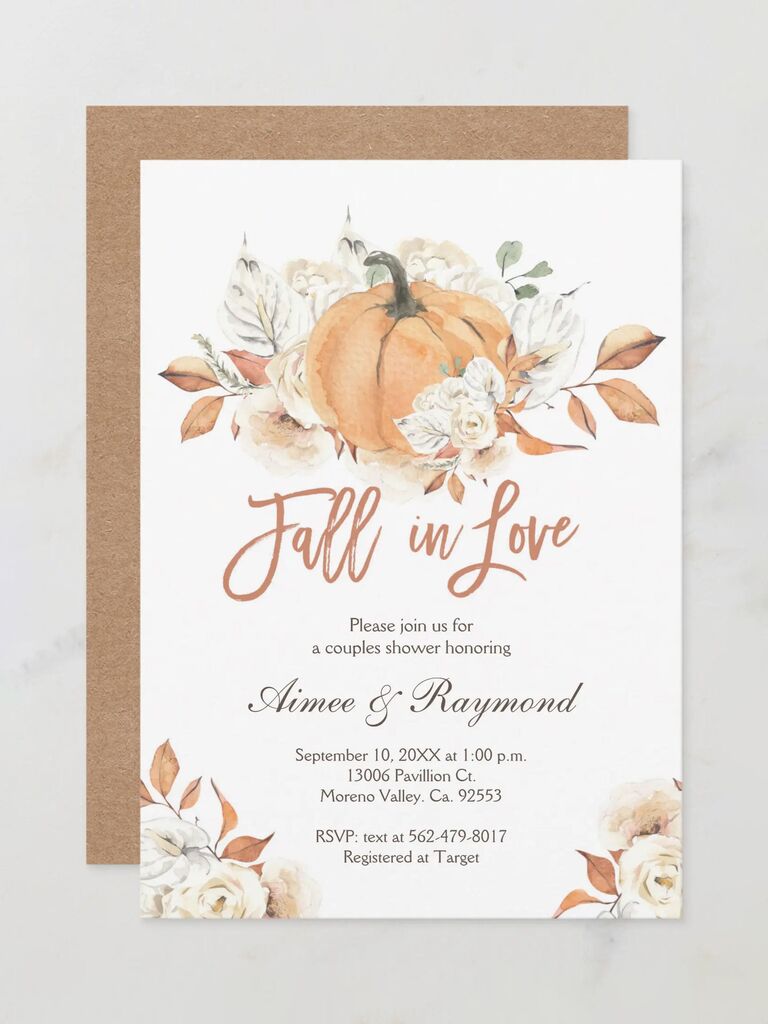 If you've got an autumn shower on the calendar, it doesn't get more seasonal than these "Fall in Love" bridal shower invitations for fall. The rustic invites display a pumpkin motif with beautiful foliage accents. Choose your size, shape and paper type, then personalize the card with your event's details.
11. Nautical Blue Wedding Shower Invites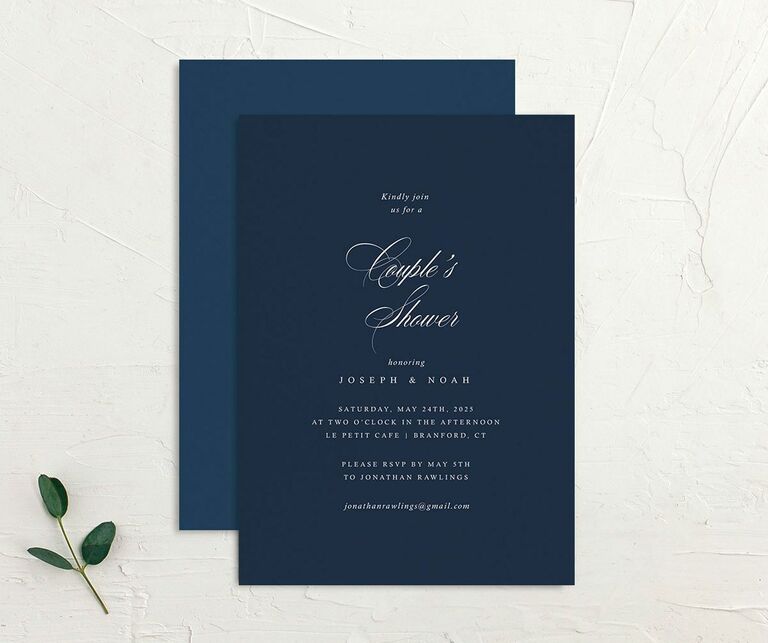 These classic blue and white invites are perfect for a seaside bridal shower. The refined design features formal serif and looping fonts against a rich navy background. The large maritime compass on the back of the card adds a coastal touch to these elegant invites.
12. Winter Floral Bridal Shower Invites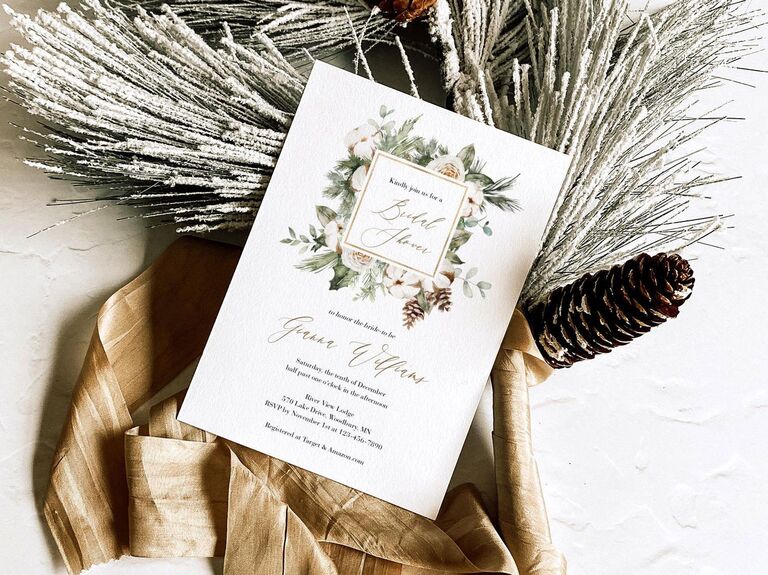 Looking for winter bridal shower invitations on a budget? Look no further than this gorgeous design for your seasonal event. The pretty script, combined with the pine cone motifs and winter colors, add warmth and character to the invitation. Make tweaks to the editable template to suit your needs.
13. Rustic Calligraphy Bridal Shower Invitations
Featuring a wood-inspired background with a side of pink and white, these rustic invitations can be jazzed up with a photo of the couple. This stylish design is the cheapest bridal shower invitation on our list (but it certainly doesn't look that way).
14. Tea Party Bridal Shower Invites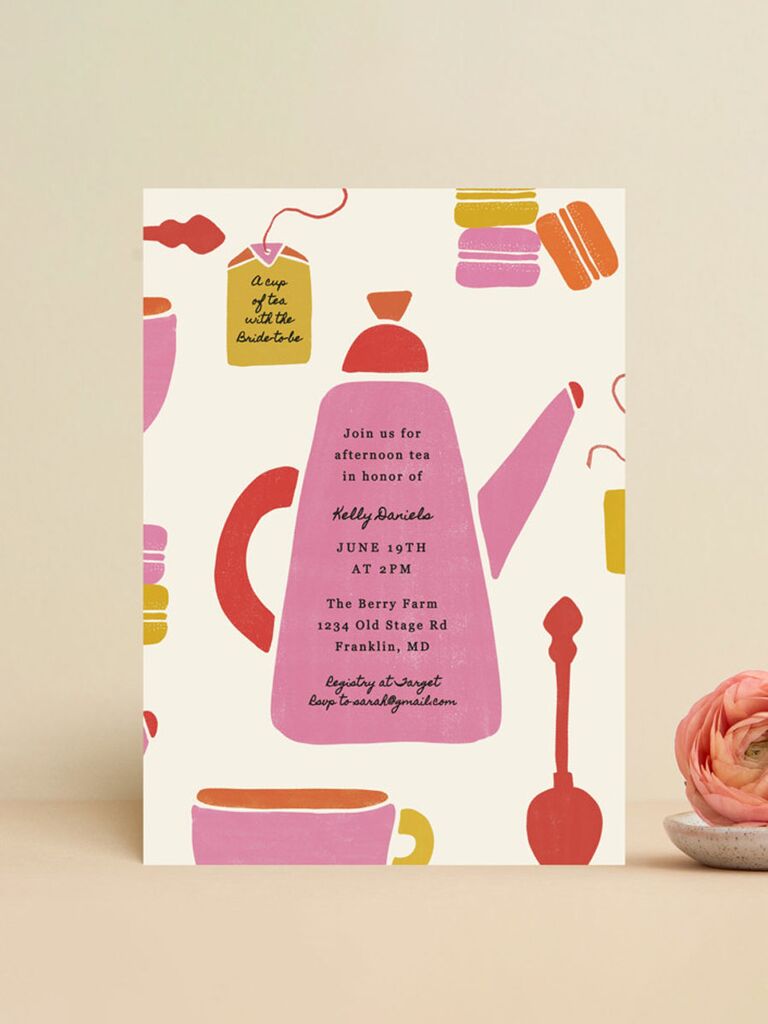 Hosting a bridal tea party? There's a cute—and affordable—invitation for that. We're obsessed with the tea-inspired details on these adorable invites, which include a colorful teapot, tea cup, tea bag and more.
15. Minimalist White Wedding Shower Invites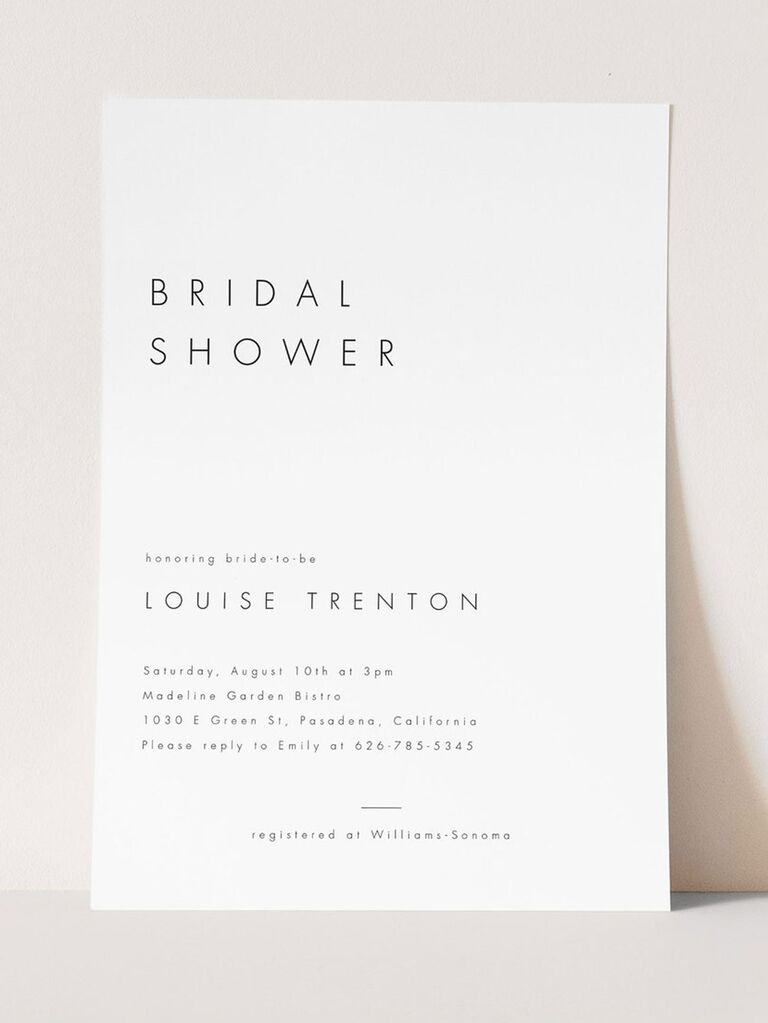 Ideal for the bride who favors minimalism, this template features modern typography that's clean and sophisticated; it's a great simple pick that can go with so many different types of vibes and themes. Most importantly, you can fully edit the DIY template.
16. Elegant Floral Bridal Shower Invitations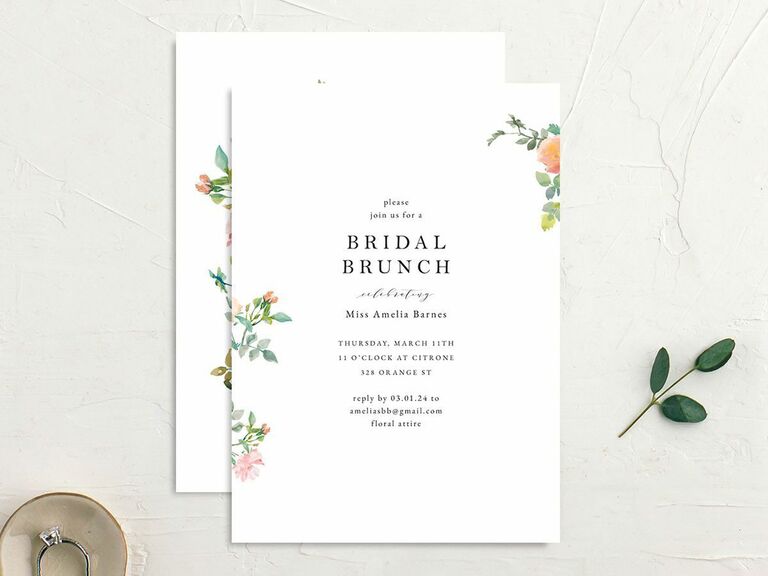 The delicate floral details on these affordable invites set an elegantly minimalist tone. Choose from several flower colors—including orange, blue and purple—to tease your event's color scheme.
17. Personalized Photo Couple's Shower Invitations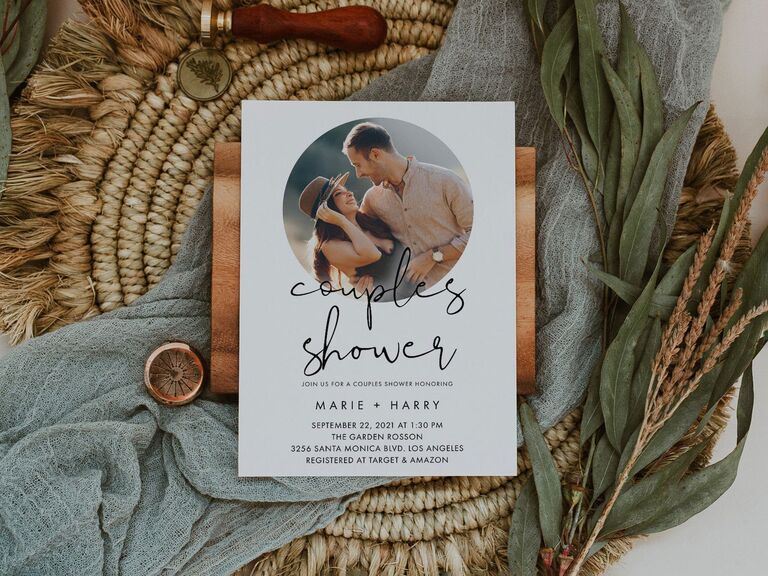 Your guests will be so excited to receive these affordable couple's shower invitations. All you need is a photo of the couple to make the invites super personal. The process is simple: Customize the design using the editable template, download your files and then send them to print.
18. Wedding Cake Bridal Shower Invites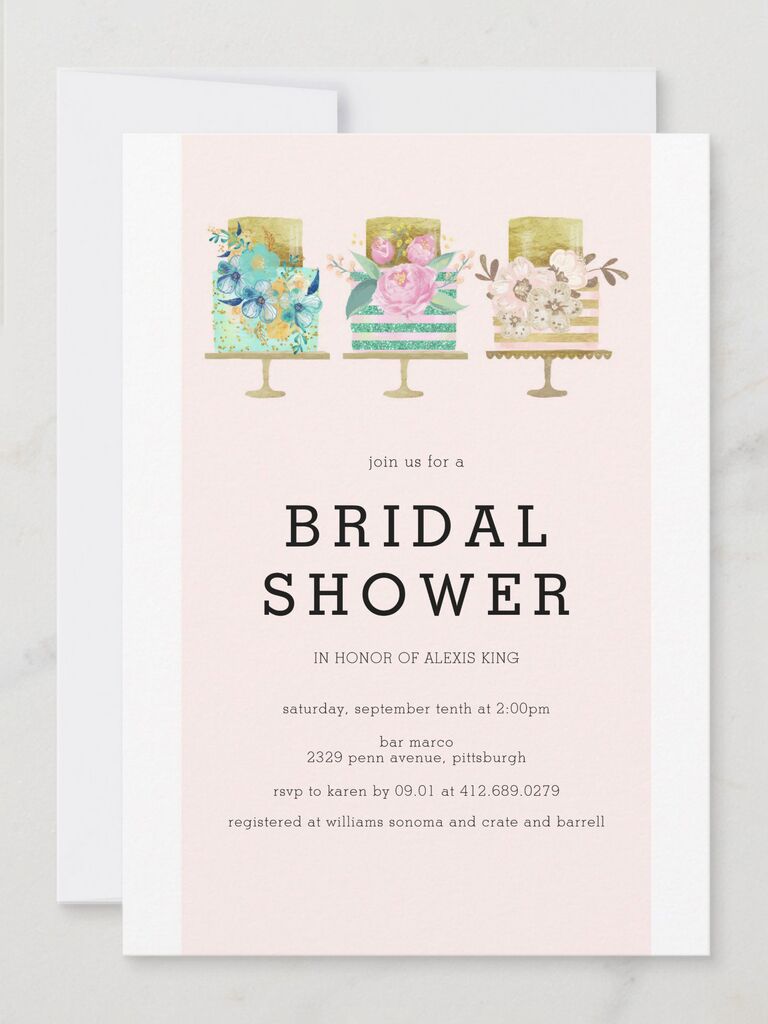 Prepare your guests for some delicious dessert. These invitations feature an illustration of three cakes against a blush pink background. Pro tip: Choose a smaller card size to save some money.
19. Bold Watercolor Bridal Shower Invitations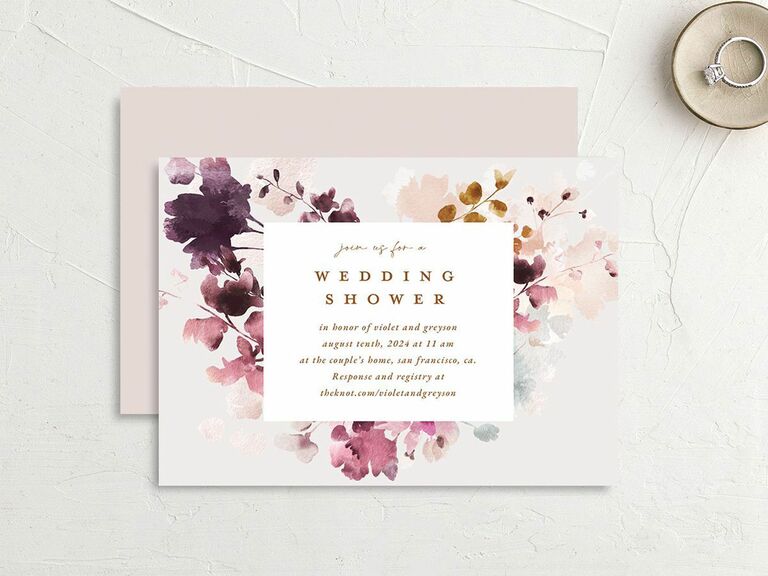 Delight your guests with a dramatic floral design that makes a statement. This stationery's vibrant artwork is the perfect background for your shower details displayed in italic font. And how beautiful are all those color options? Choose from pink, gray, gold and more.
20. Colorful Calligraphy Wedding Shower Invites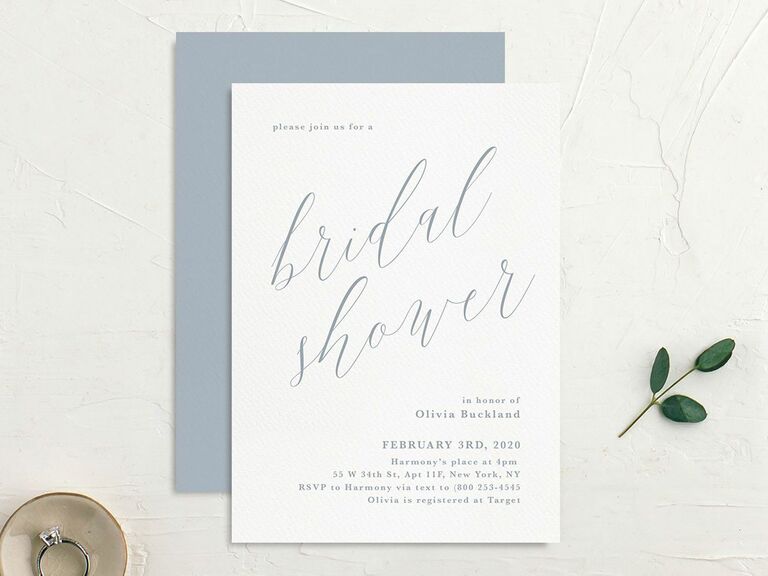 Beautiful and understated, these inexpensive bridal shower invitations are a chic option that's meant to impress. We love the dreamy calligraphy and assorted color palettes because they're wonderful for so many shower themes and seasons.
21. Modern Terracotta Bridal Shower Invites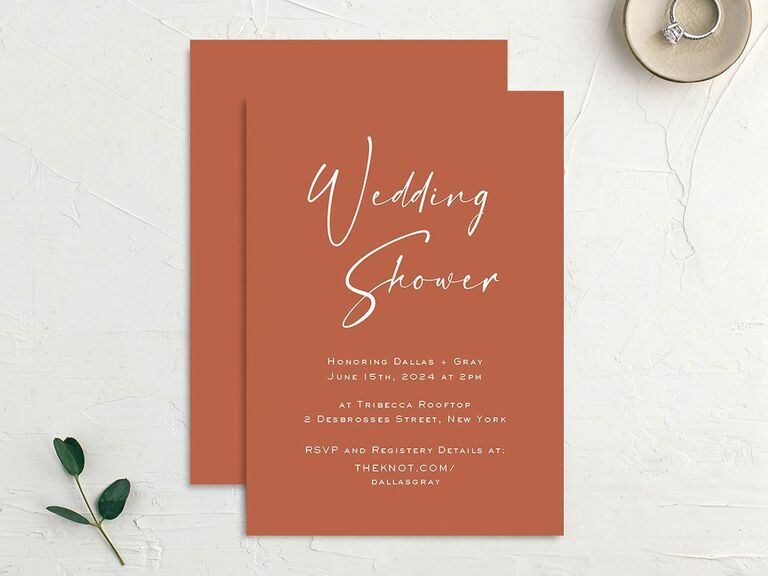 The bridal shower details on these affordable invites are displayed in such a crisp and refined way. We're big fans of the gorgeous terracotta color, which pairs nicely with the script-style typography. Plan ahead and coordinate your bridal shower thank-you cards in the same contemporary design.
22. Watercolor Floral Bridal Shower Invitations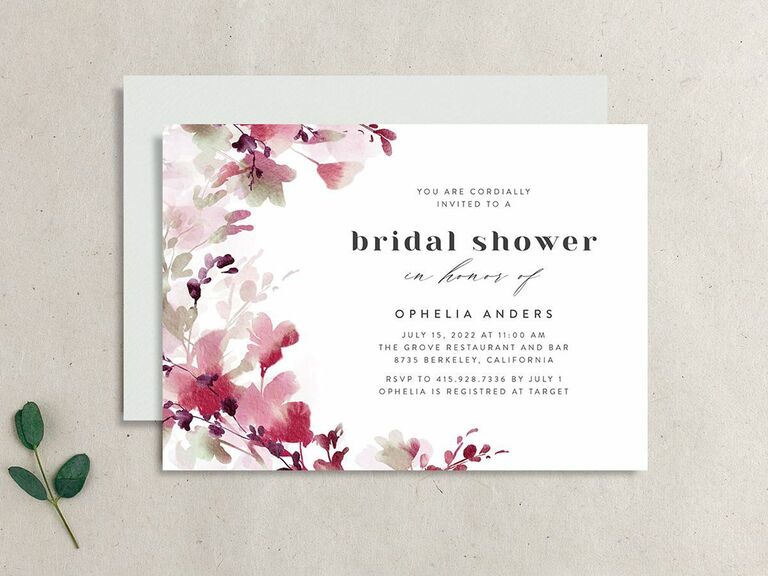 As you can tell from our picks, we love floral wedding stationery—and these budget-friendly bridal shower invitations are no exception. The softly painted florals along the edge add a delightful artistic element. Choose from five gorgeous colors to complement your shower theme.
23. Modern Marble Wedding Shower Invites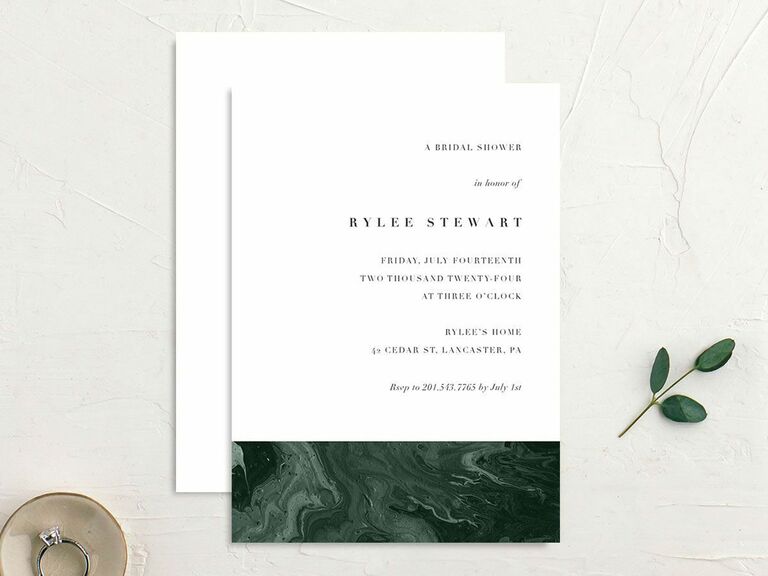 These abstract marble bridal shower invitations are a must-have for a modern shower. The dreamy marble block is available in four colors and beautifully accents the contemporary typography. The reverse of the invite features the couple's names for some extra personalization.
24. Desert-Inspired Bridal Shower Invites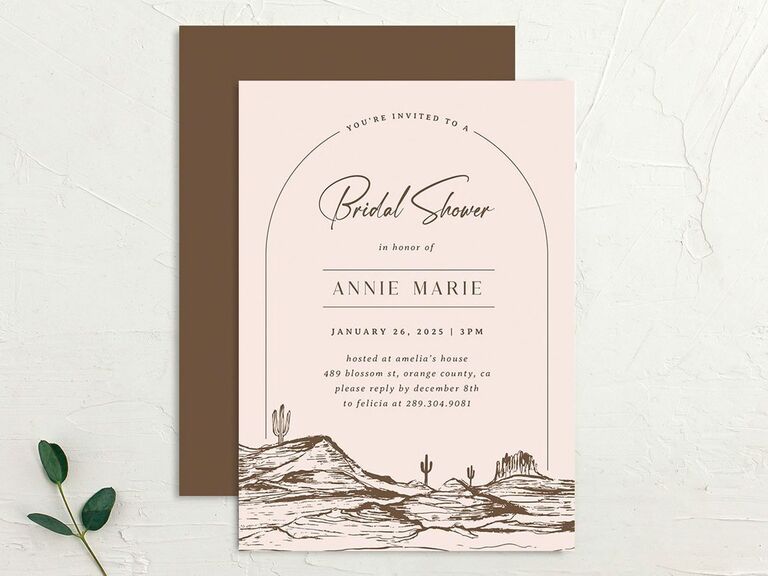 Foreshadow a western wedding with these fun desert-inspired bridal shower invitations. The inexpensive invite highlights the bride-to-be's name front and center, along with the event details within an arched frame. But our favorite part is the cacti and sand dune illustration below the typography.
25. Rosé Soirée Bridal Shower Invitations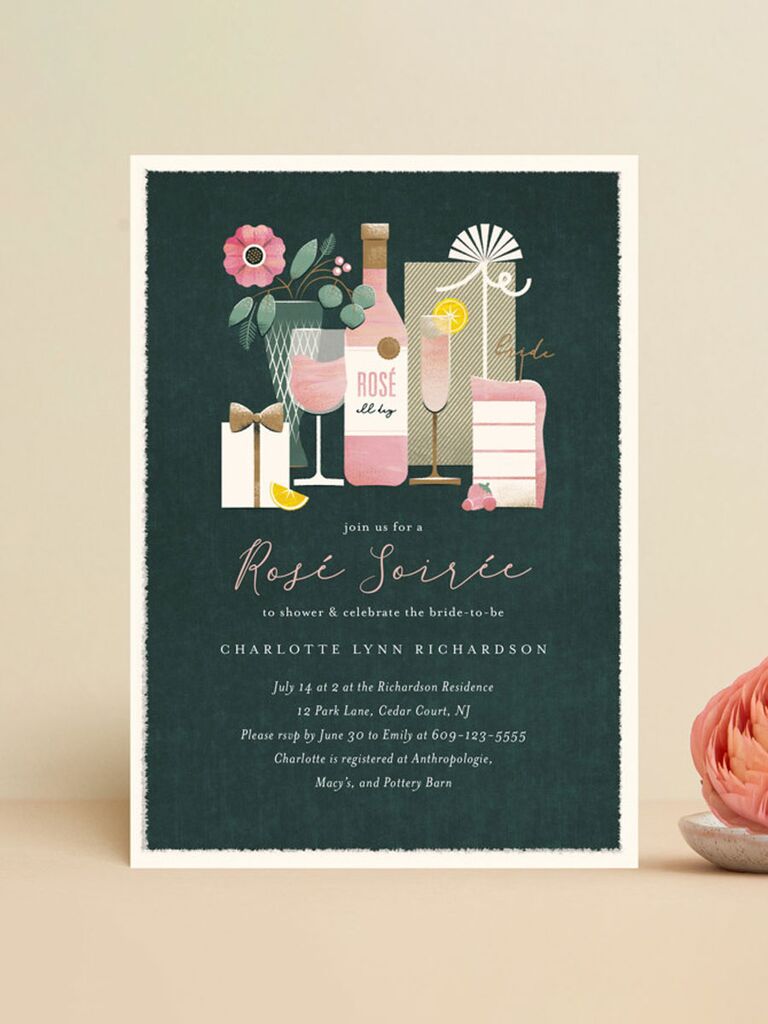 Here's an on-theme bridal shower invitation that's bound to get tons of compliments. The design features cute artwork of a rosé bottle, drinking glasses, wrapped gifts and a pink slice of cake. Choose from three color themes, Blushing Bride, Moody Charcoal or our favorite, Soft Green. Just don't forget to serve rosé at the party!
26. Harry Potter Bridal Shower Invites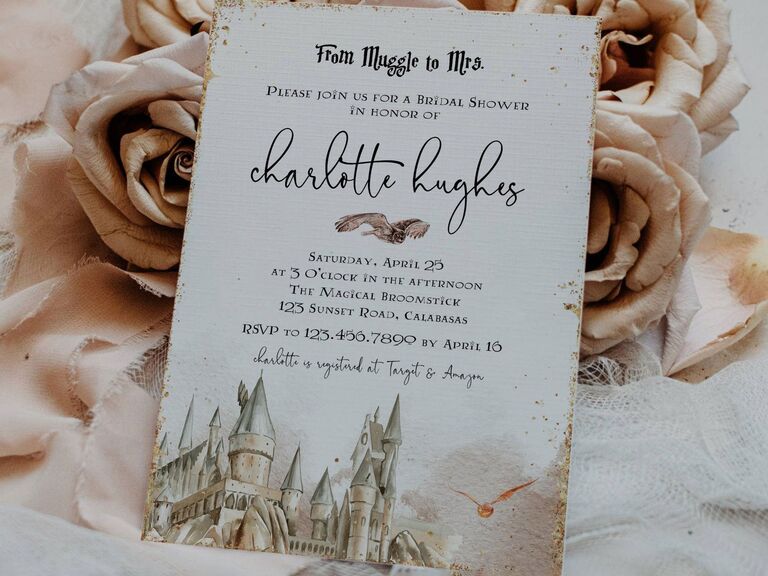 Throwing a Harry Potter-themed bridal shower? Send your guests the closest thing to their Hogwarts letters: wizard-inspired bridal shower invitations. The design features a cute saying, "Muggle to Mrs.," on top of the card for a playful touch. We adore the detailed illustrations depicting symbols of the wizarding world.