18 Summer Bridal Shower Invitations Perfect For Your Party
Pop the bubbly and bring on the brunch—these wedding shower invitations are just begging for a party.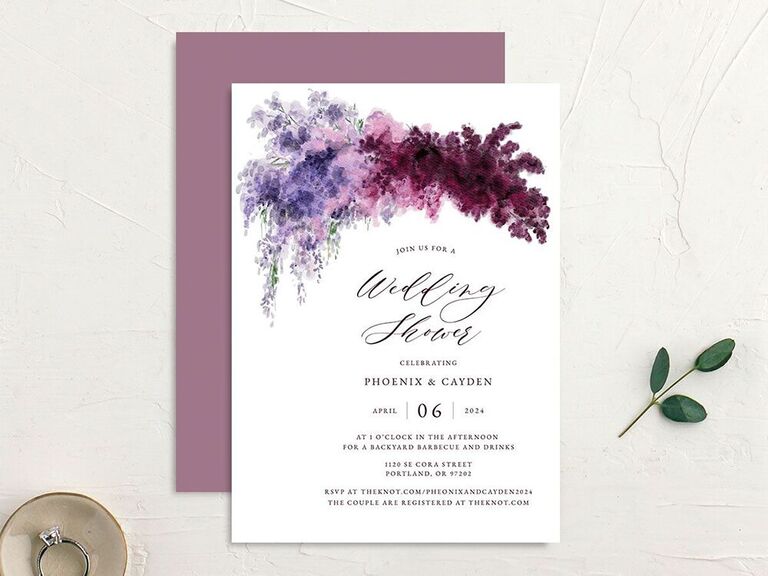 We have included third party products to help you navigate and enjoy life's biggest moments. Purchases made through links on this page may earn us a commission.
It may feel far away right now, but before you know it you'll be walking down the aisle towards your person. Whether you're throwing a coed couples shower or celebrating going from Miss to Mrs. with a brunch thrown by your bridesmaids, you want your party invitations to be as celebratory and fun as your event is bound to be. That's where we come in—we've rounded up a slew of sweet bridal shower invitations that can be customized to best represent whatever type of party is being hosted in your honor.
When it comes to summer bridal shower invitations, you want something that is playful, fun and full of color. The options are endless—you can opt for a sweet and feminine design (like pastel watercolor florals), theme your party invitation to your favorite hobby (like needlepoint or craft beers) or allude to the spot where your party will be held (like bundles of greenery for a garden party). Below you'll find a bunch of our favorite summer wedding shower invitations (including the ones from our very own The Knot Invitations!) that will get you so excited to spend the day partying with your favorite people.
Zazzle Watercolor Orange Blossoms Bridal Shower Invitation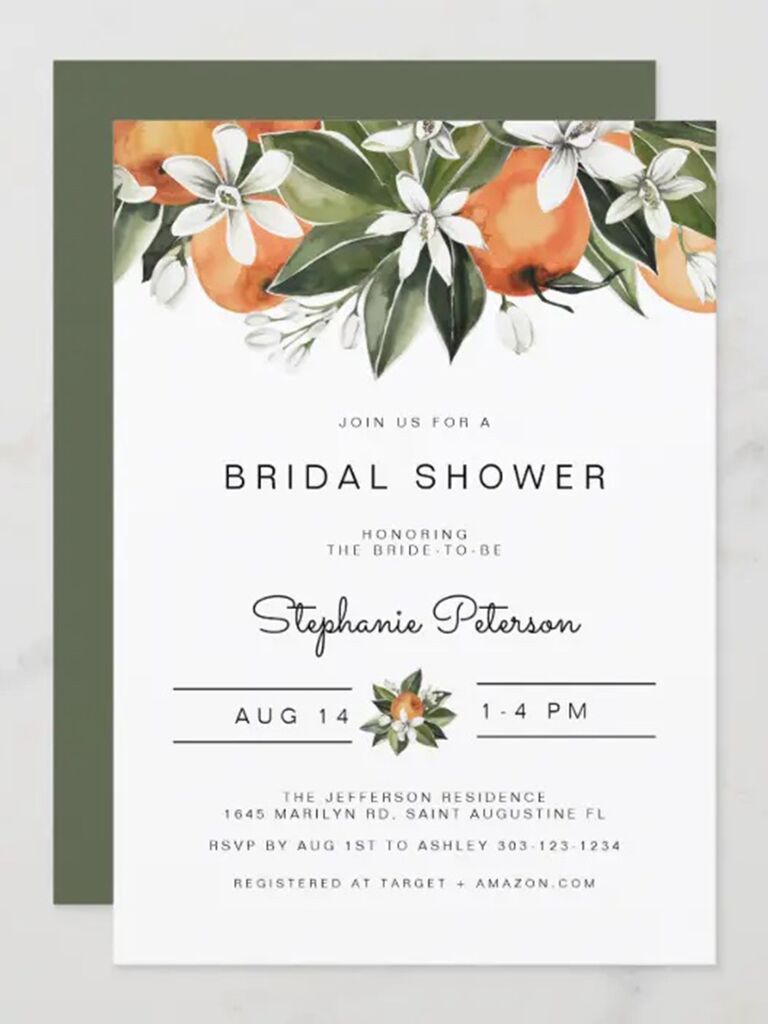 Painted oranges, greenery and white wildflowers dot this charming party invitation, whose DIY template can be customized to reflect which member (or members) of a couple are being celebrated. A sophisticated olive green envelope completes the look.
The Knot Floral Cloud Bridal Shower Invitation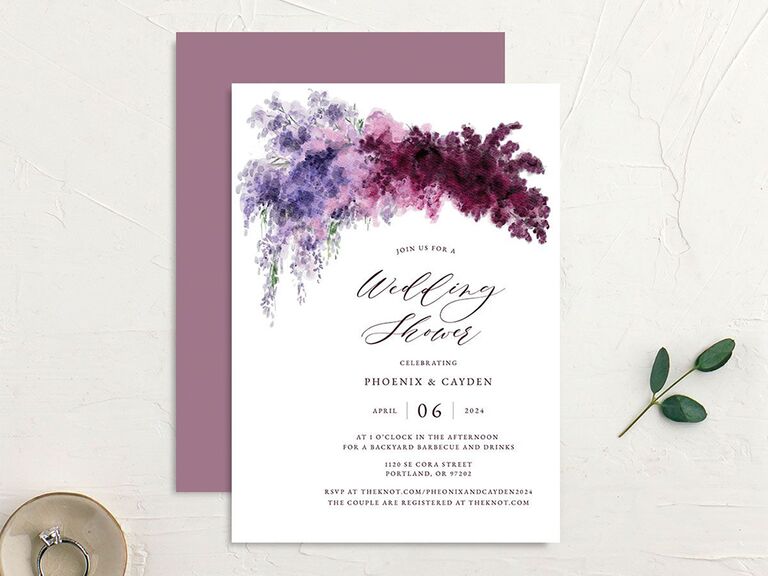 An elegant collection of ombre watercolor florals top this wedding shower invitation, which is also available in three other colorways. Use this printable as inspiration for some garden party decor and DIY a flower arrangement with similar standout blooms like eucalyptus, hydrangeas and peonies.
Zazzle Cocktail Watercolor Couples Shower Invitation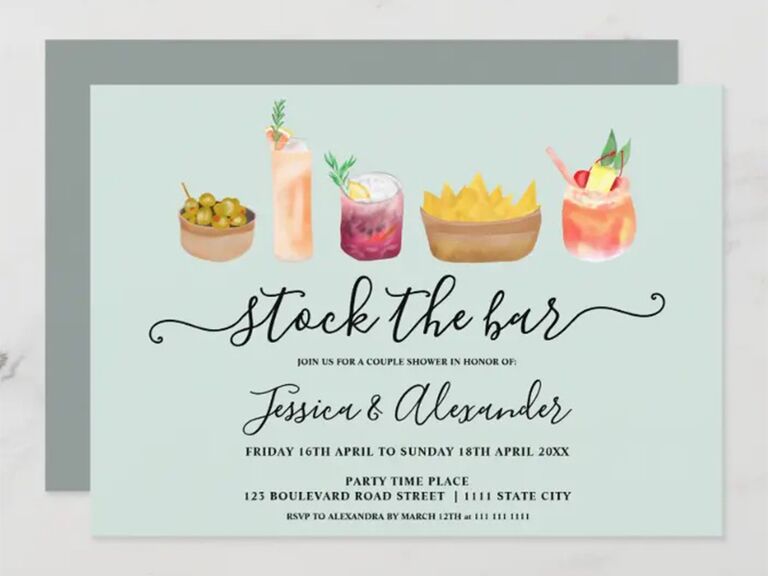 If you're a duo that knows how to have a good time, then this is the perfect wedding shower invitation for you. Invite your friends and family to a "stock the bar" couples shower with a charming watercolor design that's just begging for an RSVP.
The Knot Painted Beach Engagement Party Invitation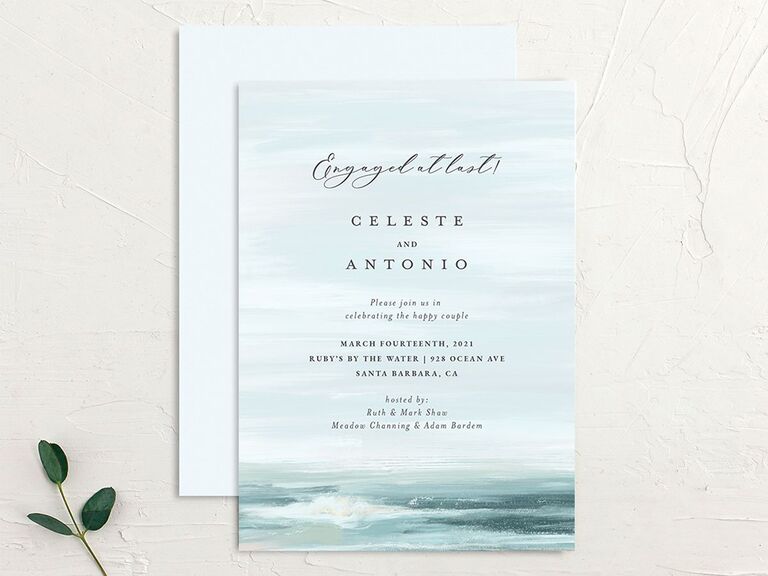 While this party invitation is originally crafted for an engagement party, you can easily customize it to be a wedding shower invitation, too. The beachy blue color palette and watercolor brush strokes would be perfect for an event held at a yacht club or other oceanside destination.
A Wild Bloom Printables Rustic Bridal Shower Invitation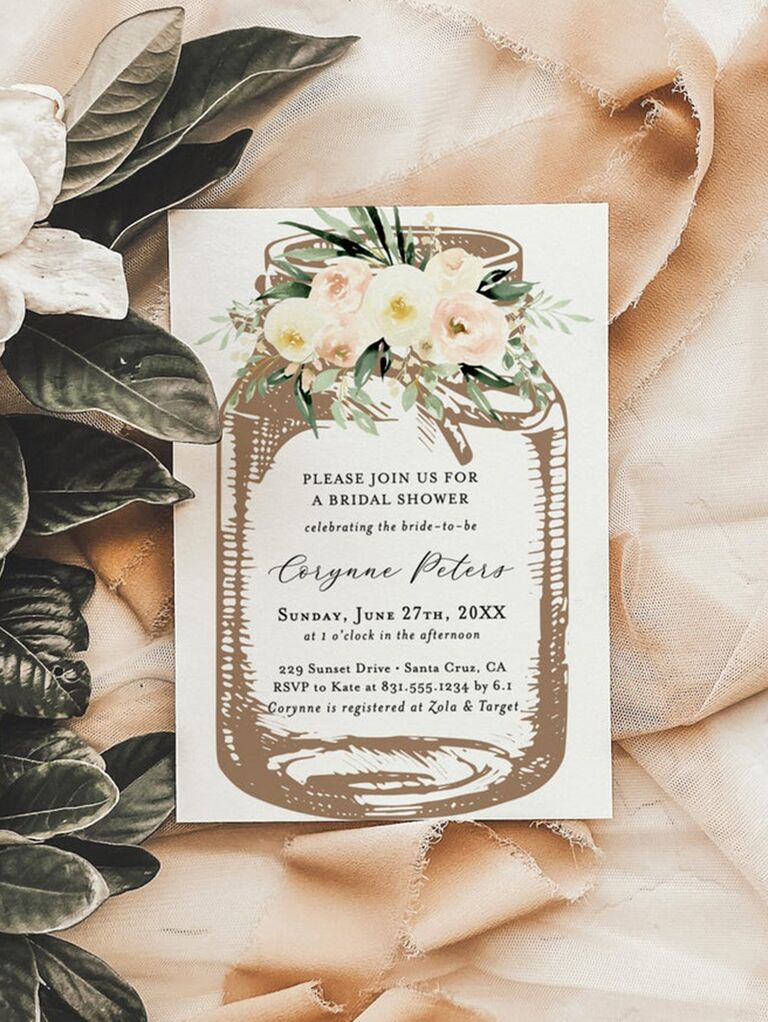 If your taste tends to skew rustic or boho, opt for an equally casual bridal shower invitation, like this printable design that pairs soft, feminine florals with a mason jar motif. You can even tie the design into your bridal brunch decor by mimicking the blooms in a jar depicted on the invitation with the real deal.
The Knot Rustic Sunflower Bridal Shower Invitations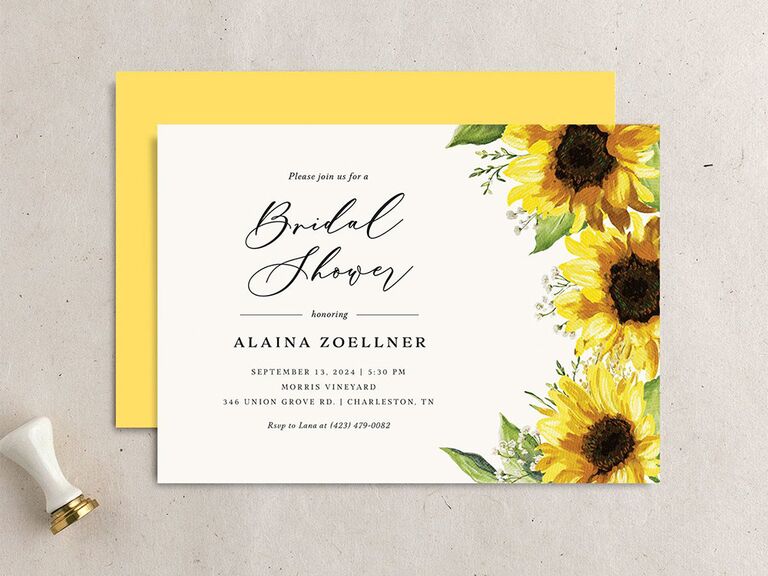 Nothing screams "celebration" quite like a happy handful of bright yellow sunflowers. Invite guests to join in your joy with a wedding shower invitation that incorporates the sunny blooms and provide them with equally-sunny mimosas for sipping.
Zazzle His and Hers Couples Shower Invitation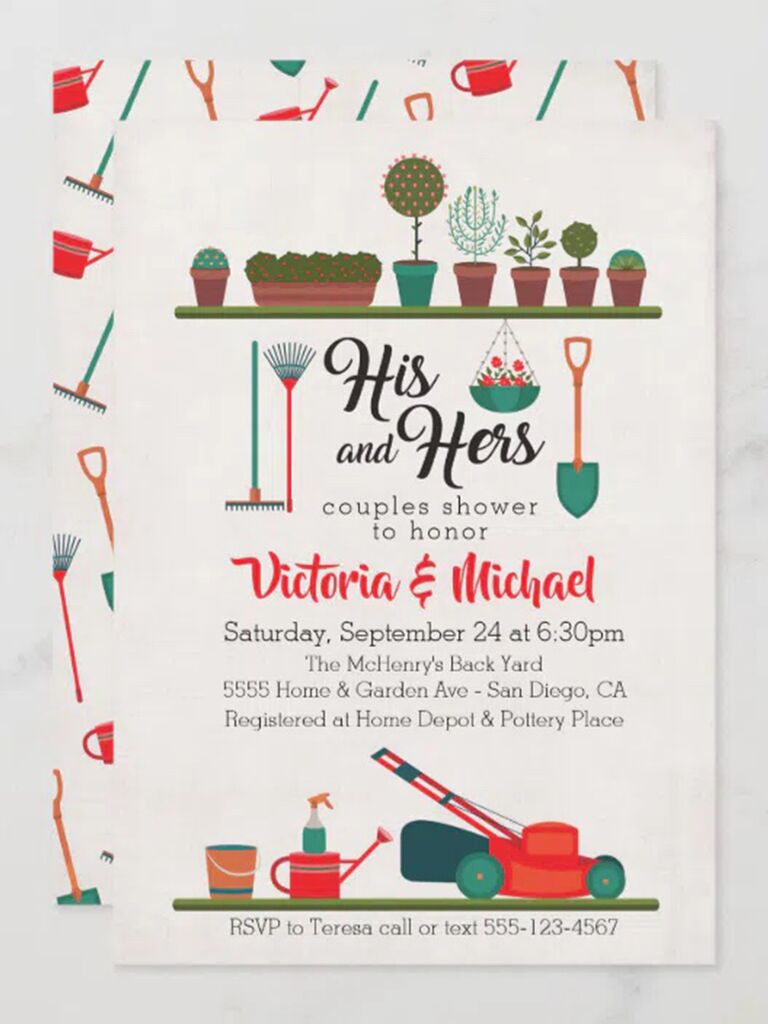 Poke a little cheeky fun at your wedding wishlist with this couples shower invitation geared towards "his" and "hers" gifts. It's such a fun way to celebrate both of you ahead of your new life together, and it's totally fine if you both really want that lawnmower you added to The Knot Registry—we'll never tell.
The Knot Gilded Botanical Bridal Shower Invitation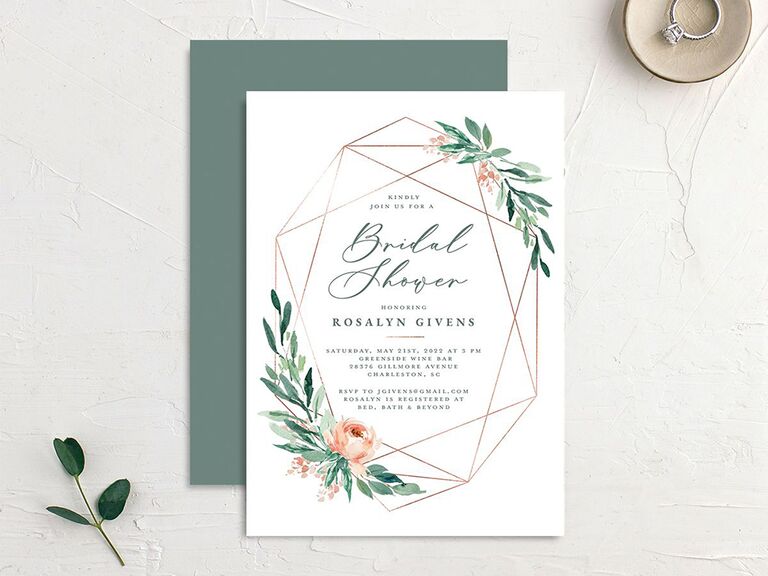 Gold foil geometric lines set the scene for a botanical wedding shower invitation well-suited to a modern bash. The minimalist flower arrangements in each corner keep the vibe feeling celebratory but not too sweet.
The Knot Midnight Peony Bridal Shower Invitation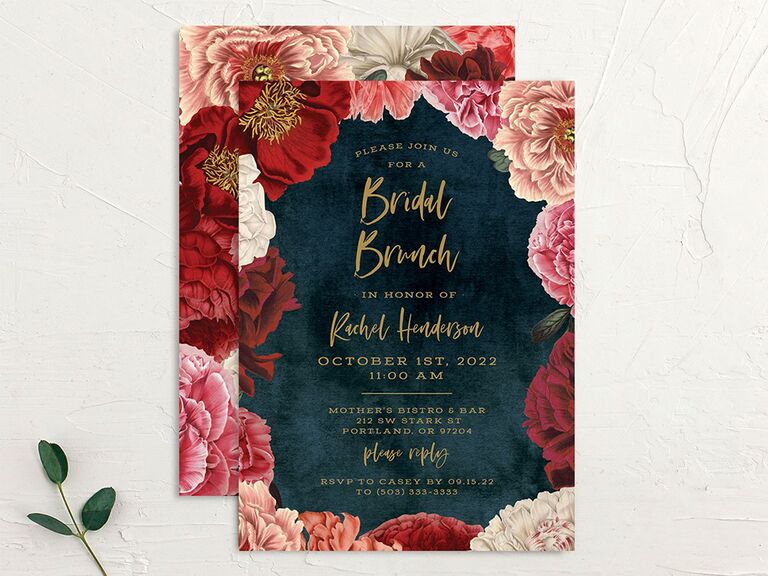 If your big day is going to be black tie and luxe, then this wedding shower invitation may be the perfect accompaniment to that high-end vibe. A bold pink and red peony print pairs with a velvety blue background and rose gold calligraphy for a super chic design. Print this on an extra-thick cardstock to up the luxury and get guests ready to celebrate.
Minted Couple's Bruch Wedding Shower Invitation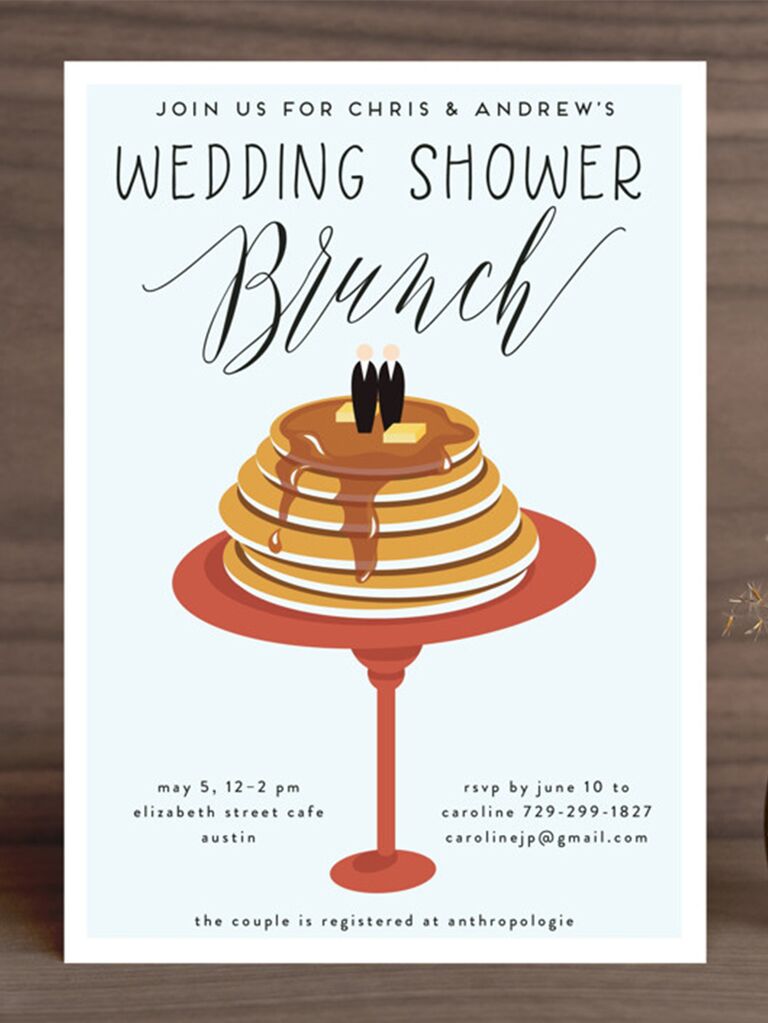 Hint to guests what kind of delicious brunch goodies are on the menu with a wedding shower invitation featuring a stack of pancakes in the shape of a cake (um, yes please!). There's also a spot for putting all those must-know details, like the location, wedding website URL and more.
The Knot Romantic Calligraphy Bridal Shower Invitation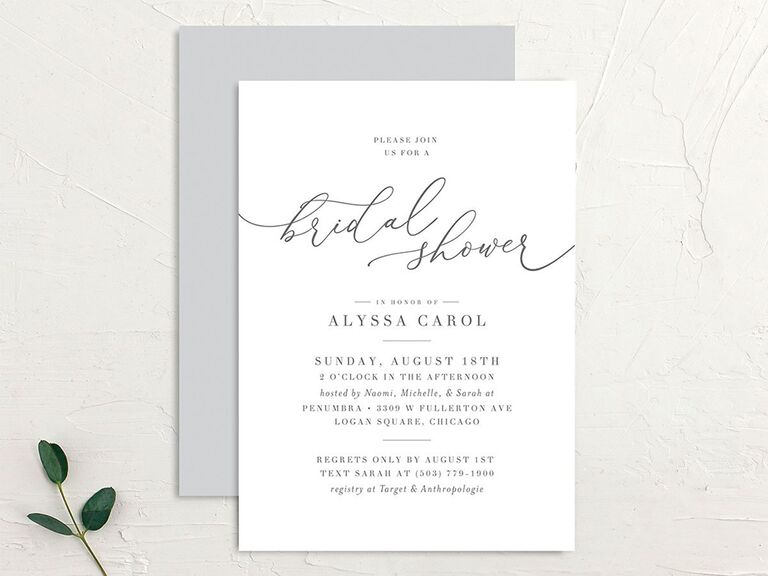 Sometimes simple says it best! This bridal shower invite is all about the calligraphy, with loopy script taking center stage on an otherwise neutral black and white scheme. If you want, you can fancy things up by splurging on envelopes in a fun color or pattern (like watercolor florals or polka dots!).
Zazzle Watercolor and Gold Confetti Bridal Shower Invitation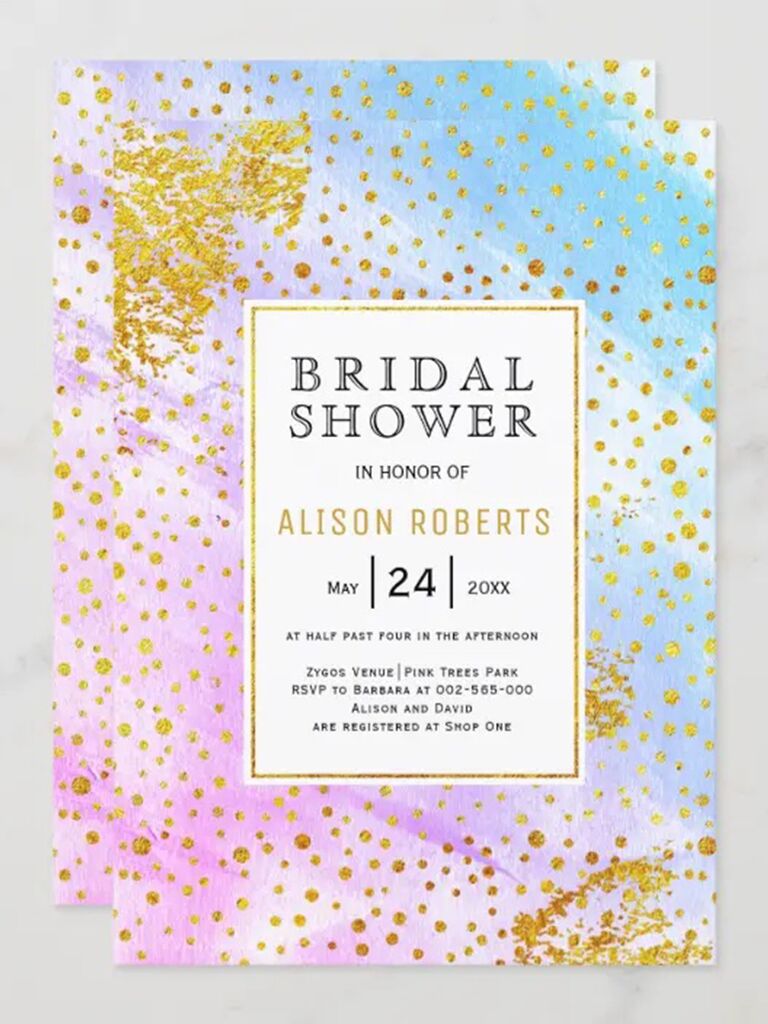 Cue the confetti! This playful wedding shower invitation pretty much guarantees a good time for all. Flecks of gold foil team with watercolor streaks in blue and pink for a playful, party-ready design we just can't resist.
Lavaca Printing Stock the Shed Couples Wedding Shower Invitation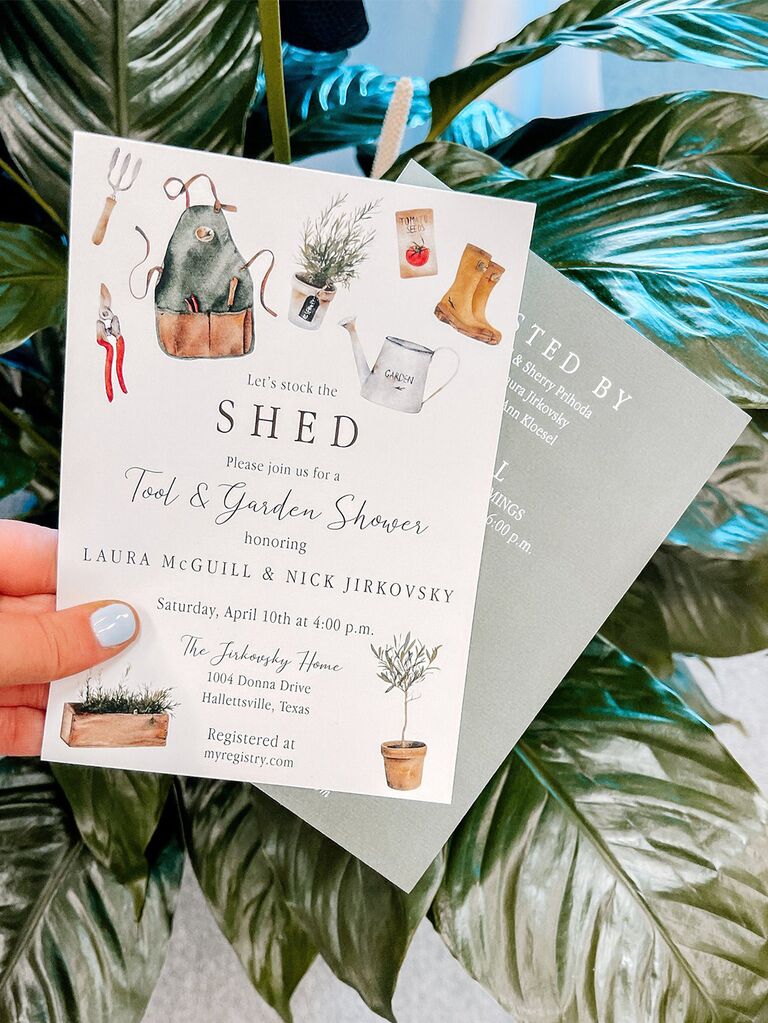 If you and your person are the outdoorsy types, then this next wedding shower invitation might be the perfect fit for you. With a charming "stock the shed" theme, it invites your guests to a couple's shower focused on gifting you both with everything you need to make your backyard your sanctuary (plus probably a few things for inside your house, too!).
Minted Vintage Coaster Wedding Shower Invitation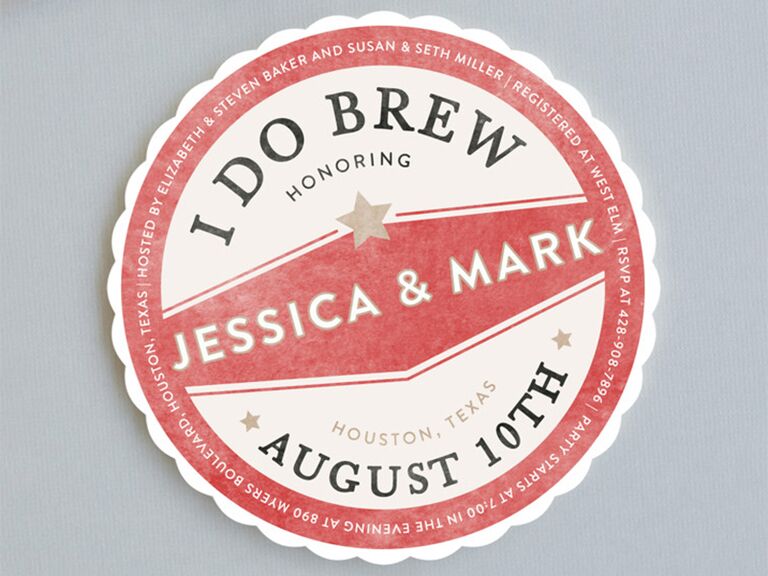 Add this to the list of things we never knew we wanted but now absolutely need: a drink coaster couple's shower invitation. This clever piece has all your party details printed onto an extra thick piece of cardstock, which is then tucked into an envelope and mailed to your guests (you can have them RSVP online!). It's the perfect solution for a party held at a brewery or beer garden—or just a great nod to a beer-loving couple.
The Knot Retro Floral Bridal Shower Invitation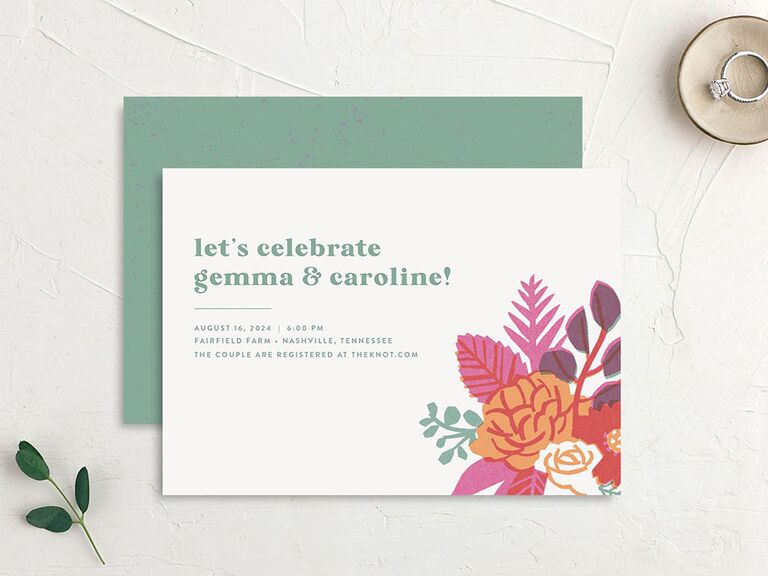 The retro blooms and greenery on this invitation feel at once funky, fresh and perfect for a summer bash celebrating the bride-to-be. You can even design your shower theme around the buds pictured on the printable and tap your bridesmaids with decorating the tables with peonies and eucalyptus galore.
Minted Recipe for Marriage Bridal Shower Invitation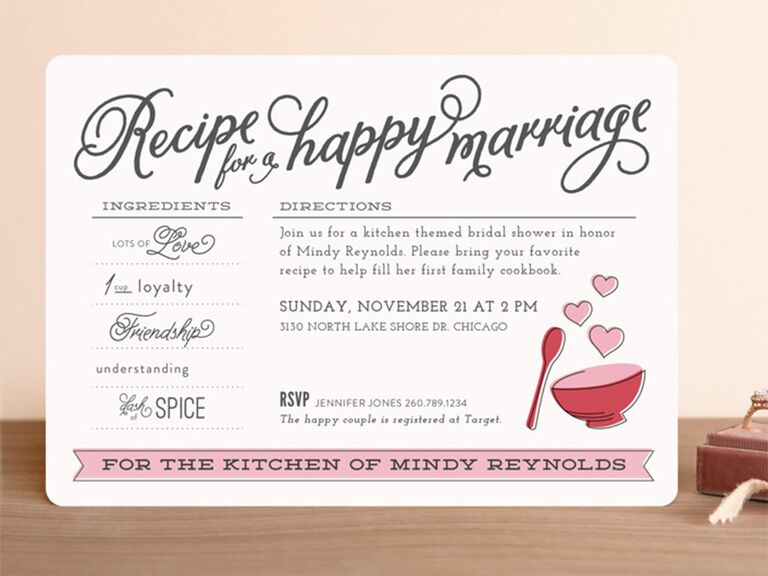 If the two of you fell in love over cooking dinner or sitting down to a good meal (hey, even takeout!), why not use that meet-cute as inspiration for your wedding shower invitations? This adorable design takes a hint from recipe cards with a food-themed invitation that packs on the charm. You can also add a note that asks guests to bring their favorite homemade recipe to share with the happy couple.
Unmeasured Event Ice Cream Bridal Shower Invitation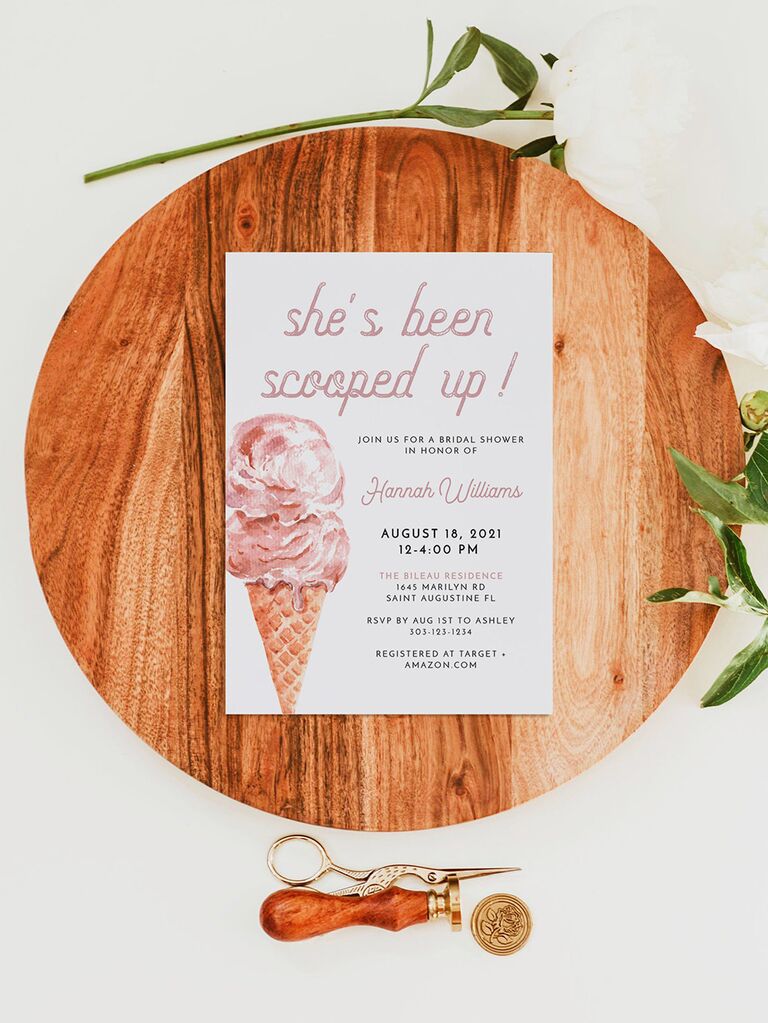 Nothing screams "summer" quite like a decadent ice cream cone, and we couldn't resist the pun on this next printable. Simply download the party invitation, customize it to your exact celebration and watch those RSVPs roll in.
Candence Paige Bonfire Couples Shower Invitation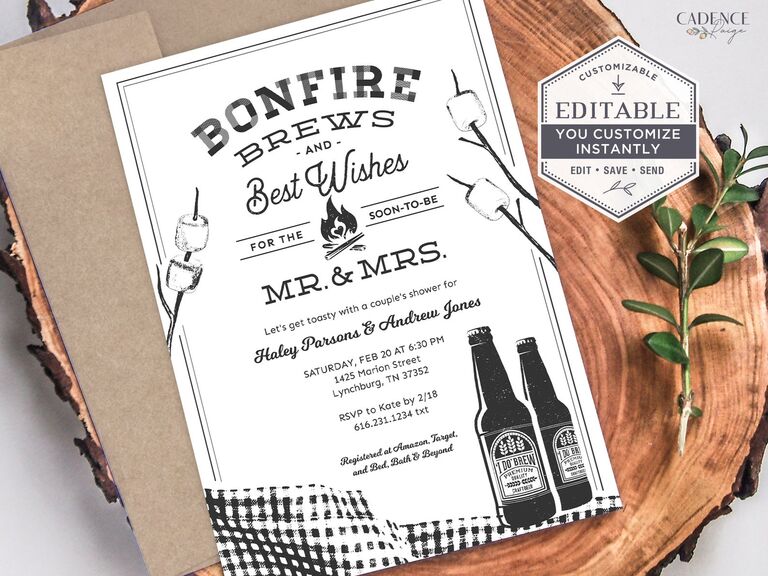 Bonfires, brews and best wishes—what more could an engaged couple want out of their wedding shower? This charming rustic printable (which you can customize with your exact details and colors) invites guests to celebrate you two lovebirds with a casual-cool summer party.