Here's Where to Find the Best Online Wedding Shower Invitations
Give your guests the heads up with one of these sweet email invites.
We have included third party products to help you navigate and enjoy life's biggest moments. Purchases made through links on this page may earn us a commission.
Thinking about swapping out paper wedding shower invitations for digital? Before you make up your mind, it's important to weigh the pros and cons of sending bridal shower invitations online. When it comes to wedding-related events, we're big fans of paper stationery first and foremost. Physical invitations aren't just a nice surprise for guests to receive in the mail, they're also a sweet keepsake the couple and their loved ones can hold onto afterward. (And when The Knot Invitations offers affordable and eco-friendly paper options, what's not to love?)
That said, there are certainly some scenarios where sending email wedding shower invitations makes a lot of sense. If you're on a tight deadline, e-invites will arrive in guests' inboxes almost immediately—efficient, right? But you also have to consider any less tech-savvy loved ones on the guest list. For example, grandparents may not be comfortable receiving or responding to an email invitation (especially if it accidentally ends up in their spam folder), so you may need to follow up with a phone call in some cases.
Another great perk of sending digital bridal shower invitations is that they're environmentally friendly. If the couple is planning an eco-friendly wedding, paperless shower invites will likely be very much appreciated. But as we mentioned before, digital stationery isn't the only way to go green. Nowadays, many stationery websites (like The Knot Invitations) offer the option of printing on recycled paper. Similarly, if affordability is an issue, there are lots of great places you can find affordable paper wedding shower invitations online (hint hint).
Finally, email bridal shower invitations are a great option for casual or virtual events. They'll give guests an idea of what to expect, whether you're planning a relaxed bridal brunch or a playfully themed couple's shower where people can stop by anytime. Decided to forgo the paper? We're sharing some of our favorite wedding shower invites you can buy and send online.
Dainty Blooms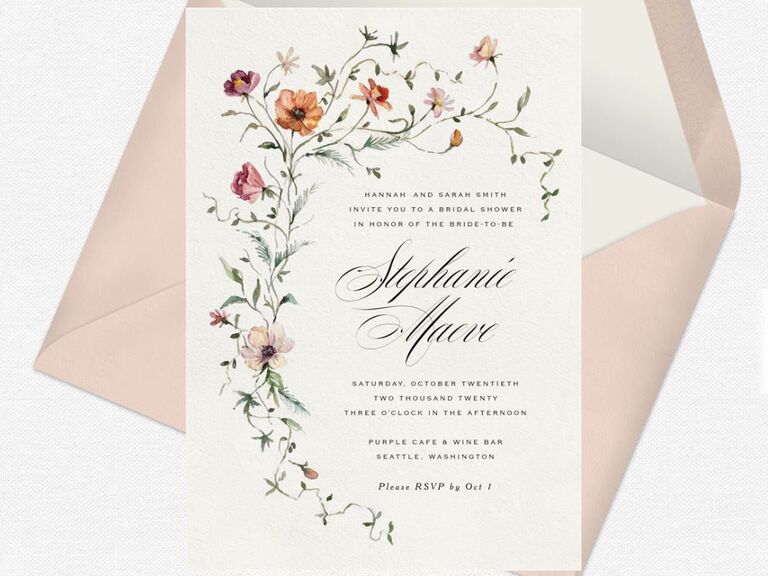 Greenvelope has a wide variety of gorgeous wedding shower e-invites to choose from. We love the soft, delicate florals that frame the details on this stationery, but if you've got a specific theme or style in mind, you'll find plenty of other invitation designs on the site too. You can easily edit these online wedding invitations directly through the website and send them straight to guests' inboxes (meaning there's no need to manually draft a separate email for everyone on the guest list). The icing on the cake? Greenvelope also offers online RSVP tracking.
Romantic Calligraphy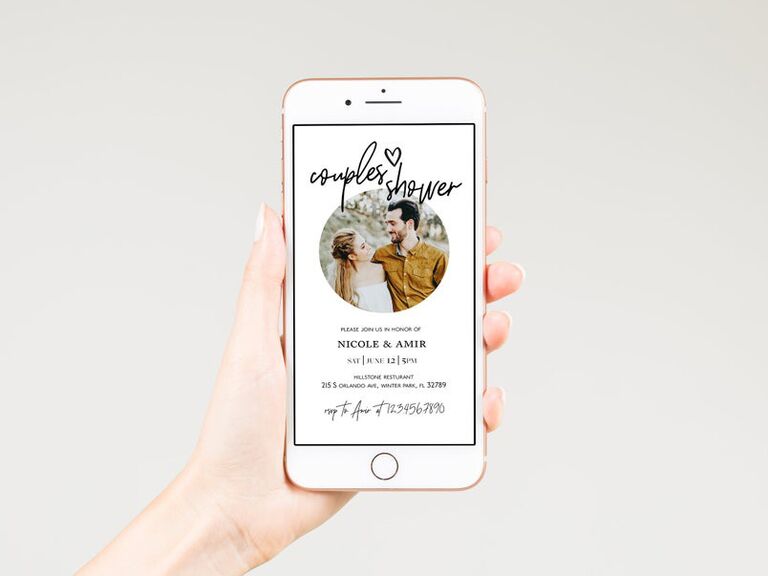 Is there anything you can't get on Etsy? This romantic couple's shower invitation from Wishful Paperie can be edited on your phone, tablet or computer and downloaded in a choice of three formats (jpeg, pdf and png). From there, all you have to do is email the invite to guests. Worried about sending online bridal shower invitation cards to older relatives? The digital file is also printable, so you have the option of sending paper invites as needed.
Ornate Frame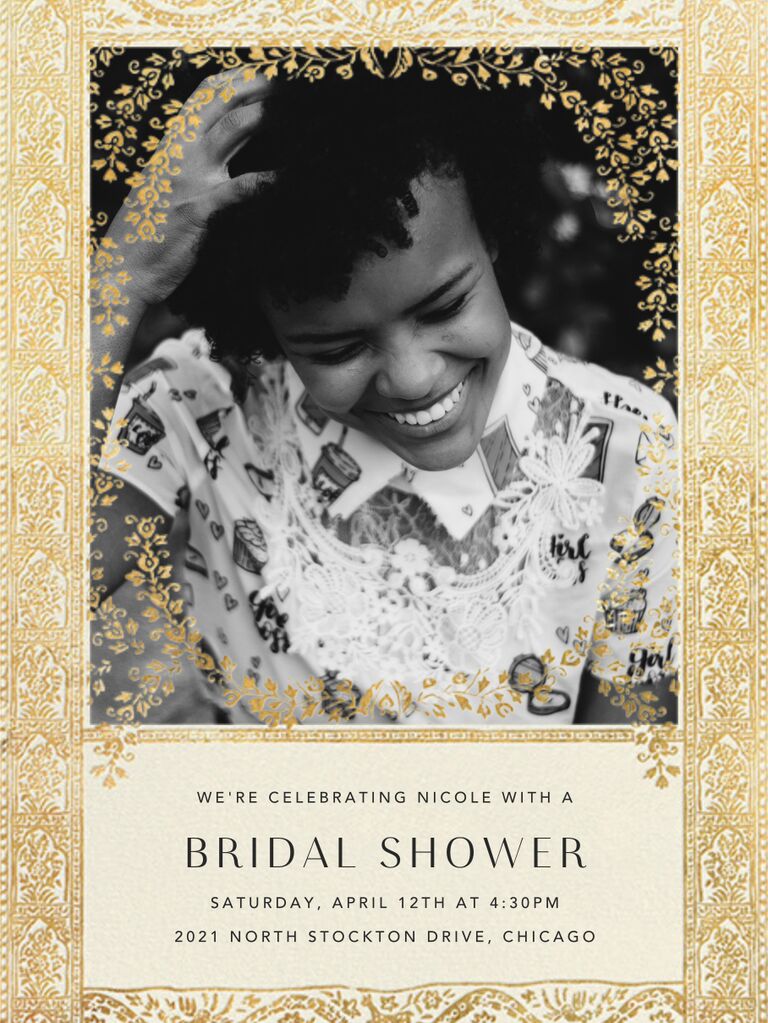 Paperless Post has some of the best online bridal shower invitations, especially if you're trying to match a specific theme. This gold-foil framed photo invite is perfect for an elegant get-together with the bride-to-be's friends and family. It's fully customizable, from the text to the color palette, envelope and more. Again, you can send these bridal shower invites directly through the website, easily keep track of RSVPs and efficiently communicate with guests all in one place.
Beach Background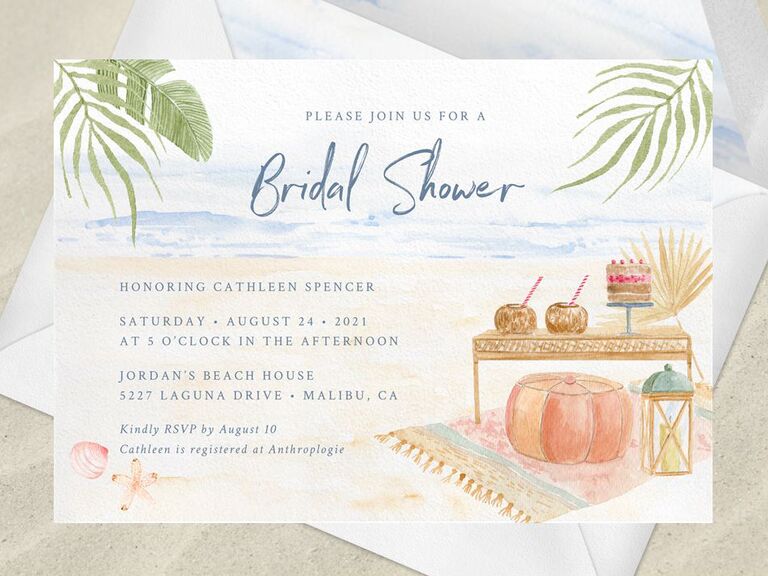 Just because you're sending wedding shower invitations online doesn't mean they can't be super stylish. The watercolor beach scene on these invites sets the tone for a light-hearted evening of celebration (and maybe a few piña coladas to top it off). For those interested in paperless stationery for other wedding-related events, Greenvelope also offers engagement party invitations, bachelorette party invitations, rehearsal dinner invites and more.
Pretty Flowers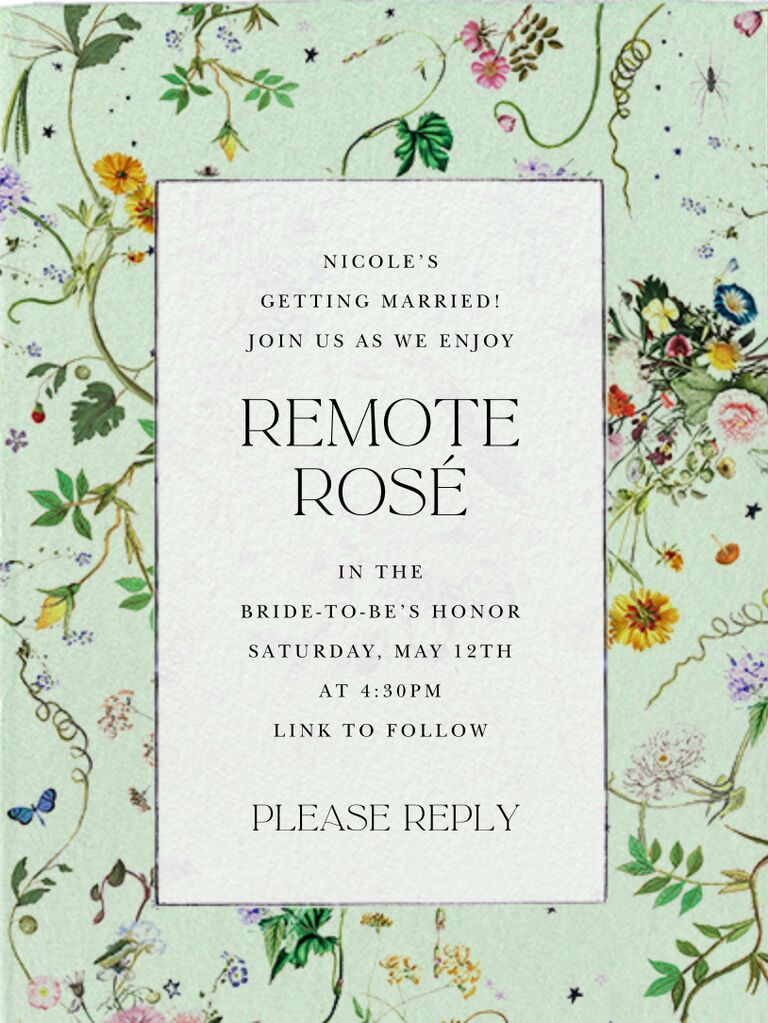 Didn't we tell you Paperless Post has invitations for pretty much every kind of shower? For a virtual bash, send guests this gorgeous garden-inspired stationery that reads: "Remote Rosé." As a sweet surprise, why not try to organize a delivery of wine or bubbly to each attendee's home before the event?
Couple's Portrait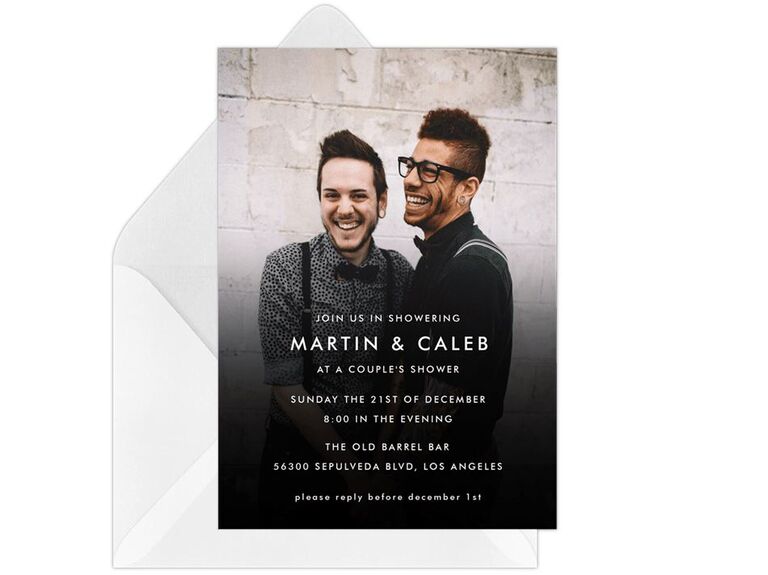 If you're not sure how to make bridal shower invitations online, don't worry—Greenvelope makes it pretty simple. The site's easy-to-use editing tools allow you to customize text font and size, image filters, envelope liners, stamps and more until you've created the perfect stationery. Use a romantic snapshot of the happy couple to personalize this couple's shower e-invite.
Abstract Florals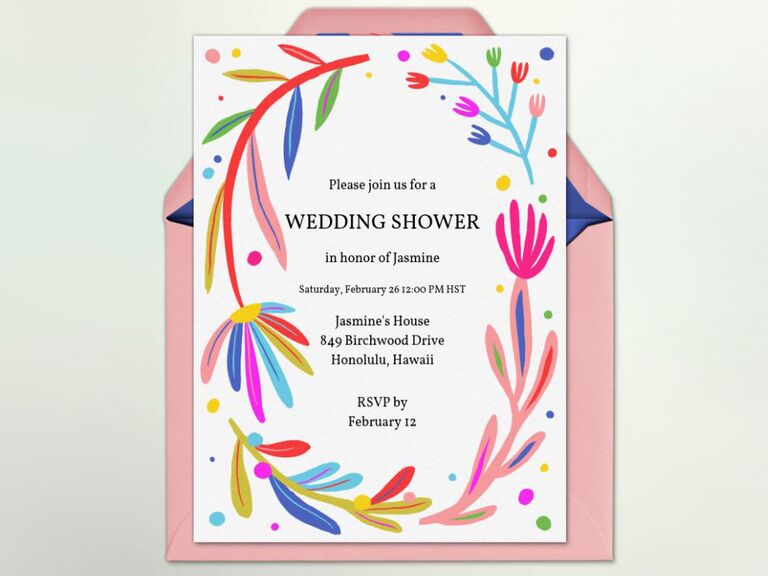 Evite offers both premium and free online bridal shower invitations. While the site has fewer customization options than some of the other websites on our list, you can still edit the text and choose between different envelope colors, liners and stamps. This Evite wedding shower invitation features a colorful floral motif framing the event details.
On-Theme Illustration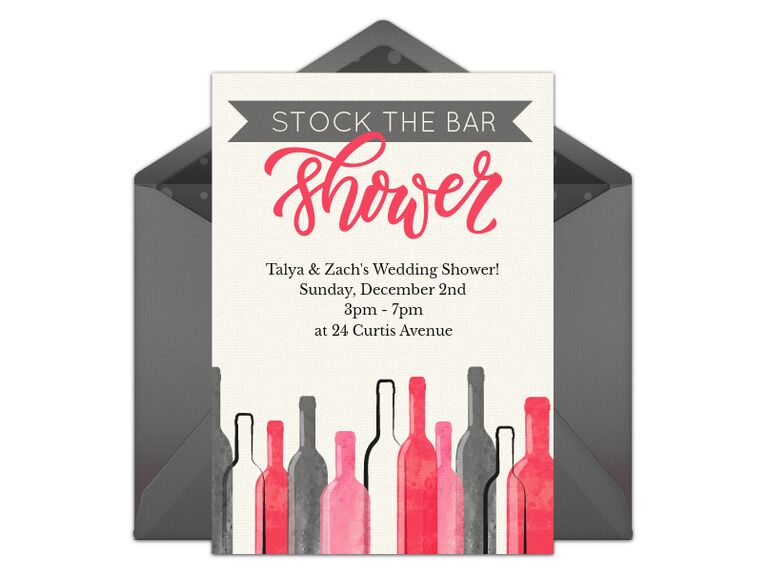 Punchbowl is another site that allows you to create your own unique bridal shower invitations online. There are invites to suit a bunch of different styles and themes, from lingerie wedding shower invitations to this "stock the bar" shower stationery. This colorful wine bottle illustration is both cheerful and classy, while clearly showcasing the shower theme.
Bright Botanicals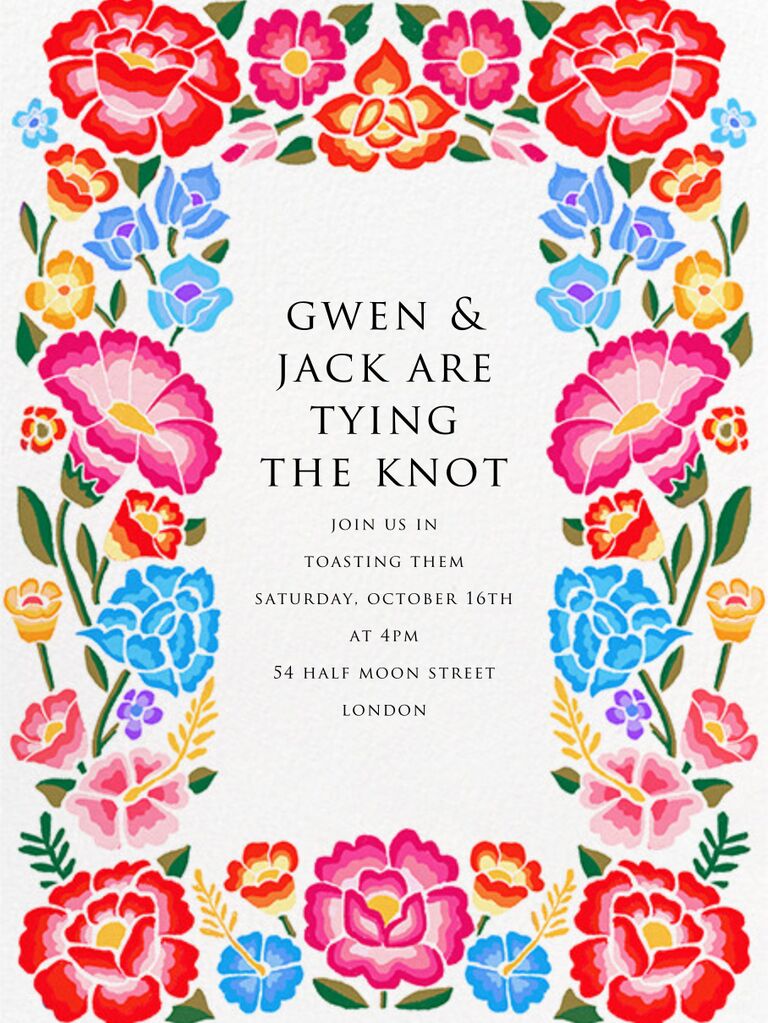 Guests definitely won't miss this bright, floral stationery popping up in their inbox. Paperless Post's affordable online wedding shower invitations come with matching digitally animated envelopes so your guests can enjoy the full experience of receiving and opening an invite.
Elegant Greenery
If you're planning a spring wedding shower, this fresh floral bridal shower invitation is right on theme. Budding foliage and light green hues provide a subtle seasonal touch. Edit the invite to include the date, time and location of the party so your guests have all the most important info. Punchbowl also allows you to email invites directly through the website with RSVP tracking.
Marble Effect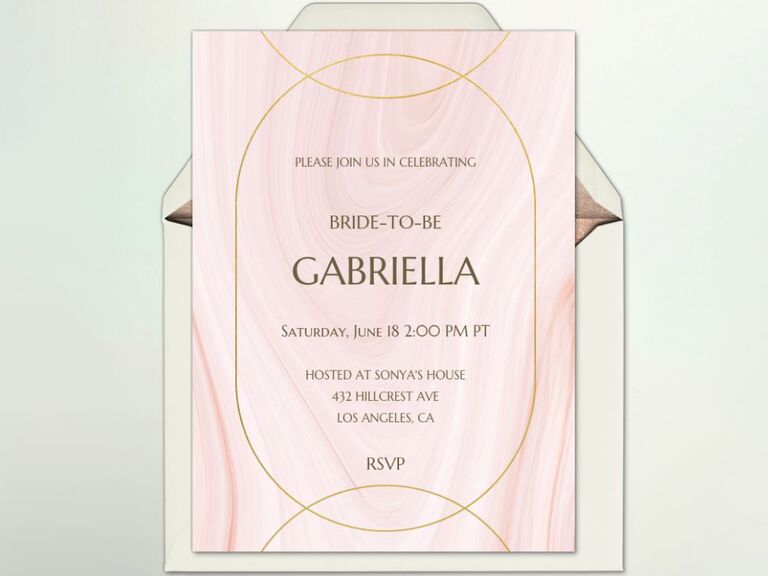 This modern and elegant Evite bridal shower invitation will be the most beautiful thing in their inbox. The gold geometric details look even more eye-catching against the pastel pink marble-style background—perfect for a champagne-filled celebration.
Playful Illustration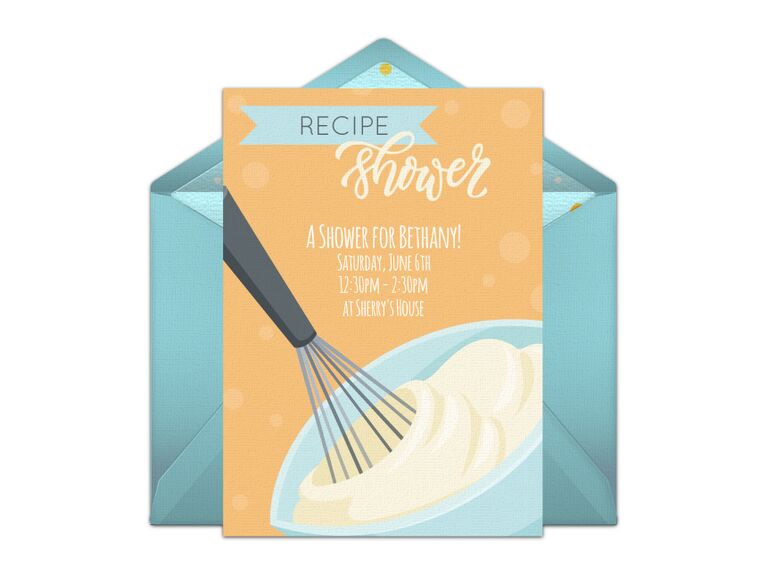 Recipe showers are a special way for close friends and family to share something personal with the happy couple. These thematic invitations will let guests know ahead of time that they should bring along a favorite recipe.
Eiffel Tower Motif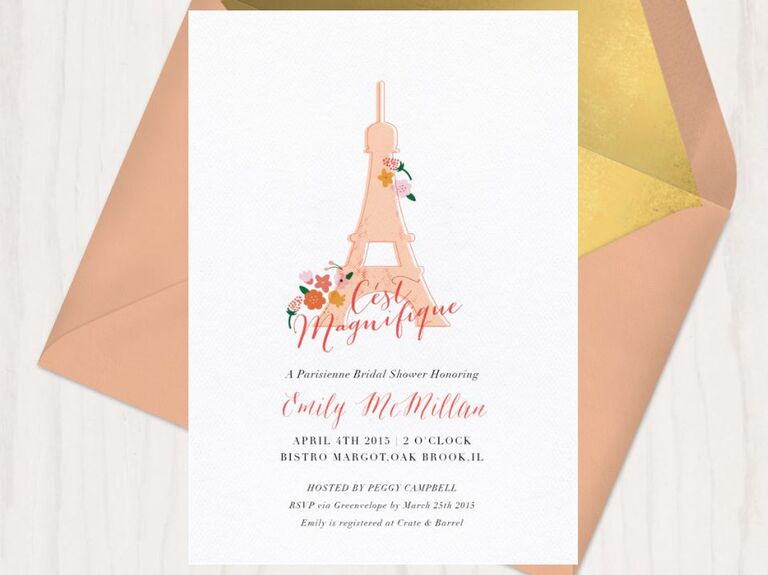 If you've seen the movie Bridesmaids, you'll know that Paris isn't just one of the most romantic cities in the world, it's also the inspiration behind many wedding shower themes. These "C'est Magnifique" shower invitations are a lovely way to kick off a party inspired by the City of Love. The rose gold envelopes add a stylish modern touch.
Tea Party Theme
While you can use Paperless Post to make free online bridal shower invitations (with RSVP tracking), the site's premium digital invitation cards are just too good to pass up. Any Bridgerton-obsessed bride-to-be will love a tea party bridal shower theme inspired by the series. What better way to let guests know what's in store than with these pretty digital invites? They're illustrated with vintage teacups and saucers in an elegant muted pink palette.
Boho Details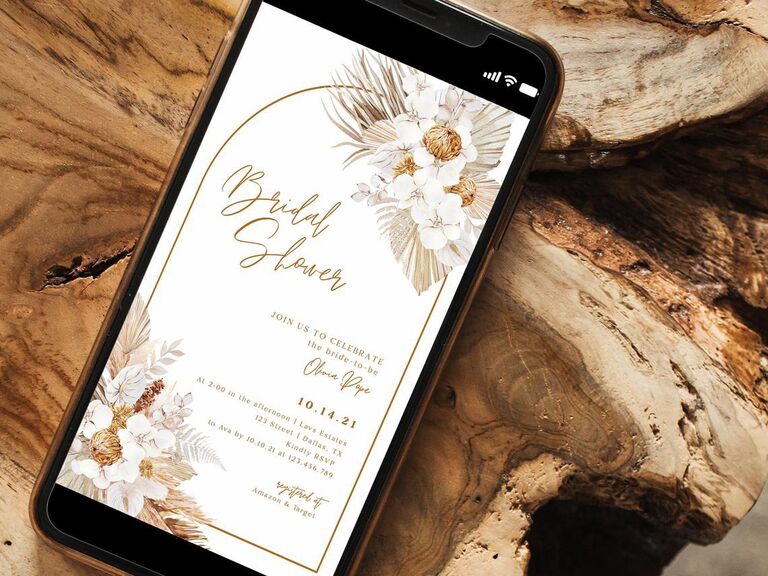 Everyone loves a boho wedding, but what about a boho wedding shower? Go all in on the couple's favorite style by sending out these boho-chic shower invitations. Simply fill in the details on the editable bridal shower invitation template, download the file and share it with everyone on the guest list.