Start Married Life With a Sophisticated Budapest Honeymoon
Architectural marvels, hilltop castles and luxury hotels make Budapest an elevated honeymoon destination.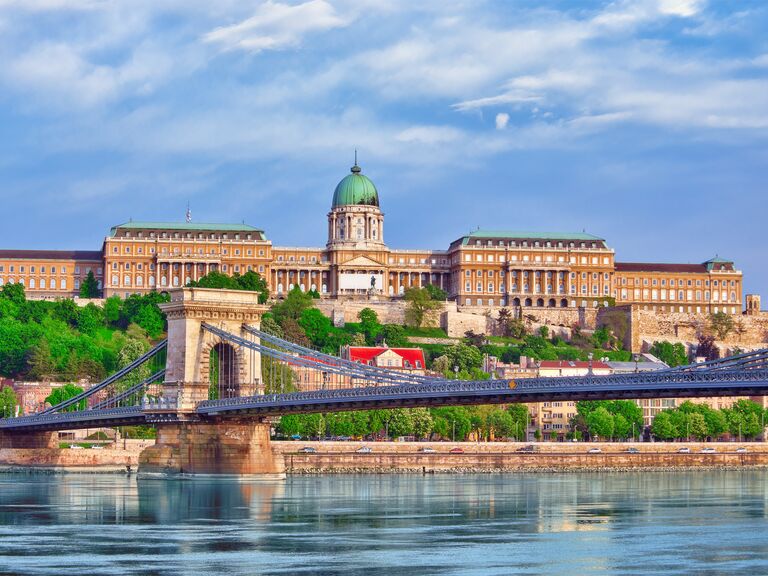 V_E/Shutterstock
We have included third party products to help you navigate and enjoy life's biggest moments. Purchases made through links on this page may earn us a commission.
After the long and exciting wedding-planning process ends, some newlyweds want to stick their toes in the sand and chill, whereas others want an adventurous trip to a far-flung location.
A Budapest honeymoon is ideal for couples looking for sophistication, adventure and romance for their first married getaway. The Hungarian capital city is home to stunning architecture, a wealth of history and sprawling green space. Honeymooners can visit the opera or peer out at the tranquil Buda Hills. And then there's the Castle District, which would make Disney swoon.
When not exploring the city, couples can retreat to one of the many luxury hotels and focus on wellness. Spa treatments, saunas and plush accommodations are par for the course in this chic city in Central Europe.
If you're jetting off to Budapest, prepare for several hours in the air with layovers. It's 10 to 11 hours with a layover from New York City and at least 14 hours from San Francisco or Dallas. The good news? The city center is less than 30 minutes from the airport.
Currently, US citizens are permitted to enter Hungary with a negative COVID-19 test taken within 72 hours of departure.
Is Budapest Good for a Honeymoon?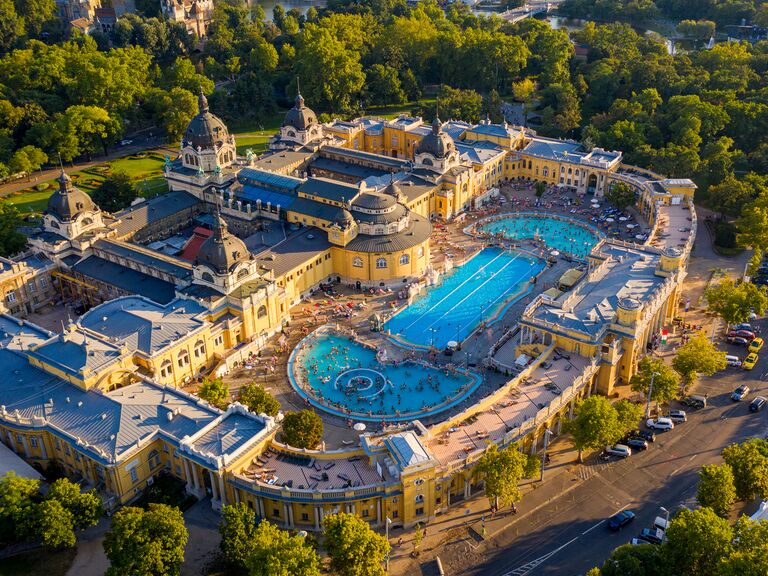 Pros of a Budapest Honeymoon
Budapest is one of the top honeymoon destinations for couples who want to get out and explore. There is no shortage of sightseeing and cultural experiences. Take in a show at the Hungarian State Opera House or walk on the Buda Hills for elevated city vistas. The adventure can continue well after sunset in Budapest's Jewish Quarter, a prominent nightlife spot. This beautiful city also provides moments for relaxation. Some of the best hotels offer spa treatments, cozy beds and rooms with stunning views.
Cons of a Budapest Honeymoon
Budapest is a long trip for honeymooners coming in from the US—it's more than half a day away. It's also six hours ahead of New York and nine ahead of California, so expect some jet lag. Couples with less time to spare may wish to look elsewhere. It's also an ideal getaway for newlyweds who love jam-packed itineraries. If you want to sit back and relax in a beach chair, Budapest won't be your best bet.
The Best Times of Year to Go on a Budapest Honeymoon for Good Weather
Budapest is home to all four seasons, and they align with those in the US. Temperatures are warmest from June through August—expect mid-70s and low-80s. Spring and fall boast milder weather. During these months, the thermometer typically reads somewhere between 60 and 70 degrees, and there are fewer tourists.
Places to Visit in Budapest on a Honeymoon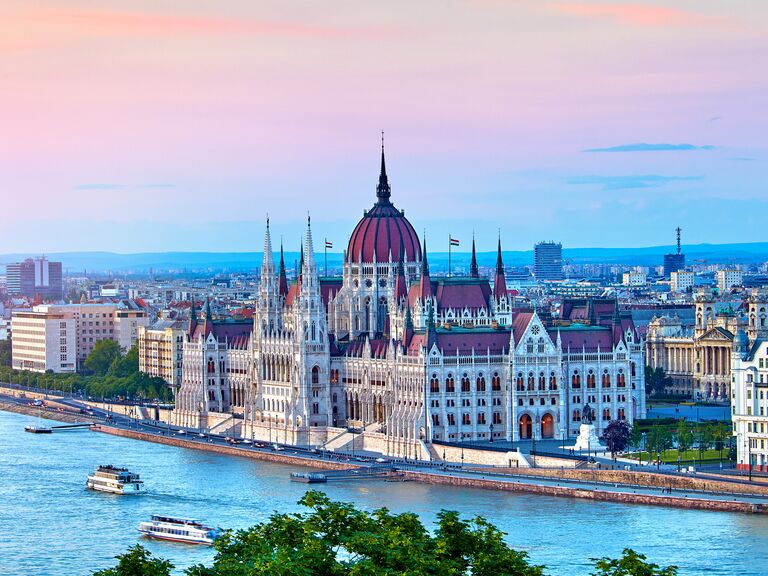 Budapest is generally divided into two sections: Buda and Pest, separated by the Danube River. Buda is an ideal spot to explore by foot—it features acres of open space, including the Buda Hills. Pest, located to the east of the Danube River, is a bustling hub of activity. You'll find many popular tourist attractions here, including St. Stephen's Basilica and the Szechenyi Baths. You'll probably want to pay a visit to each side of the river.
Buda Castle
One of Budapest's crown jewels resides in the appropriately named Castle District: Buda Castle. Situated atop Castle Hill, the palace was built in the 13th century, but a fire destroyed it during World War II. It's since been rebuilt, and honeymooners can walk inside from 10 a.m. to 6 p.m. Tuesday through Saturday. The courtyards are open 24/7, so newlyweds can wander the grounds as they take in the illuminated castle at night.
Trinity Square
A visit to Trinity Square in the Castle District is a must. It's home to Fisherman's Bastion, which isn't too far from Buda Castle. The neo-Romanesque lookout terraces feel like something straight out of a Disney movie, while the panoramic views of the city make it one of the most visited Hungarian monuments. From there, head to Matthias Church. Hungarians coronated kings at the church, and visitors can tour the neo-Gothic structure today.
Gellért Hill
If time allows, it's worth the 11-minute drive (or 30-minute walk) from Castle Hill to Gellért Hill. The 770-foot hill offers gorgeous bird's-eye views of the Danube River. You'll find the towering Citadel perched atop the hill. Built in 1884, the fortress is temporarily closed. However, couples can still snap a photo of the imposing structure from the outside.
Hungarian Parliament Building
Situated on the banks of the Danube River, the Hungarian Parliament Building is a sprawling neo-Gothic architectural wonder. Though it's stunning on the outside, many tourists make their way inside. While there, you can climb the 96 stairs of the main staircase (a nod to 896, Hungary's year of settlement) and see the Országház, where members of parliament debate. Expect crowds during peak season—more than 700,000 people visit the tourist attraction each year.
Jewish Quarter
The Jewish Quarter, also known as Erzsébetváros and District VII, is the heartbeat of Budapest's nightlife scene. But it's worth noting that the conditions in this district weren't always so kind to residents. During World War II, the area served as a ghetto for Jews forced to relocate by the Nazis. These days, it's home to Szimpla Kert, one of the most legendary ruin bars. The spot's pub-like atmosphere and eclectic decor, including a disused Trabant car, make it a must-visit. Fogasház is another well-known ruin bar and ideal for newlyweds who want to continue dancing post-wedding. The spacious spot boasts six bars and a trio of dance floors.
Hungarian State Opera House
The Vienna Opera House inspired the Hungarian State Opera House's neo-Renaissance style. The State Opera and the State Ballet both perform here. When construction is complete, guests will once again be able to take in performances in the domed auditorium, which seats more than 1,200 people. In the meantime, honeymooners can still see the impressive interior—the rooms remain open to the public.
Széchenyi Thermal Baths
The spa to end all spas, Széchenyi Thermal Baths is a center for wellness and relaxation. Situated in City Park, the grounds feature 18 pools and 10 saunas. Couples can also book spa treatments, like facials and massages. The warm waters, which come courtesy of two thermal springs, contain sulfate, calcium and magnesium, and are thought to have medicinal properties. Make it a one-of-a-kind date night by going at night—it makes for the perfect way to unwind after a long day of sightseeing.
St. Stephen's Basilica
This Roman Catholic basilica gets its name from Hungary's first king, Stephen I. A mummified version of his "incorruptible right hand," known as the Holy Right, is housed in St. Stephen's Basilica's reliquary. The 300-foot dome is another site to see, and couples can walk inside to view it. Guests can also attend mass.
Millennium Monument
Located in Hero's Square, the iconic Millennium Monument is a tribute to Hungary's storied past. It features statues of the seven chieftains of the Magyars, who served as leaders of the seven original tribes generally believed to have established Hungary. The impressive column features a statue of the archangel Gabriel holding the Holy Crown of St. Stephen. Couples can walk the grounds for a history lesson.
Best Hotels and Resorts in Budapest for a Honeymoon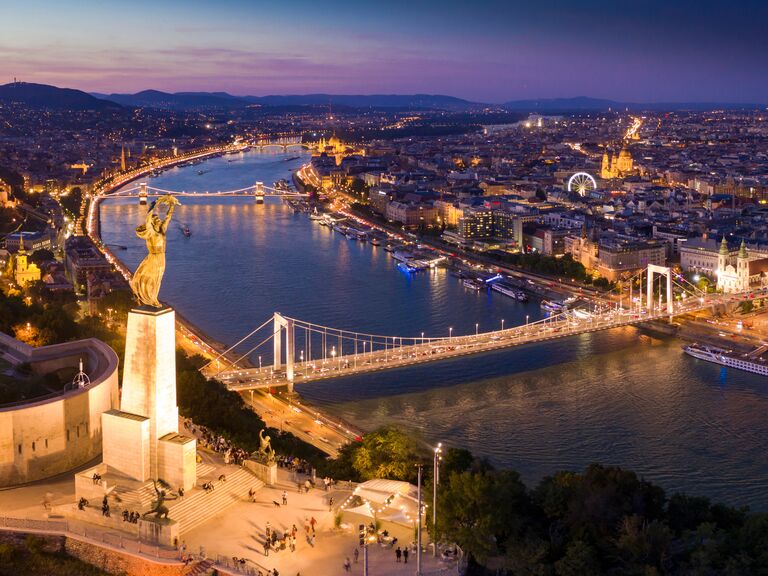 Situated near the Danube River, Hotel Clark is within walking distance of Buda Castle and Chain Bridge. Couples can actually work out with a view of the latter at the on-site fitness center, making a treadmill session more bearable. Though Budapest is home to historic monument after historic monument, this boutique hotel opened in 2018. Contemporary amenities include flatscreen TVs, Nespresso machines and free Wi-Fi. The lengthy wine list at Leo Rooftop Bar is almost as impressive as the sweeping views of the city.
A three-minute stroll from St. Stephen's Basilica, Hotel Moments Budapest has 99 spacious guest rooms. Upgraded rooms include luxe walk-in showers and skylight windows. The hotel has a cozy bistro and chic bar with posh furnishings perfect for enjoying breakfast or a glass of local wine between sightseeing and dinner.
Spare-no-expense couples who want to stay in a place they wish they could give six stars should look no further than this art nouveau hotel. The Danube River and Chain Bridge views alone are nothing short of stunning. The rooms at Four Seasons Hotel Gresham Palace Budapest epitomize luxury. Think private balconies with river views, plush beds, fireplaces and marble bathrooms. The hotel also offers honeymoon packages complete with couples massages and candlelit dinners.
The Corinthia Budapest offers five-star accommodations inside a turn-of-the-century building. Its neoclassical facade sets an opulent standard before guests even step inside. The rooms are spacious, and many have king-size beds perfect for resting tired legs after a long day of exploring. The Royal Spa has a large pool, saunas and blissful treatments like facials, massages and foot rubs.
Another five-star pick, the Budapest Marriott Hotel overlooks the Danube River, and most rooms offer waterfront views. Chain Bridge and a metro station are within walking distance. The rooftop bar is ideal for sipping cocktails with your loved one at sunset, and the spacious rooms boast comfy beds. Fuel up for sightseeing on the house—complimentary breakfast is available.
What to Pack for a Budapest Honeymoon
When heading to Hungary, you'll want to pack for the season. Summers call for lightweight T-shirts and pants, as well as shorts. Pack sweatshirts, sweaters and cardigans to layer if traveling during a shoulder season. Comfortable shoes or sneakers are best for days spent touring the city.
Though casual gear tends to be fine for sightseeing, bring along a couple nicer outfits for upscale dinners, shows at the opera house or nights on the town. Trendy dresses, heels, collared shirts and blouses will all do.
Most stores and restaurants accept major credit cards, but you may want to bring an ATM card to withdraw some forint (Hungary's local currency) while there.