The 7 Bach Party Customs to Skip Amid COVID-19 and What to Do Instead
Ditch the large entourage for now.
Bachelorette parties amid COVID-19, though unexpected with possible what-ifs, can be just as meaningful as throwing a wedding during the pandemic. While the reality of throwing a bachelorette party this year looks a bit different from the traditional format of packed itinerary weekends, the event itself could be a lovely reset for you and your besties before the big day. If you're on the hunt for non-traditional bachelorette party ideas, here are traditions to bypass with what to embrace instead.
The Traditional Timeline
Like your wedding, everything has been upended due to COVID. Who says your bachelorette party, then, needs to be on a specific schedule, especially with vaccine differences and COVID restrictions per state? Ditch the traditional timeline for whatever works best for you. Besides, your friends will be ready to celebrate whenever you decide to throw it. 
What to do instead: Schedule your bachelorette for the timeline that works for you: before the wedding, after the minimony, before the anniversary reception, or well after you marry. We also suggest a joint bach party with your partner and their friends for when group gatherings are safe again. 
The Big Guest List
Keep in mind COVID is not the ideal time to invite periphery friends to a bachelorette party. In fact, the guest list should be trimmed with increased thoughtfulness and attention to detail. Only your closest friends, likely those who aren't high-risk or around high-risk family members, will be able to attend so account for those RSVPs as well. 
What to do instead: It isn't easy, but your guest list should be whittled down to your core group of friends. If a big guest list is a must-have, additional safety precautions must be taken, especially with how you are structuring your event. One way to mitigate risk is to ask everyone to quarantine in the weeks leading up to your event. Then, ensure all partygoers test negative before stepping into your rented home for the weekend. 
The Usual Itinerary (Including Surprises)
Pre-COVID, you never knew what sorts of twists and turns could arise at bachelorette bashes. However, reading the room is especially pertinent during a pandemic. If you're the bride, you'll want to narrow down a few ideas to help your bridesmaids and besties work through a few options. 
What to do instead: Ask for everyone's comfort levels and come up with activities together. With so many taking to the great outdoors, consider activities like stargazing, hiking, sailing and more. The last case scenario you'd want is to have someone who's high-risk or concerned about COVID (especially the bride) being thrown into a pool party situation that causes discomfort or anxiety. Build the itinerary together and collaborate closely. 
The Party House
We get it, the party house is almost a bachelorette rite-of-passage. Or is it? If your friends are flying in from other cities, you'll want to be extra safe about quarantine measures and securing places to stay. 
What to do instead: Opt instead for a smaller, wellness-focused gathering with your girls. We recommend renting a house or boutique hotel stay--there are countless options in nature with isolated, outdoor properties. Reserve one bedroom per guest (rather than doubling up). You'll want ample space and socially distanced, well-ventilated activities, especially if you plan to venture out. 
The same applies when booking a hotel suite or stay. Request each of your friends gets tested before the weekend, and reserve rooms according to "pods." Remember, the more attendees you have, the greater the risk. 
The Traditional Budget
Normally, bach party budgets are allocated largely to travel and stay expenses, in addition to dining costs and for many, booze. During COVID, however, take a look at the overall budget and areas where you can re-allocate your expenses towards more meaningful, intimate activities. 
What to do instead: Since you'll be in a house or hotel with your chosen group for a few days, suppress additional costs for rapid testing and time for testing measures. Presuming the group returns a negative test, consider where your budget could lend itself nicely to experiences. 
Rather than the old concept of drink-and-party, stock up on delicious wines, high-end booze options (goodbye, hangover) and get very classy with the cocktail recipes. You'll still be able to indulge in fine dining (or however many meals your budget allows)--just reserve a private, al fresco space in advance or hire a private chef to come to you. 
Normal Bachelorette Party Swag
We're a big fan of matching swimsuits, creative coordinated T-shirts, sashes and more. If your event is more pared down, however, invest in bachelorette party gear that is cozier (think: matching fuzzy slippers, sweats and athleisure). The idea is to bond and complete the at-home bach theme you've imagined. 
What to do instead: Stock up on masks and sanitizers. A pandemic is rare and therefore, a bachelorette party should reflect those added steps for extra health and safety measures. Batch order masks and sanitizers for the crew to be safe, especially if you plan to be out and about. 
Bar-Hopping or Clubbing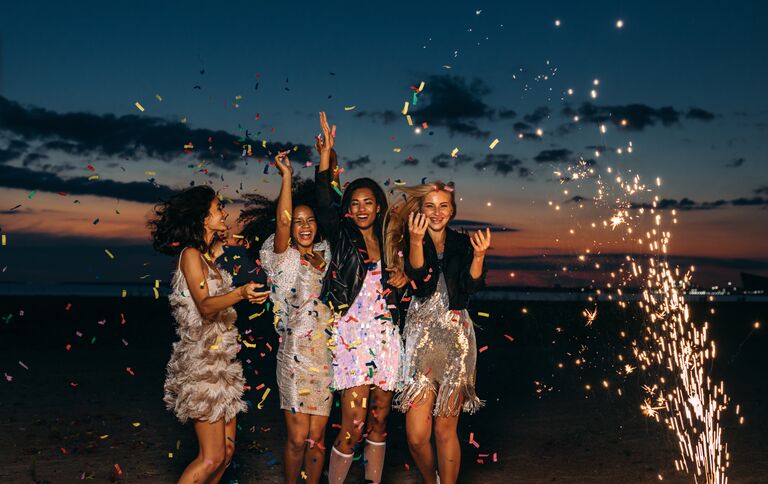 Bar-hopping from spot-to-spot and grabbing drinks with your crew, all adorned in the same sashes, is temporarily on hold. Though the days of COVID have halted this type of behavior in place of something more private, that doesn't mean you can't dress for an outdoor dinner or exploration activity.

What to do instead: Look for activities that are COVID-compliant (outdoors, easily socially-distanced and nevertheless, lovely). Wineries have long been a popular option for bachelorette parties, but they continue to surge in popularity. Choose a location and explore that local wine region (Napa Valley and Sonoma, the Hamptons and North Fork, Texas Hill Country, the Finger Lakes, Willamette Valley and many more). You'd be surprised to see what breweries and wineries are located a stone's throw away. Another viable option is a boat tour if you're in cities like Miami or along the West Coast. Many catamaran companies are now offering sailing options for a day of sun and privacy with your friends. 
In total, a bachelorette party can be held safely during COVID just as long as you're safe about testing, guest list size, and the activities, which should be conducive to social distancing. Again, there's no pressure to throw a party weeks before you marry or in the days leading up to your minimony. Since the timeline for all wedding-related events has been upended, a non-traditional bachelorette party with non-traditional timing could be the best solution.