5 Cardigans That You'll Want to Wear For Your Wedding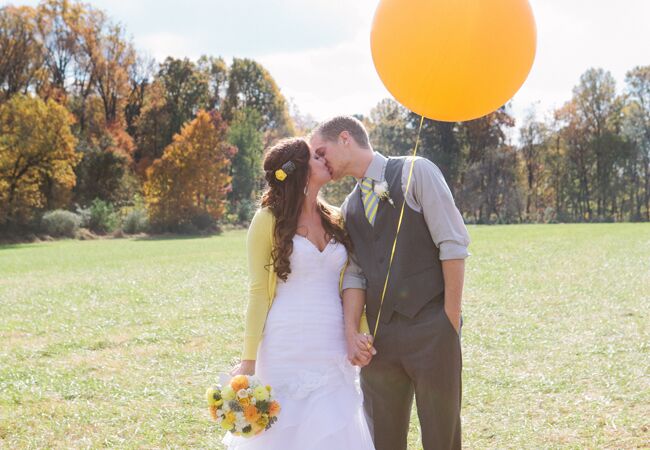 Kelly Lapp Photography
Got your wedding shoes and hair accessories? Well, there's one more piece of the fashion puzzle to think about: a cover up (especially if the temperatures outside are still cool in the evening!). From fur wraps during the winter months to beaded boleros in the summertime, there are many options out there to choose from depending on the look you want. For a more casual vibe and with spring right around the corner, consider a classic cardigan. You have them in your closet (and you love them), so why not wear one for your wedding too. Here are a few soft sweaters to complete your look that you can buy right now.
Delicate Daisy
A sunny yellow sweater is the ultimate spring accessory for an outdoor wedding. Pair it with a bouquet of bright yellow tulips and daisies to tie it all together.
Collection Featherweight Cashmere Cardigan, $188, (on sale now! $168), JCrew.com
Romantic Rose
This romantic rose sweater has a vintage feel that will pair perfectly with a gorgeous lace wedding dress (and bouquet of red blooms). Add some vintage baubles for a look that is as chic as it is timeless.
Red Valentino Wool Cardigan, $495, Net-a-Porter.com
Lovely Mint
This mint green boyfriend sweater has a very casual feel, but wear it with a flower crown and strappy sandals for a bohemian Coachella-inspired wedding theme.
Long-sleeve Boyfriend Sweater, $23, Target.com
Beaded Embellishments
Whether you're getting married in a hip hotel or on a boardwalk by the water, this navy and cream cardigan is super sophisticated. Have your bridesmaids wear solid navy sweaters to make you stand out or navy shoes to pull it all together.
Moschino Embellished Cardigan, $375, FarFetch.com
Blushing Bride
This blush-hued cardigan is very versatile. Pair with other rose gold or floral accessories for a look that's romantic or match with a tea-length dress and cage veil for a retro feel.
Fine-knit Cardigan, $15, HM.com
Want more bridal fashion?
> 8 Real Brides With Fabulous Winter Accessories
> New Wedding Dress Trends Reinvented
> Your Gown: Making a Unique Statement