The Ins and Outs of Planning a Civil Ceremony
Don't want a religious wedding? Get married in civil style. Here's everything you need to know.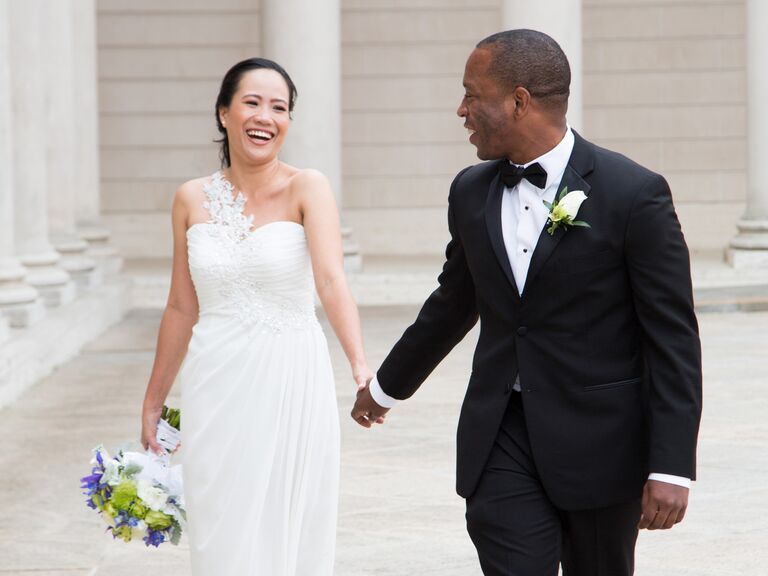 YBowyer Photography
What is a civil ceremony anyway?
First things first — you need to know what a civil ceremony is before you can start planning one, right?
Contrary to what you might think, a civil ceremony doesn't mean common law, a civil union or even a drive-through, Vegas-style affair. A civil ceremony is simply a nonreligious, legal marriage ceremony presided over by a legal official instead of a religious one.

Why have a civil ceremony?
Couples who opt for civil ceremonies usually fall into one of the following groups:
Neither person is religious or subscribes to an organized religion, or they feel uncomfortable with the idea of a religious ceremony.
Both partners come from different religious backgrounds, so they choose the civil route to avoid potential problems with interfaith ceremonies (but know that interfaith marriages are increasingly common and not the headache they once were).
Your ideal ceremony is more creative than clergy will allow (for example, you want to include readings from your favorite poems or books, pop songs for your processional and recessional, or performance art or Buddhist rituals).
An officiant at your place of worship won't preside over an outside ceremony, but you can't imagine saying "I do" anywhere other than that hillside location overlooking the ocean.
How is a civil ceremony different from a religious one?
A civil ceremony is basically a one-stop shop. It's legally binding, which means you won't have to have two ceremonies. A religious ceremony is not legally binding, so either before or after your religious ceremony, you'll need to pay a visit to city hall to obtain your marriage license to make it legal.
But whether your service is religious or civil, the ceremony will follow the same basic structure: procession, call to order/opening remarks, vows, ring exchange and other unity gestures, pronouncement ("I now pronounce you…"), kiss, closing remarks and recession. With a civil ceremony, there's more room to make it your own, so feel free to write your own vows and include special readings, music selections, unity symbols and rituals in the proceedings. (For more ways to customize your ceremony, check out these unique ideas.)
Is it okay to include religious traditions in a civil ceremony?
If your family is less than keen on the idea of you having a civil ceremony, talk to your officiant about including some religious rituals in the ceremony to make them happy too.
Who officiates?
Exact requirements vary from state to state (and county to county in some cases), but generally it's a legal official — a judge, magistrate, justice of the peace, county or court clerk, or notary public (and no, a ship captain doesn't count -- unless he's also one of the above).
Check in with the local marriage license bureau or municipal county clerk's office to determine who's legally recognized to perform a civil ceremony. They'll be able to give you the lowdown on all the policies and laws you need to keep in mind as you go through the planning process. Once you've found an officiant, ask about counseling, fees, paperwork and any other logistics that may be required in order for your civil ceremony to be considered a legally binding event.
Can I have a friend officiate?
Yes! Have a friend or family member of your choosing get ordained (they can do it online — it's super-easy) and marry you. But keep in mind: Not all states recognize the certification, and even if yours does, it may require additional paperwork. Many states will allow you to obtain a one-time license to perform a marriage, which may require standing before a judge.
Where to host a civil ceremony?
A civil ceremony can be held anywhere — the beach, a private estate or even in a greenhouse — so it's up to you where you host your vows. (Check out our tips on finding the perfect venue and everything else you need to know about planning your ceremony, here.)
Will my marriage be recognized by my religious community?
Some religious denominations will not recognize a marriage performed by someone ordained outside the faith. So, although you may be legally married, your congregation may not acknowledge it.
Looking to go the religious route? Read up on: