How to Make Your Civil Ceremony Feel Like a Large Affair
Transform your small service into one full of big memories.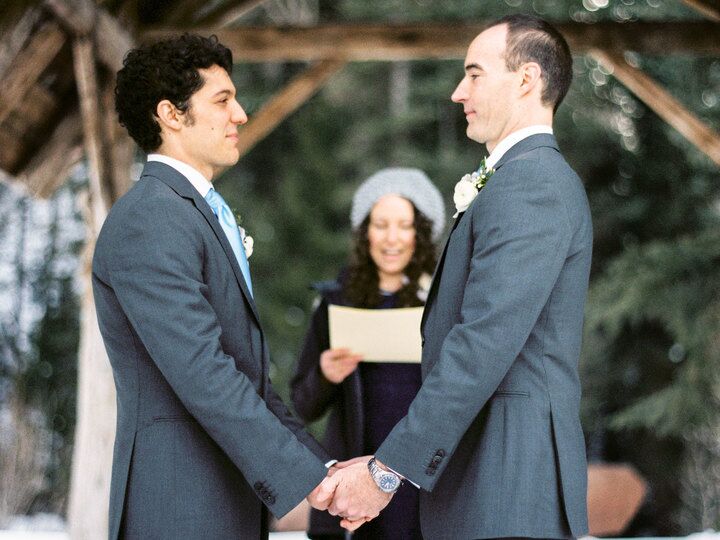 Michele Hart Photography
You and your fiance's relationship has always been about the the two of you, so there's nothing wrong about wanting your wedding day to follow suit. In addition to being lighter on the wallet, a small civil ceremony puts you in greater control, doesn't require premarital classes like some weddings may and can dim the spotlight if one or both of you tend to be on the shier side.
On the flip side, a small, courthouse-style wedding is, well... small—which could be cause for concern that your wedding day will feel like any other day. Before you opt for a larger, more traditional wedding instead, remember that there are plenty of ways to honor the day while still keeping things intimate.
Officiant First
Next to the couple, the person conducting the ceremony just might be next in line of top importance. While you could just have a City Hall official deem you husband and wife, feeling a connection to him or her can make the day more meaningful.
"No matter the location of a wedding, the best way a couple can make the day special is to meet with or interview multiple officiants to find one with whom they connect with and who may be able to customize their ceremony," says Mandy Candfield, Owner and Officiant, Ceremonies by Mandy.
If you're not getting married in a courthouse, consider a friend, family member or mentor to officiate the ceremony. To make the marriage legal, Candfield says this person needs to be ordained and authorized to perform marriages in the state, all of which can often be easily done online for a small fee.
Dress it Up
The traditional white dress and tuxedo is still fair game for a small service, but certainly not mandatory. Candfield recommends choosing attire that will make you feel both comfortable and confident, while also capturing your own style and personality. "Incorporate things that are important to you as an individual and as a couple, such as cultural integration with a kilt or sari," she adds.
The same holds true for flowers and decor. If you won't feel like a bride without carrying a bouquet down the aisle, work with a local florist to create a design that matches the mood of your marriage ceremony.
Vow to Be Unique
Maybe one of the biggest opportunities for heartwarming memories is in the vows that you share. Write your own words capturing the history of your love story and the bond the two of you have formed.
Additionally, consider adding a special element to your ceremony that goes beyond sharing words. A sand ceremony, for example, is an example Candfield says can really add a bigger moment to a smaller service.
Make it Known
It's not uncommon to have a few close friends and family members to witness your wedding, but regardless of who's in attendance, consider hiring a professional photographer. Not only will you capture the special memories of your day, but you can also use the photos when announcing your newlywed status.
Candfield recommends mailing out postcards or traditional announcements or adding an element of surprise by inviting friends and family to reveal the news in person. "For something especially unique and memorable, consider a scavenger hunt for friends and family, which will ultimately lead them to the announcement of your marriage," she says.