22 of the Most Beautiful Garden Wedding Venues Full of Romance
Let love bloom at these iconic venues.
Planning a garden-inspired wedding? Step one is researching garden wedding venues near you to find the best fit for your wedding. Picture you and your partner surrounded by lush greenery, colorful florals in full bloom and the scent of fresh flowers wafting over you as you exchange your vows. A garden wedding venue will serve as a gorgeous backdrop for your wedding photos, and evoke a romantic and ethereal vibe for your big day.
Before we dive too deep, it's worth noting how many types of garden wedding venues exist. There are meticulously kept gardens all across the US, so no matter where you live, you'll be able to find a breathtakingly beautiful garden wedding venue. Not all gardens are created equal, there are a variety of styles depending on you and your partner's taste. From botanical garden wedding venues right in the middle of a bustling city and Japanese garden wedding venues to a desert garden or even butterfly garden wedding venue for those looking for something slightly off-the-beaten-path, the commonality linking this myriad of popular spots is the presence of plants. For the literary couples among us, there are even secret garden wedding venues inspired by the classic novel.
Now is probably the point where you're asking yourself, "How do I find the best garden wedding venues near me?" We've rounded up some of the best garden wedding venues in the US, with picturesque options from California to Georgia, and everywhere in between, for you and your partner to consider. There are plenty more garden venues for weddings on The Knot Marketplace if you're feeling inspired by our curated list.
Mayfair House Hotel & Garden in Miami, Florida
Want all the amenities of a boutique hotel with the ambiance of a garden wedding venue? The Mayfair House Hotel & Garden in Miami, Florida, recently underwent a two-year-long renovation that completely transformed the venue's guest rooms and created a garden-like oasis in the heart of the Coconut Grove neighborhood. There are eight room types in the property, which first opened in 1985, and each guest room was designed to be a "small private home" with its own terrace and living space, in addition to sleeping accommodations. Guests won't soon forget a stay at this property as no two rooms are alike and range from 500 square feet to 1,124 square feet (perfect for getting ready). The hotel has 8,500 square feet of flexible indoor and outdoor wedding event space. Notably, the plant-filled terrace can accommodate 350 guests in its 2,607 square feet of space.
Atlanta Botanical Garden in Atlanta, Georgia
No roundup of garden wedding venues would be complete without a beautiful botanical garden. If you're looking for garden wedding venues in Georgia then your search ends here with one of our favorite botanical garden wedding venues: the Atlanta Botanical Garden in Atlanta, Georgia. Nestled on 30 acres of land, the Georgia wedding venue boasts many different spaces to fit any couple and any style. From the tranquil Japanese Garden to the fragrant, newly-renovated Rose Garden, the flexibility of this space means it can work for almost any wedding budget or theme. There's even a rooftop Skyline Garden for couples who want a rooftop wedding venue. For a seated reception with 8' round tables, there are spaces that can fit guest lists from as small as 32 to as large as 192.
Dos Pueblos Orchid Farm in Goleta, California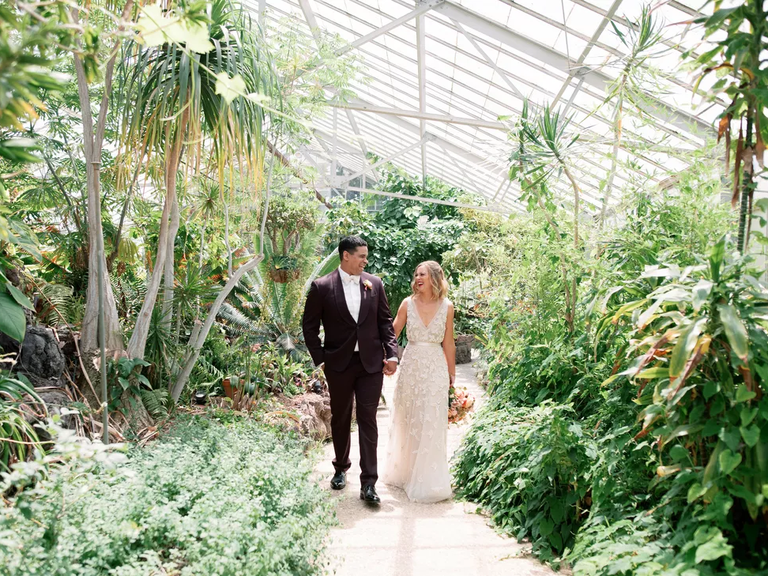 The state's temperate climate means there are a plethora of beautiful garden wedding venues in California. While Dos Pueblos Orchid Farm in Goleta, California, is no longer an active flower farm, the greenhouse event space and surrounding flora make it a great indoor-meets-outdoor garden wedding venue to consider. In 1943, the land was operated as an orchid farm founded by Sam Mosher. Mosher loved to host dinner parties so it's only appropriate that the verdant 50-acre space turned into a sought-after wedding venue capable of hosting 300 guests. Bonus: There's an amazing cliff on the property where many couples choose to exchange vows surrounded by sweeping views of the Pacific Ocean—talk about idyllic.
Brooklyn Botanic Garden in Brooklyn, New York
A Japenese garden wedding venue, rose garden wedding venue and botanical garden wedding venue all in one? Sign us up for the Brooklyn Botanic Garden—a beautiful NY garden wedding venue. This iconic Brooklyn wedding venue has spaces to accommodate a variety of weddings—from the Palm House which fits up to 250 guests to the Lillian and Amy Goldman Atrium which can house 125 guests. Brooklyn Botanic Garden is especially popular during cherry blossom season due to its renowned cherry blossom grove, making it one of the best garden venues for weddings during spring's peak bloom. How beautiful would wedding portraits against a soft pink backdrop of cherry blossoms be? We're simply smitten with this flower garden wedding venue in NY.
The Living Desert Zoo & Gardens in Palm Desert, California
The Living Desert Zoo & Gardens in Palm Desert is a garden wedding venue in California that also happens to be a zoo. The Living Desert sits on 1,200 acres (80 of which are developed) in the Sonoran Desert of the Coachella Valley and houses over 500 animals across 150 species. Engaged couples can choose from 12 separate event spaces at this California wedding venue and are able to invite more than 300 loved ones to celebrate. With its central location in the Coachella Valley, this venue would also be a great spot for a wedding shower for a boho couple before attending the region's iconic music festival.
Brooklyn Grange @ Brooklyn Navy Yard in Brooklyn, New York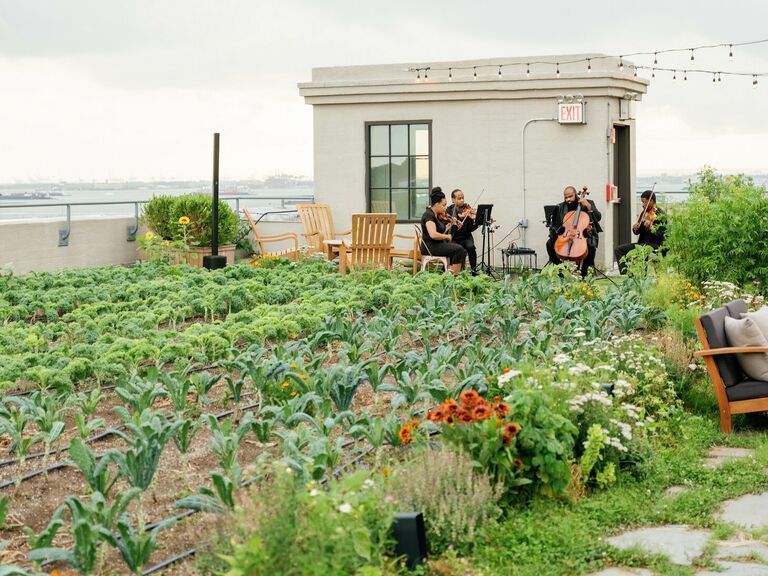 Psst, can you keep a secret? Brooklyn Grange @ Brooklyn Navy Yard in Brooklyn, New York, certainly can. Nestled atop an unassuming city building in New York's Brooklyn borough, Brooklyn Grange is a rooftop urban farm that also happens to be a secret garden wedding venue in NY. The 2,000-square-foot space can accommodate up to 100 guests and is open from June through mid-October since it is an outdoor-only wedding venue. This is an ideal venue for eco-conscious couples who want a sustainable wedding venue as Brooklyn Grange was founded in 2010 with a mission to "foster more livable and climate-adapted cities. We restore the connection between people and the natural world through food, education, and events."
Wave Hill in Bronx, New York
Here's another fun garden wedding venue in NY to consider. Wave Hill is a 28-acre estate in the Bronx in New York City and the space includes both public horticultural gardens as well as a cultural center that overlooks the Hudson River. For history buffs, the oldest part of the main house dates back to 1843 and was leased at different points in the past by Teddy Roosevelt's family as well as Mark Twain. Seated receptions in Armor Hall can accommodate up to 130 guests, but if you want to invite up to 180 guests there's the option to do so by tenting Wave Hill's lower lawn.
Euchee Butterfly Farm in Tulsa County, Oklahoma
Few creatures love garden wedding venues more than engaged couples, though butterflies could give to-be-weds a run for their money with their affinity for fresh flowers. If you're engaged and love both garden wedding venues and butterflies then Euchee Butterfly Farm in Tulsa County, Oklahoma, is worth checking out. The farm sits on the Muscogee (Creek) Nation Reservation and is maintained with a mission of preserving and honoring the Indigenous American heritage and history of the land. After being wrongfully taken from her family, the land was returned to Neosho Parthenia Brown in 1899 and has stayed in the family for five generations—it is currently run by her great-granddaughter. Weddings at Euchee Butterfly Farm have access to 2,400 square feet of indoor event space in addition to outdoor event space that can accommodate 300 guests. There is also a butterfly aviary with vaulted 18-foot ceilings that is ideal for wedding portraits surrounded by 500 live butterflies.
Valentine in Los Angeles, California
If you're partial to the West Coast instead, consider Valentine, a memorable garden wedding venue in Los Angeles, California. This plant-filled Southern California wedding venue, originally built in the 1920s and recently refurbished in 2017, boasts a 9,000-square-foot floor plan. Valentine is conveniently located in the North Sea neighborhood of LA, just blocks from the Fashion District, Little Tokyo and the Arts District. On its own, Valentine can fit 500 guests, but when combined with Grass Room, a neighboring venue owned by the same company that connects via a hidden passageway, events of up to 750 guests can take place.
Calamigos Ranch in Malibu, California
Now let's take a quick drive up the coast from LA to Calamigos Ranch in Malibu, California. Picture this: 100-year-old oak trees and tranquil waterfalls nestled between bucolic meadows—who could resist this beautiful garden wedding venue? The wedding venue sits on more than 100 picturesque acres in the Santa Monica Mountains in Malibu Wine Country. Founded in 1937, Calamigos Ranch has long been a sought-after garden wedding venue in Southern California. Calamigos Ranch has four event spaces guests can choose from based on their preference and guest list size (the capacities range from 140 to 500 guests).
Chicago Botanic Garden in Glencoe, Illinois
With 27 gardens and four natural areas situated on 385 acres with six miles of lake shoreline, the botanical gardens are an oasis just outside of the bustling Windy City. Say your "I do's" among enchanting gardens, cascading waterfalls and beautiful vistas. There are many unique spaces throughout the garden for your outdoor ceremony. The English Walled Garden is right of an old-fashioned fairytale and filled with secluded charm, while the Buehler Enabling Garden is adorned with hanging baskets, vertical flower beds and magnificent fountains for an ethereal ceremony location. The Krasberg Rose Garden features over 5,000 rose bushes and is ideal for your reception. The Searle Courtyard displays the renowned Bonsai collection and offers an open-air patio setting for an outdoor reception. The Chicago Botanic Garden is a gorgeous and unique setting for your nuptials.
Japanese Friendship Garden in San Diego, California
In the heart of Balboa Park is a unique garden setting on 12 acres with lush greenery, tall bamboo, koi ponds, bonsai and wisteria arbors. The garden also has a 200 cherry tree grove and a large azalea and camellia garden. Host your outdoor reception in the upper garden event space which doesn't require much in the way of decor, as the natural surrounding beauty sets the scene. Complete with a ceremonial gate and reception plaza, this is a perfect place to have an outdoor reception. If you're looking for a mix of indoor and outdoor, the lower garden offers a viewing deck, garden paths, an earth bridge and a courtyard. Don't take our word for it, let the beauty of the Japanese Friendship Garden speak for itself.
Atlanta History Center in Atlanta, Georgia
The history center campus is surrounded by 33 acres of Goizueta Gardens. There are nine gardens on the property, and each one is themed and contains a piece of history. Olguita's Garden is an ornamental garden that is in bloom all year round. Columns covered in greenery and blooms encircle a reflective water feature, making it a perfect spot for you and your partner to exchange vows. The adjoining terrace and private lawn are a great spot for a cocktail hour before moving into the Grand Overlook Ballroom. The Swan House Gardens are another gorgeous option for your ceremony or reception. These Italian-style gardens are perched on a hill with a terraced lawn, roses adorning stone wall, and a boxwood garden. At the Atlanta History Center, natural beauty will surround you no matter where on the property you say "I do."
The Promise Gardens of the Adirondacks in Thurman, New York
This hidden gem is a mountainside venue that sits on lush gardens and babbling brooks while offering panoramic views of the Three Sisters Mountain in upstate New York, making this an enchanting and peaceful location for your wedding ceremony and reception. Just minutes from Lake George your romantic garden nuptials double as a lakeside getaway for your guests. From a farmhouse to charming rustic barns, this venue offers a little bit of everything. The gardens and grounds are fit for a wedding, with a unique arbor that faces the Adirondack Mountains for your wedding ceremony and a creek that is perfect for photos with your new spouse. There's a fire pit with Adirondack chairs surrounding it for post-reception marshmallows, or for those who might prefer cuddling around the fire to dancing. The barn features magnificent chandeliers and a beautiful white tent is the perfect place to celebrate after the ceremony. You won't want to miss out The Promise Gardens of the Adirondacks, a romantic venue with breathtaking mountain views.
Greencrest Manor in Battle Creek, Michigan
As you drive thru the iron gates up the tree-lined driveway you'll come upon a 17th-century French chateau adorned with ivy and surrounded by formal outdoor gardens, making you feel like your wedding is right out of a storybook. This private estate is nestled on 15 acres and was built 85 years ago. Whether you want to host an intimate wedding or a bigger gathering, you'll get exclusive access to the entire property for your full wedding weekend, making it a romantic getaway for you and your partner as well as your guests. The formal gardens that surround the property make the perfect backdrop for your wedding photos. Exchange vows on the well-manicured lawns and host your reception under a pristine tent surrounded by natural, lush greenery. The Greencrest Manor provides a venue coordinator to help with wedding planning, an online planning platform, tables and chairs and a dance floor to really celebrate.
Franklin Park Conservatory and Botanical Gardens in Columbus, Ohio
This gorgeous natural setting is the perfect place for your wedding day. With multiple gardens and picturesque locations throughout the property for your wedding ceremony and reception. Elegance meets natural beauty in the John F. Wolfe Palm House where a grand staircase descends into a tropical garden setting complete with palms, gazebos and a soaring glass Victorian-era structure that lets natural light flood the event space. The Wolfe Terrace offers gorgeous views of the Grand Mallaway Botanical Gardens, where guests can mingle outside during cocktail hour or to take a break from the dance floor. The Franklin Park Conservatory also provides a list of preferred vendors so you don't have to hunt down the best ones in town.
Memphis Botanic Garden in Memphis, Tennessee
This 96-acre property featured 30 specialty gardens and sweeping natural vistas. From the Japanese Garden of Tranquility to the recently renovated Rose Garden, there are a variety of event spaces to choose from for your big day. Whether you want to host an intimate wedding, an elopement or an over-the-top celebration, these botanic gardens can handle it all. The Rose Garden is a gorgeous location for your outdoor wedding ceremony. With a stunning fountain as the centerpiece, this recently renovated garden is filled with luscious roses and metal arbors, making it a picturesque backdrop for your "I do's." The Japanese Garden is a unique setting for your wedding ceremony. Filled with regional native plants, koi fish, turtles, and Canadian geese, this sprawling garden provides an event space unlike any other for your unique love. Both the Hardin and Goldsmith Halls are fabulous spaces to host your wedding reception, and both have access to the Four Seasons Garden and Sculpture Garden, respectively. Even when you're inside the Memphis Botanic Garden, your access to the natural beauty is just steps away.
Desert Botanical Garden in Phoenix, Arizona
For a garden wedding venue that's as unique as you and your partner, look no further than the desert garden in the Papago Buttes. Spread across 55 acres, the garden boasts thousands of species of cactus, trees and flowers from all over the world. Choose from four event spaces on-site to host your celebration. The Amphitheater and Binns Wildflower Pavilion is ideal for an intimate wedding, seating up to 45 guests, the area features desert plans and unmatched views of the Papago Buttes. The Steele Herb Garden is another setting that's perfect for intimate weddings, seating up to 40 people. The enchanting event space has a perfect view of the Arizona sunset and Camelback Mountain. For bigger celebrations, the Ullman terrace is a tiered outdoor patio surrounded by up-lit saguaros and cacti for the ultimate Southwestern aesthetic. If you prefer to celebrate with an indoor reception at the Desert Botanical Garden Dorrance Hall boasts full-length windows which allow you to bring the beauty of the outside in.
Ladew Topiary Gardens in Monkton, Maryland
Nestled among 250 acres in the Maryland countryside, you'll find 22 acres of award-winning gardens featuring more than 100 topiaries, a stunning nature walk, and a seasonal native butterfly house. You have three event spaces to choose from for your wedding ceremony and reception. The elegant Portico Garden is a more formal area to exchange "I do's" on your big day, while Wildflower Meadow Terrace is a romantic setting where you'll be surrounded by 30 species of native wildflowers including Maryland's state flower, the black-eyed Susan. Lastly, the Cafe Courtyard is a charming area perfect for an intimate wedding. Named one of the "Top 5 Gardens in North America" by the Garden Club of America and one of the "10 incredible topiary gardens around the world" by Architectural Digest, tying the knot at Ladew Topiary Gardens you're guaranteed to be surrounded by breathtaking natural beauty on your special day.
The New York Botanical Garden in New York, New York
Make your big day even more memorable by tying the knot at one of New York's most iconic locations. Registered as a National Historic Landmark, your once-in-a-lifetime celebration should take place at a spectacular wedding venue. No matter the season, you'll be surrounded by luscious blooms and gorgeous greenery. In the spring it's English roses and in the winter it's berried holly, so no matter when your wedding date is, you'll be able to exchange vows amongst stunning blooms. Exchange vows in a romantic ceremony in the Conservatory, a breathtaking glasshouse with a palm dome boasting indoor galleries of aquatic plants, lush tropical rain forests, and cactus deserts. Another outdoor ceremony option is Stone Mill, featuring a view of the Bronx River and lush evergreen trees surrounding your family and friends. Move inside to the refurbished building for your wedding reception, which holds up to 120 guests. Another wedding reception option is the Garden Terrace room which is a ballroom adorned with magnificent chandeliers and ambient lighting. No matter where you celebrate, The New York Botanical Garden is the ideal location for an unforgettable wedding day.
Shakespeare's Garden in Golden Gate Park in San Francisco, California
For the ultimate romantic couple, there's no better outdoor wedding venue than a garden wedding venue inspired by William Shakespeare. One of the Bay Area's most popular attractions is a garden featuring the blooms mentioned in Shakespeare's novels. There are more than 200 varieties of florals and plants that have been mentioned in his comedies, tragedies and sonnets. The garden in Northern California features two rows of trees lining an aisle that a wedding party and a pair of newlyweds can walk down, other noteworthy aspects include bronze plaques engraved with quotes from Shakespeare and a rustic sundial. While Golden Gate Park is a popular tourist attraction, Shakespeare's Garden is a private, secluded area within the park so you can enjoy your peaceful surroundings while you exchange vows surrounded by family and friends.
Atrium at Meadowlark Botanical Gardens in Vienna, Virginia
Host your special occasion any time of year in this glass-walled atrium surrounded by vibrant flowers and plants. The Atrium features exposed brick walls, a cathedral ceiling, and a large terrace with sweeping views of the beautiful botanical gardens. Overlooking 95 acres of gorgeous gardens and manicured landscapes, the garden aesthetic consumes the atrium, despite being partially inside. 15-foot-tall Ficus trees are adorned with twinkling lights and the bubbling fountain creates a romantic and calming atmosphere. The gazebo, Lilac Pavilion and the Bell Garden are great locations within the garden that are perfect for wedding photos. Blue Herron Catering is on-call and ready to be your wedding caterer, providing a plethora of wedding packages no matter your budget or style. The garden wedding venue also provides a dressing room for the wedding party and the couple of honor, wedding rentals and customizable lighting to fit your wedding day style.
Sarah Title contributed to the reporting of this story.