See Costarellos Wedding Dresses From Bridal Fashion Week
Check out every look from the designer's latest collection.
by Allison Manuel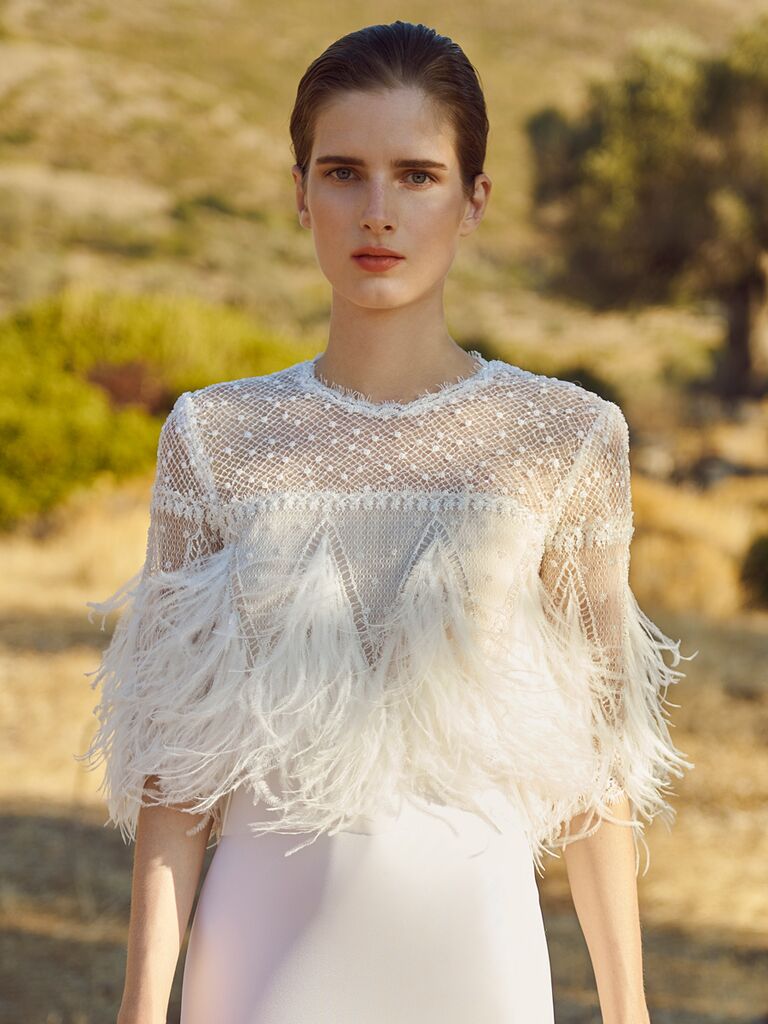 Costarellos wedding dresses are a dreamy option for brides with a sophisticated aesthetic who also aren't afraid of a little adventure. The Costarellos bridal collection showcases flowy gowns that feel effortlessly feminine and pair unexpected details like color, texture, and illusion cutouts with more elegant silhouettes. The ethereal wedding gowns offer intricate finishing details and couture techniques that have become the signature of the Christos Costarellos fashion house. If a powerful character and self-assured individuality are traits you embrace, you'll fall head-over-heels for these attention-grabbing designs.
Costarellos' Fall 2020 Wedding Dresses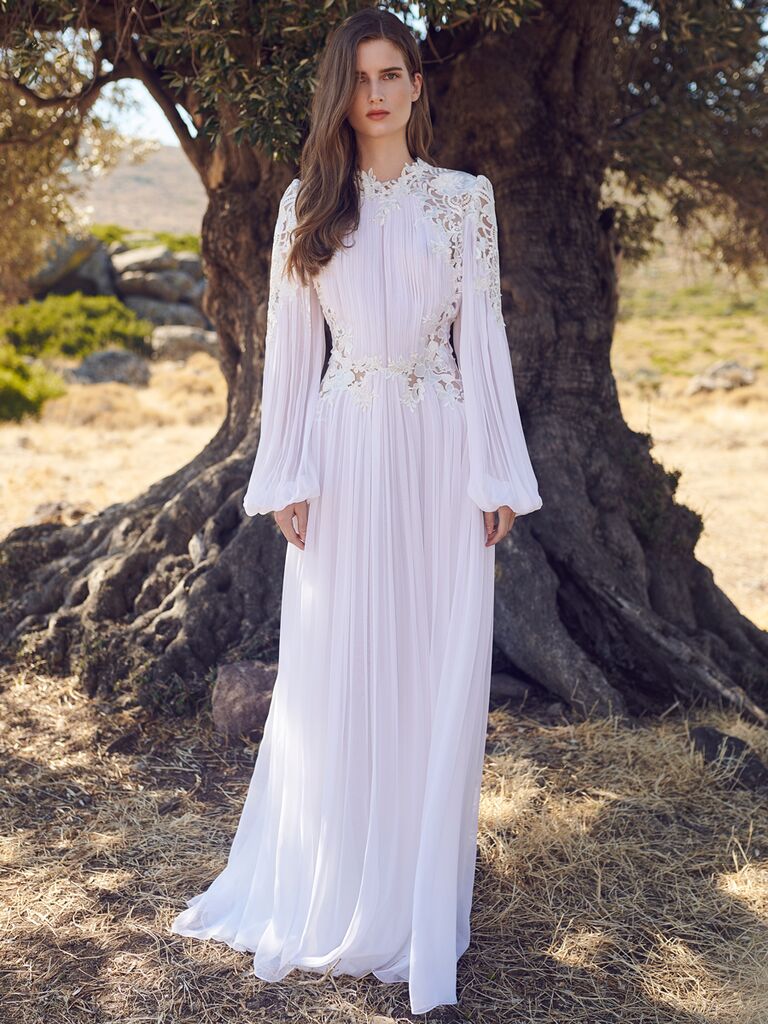 Style BR20 02; pleated A-line wedding dress with billowing long sleeves and sheer lace accents.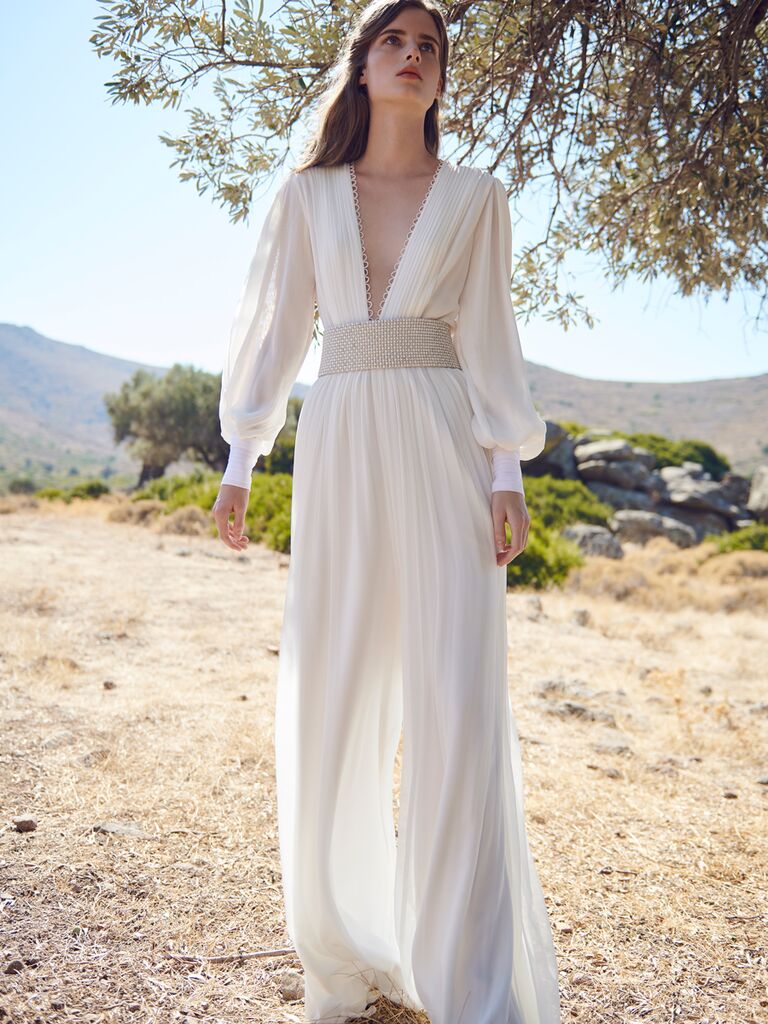 Style BR20 03; deep V-neck bridal jumpsuit with long bishop sleeves and scalloped neckline trim.
Style BR20 12; A-line wedding dress with floral lace, V-neckline and three-quarter sleeves.
Style BR20 14; sheer lace wedding dress with ruffled high neckline.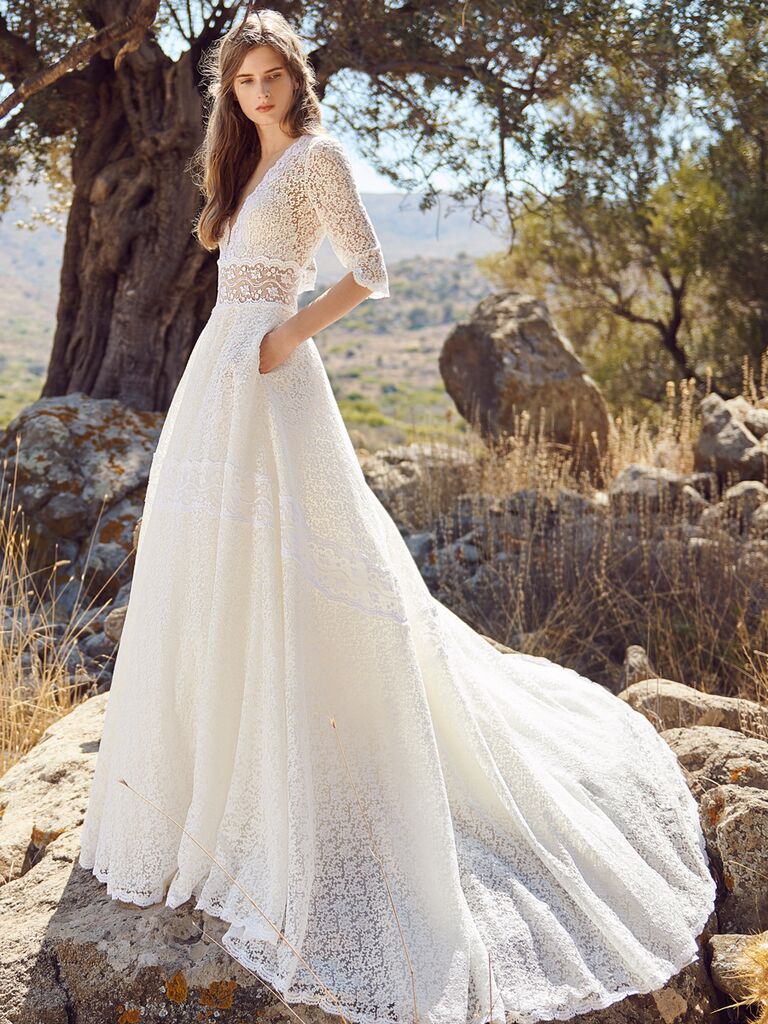 Style BR20 15; lace A-line wedding dress with V-neckline, three-quarter sleeves and sheer waistline.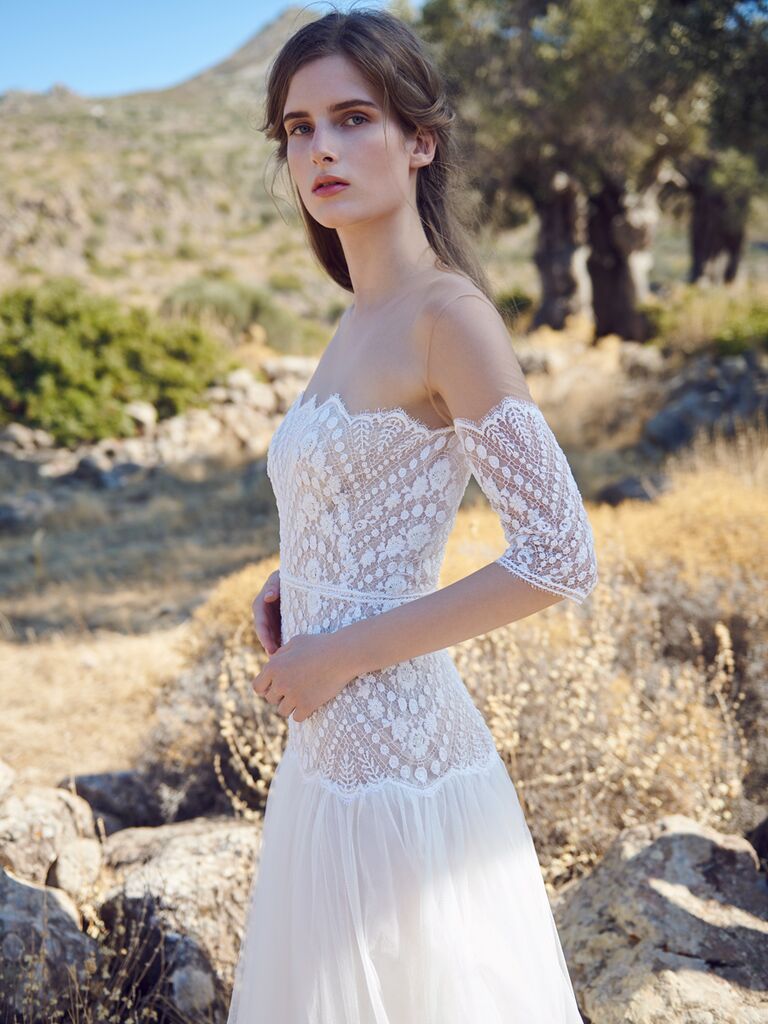 Style BR20 16; lace drop-waist wedding dress with illusion off-the-shoulder neckline.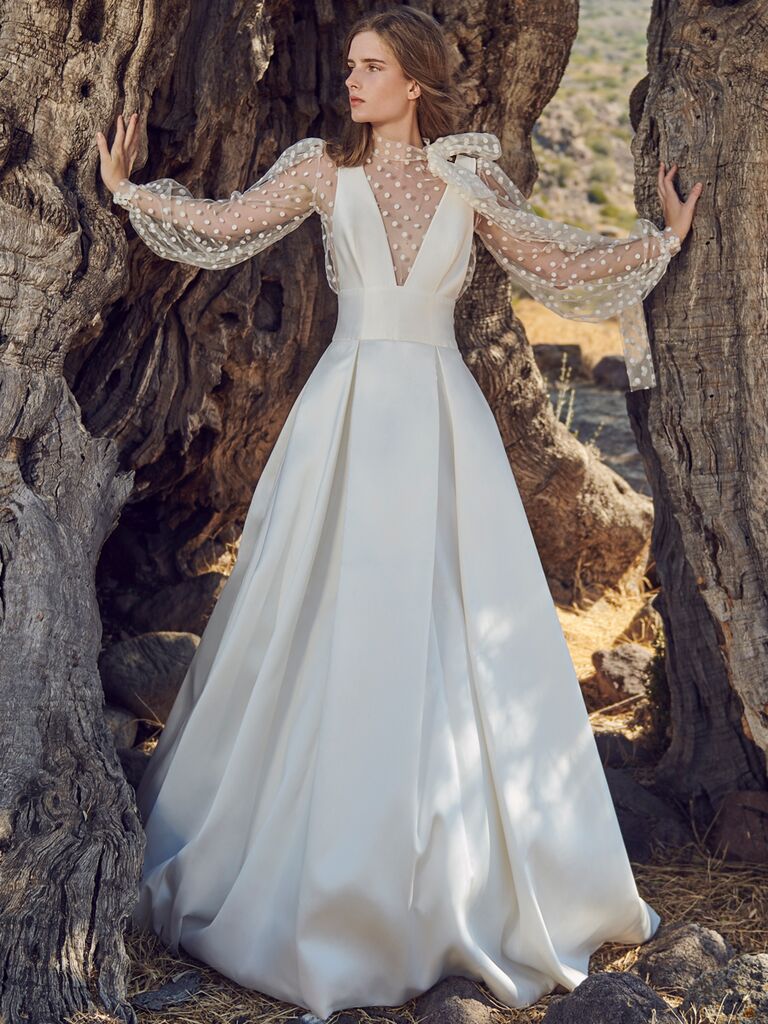 Style BR20 45; sleeveless, V-neck, A-line wedding dress with BR20 44 polka dot long-sleeve top.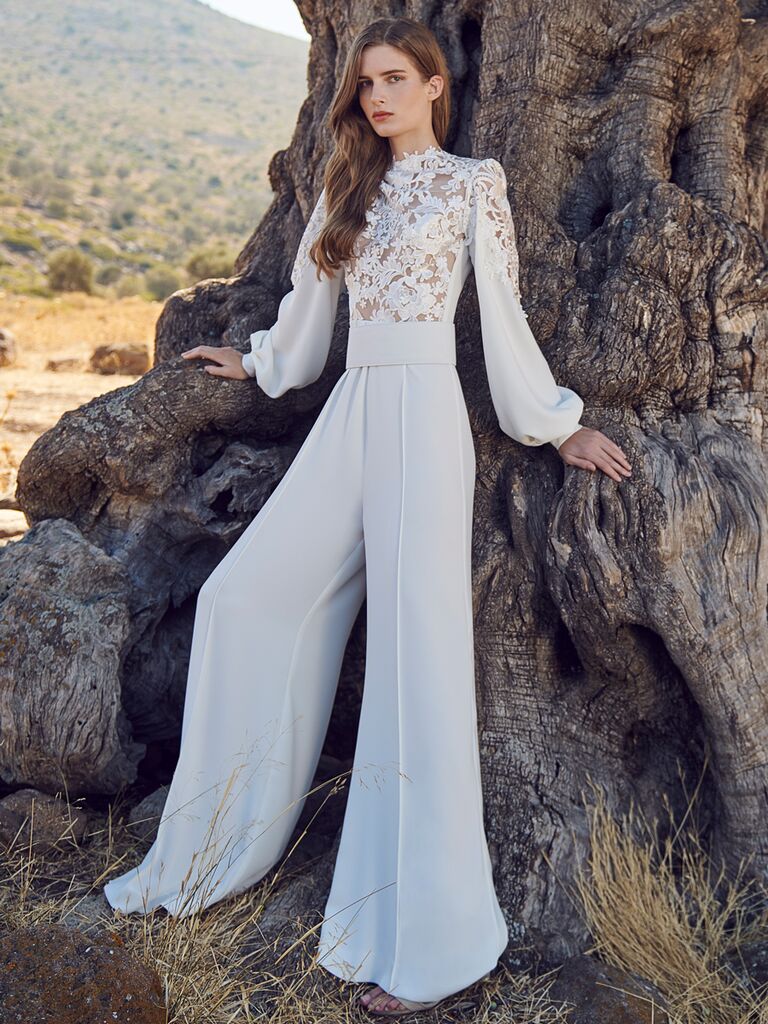 Style BR20 48; bridal jumpsuit with long bishop sleeves, sheer lace bodice and pleated pants.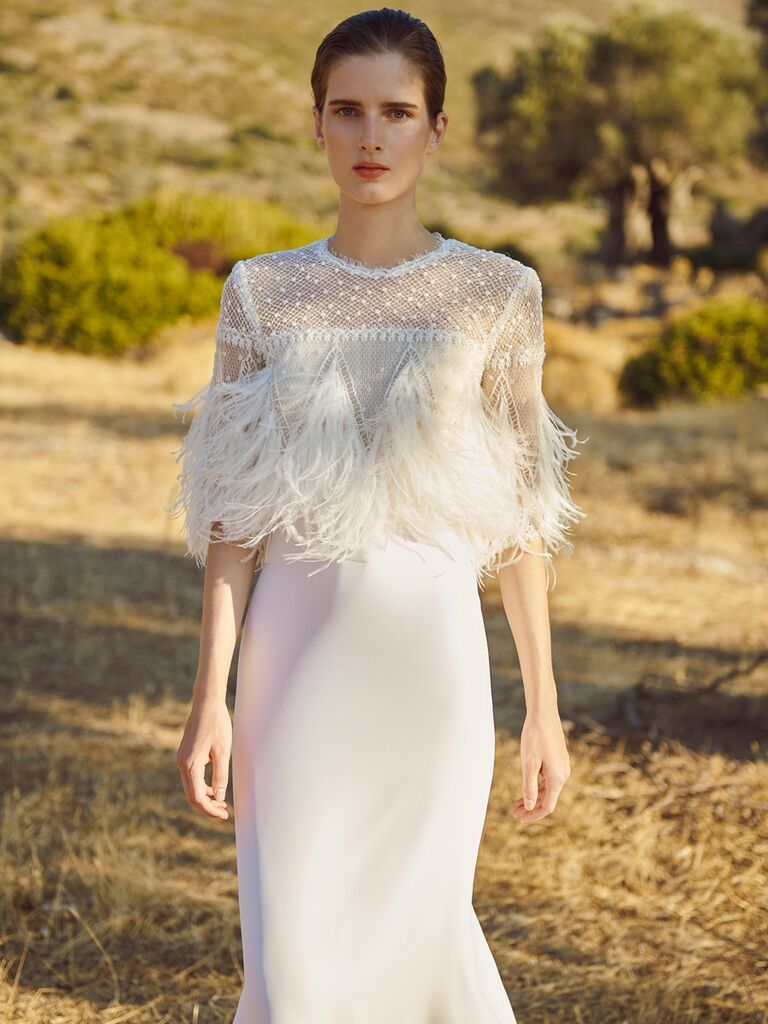 Style BR20 49; fitted wedding dress with embroidery, three-quarter sleeves and feather accents.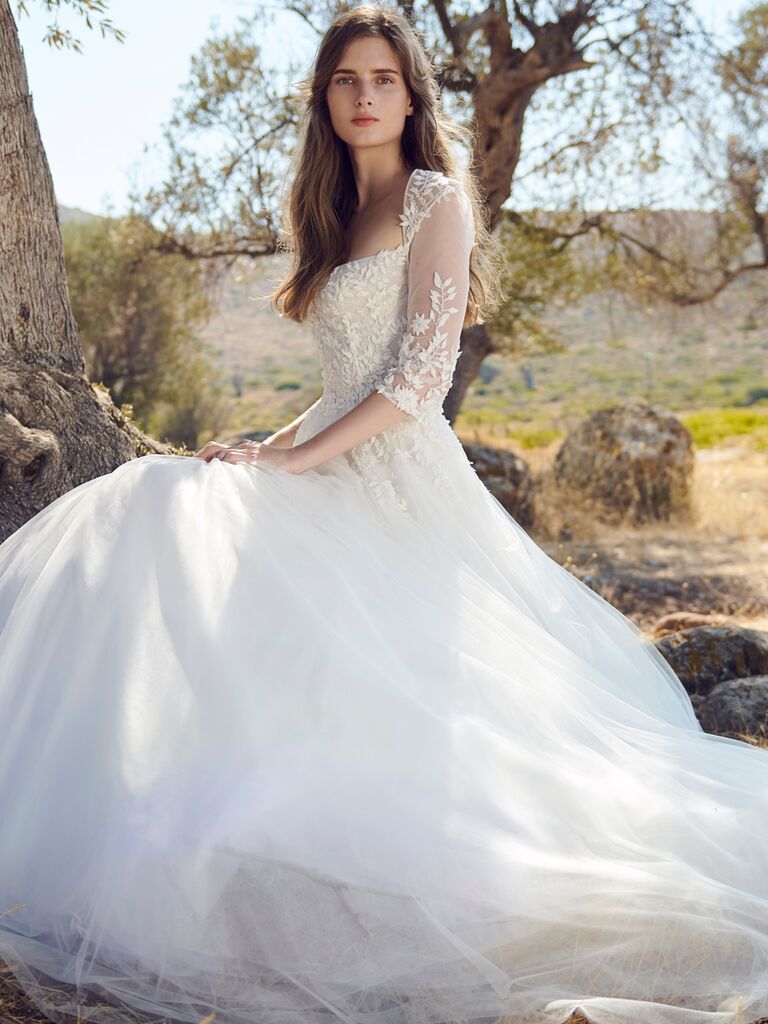 Style BR20 53; A-line wedding dress with floral appliques, three-quarter sleeves and tulle skirt.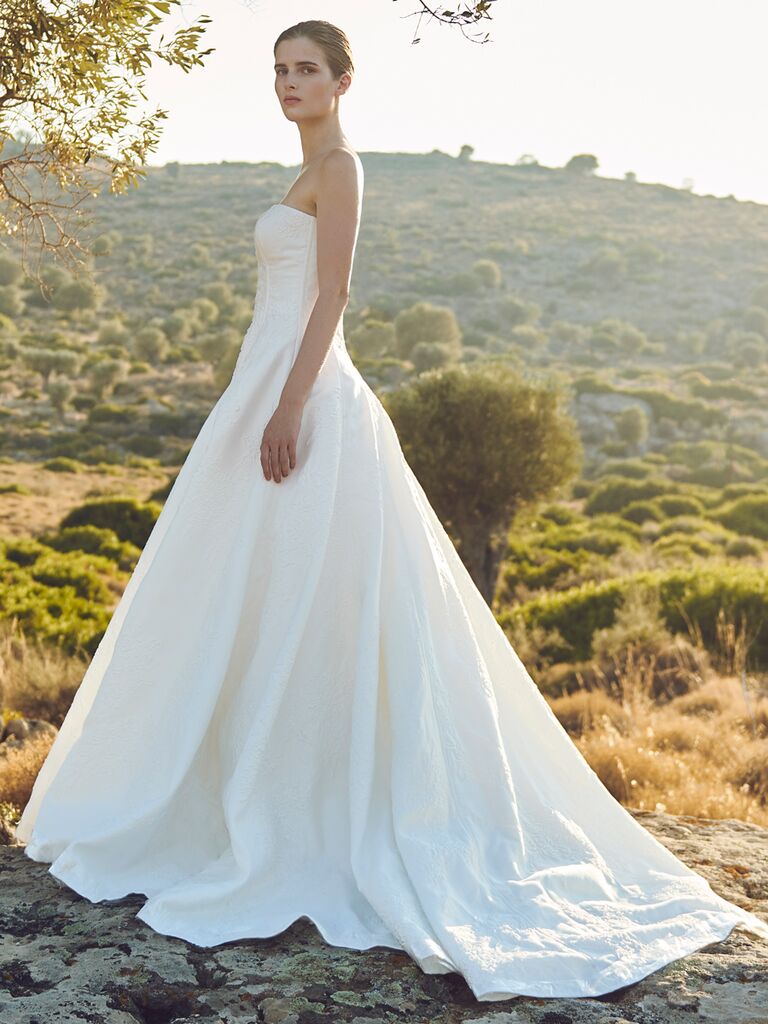 Style BR20 71; strapless wedding dress with textured floral pattern.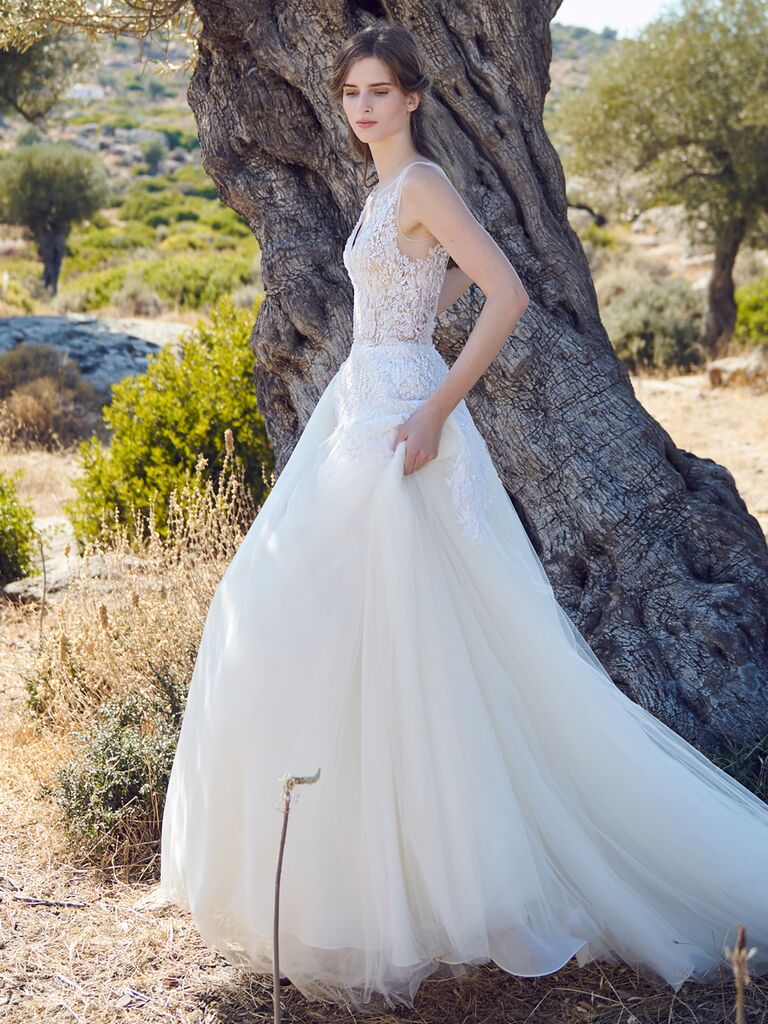 Style BR20 93; A-line sleeveless wedding dress with sheer, embellished illusion bodice.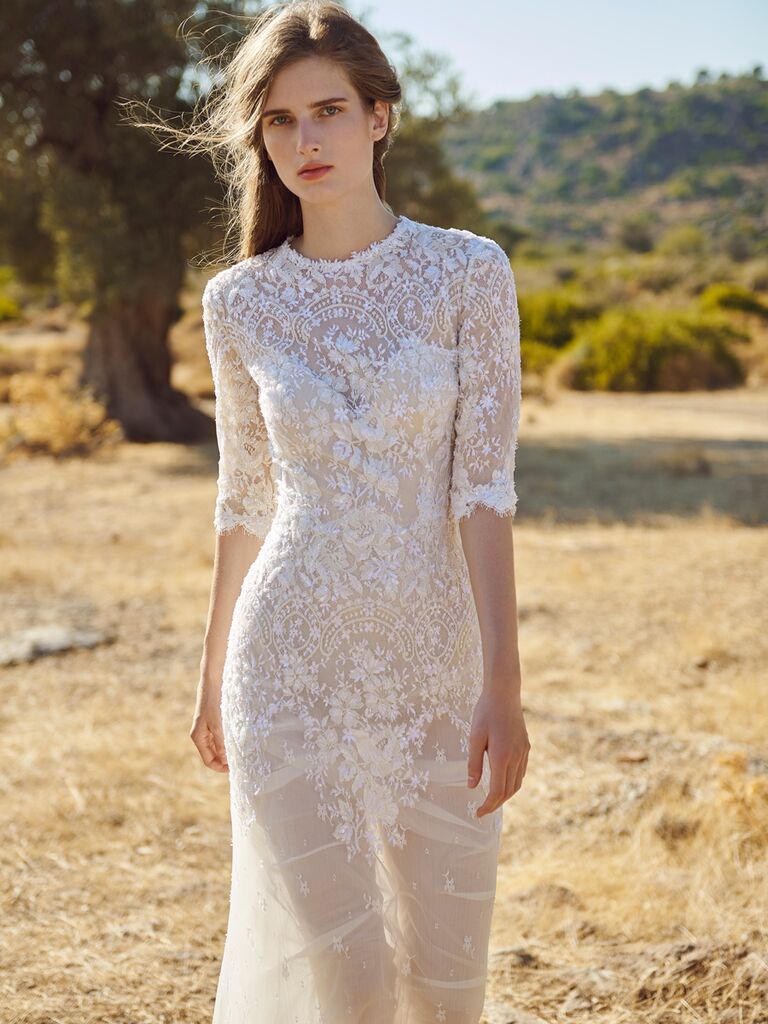 Style BR20 94; fitted lace wedding dress with three-quarter sleeves and sheer skirt.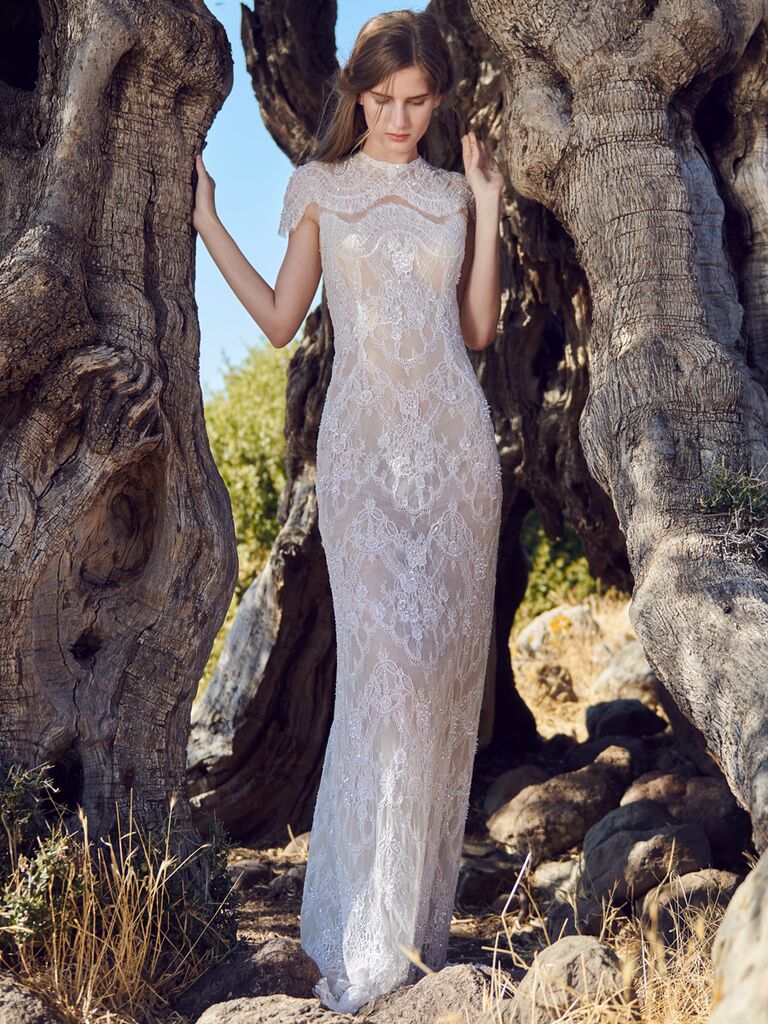 Style BR20 95; lace sheath wedding dress with high neckline and cap sleeves.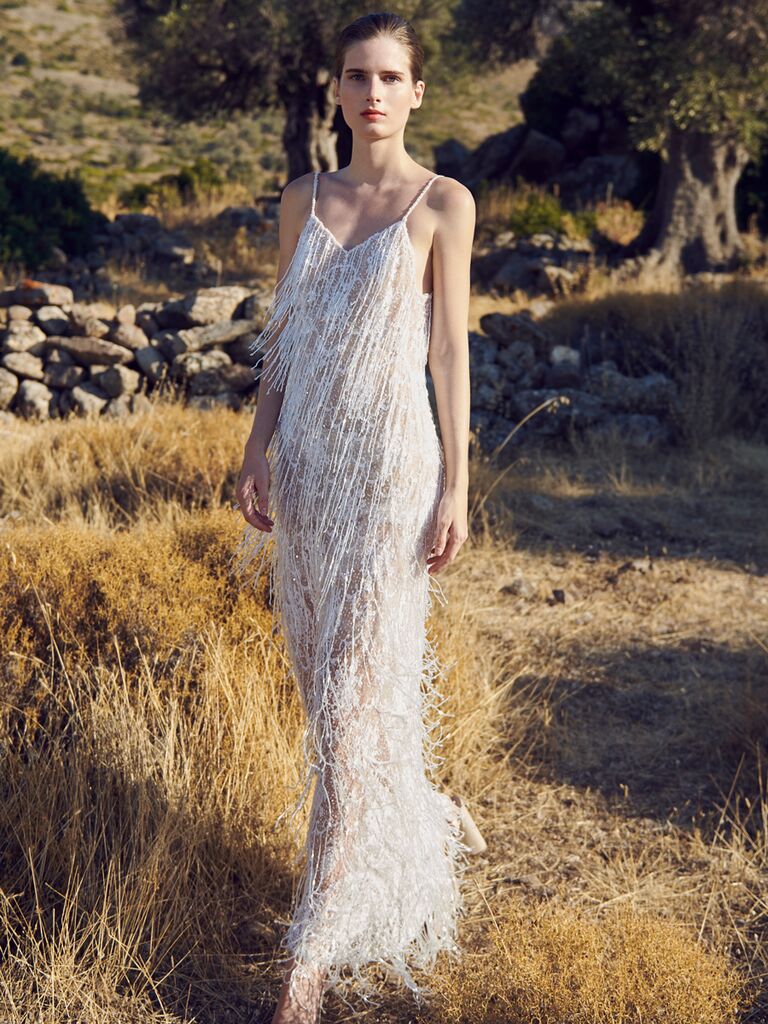 Style BR20 96; fringe sheath wedding dress with spaghetti straps, V-neckline and sequin accents.
Style BR20 97; short fringe wedding dress with spaghetti straps and low back.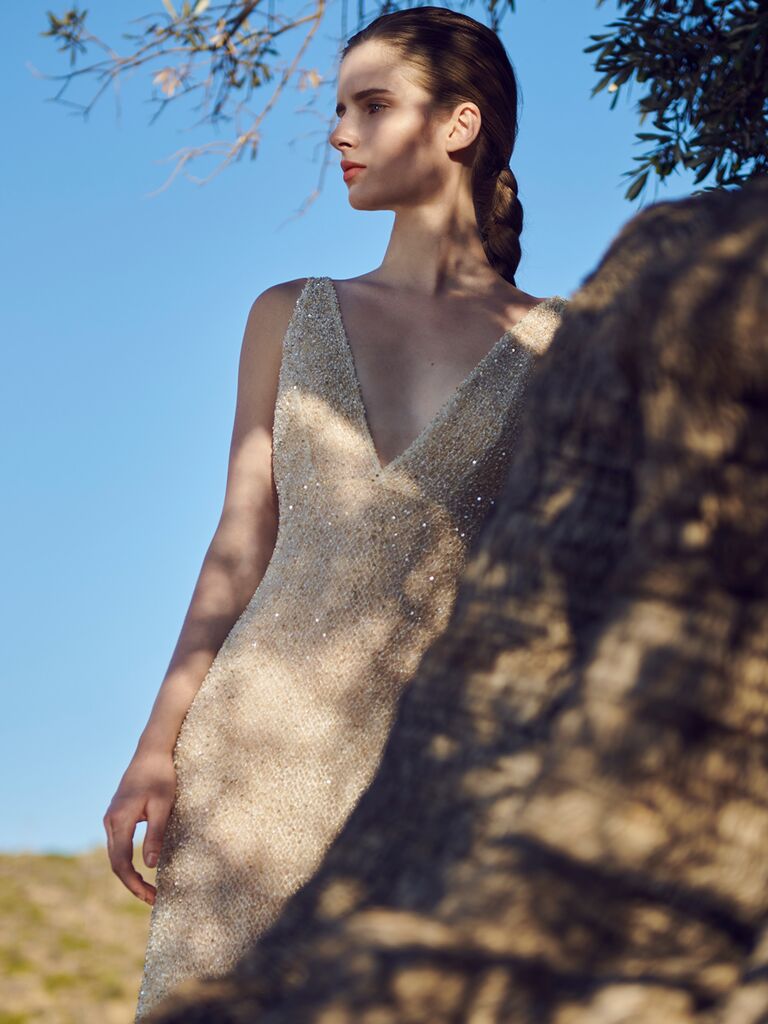 Style BR20 99; gold sheath wedding dress with V-neckline, sequins and beading.
Costarellos' Signature Style
Christos Costarellos is inspired by the spirit of ancient Greece. His designs combine elegance and refinement with a neo-romantic character, tastefully incorporating iconic vintage references and the timeless beauty of the past into the present. Costarellos' dresses incorporate both whimsical lace patterns from the Aegean islands and the minimalist look of Ancient Greek dresses.
A Brief History of Wedding Dress Designer Christos Costarellos
Christos Costarellos was born in Dusseldorf, Germany, and was introduced to the fashion world at an early age, as his parents were both working in this industry.  He studied fashion design at Dimitrelis School of Fashion in Greece and then theater costume design at the London College of Fashion in England. The fashion house of Christos Costarellos was launched in the Greek market in 1998 with his first Ready-to-Wear line which was dedicated to the craftsmanship of moulage and couture techniques. After much success with his evening wear, Costarellos decided to try his hand at designing for the bridal fashion industry. There, he was able to infuse his unique aesthetic into couture wedding dresses for the modern bride. Christos Costarellos is considered to be one of the most successful bridal and prêt-à-porter fashion houses in Greece.
Costarellos Collection History
The Spring 2017 Costarellos wedding dresses feature 3D florals, textural lace, illusion sleeves and bodices, as well as edgier hem lengths and necklines. The collection includes a range of looks, from feminine ball gowns to fashion-forward sheer skirts.
The Fall 2017 Costarellos bridal collection continues to blend the ancient with the contemporary, combining sophisticated and modern couture with luxe bohemian accents. Refined but alternative, each gown boasts a distinctive style that's impossible to be ignored.
The Costarellos Spring 2018 collection is romantic and edgy. One of the most notable looks is a French lace A-line wedding dress with ruffle details along the skirt and illusion sleeves.
The Spring 2019 Costarellos collection features elegant silhouettes and feminine textures like the combination of delicate lace and appliqués. One of the highlights of this collection is the distinctive sleeves, which come in different lengths and styles.
The Costarellos Spring 2020 wedding dress collection was inspired by the Mediterranean and is the embodiment of  boho-luxe. Some of the most notable styles are an all-over lace wedding dress with high neckline and ruffled sleeves, as well as a one shoulder gown with bell-sleeves and intricate lace cutout details.
Famous Costarellos Clients
Model, television personality and author, Chrissy Teigen, wore a Costarellos off-the-shoulder red tulle gown at the Baby2Baby Gala in 2017.
Singer-songwriter, Rachel Platten wore a white Costarellos dress with red outlined lace pattern at the MusicCares Person of the Year event in 2018.
Gina Torres attended the royal wedding in May of 2018, supporting her Suits co-star Meghan Markle as she wed Prince Harry at St. George's Chapel in Windsor Castle. Torres wore a red and white embroidered tulle dress from Costarellos' Spring 2018 collection.
Actress Jurnee Smollett-Bell wore a blush Costarellos lace gown with a high neck to the NAACP Image Awards in 2018.
Costarellos Previous Wedding Dress Collections
Costarellos Spring 2020 Collection
See every dress from Costarellos' Spring 2020 line below.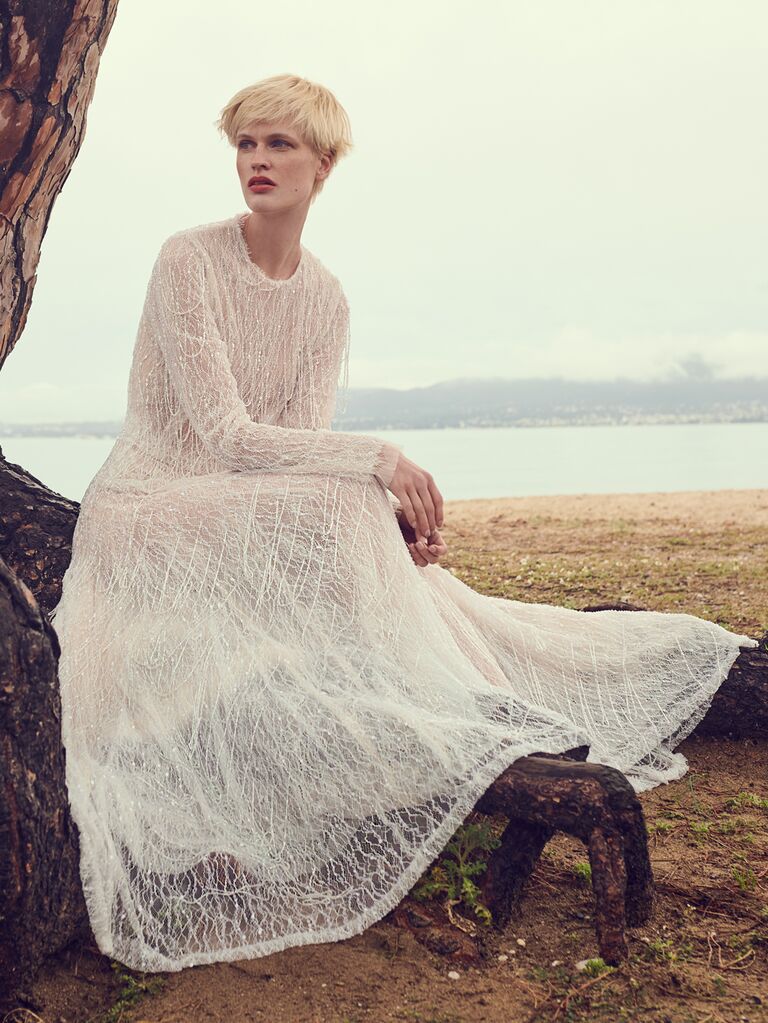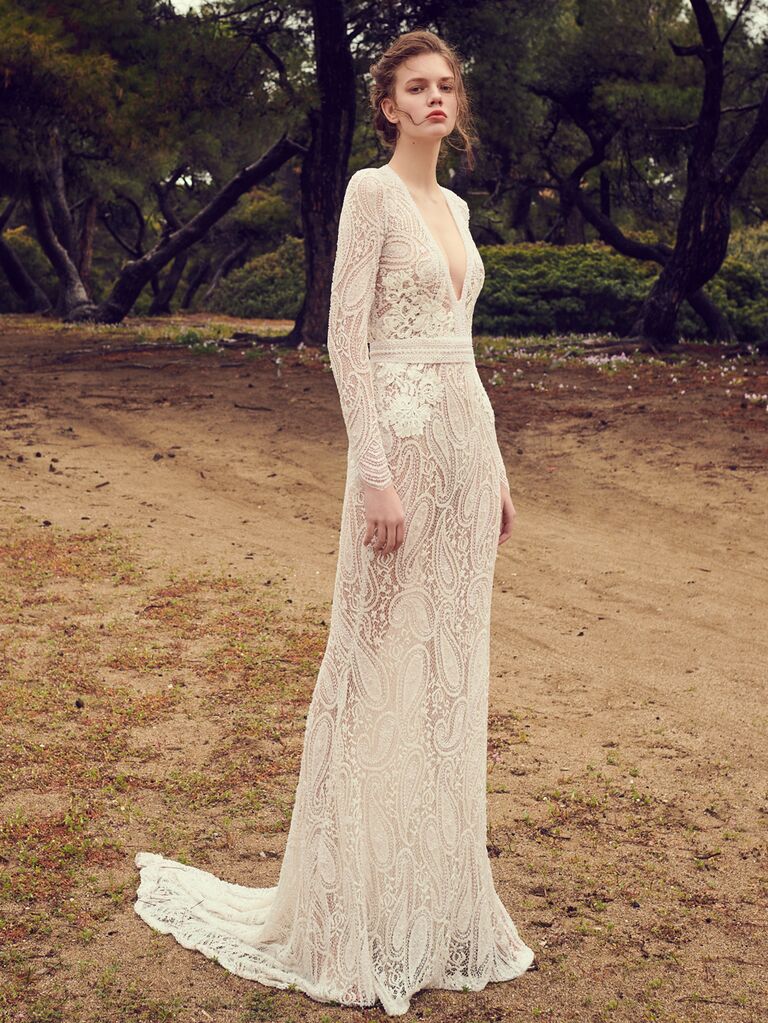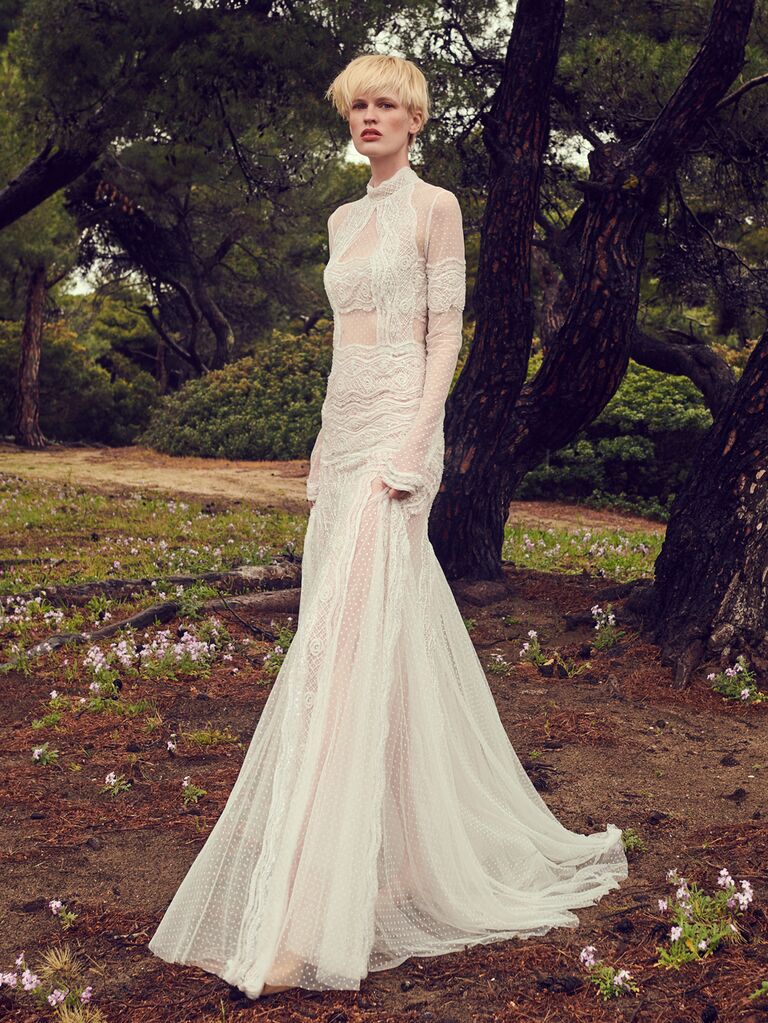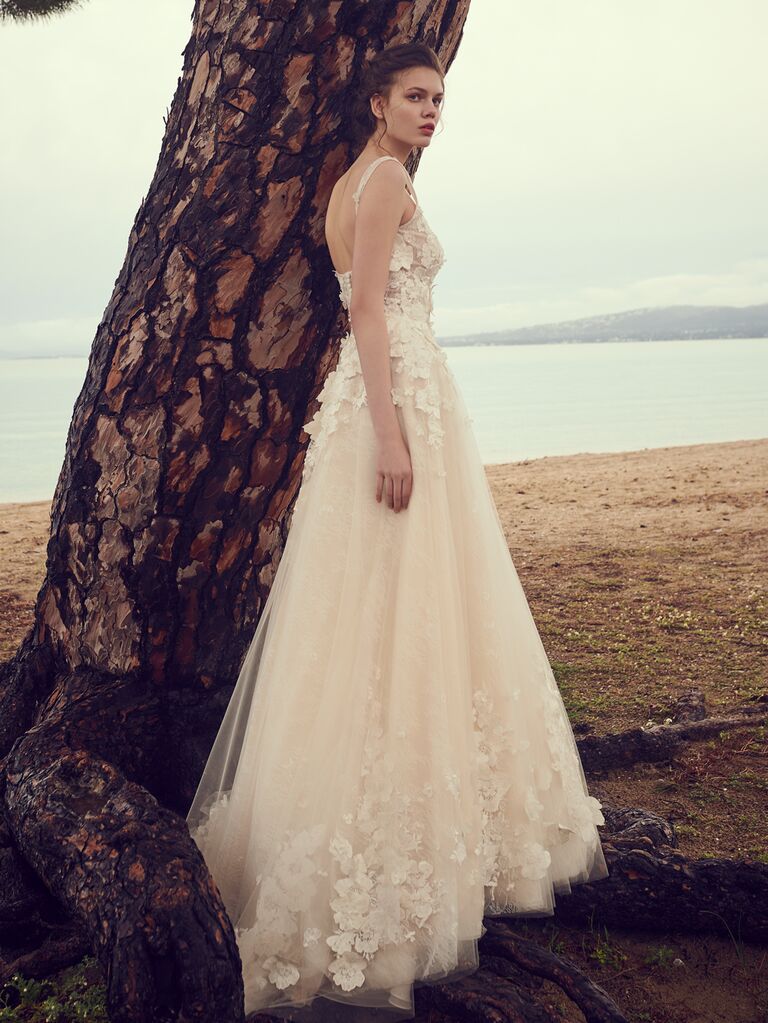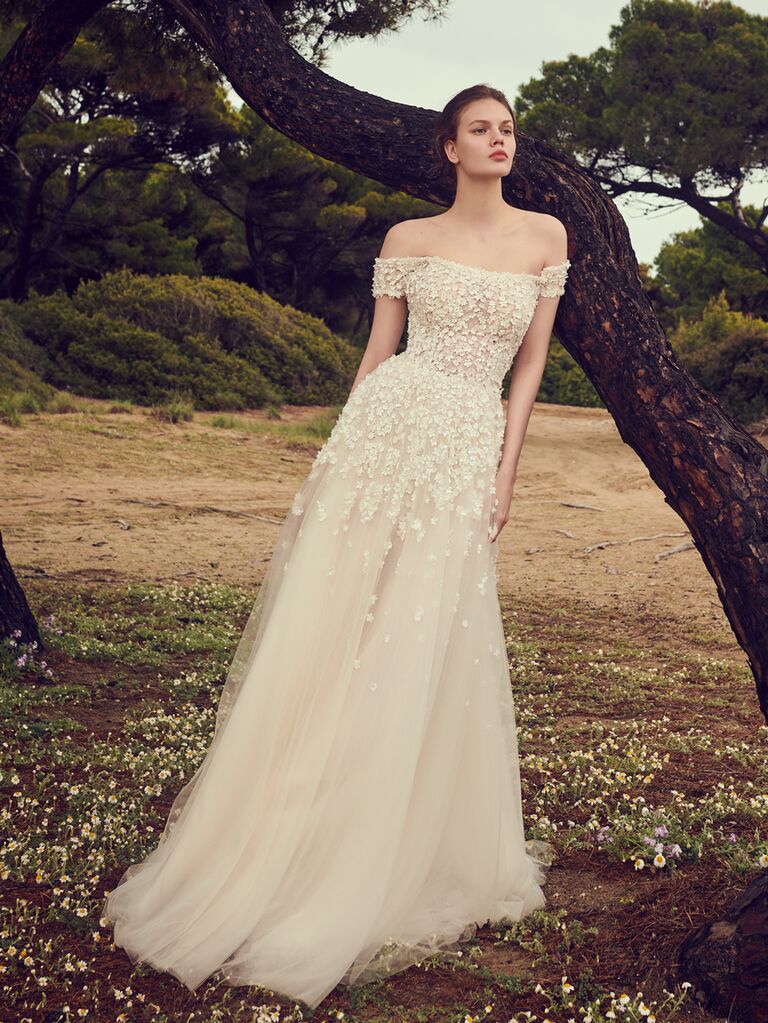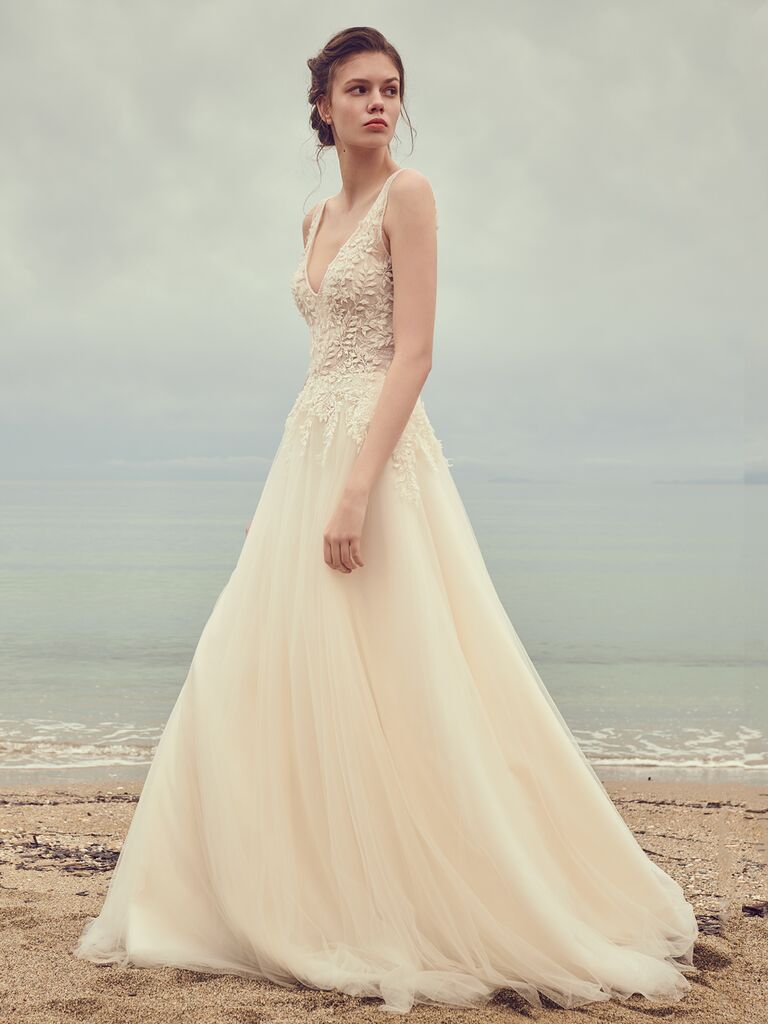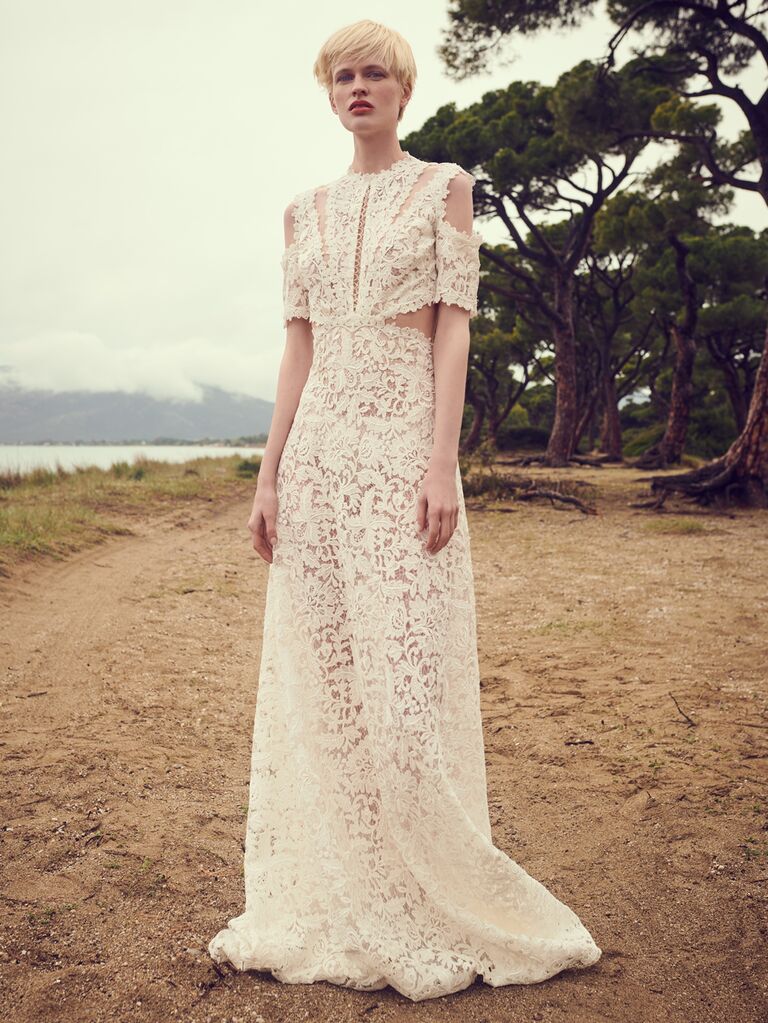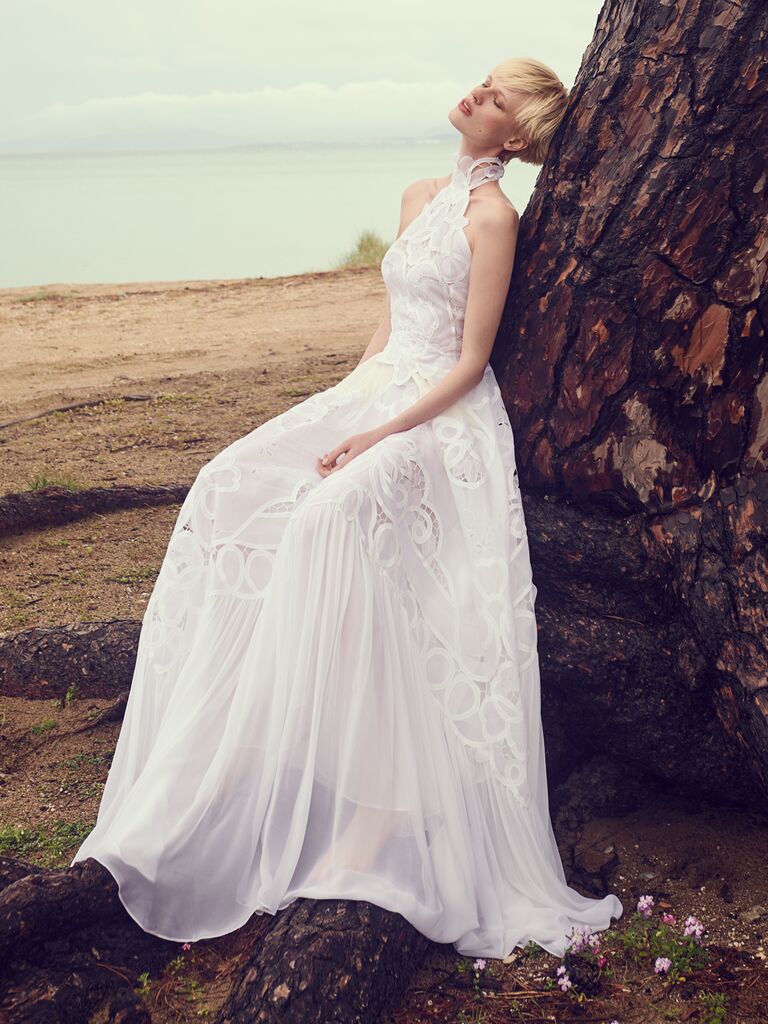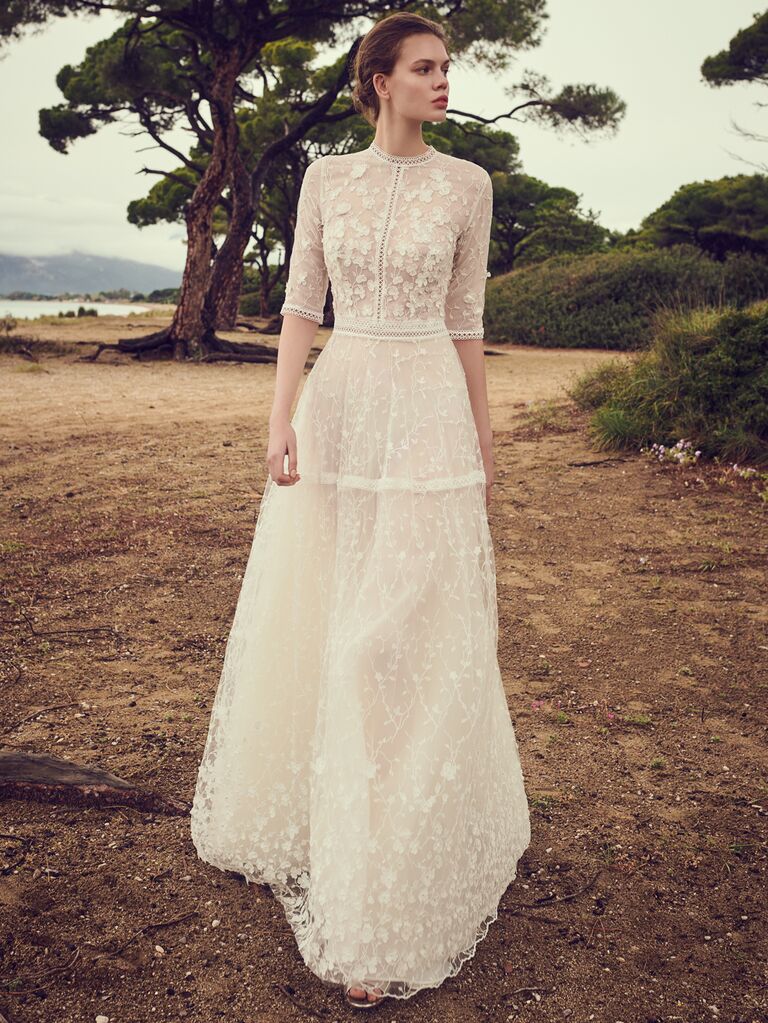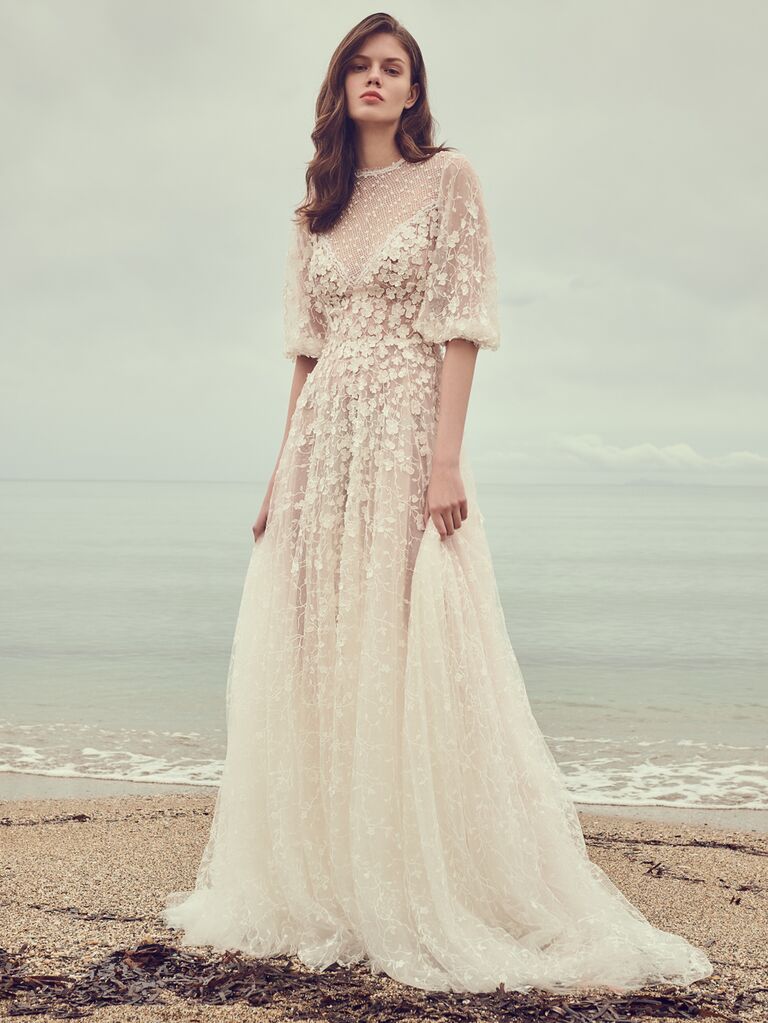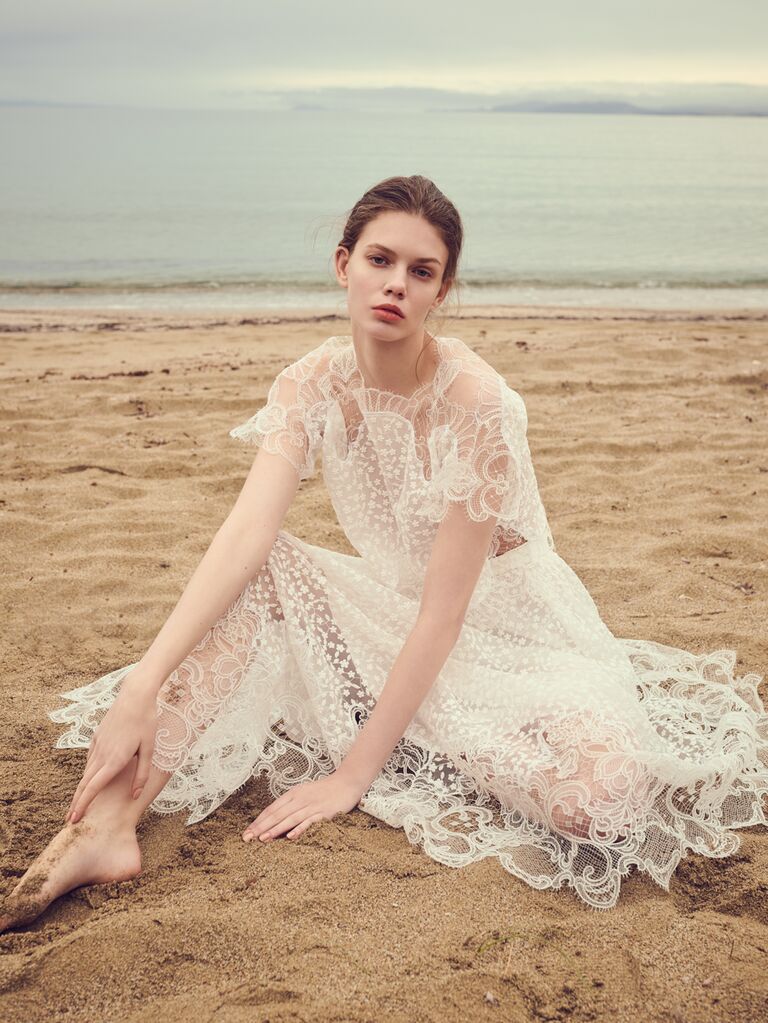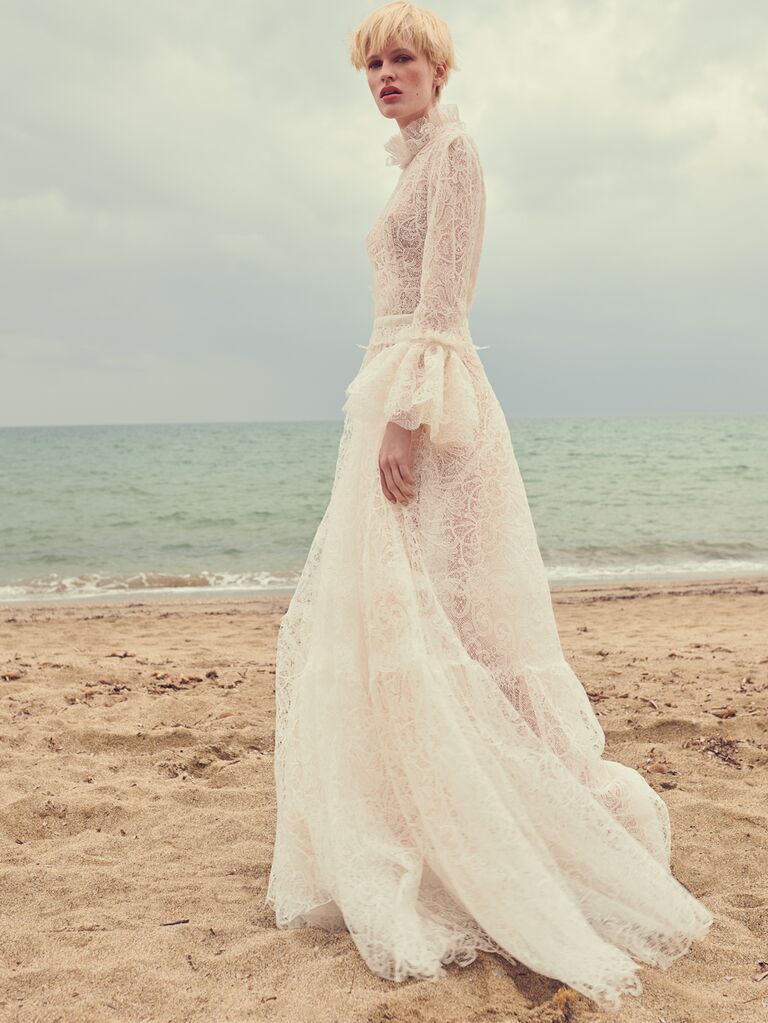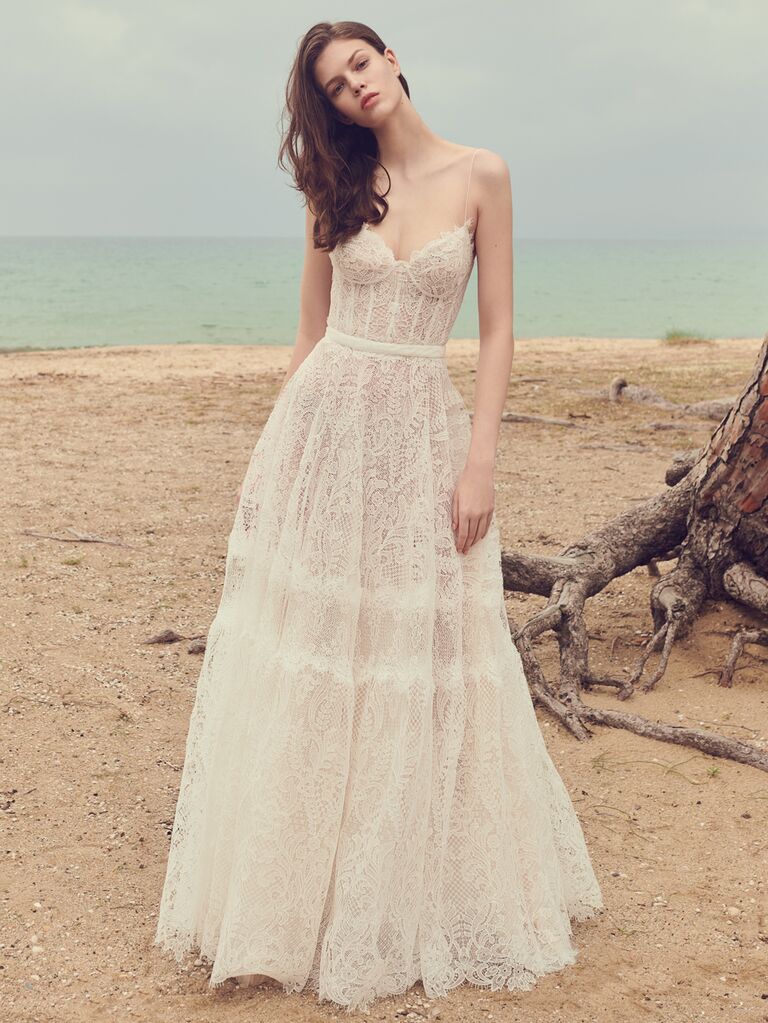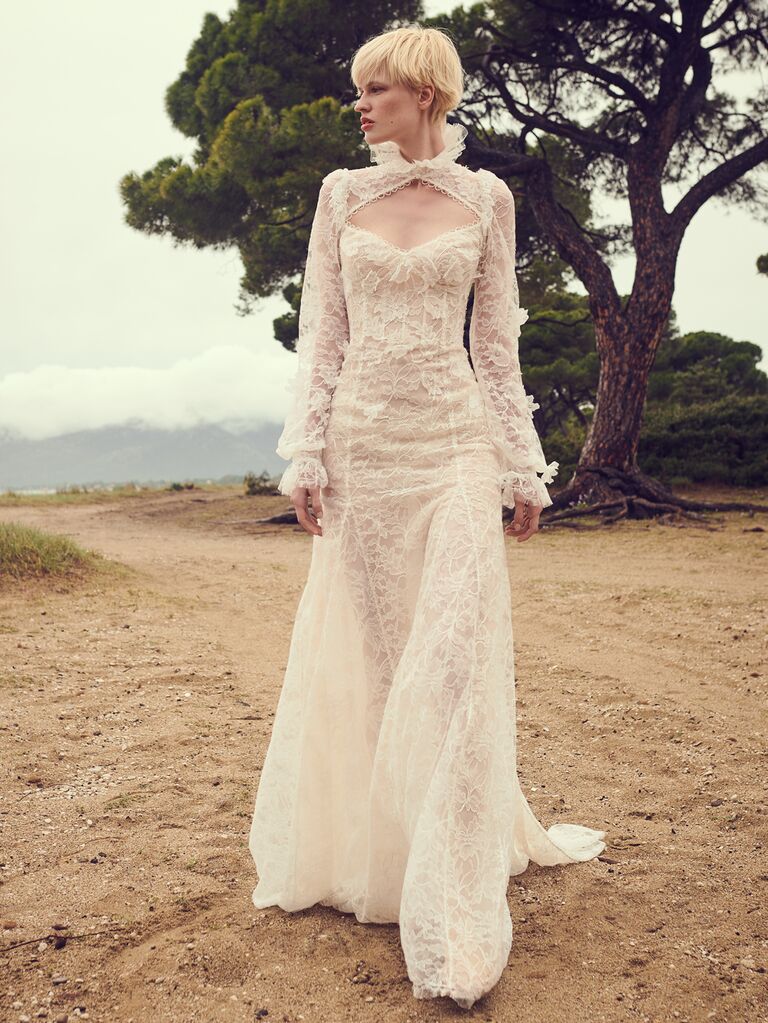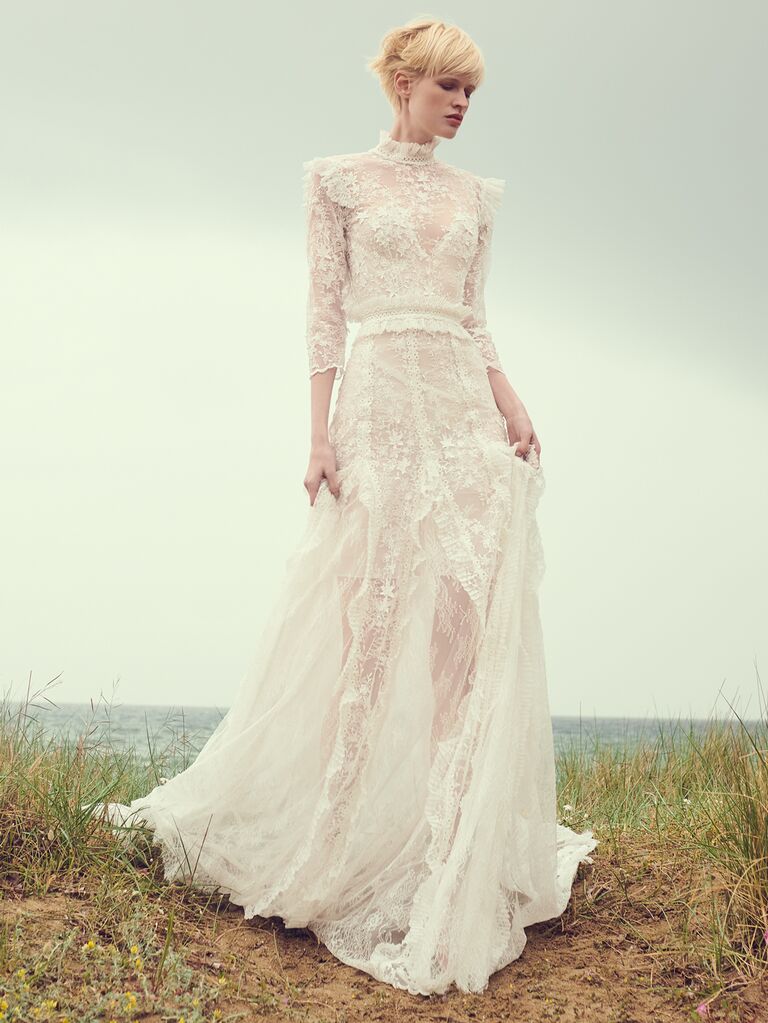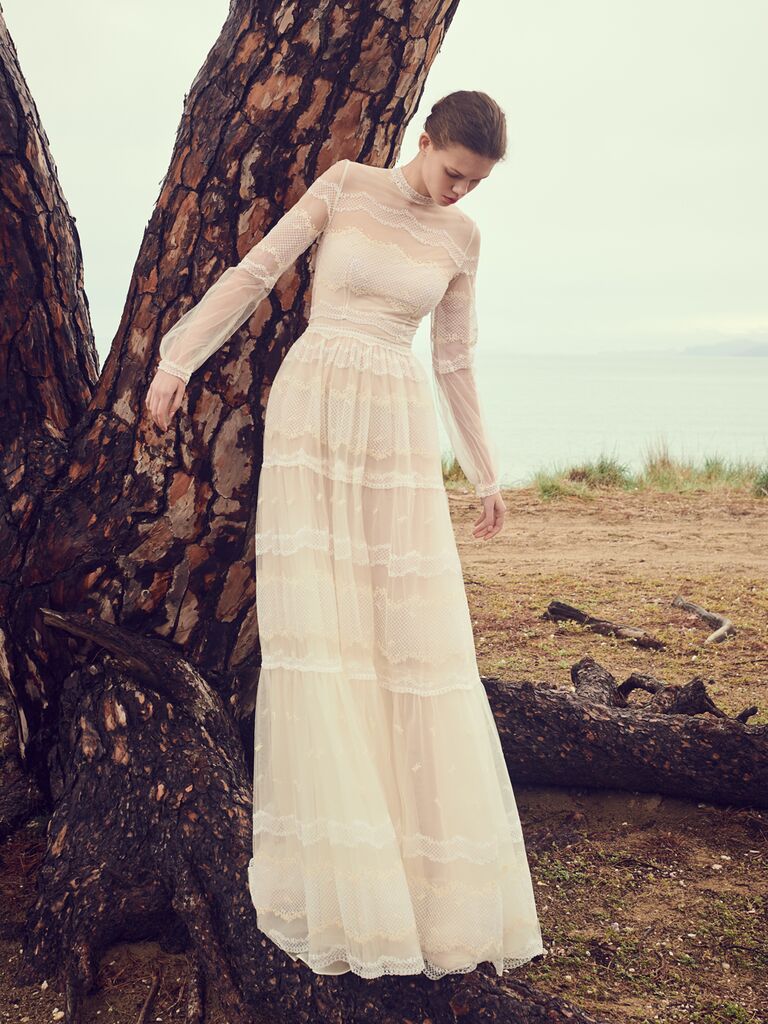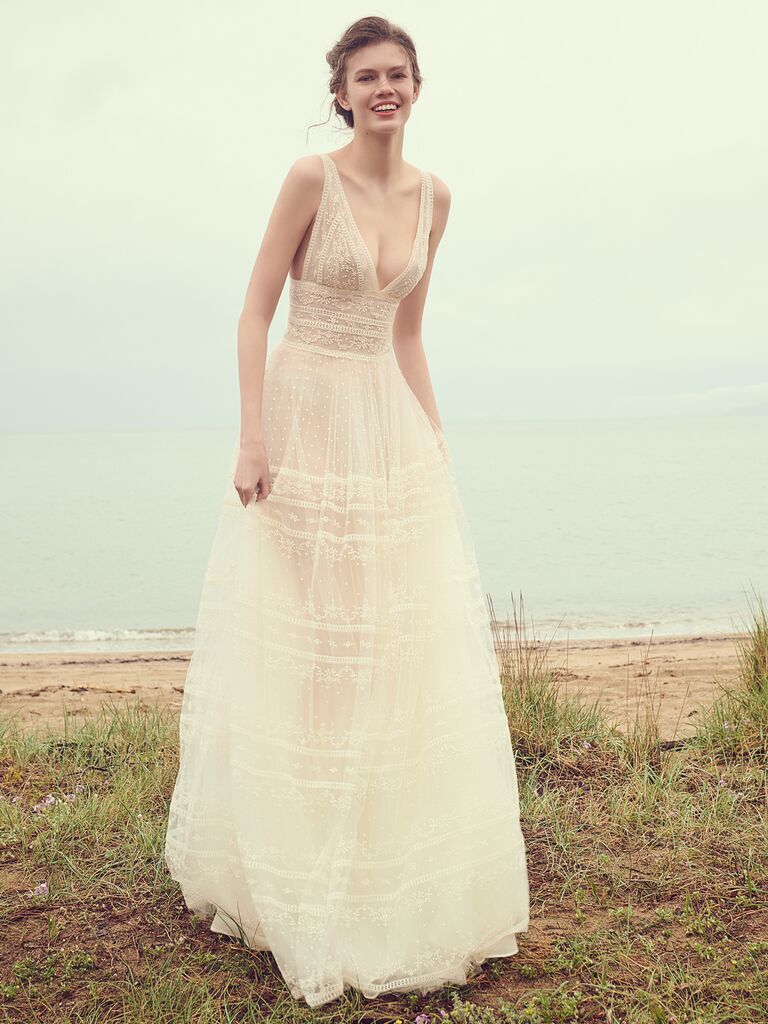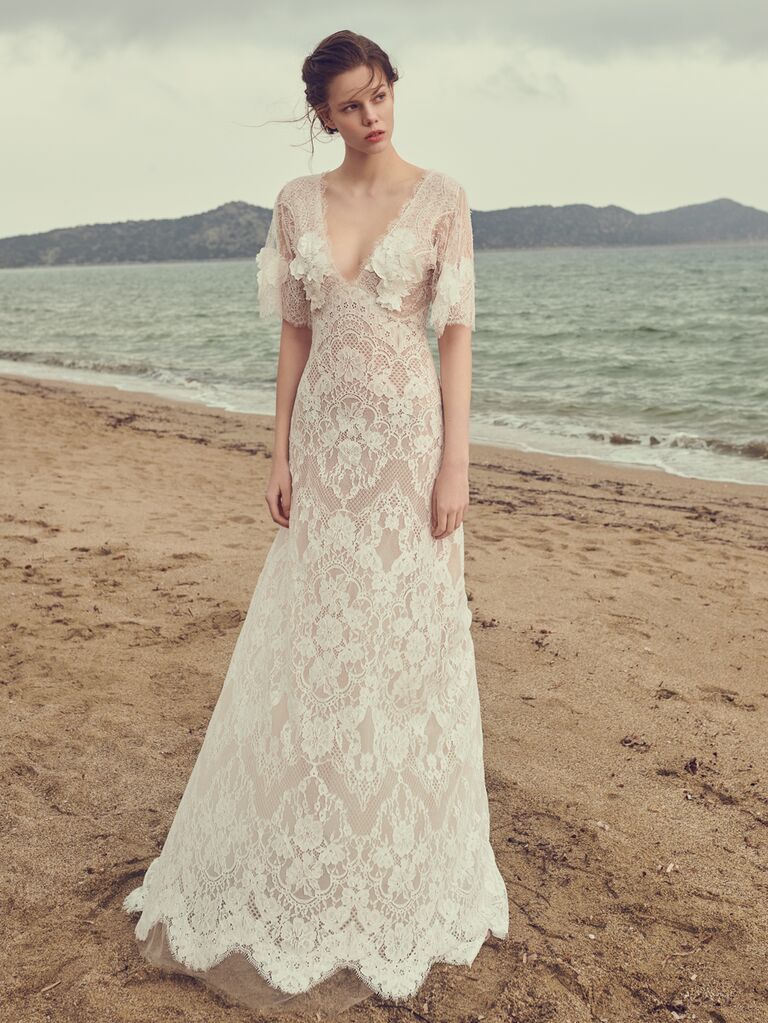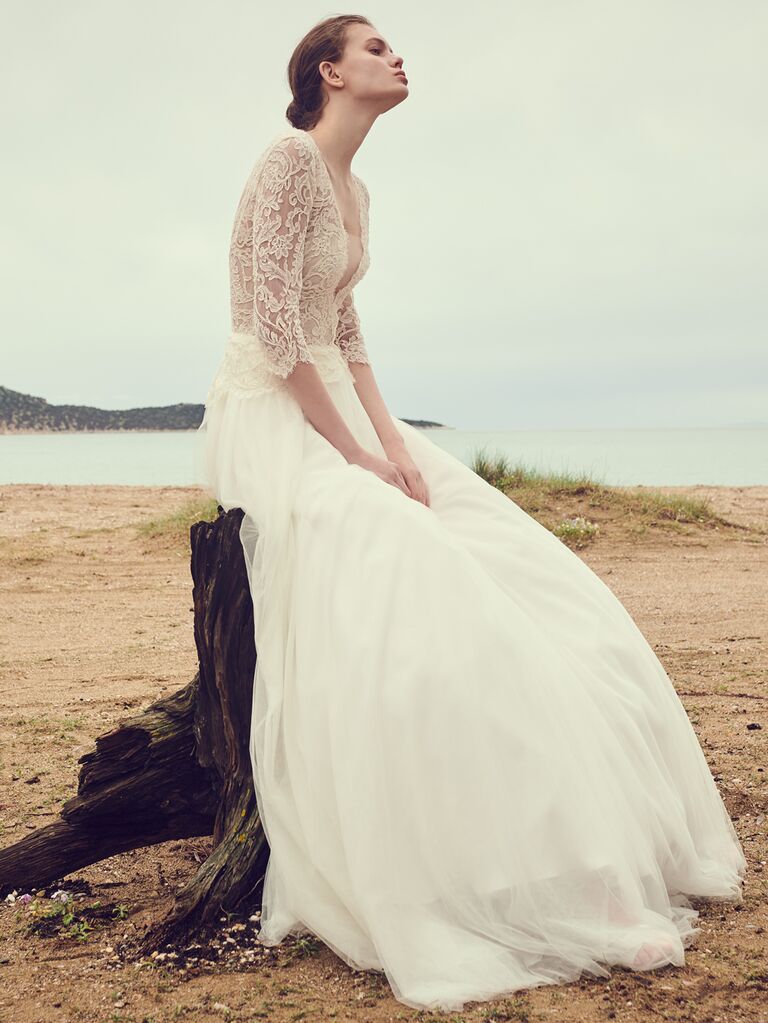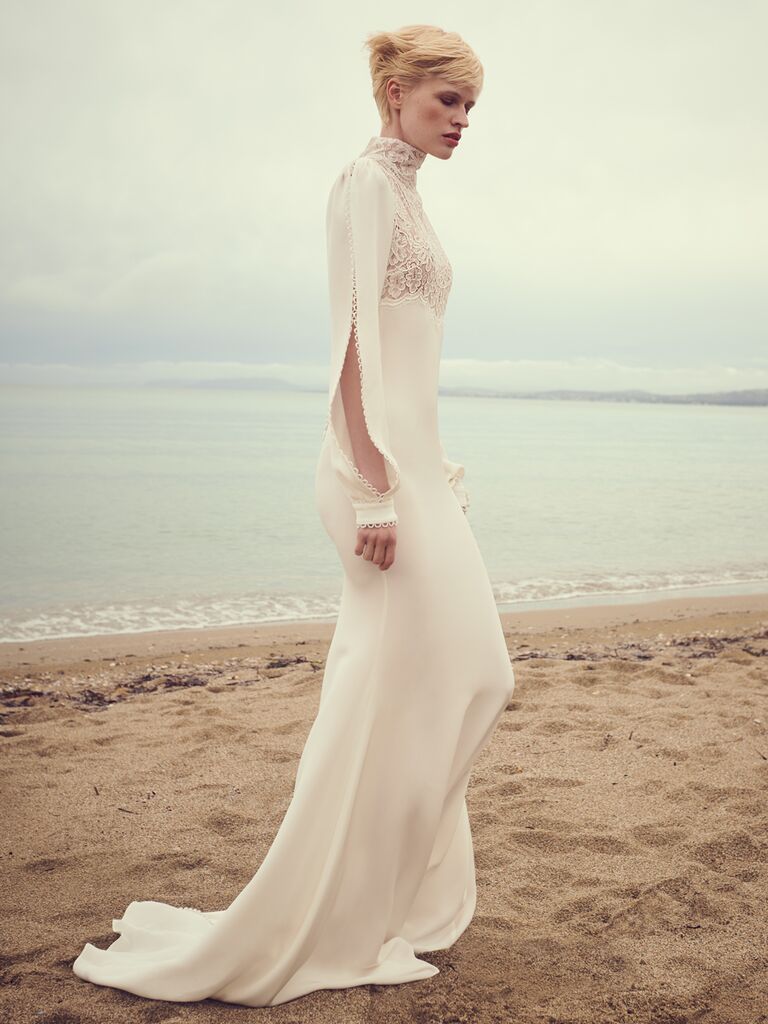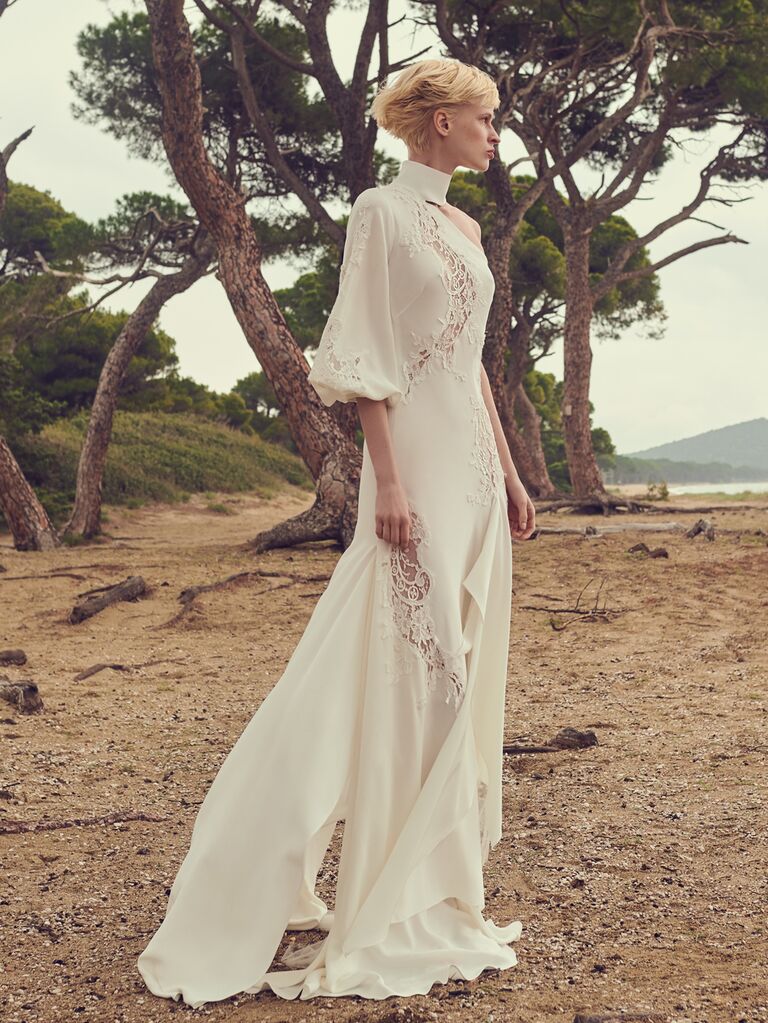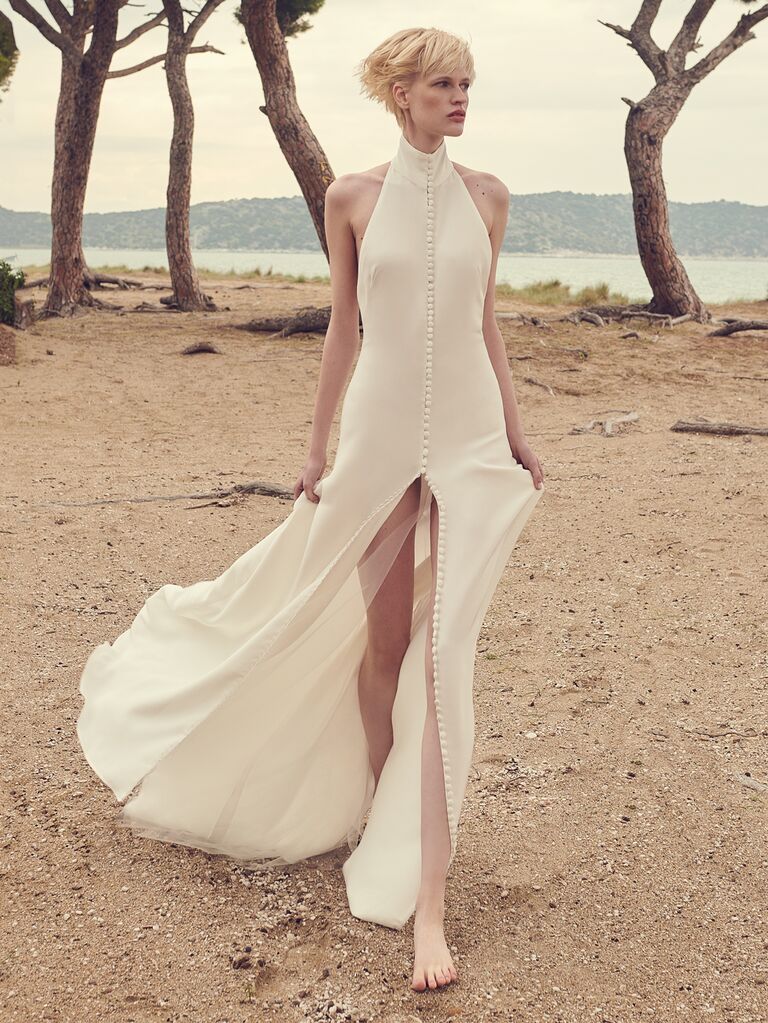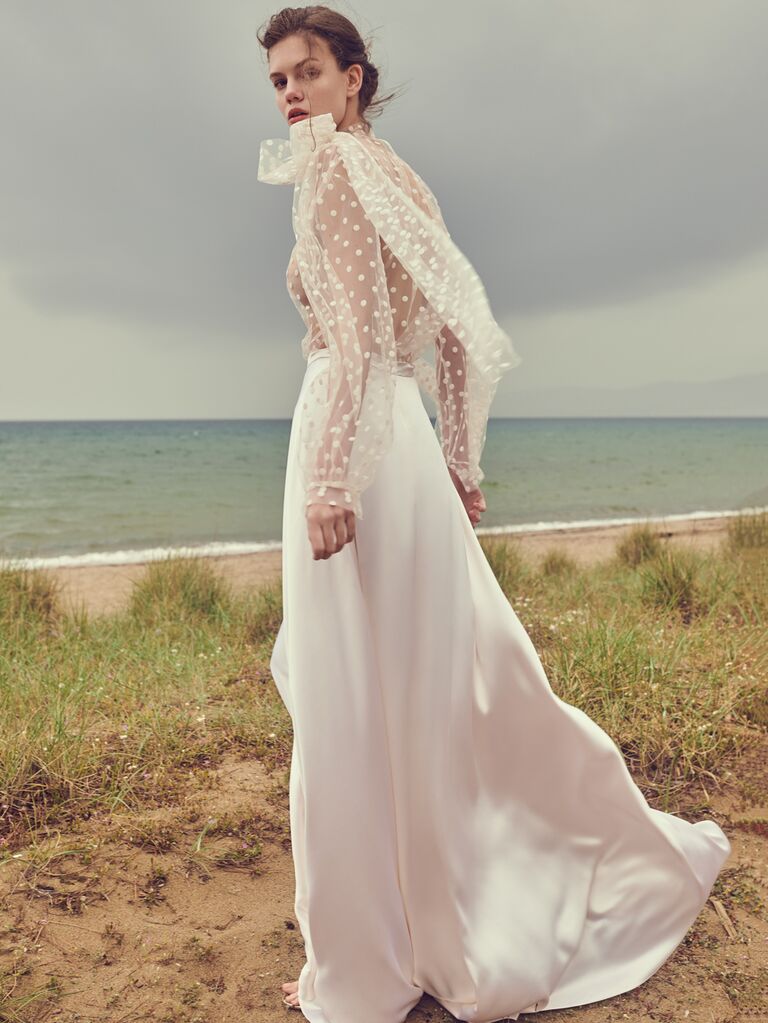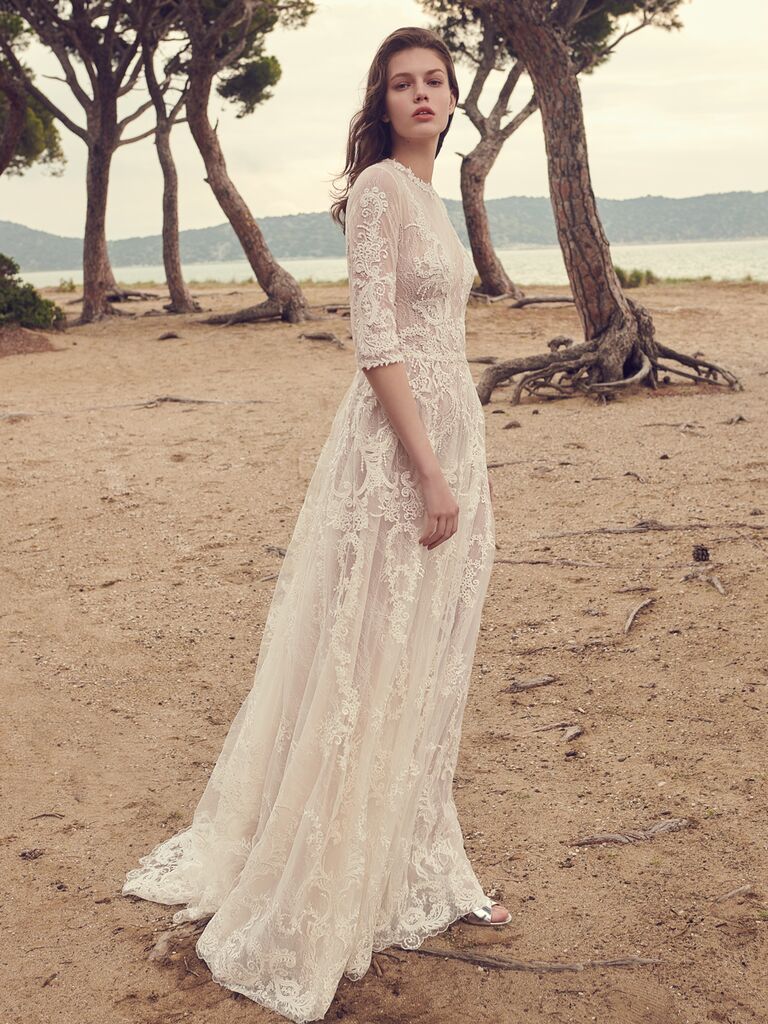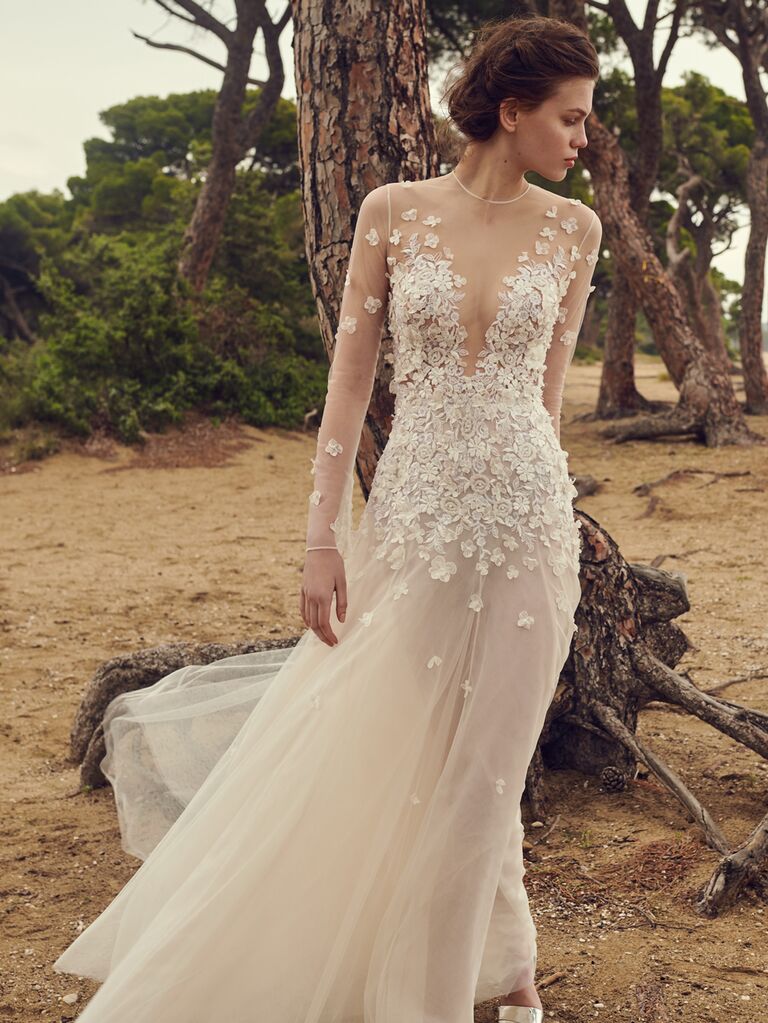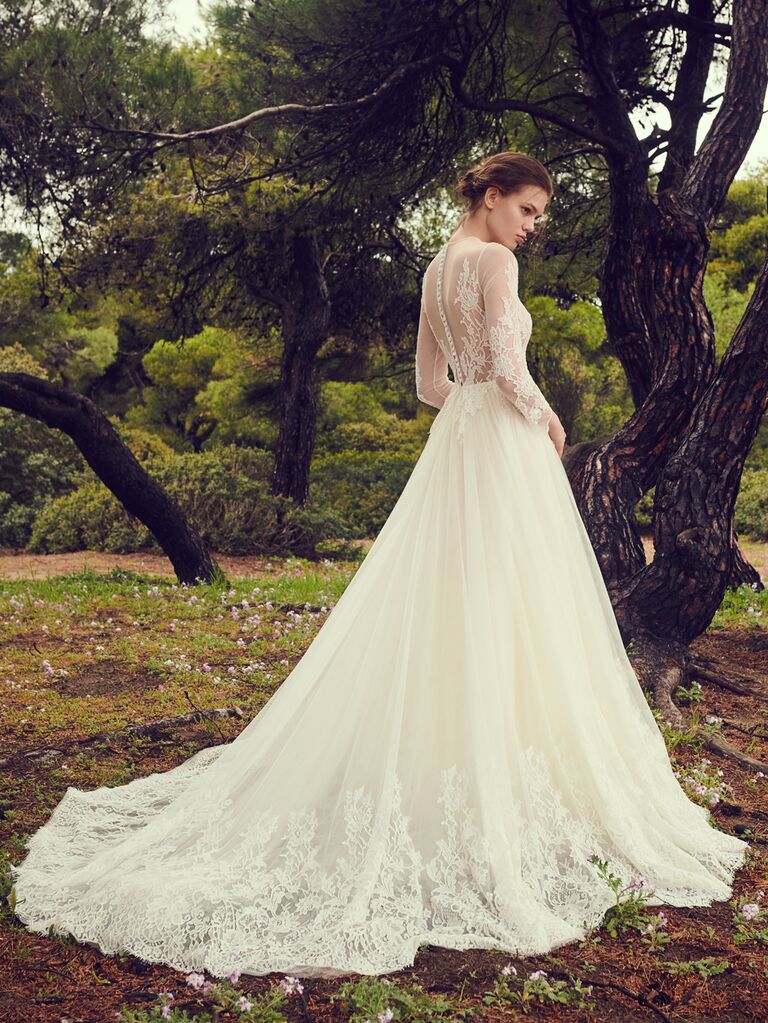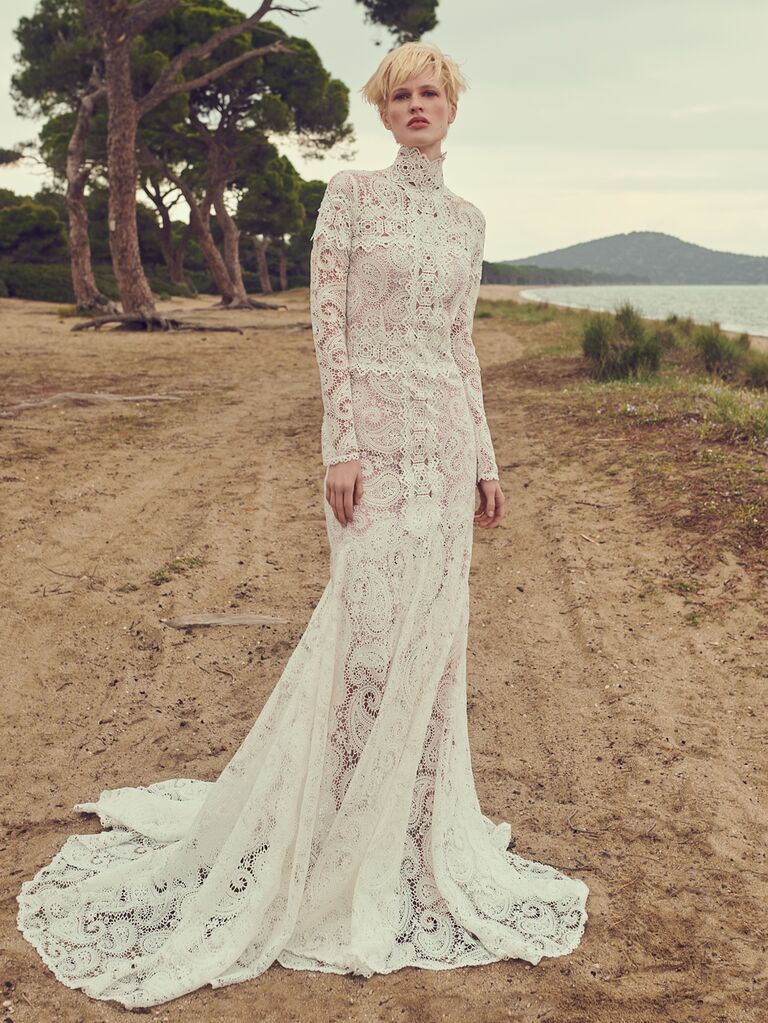 To check out all the Bridal Fashion Week galleries, plus wedding dress advice and more, go to TheKnot.com/bridal-fashion-week.