Couple's Shower Planning Basics
If the bride and groom can't bear to celebrate apart, get the whole group together and throw a shower with the girls and the guys.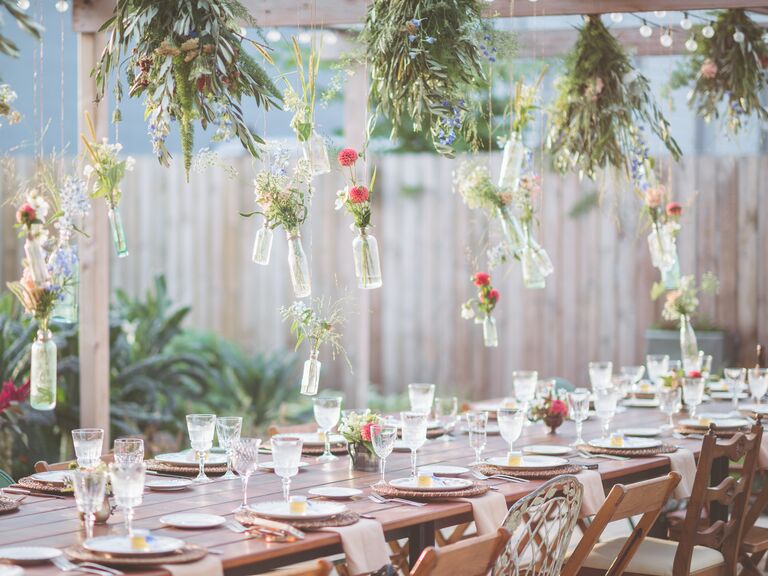 Paper Antler
Why spend your Saturday afternoon yawning over the ribbon bouquet when you can hang with a crowd far more entertaining than Mom's country-club friends? Go ahead and attend those must-attend functions, but think about putting together a party that includes the guys too. Here's the dirt on throwing a Jack & Jill party.
The Idea
A couple shower is closer to a cocktail or dinner party than it is to a bridal shower. Female and male relatives, as well as close friends, are invited. The party still revolves around gifts, but they're presented to both the bride and the groom, and generally they are a mix of home goods and guy-friendly gadgets. The shower can range from an afternoon barbecue at your parents' place to a cocktail party at your favorite restaurant or bar. There are no hard-and-fast rules about planning, though, so do what feels best.
The Guest List
You might want to limit the guest list to the couple's contemporaries who consider girl/boy proximity a given. Steer clear of people who may be offended by a coed shower, but don't neglect loved ones who wouldn't want to miss out on these festivities.
Rethink Tradition
Try cocktails in lieu of tea, barbecue instead of buttered scones. Think about themes:
Entertainment Shower, where guests dress up as famous characters and bring gifts like videos, CDs, and theater tickets. Assign everyone to perform their favorite movie lines.
Sports Shower, where you could organize a basketball game, rounds of tennis, Ultimate Frisbee, volleyball, or tag football. Chip in for his-and-her in-line skates, tennis rackets, or snorkeling gear.
Around-the-World Shower, where you serve international cuisine like paella, stir-fried vegetables, or gnocchi, and salivate over gifts such as a pasta maker, a wok, or a fondue pot.
Beach Shower, where everyone plays paddleball and splashes in the waves. Set up a tent and keep the cooler full of drinks. Gifts could be picnic baskets for two or matching beach towels.
Pool Party Shower, where you set up relay races and diving-board contests. Cook hamburgers by the pool and give gifts such as portable grills and plastic serving items like trays and martini glasses.
Games Shower, where you dream up your own version of The Newlywed Game or Jeopardy. Or host a cook off a la Iron Chef. Present the happy couple with stacks of board games or kitchenware.
Make Everyone Feel Comfortable
Since the rowdiness factor can shoot sky-high when boys are involved, make sure the girls know that the guest list includes folks of both genders. Include this information on the invitation, or call everyone to clue them in to the fact that this won't just be an afternoon of girl talk and lingerie-giving.
As guests arrive, play a name game so that everyone gets introduced and feels at ease. Have everyone say how they know the couple of honor.
When playing games, put the girls on one team and the men on the other to keep physical contact among possible strangers at a comfy minimum.