66 Sweet Wedding Dessert Ideas You Can Serve Instead of Cake
From gelato to churros, we have it all.
Just because it's a wedding doesn't mean you're restricted to serving only cake. There are lots of tasty wedding dessert ideas you can choose from. If you and your partner split a sundae on your first date, treat your guests to a sundae bar. And if you want to serve a second dessert in addition to your wedding cake, without interrupting the flow of the music and dancing, have an attendant walk around and hand out key lime pie shooters. No matter why you want a non-cake dessert for your wedding, you'll be happy to know there are options for you. Read below to find a delectable confection (or confections) you can serve at your wedding that will please everyone's palates.
In this article:
Unique Wedding Dessert Ideas
Surprise your guests with sweet treats they've never seen before, much less have had at a wedding. These 11 unique dessert ideas can work at any wedding-related event (and includes a savory option you might not have thought of.)
1. Cotton Candy Station
At this whimsical wedding, the couple hired a gourmet fairy floss business to cater their reception. A cotton candy station means guaranteed fun for all ages and makes a great party favor.
2. Peanut Butter Cups With Gold Leaves
One of the late-night snacks the happy couple offered their guests were large peanut butter cups. To elevate this classic candy for their formal wedding, they requested a gold leaf be on each peanut butter cup. This is a perfect example of how you can take any dessert item and make it fit your wedding.
3. Marshmallow Pops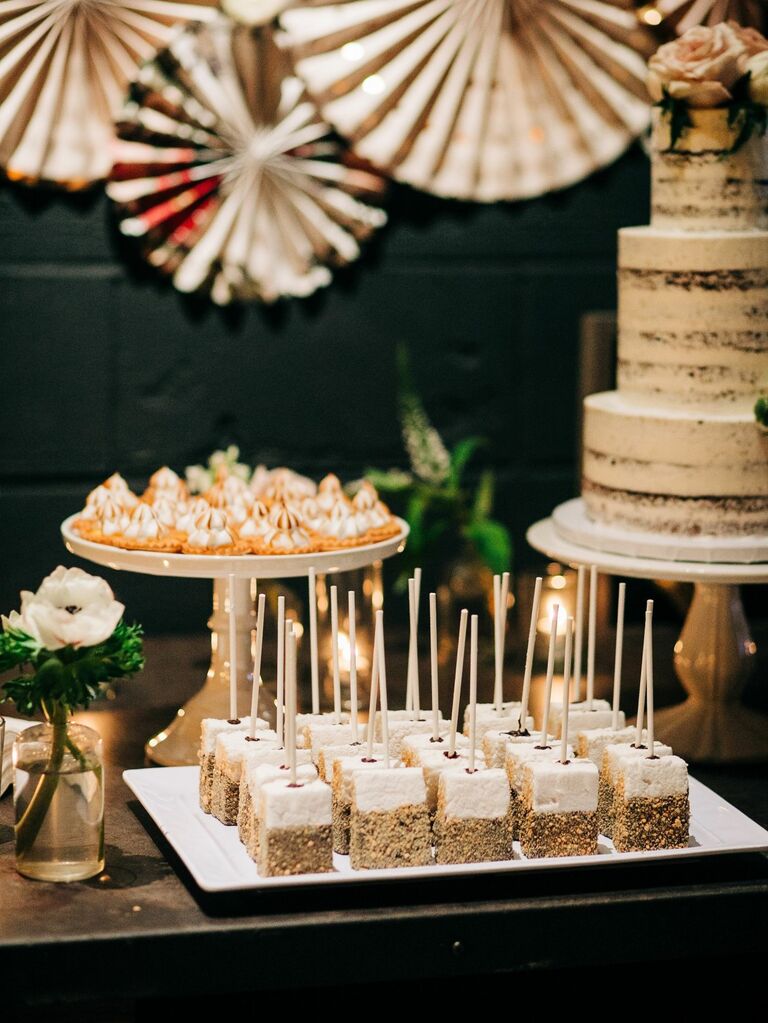 Handheld foods will always be fan favorites at weddings since some guests like food that doesn't leave them stuck at a table. Give your desserts the handheld treatment with marshmallow pops. These delicious wedding desserts were dipped in chocolate and rolled in graham crackers, also known as deconstructed s'mores.
4. Chocolate-and-Coconut Cookies and Porter Pairings
Who says you can't have your wedding dessert complement your drinks? Get creative with your dessert and drink pairings as this couple did at their outdoor summer camp celebration.
5. Strawberry Shortcake Trifles in Mason Jars
At this Fourth of July-themed wedding, the couple had American and rustic-inspired decorations, attire and food. The strawberry shortcake trifles are unique since you don't usually see them put in mason jars, which was done to fit the couple's rustic theme.
6. Cinnamon Roll Pops
You can't go wrong with putting your favorite dessert on a stick. Instead of a wedding cake, the couple requested this tasty looking three tiered cinnamon roll pop display.
7. Milk and Chocolate Chip Cookie Shooters
The bride and groom didn't want a wedding cake so they offered cookie shot glasses filled with milk as one of their desserts. If chocolate chip cookies aren't your thing, ask your caterer if they can make different flavor cookies, like snickerdoodle or gingerbread.
8. Chocolate Dipped Fortune Cookies
Why not have your favorite Chinese treat at your wedding? This couple gave fortune cookies dipped in chocolate and purple sprinkles as edible wedding favors. Each fortune cookie had a thank you message from the bride and groom.
9. Strawberry Ladyfinger Cake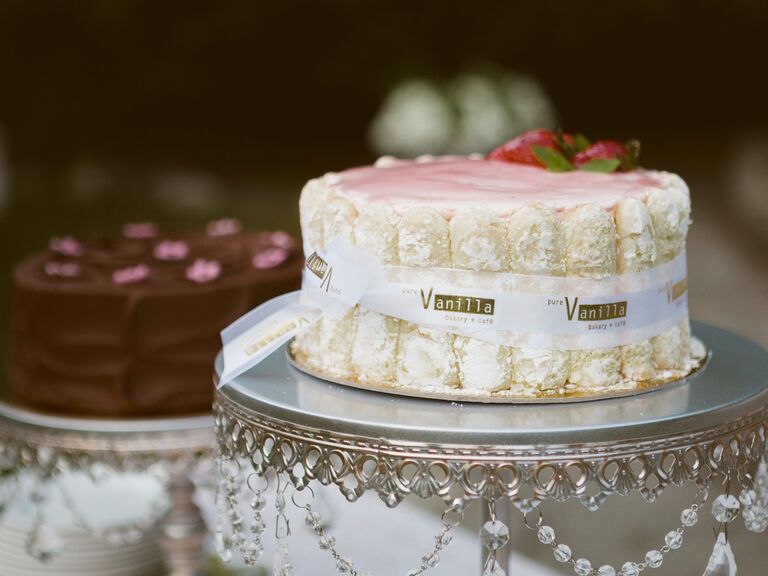 Ladyfingers are sweet sponge cake-like biscuits named after their similar shape to fingers. This strawberry ladyfinger cake was served at a romantic garden wedding in Victoria, British Columbia.
10. Homemade Pop Tarts
We love doing a playful take on a popular children's snack as a wedding dessert. Homemade Pop Tarts are definitely a dessert many of your guests will immediately recognize and be excited to try.
11. Cheese Wheel Cake
We couldn't end our unique wedding dessert ideas list without a savory option. For couples who don't have a sweet tooth, this cheese wheel cake is for you.
Elegant Wedding Dessert Ideas
Impress your guests with tasty desserts they won't forget. Here are 14 elegant wedding dessert ideas that'll take your breath away in more ways than one.
12. Mango Panna Cotta
Even though panna cotta is considered an Italian dessert, it has popularity in Pakistan. At this Pakistani-American wedding, they served mango panna cotta with other Pakistani sweets at their dessert bar.
13. Croquembouche
Nothing says elegance more than a croquembouche, a French dessert made of pastry puffs formed into a cone shape with threads of caramel drizzled on it. In France and Italy, croquembouche is often served at weddings and other important celebrations.
14. Madeleine Tower
At this glamorous wedding, the couple had multiple sophisticated desserts instead of one wedding cake. We think the black velvet bow at the bottom of the tower is the perfect touch to this elegant wedding dessert showpiece.
15. Custom Calligraphed Macarons
Macarons are always a hit at any event. To personalize your macarons, ask your caterer to add your name and your partner's name in the font of your choice.
16. Pavlovas With Berries and Figs
A pavlova is a meringue-based dessert that's chewy while being light and airy at the same time. The benefit of having this dessert at your wedding is that it can be topped with just about any fruit of your choice.
Find your kind of venue
From barns to ballrooms, discover reception venues that feel like you.
17. Individual Crème Brûlées
At this chic wedding, individual crème brûlées with raspberries was one of the dessert table options. You can serve them premade like seen above or ask your caterer to do the finishing touch, where they must use a cooking torch to achieve the cracked sugar top, in front of guests to offer a cool entertainment moment for them.
18. Peanut Butter and Chocolate Parfaits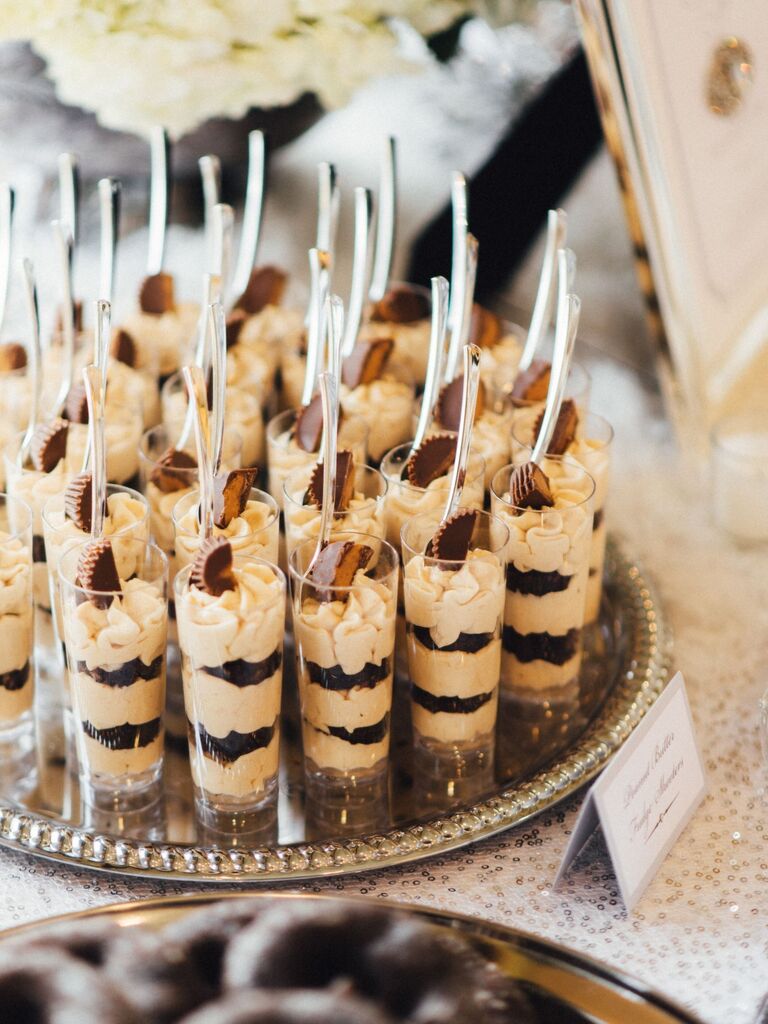 Parfaits are a fun dessert that can be a combination of your favorite flavors. We love these peanut butter fudge parfaits with peanut butter cup garnishes.
19. Homemade Chocolate Truffles
Delectable chocolate truffles are a classic crowd-pleaser that can work at any wedding. Have fun with different colors to match your wedding color scheme.
20. Tiramisu
If you have loved ones that make incredible desserts, consider asking them to make some for your special day. This delicious-looking tiramisu was one of the wedding desserts the couple's loved ones made for their reception.
21. French Crêpes
Crêpes are a perfect wedding dessert idea because they can be served in a variety of ways. Crêpes can be sweet and savory or have spreads and fillings like vegetables, fruit, meat and much more.
22. Kransekake
A kransekake, also known as a kransekage, is a traditional dessert served at Danish, Norwegian and Swedish special occasions. To celebrate their Scandinavian background, the couple served kransekake with small Swedish and Norwegian flags throughout.
23. Millefoglie
Consider using your wedding dessert to honor your heritage as this couple did at their traditional Italian Catholic wedding. Millefoglie, which translates to 1,000 layers, is often served at Italian weddings and is sometimes even made in front of an audience.
24. Fruit Filled Cream Puffs
Cream puffs are another dessert that can be either sweet or savory. Don't be afraid to have a variety of cream puff filling options so your guests can have the best of both worlds.
25. Chocolate Lava Cakes
Chocolate lava cake, also known as molten chocolate cake, is an elegant wedding dessert that's fun to eat and delicious. If you want to add a bit of romance to the dish, ask your caterer if the center of each lava cake can be heart-shaped.
Rustic Wedding Dessert Ideas
If you're planning a rustic wedding and want dessert ideas, we have what you need. Check out this small but mighty list of rustic-themed wedding desserts you'll love.
26. Hot Chocolate
At this rustic wedding, the couple set up a DIY hot chocolate bar. The bride and groom had cinnamon sticks, candy canes, marshmallows and whipped cream as toppings.
27. Individual Berry Cobblers
According to experts, individual servings are one of the top 10 wedding food trends. There are numerous ways you can incorporate this trend into your big day, like pies, tarts and cupcakes.
28. Almond Tart
At this rustic outdoor wedding, the couple had a tea party-inspired dessert and snack set up. The foods were from all over the world to represent the countries their guests were from.
Fun Wedding Dessert Ideas
Don't take your dessert choice too seriously. Get creative and play around with how you display or decorate your favorite sweet delights.
29. Assorted Whoopie Pies
Have fun and be creative when deciding on your desserts for your wedding. This whoopie pie display came in five flavors and fillings sure to make any guest happy.
30. Tuxedo-Inspired Cake Pops
You've most likely seen numerous kinds of cake pops, so if you're going to include them at your wedding, why not make them unique? The grooms hired a baker to make each cake pop resemble the tuxes the grooms were wearing.
31. Waffle and Bacon Cupcakes
Bring a bit of breakfast cuisine to your wedding dessert table. Waffle and bacon cupcakes are a fun sweet no one will expect but will automatically love.
32. Beignets
Beignets are a French dessert that has become a classic staple of New Orleans fare. You can find a local baker to make them or order them from one of the renowned Café Du Monde locations in Louisiana.
33. Pig-Shaped Candies
We love when couples choose to personalize their wedding desserts. This bride and groom gave their guests pig-shaped candy favors to represent the groom's job and family business, a 100-year-old pig farm.
34. Fondue Fountain
A fondue fountain station is a fun and tasty way to include sweet and savory snacks at your dessert table. Ensure you have someone overseeing the station if kids will be at your wedding since it can get messy without parent or adult supervision.
35. Field Hockey-Inspired Rice Krispies Treats
To show their love for Alabama and their alma mater, the bride and groom not only held their wedding at the University of Alabama's sports stadium, they also hinted at it in their dessert. The field hockey-inspired Rice Krispie Treats had the couple's player number they wore while attending the University of Alabama.
36. Chocolate Oreo Display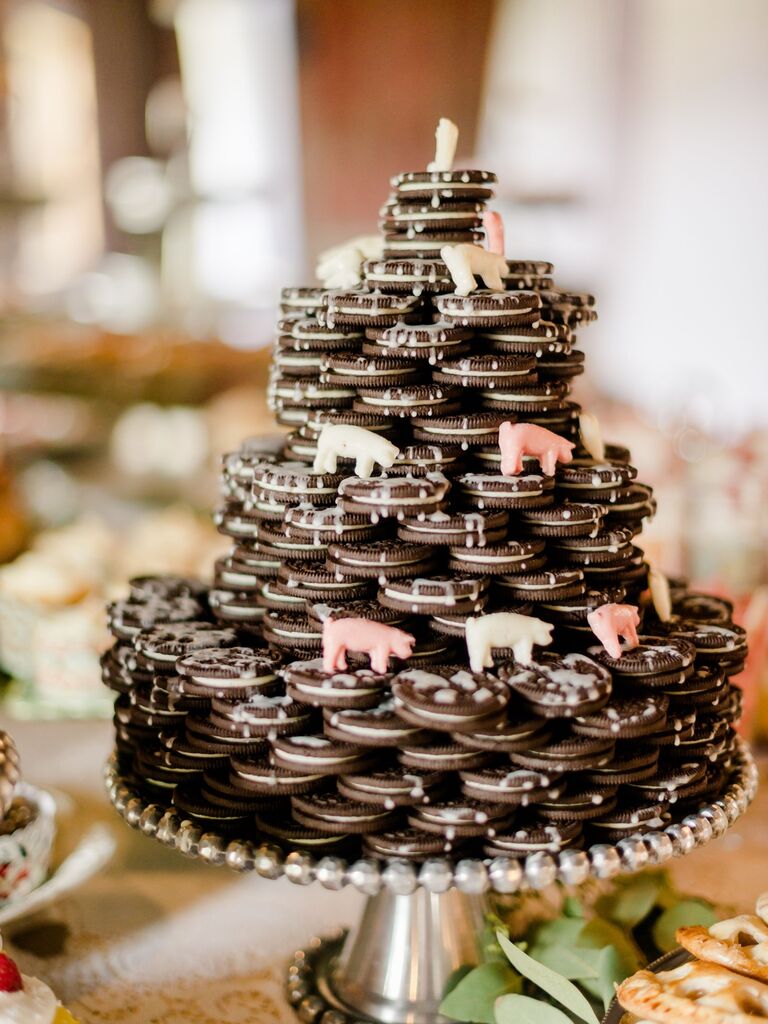 In addition to a traditional wedding cake, the couple had multiple yummy desserts. This chocolate Oreo display matched the bride and groom's barn theme by having pig figurines placed on it.
37. Churros in To-Go Containers
The happy couple had a wedding taco bar to feed their guests. In keeping with the Mexican-inspired menu, the guests were served churros with their choice of caramel or chocolate dipping sauces.
38. White Chocolate Covered Strawberries With Baseball Stitching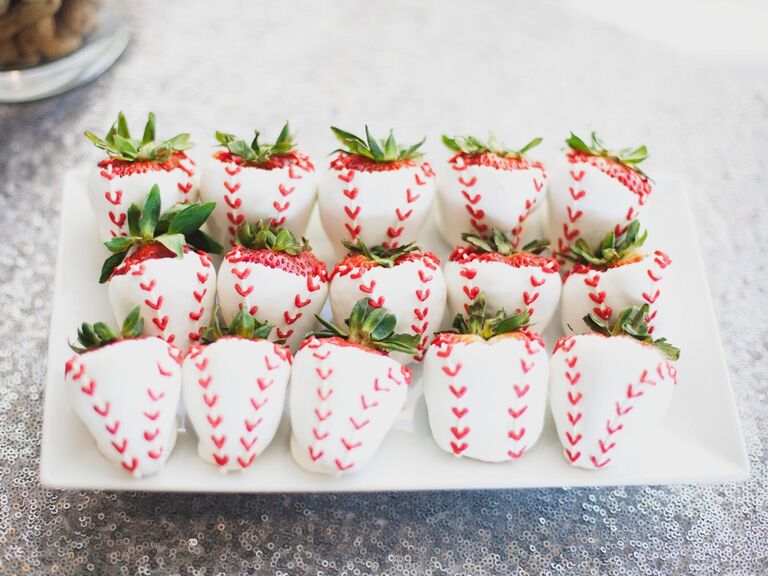 To go with their unique baseball-themed wedding, the couple hired a caterer to dip strawberries in white chocolate and add red decorations, so they resembled baseballs. They also had jersey-shaped sugar cookies with the couple's married name and wedding date on them.
39. Doughnut Hole Tower
Want a croquembouche-style dessert without the pastry puffs? Try it with doughnut holes with varying flavors to surprise your guests.
Mini Wedding Dessert Ideas
Offering bite-sized wedding desserts allows you to have a table of numerous options for your guests to nibble on without them getting stuffed. So if you love a certain dessert in its full form, why not make it miniature?
40. Boozy Tiny Doughnuts
"When you get married on a Tuesday, you'd better send people home with breakfast for the next day. When you get married on St. Patrick's Day, you'd better have a boozy dessert," the bride jokes about their mini boozy doughnuts. If you want an alcohol-infused dessert at your wedding, properly labeled so parents can ensure their kids don't mistakenly eat one.
41. Petite Chocolate Milkshakes and Chocolate Chip Cookies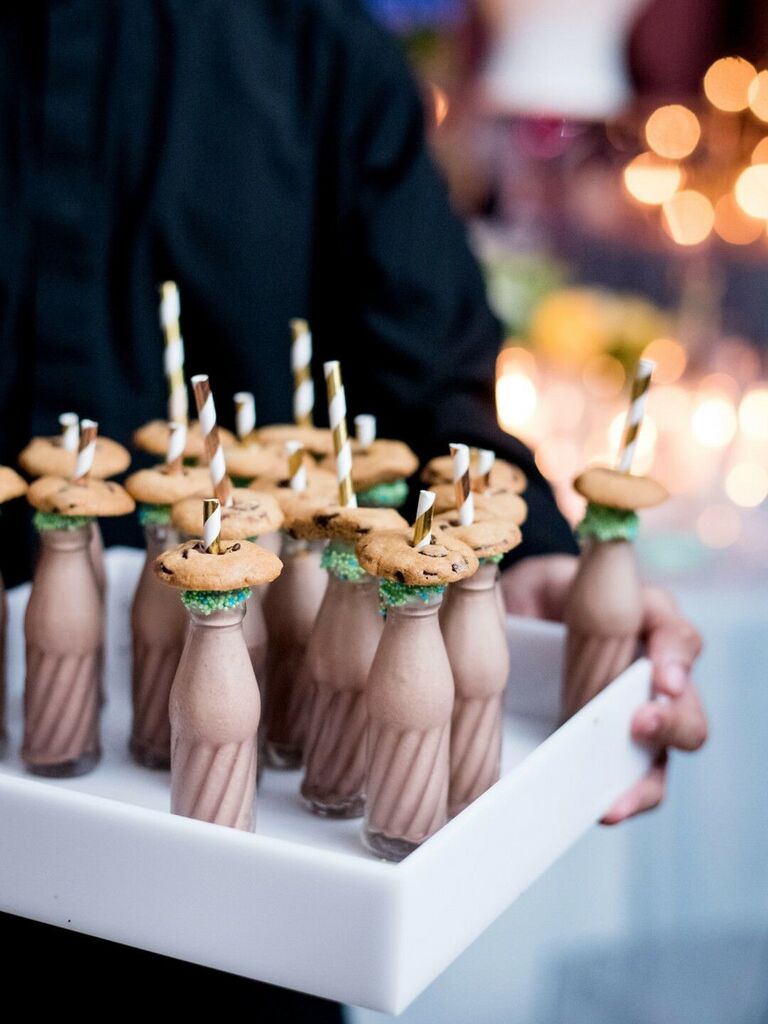 Need the perfect late-night snack for your wedding after-party? Try these small but rich chocolate milkshakes with chocolate chip cookie toppers.
42. Key Lime Pie Shooters
Dessert shooters are popular at many events and celebrations. Almost any sweet treat can be made into a shooter, which makes it a great option for couples who want handheld food items at their wedding.
43. Small Fruit Tarts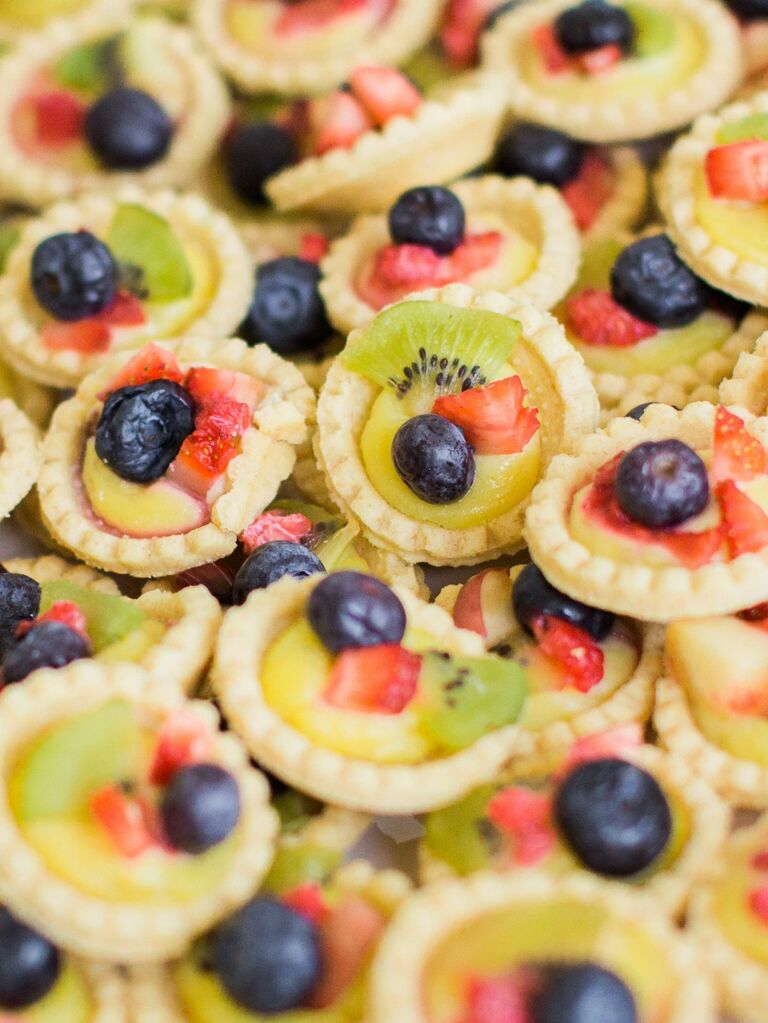 For a quick and easy dining experience for your guests, offer bite-size wedding desserts. Let your guests fill up on anything from small fruit tarts to mini cheesecakes.
44. Bite-Size Cannolis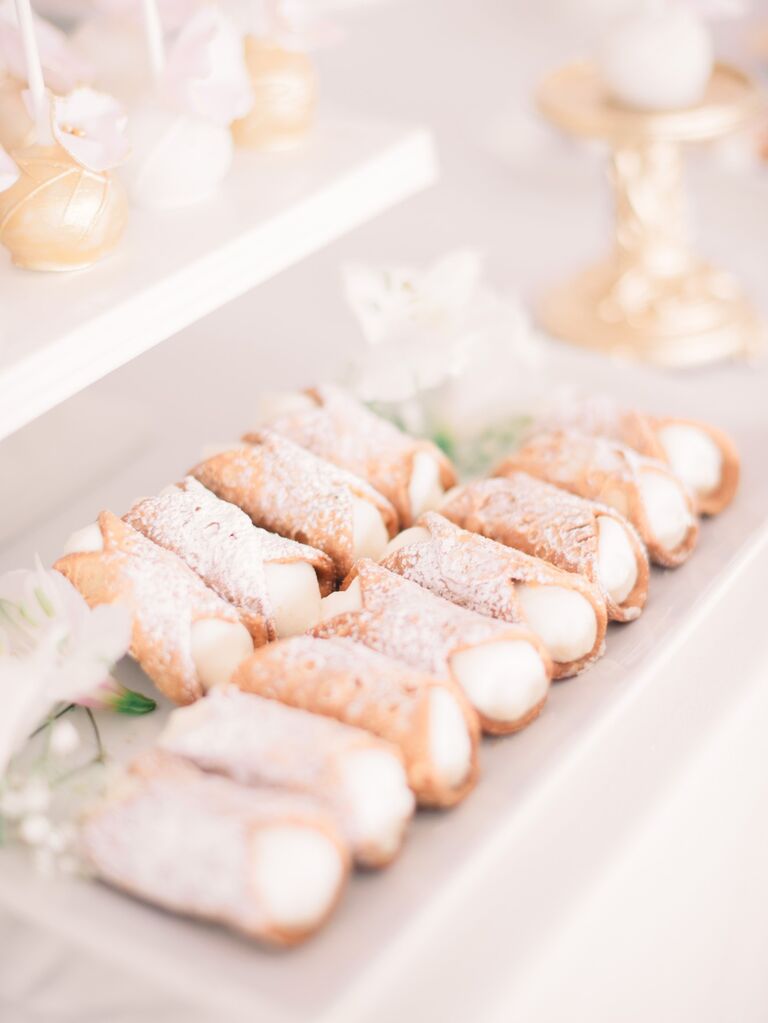 If you want another dessert in addition to your cake, consider a miniature version of the second dessert. The bride and groom served decadent cannoli dusted with powdered sugar alongside their white wedding cake.
Frozen Wedding Dessert Ideas
For couples having weddings during the warm seasons, serving something refreshing or cooling is key, especially if it's an outdoor wedding. Consider having one of these icy treats below at your wedding.
45. Signature Popsicles
You've probably heard of signature cocktails, but what about signature popsicles? Have a wedding dessert menu with your and your partner's respective popsicle flavors so your guests can choose their favorite.
46. Soft-Serve Ice Cream
At this beautiful beachside wedding, the couple hired a Mister Softee Ice Cream truck to pass out soft-serve ice cream. This is the perfect frozen late-night snack for guests.
47. Chocolate Taco Ice Cream
We love this creative frozen wedding dessert idea. The chocolate taco ice cream went with the couple's taco and tunes wedding theme.
48. Colorful Ice Cream Sandwiches
These cute and eye-catching rainbow-sprinkled ice cream sandwiches were a big hit at the bride and groom's wedding. This kind of dessert is perfect for kids who love food with fun colors.
49. Snow Cones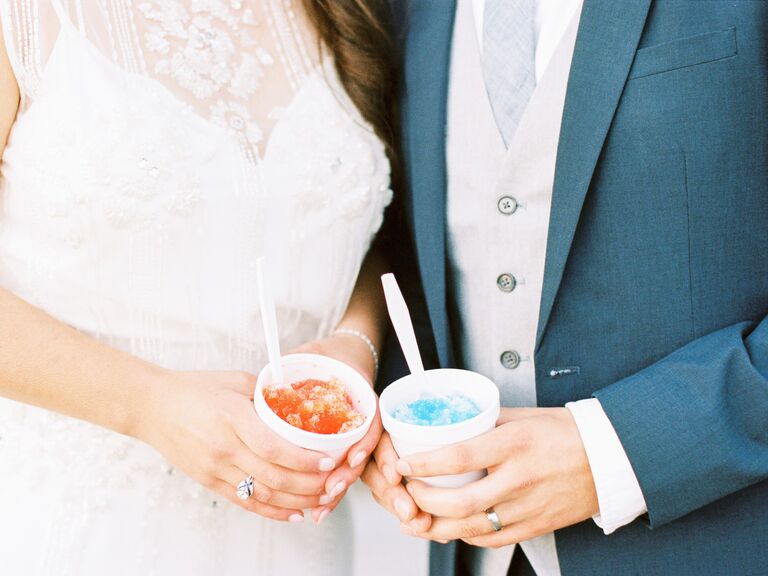 To go with their beach wedding, the couple hired a caterer to serve snow cones to their guests during the reception. This a great beach wedding dessert idea to cool your guests down in warm weather.
50. Assorted Gelato
If you want ice cream at your wedding, but want something slightly different, try gelato. Authentic gelato has more milk, less cream and typically doesn't use egg yolks as ice cream does.
51. Frozen Custard
The bride and groom included lots of local details and vendors at their wedding. Ted Drewes Frozen Custard is a St. Louis, Missouri staple, so this wedding dessert was a must-have.
52. Sweetheart Ice Cream Cake
You can totally offer your guests a multitude of dessert options but have a special dessert for just you and your partner. This bride and groom requested an ice cream cake as their sweetheart confection.
53. Ice Cream Sundaes
To honor where they had their first date, the bride and groom hired the local ice cream shop Ted & Wally's to be their wedding dessert caterer. The couple made custom his and hers flavors for the ice cream sundaes.
Simple Wedding Dessert Ideas
It never hurts or disappoints if you go back to the basics for your wedding dessert. Serve one of these simple and classic sweets on your special day that is guaranteed to satisfy.
54. Jordan Almonds
Jordan almonds are a dessert wedding tradition that is rich in flavor and symbolism. Consider giving these as party favors to your guests, with an added warning about the candy's outer shell.
55. Chocolate Chip Cookie Wedding Cake
If cake isn't your thing, consider having cookie cake instead. Choose any cookie flavor(s) that speaks to you and enjoy a dessert that's simple yet fun.
56. Milk Chocolate Mousse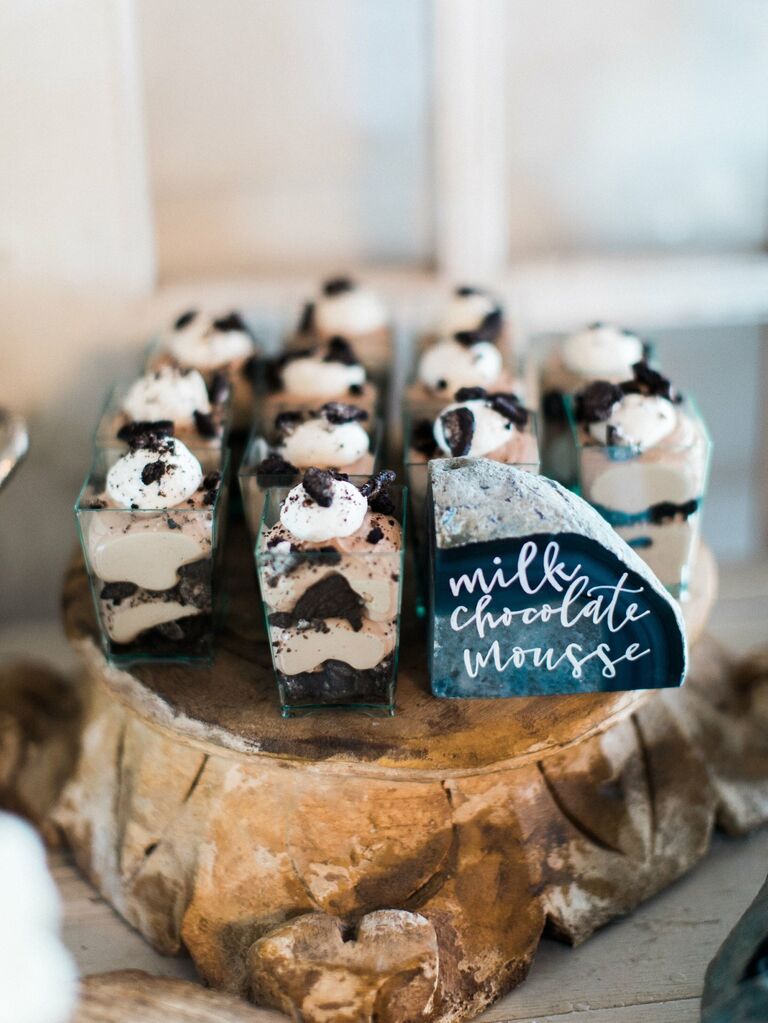 These milk chocolate mousse shooters look delicious with their Oreo cookie crumble toppings. They are a straightforward goodie almost any guest will enjoy.
57. Pretzel Sticks Dipped in Chocolate and Rainbow Sprinkles
Every aspect of this couple's wedding was colorful and vibrant. To continue with their bright color scheme, the couple had pretzels sticks dipped in chocolate and rainbow sprinkles at the reception.
58. Upscale S'mores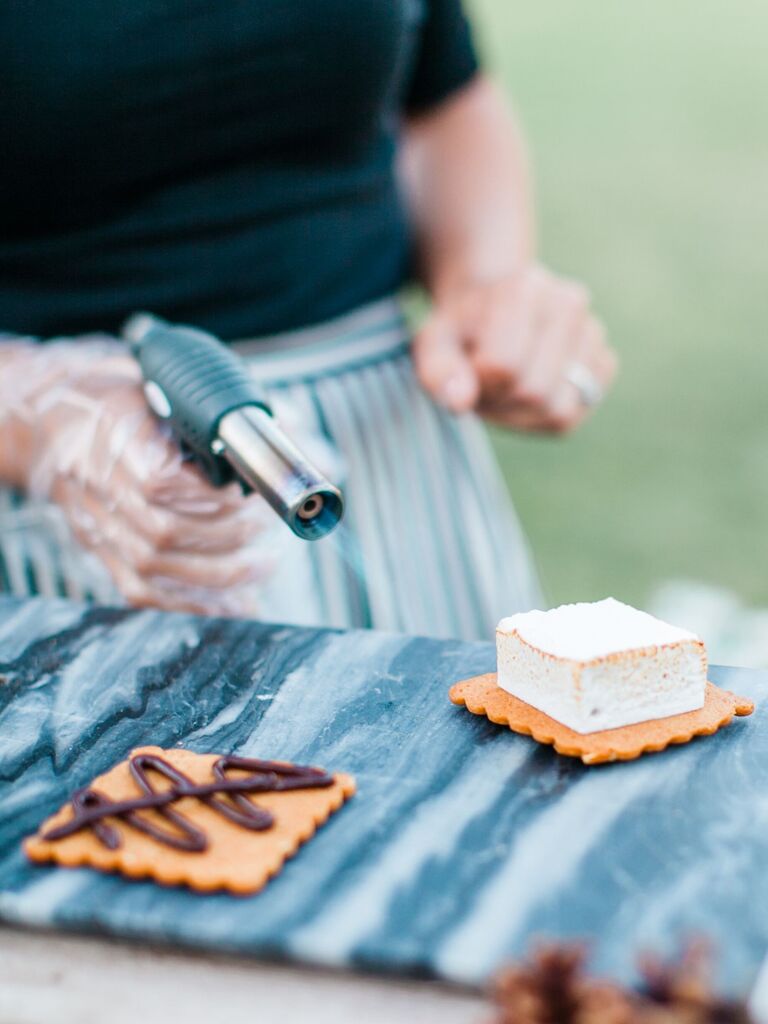 We love the idea of serving s'mores at a wedding, especially if you're having a campfire at the reception. You can have a s'mores station for guests to make it themselves or have the catering staff make them if a campfire isn't allowed on your venue's property.
59. Belgian Waffle à La Mode
The couple both loved sweets and wanted to give a nod to the numerous trips to waffle trucks they made while dating, so they served Belgian waffles at their wedding. The waffles had vanilla ice cream, fresh berries and almond butter on top.
60. No-Bake Milk Cookies
The groom's grandmother had a no-bake cookie recipe the couple loved, so they used it as a wedding favor their guests could make. The milk bottles had all the ingredients needed and the instructions for the recipe on the back.
61. Caramel Apples
The happy couple included a lot of homemade favorites at their rustic wedding. The guests loved the caramel apples and freshly baked pies.
62. Three-Tiered Cheesecake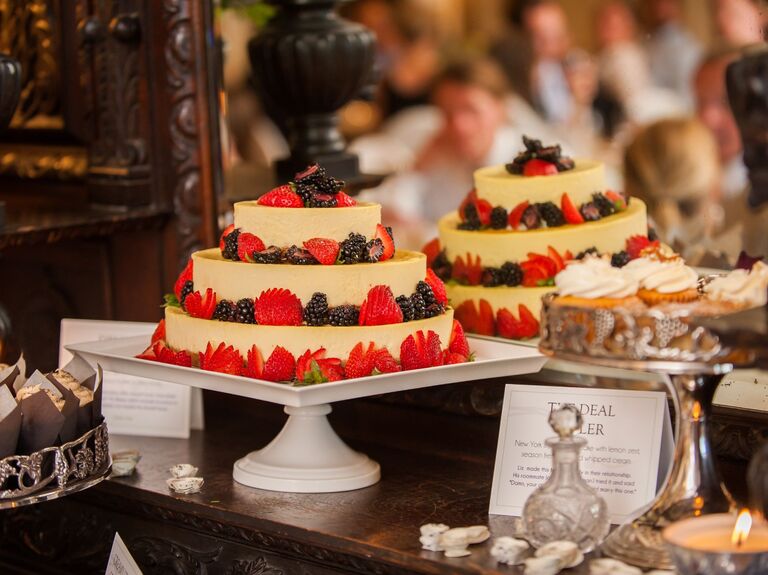 Another wedding cake alternative is cheesecake. The caterer used the same recipe the bride made for the groom when they were a few weeks into dating.
63. Chocolate Brownies With White Chocolate Drizzle
Since the groom wasn't a fan of cake, they served fresh fruit, cookies and brownies. The brownies were made of fudge and had white and milk chocolate drizzle.
64. Flan
Flan is a popular Mexican and Spanish custard dessert with a layer of caramel sauce on top. You can add a variety of toppings to flan, like fruit, chocolate or whipped cream.
65. Bundt Cake
Even though bundt cakes are still in the cake family, it's a simple way to make your wedding dessert different. Bundt cakes get their name from the type of pane they're baked in.
66. Mini Banana Pudding Cups
The bride wanted a special dessert for the groom but didn't want to have a groom's cake. Instead, the bride asked their caterer to make mini banana pudding cups, the groom's favorite dessert.