Everything You Need to Know About Getting Married in Delaware
Look to The Knot for local details about getting married in Delaware, from choosing your wedding venue to getting your marriage license.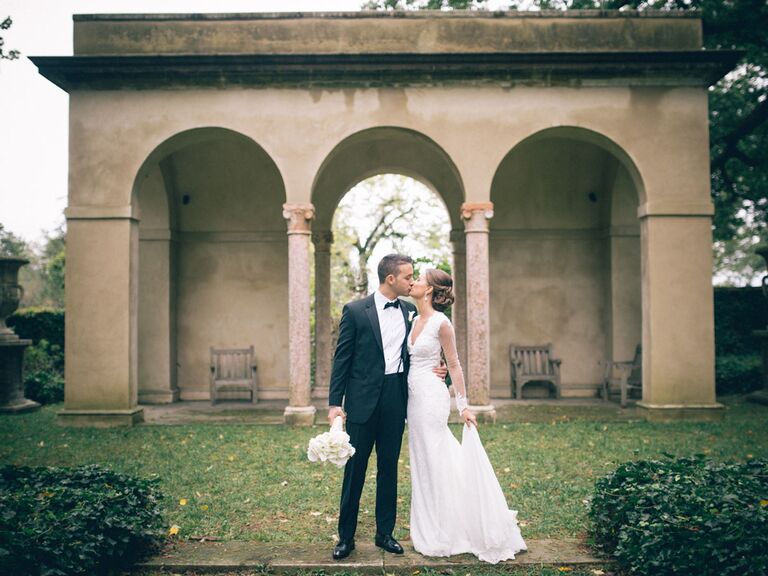 Asya Photography
Ultimate Guide to Getting Married in Delaware
Delaware may be one of the smallest states in the nation, but its 28 miles of coastline means it's big on beautiful beaches, quaint coastal towns and waterfront views. Known as "The First State" because it was the first of the original 13 states to ratify the US Constitution, it's also home to nearly three centuries worth of historic mansions, estates, churches and halls. The state's heavy agricultural history combined with its residents' love of fresh produce means acres of lush farmland, gardens, and rustic barns and farmhouses. In other words, choosing where to wed in Delaware can be tough.

Beach weddings can take place at marinas, clubs or right on the pristine sandy shores that attract thousands of visitors from up and down the East Coast each year, making the state a popular place for destination weddings. Whether you're a local or from out of town, you can easily find a backdrop to suit your taste. Take a look at our comprehensive guide to getting married in Delaware to find everything you need, including how to get your marriage license and tips on how to add some Delaware-style flair to your reception. And follow your wedding checklist to make sure everything is done on time.
Top Wedding Trends in Delaware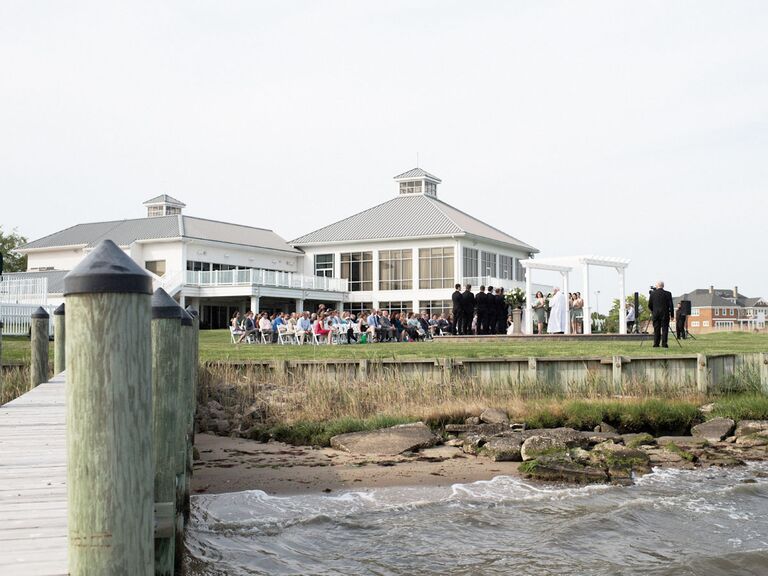 With so many gorgeous outdoor wedding venues in Delaware, you might be surprised to learn that 60 percent of ceremonies performed in the Middle Atlantic region take place indoors, according to The Knot 2015 Real Weddings Study. For receptions, the number is 67 percent. When it comes to wedding style, 62 percent of couples opt for semiformal, while 26 percent go all-out with their formal attire and 10 percent prefer to keep things casual.

Regardless of where you're getting married in Delaware or how formal or informal your wedding will be, you can find inspiration from The First State's storied historic sites. Vintage décor is popular in the region, especially when you choose a venue such as Barratt's Chapel—a church built in 1780 that became the founding place of the American Methodist Church. Elegant estate more your speed? Select a historic home, such as Belmont Hall. The Georgian mansion dates back to 1773 and is surrounded by lush gardens and large shady trees. Also keep in mind that the number of Delaware beach wedding venues along the state's extensive coast means you'll discover plenty of nautical themes at the various yacht clubs, marinas and beaches.
Flowers and weddings have gone hand in hand for centuries, so consider incorporating Delaware's state flower—the peach blossom—into your bouquet or even your hair. The light pink to purple flowers complement almost any style. Drawings of peach blossoms on your invitations and place cards are also a fun yet elegant way to show off your state pride.
Delaware Marriage Rates and Wedding Costs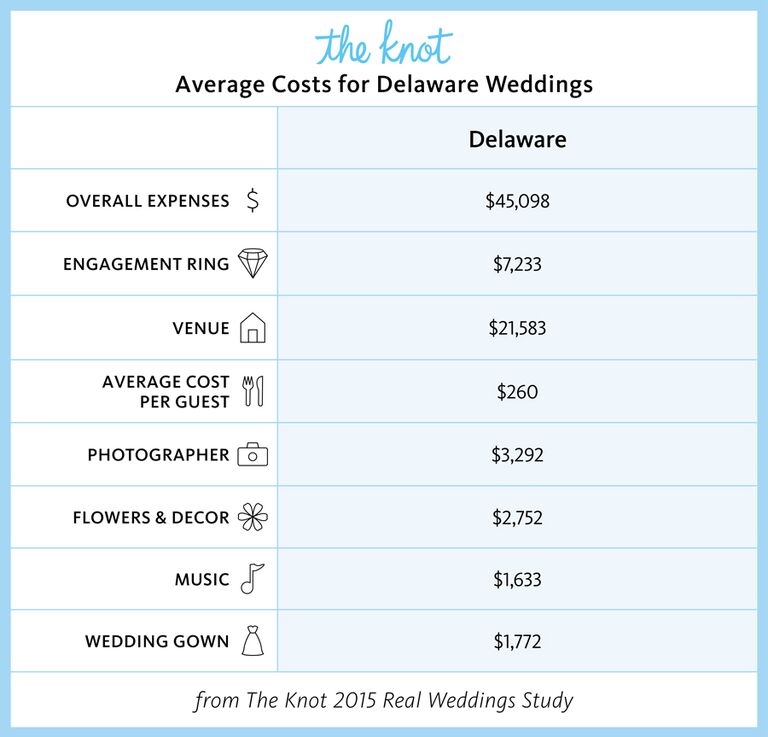 But before you take that important step, here's a little background info on how many couples are tying the knot in Delaware, plus what you can expect to pay for common wedding costs in Delaware, as reported by The Knot 2015 Real Weddings Study.
Planning a wedding can be a lot of fun, but affording it is another story entirely. Before getting married in Delaware, you need to know if you can afford the flowers to fill that historic mansion or the fresh seafood for your casual beach affair, so make sure you've created a budget and that you're sticking with it. The Knot Budgeter can help keep you on track! But before you take that important step, here's a little background info on how many couples are tying the knot in Delaware and the Mid-Atlantic region, plus what you can expect to pay for common wedding costs there, as reported by The Knot 2015 Real Weddings Study.

Delaware Marriage Stats
The state's marriage rate is higher than the United States average at 7.8 per 1,000 people. The average couple getting married in Delaware (and other states in the Mid-Atlantic region) spends $45,098 on their wedding, not including the honeymoon. More than 70 percent of couples spend at least $20,000.
Budget Breakdown: Average Costs for Mid-Atlantic Weddings

Among other things, you need a venue, a wedding gown, flowers and wedding photographers in Delaware, and having an idea as to how much each one costs can help you put your budget together. Take a look at what your fellow engaged couples are spending on average on various items, ranging from the ring to the reception DJ.

Top Cities in Delaware to Tie the Knot

From small coastal towns with pristine beaches to larger cities that date back centuries, you can find hundreds of wedding locations in Delaware. But there are two cities that have become the state's most popular destinations. Get a head start on choosing your location search by checking out:
Make It Legal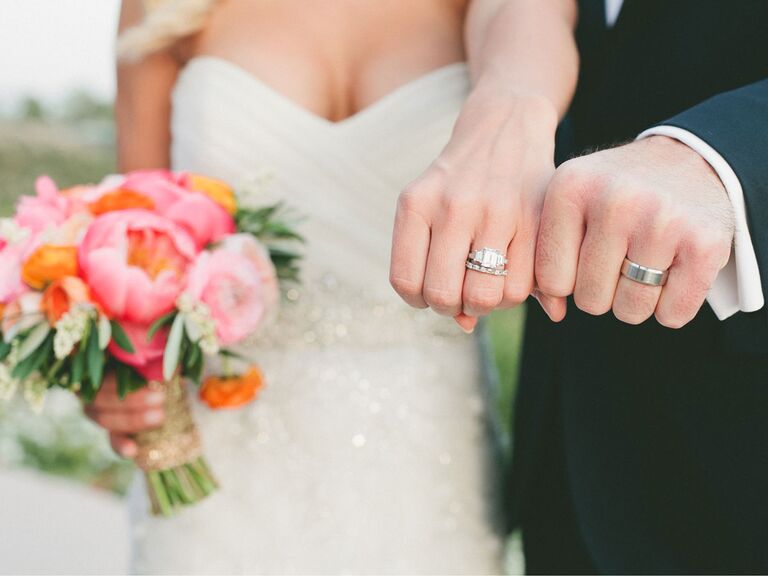 While we hope that planning your wedding feels like it's filled with fun events like cake tastings and finding the perfect DJ or band, there are some strings attached to tying the knot in Delaware. Understanding the ins and outs of not only getting your Delaware marriage license, but also taking care of details like permits and changing your name(s), is equally important in the weeks and months leading up to saying "I do."

Getting a Delaware Marriage License: The Basics

Each county in Delaware has specific requirements for obtaining a marriage license. Luckily, the state only has three counties—fewer than any other state in the country—which helps cut back on any confusion you may experience during the process. Take a look at the requirements for each county below to learn more about the tasks associated with getting all your paperwork squared away.
Kent County Marriage License Requirements:
Both parties must appear at the Clerk of the Peace Office together with their driver's licenses, state-issued IDs, passports, birth certificates or military IDs.
The license must be issued at least 24 hours before the ceremony and is only valid for 30 days.
If you're divorced or widowed, you must present a certified final decree of divorce/annulment or a certified death certificate, along with any applicable name change documents.
If you're on probation or parole, your probation officer must sign a letter of permission.
Anyone who is getting married in Delaware must be 18 years old or older.
As of 2016, the license costs about $50 for Delaware residents and $100 for non-residents. The Clerk of the Peace Office only accepts cash.
Sussex County marriage license requirements are the same as those in Kent County, but neither party can be under the influence of drugs or alcohol at the time of application.
Marriage license requirements for New Castle County are also similar to Sussex and Kent Counties; however, you may apply online instead of in person. In addition to your ID, you may also need to bring an original copy of your birth certificate or your Social Security card.
When choosing someone to officiate your wedding in Delaware, keep in mind that the person must be over the age of 18. People who can solemnize your marriage in this state include:
A minister or member of the clergy from any religion
The current or a former Justice of the Peace Court (only in the county where he or she holds or held office)
A current or former judge from the State's Supreme Court, Superior Court, Family Court, Court of Chancery or Court of Common Pleas
A current or former federal judge or magistrate with jurisdiction over the state of Delaware
The chief executive officer, or mayor, of an incorporated municipality (only within the limits of the municipality)
Permits and Other Important Legal Requirements for Wedding Venues in Delaware
Your marriage license may not be the only paperwork you need to make your ceremony legal. Various venues and municipalities may require you to obtain special permits. Several state parks, which include popular outdoor wedding venues in Delaware such as Fenwick Island, Cape Henlopen and Delaware Seashore, require a $250 rental fee if you choose to hold your ceremony on the grounds. Larger weddings may require extra fees and permits.
Each town and city throughout the state may also require special permits. For example, Rehoboth Beach, a popular coastal town often referred to as the "Mid-Atlantic Wedding Destination," requires you to obtain permission from the City of the Office Manager to host your event outdoors. Once you receive permission, you must complete a Delaware beach wedding application and pay a non-refundable deposit. Having the proper permits in place can help ensure that your wedding day goes smoothly.
How to Change Your Name in Delaware

Should you or your partner decide to change your names after the wedding, the process is actually pretty straightforward. You first need to petition the Court of Common Pleas. Next, you need to change your information with the Social Security Administration and DMV. Within 30 days of changing your name on your Social Security card, head to the DMV with your old driver's license and your marriage certificate. Even if you don't yet have your new Social Security card, the DMV staff can verify your legal name change using the Social Security Online Verification system to match up your records. Wait at least 48 hours after changing your name at the Social Security office to visit the DMV to give the system time to update.
Finally, it's time to change your name with your bank accounts, mortgage companies, insurance companies, work payroll department and other places you receive paperwork from on a regular basis. Save time by checking out HitchSwitch professional name change service or follow our simple guide to changing your name.
It's All About Timing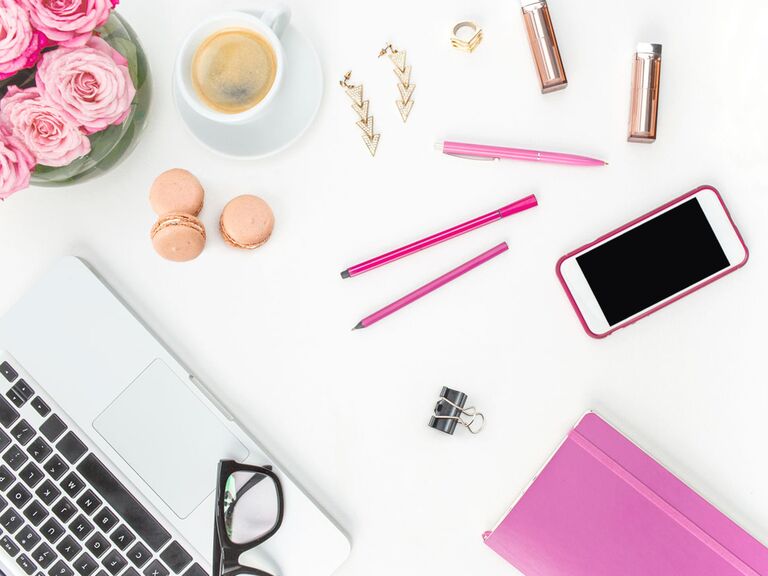 June is typically a popular month for weddings, but in Delaware and the rest of the Mid-Atlantic region, fall is when many couples prefer to say "I do." Forty-two percent choose to marry between September and November against the backdrop of colorful fall foliage, while 35 percent hold their ceremonies between June and August. Seventeen percent choose spring, while just 6 percent opt for ceremonies during the colder winter months.
The Four Seasons in Delaware

When deciding on a date for your own nuptials, it helps to know a little bit more about what to expect from each season, especially if you're taking advantage of one of the many sought-after outdoor wedding venues in Delaware. For example, there's a good reason why just six percent of couples choose December through February to get married. In January, temperatures in Dover can range anywhere from about 27 to 65 degrees. Spring temperatures are only slightly less unpredictable; in April, Dover sees days that are as cold as 43 degrees and as warm as 81 degrees.
Delaware just also happens to sit along a climate transitional zone. For this reason, New Castle County—the state's northernmost county—is more likely to receive snow and experience colder temperatures during the winter. Alternatively, Sussex County—the southernmost county—experiences warmer temperatures and is more likely to have hot, humid summers. But unlike other coastal states, you should not let the searing summer temperatures deter you from choosing certain wedding locations in Delaware. The state's unique position means it receives plenty of cool summer breezes off the ocean, and its location also frequently prevents hurricanes from making landfall during that season.
Delaware Wedding Dates to Avoid

Once you've chosen a season for your wedding day, it's a good idea to check the calendar of events for the area too. A major festival or sporting event can fill up hotel rooms, lead to traffic jams and yield fewer options for necessities like caterers, photographers and reception venues. If you choose to hire one, your wedding planner can help you navigate dates and decide which events might cause a little too much headache for your guests to field. Here are some annual events you may want to note:
Dover International Speedway hosts two NASCAR races each year, usually in late spring and early fall.
The Firefly Music Festival is a four-day event held in Dover in June that attracts tens of thousands of attendees.
The Delaware State Fair takes place in Harrington in late July.
Sea Witch Halloween & Fiddler's Festival is a popular Rehoboth Beach event that occurs during the last weekend of October.
The Delaware Wine and Beer Festival also takes place in late October.
Winterthur Point-to-Point is a horse racing event that takes place in early May.
When planning a Delaware beach wedding, keep in mind that places like Rehoboth Beach and Fenwick Island attract thousands of visitors from Maryland, Virginia and Washington, DC throughout the summer. You may also want to avoid important national dates and holidays. Take a look at our list of even more wedding dates to avoid in 2016, 2017 and 2018 to get a full handle on all the happenings.
Great Guest Experiences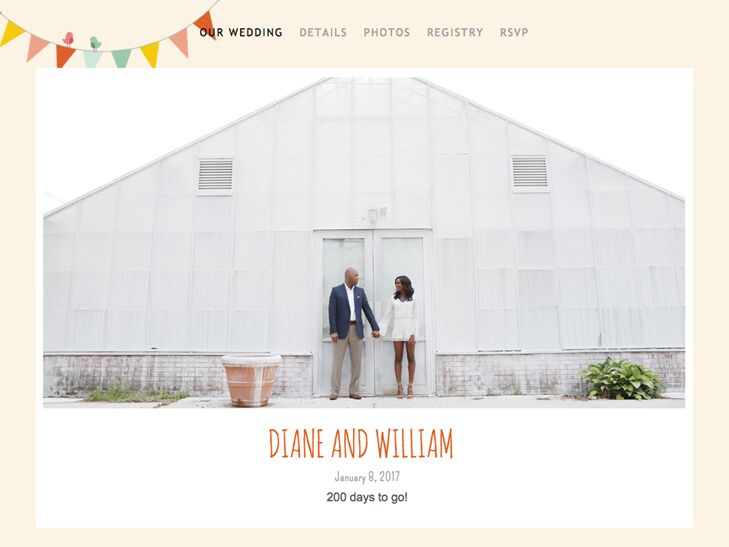 One of the key ingredients of a great wedding day is a group of happy guests. No matter which wedding venues in Delaware you choose for your ceremony and reception, you want your attendees to be cheerful and comfortable and for them to have just as good a time as you. It's also smart (and thoughtful) to provide them with a way to keep up with your wedding plans. Start by creating a free wedding website, where you can add registries, RSVP options, and pictures and information about your engagement to keep friends and family in the loop.
Finding Your Way: Delaware Travel Info

Whether you're planning a destination wedding or helping out-of-town guests find their way to your venue, there are many options for travel to and from Delaware. While the state doesn't host a major airport, guests can fly into Baltimore's BWI Airport, which is just over 80 miles from Delaware, or Philadelphia International Airport, which is just over 90 miles away.
I-95 runs through the northern tip of Delaware, including Wilmington, and DE 1 runs through nearly the entire length of the state. DE 9 connects Dover and Wilmington, and US Route 50 connects Delaware's beaches to Maryland via the Chesapeake Bay Bridge. Ferry routes link Delaware with several cities in New Jersey, including Cape May and Fort Mott.
Around Town: What to Do and See in Delaware

The state may be small, but there's still plenty to see and do within minutes of all your wedding location options. Fresh seafood restaurants are plentiful, and shopping is tax-free. Of course, the beaches are some of the state's primary attractions, and they're a must-see for guests looking to catch a few rays. Some of the state's most popular beaches are:
Rehoboth Beach
Bethany Beach
South Bethany Beach
Dewey Beach
Lewes
Fenwick Island
When you've had your fill of swimming, fishing and sunbathing, check out some of these other top attractions:
Air Mobility Command Museum (Dover)
Winterthur Museum, Garden and Library
Funland (Rehoboth Beach)
Nemours Mansion and Gardens (Wilmington)
Dover Downs Casino
Dover International Speedway
Delaware Art Museum (Wilmington)
Go Local: Food and Favors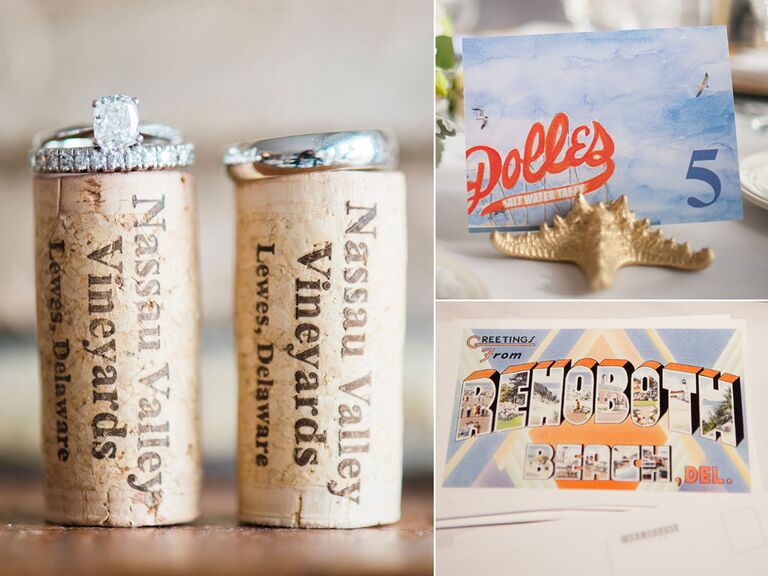 One of the easiest and most memorable ways to incorporate all things Delaware into your wedding day is to serve up big portions of local cuisine and culture at your reception. Luckily, the First State gives you plenty of delicious options.

Delaware Flavors: Unique Regional Foods for Your Wedding

If you love fresh seafood, you're in luck. Over 28 miles of coastline mean all you can eat—or serve. As a matter of fact, some of the coast's popular seafood restaurants make great wedding reception venues in Delaware. At certain times of the year, crab is plentiful and can be used as an appetizer or a main course. When it comes to dessert, find a way to incorporate peaches if you can. The reason why the peach blossom is the state flower is because so many peach trees grow in Delaware—watch out, Georgia! Peach pie is actually the official state dessert, and it's delectable when paired with a scoop of ice cream from Woodside Farm Creamery, a local favorite. You may even want to incorporate some vinegar-soaked french fries into your reception buffet as a nod to one of Delaware residents' most treasured boardwalk treats. When it comes to adult beverages, Dogfish Head Brewery is based in Milton and is a local favorite.

Do Your Guests a Favor: Delaware-Inspired Take-Home Treats

Celebrate local culture by sending your guests home with a few beloved items that represent Delaware. Check out The Knot Shop for personalized favors, or try these ideas to get you started:
Anything peach-flavored or featuring a peach blossom
Chicken-shaped items, such as sugar cookies—chicken farming is a major part of the economy, and the state is even sometimes known as the "Blue Hen State"
University of Delaware Fightin' Blue Hens memorabilia
Vintage beach postcards
Any items featuring ladybugs—the state bug
Delaware City Guides
No matter where you choose to get married in Delaware, it's easy to find something that matches your tastes and budget. The state's many scenic parks, rolling pastures, historic landmarks and sandy beaches are proof of that. You may also choose to tie the knot in one of Delaware's most popular cities listed below. Just don't forget to use our ultimate wedding vendor marketplace to help locate everything from florists to wedding photographers in Delaware.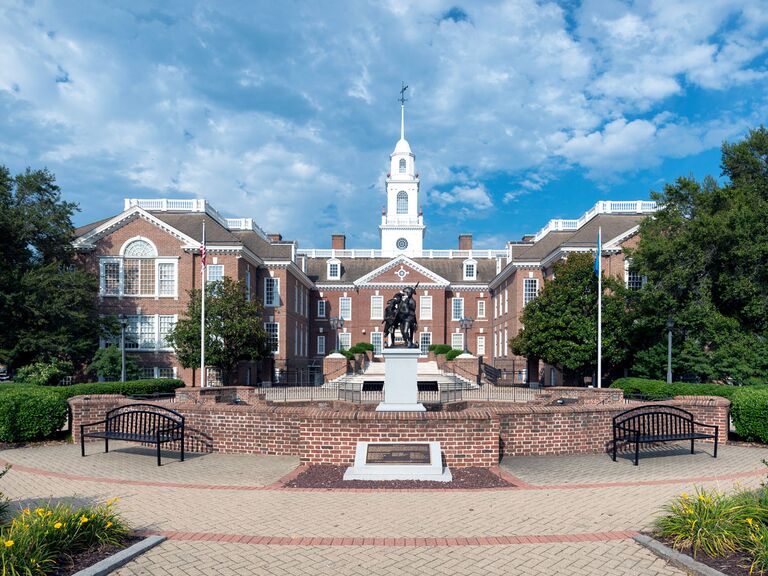 Dover is both the capital and the second-largest city in Delaware—and a popular wedding destination. From NASCAR to museums, there's so much for you and your guests to see and do without ever leaving the city limits. The quaint downtown Dover area, along with facilities like the Dover Opera House, provides you with unique backdrops for wedding photos, especially if you're putting together a wedding with a vintage theme. Afterall, the city was founded in 1683. Popular Dover wedding venues often include restaurants, museums, banquet halls and historic estates.

For local Dover vendors, check out: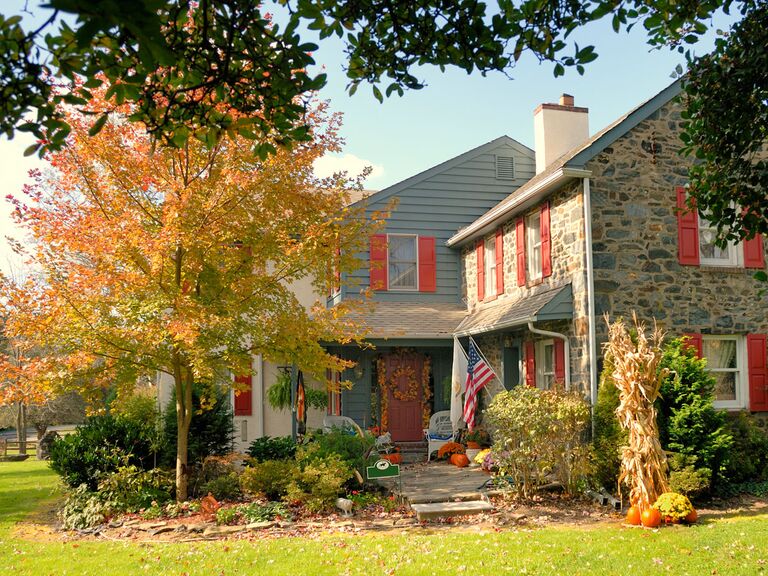 Wilmington, Delaware's largest city, sits along the Christina and Brandywine Rivers. Founded in 1638, it also offers its fair share of historic and vintage sites. Museums, gardens and galleries are scattered throughout the city, providing a number of unique photo backdrops that offer touches of the past mixed with the present. Wilmington has a reputation for being a combination of city and country, providing Delaware with both an urban business and banking center—its nickname is the "Corporate Capital of The World"—and scenic countryside vistas that look as if they were plucked from a bygone era. Wilmington, Delaware, wedding venues typically include mansions, estates, gardens, museums, restaurants, hotels, ballrooms and art galleries.
For local Wilmington vendors, check out:
Check out more Delaware wedding inspiration here.
Don't forget to download The Knot Wedding Planner app—it's a must-have for on-the-go planning.
Download for iOS: Wedding Planner App by The Knot
Download for Android: The Knot Wedding Planner