The Best Farm Wedding Venues in the U.S.
Host a wedding day full of natural beauty and rustic charm at one of these farmsteads.
Are you a lover of all things rustic? If so, look no further than a farm wedding venue for your big day. Your country wedding on the farm will be extremely versatile. Want to dress up the farmstead in your signature style? You can do so. Want to play into the country-chic venue features? You can do that too.
Most farm wedding venues are home to rustic barns that have been restored into gorgeous event spaces. This only enhances the appeal of a farm wedding because you get the best of both worlds—the flexibility of hosting an outdoor wedding on acres of lush landscape or heading indoors for your dream wedding inside the barn.
With over 2 million farms across the United States, you won't have to travel far to find your dream wedding venue. In fact, they're located in every state, so you can likely wed on a homestead in your hometown. To aid you in finding the farm wedding venue of your dreams, we've scouted and narrowed down some of the best farm event spaces the country has to offer—all of which are 2021 Best of Wedding award winners. Below, browse our top 15, from New Jersey to Wisconsin (and many states in between).
Summerfield Farms in Summerfield, North Carolina
There's much to love about Summerfield Farms, a working farm in the rolling hills of Summerfield, North Carolina. For starters, the farm and barn wedding venue features two event barns: the Barn and the Pole Barn. The Barn features a rooftop terrace, a silo bar, a front porch, a garden fire pit, restrooms, a stage and temperature controls. Also wonderful, the Pole Barn is an open-air barn with fire pits, restrooms, complimentary lighting and delightful views of nearby greenery. The main outdoor wedding ceremony site is the Little Tree, a giant oak tree referred to as the centerpiece of the property. Adding to Summerfield Farms' country vibes is a tractor used to transport guests to the outdoor ceremony location.
Wyndridge Farm in York, Pennsylvania
With elopement, intimate and traditional wedding packages, Pennsylvania's Wyndridge Farm has something for all couples hoping to say "I do" at a rustic wedding venue. Yes, there's a restored red barn in which you can hold your special event. But there's also the Pub Room and Brewery, a courtyard patio, the Inn, an outdoor chapel and a bridal suite to take advantage of on your big day. For larger events of up to 200 guests, the Wyndridge Wedding package includes a barn reception, a ceremony at the chapel, cocktail hour on the patio, access to the getting-ready suite, and the Pub Room, which will serve as the groomsmen's quarters. What's more, the Inn can sleep 15 to 18 guests, meaning the on-site fun can continue after your event concludes.
The Willows Farm in Marble Hills, Georgia
The Willows Farm is situated on 300 pastoral acres in the South, offering couples a picturesque wedding day setting and desirable all-inclusive packages that cover the caterer, baker, entertainment, decor and event coordination. Throughout the grounds, there are many distinct sites to delight in. The Willows House is a wonderful rehearsal dinner location adorned with two antique bars, chandeliers and antique furniture; it also has a covered patio. The barn has capacity for 125 guests, and highlights include wood beams and flooring, chandeliers and castle doors. There's also a pavilion, with lake views, a stone fireplace and vaulted ceilings, and—our favorite—a covered arena used for equestrian shows, fundraisers and, of course, weddings.
WoodsEdge Farm in Stockton, New Jersey
New Jersey's WoodsEdge Farm is a family-owned working farm and event venue dating back to the 1700's. The owners are high school sweethearts who wed on the property, and they built the on-site wedding and event barn in 2006 "with the goal of creating memories that will last a lifetime." Infuse your personality into the barn, which accommodates up to 400, on your special day. The 20,000-square-foot space is great for both cocktail hours and receptions, and it comes embellished with twinkling lights and uplighting as well as farmhouse tables and cushioned chairs. During your outdoor ceremony, your guests will watch you exchange vows blissfully in nature—and potentially encounter the alpacas and llamas that live on the property.
Wren Farm in Mechanicsburg, Ohio
Highlights of Ohio's Wren Farm include a rustic barn and more than 10 acres of meadows and fields. From April through November, you have the option of hosting an indoor or outdoor event, and you really can't go wrong either way. The two-level historic barn is spectacular. Its soaring arched ceiling is a showstopper, and its open floor plan means you don't have to hold back with your wedding ideas. Outside the barn, there is also a patio and a fire pit you can use on your big day. Wren Farm's outdoor venue is called the Field, and it's a fabulous option for individuals looking to utilize outdoor space for both ceremony and reception. Marry in front of the charming barn doors while enjoying vistas of the rolling hills in the distance.
Howe Farms in Georgetown, Tennessee
Rolling hills abound at Tennessee's Howe Farms, a 350-acre property outside of Chattanooga that features six wedding venues and three guest houses. Big day inclusions range from a 16-hour venue rental, getting-ready suites and on-site lodging to white tablecloths, venue draping, vintage getaway vehicles and fireworks. All of the venues are exceptional. The Highlands Chapel features a stunning white facade and a white interior complemented by wood detailing. The Apple Barn has a cool charcoal-grey exterior, a stylish neutral interior and an outdoor ceremony space enhanced by a pergola-style wedding arbor. And the other venues—the Vineyard Hall, the Loft, the Pavilion, and the Woodlands—echo the greatness of both locations.
The Barn at Bennett Flats in Heflin, Alabama
The Barn at Bennett Flats is a 12,000-square-foot barn overlooking 300 acres, with a family history going back 70 years. Accommodating up to 400 guests, the barn includes a catering prep area, tables, chairs, linens, a wedding arbor, a farm table, water troughs and, for those looking for easy wedding day entertainment, a Bluetooth surround sound speaker system. On the property, there is also a barn house that you can rent for your wedding weekend, and it's made up of a getting-ready suite, a honeymoon suite, a modern kitchen and more. Down the road, the Barn at Bennett Flats team also has a Groomsmen Cabin for 10 to 12 guests. The self-described woodsy setting is a relaxing retreat for grooms, groomsmen or anyone, really.
Zingerman's Cornman Farms in Dexter, Michigan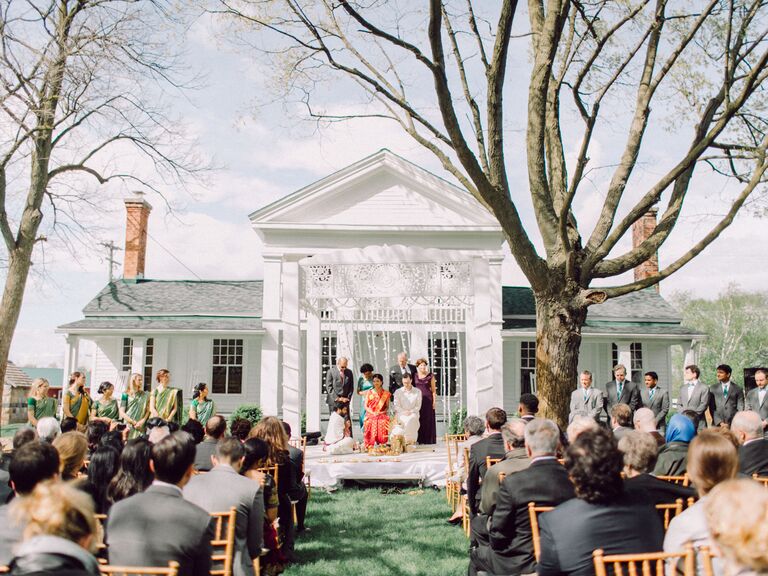 Outside of Ann Arbor, Michigan's Zingerman's Cornman Farms occupies 27 bucolic acres. There are three venues here—the Red Barn, the Farmhouse and the Tent Pavilion—and each has undeniable country charm. Zingerman's Cornman Farms offers all-inclusive packages in the following categories: intimate weddings, bespoke weddings, tiny weddings and elopements. The tiny wedding offering is particularly unique because it is only offered by the venue four times per year. For up to 10 people, you and your spouse-to-be included, Cornman Farms' event staff will host and coordinate your entire micro wedding—with themes, decor and inclusions based on the season.
Over The Vines Vineyard & Wine Barn in Edgerton, Wisconsin
Over The Vines Vineyard & Wine Barn isn't exactly a farm, but it is a much-loved award-winning vineyard and barn venue with history and tons of natural beauty. Located in Southern Wisconsin, the countryside retreat boasts a barn dating back to 1888, natural splendor and lots of privacy. (It's located 500 feet back from the main road.) Like many other farm venues, you can host your countryside wedding indoors or outdoors. The barn is intentionally without heat or air conditioning because the owners want it to be "reminiscent of nature." If exchanging nuptials among the grape vines sounds as lovely to you as it does to us, you'll want this barn wedding venue on your list.
Barn on the Brazos in Blum, Texas
Barn on the Brazos is surrounded by 880 acres of Texas farmland. It calls itself the perfect venue for those looking for a "true country style wedding," and we couldn't agree more. There's an authentic barn with a capacity for 150 guests, silos, a countryside ceremony site—and because there's so much land, that's just scratching the surface. Pricing varies based on the day of your wedding; on the lower end of the spectrum, your weekday event starts at $3,500. Sundays are $4,000, Fridays are $5,000 and Saturdays are $6,000. Your rental includes a kitchen, bar areas, tables, chairs, linens and access to the site for an engagement or bridal shoot. Free day-of add-ons include a sound bar and sound system decorations.
Burdoc Farms in Crofton, Kentucky
Head to Western Kentucky, and you'll find the idyllic Burdoc Farms. You have multiple outdoor ceremony options, and they're all enchanting. The Tobacco Barn features a gazebo in the woods looking out at open fields. There's also the Overlook Platform, with desirable Kentucky vistas, and a chapel barn, with church pews, a crystal chandelier and string lights. At the Keith Glen venue, your outdoor ceremony can take place in front of a pond and under a wedding arbor. While there are multiple reception areas, we love the way Keith Glen puts a modern spin on a rustic venue. The newest addition to Burdoc Farms, it boasts a 30-foot wall of windows, chandeliers, a copper bar top, wood farm tables and a natural stone fireplace.
Traders Point Creamery in Zionsville, Indiana
Traders Point Creamery is a beloved working farm on 150 Indiana acres. With restored barns and outdoor event spaces, the organic dairy farm, creamery and restaurant offers a serene oasis just outside of Indianapolis. Intimate weddings can be held in the Roost, where you and your wedding guests will have a farm-to-table experience. For grander affairs, opt for the country-chic Red Barn, a historic barn dating back to the 1870's that can accommodate 200 seated and 300 for a cocktail reception. For an outdoor event in Traders Point's verdant pastures, look no further than the Garden Lawn & Deck. Finally, the Beach Porch is another intimate area, an open-air event space for up to 40 guests that overlooks a pond.
Fairview Farm Events in Powhatan, Virginia
Family-owned for over a century, Virginia's Fairview Farm Events knows how to throw a wedding. At more than 20,000 square feet, the expansive venue offers budget-friendly packages so you can "focus on having the most memorable weekend of your life." The all-inclusive packages at this all-seasons venue are the Basic Sunday All-Inclusive Wedding and the Basic All-Inclusive Weekend Destination Package. Highlights of Basic Sunday include seating for up to 150 guests, BYOB and discounted beverage options, accommodations for up to 50 guests, wedding planning services and a facility manager. The Weekend Destination is even better, offering seating for up to 200 guests, a catering allowance for up to 100 guests, weekend accommodations for up to 18 guests, and so much more.
Tobacco Barn Farm in Holt, Missouri
Missouri's Tobacco Barn Farm is immediately interesting because it's home to, you guessed it, an authentic 100-year-old tobacco barn. A 2017 facelift added a getting-ready suite, bathrooms, a caterer's prep kitchen and a covered porch to the barn and transformed the historical space into the rustic wedding venue it is today. Venue pricing depends on what you want—whether it be a weekday event, a Friday or Saturday soiree, or a full wedding weekend, Tobacco Barn has an option for you. No matter when you rent, your rental includes farmhouse and round tables and chairs for up to 200 guests, an outdoor ceremony site in the shade, a large covered patio, a fire pit, a mobile bar, a golf cart shuttle, ample parking, an on-site coordinator and lots more.
The Wedding Barn and Event Center at Carter Reaper Farm in Pangburn, Arkansas
Last on our list is the Wedding Barn and Event Center at Carter Reaper Farm in Arkansas. Off the bat, the venue has covetable farm features—nearly 12,000 square feet, 95 acres, lush outdoor spaces and a pretty barn. Your barn rental can accommodate 350 guests indoors and includes access to the entire grounds, white benches, a getting-ready suite and men's dressing rooms, a nursery, bathrooms and a sound system. If you want a different (but still rustic!) look, you can rent the stables, which caps out at 125 guests. There's also an on-site guest house available to you, and it has three bedrooms, two bathrooms with jacuzzi tubs, and a dinner pavilion with a grill and a fire pit.