Denver Custom Stationer Meagan Broadaway: Localize Your Stationery
Denver stationery designer Whimsy Design Studio gives expert advice on how to incorporate Colorado into your paper goods.
by Carmen Huff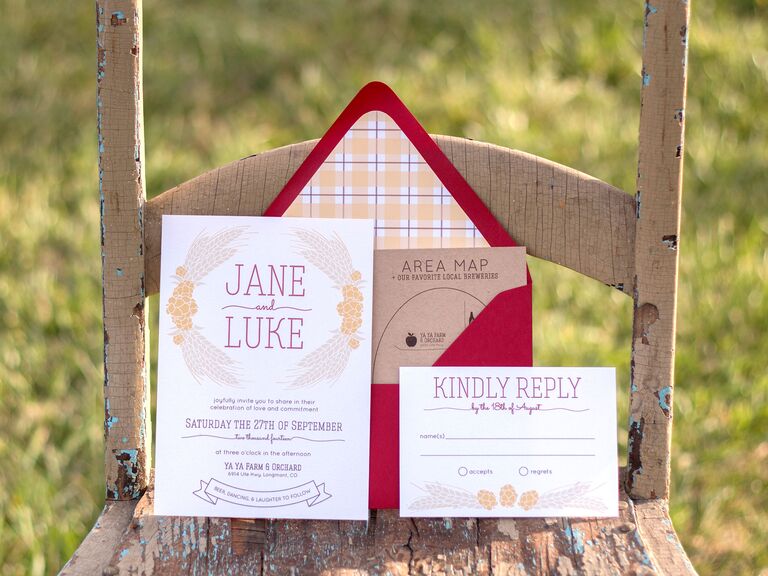 Meagan Broadaway
Whimsy Design Studio Denver
If a couple has no idea how to start the process of selecting their stationery, what advice can you give to guide them through the process?
What's wonderful about custom design is that you don't have to know exactly what you want before starting the process. Choose a custom stationer whose design aesthetic matches yours, and if your personalities click, then half the work is done for you! In my design process, the first step is always an initial consultation where I meet with my couples to discuss their overall vision for their day in general, and then dive into more specifics about the actual stationery. Once I can define a couple's style, then I can brainstorm more concrete ideas for their unique invitations and dream up something they may not have thought of themselves.
Where should couples begin when they're looking for inspiration?
I always ask my couples to bring me anything that inspires them—pictures of the venue, fabric swatches, flowers, jewelry—there's really no wrong answer when it comes to style inspiration. Things like color and repeating design elements, such as monograms or a specific floral pattern, definitely help to create a cohesive look from invites to day-of details. With that said, I always urge my clients not to be too repetitive when it comes to paper goods. Minor similarities like font choices and subtle hints of color are all you really need to carry a style throughout your wedding stationery. In other words, you really don't need to put that chevron pattern on everything! Just like all the other details of a wedding, the paper goods should be a unique reflection of the couple and the special day they have crafted to represent them. Keep that in mind when designing and it will all come together beautifully!
Anything local specific that couples should incorporate into their wedding stationery?
Colorado is such a beautiful backdrop to any wedding that there's ample inspiration to pull into your stationery! I've included various degrees of iconic Colorado visuals—from mountains and aspen leaves to hops celebrating the local craft beer scene. Hands down my favorite way to pull in some local flair is by incorporating a custom map into a client's suite. Maps are a wonderful addition to any stationery suite because not only are they informative—offering locations for the wedding festivities—they can also share some of the couple's favorite local spots, notable landmarks or fun nearby activities.
Can you have extravagant details without breaking the bank?
To be honest, custom stationery is already on the extravagant side for most couples. Crafting paper goods that are 100 percent unique to you and your wedding always takes more time and expense than ordering out of a book. Knowing this, I always offer cost-saving production alternatives to help my clients stay within their budget. For example, digital printing some of your suite instead of choosing letterpress for every piece or stamp embossing for added texture on part of the invitation instead of thermography. Little changes in production can add up to larger savings as a whole.
Anything else couples planning their wedding should know?
The main piece of advice I would give anyone diving into wedding planning is to start your stationery as soon as possible! Invitations should be mailed out six to eight weeks before your wedding—and further out for destination weddings. A lot of couples consider the mailing timeline but don't take into account how long designing, printing and assembly of their invitation suite can really take. I always urge clients to start the custom process about five months out, leaving enough time to refine everything without compromising or adding any unnecessary stress.