Everything You Need to Know About Getting Married in Georgia
Look to The Knot for local details about getting married in Georgia, from choosing your wedding venue to getting your marriage license.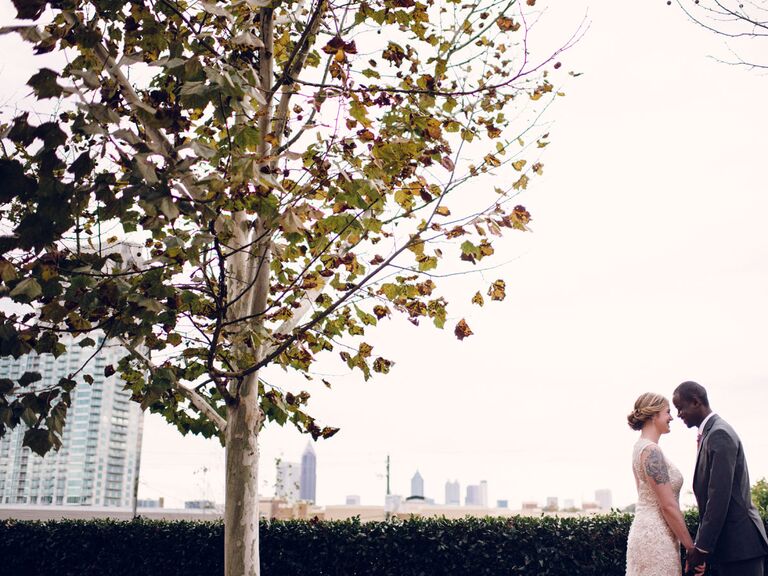 Scobey Photography
The Ultimate Guide to Getting Married in Georgia
From Gladys Knight and Ray Charles to Alison Krauss and The Allman Brothers, dozens of musicians have set their love for the Peach State to music. There's a reason why this state has inspired so many songs—Georgia has managed to advance into the modern world without losing its historic roots, creating a charming cultural environment that honors the past while looking to the future. It's that very blend of old and new that makes getting married in Georgia so special.
A combination of modern conveniences and traditional Southern hospitality makes Georgia an unforgettable place to say "I do." With its beautiful mountains, shorelines and Old South architecture, the Peach State is practically overflowing with charm. There are so many wonderful places to get married in Georgia, it might even be tough to narrow it down and choose just one. But before you start getting overwhelmed, take a deep breath. This guide to Georgia weddings walks you through everything from finding wedding venues in Atlanta to obtaining your Georgia marriage license. We'll help you figure out all the basics so you can create the wedding of your dreams.
Top Wedding Trends in Georgia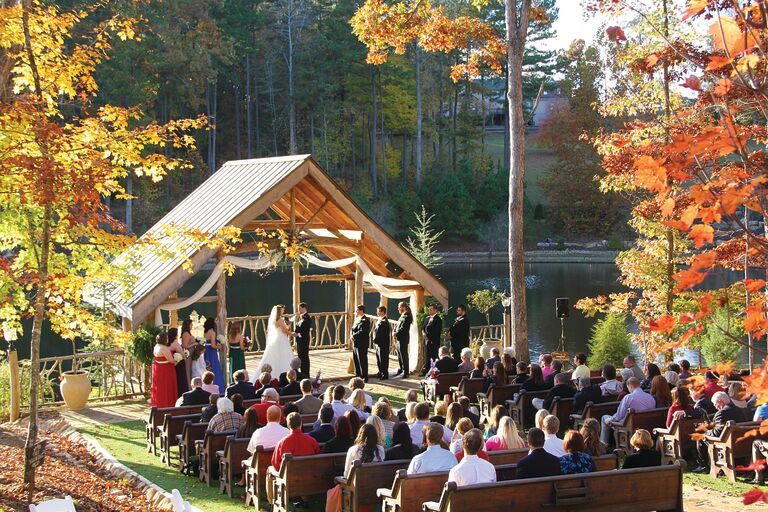 Though it's not the biggest state in the country, Georgia has a lot of cultural variety across its different population centers, and the urbanized metro Atlanta area in the north tends to be a bit more formal than the southern, coastal parts of the state. This means that Atlanta weddings are more likely to be black-tie affairs than Savannah weddings, but on the whole, couples who get hitched in Georgia tend to prefer a semiformal wedding style. Sixty-six percent of the respondents to our 2015 Real Weddings Survey in both north and south Georgia hosted a semiformal wedding, while 25 percent of the weddings in the Savannah/coastal area were casual compared with just 16 percent in the Atlanta area.
That casual approach may be because more than half of the coastal Georgia weddings reported in our 2015 survey took place at the beach. There are lots of great outdoor wedding venues in Georgia, though, including some farther up north, and 49 percent of Georgia couples in the Atlanta area said their vows outside. Those who exchanged vows indoors in Georgia did so mostly in religious institutions or historic buildings, which makes sense given how culturally important both religion and history are in the Peach State.
To bring elements of Southern tradition to your Georgia wedding, you can consider dressing the groom and groomsmen in light-colored fabrics such as blue-and-white seersucker. Brides can take part in traditional Southern bridal portrait sessions as part of the wedding day.
Georgia Marriage Rates and Wedding Costs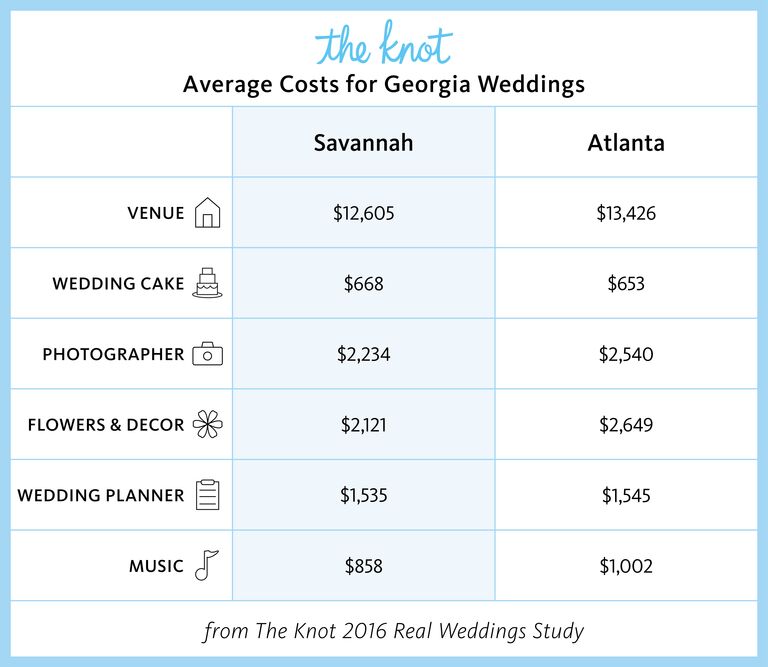 Tradition is important for many families in the Peach State, especially the act of marriage. Getting married in Georgia can be an expensive undertaking, but you don't have to break the bank to have a good time. Gather some information about what's typical for your state to help determine what you might expect to spend, and then head over to our budget calculator to crunch some numbers on your plans for your Georgia wedding. These statistics should help point you in the right direction.
Georgia Marriage Stats
If you've lived in Georgia for a while, it may not surprise you to know that a lot of people who live here are married. In fact, at 7.8 out of every 1,000 people, the state's marriage rate is almost a full point higher than the overall rate for the nation. Even though lots of folks here are married, getting married in Georgia is relatively inexpensive. The average 2015 total wedding cost for north Georgia and the metro Atlanta area was $24,437, and in Savannah and the coastal area, it was $21,201. These are both under the national average of $26,770, which is a good sign for those who want to have Atlanta or Savannah weddings on a budget.
How Couples Spend Their Money on Georgia Weddings
Getting a sense of what you'll pay for your wedding day expenses will make it easier to budget and negotiate with vendors. Below you'll find average costs in two of the state's biggest wedding destinations: Savannah and Atlanta.
Top Cities in Georgia to Tie the Knot
Whether you want a formal, black-tie wedding in a luxury hotel or a casual, rustic wedding under the stars, there are many different Georgia wedding venues to choose from. To make your life easier, make sure your Georgia wedding takes place in an area that's equipped to provide all the services you want on the day of the ceremony and reception. Most brides and grooms opt to exchange vows in these cities:
Make It Legal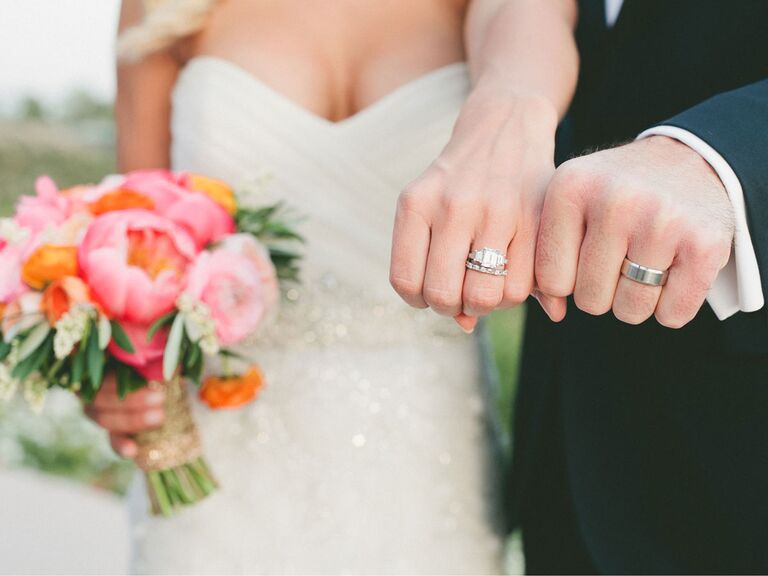 Wedding planning is hard work, but at the end of it, you get to enjoy some great benefits that come along with being legally married. It's important to take all the necessary legal steps before your Georgia wedding and on the day of to make sure you don't have to jump over any more hurdles on the way to wedded bliss. Obtaining your Georgia marriage license is just one thing to consider. Couples should also prepare for name changes and other logistics well in advance of the wedding day.
How to Get a Georgia Marriage License

Marriage licenses in Georgia are administered at the county level, but there are some basic rules that apply to the whole state. Overall, the process is quick and easy, and you can get your Georgia marriage license the same day you apply. If you and your intended are at least 18 years old, you can get a marriage license in any county probate court in the state. County rules may differ in the following areas:
Requirements for marriage license applicants under age 18
Fees associated with licensure
Fees associated with obtaining a certified copy of a marriage license after the ceremony
Length of time after previous marriage required for presentation of divorce decree
Protocol for the wedding officiant's handling of the license after the ceremony
The state does allow those who can't or don't want to pay the fee to earn a premarital program certificate in exchange for the official Georgia marriage license; this rule applies in every county. Other than that, the requirements are simple:
Each member of the couple must appear
You both need to have a valid birth certificate, passport or driver's license on hand
Divorced individuals must present their official divorce decree
If neither member of the couple is a Georgia resident, you must apply for your license in the county in which you'll be married
Other Georgia Wedding Legal Requirements
Georgia's state government has a few other rules in place regarding marriage. You can be married by a current or former Governor of the State of Georgia, but if you aren't that politically connected, you have plenty of other options for your wedding ceremony. The state's legal codes indicate that magistrates, ministers, city recorders and judges are all suitable officiants for Georgia weddings. Ministers may travel from other states and don't need to formally register with the state. Judges and other officiants may receive payments and tips for their services.
The state doesn't have any overall rules regarding permits and other legal concerns, so you should look into the rules set by your prospective Georgia wedding venues to be sure you won't be breaking any rules on the day of your ceremony. Government-owned public property such as city squares or national parks may have specific rules about permits and other requirements, so research thoroughly and talk to any relevant officials before your wedding day.
How to Change Your Name in Georgia
The Peach State makes it easy for you to change your last name after marriage; either member of the couple who plans to change a last name can do so on the Georgia marriage license. After that though, it's up to you to get federal government documents—like your passport—and other forms of ID changed to reflect your new name and change it on your credit cards, bank accounts, insurance policies, work payroll and other official accounts and documents. If this all sounds like a lot of work, you can use the HitchSwitch name change service and save yourself a lot of time.
It's All About Timing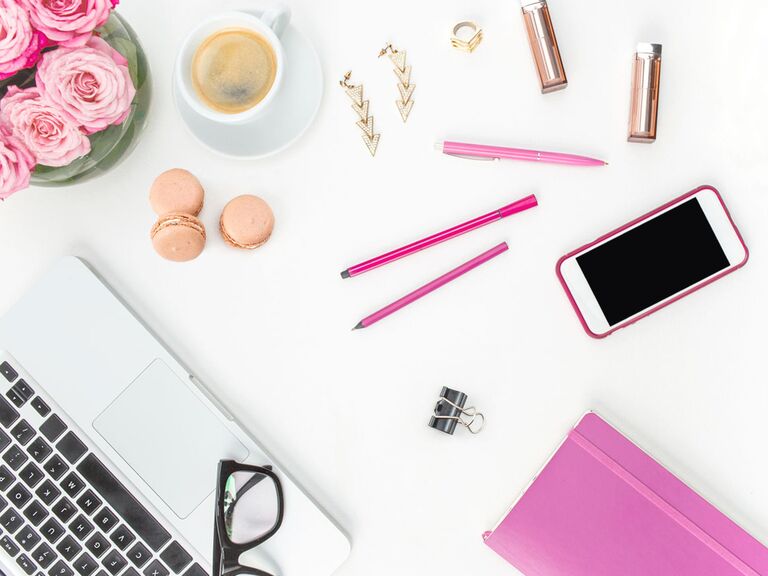 The idea of a sunny and warm wedding leads many brides and grooms to choose summer as their wedding season, but Georgia's notoriously hot and humid Southern summers are no joke. It's no wonder, then, that summer is not the most popular time of year for getting married in Georgia. As our 2105 Real Weddings Survey shows, fall is actually the most popular season for couples to get married in both Atlanta and Savannah, with 41 percent and 43 percent choosing this season, respectively. Spring and summer each saw about 20 percent of the weddings in both locations, with winter being the least popular season for a Georgia wedding at just 9 percent in both locations.

The Four Seasons in Georgia
Thanks to the fact that it has everything from mountains to coastline and even some swampy areas, Georgia's climate can be a bit varied. On the whole, though, the state's humid subtropical climate brings mild winters, rainy and occasionally cool springs, hot, long summers, and brisk but gentle falls. Georgia wedding venues throughout the state can have the added benefit of spectacular fall colors for weddings at this time of the year. Summer can mean punishingly high temperatures and severe weather, including tornadoes. Snow and freezing temperatures are rarities in most parts of the state during wintertime, and spring is remarkable mostly for the beautiful flowers that bloom on flora such as dogwood trees and azalea bushes. Outdoor wedding venues in Georgia may be best suited to seasons other than winter and summer simply because those tend to be the most extreme.
Georgia Wedding Dates to Avoid
If you're planning on getting married in Georgia but want to choose the quietest time of year for your ceremony, your timing definitely depends on where you want to hold your ceremony and reception. The Peach State plays host to a few important festivals and sporting events every year that can cause some logistical headaches for guest transportation and your budget. Working with an experienced wedding planner who's local to the area and familiar with specific wedding venues in Georgia can help you avoid major issues on your wedding day.
In general, major holidays and other events covered in our 2016 to 2018 guide to undesirable dates are not going to make the best choice for a smooth, budget-friendly wedding experience. You should also keep an eye out for these high-traffic events while planning your Georgia wedding:
Savannah Music Festival (Savannah, mid-March)
Atlanta Braves home games (Atlanta, April - September)
AthFest Music & Arts Festival (Athens, June)
Peachtree Road Race (Atlanta, July 4)
Music Midtown (Atlanta, September)
Atlanta Falcons home games (Atlanta, September through December)
Atlanta Hawks home games (Atlanta, October through April)
Great Guest Experiences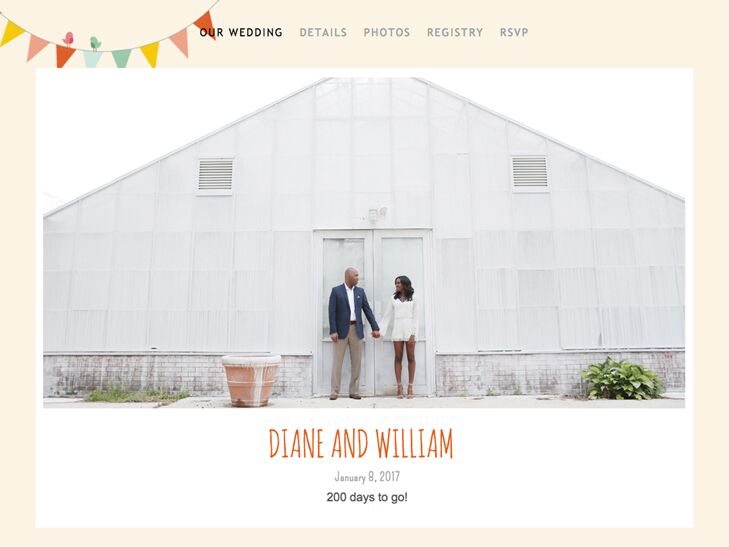 Your wedding should be a fun experience for you, but you should also ensure that your guests have a good time at your Georgia wedding too. Add guest comfort into your planning and carefully review your guest list for anyone with any sort of special needs, be it an elderly grandparent who may not be able to stand for long periods of time or a vegan college bestie who doesn't know where to eat. Some of these issues you can take care of with a detailed wedding website, but there are other things you can do too.
Around Town: Group Activities and More
If most of your guest list isn't familiar with the location you've chosen for your Georgia wedding, it's a good idea to let them know about some fun stuff to do in the area. Georgia has plenty of historic sites, outdoor wonders and cultural attractions to choose from in all parts of the state, so no matter where your wedding venue is, you can find something enjoyable to do. You can even plan some group events for friends and family to make your wedding celebration truly memorable. These major tourist attractions in Georgia provide a fun diversion during your wedding celebration:
Blue Ridge Scenic Railway
Appalachian Trail
Etowah Indian Mounds Historic Site
Brasstown Bald
Callaway Gardens
Georgia Aquarium
The Varsity
Martin Luther King Jr. National Historic Site
Ohoopee Sand Dunes
Broxton Rocks
Cumberland Island
Okefenokee National Wildlife Refuge
Finding Your Way: Georgia Travel Info
Traveling to and around Georgia should be pretty easy for your wedding guests. The state has international airports in Savannah and Atlanta that serve as major connection points from other parts of the country. Atlanta's Hartsfield-Jackson International Airport is a major hub for Delta Airlines, and it also happens to be one of the busiest airports in the world, so guests from all sorts of far-flung corners should have no trouble arriving for your Georgia wedding.
There's a number of smaller regional airports in other parts of the state as well, and car travel is also a good way to get from a major airport to a smaller town. Georgia has several interstate highways serving different parts of the state: I-95 and I-16 are good choices for arrival to a Savannah wedding, while I-85, I-75 and I-20 help connect Atlanta to the rest of the state and region.
Go Local: Food and Favors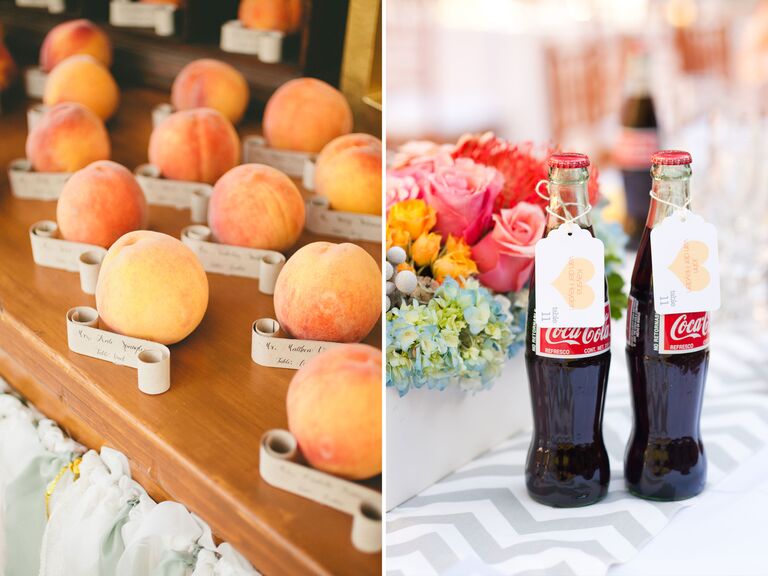 Another part of treating your guests right and allowing everyone to walk away from your Georgia wedding with fond memories is providing tasty treats and fun favors. You get to enjoy these things too, of course, so that's all the more reason to get creative. If you want to inject some local flavor and tradition into your wedding, there are plenty of great themed ideas that draw on the state's customs. Check out The Knot Shop for other personalized favors.
Southern Soul: Regional Delights for Georgia Weddings
You and your guests would be missing out if you failed to savor some Southern food while celebrating your nuptials. Georgia happens to be located in one of the most distinctive and delicious food regions in the country, if not the world, and while barbecue and fried chicken may not be everyone's idea of a wedding reception dinner, these are foods you can easily incorporate into your rehearsal dinner or your reception.
All of the various places to get married in Georgia have easy access to soul food, barbecue, fried chicken and other regional treats. From Busy Bee Cafe and Paschal's in Atlanta to Wiley's Championship BBQ in Savannah, you'll want to treat yourself and your guests while you're in Georgia. And of course, you're not in Georgia if you don't enjoy some peach pie or cobbler, so make sure that's on your list too.
Ultimate Georgia-Themed Gifts for Guests
You can incorporate some of Georgia's iconic cuisine in your wedding favors. Mini peach pies or tiny pots of peach honey labeled with your wedding logo make sweet and tasty gifts. There are other ways to get creative, including:
A playlist of Georgia musicians, featuring everyone from Outkast to Travis Tritt, on a personalized thumb drive
Personalized bottles of Coca-Cola to commemorate what's arguably one of Georgia's greatest exports
Custom-printed M&Ms in the colors of your favorite Georgia pro or college sports team
A photo booth with silly props lampooning your favorite Southern stereotypes
A small booklet of recipes so guests can make their own Southern treats when they go home
Georgia City Guides
Whether you're looking at outdoor wedding venues in Georgia or are interested in an indoor event, the Peach State has a ton of great locations to offer. From quaint small towns in the central part of the state to the bustling metropolis of Atlanta, you can find just about any environment here. The cities below are the two most popular locations for getting married in Georgia, but they're really just the tip of the iceberg when it comes to your options for a Georgia wedding. You can start with these two regional hubs and then expand outward to smaller towns, using our vendor marketplace as a guide for what's available.
Atlanta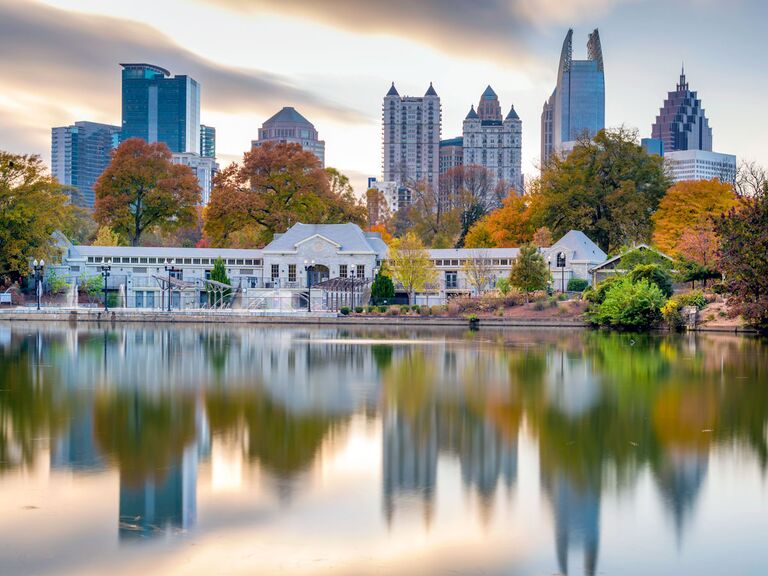 As the capital and largest city of Georgia, Atlanta has plenty of glamour and urban flavor to offer. This city has a ton of different luxurious hotels, elegant event spaces and charming historic buildings you can choose from for your Atlanta wedding. From the fabulous Fox Theatre to the Four Seasons Hotel, Atlanta wedding venues offer you and your guests the opportunity to celebrate in style. If these iconic locations are out of your price range, don't worry. There are plenty of other venues that can offer you the opportunity to enjoy all the resources of a major city on your wedding day.
If your creative wheels are already spinning, check out some local Atlanta vendors:
Savannah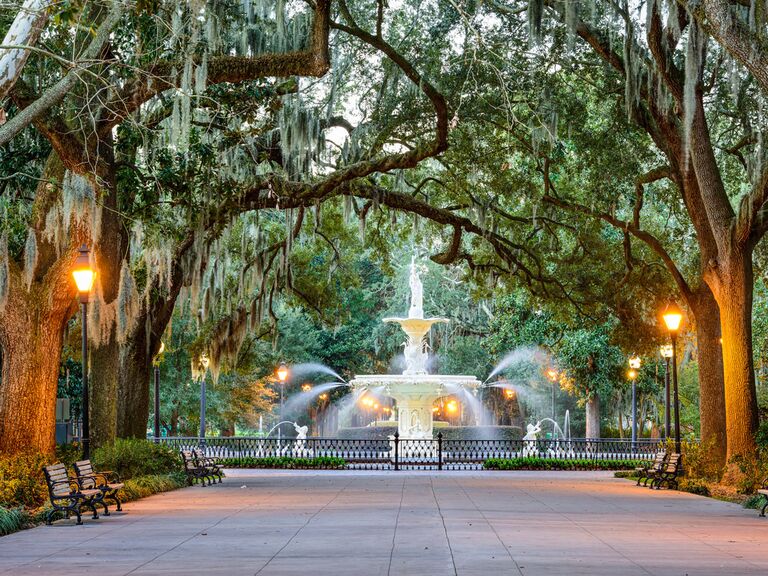 With its charming architecture and old trees dripping with Spanish moss, Savannah is a beautiful place for just about anything. Savannah weddings benefit from this legendarily beautiful environment, taking on a storybook quality that's sure to translate in your amazing wedding photos. Whether you choose to exchange your vows on the beach or in a historic mansion, your Savannah wedding will be breathtaking.
Get your plans underway by looking up some Savannah-area wedding pros:
Check out more Georgia wedding inspiration here.

Don't forget to download The Knot Wedding Planner app—it's a must-have for on-the-go planning.
Download for iOS: Wedding Planner App by The Knot

Download for Android: The Knot Wedding Planner