5 Dos and Don'ts of Engagement Ring Shopping
When it comes to ring shopping, there's some essential etiquette every shopper should heed. Here to give us the scoop are the experts from Robbins Brothers.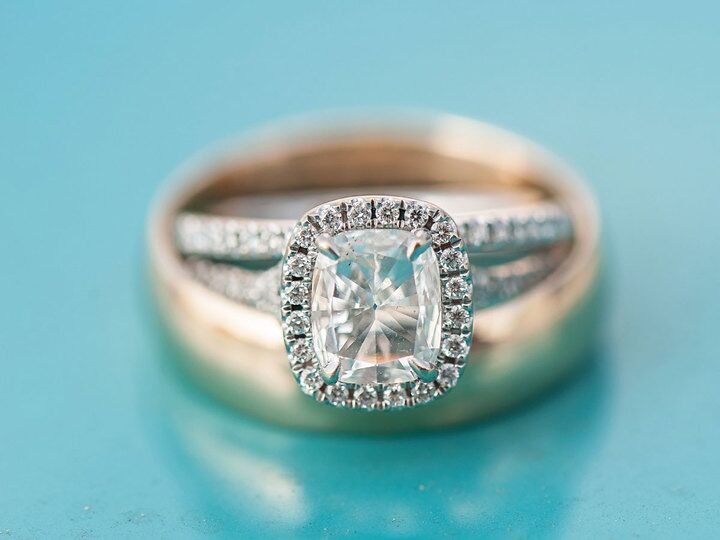 Amanda Pair Photography
Engagement ring shopping is a big deal—and we say that to get you excited, not to stress you out. You've found the person you want to spend the rest of your life with, now it's time to find them a ring they'll want to wear for the rest of their life. Whether you plan on shopping for rings together or purchasing a sparkler for your better half in secret for a traditional surprise proposal, the experts at Robbins Brothers share some important dos and don'ts to make your search for the right engagement ring easier.
1. Do: Pay Attention to Their Preferences
"Most of the time, [people] have a distinct vision of their ideal engagement ring, knowing every fine detail of what they want. Key things to listen for are: the type of diamond shape, size and quality they want in their ring. Be nosy and snoop through their recent pins on Pinterest or even reach out to their best friends if you're unsure."
2. Don't: Break Your Budget
"Although this is a valuable investment, it's still imperative to stay friendly to your budget. Better than anyone else, you know what you can afford based on your income, debts and whether or not you want to pay cash or finance the ring. Either way, don't let anyone pressure you into breaking your bank—you control what you want. Strive to find [your partner] the most beautiful ring within your budget."
3. Do: Get the Ring Insured (and a Warranty Too)
"This might sound silly to some, but purchasing insurance for your ring is a vital part of engagement ring shopping. When you invest in a symbolic purchase like an engagement ring, you want to make sure you're covered if the ring is ever lost, stolen or damaged. Most reputable jewelers offer a lifetime guarantee on manufacturer defects, and some even include normal wear and tear issues such as loose stones, size adjustments and more. For extra peace of mind, make sure every diamond in the ring is covered too." 
4. Don't: Forget to Learn the Four Cs
"Ring shopping can be a stressful process for a person to experience, which is why you should prepare yourself before walking into an engagement ring store. Everyone needs a starting point, and for most, it should be learning about the four Cs: cut, carat weight, clarity and color. Familiarizing yourself with these terms beforehand and understanding the impact of each will be a significant advantage for you."
5. Do: Ask Questions
"No question is a bad question. Reach out to the ones you trust the most for their advice, whether it's friends, family or [a professional]. Find a jewelry expert you can trust and ask them to explain or provide details if you don't understand something. A knowledgeable consultant will be able to answer every question you have about your future fiancé's engagement ring."
Robbins Brothers, The Engagement Ring Store, specializes in proprietary and designer engagement ring settings and loose diamonds. The company also carries an extensive selection of wedding bands, promise rings, anniversary bands, three-stone and stacked rings, earrings, pendants and bracelets. To learn more about Robbins Brothers, please visit RobbinsBrothers.com.