Stylish Father of the Bride Tips + Etiquette Q&A
Everything dads need to know about suiting up for their soon-to-be-bride's big day!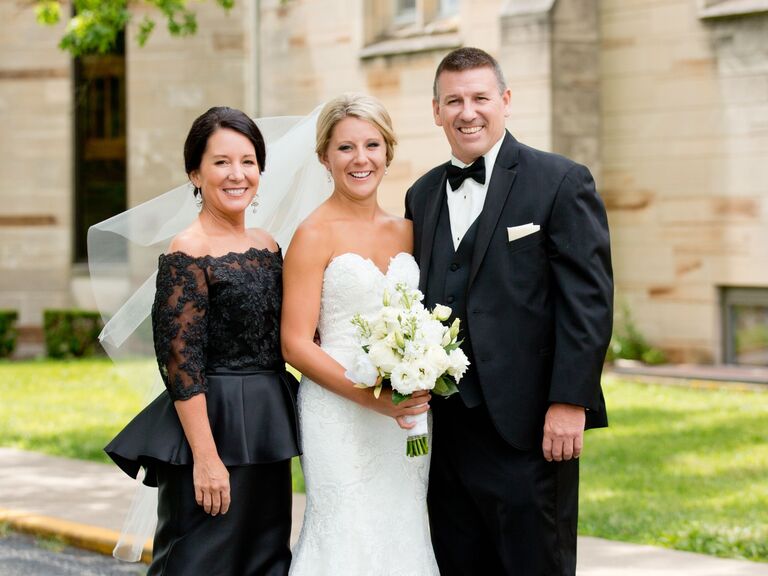 Photo: Hudson's Photography
We have included third party products to help you navigate and enjoy life's biggest moments. Purchases made through links on this page may earn us a commission.
Parents of to-be-weds have a few key responsibilities in the leadup to the big day. One of those responsibilities is to show up looking their best–but what does that even entail? While there are reliable guidelines for how grooms and groomsmen should suit up for a ceremony, the world of father of the bride (and father of the groom) attire is a bit tougher to pin down. Broadly your job is to dress appropriately for the part, though what "appropriately" means varies wedding to wedding. Fear not though, dads - we've got you covered. Read on for everything you need to know about father of the bride attire, as well as a few of our favorite suits that will have you looking sharp when it comes time to walk down the aisle.
In this article:
What Does the Father of the Bride Wear?
What you wear as the father of the bride is determined first and foremost by the dress code of the wedding. Want to clinch the Father of the Year award early? Check in with the to-be-weds ahead of time and make sure you're all on the same page about what you should wear to the wedding. A talk like this can also be a great opportunity to see if there's anything special they want you to wear, whether it's something that color-coordinates with the father of the groom or a family heirloom with sentimental value to the bride.
Father of the Bride Attire by Dress Code
Formal Wedding Attire for Father of the Bride: For a formal wedding, the father of the bride is going to be expected to wear a tuxedo, as will most of the other guests. There's still some room to make the look your own even under a slightly more rigid dress code, though. Personally, I'll always suggest guests aiming for a more distinguished air (that's you, Dad) go for a shawl-neck tuxedo. It'll have you looking every bit the elder (sorry!) statesman that you are.
Semi-Formal/Casual Wedding Attire for Father of the Groom: Dads with permission to dress down (or at least a notch down from formal garb) should still make an effort to look their best and stand out from the rest of the guests. A nice, simple suit is always a good call, whether it's with proper suit attire for a semi-formal wedding or dressed down with a camp-collar shirt in the summer or a sweater in the colder months. For a rustic farmhouse/barn wedding it's always a good call to go with a dress shirt, suit vest, and matching trousers (but leaving the jacket at home, weather-permitting). And in either case, mixing suit separates is also a safe bet.
Beach Wedding Attire for Father of the Bride: If the beach wedding in question still has a more formal dress code, a linen suit is always going to have you looking great and keeping cool. If the dress code is more laid back, this is where it's okay to leave the pants at home and instead go for a nice pair of dressy shorts. Pair them with a camp-collar shirt or a linen button-down and you'll be ready to escort the bride.
What Color Suit and Accessories Does the Father of the Bride Wear?
The color of your father of the bride suit and the accessories you pair with it depends on the dress code of the wedding and the couple. Be sure to check in with them before planning whether to wear a black or blue tux or whether or not to wear dress shoes or loafers.
Should the Bride's Father and Mother Match?
A bit of synchronicity with the mother of the bride when dressing up never hurts (matching your tie to their dress is always a classy call), but there are no hard rules on coordinating between the father and mother of the bride unless the bride has specifically requested it. This is, once again, something you should check with the bride and groom on before getting dressed.
Do the Father of the Bride and the Father of the Groom Match?
There is no tradition stating that the fathers of the bride and groom need to match their outfits or wear the same suit for the wedding. However, this is again an instance in which it will help to check in with the couple first. The sentiment of a bit of coordination between fathers may mean a lot to them, in which case it can be a nice touch to wear matching cufflinks or ties.
Does the Father of the Bride Match the Groomsmen?
No, the father of the bride does not traditionally wear matching outfits with the groomsmen.
Top 10 Father of the Bride Suit Ideas
Spier & MacKay Charcoal Peak Lapel Suit
Thick, peak lapels give this Spier & MacKay number an old-school distinguished vibe–in other words, the perfect look for a father of the bride.
Size Range: 34-44L
Grand Le Mar Blue Milano Suit
Double-breasted suits may be all the rage in 2023 but for dads, they're trend-proof. You'll always look your part in one of these, and Grand Le Mar's Milano suit in a bright, eye-catching blue is the perfect choice for spring and summer weddings.
Size Range: Made To Measure
Proper Cloth VBC Fresco Tuxedo
Tuxes come in more colors than just black. Proper Cloth's sharp take on a peak (and very wide–a good thing) lapel tuxedo comes in a rich shade of blue with black lapels and detailing, the perfect tux for a father of the bride looking to stand out in a sea of black tuxes.
Size Range: 28S-64L
Lauren by Ralph Lauren Classic Fit Seersucker Suit
Seersucker is a great choice during the hotter months of the year. For dads aiming to look hot but stay cool, this Ralph Lauren seersucker suit is sure to get the job done.
Size Range: 36S-58L
Banana Republic Signature Hopsack Italian Suit
Banana Republic may very well be the best place to pick up a suit at your local shopping mall (though don't worry, there's plenty available online for dads who'd rather spend a Saturday afternoon elsewhere). Among the standouts of their latest collection is this lightweight hopsack suit in a beautiful beige, perfect for outdoor weddings or indoor ones with a semi-formal dress code.
Size Range: 34-48
The Black Tux Shawl Collar Tuxedo
Dad, do you need a tux for the big day but don't necessarily plan on wearing one again after that? The Black Tux has you covered. You can rent this dapper shawl-neck tuxedo with all of the accessories you need (right down to the shoes!) for a fraction of the price you'd have to pay to buy it.
Size Range: 34S-58L
Anthony Sinclair Two-Piece Mid-Grey Glen Check Suit
Dads looking to channel their inner James Bond can go straight to the source with this stunner from Anthony Sinclair, one of the more storied tailors on London's Saville Row. It's got a subtle glen-check plaid and a great story for the reception when people are asking where you got it–Anthony Sinclair outfitted Sean Connery for his run as Bond and this particular suit can be seen in From Russia With Love.
Size Range: 36S-46L
Bonobos Jetsetter Suit in Dusty Rose
Bonobos keeps their signature Jetsetter suit simple. It's perfectly proportioned with classic touches that ensure it'll never go out of style. It comes in a variety of standard colors but the Dusty Rose edition is perfect for fathers of the bride preparing to suit up for a spring or summer wedding. A fashion-forward suit like this one will have you looking every bit the Cool Dad we know you are.
Size Range: 36S-46L
Colors: Grey, Black, Navy, Charcoal, Light Grey, Light Navy, Dusty Rose, Light Blue Windowpane, Iceberg Blue
Brooks Brothers Madison Fit Stretch Wool 1818 Suit
Dads know as well as anyone that if it ain't broke, don't fix it. And the Brooks Brothers 1818 suit definitely ain't broke. Well over a hundred years after their first store opened they're still one of the go-to destinations for guys looking to dress up for a special occasion. Enter the 1818 suit, a classic cut in simple black available in a wide array of sizes.
Size Range: 36-56
Cubavera Striped Guayabera Shirt
When you've been told you can skip the suit, lean into it! Dads attending a beach wedding with a casual dress code, you'll look great in Cubavera's classic guayabera shirt. Pair it with nice shorts or linen pants and some nice sandals for the perfect beach wedding father of the bride outfit.
Size Range: S-XXL