24 Bridesmaid Pajama Sets Your Crew Will Want to Wear Again
These PJs are cute enough for photos and comfy enough for sleep.
We have included third party products to help you navigate and enjoy life's biggest moments. Purchases made through links on this page may earn us a commission.
When it comes to bridal party outfits for those coveted getting-ready pictures, you have plenty of options, including one of our favorite bridesmaid gift ideas: pajamas. It's especially thoughtful to give your crew high-quality PJs you know they'll wear again—and of course, it doesn't hurt if their bridesmaid pajamas are photogenic too.
That's why we've rounded up the best bridesmaid pajama sets that are as stylish as they are snuggly. (Seriously, your squad will be sleeping in these PJs for years after your wedding day.) Keep scrolling to see our favorites—and be prepared to have the sudden urge to plan a sleepover bachelorette party.
1. Personalized Bridesmaid Pajama Sets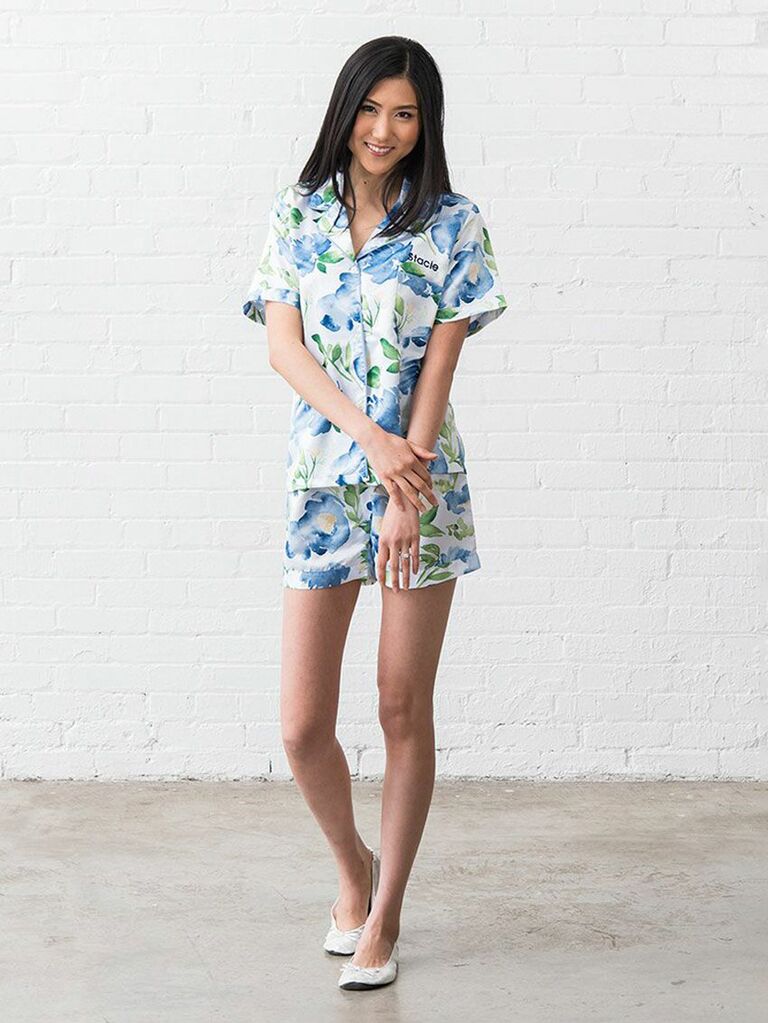 Classy, personalized pairs of PJs will always make great bridesmaid getting-ready outfits. Your squad will appreciate the breathable feel of these gorgeous satin pajamas, which are available in a range of lovely colors. And did you check out that price tag? How's that for affordable bridesmaid pajama sets?
2. Romper Bridesmaid Pajamas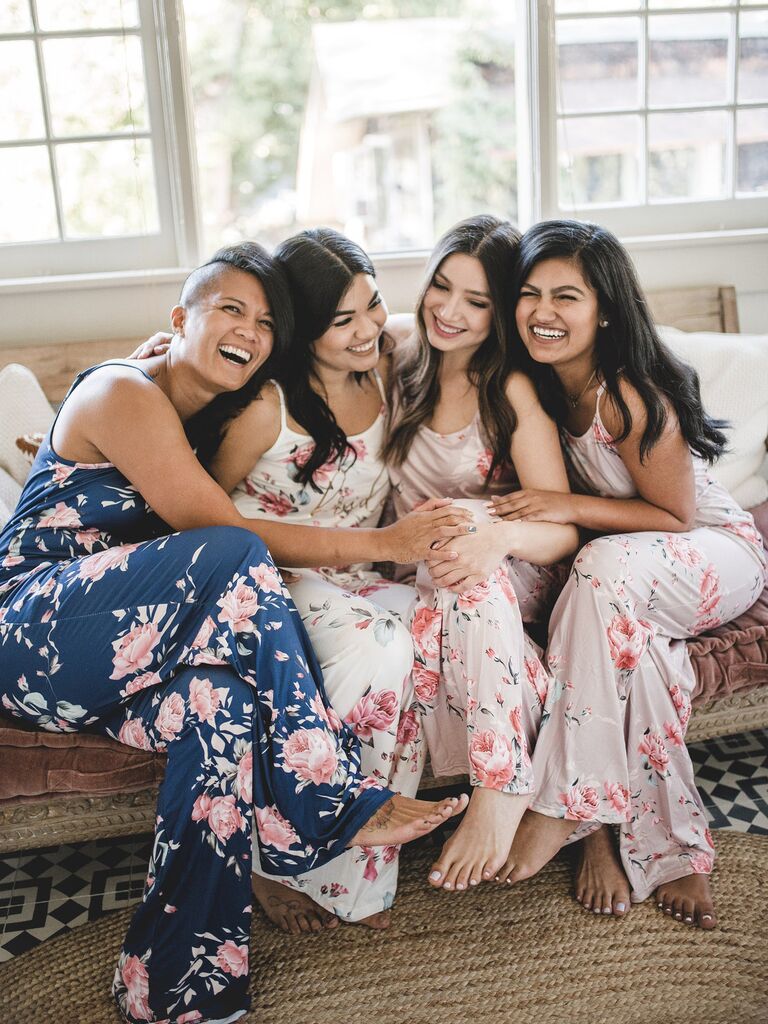 Chic, soft and stretchy PJs with colorful floral accents? Yes, please. These trendy romper bridesmaid PJs come in four different floral variations, so feel free to mix and match until you find the perfect combo for your crew.
3. Eco-Friendly Bridesmaid Pajama Sets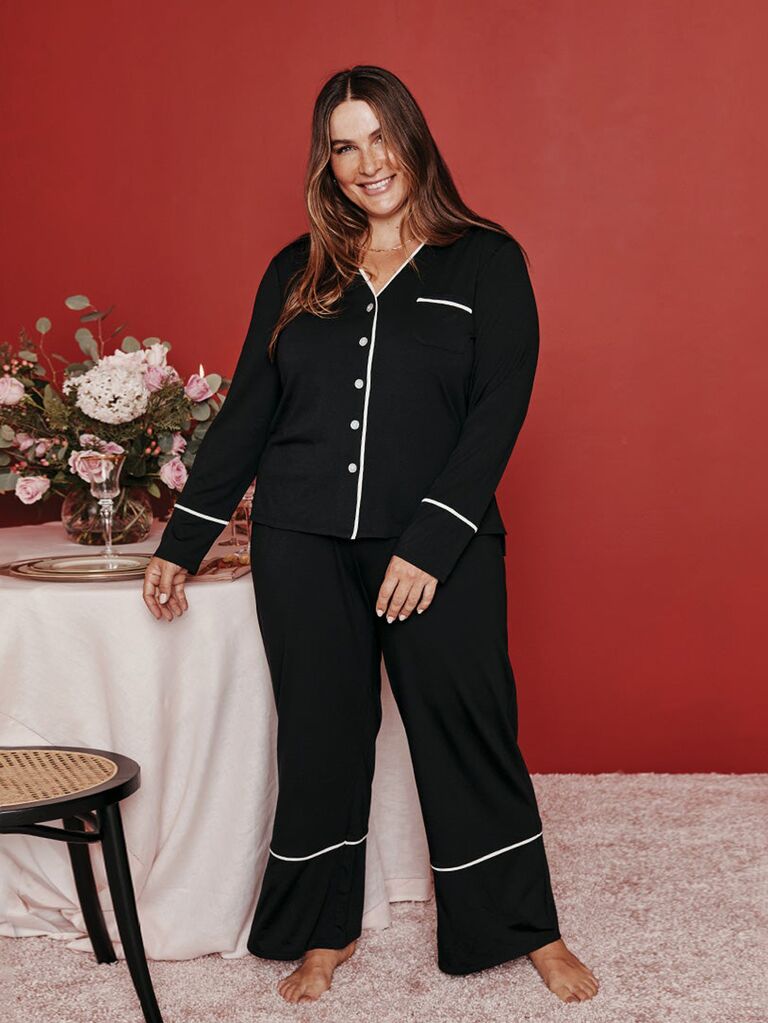 How about sustainable bridesmaid PJs made from recycled plastic water and soda bottles? These eco-friendly sets are also irresistibly soft—ideal for sleeping or lounging around. The color options are also seriously fun: Sea Urchin & White Sand or Garnet & Hibiscus, anyone? Check out Summersalt's silky PJ sets or sleep shirts for your bridesmaids too.
4. Cozy Short-Sleeve Pajama Sets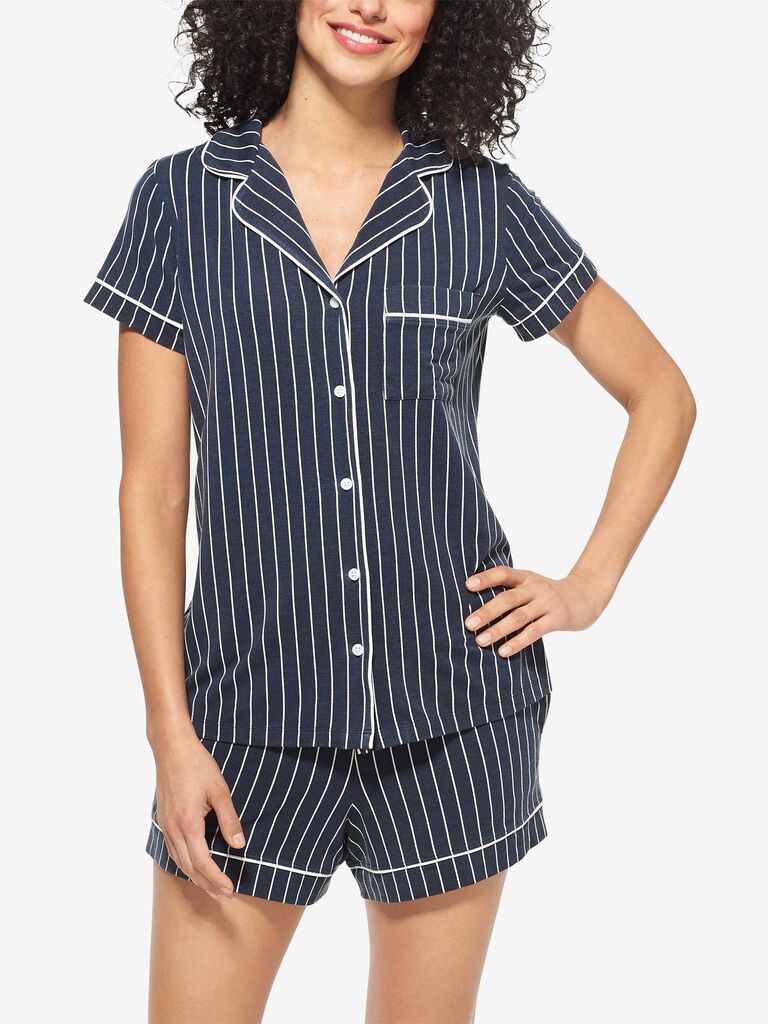 Our editors can personally attest to the softness of these cozy PJ sets for your bridesmaids. Each one comes with a short-sleeve top and matching piped bottom—and they're available in seven dreamy colorways. We know your friends will enjoy these luxe pajamas for a long time!
5. Floral Wedding Party Pajama Sets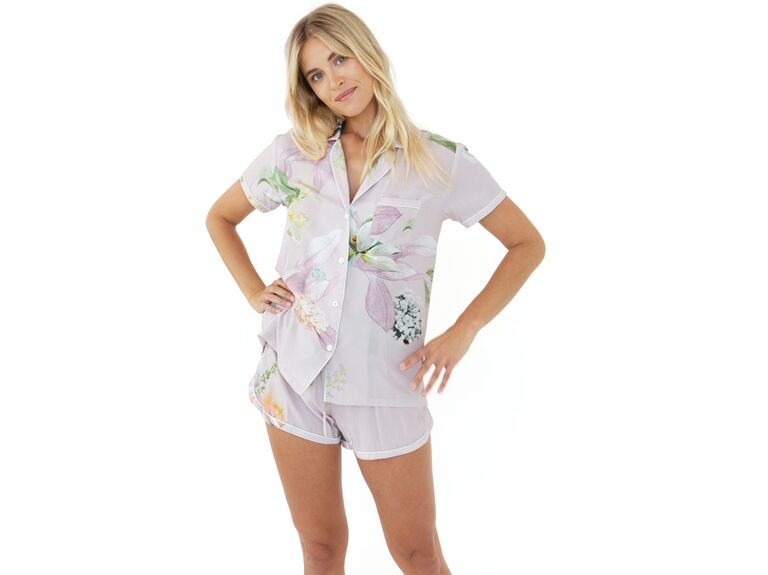 What can we say? Floral pajamas are just so much fun. Your bridesmaids will love posing for getting-ready photos in these pretty short-sleeve shirts and shorts. (FYI: This shortie set is also available in smaller—or larger—group packs.)
6. Monogram Bridesmaids Pajamas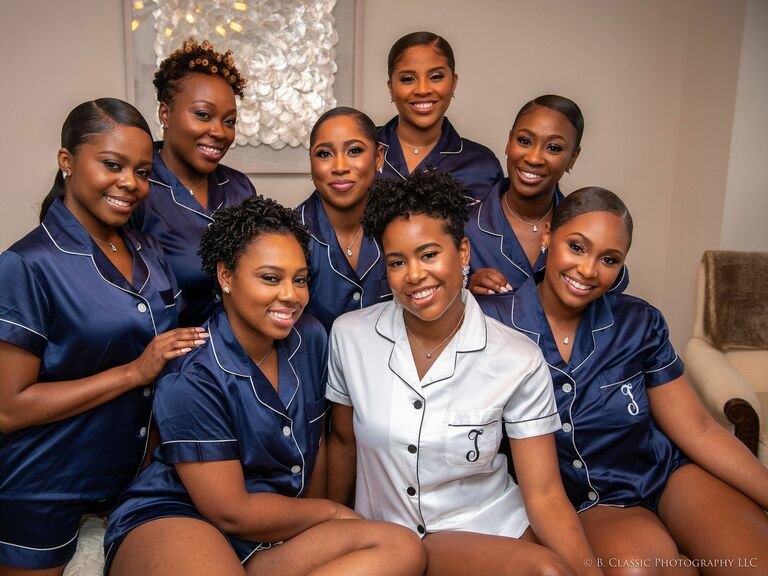 Sleek satin pajamas are always a win. These jammies come in 12 different colors, including Dusty Pink, Navy and Sage—perfect for almost any wedding color palette. Personalize the front and back of each bridesmaid's set for a thoughtful touch they'll treasure.
7. Patterned Bridesmaid PJ Sets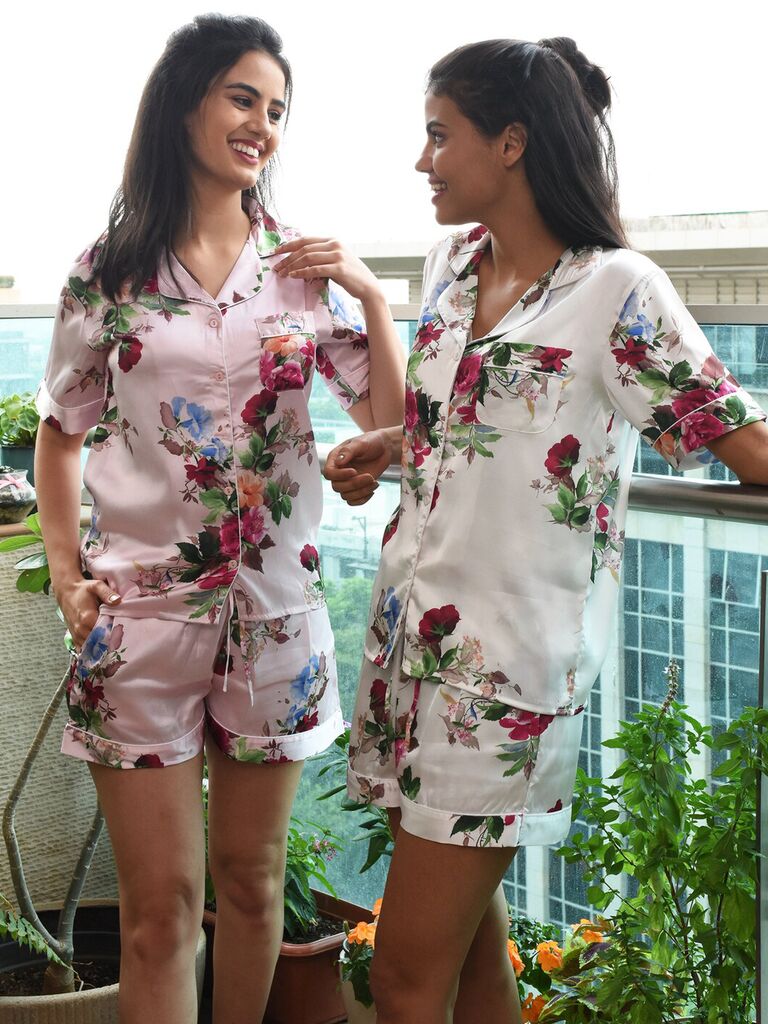 You can't go wrong with classic florals on your bridesmaids. And a loose button-down paired with stretchy waistband pajama bottoms? Hello, ultimate comfort. (FYI: Button-downs are also key so your crew doesn't mess up their hair before the wedding.) Choose from a few different top and bottom combos (full sleeves or short sleeves, pants or shorts), then add custom embroidery for extra personalization.
8. Satin Bridesmaid Pajamas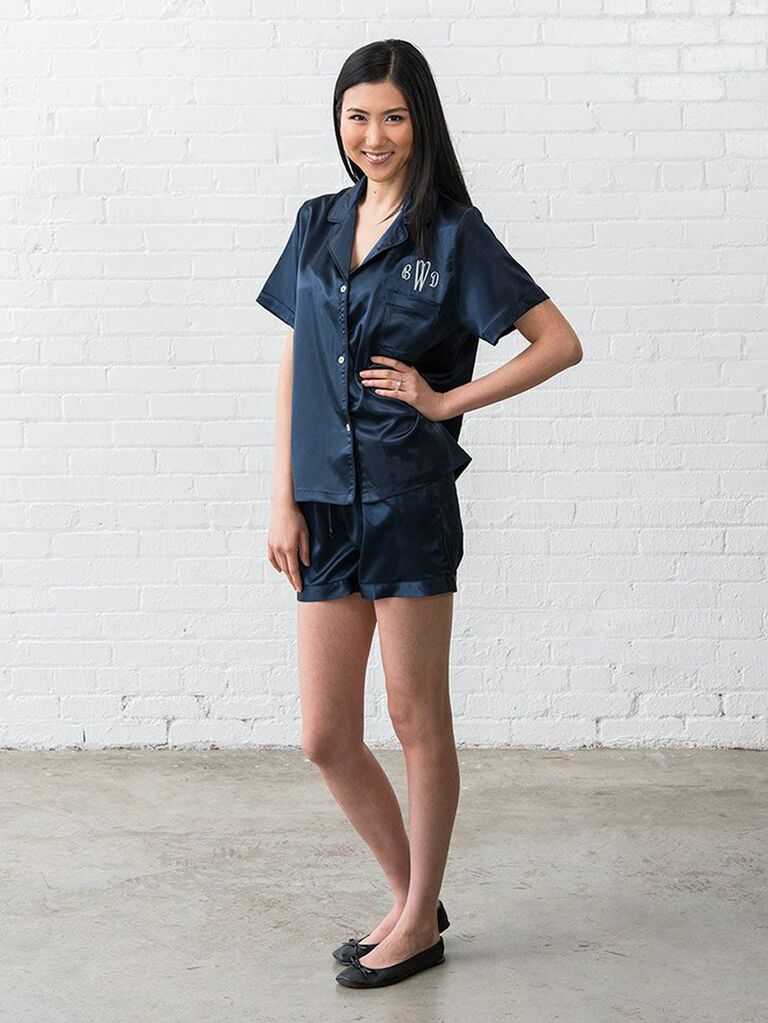 These silky bridesmaid pajama sets feel way more expensive than their price tag lets on. They come in this elegant shade of navy, plus an ultra-pretty shade of blush. There's even a white set for the bride. How convenient is that?
9. Scalloped Wedding Pajama Sets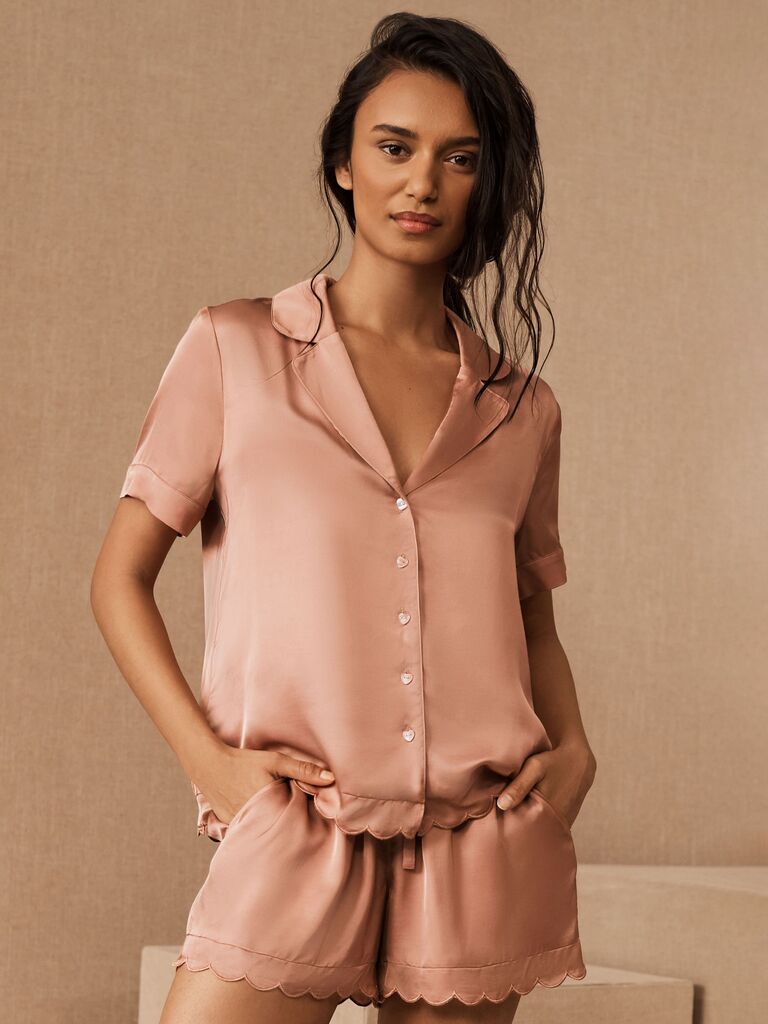 Your bridesmaids will feel like royalty in these elegant scalloped-trim pajamas. Each cozy top is lined with heart-shaped buttons and comes with matching shorts. We're obsessed with the rusty orange Sedona color. (Plus, there's an ivory or champagne set for the bride.)
10. Oversized Bridesmaid PJ Shirts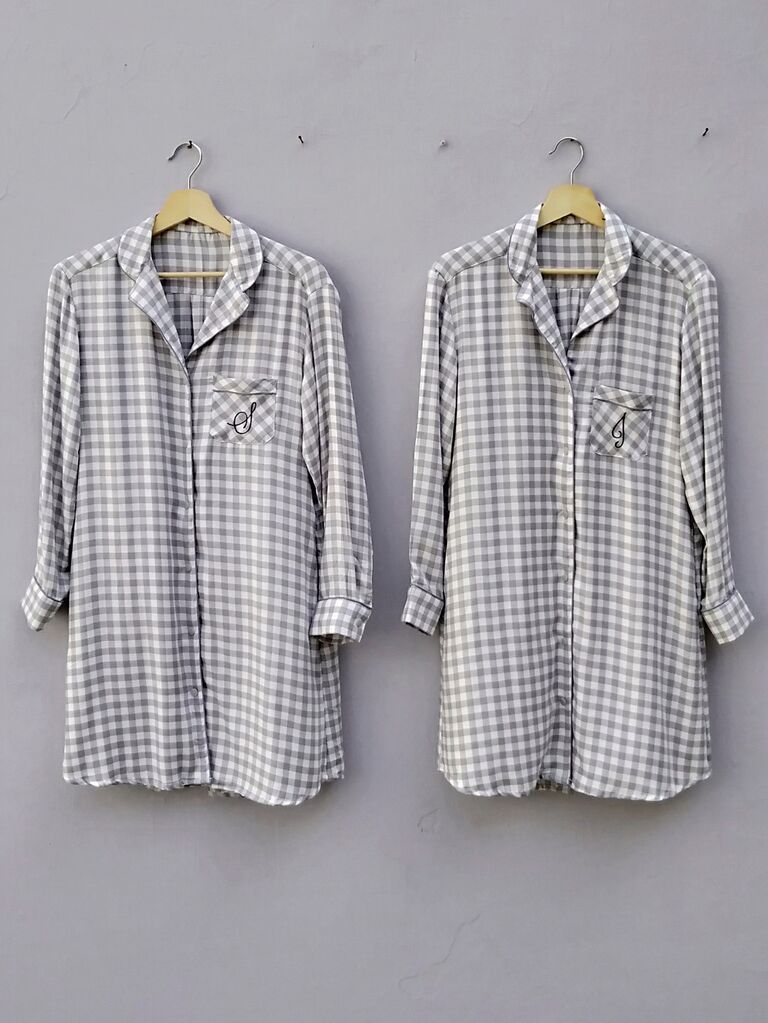 Your bridesmaids will look adorable in oversized boyfriend button-downs. Bonus: These bridal party pajamas come personalized with each bestie's first initial on the pocket. They're sold in a gray, white, red or black checkered print, which all give us rustic wedding vibes.
11. Beachy Bridesmaid and Bachelorette PJs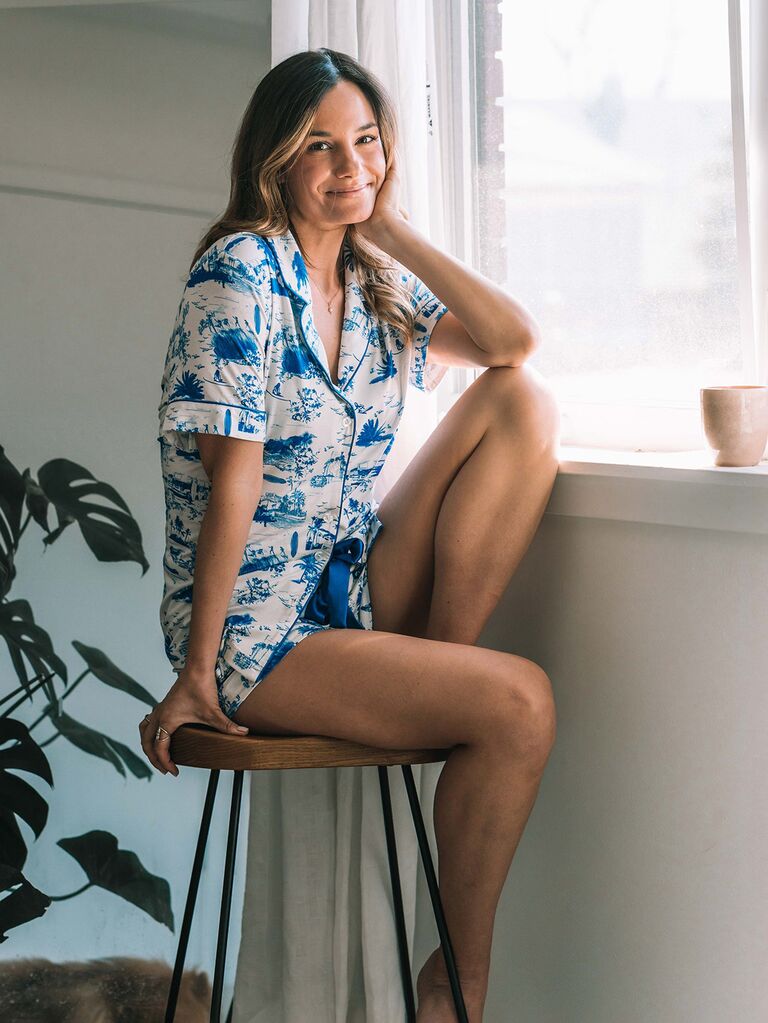 Surf's up! Whether you're having a beachside affair or you just love the ocean, your squad will look perfectly chill in these bridal party sleepwear sets. The Surfer Girl Toile print is so unique. Plus, they'd be super cute as matching bachelorette party pajamas!
12. Floral Satin Pajama Sets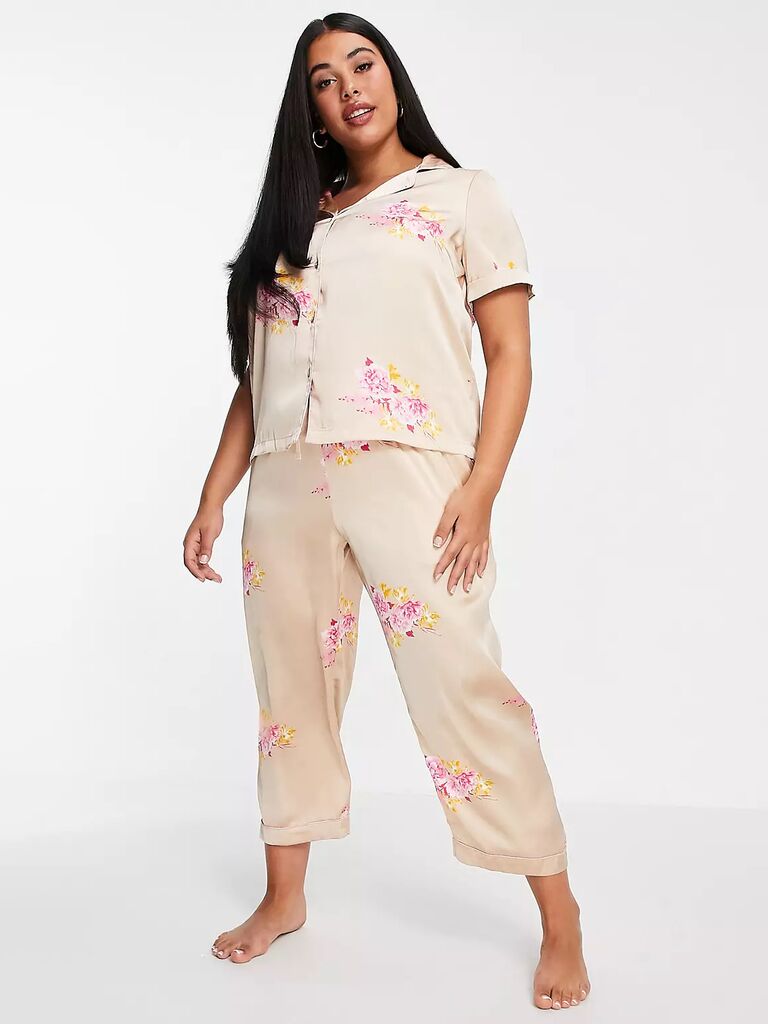 These silky-smooth pajamas are heavenly—wait until you feel the cozy satin material! Each set has a floral pajama shirt (with a dainty collar) and a pair of matching PJ pants. Your bridesmaids will really look forward to getting ready in these stunning PJs.
13. Mismatched Wedding PJs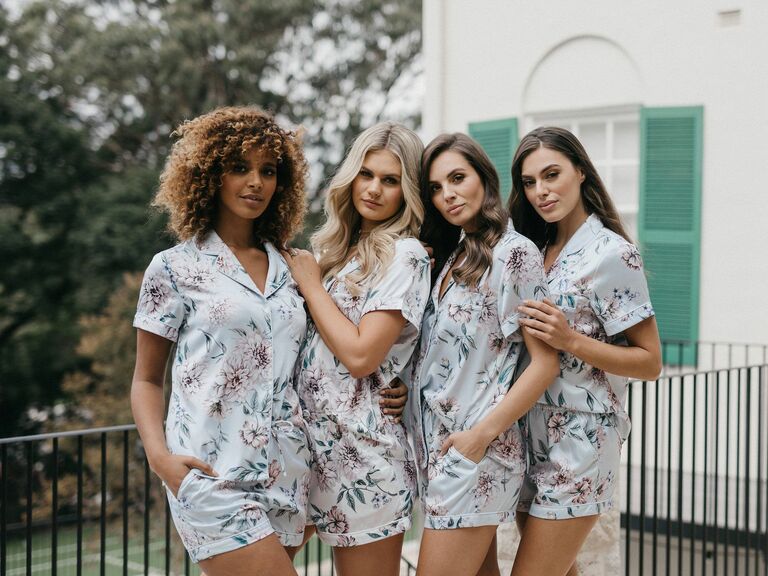 These personalized floral bridesmaid PJs would be perfect for a spring or summer wedding. They come in blush pink and dusty blue, as well as bridal white. Mix and match these bridesmaid pajama sets for a gorgeous photo op you'll cherish forever.
14. Matching Bridesmaid Pajamas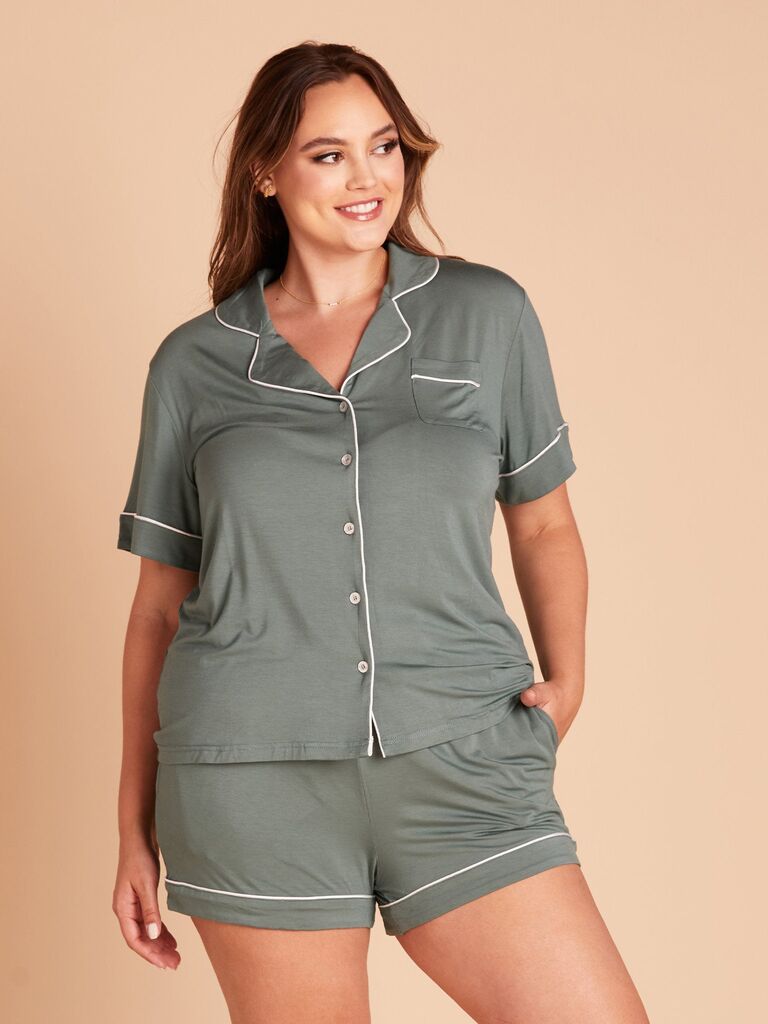 Your bridesmaids will be super impressed when they get their hands on these luxe pajamas. The material is made from a bamboo-rayon blend, so you know it's incredibly soft. Enjoy the dainty accent trim and 10 pretty color options, including Sea Glass and Rose Pink. (There are colors for the bride too.)
15. Comfy Bridesmaid Sleep Shirts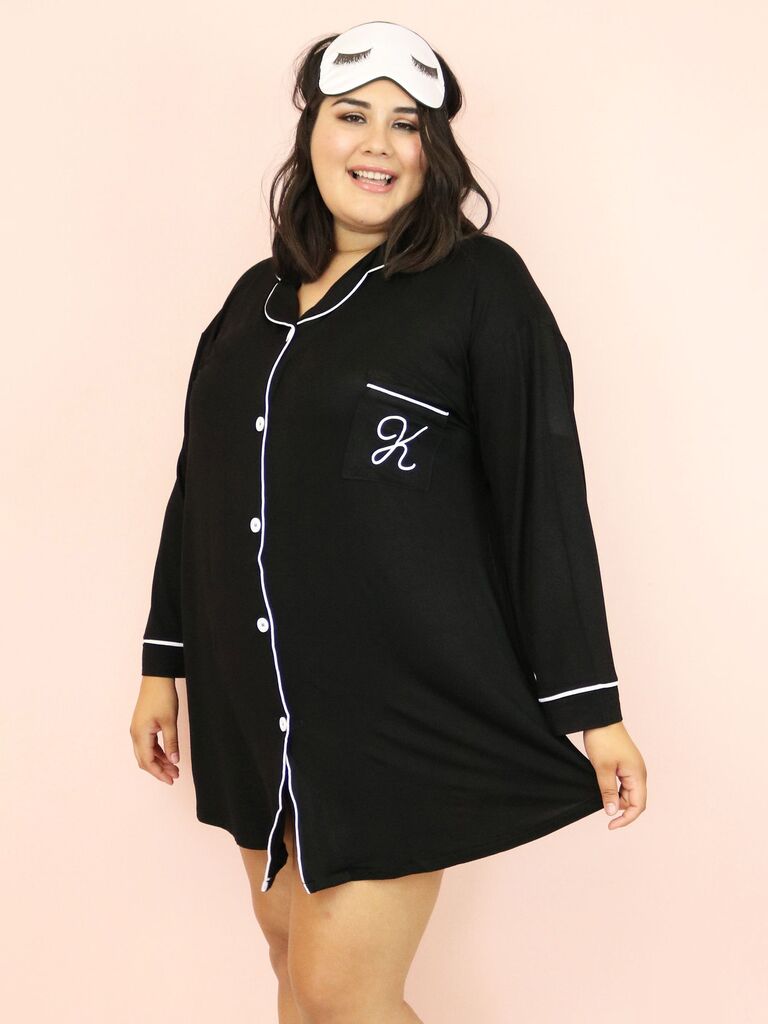 What about these sleep shirts for something super comfy? The stretchy cotton material makes them worth wearing long after the wedding. You can even add each bridesmaid's monogram to make the PJs more special. (Psst: They're also cute as matching bachelorette pajamas.)
16. Soft Cotton Pajama Sets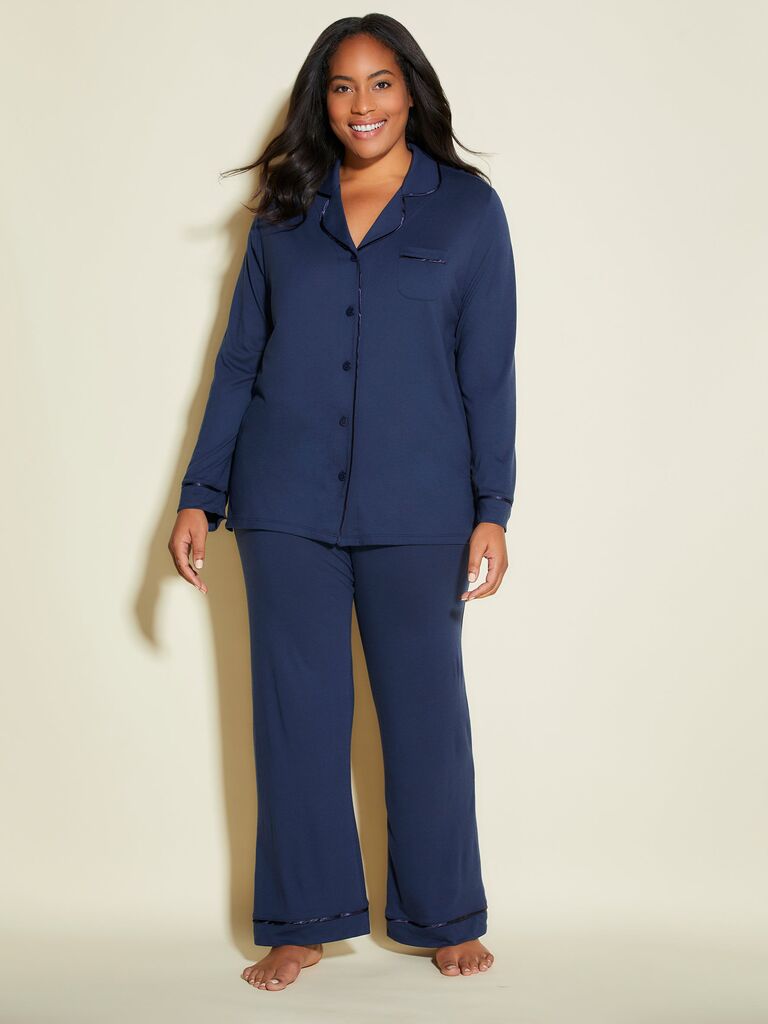 Extremely soft Peruvian Pima cotton? Sign us up! These long-sleeve pajamas are a wonderful option for your bridesmaids—especially if you're getting married in a cooler climate where shorts won't cut it. They'll stay warm and cozy in these minimal sets (and look fashionable too!).
17. Silk Shortie Pajama Sets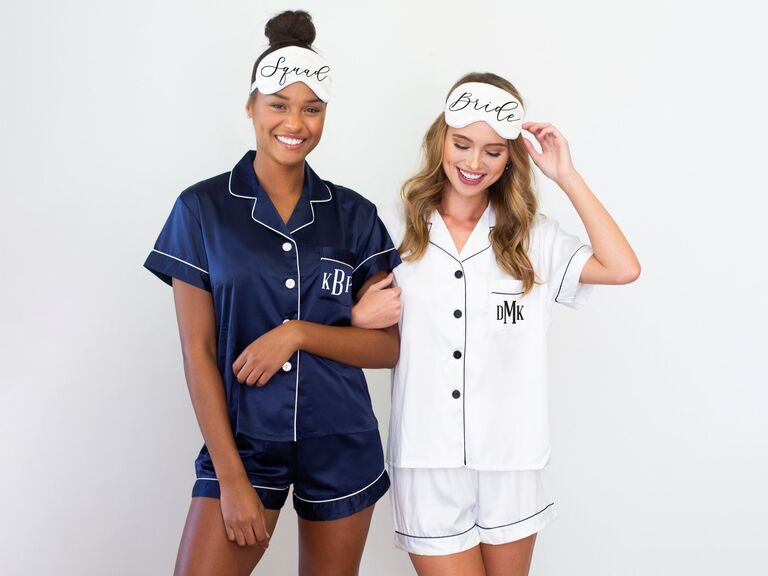 Shopping for simple PJs? Try this ever-trendy combination: a classic silk shirt and shortie pajama set. Take it to the next level by monogramming each bridesmaid's initials on the front pocket (plus their role on the back!). Who knew custom bridesmaid pajamas could be so affordable?
18. Leopard-Print Bridesmaid PJs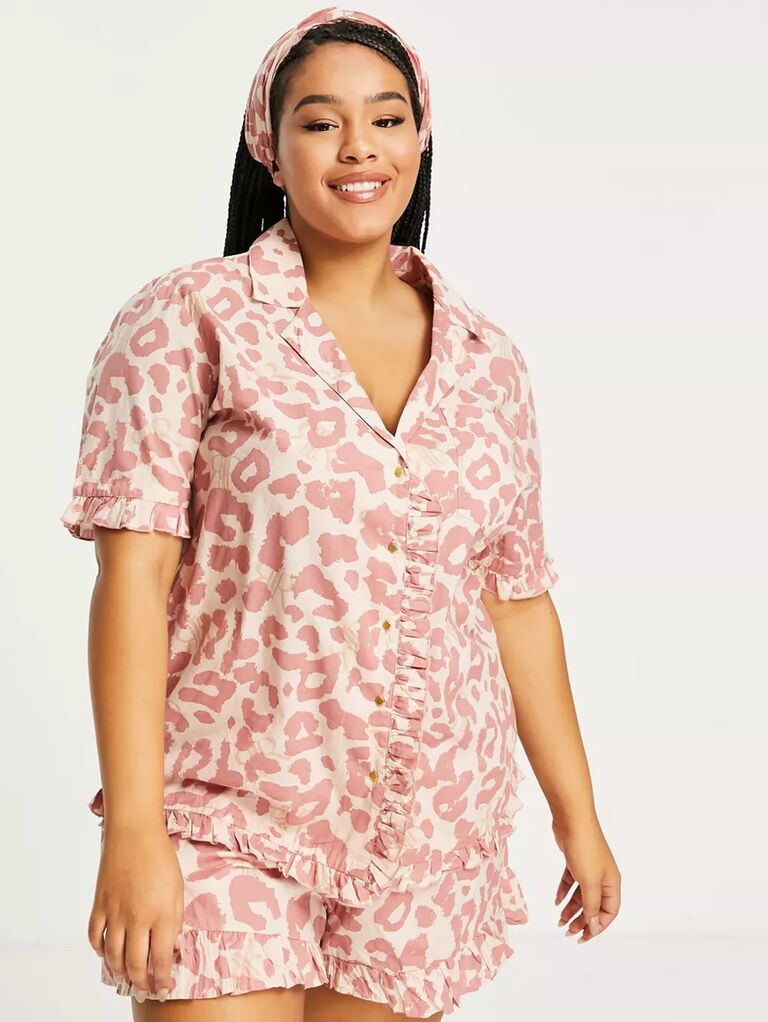 Everything about this lightweight bridesmaid pajama set radiates comfort and style—it even comes with a matching eye mask and headband! Your 'maids will gladly show off these pink leopard-print PJs in getting-ready photos.
19. Flannel Bridesmaid Pajama Sets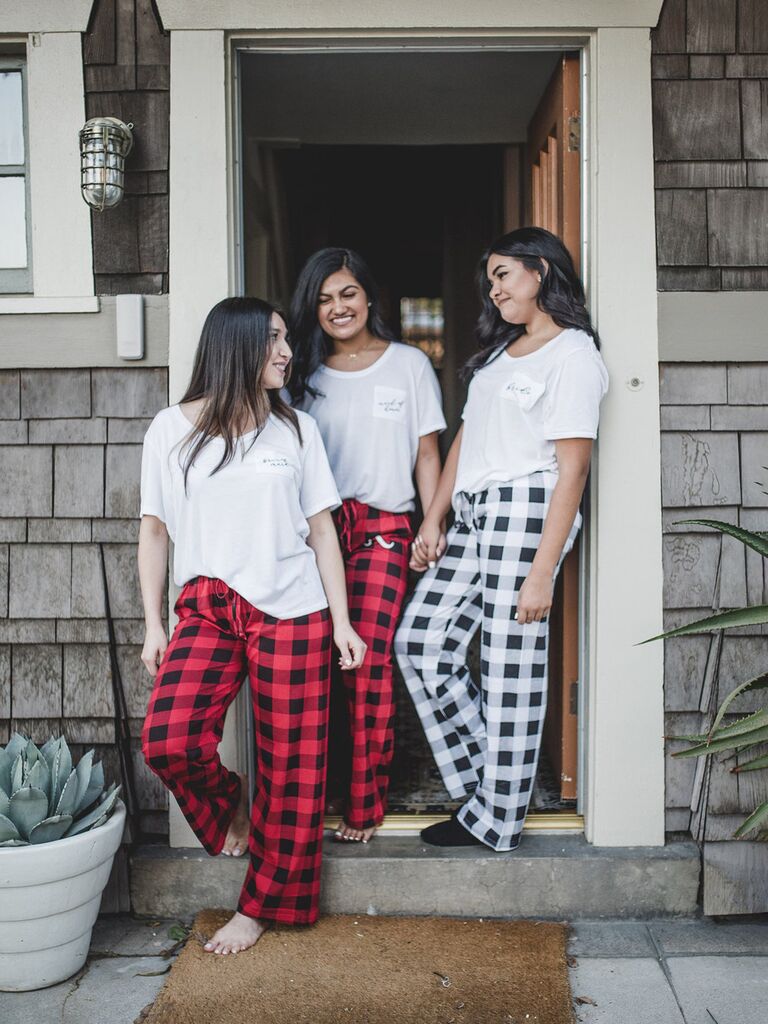 A cute flannel set screams fall or winter wedding. These bridal party pajama sets include a relaxed tee and long plaid PJ pants. Get the shirt pockets printed with each person's role—plus the bottoms printed with their monogram. They'd also work well as matching bachelorette party pajamas if a cozy sleepover is your cup of tea.
20. Tropical Bridesmaid and Bachelorette PJs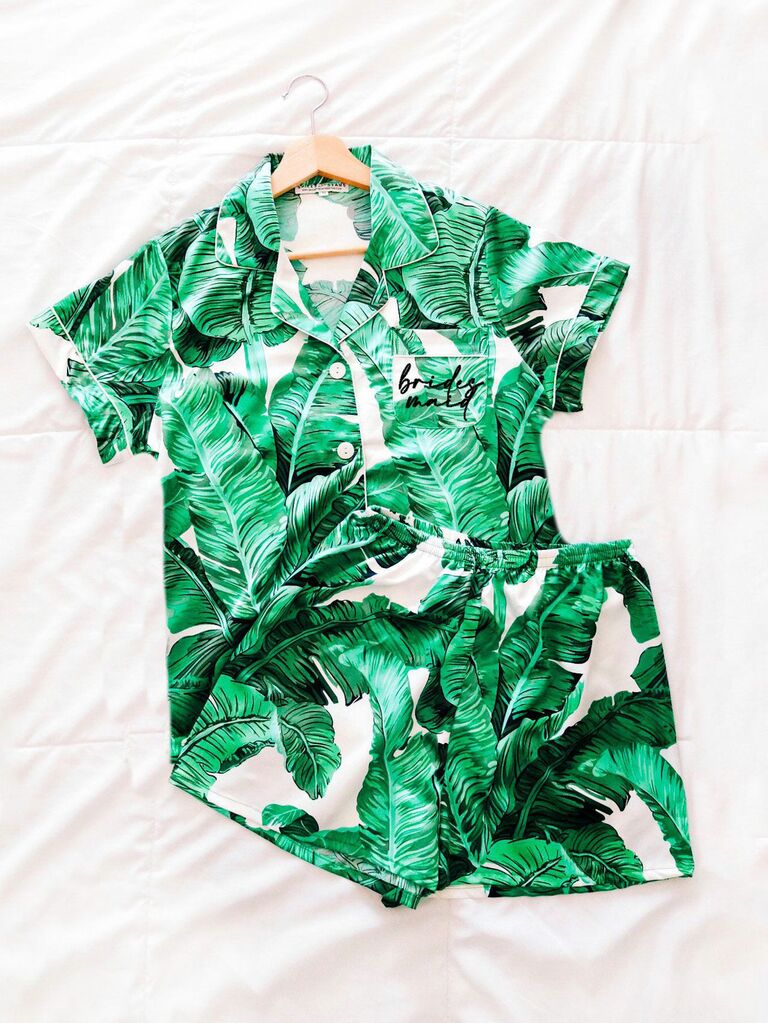 Jetting off somewhere tropical? Make a splash in these fun palm-printed pajamas for your bridesmaids. Why not monogram their initials—or their role in your bridal party—on the front pocket? Based on the set's excellent reviews, they're high-quality pieces you won't want to miss out on.
21. Waffle Shortie PJ Sets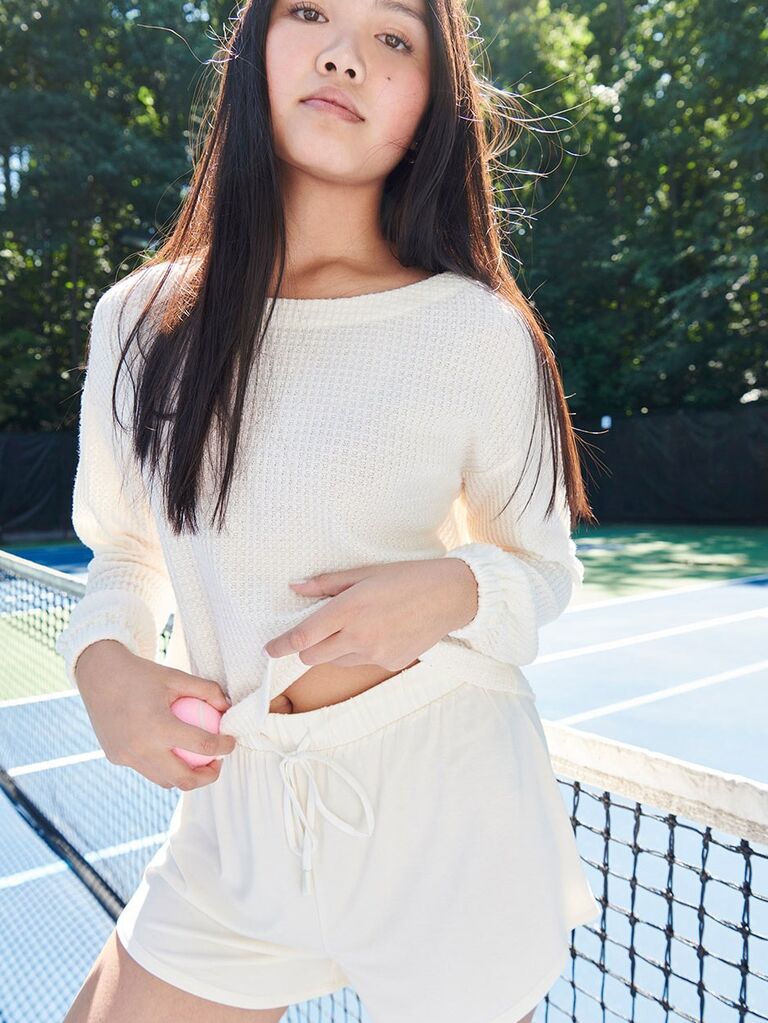 If you want something casual yet modern, you'll want these waffle knit PJs for your bridal party. They're made from a cozy brushed fabric, so they're insanely snuggly and cute too. Plus, they'd make such a sweet gift for your bridesmaids!
22. Elegant Bridesmaid Pajamas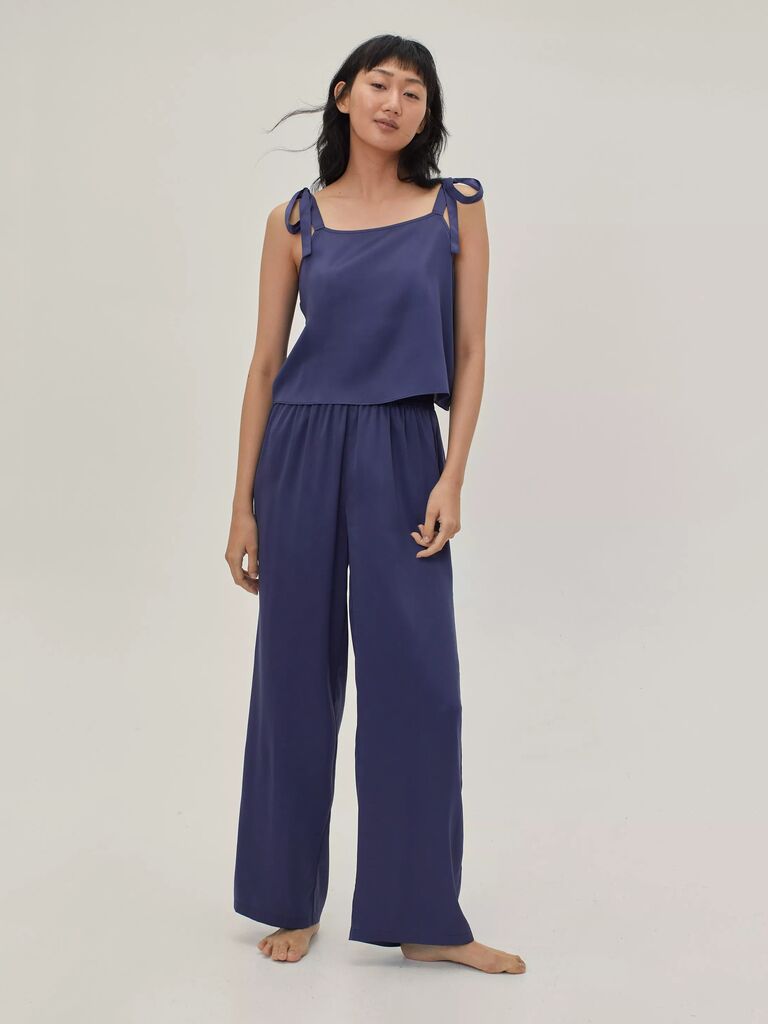 We're obsessed with the dainty tie straps on these recycled satin bridesmaid PJs. Each pair comes with a cropped shirt and trousers—so your bridesmaids can lounge together in harmony. They're available in a deep purple or creamy off-white color, so take your pick!
23. Metallic Bride Squad Pajamas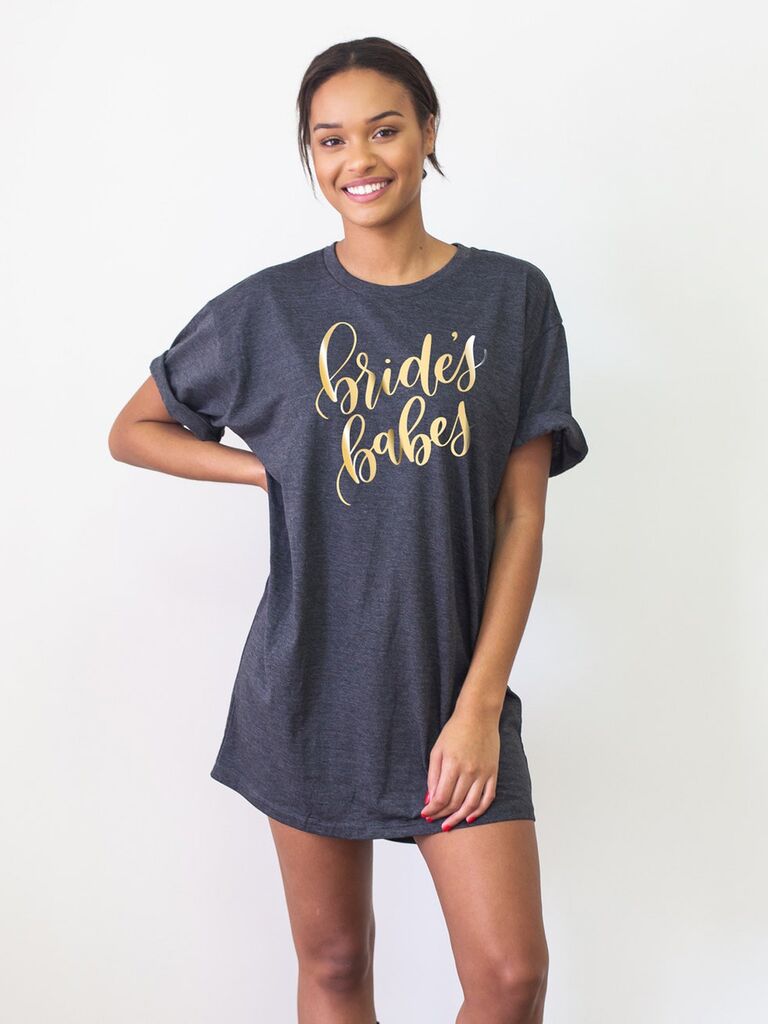 Keep things casual, but still special, with these simple bridesmaid nightgowns. You can emblazon each nightie in fancy metallic gold with the personalization of your choice ("Bride's Babes" or "Babe of Honor," perhaps?).
24. Bridesmaid and Maid of Honor Sleep Shirts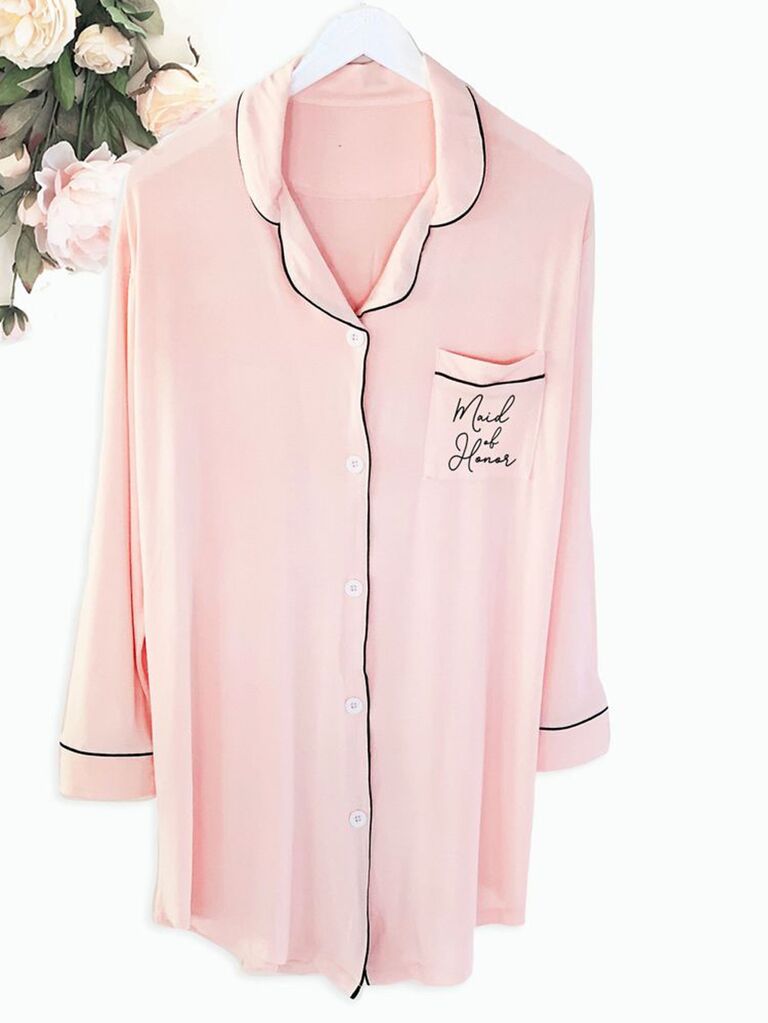 Here's another bridal party sleep shirt option for getting-ready photos. Each cotton shirt comes in pretty pink and is lined with contrasting black trim. You can even add each squad member's role to their front pocket to make them feel extra special.