How to Handle A Lost Wedding Ring (Step One: Don't Panic)
Seriously. Chill Out.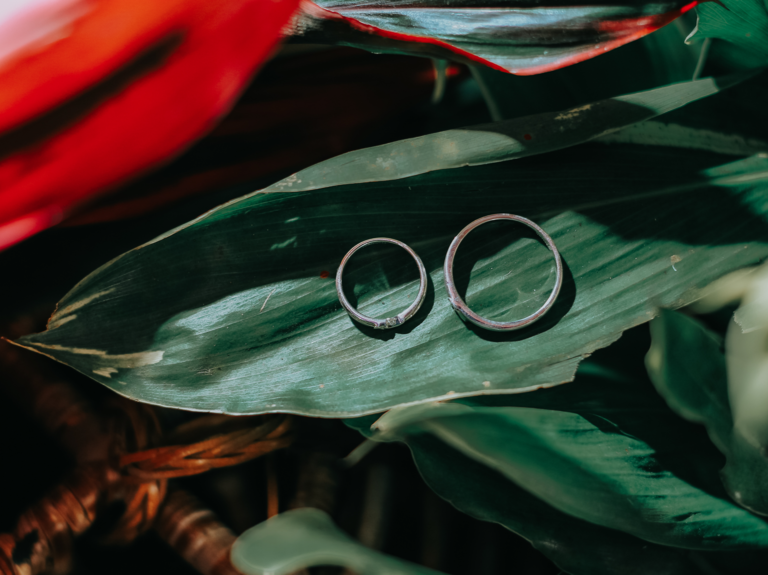 Achmad Wahyudi / Getty
Dealing with a lost wedding ring feels like a punch to the gut. It's not just that you've lost an item worth a decent chunk of change, but that a cherished and sentimental symbol of your love has gone MIA. If you're currently dealing with a lost wedding band or engagement ring, try not to freak out or be too hard on yourself.
"It can be devastating to lose your wedding ring, but if it happens to you, you're definitely not alone," says Adam Black, managing director at insurance company Zillion. He adds, "Men are actually more likely to lose their wedding rings—as many as four in 10."
The good news is that you can take steps to retrace your steps and potentially find the lost ring. And even in the event that it's gone for good, recourse options such as insurance and replacement wedding rings are always an option. Whether you're the one with a lost wedding ring or you're helping your spouse, a family member or friend, here's what to do if you lose your wedding or engagement ring.
In this article:
1. Retrace Your Steps & Enlist Some Help
First thing's first: Try to locate your lost wedding band or engagement ring. Steven Singer of Steven Singer Jewelers says to think back to the last place you remember wearing or placing the ring, and retracing every last step you took. You can even enlist family and friends to help with the search. Check your home, hotel room, cars, workplace, gym or any other business you visited.
If possible, review any available security footage to see if you left the ring somewhere or if it was taken. This includes doorbell cameras, home cameras, and business security cameras. Black also suggests posting about the lost wedding ring on social media—ideally in group pages relevant to where you believe you may have lost the ring such as neighborhood groups, resale forums and travel groups.
2. Notify Management
If you suspect that the ring is simply missing, notify the places of business you visited to let them know. They can begin the search for the missing ring via their own security footage, by letting staff know, and by looking through any "lost property" that was turned in. This step also ensures that you'll be notified if the ring turns up or if a good samaritan finds the ring and turns it into lost and found.
3. File a Police Report
If you suspect the ring was stolen—or if footage confirms this is the case—file a stolen property report with local authorities immediately. To do this, call or visit the nearest police station. Filing a police report gets the ball rolling to help relocate your ring. It is also an important step in the wedding and engagement ring insurance claim process.
"The police will ask you to complete a report detailing when and where your lost [wedding or] engagement ring went missing, as well as the identifying details and features of your particular ring," Black explains. "You'll want to share a detailed description of your ring—including the color and size of the band, the diamond or gemstone's shape, carat weight, engravings and any unique features."
You can also provide the report number of your lost wedding ring if it was evaluated by an official diamond grading lab, and any information regarding the ring's appraisal.
"After your police report has been processed, the police department will assign you a case number and contact you if there are any developments or updates in your case," Black explains. "Keep in mind, there's always the chance someone will find your lost ring and do the right thing by turning it over to the local authorities."
4. Contact Your Insurance Company
As a rule of thumb, Black says to contact your insurance company within 24 hours of realizing your ring has gone missing. In order for insurance to cover a lost wedding ring, you'll need to have a purchased, active insurance plan.
"If you're really fortunate (and super smart!), you can confidently turn to the dedicated experts at a jewelry insurance provider to provide lost ring insurance," Black says.
However, if you didn't purchase specific insurance for your wedding ring or engagement ring, don't fret just yet. Check these other insurance providers to see your stolen or lost property, including jewelry, is covered:
Homeowners insurance
Renters insurance
Traveler insurance
Credit card liability insurance
If any of your insurance companies cover stolen or missing property, file your lost wedding ring insurance claim through them. Remember: Every company has its own set of protocols and every insurance coverage plan is different from the next. The process may involve waiting a designated period of time for the ring to show up, paying a deductible, receiving a check for the value of the goods or repurchasing a new ring and being reimbursed.
5. Shop For a Replacement Ring
If you're still holding out for your lost wedding ring to be found, consider wearing a short-term replacement ring in the interim. This might be a new and inexpensive piece of jewelry (ideally one you can wear at another time once your actual ring is relocated) or a piece you already own.
In the event that your search efforts prove futile, you may need to consider replacing the ring altogether. Start by consulting with your insurance company and/or jeweler to discuss options for a replacement ring. From there, you may be able to recreate or repurchase the original ring, or you may want to try a new ring design.
6. Put Preventative Measures in Place
Once you're united with your old or new ring, take some time to put some preventative measures in place to reduce the risk of a lost ring happening again. While lost wedding rings aren't super uncommon, there are definitely steps you can take to minimize the likelihood.
Ensure that the ring fits properly and doesn't slip off easily. In the winter, cold weather can make your fingers smaller, so take care that the ring fits throughout the year.
Don't wear your ring in the water, including pools, beaches and lakes. Cold water can make your fingers tinier, which allows the ring to slip off.
Place your ring in your pocket or purse when washing your hands in public spaces if you're someone who likes to take the ring off when washing. Make it a habit to put the ring back on immediately after.
Leave your ring at home when going to the gym (even if you have a locker).
Place your ring in a locked safe in hotel rooms when not wearing it, or opt to leave the ring at home during trips and wear a less expensive alternative ring.
Designate a resting place for your ring wherever you are, including at home or in hotels when traveling. When an item has a designated resting spot, it's less apt to get lost.