The 47 Most Unique Engagement Rings From Real Couples
All the engagement ring eye candy you could ever want.
Staring at unique engagement rings may be one of the best pastimes there is. After all, who doesn't love sparkly things? Whether you're in a brand-new relationship, about to get engaged or just love swooning over beautiful diamonds and gilded jewelry, everyone deserves an endorphin rush from scrolling through image after image of engagement ring inspiration. So go ahead, take a break from whatever you're doing and indulge in the best kind of eye candy there is. You're sure to find quite a few double-tap-worthy rings in this roundup of our favorite unique engagement ring ideas from real couples.
While these stunners are a great starting point for your engagement ring research, chances are you want to know more about the ins and outs of how much to spend on an engagement ring, what to look for when picking a diamond (from cut and color to clarity and carat weight), and what setting style is best for you. Don't fret: take a gander at some of our very best ring advice and stoppable rounds ups, after you're honed in on the ring looks that make your heart sing.
What Makes An Engagement Ring Unique?
Unique is a broad term, so what exactly makes an engagement ring unique? First, you need to consider the general style of ring you want, but then you also need to think about each component of the engagement ring and sift through all the possible options you have available to you. Ultimately, a unique engagement ring bucks trends and instead reflects the style and vibe of its recipient.
Style
Solitaire diamond engagement rings are one of the most common engagement ring styles and are a classic and timeless option. But if you tend to prefer vintage looks, maybe a pave setting is the way to go. Or if you love all things Art Deco then baguette gemstones might be your best bet. In much the same way that you need to choose a theme or aesthetic for the wedding, your engagement ring should also embody a style that's reflective of the person who will be wearing it.
White metals like white gold and platinum continue to be the most popular options for engagement ring metals. So couples looking for an out-of-the-box piece of jewelry might want to consider yellow gold, rose gold, tungsten or palladium to serve as the base for their engagement ring instead of a more standard option like 14k white gold.
Diamonds are far and away the most common gemstone for engagement rings, but there are plenty of unique options out there for couples who want something a bit less expected. From colored gemstones like emerald, sapphire, morganite, topaz and aquamarine to opaque options like moonstone and opal, there's no need to limit yourself to just diamonds when it comes to selecting the type of gemstone to want in an engagement ring.
Once you've settled on the gemstone you plan to include in the engagement ring, you have to decide what style of cut you want. Brilliant and cushion cuts are the most common, so for a unique alternative a marquise, asscher, trilliant or kite cut may be the way to go.
You don't need to simply choose a standard prong setting or even a trendy halo setting for an engagement ring. A bezel, bar, tension or gypsy setting would instantly give your engagement ring design an eye-catching flair.
The more, the merrier! Instead of just one center stone, this engagement ring had two—an emerald and a diamond.
Generally, the center stone of an engagement ring is the star of the show. However, with this ring, the opal was just one of many eye-catching elements. A lattice-style band with diamonds framed the elegant opal in this one-of-a-kind ring.
3. Victorian Diamond Cluster Engagement Ring
Fans of cluster rings will like this piece. Eight diamonds encircled a center stone of equal size to create a flower-like appearance for this vintage Victorian engagement ring.
4. Vintage-Inspired Halo Engagement Ring
Instead of a simple circular halo setting, this custom engagement ring had a grouping of diamonds that gave it a celestial-inspired feel.
5. Diamond Engagement Ring With Floral Halo
Talk about a dream ring. The halo stones in this custom design gave the piece of jewelry a distinct botanical vibe.
6. Marquise-Cut Blue Sapphire Engagement Ring With Diamond Halo
This ring had a marquise-cut blue sapphire center stone encircled by a halo of white diamonds.
7. East-West Set Oval Diamond Engagement Ring
Oblong gemstones, like oval- and pear-shaped diamonds, are usually set perpendicular to the ring's shank in a north-south orientation, but this design changed things up with an east-west setting.
8. Rose Gold Engagement Ring With Bezel-Set Pear Diamond
Bezel settings are the way to go if you want the metal of the setting to fully encase the center stone of an engagement ring.
9. Diamond Solitaire Engagement Ring With Split-Shank Setting
If you like the appearance of ring stacks then a split-shank setting, which has the appearance of two bands instead of just one solid band, may be the way to go. When paired with a wedding band, your ring finger will be decked out in a festive collection of bling.
10. Diamond Solitaire Engagement Ring With Clover-Shaped Halo
Keep luck close by with a quatrefoil setting that resembles a four-leaf clover.
11. Art Deco Engagement Ring With Blue Sapphire Halo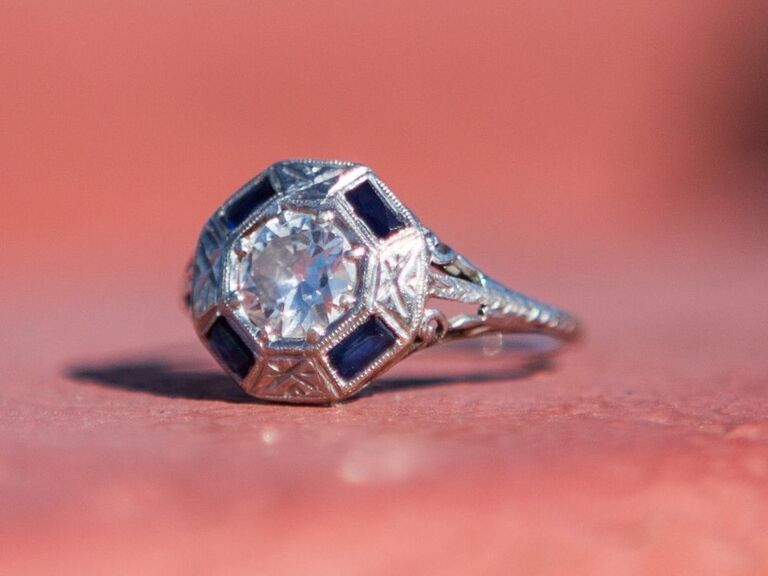 Hexagon and octagon settings instantly add an Old-World vibe to engagement rings. Here, petite blue sapphires surrounded the round cut diamond center stone of this octagonal Art Deco engagement ring.
12. Vintage-Inspired Diamond Cluster Engagement Ring in Yellow Gold Setting
If you don't like the idea of a single-stone engagement ring, opt for a cluster ring like this vintage engagement ring with milgrain details that harkens back to the Georgian period.
13. Bezel-Set Engagement Ring With Radiant-Cut Gray Diamond
A soft gray diamond added unique flair to this bezel-set engagement ring.
14. Bezel-Set Rose Gold Engagement Ring With Princess-Cut Diamond
This engagement ring had a subtle industrial flair to it, thanks to its square princess cut and bezel setting.
15. Blue Sapphire Engagement Ring With Diamond Halo
Love the royals? Pay homage to Princess Diana and Kate Middleton with the perfect ring—a blue sapphire engagement ring with a luxe diamond halo. Bonus points if yours has subtle heart details like this one does.
Moonstone, which comes in a variety of iridescent colors ranging from gray to purple, is a great option for to-be-weds who want something funky and eclectic.
The center stone of this yellow gold was set in an east-west orientation for a unique look. Two side stones further elongated the design.
18. Emerald Engagement Ring With Two-Tone Metal Halo
Milgrain beading encircled the emerald center stone of this two-tone ring composed of both white gold and yellow gold.
An aquamarine ring, like this rose-cut one, is the perfect "something blue" for your wedding day.
20. Petite Yellow Gold Solitaire Engagement Ring
A delicate engagement ring is a great option if you don't typically wear a lot of jewelry, but still want a traditional engagement ring.
A small emerald added a pop of color to this vintage-inspired yellow gold setting.
22. Bezel-Set Diamond Cluster Engagement Ring
Cluster engagement rings do away with the formula of one center stone paired with multiple side stones.
23. Round Diamond Solitaire With Rose Gold Negative Space Setting
A negative space yellow gold setting gave this engagement ring the appearance of being made out of two rings soldered together.
24. Ruby Engagement Ring With Yellow Gold Setting
Instead of a typical curved band, this ruby engagement ring was made with a flat yellow gold band.
25. Diamond Engagement Ring With Bypass Setting
A bypass setting gave this unique diamond ring a twisted look.
26. Emerald-Cut Diamond Eternity Band
This bride's engagement ring had emerald-cut diamonds all around the statement eternity band.
27. Teal Gemstone Engagement Ring
Tourmaline, topaz and Paraiba sapphires are all great gemstone options for to-be-weds to want a teal-hued gemstone ring. Two pear-shaped diamond side stones completed this eye-catching yellow gold design.
28. Black Halo Engagement Ring
Black onyx, black diamond and obsidian are great options if you want a dark and moody engagement ring. And just because the main stone of your ring is black doesn't mean you can't also include some more traditional stones, like a white diamond halo, in your design.
29. Ruby Halo Engagement Ring
What's not to love about a ruby halo engagement ring? After all, red is the color of love.
30. Blue Sapphire Engagement Ring With Diamond Side Stones
Three-stone settings are a classic style, but if you want to bring a unique, out-of-the-box edge to the design, swap in a colored gemstone, like a blue sapphire, as the middle stone.
31. Black Signet Engagement Ring
Signet rings are as timeless as they are trendy, a great combination when it comes to settling on an engagement ring design you'll love as much right now as you will 20 years from now.
32. Kite-Shaped Black Diamond Engagement Ring
This to-be-wed's kite-shaped engagement ring beautifully complemented their partner's black diamond wedding ring.
33. Round-Cut Pink Diamond Engagement Ring With Scalloped Halo Setting
If you love pink, a morganite engagement ring, or even one with rose quartz, tourmaline or spinel, is a great alternative to pink diamonds.
34. Black Diamond Engagement Ring With Vintage Yellow Gold Setting
An eclectic black diamond juxtaposed a Victorian-inspired yellow gold setting to create a modern-yet-vintage piece of bling.
Both brides at this wedding rocked moonstone engagement rings. One to-be-wed donned a yellow gold solitaire while the other partner opted for a signet-inspired piece.
Talk about romance—this engagement ring had an oval opal nestled between two diamond side stones.
While a pear-shaped solitaire would be beautiful on its own, a band made of column-set baguette diamonds ensured the look was totally wow-worthy.
Two chevron wedding bands were a great choice to frame this marquise engagement ring.
39. Engagement Ring With East-West Pear-Shaped Diamond
This engagement ring switched things up by opting for an east-west setting instead of a standard north-south setting.
40. Diamond Engagement Ring With Eternity Band
A criss-cross infinity-style band framed this elegant round solitaire engagement ring.
41. Gray Diamond Engagement Ring
Gray and yellow are an unusual color pairing, but we're obsessed with the ring's take on the combination.
42. Vintage-Inspired Elongated Cushion-Cut Engagement Ring
An elongated cushion cut is a fun option if you can't decide whether you want a round or square (think princess or asscher) gemstone cut. Bonus points if you pair the elongated cushion-cut diamond with an ornate vintage setting.
43. Marquise-Cut Tanzanite Engagement Ring
Big fan of purple? Then you should consider tanzanite, lolite, amethyst or kunzite for your engagement ring gemstone.
44. Pear-Shaped Diamond Engagement Ring With Chevron Shank
A chevron band with channel-set diamonds uniquely framed this pear-shaped diamond.
45. Bezel-Set Engagement Ring With Tiara Halo
A tiara halo framed this solitaire ring and gave it a sunburst-like appearance.
46. Marquise-Cut Diamond Engagement Ring in White Gold Setting
Even if you want a simple setting, like this ring had, a marquise cut is a great way to make an otherwise traditional ring feel fresh and unique.
47. Ornate Pear-Shaped Diamond Halo Engagement Ring
What's not to love about this ornate halo encircling the pear-shaped center stone.