The Elements That Make Up Unique Engagement Rings—Plus 13 Pieces to Shop Right Now
We're here to help you find a ring as one-of-a-kind as your partner.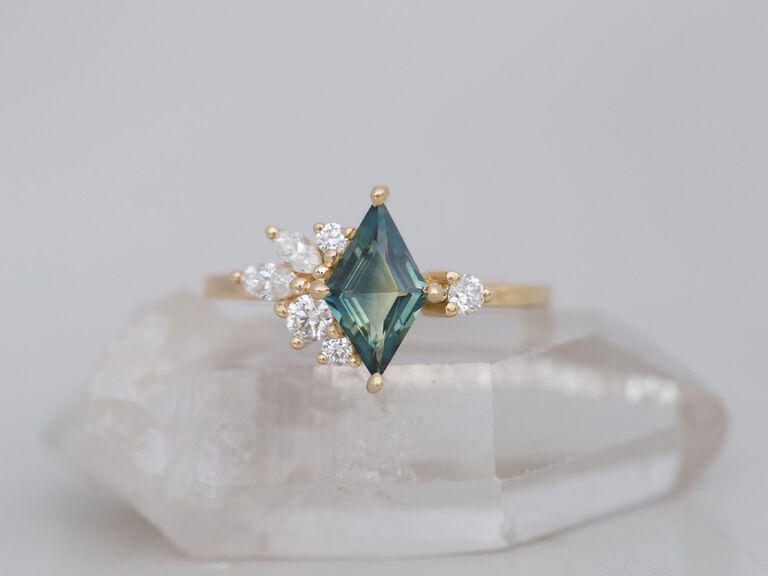 Photo: Mineralogy

We have included third party products to help you navigate and enjoy life's biggest moments. Purchases made through links on this page may earn us a commission.
You've done the impossible: Found a partner who is unique and one-of-a-kind, yet who perfectly complements your spirit. So when you're ready to take the next step, it can't be with just any old ring. Unique engagement rings are the perfect way to celebrate unique love stories and personalities. Granted, you may have to do a little extra digging to find a perfectly unique ring—but we're here to help. There are a few specific elements that can really set a piece apart in the crowd, such as metal type, style and setting. Here, we'll dive into each element, offer a baker's dozen of the most unique engagement rings, and point you in the right direction to start your search. Happy hunting!
In this article:
Our Favorite Unique Engagement Rings to Shop
We scoured the internet and turned to some of our favorite jewelers and artisans to curate a list of the best unique engagement rings, from vintage pieces to modern toi et moi styles to aquamarine gemstones that offer that little something blue. Take a look:
James Allen Spiral Tension Set Engagement Ring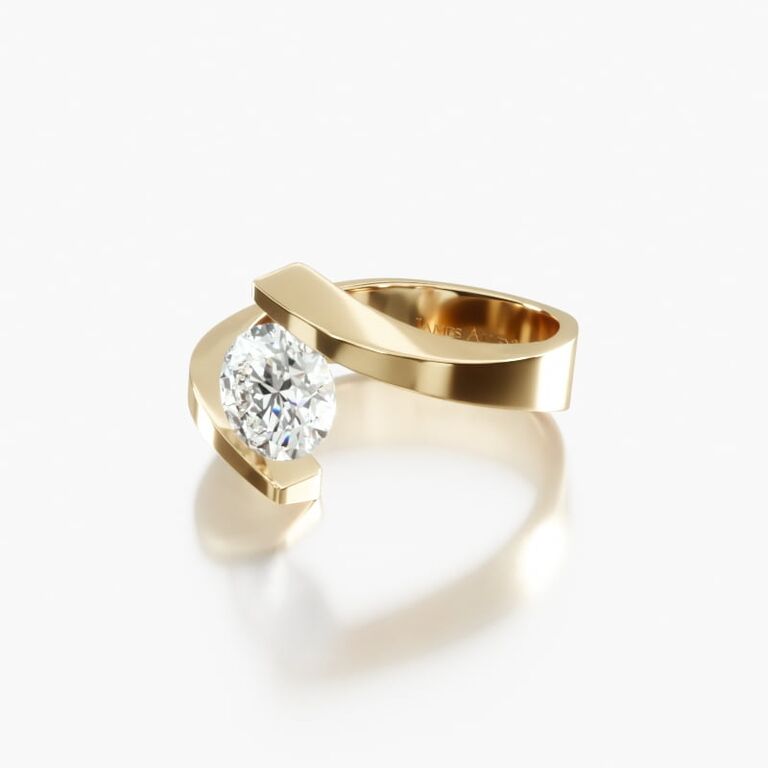 If you know your partner is hoping for a classic diamond but still want to mix things up, opt for a unique setting. This ring has exactly that, with a 1.2-carat round diamond appearing to float between a spiral ribbon of gold. It's known as a tension setting and uses compression—rather than claws—to secure the diamond in place. (A mainstay in the wedding world, James Allen is known mostly for its tried-and-true designs, but if you're looking for where to buy unique engagement rings, the online retailer does have some offerings that fit the bill—this one being case in point!)
Eragem Vintage 1940s Diamond Engagement Ring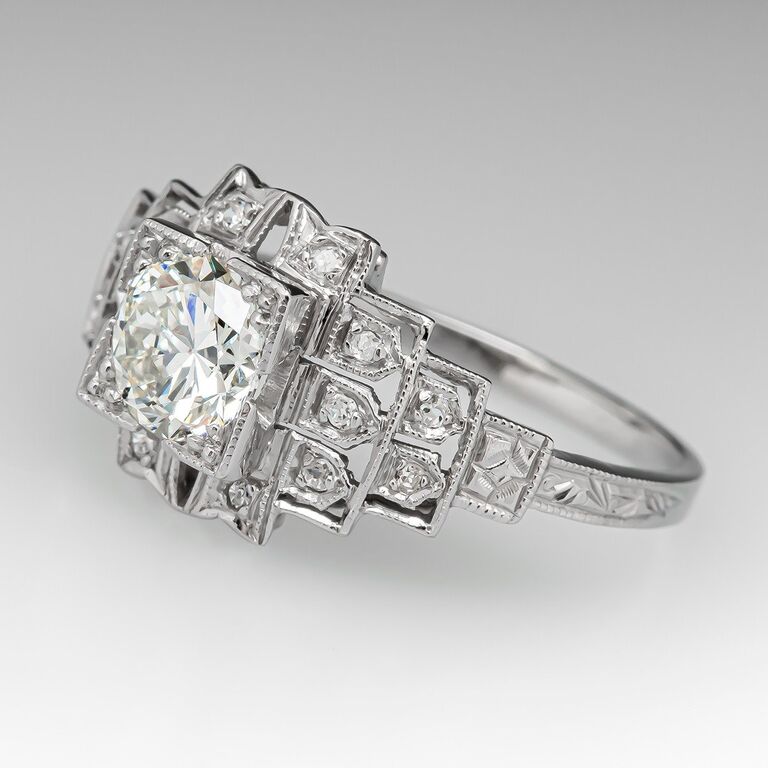 Sometimes to avoid the trendy, you need to travel back in time. Vintage jewelers offer a treasure trove of unique engagement ring styles, such as this 1940s ring with a pierced design and milgrain detailing. You still get the wow factor of a statement solitaire—this design is centered around a round brilliant cut diamond weighing in at just under a carat—plus the accents of 14 smaller bead-set rounds.
Mineralogy Alden Ring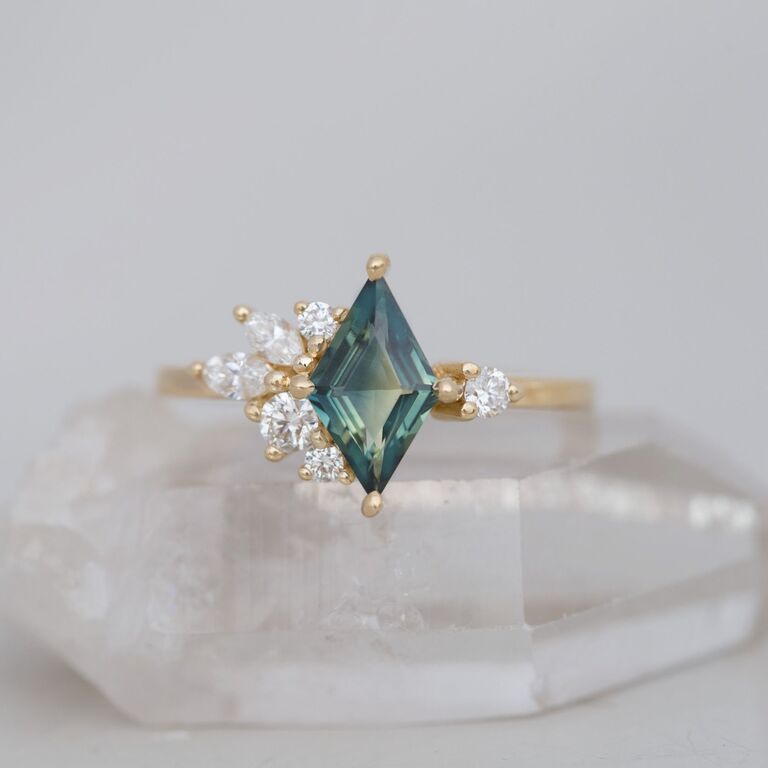 Among our favorite unique engagement ring designers is Theresa Cowan, the owner, creative director and lead jeweler at Chicago shop Mineralogy (pieces are also available online). Her passion is for natural minerals and gemstones and one-of-a-kind design, both showcased beautifully in this teal sapphire ring. The rhombus-shaped center stone is surrounded by an asymmetrical cluster of diamonds in round and marquise cuts, each hand-selected and conflict-free. Unique engagement rings can be tough to match with wedding bands, but Mineralogy creates and suggests perfectly complementary pieces.
Brilliant Earth Aquamarine Côte Asymmetrical Diamond Ring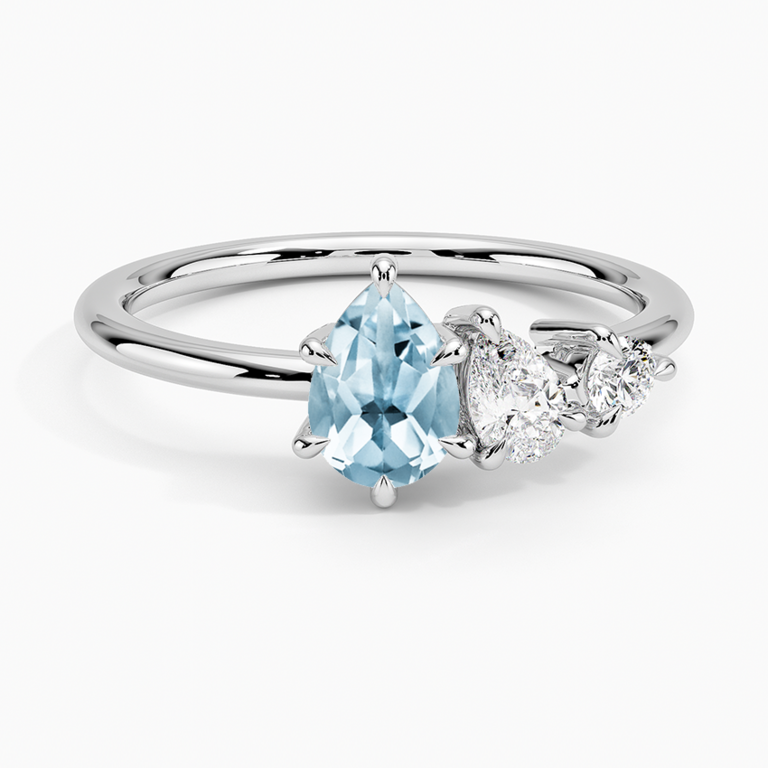 The perfect something blue, aquamarine is one of the more unique stones for engagement rings. This style combines the unexpected stone with a unique setting, an asymmetrical design with small pear and round diamonds on one side of the statement stone. With a selection of five center-stone cuts and your choice of metal (we love it in white gold!), this ring can be adjusted to fit more squarely into your budget. And, it's a purchase you can feel good about: Brilliant Earth is committed to sustainable sourcing and mindful production (even the brand's packaging is produced using less water and energy and fewer emissions).
Katkim Asscher Sunset Ring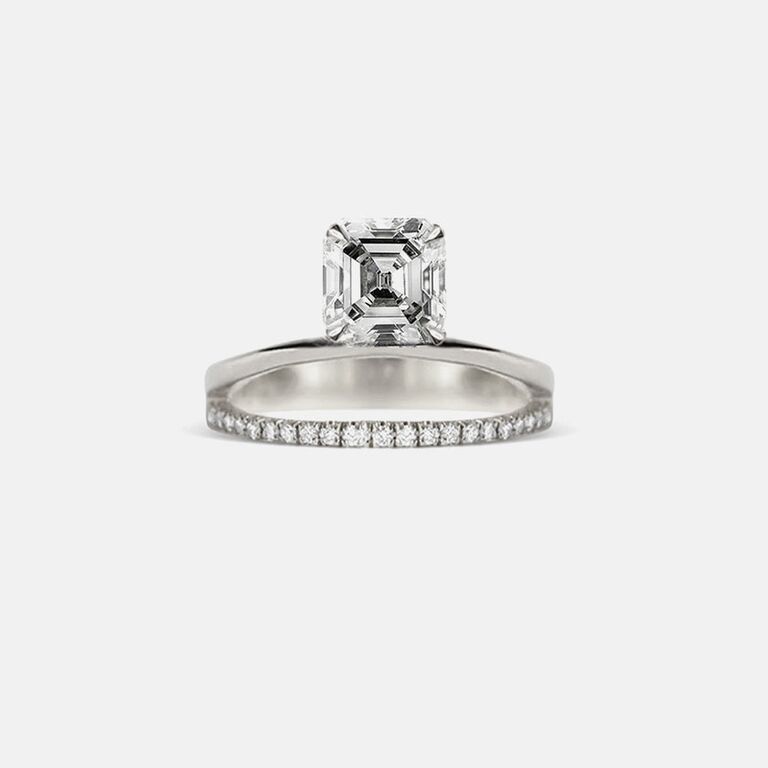 Los Angeles jewelry designer Katherine Kim's pieces are some of our favorite engagement rings, but note that her ultra-unique designs come with a higher price tag. Here a square Asscher-cut diamond floats above the band, instead of sitting on top, allowing a keyhole opening on the split shank with one solid and one pavé arm. Our metal pick for this ring? Rose gold reflects the sunset inspiration in a metal the color of cotton candy skies.
Mociun Palm Ring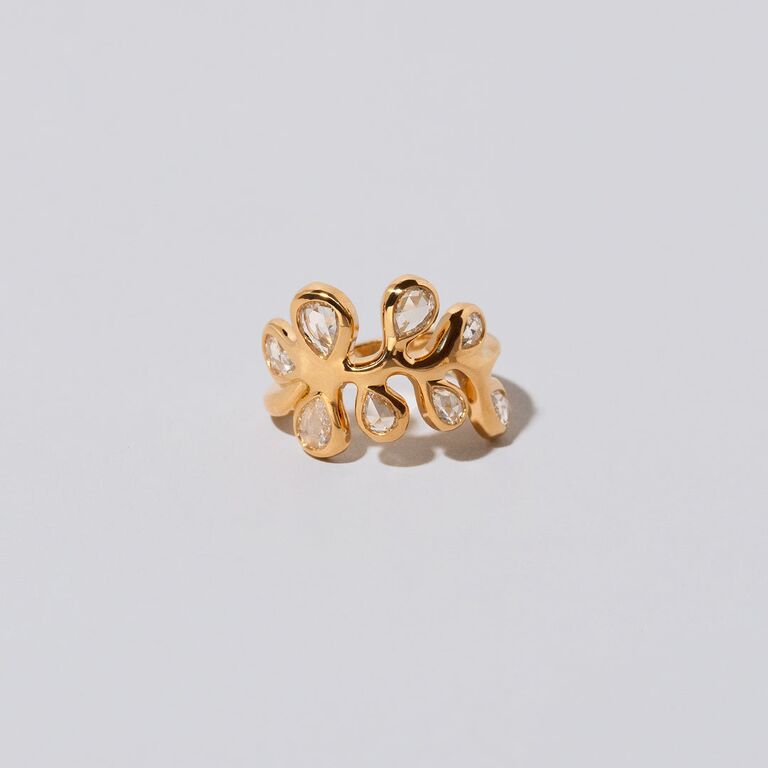 Some of the best unique engagement rings can be found at Mociun, a jeweler that offers both a regular collection and a completely one-of-a-kind range. The brand's philosophy is all about challenging the norm, especially when it comes to the traditions and ceremonies of a wedding. This piece does just that, taking inspiration from artist Henri Matisse's cutouts and representing a metamorphosis. And, it boasts 1.19 carats of pear rose-cut natural white diamonds in full bezel settings. (If your partner's heart is set on a solitaire, this piece could also make a unique wedding band or anniversary add-on, or be a good wedding-day gift for the opposite hand.)
Roman Malakov Purple Pink Diamond Triple Halo Engagement Ring
We love how girly and feminine this piece is, with a pop of pink in the center stone, rose gold metal and a whole lot of bling. It comes from a storied jeweler in New York City's legendary Diamond District, and is our pick for a unique engagement ring with all the shimmer power of—and a few nods to—a more traditional style.
Ring Concierge Toi Et Moi Gemstone Ring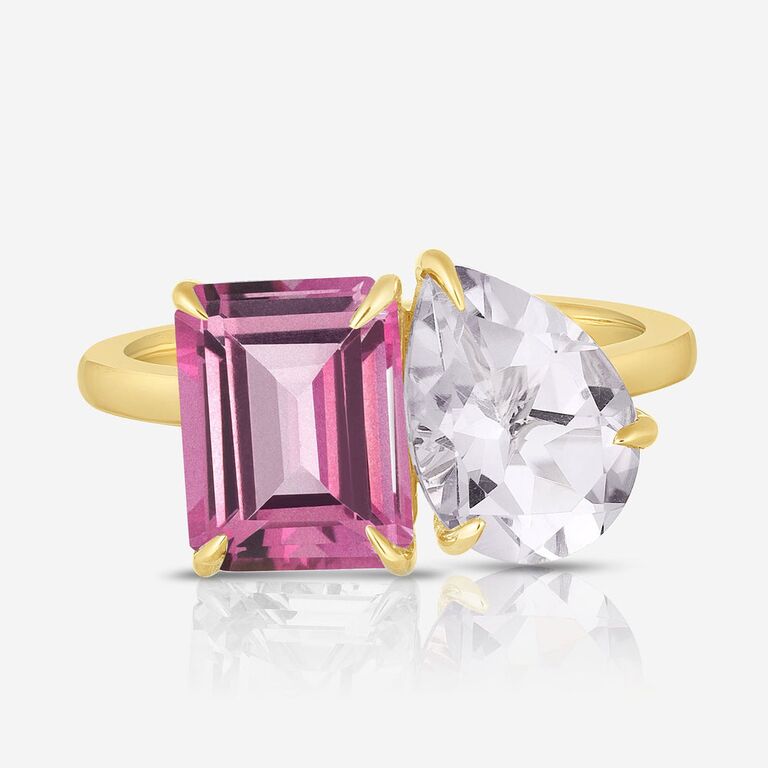 Toi et moi rings are having a moment—and rightfully so. We love the way they represent two separate and unique souls combining into one beautiful entity. Put your own personal spin on the trend by choosing unique colored semi-precious stones (and, bonus, this usually makes it lighter on the budget as well). This style features one emerald-cut and one pear-shaped stone, which we love in a combination of magenta and white topaz.
Reinstein Ross Goldsmiths Sonoma Emerald Cut Diamond Ring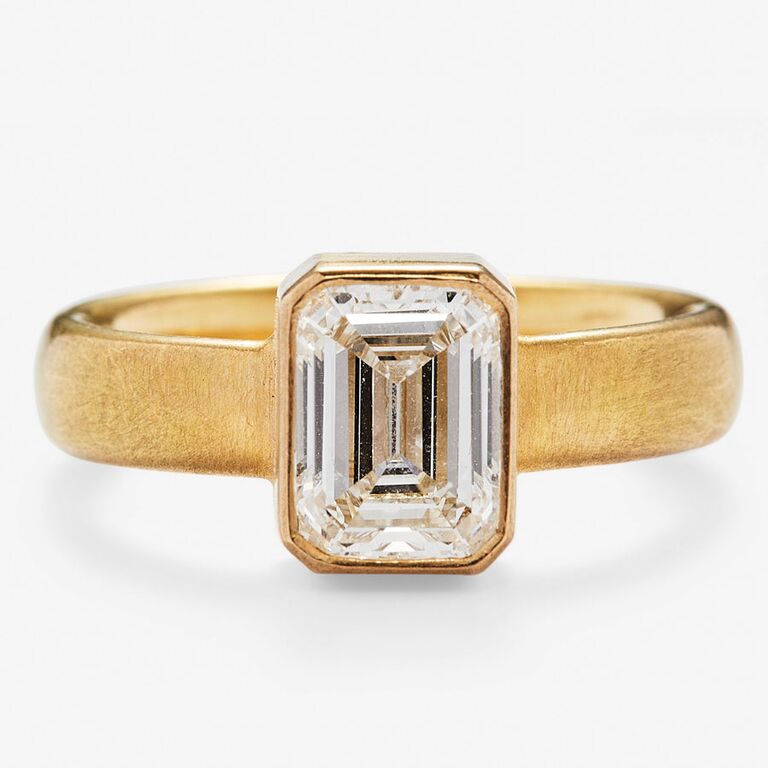 Priding itself primarily on its metalwork, Reinstein Ross allows the gold—rather than the diamond or gemstone—to do the real talking in its rings. This style is rendered in 20-karat peach gold (never heard of it? It's a custom creation that mixes yellow and rose golds for a unique hue) and features a 1.7-carat emerald-cut diamond in a bezel setting to further show off the gold. The design was inspired by a trip the jeweler took to Sonoma, California and handmade in a New York City atelier.
Lark & Berry Wild Cherry Diamond Engagement Ring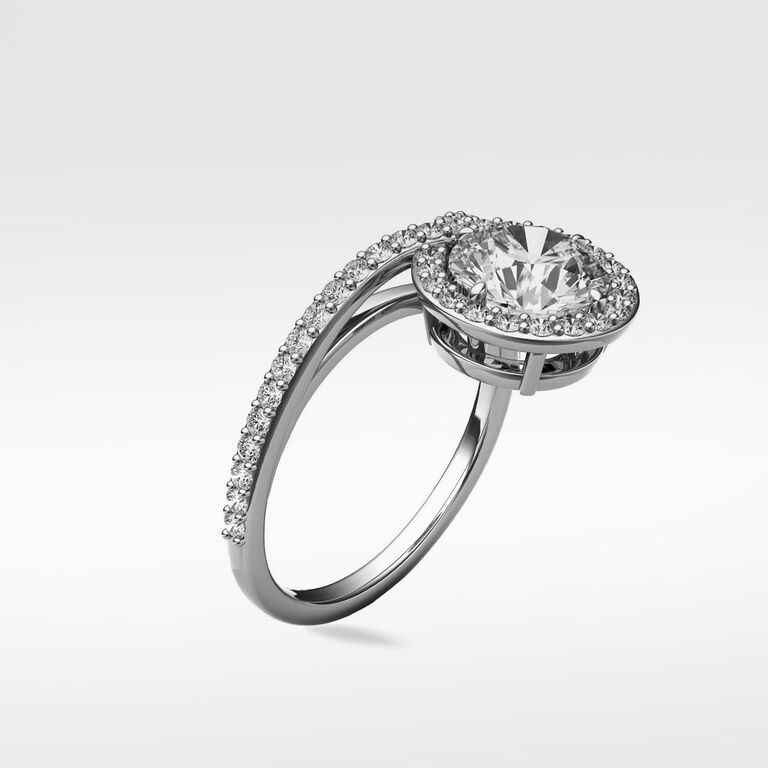 One of the first big companies to exclusively use lab-grown diamonds, Lark & Berry's portfolio is a treasure trove of unique engagement ring ideas, like this one, with a criss-crossed pavé band creating one half of an infinity symbol around a 1.25-carat center stone (it could be worn either in toward your own heart or outward toward your partner's). Note that the brand prioritizes personalization, so prices are primarily only available once you've answered a few questions about customizations and requested a quote specific to your design.
Tytin Aether Ring with Blue Sapphire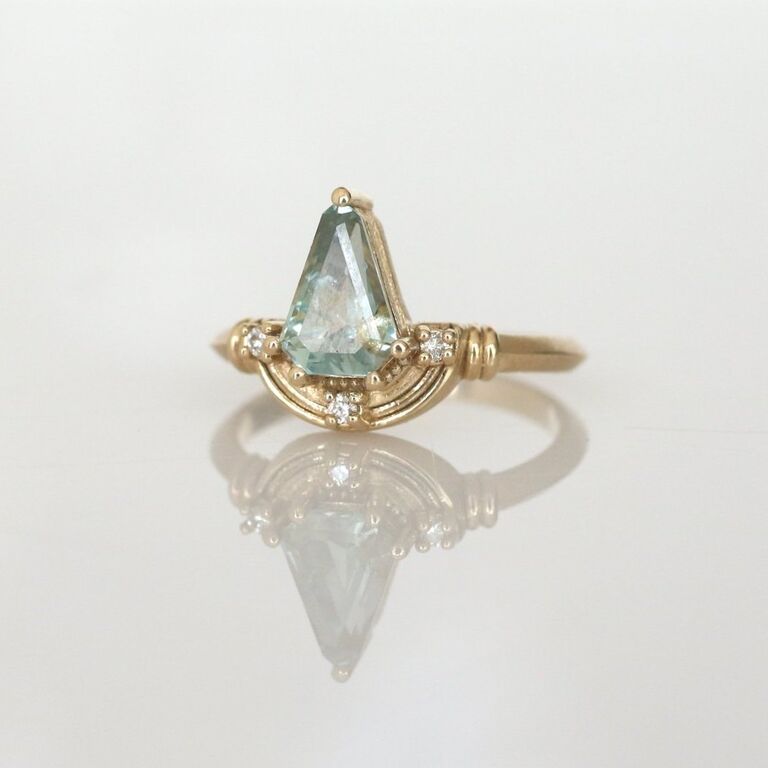 Not all gemstones are perfect—and sometimes, that makes them even more special and unique. This Montana sapphire's natural inclusion (that refers to materials like crystals or gas bubbles that get trapped inside while the gemstone is forming) further enhances its beauty and one-of-a-kind nature. And, the metal here is as unique as the stone, carved with a deco design in 14-karat yellow gold.
Kinn Solis Ribbed Ring X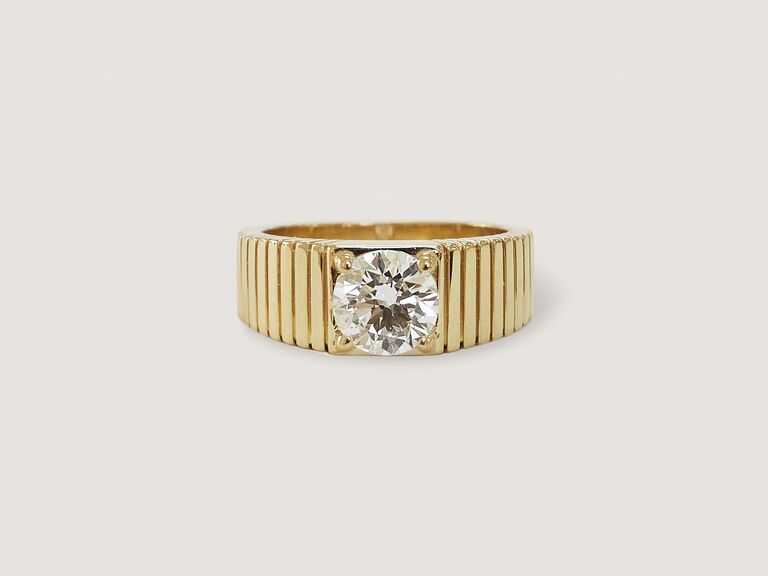 This piece is new but has a unique vintage vibe, and was in fact inspired by a vintage piece that belonged to the designer's mom. It features a glittering prong-set diamond, but the real eye-catching element here is the ribbed texture of the 14-karat gold band. Note that you can change the carat size and choose a lab or natural diamond to adjust the price, or check out the smaller version, the Solis Ribbed Ring II.
Sofia Kaman I Deco Dare You Engagement Ring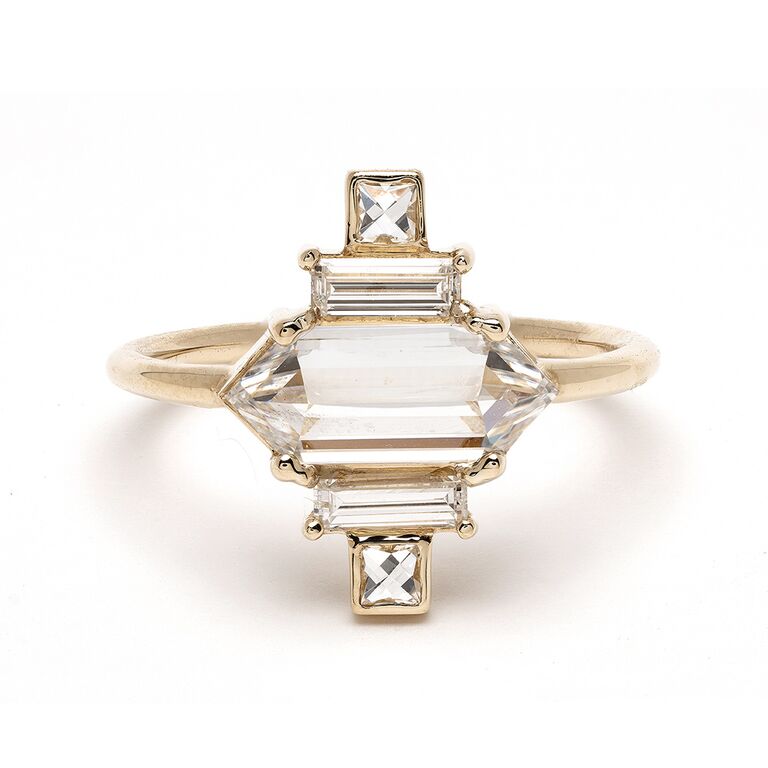 The hexagonal cut is one of our favorite unique cut engagement ring options due to how rarely it's seen. This deco-inspired ring features a hexagonal lab-grown center stone, plus dual baguettes and a pair of square French-cut stones in a geometric symmetrical design. Like all the pieces by Sofia Kaman, it's handcrafted by artisans in Los Angeles and made for cool-girl brides.
Elements of a Unique Engagement Ring
With so many unique engagement ring options out there, it can be daunting to hone in on what's right for your partner. Start by focusing on what element is most important to you—is it a uniquely colored stone, or rare cut, or one-of-kind design? Here, we break down the five elements that go into a unique engagement ring, and offer up some of the lesser-known options in each.
The Style
This is where you can truly let your personality shine. While classic solitaire and three-stone rings are stunning options, more unique engagement ring styles speak to the soul—and are true conversation pieces, carrying a story you'll love to tell again and again. Boho brides can fall in love with a vintage-inspired style (or even scour estate sales for the perfect piece); feminine girlies can opt for a diamond-laden ring with unique cuts clustered together; modern couples can choose a contemporary setting—the options are endless. Look for horizontal stone orientations, wider bands, vintage inspiration or organic clusters of gemstones. Bu remember, it's all about finding a style that matches your partner's overall vibe and aesthetic.
The Stone
They say diamonds are a girl's best friend, but there are many more unique stones for engagement rings and—bonus—they typically come at a more affordable price point. Montana sapphires and aquamarine are a stunning something blue; emerald symbolizes good fortune; morganite and pink tourmaline are lovely for girly girls; and moissanite, white topaz and salt-and-pepper diamonds are stunning alternatives to the classic rock. Consider your partner's birthstone or favorite color, or the other everyday jewelry he or she wears for something complementary.
The Setting
Solitaires are singularly stunning and halos bring the bling, but more unique engagement ring settings include things like channel and bezel (which encase the stone in a sort of gilded frame—they're super protective settings for those who work with their hands!); split-shank; tension; and side-stone. The latter is a favorite for the way you can play with asymmetry and multiple stones to create something truly one-of-a-kind.
The Cut
You've heard of cushion cut, princess cut and maybe even emerald cut, but there are more variations on unique cut engagement rings than you'd think. Sofia Kaman's styles were the first we'd heard of hexagonal cut; Willwork introduced us to the Trillion cut, kite cut and even the coffin-shaped diamond; and Point No Point has triangular-shaped diamonds. Flipping a more traditional cut in another direction can also make a ring unique: Willwork has a style with a princess-cut diamond shifted 90 degrees for a unique orientation.
The Metal
There are two elements here: The color and the treatment. Yellow and white gold are the most common metals for engagement rings, and in truth are timeless choices you won't regret. But there are other options. Rose gold is a unique metal (we especially love it for vintage-style rings!) and some jewelers even mix and create their own metals, like the stunning peach gold seen above. As for treatments, metal can be engraved, ribbed, filigreed, milgrained and more. Etchings and adornments such as these are seen more often in vintage pieces and bring a unique old-school feel to engagement rings.
Where to Buy Unique Engagement Rings
You can find a unique engagement ring just about anywhere (yes, even at well-known jewelers and chain retailers—especially if you go the custom route there), but it helps to have a general idea of what you're looking for. You may find an independent artisan or jeweler who specializes in metallurgy or natural minerals and gemstones, or has an eye for asymmetrical design or unique settings; if you're in the market for vintage, you can start with estate sale jewelers. (BTW, you'll find all the above, from big to small, in The Knot Vendor Marketplace—it's the perfect place to start your search). Remember that unique engagement rings take a little more searching, so don't feel pressured to splurge on the first ring you see. Either way, we're certain you'll find that diamond in the rough.