Everything You Need to Know About Planning a Glamping Bachelorette Party
How to nail this trending bach party idea.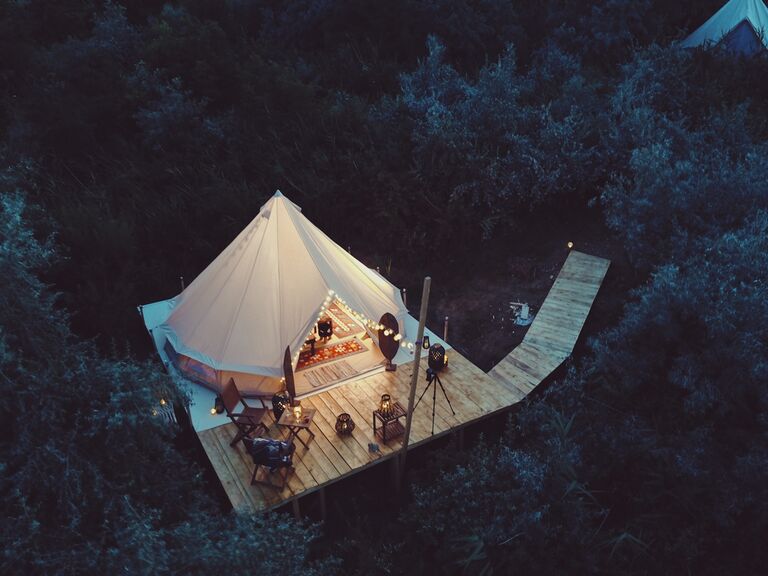 Moise Sebastian/Shutterstock.com
We have included third party products to help you navigate and enjoy life's biggest moments. Purchases made through links on this page may earn us a commission.
If you prefer hiking in nature to clubbing in Vegas, your bach party should reflect that. Plan an active, adventurous getaway that all of your friends will actually enjoy: A glamping bachelorette party. Not only will you all get to enjoy the great outdoors, you'll get to do it in style. Swap out traditional tents for luxurious canopies complete with comfy beds and chic decor. Psst: Many glamping set ups come with running water and electricity, so your whole crew will feel comfortable. Plus, the luxe tents and scenic surroundings will make for some epic Instagramming during the bachelorette weekend. Sound amazing? Read on for everything you need to know about planning a glamping bachelorette party.
What is a glamping bachelorette party?
What exactly is glamping, you ask? It's a shortened term that stands for glamorous camping. Rather than roughing it in a traditional tent with sleeping bags and lanterns, a glamping bachelorette party involves high-end tents filled with luxurious amenities, electricity, running water and more. These sites are typically in scenic areas (think: the coast of California or upstate New York) so you can spend your days adventuring around the area and then come back to unwind in a chic, cozy space with your besties.
Glamping Bachelorette Party Ideas
To you plan the ultimate pre-wedding event, we rounded up 12 glamping retreats perfect for any bachelorette party. See our favorites, below.
Ventana Big Sur in Big Sur, California
Located just off the infamous Pacific Coast Highway, Big Sur is a rugged stretch of land right on California's coast. It's sparsely populated and known for its scenic views and fun hikes—perfect for to-be-weds who need an escape from the stress of wedding planning. Take in the seaside cliffs, misty coastline and impossibly blue water, and then head back to Ventana Big Sur, a resort filled with boho-chic tents, massages, yoga classes and breathtaking sunset views.
Eastwind Hotel and Bar in Catskills, New York
If you're looking for an east coast option, consider this Scandenavian-style retreat. Located just two and a half hours from the city, the Eastwind Hotel and Bar offers an escape from city life with its tranquility. The hotel offers several different lodging options, including the luxurious Lushan suite that comes with a private deck and an outdoor firepit. Spend your days hiking around the area or tasting wine and then unwind with your crew in the sauna. The Eastwind also offers ADA-accessible suites so that all of your loved ones can come enjoy the glamping experience.
Under Canvas Yellowstone in Yellowstone, Wyoming
Immerse yourself in nature by heading to Yellowstone, Wyoming. Under Canvas offers chic tents filled with top-tier amenities (think: West Elm furniture, organic bath products and a firepit complete with s'mores fixings). Plus the camp has a restaurant you can eat at, a camp coordinator to answer questions or offer suggestions for hikes, and complimentary camp activities. Larger tents at this campgrounds can hold up to seven people while smaller private tents sleep two people.
The Resort at Paws Up in Greenough, Montana
If several people in your group are outdoors-averse, this glamping bachelorette party destination is for you. The tents come with air conditioning, hardwood floors and private, ensuite bathrooms. Hard to believe these really are tents, but step outside and you'll be able to take in all the gorgeous scenery with your best friends.
Huttopia White Mountains in Albany, New Hampshire
Set alongside the jaw-dropping White Mountains in New Hampshire, Huttopia offers an extraordinary glamping experience. Customize it to your group's desires: Book a chic canvas tent filled with amenities or reserve one of the resort's chalets for the ultimate experience. Huttopia offers private fire pits, eco-friendly shower products and linens (plus cozy down and feather blankets to stay cozy at night).
Asheville Glamping in Asheville, North Carolina
From whimsical treehouses to magical dome tents, Asheville Glamping offers a truly unique glamping experience. These tents all come with air conditioning, comfy beds and seating and fridges. (Psst: Some sites even have their own hot tubs!) Located right outside Asheville, you and your friends can either hit the town or go hiking by the nearby mountains.
Firelight Camps in Ithaca, New York
Take a roadtrip out of New York City and hit Firelight Camps in Ithaca. Ths luxury resort is safari-inspired, but don't let the theme fool you. It also includes luxurious amenities like hardwood floors, queen- or king-size beds and private tented balconies. The spot also offers free locally-sourced breakfast, access to the Upper Buttermilk hiking trails and a cozy, communal fire pit.
Sandy River Retreat in Rice, Virginia
Calling all adventurous to-be-weds: This glamping bachelorette party idea is for you. Not only does this retreat offer glamorous lodges, chalets and teepees, it's also set on a real-life playground. There are mountain biking trails, stand-up paddle boarding rentals, 20 zip lines and a huge obstacle course.
Mendocino Grove in Mendocino, California
We'd be remiss not to include a spot in wine country. If you'd prefer a more adventure-focused trip to the popular destination, this retreat is for you. Book a room filled with bunk beds or several private rooms if you need some space from your crew. The tents come equipped with everything you and your friends need: mattresses, cotton linens, down comforters, wool blankets, heating pads, lanterns, and more. Plus, the spot offers endless activities: take a morning yoga class or book a guided sea cave kayaking tour. Want some cocktails? Head into Mendocino, which is known for its breweries and wineries.
Westgate River Ranch in Lake Wales, Florida
Whether you're hosting a country-themed wedding or simply love a country vibe, this cowboy-inspired ranch is for you. Rent an old-school wagon cabin, luxury tipi or canvas tent—all of which come with a long list of amenities from air conditioning to full bathrooms to private patios to boardgames. Spend your days with country-inspired activities like horseback riding or attending the local rodeo.
The Fields in South Haven, Michigan
You can have an amazing glamping bachelorette party in the midwest. Set on a working blueberry farm that's just three miles from gorgeous Lake Michigan, The Fields offers any midwestern to-be-wed an escape from reality. The retreat has 19 different luxury tents for rental with electricity, full bathrooms, linens, king-sized beds (with bed warmers), air conditioning or a wooden stove (depending on the weather). Want to take your relaxation to the next level? Check out The Fields Spa, which offers massages.
AutoCamp Russian River in Sonoma, California
Customize your glamping experience in Sonoma, California. Book an airstream, a luxury tent, a happy camper or a premium ADA-accessible suite at Autocamp Russian River. Each experience is filled with luxurious amenities such as spa-like bathrooms, comfy beds and stunning views. The camp also offers complimentary wifi, tea, coffee and Linus bicycles and more. Pack your schedule with sunrise yoga classes, trips to the nearby beach, kayaking excursions on the Russian River and hiking outings among the scenic redwoods. Oh, and don't forget to check out the area's amazing winery and brewery scene.
Glamping Bachelorette Party Decorations and Favors
Given the scenic surroundings, you likely won't need many glamping bachelorette party decorations and favors. Still, it doesn't hurt to have a few things on hand to make the trip absolutely unforgettable.
Camp Bachelorette Party Box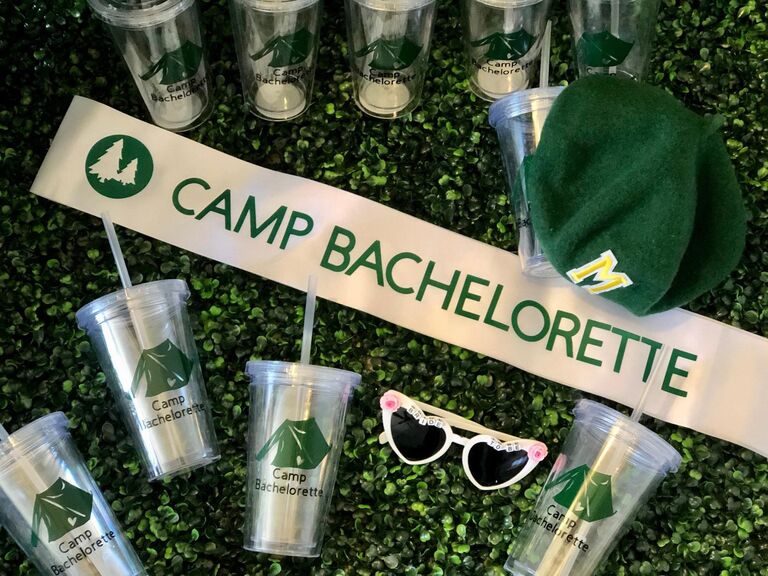 We get it—planning a bachelorette party can be a lot of work. Skip extra scrolling by purchasing this handy party box. It comes with adorable matching tumblers, as well as a sash and adorable beret for the bride-to-be.
A Merry Day Shop Camp Bachelorette party boxes, from $128, Etsy.com
Wild in The Woods Banner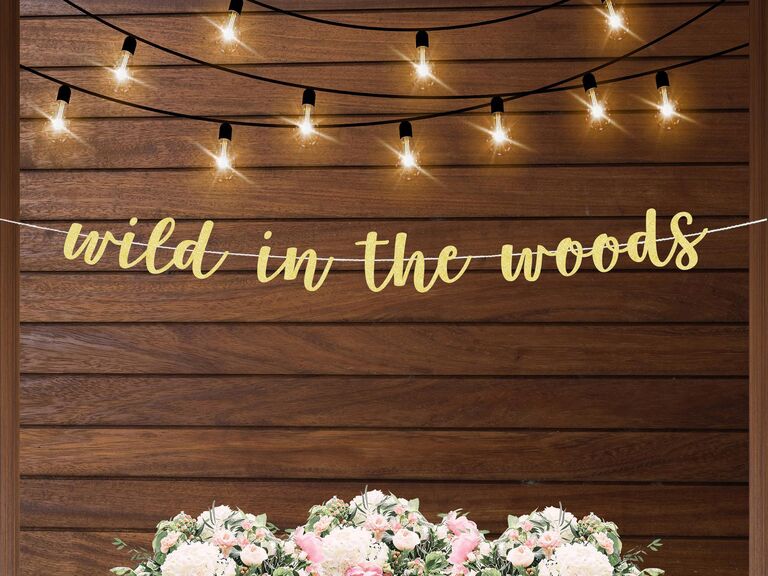 A simple banner can instantly transform a space into a party. Hang this one in the to-be-wed's glamping tent (or cabin) to get the party started.
Cake to the Top Wild in The Woods banner, from $17, Etsy.com
Rosemary Mint Bug Spray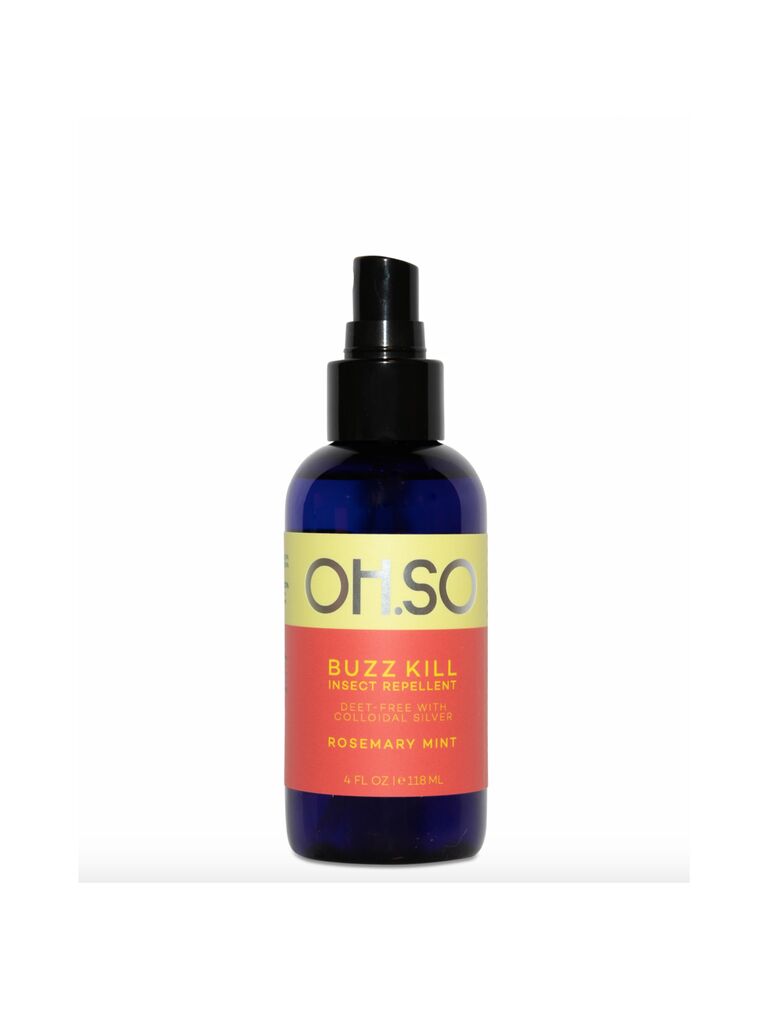 Despite the luxe accommodations, it's likely you may run into some bugs on your trip. Gift everyone a favor they'll actually use: bug spray. But instead of smelly sprays, offer them this natural option. It's made with rosemary and mint (essential oils that work to keep bugs at bay) so you can all enjoy the trip.
Oh.So Buzz Kill in Rosemary Mint, $22, ShopOhSo.com
On-Theme Can Koozies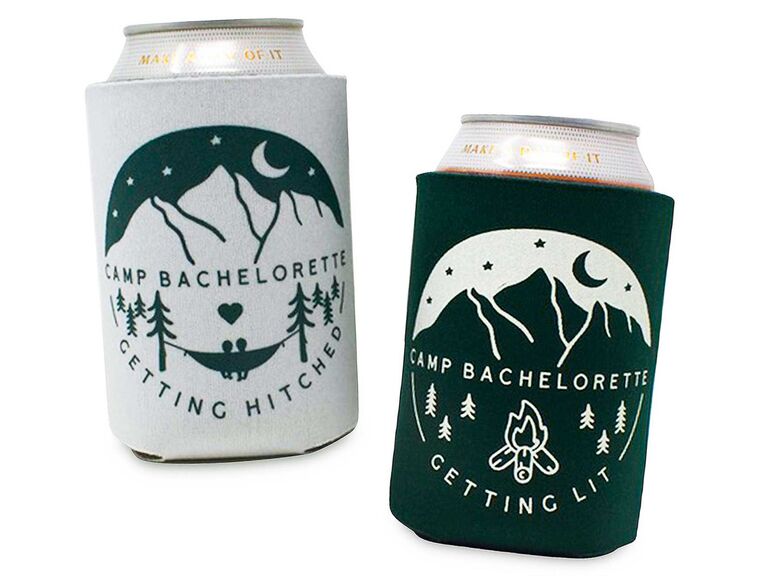 Another glamping bachelorette gift your guests can use? An on-theme koozie. We love these because they're practical but still cute—cute enough that your guests will actually use them after the trip too.
Shop Stag and Hen Camp Bachelorette can coolers, from $4, Etsy.com
Eco-Conscious Sunscreen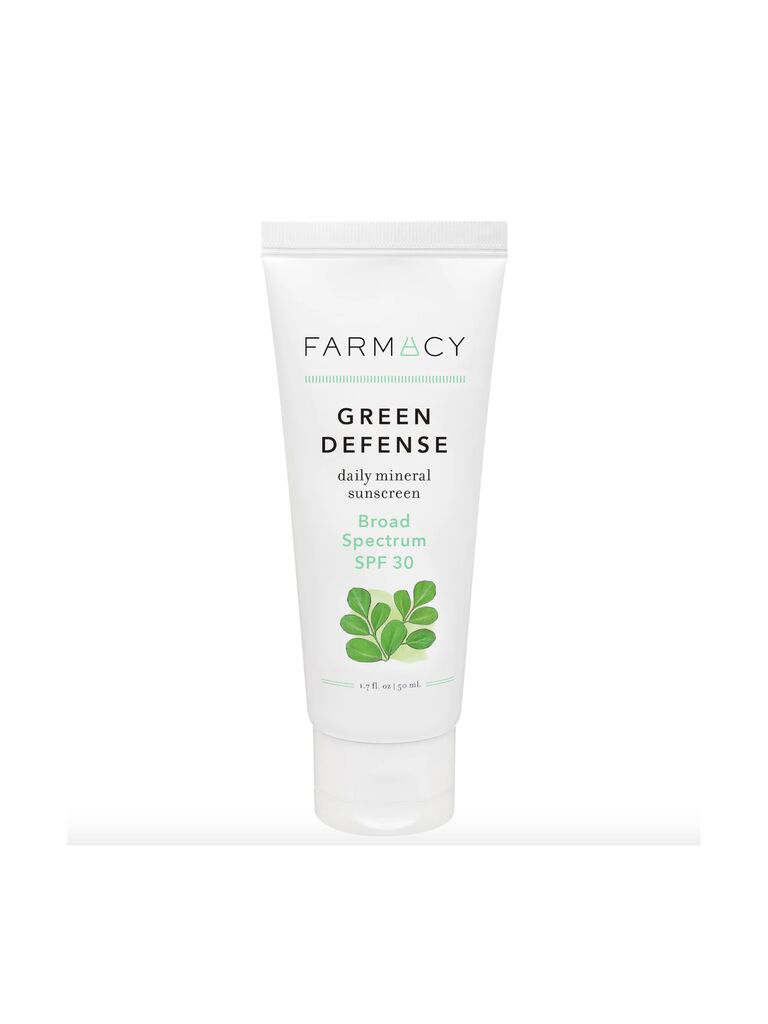 Given the remote locations of the glamping retreats, you'll want to make sure the products you're bringing along and using are eco-conscious. Gift each member of your squad a facial sunscreen they can use throughout the trip. We're fans of this one because it's reef safe and is free of silicones, nano-particle zinc, titanium dioxide, fragrance or essential oils. Plus, it works great on its own or under glam makeup.
Farmacy Green Defense Daily Mineral Sunscreen, $36, Sephora.com
Wild & Free Scrunchies
Your glamping bachelorette party favors don't have to be big. Give everyone an adorable scrunchie as a cute (and useful) memento.
Plum Polka Dot Wild and Free bachelorette party scrunchies, from $5, Etsy.com
Sunscreen Facial Mist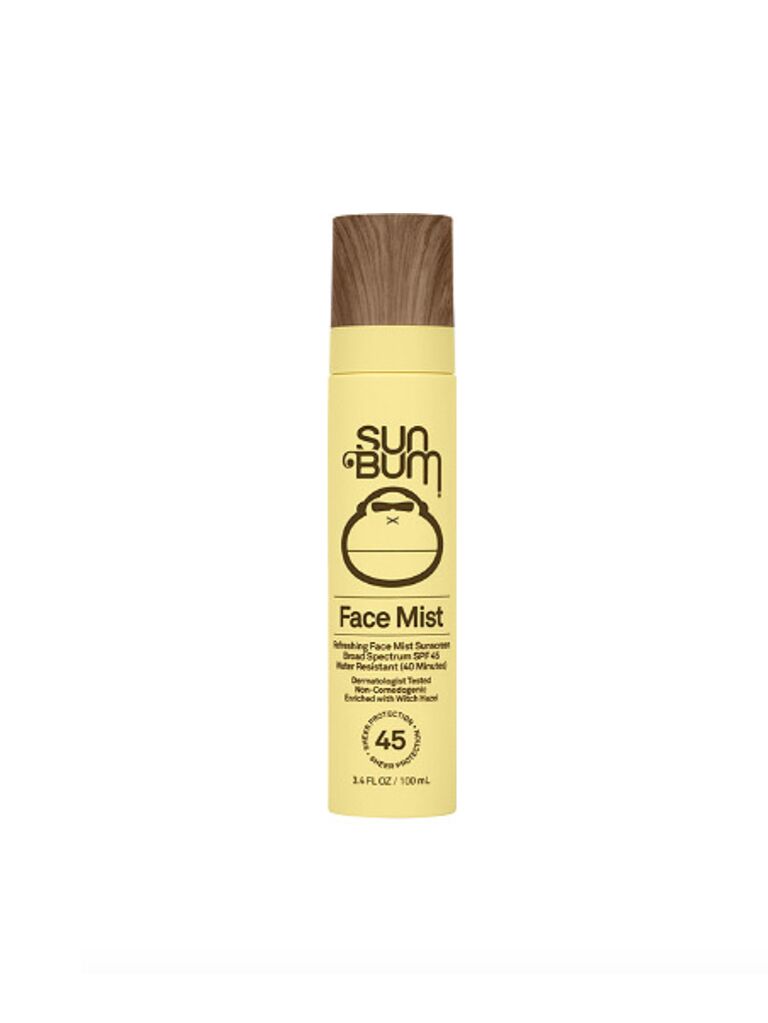 Surprise your guests with something they've likely never seen before: sunscreen facial spray. That way, they can constantly reapply throughout the day (whether on a bare face or over a face of makeup).
Sun Bum Face Mist SPF 45, $16, Ulta.com
Camp Bachelorette Shirts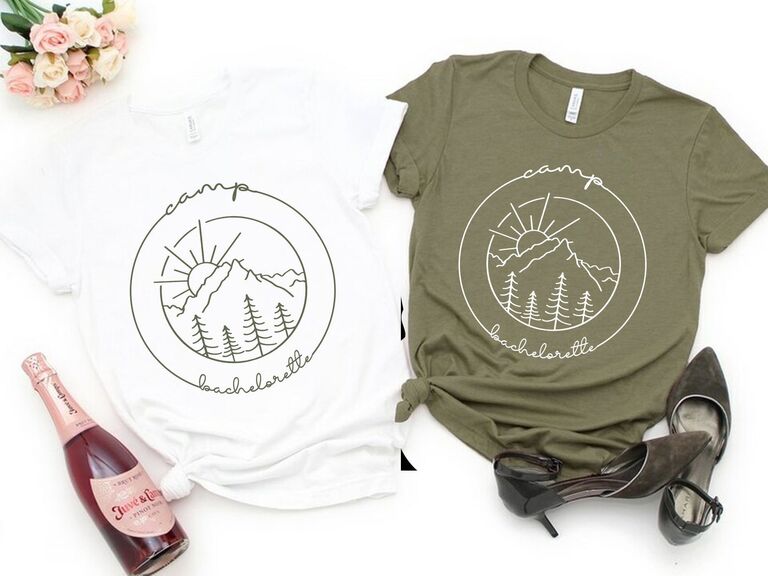 While most bachelorette party shirts are hyper personalized (meaning your crew won't have much use for them outside of the event), these are not. They're on-theme but still cute enough for your friends and family to wear after the fact.
Polo St Camp Bachelorette party shirts, from $16, Etsy.com