Everything You Need to Know About Registering for Experience Gifts on The Knot
Plus, our favorite gift ideas for adventurers and thrill-seekers.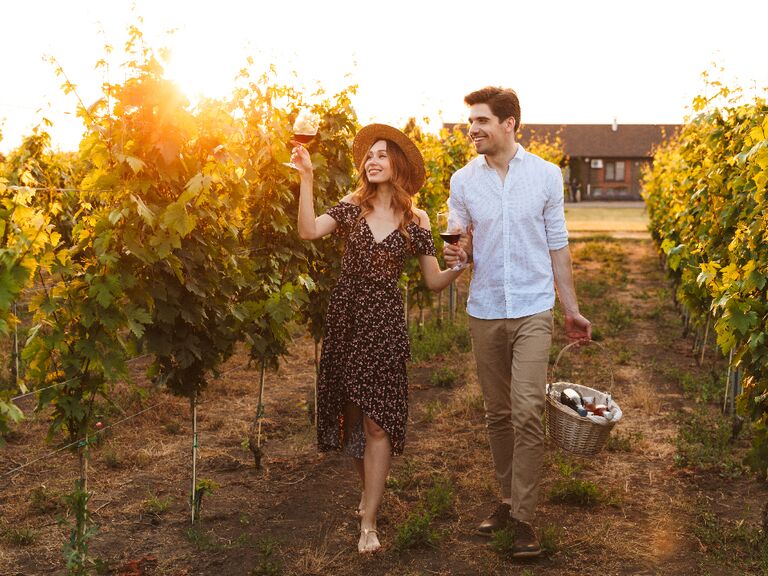 Dean Drobot/Shutterstock.com
Whether you're newly engaged or just weeks out from the big day, there's a good chance you've spent some time thinking about wedding registry gifts. Creating a registry is one of the most important planning tasks for to-be-weds, but that doesn't mean it's easy. While you can browse our roundups of the best wedding gifts and the most popular registry items according to our own data, you might not feel totally inspired by physical items—but that's where wedding registry experiences come in.
There's no rule that says you have to register for new linens or trendy kitchen appliances, especially if you already have them or you don't have tons of extra space. Now more than ever, couples are registering for alternative wedding gifts like cash, gift cards and even experiences. In fact, according to The Knot 2021 Registry Study, 33% of couples said one of the top reasons they created a registry was because they valued cash and experiences over tangible items. (Some to-be-weds even toss the traditional wish list altogether in favor of an experience gift registry.) Now, thanks to our partnership with Virgin Experience Gifts, you can add experiential gifts to your registry on The Knot just like you would any other object, like a standing mixer or a robot vacuum.
So how do you add experiences to your wedding registry? And what are the best experience gift ideas you can register for? We explain everything you need to know about experiences on The Knot Registry Store right here.
How Do Experience Gifts Work on The Knot Registry?
Requesting gift experiences for couples might sound complicated at first, but we've created a seamless process that's as easy as can be. First, start out by creating your registry on The Knot. We might sound biased, but The Knot Registry is the best registry service on the market. Our all-in-one tool allows you to aggregate all of your gift requests in one, shoppable list (which makes it easy for you to manage and even easier for guests to shop). Plus, we have our own store that has thousands of great gifts that can be purchased directly from our site. We also allow you to create an unlimited amount of cash funds for newlywed experiences that mean the most to you, from your honeymoon to a down payment on a future house.
Here's the good news: Adding wedding registry experiences to your wishlist is just like adding a physical item. On TheKnot.com, hover over the Registry tab on the top menu bar. Then, click on "Experiences" to see all of the gift options provided by Virgin Experience Gifts. Browse our extensive collection to find experiences that sound most appealing to you, from food tours to water sport excursions and helicopter rides. Click on the photo to read more about the activity itself, along with logistical details (like what's included, the duration of the activity, where it occurs, and other essential information). Once you've found a few that you like, click "Add to Registry" so that the experience gift lives alongside all of the other items on your list.
Once the wedding registry experience has been added, guests will be able to contribute to some (or all) of the cost. After their purchase is confirmed, you'll receive an email notifying you of their gift, along with redemption instructions. From there, you'll be able to plan a memorable getaway with the excursion of your dreams.
Why Should Couples Use Their Wedding Registry for Experiences?
There are plenty of reasons that gift experiences for couples make for great wedding presents. While traditional items are nice (and sometimes necessary), some couples find that experiences are more personable and memorable. If you and your S.O. value memories over things, you might prefer a hot air balloon trip instead of a new set of bath towels, for example. Plus, adding experience gift ideas to your registry makes it feel extra-personalized. Not to mention, one of the best perks of registering for experiences on The Knot Registry Store is that the funds never expire, meaning you can treat yourself right after the big day or on a special anniversary.
Using your wedding registry for experiences enhances the shopping process for guests too. We offer a range of amounts for guests to contribute, meaning they can select an option that fits in their budget. Experiential gifts are also delivered immediately, meaning your loved ones don't have to worry about tracking their purchase or finding the perfect wrapping paper. And, because we allow you to link your registry list to your wedding website, it's downright easy for guests to buy a present that's at the top of your list.
Experience Gift Ideas Couples Can Register For Now
If you need any more convincing to add wedding registry experiences to your wish list, look no further. Below, we've rounded up the best experience gift ideas you can add to your registry right now. The best part, though, is that this is only the beginning of what we offer, which means there's truly an experience gift idea for every couple. Start by checking out some of our favorites here, then head to Experiences on The Knot Registry Store to discover thousands of activities for you and your S.O. to enjoy. Or, if you simply can't decide, you can always register for a gift card through Virgin Experience Gifts to delegate to a specific activity later.
Is there anything as romantic as a hot air balloon ride over California wine country? Once you hop in this colorful carriage, you'll drift over mountain ranges, vineyards, ranches, Lake Cachuma and historic towns in Santa Ynez Valley. At the end of your serene journey, you'll be treated to a champagne toast. We'll raise a glass to that.
Call us cheesy, but nothing beats a pizza party date night. This experience gift idea is perfect for foodies looking to explore the northeast. In this five-hour guided tour, you'll stop at a variety of pizza shops in New Haven, Connecticut, including the city's oldest pizzeria. Plus, with the added bonus of learning about the history of each stop, this gift has a little something for every couple.
Take your love to new heights with a jaw-dropping aerial tour of the Windy City. This two-hour excursion will provide views of Mundelein, Libertyville, Lincolnshire, the Chain of Lakes and the city of Lake Geneva—but the fun doesn't stop there. Grab a couple of beverages at the Grand Geneva Spa and Resort before you hop on your flight to head back to Chicago.
If you've ever dreamt of running away to join the circus, now's your chance. Instead of buying tickets to see Cirque du Soleil, this unique gift experience for couples will put you in the center of the action. For an hour and a half, you and your spouse will learn the basics of trapeze flying before trying out the bars yourself for the ultimate thrill.
Have you ever seen Hawaii from the sky? Now you can with this gift experience for couples that love to adventure. In your seat on a six-passenger helicopter, you'll fly over Kilauea's fiery lava vents and the tropical valleys of the Kohala mountains before taking in the sights of the lush rainforests lining the Hamakua coast. We have a feeling this is one registry gift you'll never forget.
Oenophiles, this one's for you. Enjoy the picturesque views of Napa Valley with a luxury three-hour train ride that stops at three wineries on this iconic trail. You'll sample some of the country's most famous wines at each stop, and you'll also enjoy multi-course meals on your train ride.
Explore one of the most popular landmarks in the United States through this wedding registry experience gift. With just nine spots available on the jeep tour, you'll get plenty of time to talk to your tour guide and learn about the history and geology of the Grand Canyon in this immersive activity. As an added bonus, this gift also includes tickets for the IMAX movie Grand Canyon: Hidden Secrets.
While tropical excursions are common experience gift ideas for couples, there's no shortage of cold-weather activities too. Snow bunnies might prefer this frosty experiential gift that takes place in the heart of the Rocky Mountains. Your experienced guide will map out a route for you and your S.O. to check out some of the best snowshoe hills in the country.
Host the ultimate dinner party with this innovative experience gift. Invite up to four guests to your home to enjoy a fresh dinner made from scratch by a private chef. They'll work with you in the days leading up to the event to create a menu that highlights local flavor and includes some of your favorite preferences. All you have to do is take care of the guest list, as preparation and cleanup will be handled by your chef. Bon appétit!
Sports fans will love this experience gift idea, which offers an inside look at one of the most iconic stadiums in the country. Led by a seasoned guide, this tour of Cowboy Stadium will take you inside press boxes, locker rooms, private suits and post-game interview rooms—you'll even have the unique opportunity to throw a football on the field. Cowboys fan or not, this gift idea is unlike anything else.
Climb aboard a Venetian-style gondola to enjoy a scenic cruise through the waterways of New Orleans. Throughout your trip, you'll see the city's most famous bridges, gardens and landmarks, like the Old Bayou Metairie, old oak trees draped in Spanish moss, and the Peristyle, a Greek-style structure. This tour is BYO food and drink, so pack your favorite champagne and charcuterie pairings to indulge while you listen to Italian music and take in the views.
Make your wedding registry totally unique by adding a murder mystery weekend experience. Based in Boston, this delightful two-day party begins with a dessert reception on Friday night, where you and your S.O. will meet the other guests participating in this date night activity. You'll get the chance to explore nearby towns during the day on Saturday before getting into character for your evening dinner party—but beware! When one member of your party gets mysteriously "murdered," you'll have to put on your sleuth hat to uncover who did it.
Consider this one of our favorite low-key experience gift ideas for couples. Comedy fans will enjoy this Los Angeles dinner experience, which includes cirque, magic, music and more. After enjoying pre-show comedy and cocktails, you'll be treated to a five-course dinner and a show featuring performers from around the world.
Taste delicious food while strolling the streets of Miami's oldest neighborhood in this guided walking tour. In addition to sampling the city's most iconic Cuban dishes, you'll also learn about the neighborhood's rich culture and history. Consider this wedding registry experience a must for foodies and history buffs.
Get a front-row seat to see the most iconic skyline in the world with a romantic sunset dinner cruise around Manhattan. As you and your spouse enjoy cocktails, your sailboat will round the bottom of the island, giving you unobstructed views of famed skyscrapers and landmarks like the Statue of Liberty. As the sun goes down, you'll see the glittering city lights come to life during this epic journey at sea.