Why Adding Gift Cards to Your Wedding Registry Is an Excellent Idea
Plus, our favorite gift cards from The Knot Registry Store.
If you've ever wondered whether you can add gift cards to your wedding registry, we have good news: You can! Nowadays, gift cards are a popular addition to couples' wedding wish lists (and one of the best features offered on The Knot Registry). In fact, five of our gift card offerings were crowned winners of The Knot's 2022 Registry Awards. So, not only can you add items from all stores (including products from The Knot Registry Store) to your registry, but you can also create cash and honeymoon funds, request charitable donations and register for gift cards from your favorite brands.
With so many great wedding gift ideas out there, it can be hard to narrow down the best of the best. But physical gifts aren't right for everyone. Maybe you and your S.O. have been living together for years, and the last thing you need is one more set of wine glasses or cookware. Or, perhaps you're more interested in experiential gifts instead of tangible objects. If that's the case, gift cards are the perfect option for you—and that's where we come in. We're constantly partnering with popular brands to help you register for gifts you'll actually use. So, whether you and your S.O. end up taking weekly trips to Lowe's for your latest reno projects or you're always planning Airbnb getaways, you can register for gift cards to support the activities you love most.
So, how do you add gift cards to your registry? And what's the etiquette behind asking for gift cards instead of traditional presents? Don't stress. We've outlined the most common questions about adding gift cards to your wedding registry. Use this guide to learn everything there is to know. Then, start your registry with The Knot's gift card offerings.
In this article: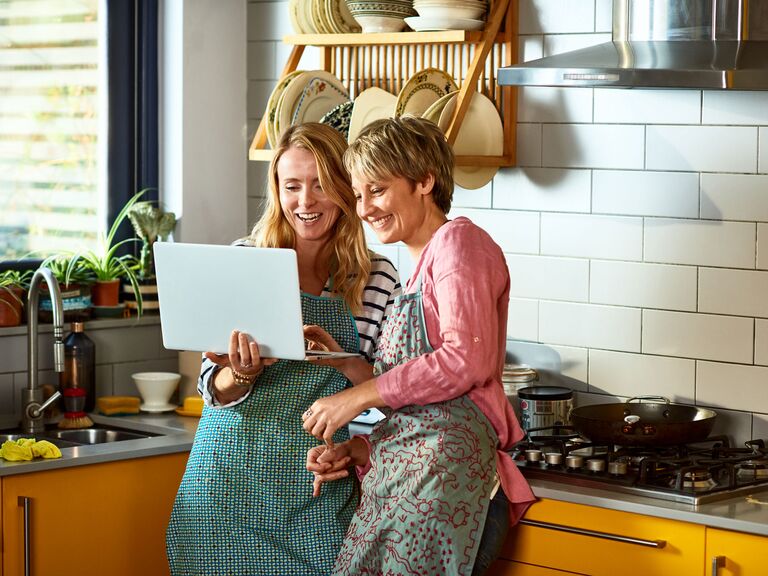 Can You Register for Gift Cards?
Here's the short answer: Yes, you can register for gift cards. In the past, traditional wedding registry etiquette indicated that it wasn't appropriate to ask for cash gifts of any kind, but that's not the case today. Thanks to universal registry tools like The Knot's, it's easier than ever to compile everything you need in one spot. In other words, you can register for new towels, money for a kitchen remodel and a HomeGoods gift card all on the same list. It's convenient for you and it makes using your registry easier for guests. With only one registry link to keep track of, they're more likely to purchase the items you've pre-selected.
As with some wedding topics, your choices might be subject to criticism or concern from certain guests. If you receive rude comments or questions about having gift cards on your wedding registry, share how the gift card fits into your lifestyle. Guests want to purchase items that'll get plenty of use, so explain why a gift card makes more sense than another vacuum cleaner or fine china. (For more help, check out our guide on what to say when people judge your registry.)
Ultimately, you should register for gifts that you really want. Now more than ever, couples are tailoring their registries to fit their needs. Sit down with your S.O. to determine what gifts make the most sense for your life—it'll make for a more fulfilling gifting experience for you and your loved ones.
What's the Difference Between Cash Funds and Gift Cards?
Now you know that you can add gift cards to your wedding registry, but is there a difference between cash funds and gift cards? It's important to make the distinction between the different types of funds and experiential gifts you can add to your registry on The Knot. In addition to registering for physical gifts, you can also register for gift cards, cash funds, honeymoon funds and charity funds. Each of these options include different perks and uses, and you don't have to limit yourself to just one, such as only adding gift cards. You can actually include all of the above on your registry. In fact, we recommend it!
The Knot's Cash Funds allow guests to donate any amount to your registry. These funds can be used for anything—the sky's the limit. You might want money for a starter home, or for a pet that you plan to adopt after the wedding day. You can also put these monetary gifts toward shared experiences, like cooking classes, concert tickets or postwedding date nights. A honeymoon fund, on the other hand, is specifically reserved for activities on your newlywed getaway. These funds can be applied to airline tickets, couple's massages, nearby excursions or a special dinner.
Both of these options are different from gift cards. Think of gift cards as the middle ground between cash funds and tangible items. They can easily be added to your registry, and they feel a bit more personal than cash gifts. Guests might feel more inclined to give a Winc gift card if they know you and your S.O. are budding oenophiles, for example.
Gift cards are also a budget-friendly option. When making registry selections, you can add gift cards in preset amounts. So, if you need affordable options among high-ticket items, you can add a few $25 or $50 gift cards to your favorite stores to give guests plenty of choices. Gift cards from The Knot Registry Store are delivered immediately and never expire, making them a great option to have in addition to cash funds.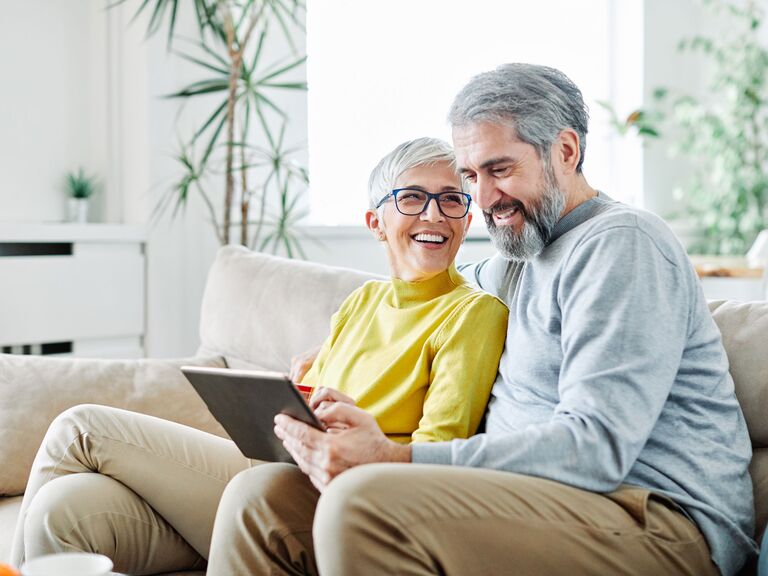 How to Add Gift Cards to Your Wedding Registry
So, how do you register for gift cards? The process is just like adding a gift to your registry. All gift cards live within their own category on The Knot Registry Store, and they're broken out into smaller groups based on niche interests. You and your S.O. can browse our list of gift card options and add them to your registry like you would any other item.
To add a gift card to your wedding registry, select the plus button on whichever gift card you've got your eye on. From there, you'll be prompted to select a dollar amount and quantity before you can click "Add to Registry." That's it! Since gift cards are easy to add and easy to buy, they're a win for you and your guests.
The Best Gift Cards to Add to Your Wedding Registry
Now that we've got wedding registry gift card etiquette down, it's time to start creating your dream wish list. There are options on The Knot Registry Store to suit pretty much every interest, from buzzy brands like Airbnb, Delta Air Lines and HomeGoods to niche retailers like Fanatics, Bass Pro Shops, Havenly and Shutterfly. Can't decide which gift cards to go for? We're sharing our favorites below, including esteemed winners of The Knot Registry Awards that our couples and editors can't get enough of.
Airbnb Gift Card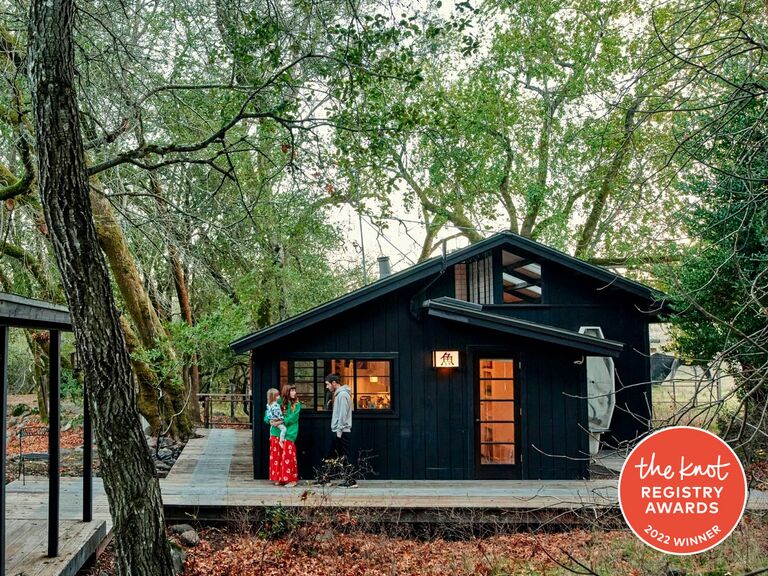 Who says your newlywed travels have to end with the honeymoon? An Airbnb gift card will help fund your next great adventure (or quiet retreat—whatever you're into). Preset gift card amounts start at $100 up to $300, including four different options. It's no surprise that Airbnb came in as one of the most-requested gift cards in our 2022 Registry Awards.
Winc Gift Card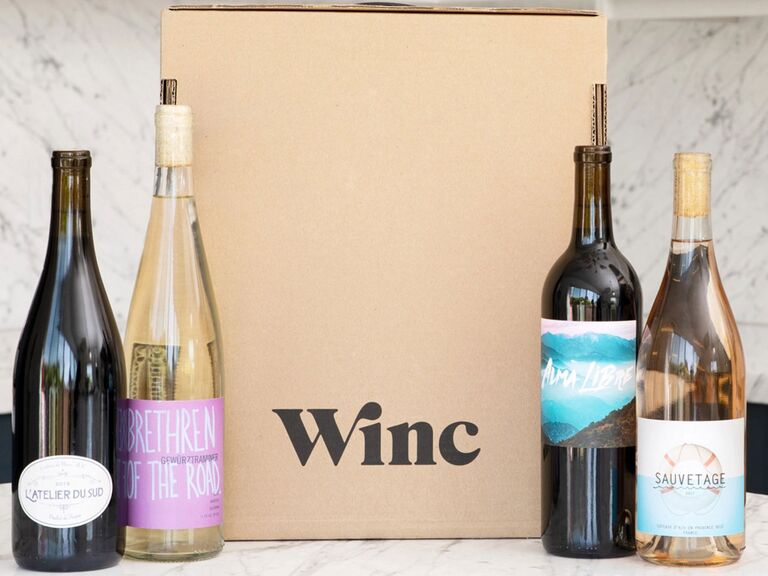 There's a reason our editors love a Winc gift card. It allows you to sign up for a monthly wine delivery that's tailored to your tastes thanks to a short onboarding quiz. You can never have too much great wine on hand for special occasions, impromptu celebrations or romantic nights at home.
The Container Store Gift Card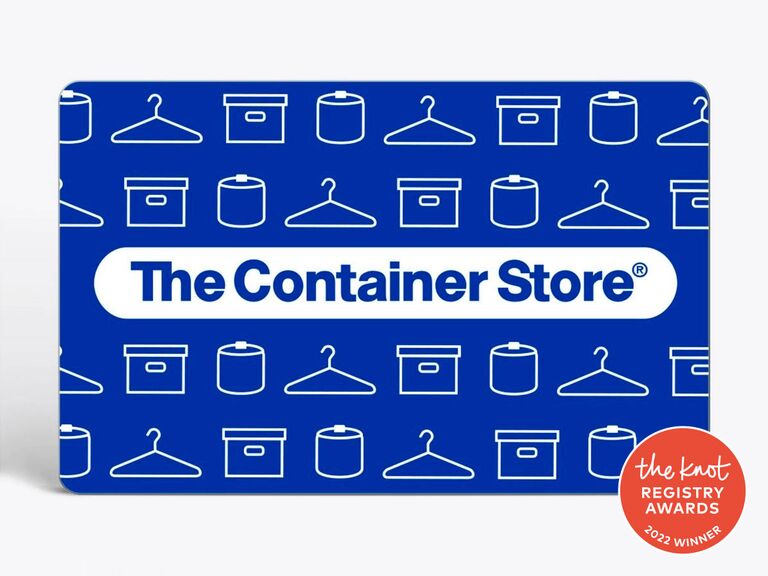 An organized home is a happy home. Adding a gift card for The Container Store to your wedding registry will make sure that everything in your abode has a place—including all the shiny new housewares on your wish list. It's such a great gift idea that our registry experts gave it an award.
Bed Bath & Beyond Gift Card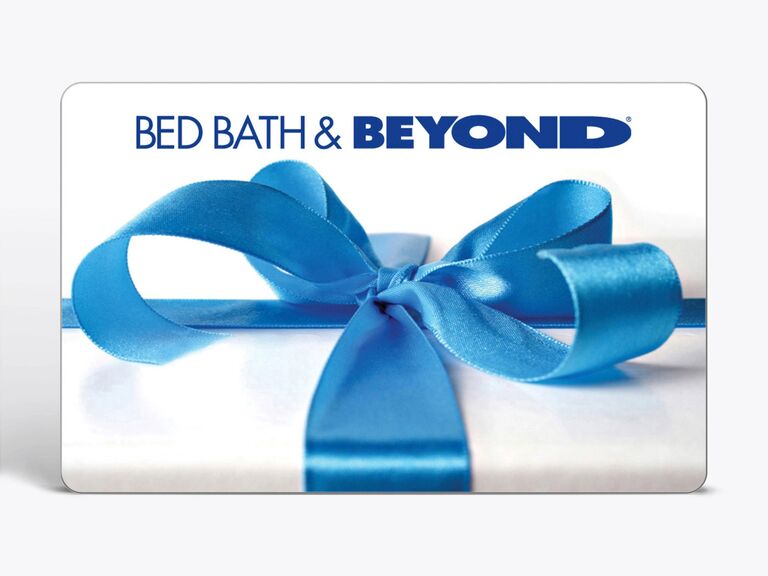 You just can't go wrong with adding a gift card for Bed Bath & Beyond to your wedding registry. You're covering your bases for any unforeseen needs that might come up in the future as well as anything you may have accidentally left off your registry in the first place. And since it's available in $50 dollar increments from $50 to $300, you can easily accommodate different budgets.
HitchSwitch Name Change Gift Card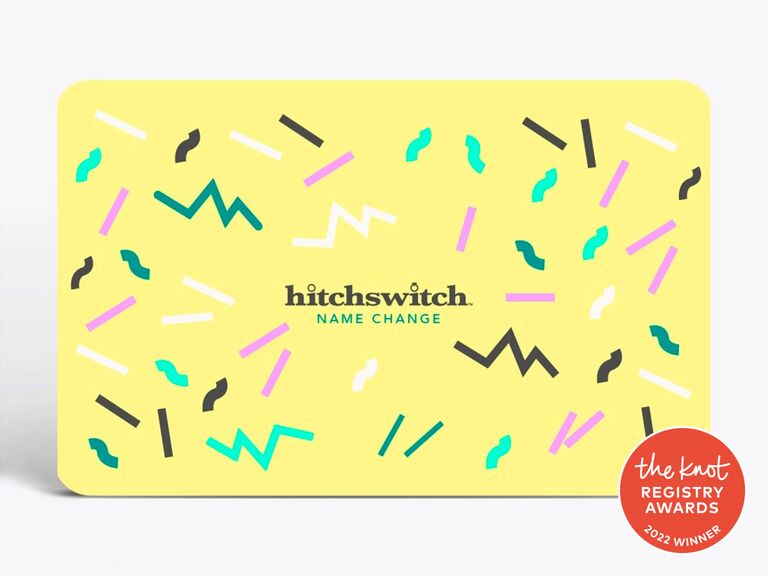 Here's another gift card that proved so popular with couples that it earned a Most Requested award this year. HitchSwitch's name change service makes the complicated (and let's face it: boring) paperwork involved in changing your name after marriage easy peasy. If one or both of you plans on changing your name, this one is a no-brainer.
REI Gift Card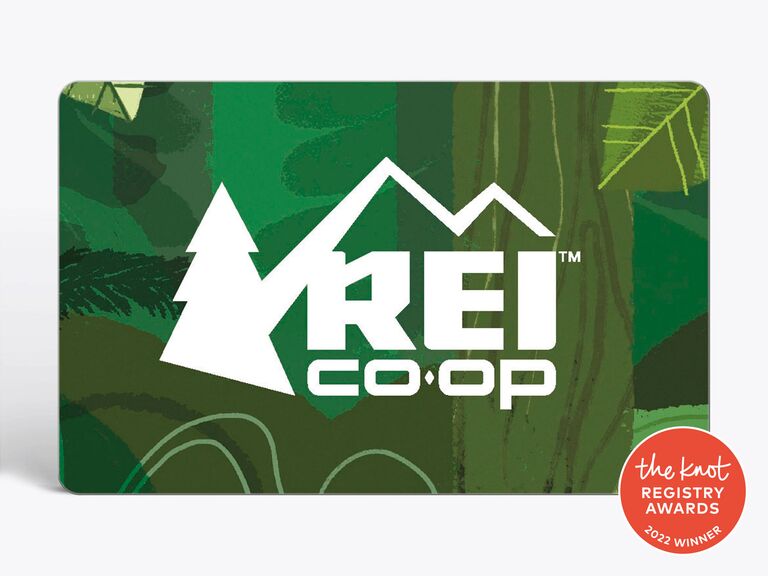 Outdoor- and adventure-loving couples shouldn't complete their registry without a REI gift card from The Knot Registry Store. This award-winning gift pick will make planning your next hike or camping trip a breeze.
Havenly Gift Card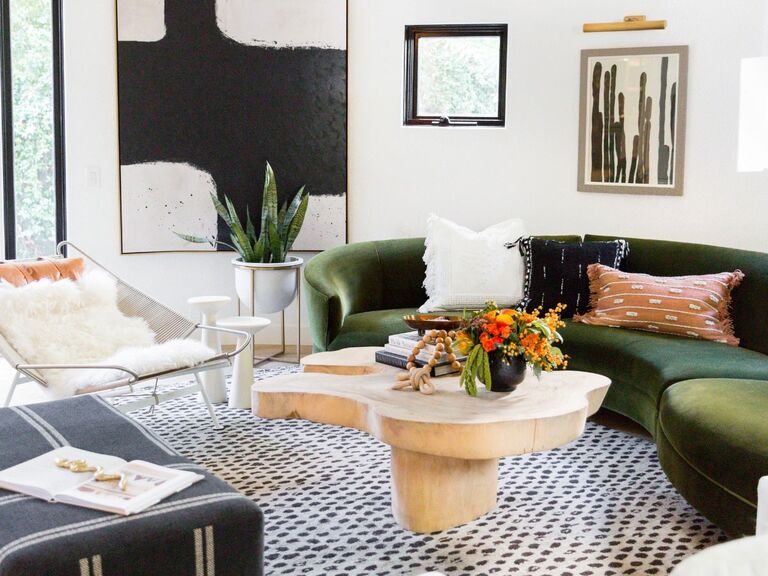 Dreaming of the day your house truly feels like the perfect home? You won't regret adding a Havenly gift card to your registry. Coming in at $129, the gift card covers the full transformation design package. This includes three initial interior design ideas for your chosen room, virtual guidance and access to a personal ordering team (and hundreds of brands!). They'll even provide multiple revisions so that the final design checks all your boxes.
Delta Air Lines Gift Card
There's a lot you can do with a Delta Air Lines gift card (which is why it's another winner at our 2022 Registry Awards). From funding your honeymoon flights to future vacations and trips to visit loved ones, it's a valuable addition to your wish list. Serving over 300 destinations in more than 60 countries, Delta offers up a world of exploration. Preset gift card amounts range from $50 to $300.