Essential Bridal Hair Consultation Questions to Ask Your Stylist
You'll want to know the answer to these before the big day—trust us.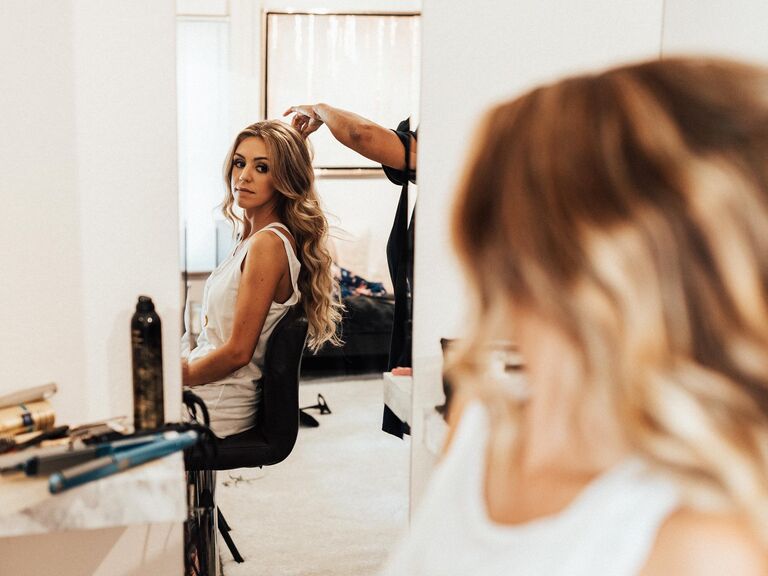 Photo by Autumn Nicole Photography; Hair by Paige Anderson
You're nearly done finalizing your bridal beauty look: You've chosen your outfit, picked your shoes, and selected your makeup The finishing touch? Hair, of course! Since it's your big day, you want to make sure to ask your hairstylist all the right bridal hair consultation questions. Below are 10 important questions to ask your hairstylist so that you have all the information before booking your beauty professional.
1. Do you have a portfolio of your work?
Why you need to know: In terms of bridal hair consultation questions to ask, this is a crucial one. You'll want to have references of their past work to get a feel for their style and ability, especially if you have a different or challenging hair texture. Seeing their portfolio will give you a good idea of whether or not the hairstylist can work with your hair type.
2. Do you have a list of references?
Why you need to know: While looking at their portfolio is essential for gauging their expertise, actually looking at the reviews of past clients can help you get the inside scoop on things like promptness, attitude and professionalism. If possible, research and possibly speak to at least two to three references. The best place for you to start is The Knot Marketplace if your beauty pro has a vendor site with reviews.
3. Will you bring your own products (a blow dryer, curling iron and other necessities), or will I be responsible for supplying them?
Why you need to know: Most hairstylists will bring a kit with them containing all of the essentials they need to style your tresses. But if they won't, you'll want to know early on (especially if that's a deal breaker). If you prefer to use your own tools and products, communicate this with your hairstylist to see if they're game.
4. How do you charge—by the hour or per person?
Why you need to know: Every hairstylist prices their work a bit differently. Before you sign a contract, have a clear understanding of the packages they may offer and what's included in each one. You'll also want to know how they would like to be paid. Cash tends to be the popular choice for beauty pros but more individual vendors are starting to take credit cards. Paypal and Venmo are also options you might want to ask about. The more you know about the logistics of paying them ahead of time, the smoother the day will be.
5. Will I have to travel to you or do you work on-site?
Why you need to know: Not all hairstylists will work on-site—some may ask you to travel to their salon or studio. You should consider how far the salon is from where you'll be getting dressed and determine if it will work in your wedding day schedule. You definitely don't want to be rushed the morning of your big day.
6. How many weddings do you do in one day? (Will mine be the only one, or will you have to get to another wedding or event?)
Why you need to know: Get a sense of their schedule for that day so you don't feel like they have to scramble to finish your hair. If your stylist is only preparing your hair for the ceremony, it might not be a problem if they're working multiple weddings in one day. But if you want your hairstylist on deck for the ceremony and the reception, make sure they're available to block out the whole day just for you (and don't forget to ask what the extra fee will be).
7. Will you do a trial run before the wedding?
Why you need to know: Chances are the trial will be your first time assessing their skills in person. Provide them with reference images and bring any bridal headpiece (veil, tiara, comb) you plan to wear on your wedding day. Editor's note: Before you schedule your trial, find out if they charge extra for the service.
8. Do you have a team of assistants or will you be the only stylist that day?
Why you need to know: If the ladies in your bridal party are also getting their hair done, look for a stylist who has an assistant or two. The assistants can work on your bridal party at the same time your stylist is getting you aisle-ready. This will also cut your prep time in half and ensure no one feels rushed getting ready.
9. How long will my hairstyle take?
Why you need to know: Knowing the prep time will help you manage your day. Don't forget to account for your bridal party as well. Your hair will take the longest, so give yourself at least two hours with your hairstylist and at least one hour for each bridesmaid. You should also be the last person to have your hair done so yours is the freshest—you're the bride after all.
10. What will happen if you're ill or have an emergency on the wedding day?
Why you need to know: This may be last on the list of bridal hair consultation questions to ask, but it's so important. If your hairstylist has to cancel on short notice, there should be a contingency plan. Will they provide another stylist, a refund or will their assistant take their place? If they have a backup hairstylist, make sure to meet them beforehand.