How to Write Bridal Shower Thank-You Notes
See our top tips for getting them done (in the midst of wedding planning).
by The Knot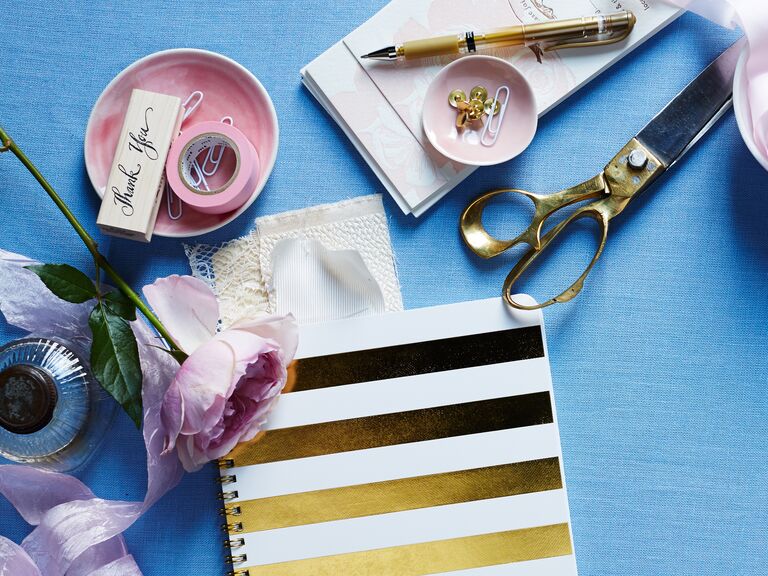 From your bridal shower to the main event, you'll accumulate a lot of awesome wedding gifts. In the midst of wedding planning, taking the time to share your gratitude means a lot—and a sweet handwritten note goes a long way, no matter how large or small the gift is. Here's everything you need to know to get those bridal shower thank-yous written in no time.
What You'll Need
Stationery
Choose thank-you notes that match the theme or colors of your bridal shower, buy bridal shower thank-you notes that coordinate with the original invites, or go simple with a heavy card stock embossed thank-you note in a classic ivory or ecru. (Check out local stationary vendors in your area for inspiration.) Most important is that you find paper you love. One note: Now's not the time to break out your new monogram, since you're not technically married yet. Leave that for the wedding thank-you cards.
A Nice Pen (or Two)
The last thing you want is to sit down with your brand-new bridal shower thank-yous and realize your pen doesn't work. Save yourself the annoyance and when you go to buy your thank-you cards, pick up one or two nice pens in a legible color (if you're not sure, just go for a black or blue). As far as pen styles go, it's really up to you. Ballpoint pens and felt-tip thin Sharpie pens are both great options.
A Flat Surface
Sounds silly but we've talked to plenty of wedding calligraphers (whose livelihoods depend on their fabulous handwriting) and they'll tell you a flat surface makes all the difference. So unless you want crooked lines, set up a bridal shower thank-you note station at a desk or the dining room table.
A List of Gifts You Received at the Bridal Shower
We're obviously talking about a list of guests at the bridal shower and the gifts they gave you. Hopefully your bridal shower host or one of your bridesmaids took notes. Pull up your wedding guest list to grab everyone's addresses.
What Not to Include in Your Bridal Shower Thank-You Note
Unrelated Information
Don't fill the card by rambling on about the weather or a recent gathering that wasn't your bridal shower. Stay focused on thanking them for the gift.
Exaggerations
Don't force it. You don't have to go on and on about towels and sheets if there's nothing to say. You'll risk sounding inauthentic.
What to Include in Your Bridal Shower Thank-You Note
A Personalized Intro
Include a line about how great it was to see them at the bridal shower and mention something specific that the two of you talked about. It will let them know you took the time to put together a meaningful note.
Mention the Gifts
This is another one of those ways-of-showing-you-care pointers. Call out the gifts you received in your note. If it makes sense to do so, tell them why you're so excited to use your new gift or when you plan to use it.
Thank Them
Don't forget to actually write out a sincere thank-you in your note. You might also thank them for taking the time to come to your shower and let them know how much that means to you.
A Closing

More than likely, your shower guest will be at the wedding. Include an "I can't wait to see you at the wedding!" if it applies, or end with a sweet line about how much their friendship means to you.
See our thank-you note wording samples here.
Find more tips for your wedding gift thank-you notes here.