Here's Why Going on a Honeymoon Is Important for Your Marriage
Relish the chance to spend the first week of married life with just each other.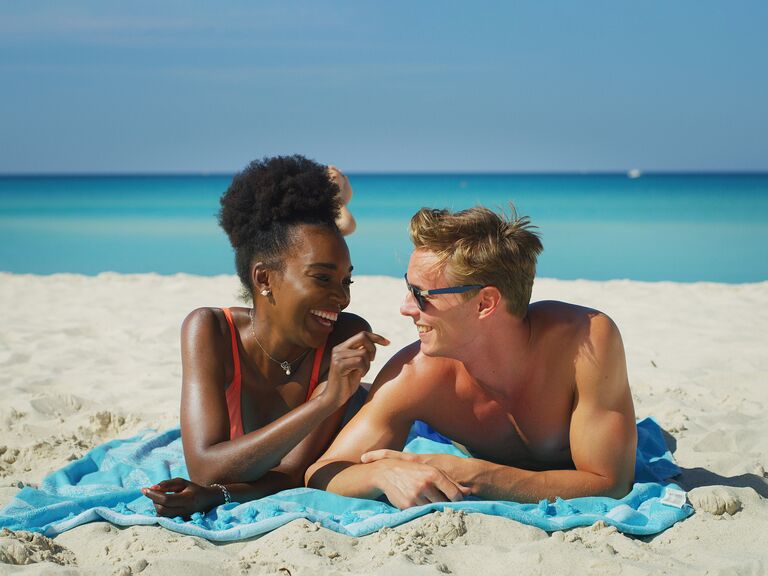 HQuality / Shutterstock
Whether you head to Italy, Mexico, Greece or another honeymoon destination that's equally as enchanting, honeymoons are more than just Instagram-worthy vacations. They're an opportunity for you and your spouse to spend invaluable intimate time together reflecting on your big day and looking at your lives ahead.
Keep reading to learn more about the importance of honeymoons, the benefits of going on a honeymoon, the best types of honeymoons and what you and your spouse should do during your honeymoon.
The Importance of a Honeymoon for a Marriage
After all the wedding planning and preparation is behind you, one of the best parts about new married life—besides being committed to your new spouse forever, of course—is the honeymoon.
There are many reasons why booking a honeymoon with your new spouse is important for your relationship. Your wedding day was a celebration that likely included the people you love the most, says Andrea Dindinger, a San Francisco-based licensed family and marriage therapist. The honeymoon, on the other hand, allows you to celebrate intimately—just the two of you.
"It's a time of privacy and focus for the newly married couple to begin this journey together," Dindinger says. "On a honeymoon, you and your spouse are completely focused on each other and the joy your union has created. This infusion of joy helps solidify the foundation of this lifelong commitment."
In skipping the honeymoon altogether, you'd be missing the opportunity to have that precious private time to focus on the massive life milestone and transition you're both experiencing together.
In addition, Dindinger says, you and your spouse will be able to relish the sweet memories you make together during your honeymoon for many years to come, including when challenges arise. "A honeymoon allows you to revisit and draw strength from the fun and beautiful memories created on your honeymoon years later when some of the struggles of long-term relationships begin to emerge," she says.
The Benefits of Going on a Honeymoon
Concentrated Alone Time
One of the main benefits of a honeymoon is having undistracted alone time to be fully present, nourish your new marriage, delight in each other's company and truly celebrate your commitment, Dindinger says.
The Chance to Disconnect
Leading up to and during your wedding, there is a lot of interaction with other people, from your wedding vendors to your guests. Your honeymoon is an opportunity to disconnect from everyone and everything for a few days and focus on just each other, Dindinger says.
Time to Play Together
When life gets busy (which it pretty much always does), it's easy to put fun activities on the back burner. Your honeymoon is a chance to put play at the top of your priority list, which is very important for your marriage. "There's something about a honeymoon that gives a couple permission to play and have fun," Dindinger says. "Play is one key component that helps couples through challenging times, and starting your foundation with play is a good investment."
The Best Types of Honeymoons
Just like all weddings are different, all honeymoon experiences are different, too. Some couples may opt for a short-and-sweet minimoon getaway, while others will book a hotel in their city for a relaxing staycation. Some might even do a destination wedding and honeymoon all in one. What matters is that you're choosing something that's right for you and your new spouse. "There is no ideal type of honeymoon," Dindinger says. "The ideal type [of honeymoon] is based solely on the interests of the couple."
The ideal length of a honeymoon, whether it's an intimate three-day weekend or a three-week jaunt across the globe, will also depend on the couple in question. For couples who plan to have children soon, Dindinger recommends opting for a longer honeymoon if possible. "The years of raising children test marriages because there are many competing needs for resources and consequently less time for the couple to be focused solely on each other without distractions," she says.
The timing of a honeymoon will vary from couple to couple, too. Whether you hop on a plane right after your wedding, during your first month as newlyweds, or sometime down the road, Dindinger says there is no perfect time to take a honeymoon. The right time depends on what works best for the couple, their energy levels and their schedules.
Dindinger notes that right after your wedding, you'll likely feel very tired from all the festivities (in the best way possible, of course). So waiting a few days in between to snuggle and rest may be a good idea. "I do find the tiredness that comes from hosting a wedding and receiving so much love and expansion leaves new couples wanting at least a couple of days off to relax right after the wedding ends," Dindinger says.
What You Should Do on Your Honeymoon
Aside from sipping piña coladas poolside and indulging in a country's unique cuisine, there are some key things Dindinger recommends doing during your honeymoon to reap the most benefits for your marriage. First, she says the main focus of your honeymoon should be to connect with an open heart. Practice being open and vulnerable with your new spouse, as this will set the tone for your marriage.
Because you'll likely be disconnected from the world and have some time and space to unwind and be still, your honeymoon is also an excellent time to set goals and intentions for your future together. "I think milestones are an excellent opportunity to set intentions, goals and dreams together with your spouse, and getting married is one of the biggest milestones in life," Dindinger says. "Share your dreams for the future. Make [it a yearly tradition] on your anniversary to review this list of dreams, goals and intentions, and see how you're progressing."